13 Top-Rated Things to Do in Chilliwack, BC
Sensational mountains, sprawling farmland, and gorgeous lakes — welcome to Chilliwack, British Columbia. Whether you're looking for an outdoor adventure or to discover the city's cultural side, we've uncovered the best activities, attractions, and things to do in Chilliwack.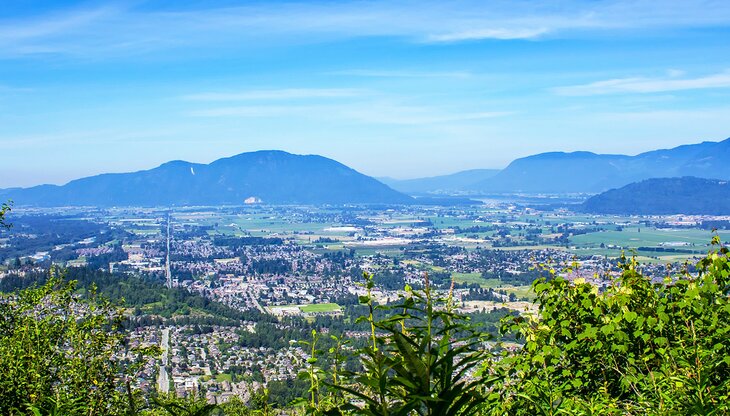 You haven't truly experienced Chilliwack until you've left your car and explored the local trails, mountains, and lakes. Regardless of your skill level or how much time you have to spare, you'll find plenty of ways to enjoy the great outdoors, from a stroll along a riverside trail right in town to summiting the peak of Mount Cheam.
Though Chilliwack offers things to do and events year-round, one of the best times to visit is in the summer. Average daily high temperatures in July and August are a warm but reasonable 25 degrees Celsius (77 Fahrenheit) - perfect for touring a local farm, a refreshing dip in a clear lake, or a thrilling visit to a water park.
Plan your sightseeing with our list of the top things to do in Chilliwack.
1. Marvel at Bridal Veil Falls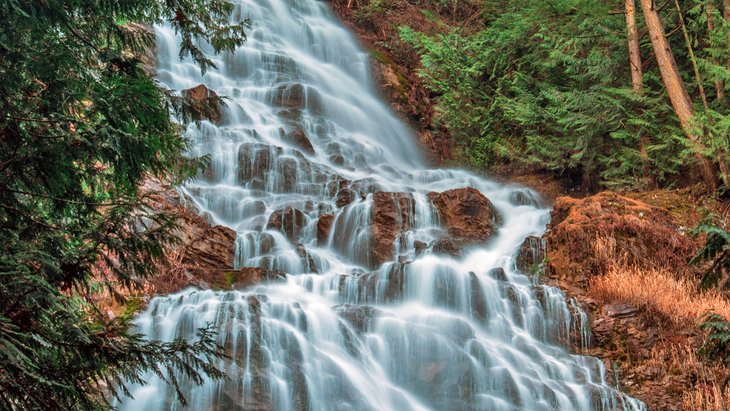 Prepare to be impressed: Mother Nature's finest work is on display at Bridal Veil Falls Provincial Park. To witness the magic of the 60-meter waterfall for yourself, leave your car in the main car park and follow the short, well-marked trail through a forest of mossy trees. Although the hike to the trail will take you less than a quarter of an hour, some sections are steep and can be slippery in wet conditions - walk with caution, especially if you have mobility issues.
Your efforts will be well rewarded when you make it to the waterfall, where water cascades gently down the smooth rock, giving the signature bridal veil effect. The photos you'll find online are good, but the view in person is next level impressive.
Be a responsible visitor and respect the posted signage and designated viewing areas - otherwise, you risk putting yourself in danger and damaging the local ecology.
2. Farm Hop at Chilliwack's Best Farms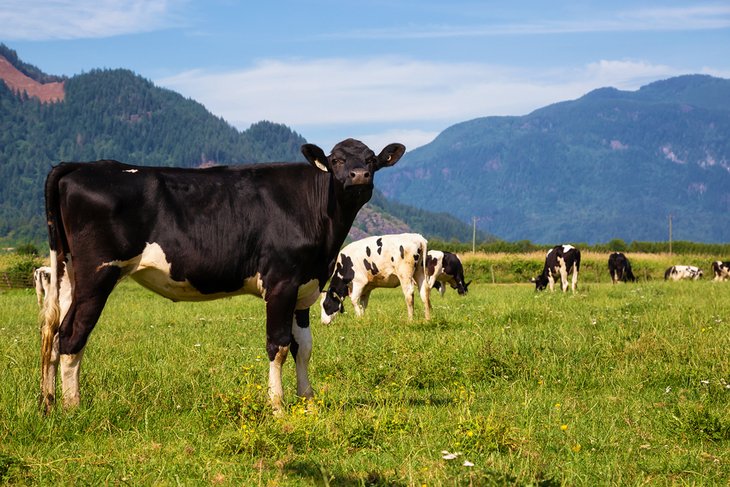 Like most of the towns in the Fraser Valley, Chilliwack is home to many productive farms. To witness the agricultural side of Chilliwack for yourself, consult the self-guided Circle Farm Tour, which will direct you to the most tourist-friendly farms in Chilliwack.
Let's get one thing out of the way: these are not your average farms. For instance, Fantasy Farms hosts an annual garlic festival late in the summer where you can nosh on ribs, enjoy live country acts, and pick up fresh garlic for all your favorite recipes.
In the summer, head to Klaassen Farms to pick your own juicy blueberries straight from the bush. Come fall, check out the Chilliwack Corn Maze for pumpkin picking, cozy picnics by a campfire, animal displays, and — of course — a fun challenge through a corn maze.
Other notable stops along the way include a pioneer village, a grain and flour mill, a cheese plant featuring more than 20 varieties of gouda cheese (stinging nettle, piri piri), and a harvest market complete with resident alpacas and pigs. Visit as few or as many as you have time for, and enjoy tasting your way around Chilliwack's most delicious producers.
3. Get Some Fresh Air at S⨱ótsaqel/Chilliwack Lake Provincial Park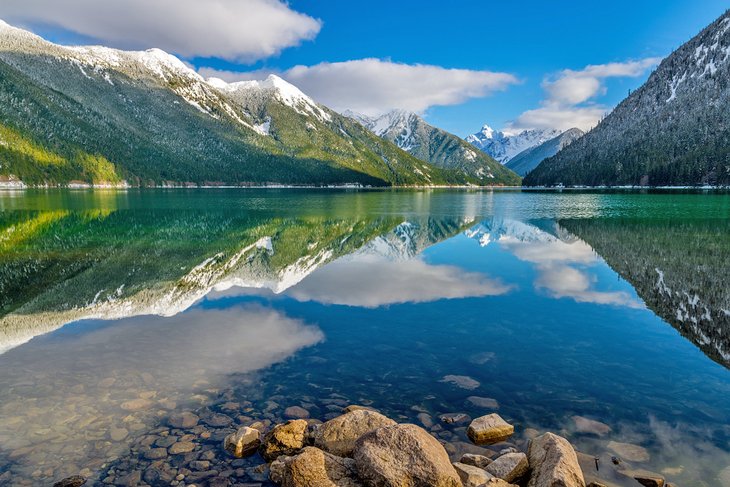 A hike through a dense, dark forest. A paddle on a sparkling blue lake. Dinner and s'mores by a campfire. Falling asleep tucked away in a tent. Sounds pretty idyllic, doesn't it?
S⨱ótsaqel/Chilliwack Lake Provincial Park is an incredible protected green space that offers all of these activities — and a whole lot more. Chilliwack Lake itself is the crown jewel of the park: the lake is open to motorized and non-motorized boats and is a great place to visit for a refreshing swim. Warning: the water can be cold, even in the summer, but it is rather nice once you get used to it.
There are also four smaller lakes in the park: Flora, Greendrop, Lindeman, and Radium, each offering backcountry campsites.
As awesome as the park is for a camping trip, you can just as easily pop in for a day hike, an afternoon swim, or to let the kids jump around the playground. The Lindeman Lake Hike is a popular option that can be done in a half-day: at just 3.4 kilometers round-trip, the trail takes you to the lovely Lindeman Lake.
If you'd like to make a longer trek of it, continue a few more kilometers to Greendrop Lake. You'll get a taste of everything the park has to offer - but you'll get to fall asleep in a warm bed later that night.
4. Tiptoe through the Chilliwack Tulip Festival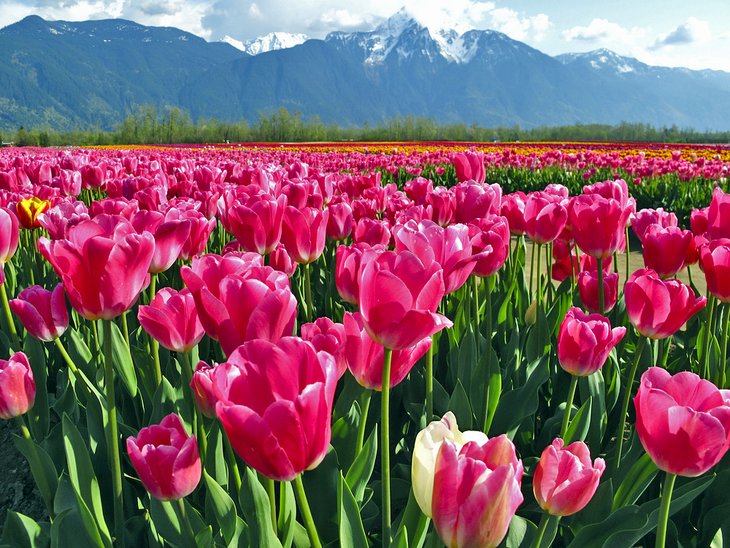 Every April, 6.5 million bright-colored bulbs blanket the 20-acre fields at the Chilliwack Tulip Festival. It's the largest tulip festival in Western Canada, and its launch signals the unofficial start of springtime in the valley.
Visitors can wander through the fields of flowers along the tulip paths, taking in over 30 different varieties of the vibrant flowers. The festival also features 17 varieties of daffodils and 10 varieties of hyacinth — it's a beautiful sight that smells incredible, too.
After you've snapped pictures in the field, you can partake in a few lawn games or buy a selection of bulbs from the festival store to plant in your own garden. An assortment of food trucks will keep your belly full — be sure to save room for a signature stroopwafel for dessert.
Kids can partake in a paper scavenger hunt, scout out the fairy houses hidden throughout the fields, and enter the festival's coloring competition, to name but a few of the family-friendly activities that take place throughout the festival.
5. Hike Mount Cheam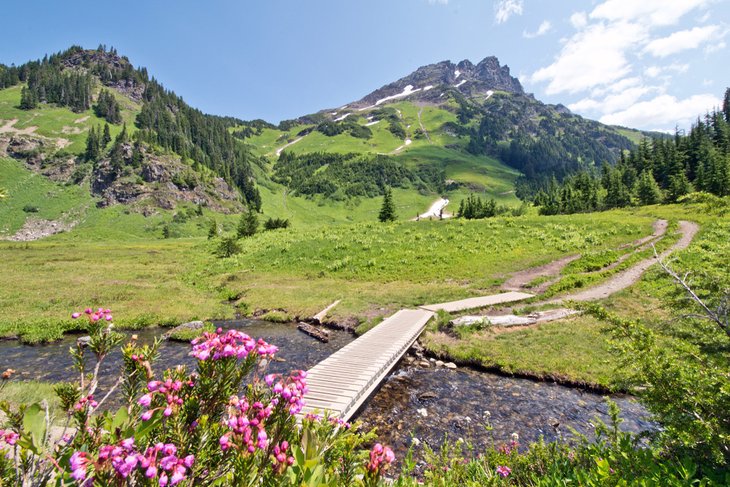 Want to feel like you're on top of the world? Head up to the top of Chilliwack's Mount Cheam. After gaining 700 meters in elevation over nearly five kilometers, you'll be treated to 360-degree views over the Fraser Valley that will leave you breathless.
The hike itself is challenging but not overly difficult — however, getting to the trailhead requires a high clearance four-wheel drive vehicle to tackle ditches, creek beds, and sizable rocks. Drive slowly and be prepared, as there is no cell phone reception along the road or most of the trail itself.
While there are some steep sections on the hike, there are spectacular views to take in along the way, and the ever-changing scenery will be enough to distract you from your aching legs.
If you're thinking of making the trek in the late fall to early summer, think again: the peak gets blanketed in snow, which can stick around well after winter. For a snow-free hike, your best bet is to make the trip between July and early October — but even so, bring warm clothes, as it can get quite chilly on the exposed peak.
6. Splash around at Cultus Lake Waterpark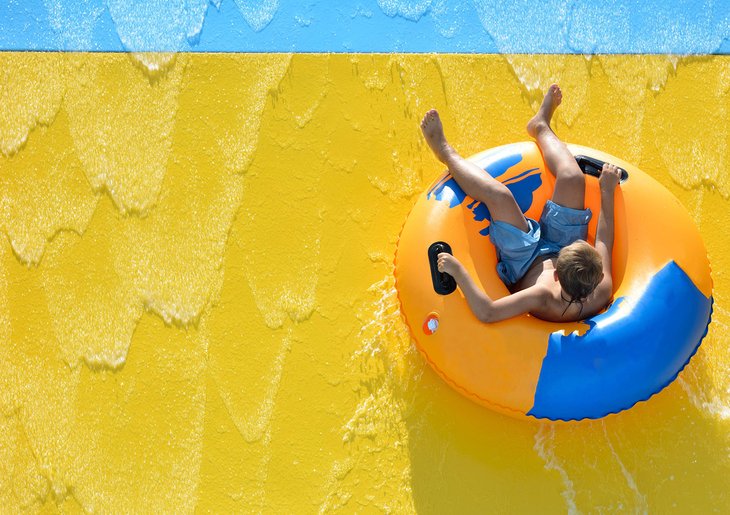 One of the most popular attractions in the Chilliwack area, the Cultus Lake Waterpark is not to be missed on a hot summer day.
With 25 different slides and attractions, there are plenty of ways to stay cool. Little kids will love exploring the Kiddie Castle, the family spray park, and the turtle pool and slides, while older kids will have a blast on seriously intimidating slides with names like the Rattler and Tubular Terror — need we say more?
Running seasonally, the Cultus Lake Waterpark has been a favorite among locals since it opened back in 1984. There's something timeless about spending the entire day outside, playing in the water under the sun — just remember to pack the waterproof sunscreen.
7. Spot the Teapots on Teapot Hill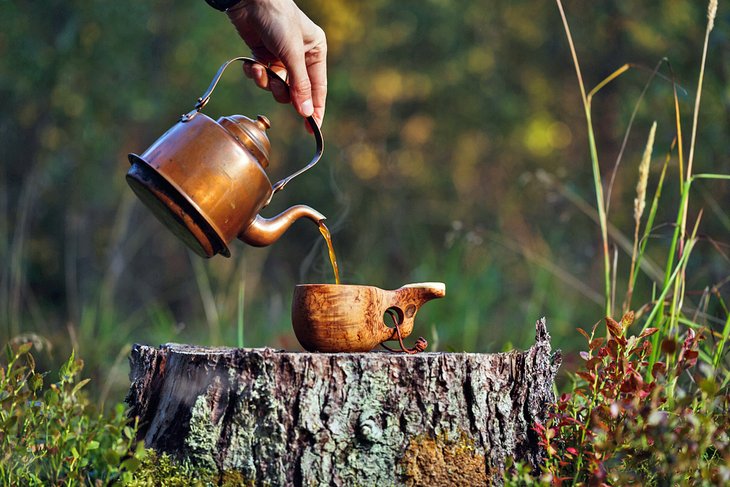 For an easy hike that's out of the ordinary, you'll want to visit the Teapot Hill Trail near Cultus Lake. Scattered throughout the 2.5-kilometer trail (each way) are teapots of all shapes and sizes, along with other assorted tea accessories.
Kids will love scouting out their surroundings and pointing out the hidden treasures, while adults will enjoy the viewpoints along the way — and everyone will benefit from moving their legs and taking in some fresh air.
The trail climbs gradually to the top lookout point and becomes slightly narrower and more technical as you get closer to the top, but is generally accessible for most people in reasonable shape and is definitely kid-friendly, as long as everyone is wearing good walking shoes.
8. Catch a Show at the Chilliwack Cultural Centre
Art workshops, plays, concerts, musicals, dance performances, comedy acts - there's always something entertaining going on at the Chilliwack Cultural Centre. Open since 2010, the Chilliwack Cultural Centre features a mix of venues, from a 584-seat theater to art studios and music rooms. Whether you're hoping to catch a favorite artist on tour or are simply looking for a fun night out, this is where you can get your fill of arts and culture in Chilliwack.
Prices depend on the type of event you're after, but there is generally a wide range of options available to offer something at all price points. The facilities are modern and well-maintained - there's simply not a bad seat in the house.
9. Wander the Vedder River Rotary Trail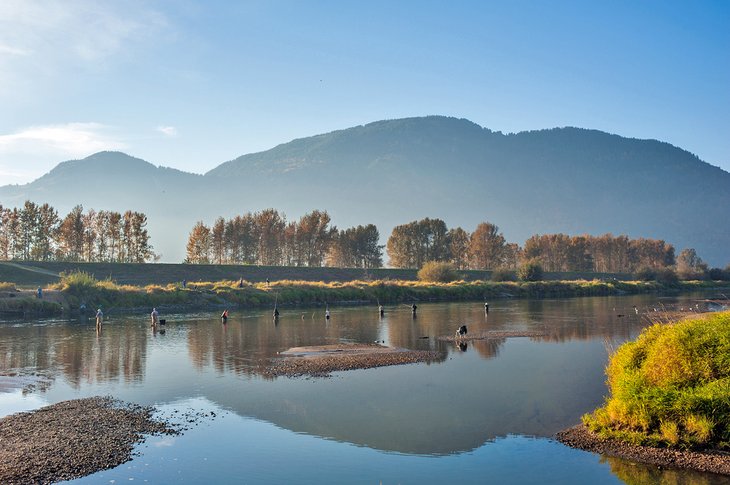 For a peaceful and pleasant activity that can be enjoyed virtually any time of year, lace up your walking shoes and head down to the Vedder River Rotary Trail, an eight-kilometer (each way) trail that follows the rushing Vedder River.
There's plenty to captivate your interest along the way, from greeting fellow walkers, runners, cyclists, and dogs to taking in the local flora and fauna. Be sure to keep your eye on the river in the late fall months: you just might catch a glimpse of the salmon.
The Vedder River Rotary Trail officially starts at Vedder Park and ends at the North Dyke Trail. Walking the entire trail takes around four hours out-and-back, but there are several entry and exit points along the way, so it's easy to keep it shorter if you prefer.
In terms of terrain and technicality, the trail is quite flat with little to no elevation gain — no need to break a sweat on this adventure.
10. Celebrate the Chilliwack Fair
You haven't truly experienced Chilliwack until you've attended the Chilliwack Fair, a festival that celebrates the heart and spirit of the community. Running for nearly 150 years, what was once an agricultural fair has expanded to include live tunes, local talent, arts, animals, and so much more.
For one epic weekend in August, you can take in all the fun: from the eight-kilometer Donut Dash race to the animal shows, from live demos to arts and crafts workshops, from magic shows to a good old-fashioned pie contest. The Chilliwack Fair is all about a fun, wholesome time for the entire family.
11. Satisfy Your Sweet Tooth at Dickens Sweets and British Museum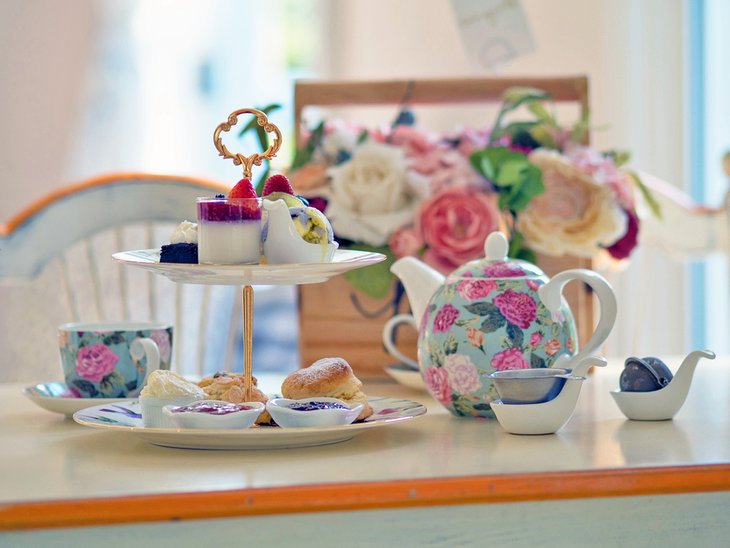 Dickens Sweets and British Museum is a must-visit destination for any Anglophile — or simply anyone curious about the good ole days in the "olde country."
Dickens includes a proper tea room complete with dainty sandwiches, an old-fashioned sweet shop, antiques, a china shop, a pie shop (try the steak and kidney pie), a fish shop, a cake decorating studio, and a British grocery shop. There's a lot going on, but the British theme weaves each element together and makes it a worthwhile place to visit.
There's also the free museum to explore, which features antiques and memorabilia from various noteworthy events and monuments in British history. You'll find an exhibit that pays homage to Charles Dickens (after whom the shop is named), a display dedicated to the Titanic, and a World War II exhibit - and, of course, no British museum would be complete without a section devoted to the royal family.
The displays are informative, but there's lots of fun to be had, too - check out the classic British eatery replica or the extensive model train setup.
Dickens Sweets and British Museum is fun whether you're an old timer looking to reminisce on the days of yore or a person with no knowledge of British history, but who likes checking out fun and quirky stuff.
12. Chilliwack Antique Powerland Pioneer Village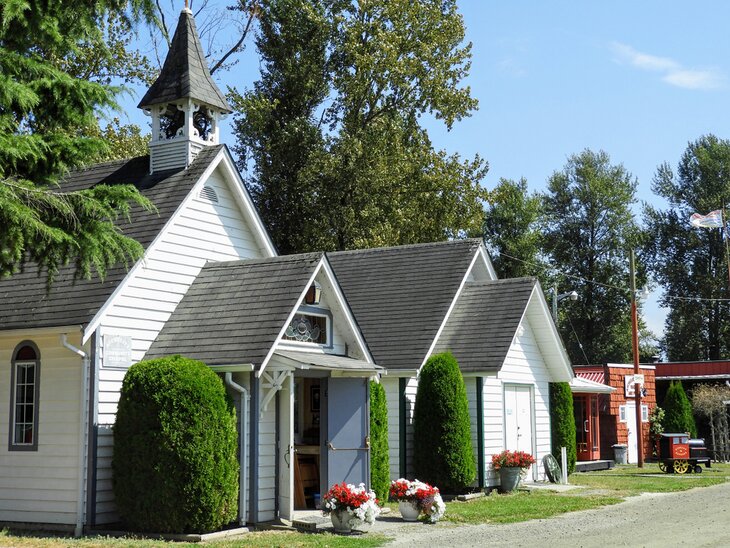 Enjoy a fun and engaging afternoon with the kids at the Chilliwack Antique Powerland Pioneer Village. Step back in time with wonderfully restored items dating from the turn of the century and later.
Outside are all manner of farm equipment but it's inside the large building where the real treasures lie. Historical buggies, cars, a recreated kitchen, and home implements are all lovingly displayed with descriptions.
It's a good learning experience for the kids — you can show them how life was not easy all those years ago.
13. Chilliwack Museum and Archives
If, after spending time in Chilliwack, you feel the need to learn more about the history of the area, swing by the Chilliwack Museum and Archives.
Housed in a wonderfully restored building, exhibits showcase local events, historical artifacts, and other important items. In addition, the museum hosts traveling exhibits, as well as art shows by local and international artists. Volunteers are on hand to answer any questions you might have or to source additional research items. Children under 12 are admitted free.
Where to Stay in Chilliwack for Sightseeing
Lodging in Chilliwack is limited to a handful of hotels and B&Bs. Accommodation here definitely skews toward mid-range and budget. You won't find any fancy five-star resorts.
Luxury Hotels:
The most luxe option in Chilliwack is The Fraser River's Edge B&B

Lodge

. The inn sits right on the edge of the Fraser River and has stunning mountain views. Sunsets here are phenomenal. Rooms are cozy and colorful, and feature kitchenettes and extra long beds. Amenities include a hot tub, outdoor fireplace, and free parking. Guided sturgeon and salmon fishing trips can be arranged.
Mid-Range Hotels:
Budget Hotels:
The Comfort

Inn

is a solid budget choice with modest rooms featuring either two queens or two double beds. They also come with Keurig coffee makers and microwaves. There is a free hot breakfast served in the lobby with waffles and eggs. Kids stay free, and the hotel is pet friendly.
Rainbow Motor

Inn

is another budget option. The motel-style property has retro rooms with lots of wood accents and bright patterned bedspreads. They also feature free Wi-Fi, fridges, and a desk. Amenities at the two-star hotel include coin-operated laundry machines, airport transport services, and a vending machine.
Best Time to Visit Chilliwack - Historical Climate Averages
Average minimum and maximum temperatures for Chilliwack, Canada in °C
J
F
M
A
M
J
J
A
S
O
N
D

5

-1

8

1

11

3

14

5

18

8

21

11

24

12

24

12

21

10

15

7

9

3

5

0

PlanetWare.com
Average monthly precipitation totals for Chilliwack, Canada in mm.

231

175

150

119

97

81

61

58

99

175

241

241

Average monthly snowfall totals for Chilliwack, Canada in cm.

37

14

4

1

0

0

0

0

0

0

7

26
Average minimum and maximum temperatures for Chilliwack, Canada in °F
J
F
M
A
M
J
J
A
S
O
N
D

40

30

46

34

51

37

57

40

64

46

69

51

74

54

74

54

69

50

58

43

47

37

41

31

PlanetWare.com
Average monthly precipitation totals for Chilliwack, Canada in inches.

9.1

6.9

5.9

4.7

3.8

3.2

2.4

2.3

3.9

6.9

9.5

9.5

Average monthly snowfall totals for Chilliwack, Canada in inches.

14

5.4

1.5

0.3

0

0

0

0

0

0

2.7

10
Map of Chilliwack, BC - Top-Rated Things to Do