14 Top-Rated Things to Do in Abbotsford, BC
Big things are happening in Abbotsford. In terms of population, it's the largest city in the province of British Columbia that isn't in the Metro Vancouver region and it's physically the largest city in the province. If you're ready to go big in Abbotsford, we've got a list of things to do in this growing city.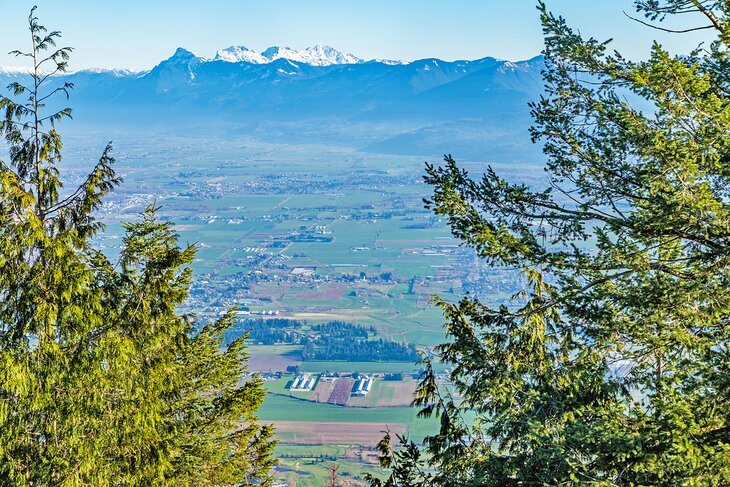 Located in the Fraser Valley Regional District, Abbotsford has big city attractions, including a university, an international airport, a sports team, and some top-notch shopping.
It also has productive farmland, which is used to grow berries and make delicious dairy products. Several local farms have developed hands-on programs, allowing the public to learn about the technology behind producing milk and to get lost in a field of sunflowers, among other activities.
After learning, doing, shopping, and touring, sometimes the best thing to do is unwind outdoors. Abbotsford has plenty of opportunities for that, too, whether taking a peaceful walk through Mill Lake Park or hiking up Sumas Mountain.
Keep reading — we've got all the info in our list on the top attractions and things to do in Abbotsford.
1. Learn about Life on a Dairy Farm at EcoDairy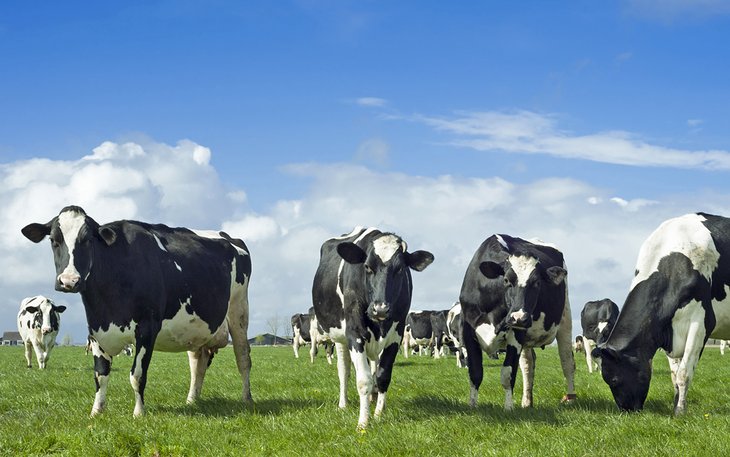 Have you ever wondered where your milk comes from? Abbotsford's EcoDairy is part functioning farm, part educational experience, where you can get up close and personal with the resident cows and learn how your milk is made.
EcoDairy has developed a partnership with Science World, Vancouver's popular science center, to develop dynamic displays and presentations to teach visitors all about dairy farming. While you'll get to visit the cows, you'll also get to learn about the technology involved in making milk.
Kids will love exploring EcoDairy (once they get used to the rather pungent smells of the farm), taking in the exhibits, and running around the grassy fields. Camps are offered over spring break and during the summer, and it's a popular destination for field trips.
After you've developed a new appreciation for dairy products, you can sample the farm-fresh milk, yogurt, and - of course - ice cream.
2. Hike Sumas Mountain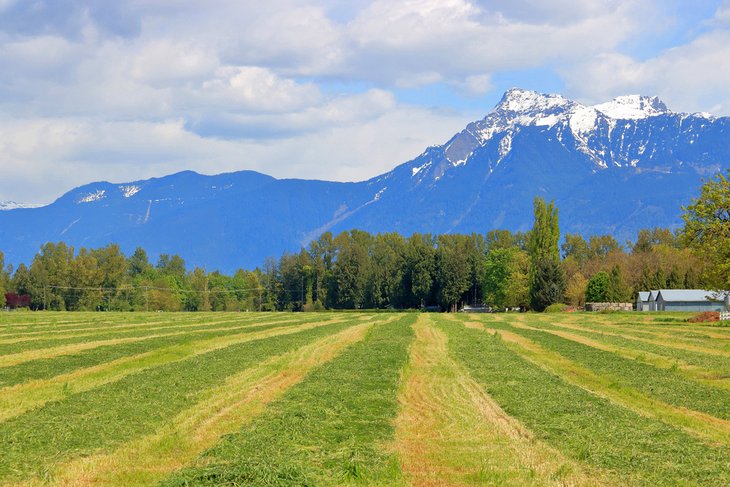 Up for a challenge? The Sumas Mountain Trail summits Abbotsford's Sumas Mountain, gaining more than 700 meters in elevation over 6.5 kilometers in length (each way). The route will take you into the forest, past ravines, over a bridge, through creeks, and along Chadsey Lake before eventually leading to the mountain peak.
The hike can be done in most weather conditions, as long as you're prepared. On a clear day, the views from the top overlook the Fraser Valley below - just be sure to pack sunscreen, as not all sections of the trail are under shade. On a rainy day, the trail will be muddy and the views may be blocked by fog and clouds, but with proper gear, it can still be fun to get outside and get wet.
Most people choose to hike Sumas Mountain in the summer months. The mosquitoes can be relentless, so bring bug spray. If you're hiking between late fall and early spring, anticipate sections of snow along the trail and plan accordingly.
3. Visit Historic Clayburn Village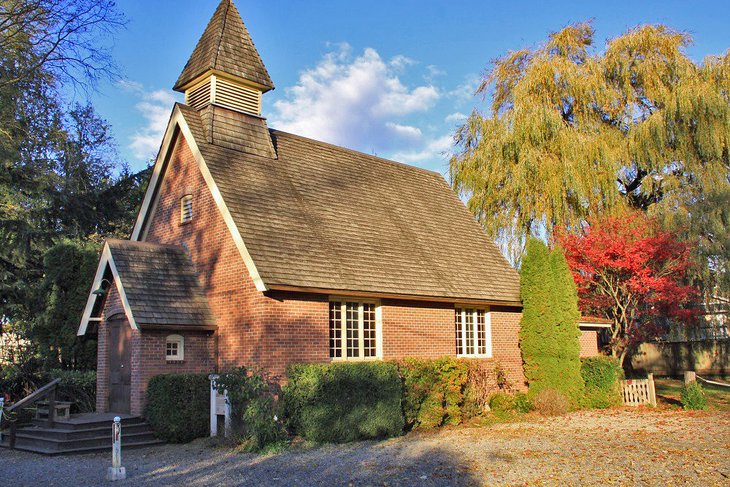 At the turn of the 20th century, the Clayburn Company developed Clayburn Village to house the brick plant's employees and their families. Although the brick plant closed in 1931, many of the buildings of Clayburn Village are still standing. Now a heritage site, Clayburn Village offers a glimpse into life in Abbotsford a hundred years ago.
Today, visitors can tour the village and peek into the homes of the plant manager, the foremen, and the company accountant, among others. The Village Store has been carefully restored; tourists can pop in for a scone and a cup of tea in the tea room or to buy some imported sweets to take home. The old Clayburn School now serves as a community center and informal museum - it's a great place to visit to learn more about the historical community of Clayburn.
4. Go Skydiving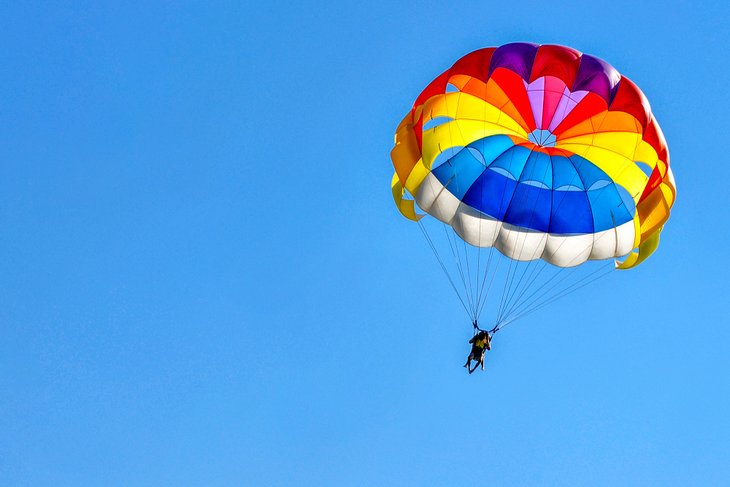 Ready to take your trip to the next level? Despite its name, Skydive Vancouver is located in Abbotsford, so you won't have to go far to experience a serious adrenaline rush. The facility is professionally run and with a briefing prior to your jump, you'll feel confident as you head up into the sky. First timers always jump in tandem with a seasoned instructor, so you've got nothing to worry about - we promise.
If you aren't too distracted by your heart thumping in your chest, the plane ride features some spectacular views over the Fraser Valley and beyond. You may not have time to take in the sights as you plummet (safely) towards the valley at over 200 kilometers per hour, but once the parachute deploys, you'll be able to sit back and enjoy the ride - and the rush.
5. Tour Abbotsford by Air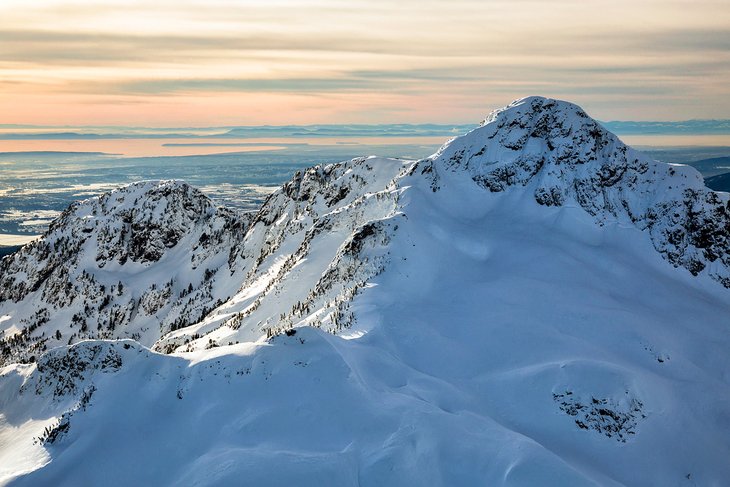 Of course, you can explore Abbotsford from the sky without having to jump out of a plane. Scenic airplane and helicopter tours are offered from the Abbotsford International Airport, ranging from quick 12-minute tours to longer, two-hour flights.
You can customize your tour based on your own interests, but some of the most popular sites include Harrison Lake, Golden Ears Provincial Park, and the majestic Mount Cheam. Longer flights can take you out over Vancouver and beyond.
You can pair a helicopter tour with another backcountry excursion; your chartered helicopter can whisk you away for remote kayaking, camping, fishing, snowshoeing, and skiing. Quick access to some of the most beautiful spots in the province with breathtaking views along the way? Yes, please!
Whichever itinerary and activity you select, an aerial tour offers a unique way to experience the beauty of the Fraser Valley. You'll definitely want to bring your camera on this trip.
6. Enjoy the Outdoors at Mill Lake Park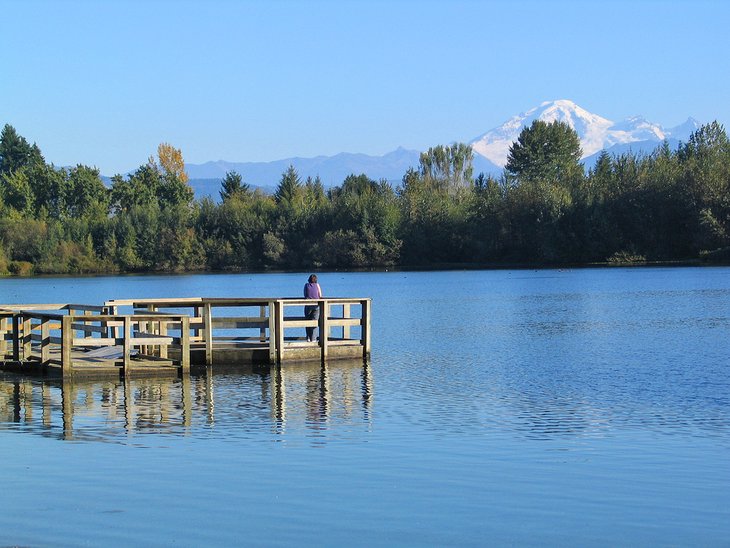 While Abbotsford has a robust park system (and you can check several of them out along the Discovery Trail, #8 on this list), Mill Lake Park is a true local's favorite. Centered around the picturesque Mill Lake, this park offers plenty of things to do.
Kids will be happy to hear that the park features not one, not two, but three separate playground areas - and that doesn't include the spray water park. Little ones will also enjoy watching the ducks and turtles swimming in the lake.
Looking to squeeze in some exercise? You could run a few loops on the 2.3-kilometer paved pathway that circles the lake, or hop into the Centennial Outdoor Pool for a few laps.
Mill Lake Park also features picnic areas, a maze garden, and plenty of benches and green space for simply sitting back and enjoying the views. It's a pleasant place to visit on a sunny day or to catch the sunset.
7. See the Sunflower Fields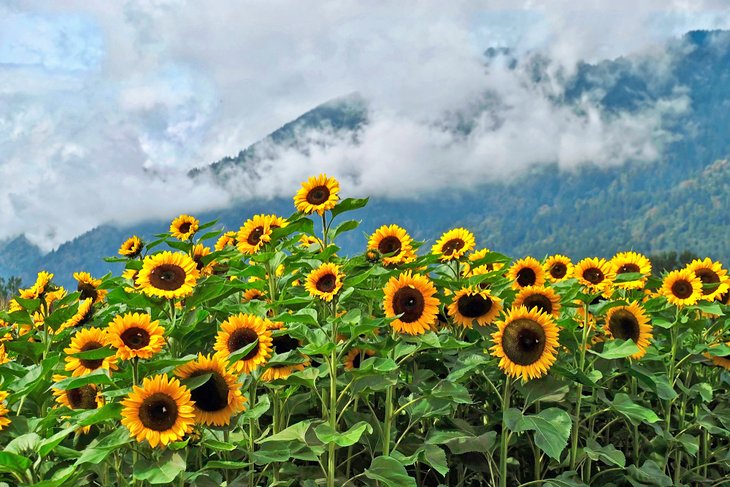 There's something whimsical about running through a field of towering sunflowers, the bright yellow petals stretching proudly under the summer sky. Abbotsford's Maan Farms hosts an annual Sunflower Festival, featuring an insanely Instagrammable photo op field of flowers, as well as a pick-your-own-sunflower area, so you can bring a little sunshine home.
That's not all there is to do at Maan Farms, which is anything but your typical farm. For instance, you can partake in a yoga class with baby goats, explore a haunted corn maze around Halloween, and enjoy Mama Maan's incredible home cooking in Mama Maan's Kitchen.
Kids will have a blast at the petting zoo, on the zipline, or romping on the epic playground equipment. Other seasonal activities range from picking berries to exploring the pumpkin patch. In short, it's a whole lot of good, old-fashioned fun with a distinct Abbotsford twist.
8. Bike the Discovery Trail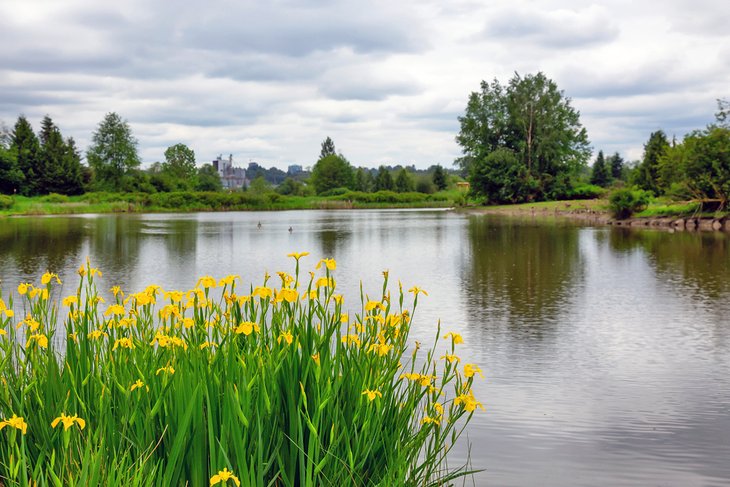 Totaling 40 kilometers return (though you can choose to tackle shorter portions), the Discovery Trail is a scenic pathway that links Abbotsford's most beautiful parks, beginning with Gardner Park on the east end and finishing at scenic Sumas Mountain.
Comprising of a mix of paved trails, bike lanes, and the occasional section along a rural road, the Discovery Trail is relatively flat and is ideal for a scenic bike ride. On a crisp fall day, the bright autumn leaves and views of Mount Baker in the distance will leave a lasting impression.
No bike? No worries - you can tackle shorter sections of the Discovery Trail and take in Abbotsford's picturesque countryside by foot.
9. Marvel at the Music of the Fraser Valley Symphony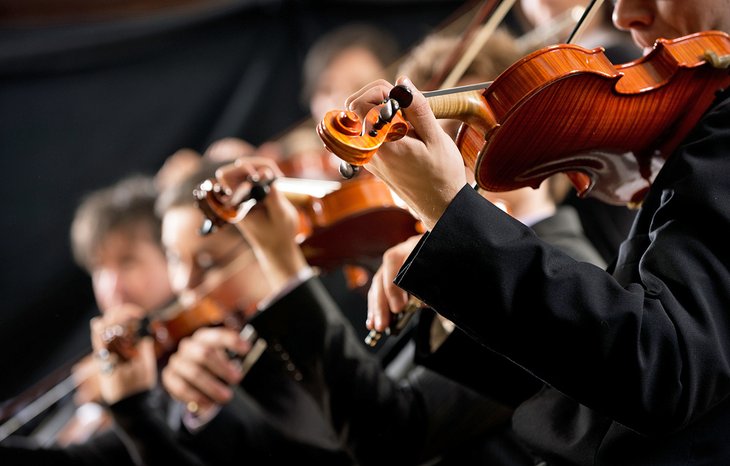 Abbotsford is home to some mighty talented individuals, including the skilled musicians that make up the Fraser Valley Symphony. The symphony has been going strong since 1984, consisting of members from Abbotsford and surrounding communities.
Every few months, the Fraser Valley Symphony performs at the Matsqui Centennial Auditorium in Abbotsford. Each concert has a different theme, from seasonal selections to classics celebrating a particular country. If you're lucky enough to be in town during one of the symphony's performances, it's a great way to experience a taste of Abbotsford's cultural side.
10. Shop 'Til You Drop at Highstreet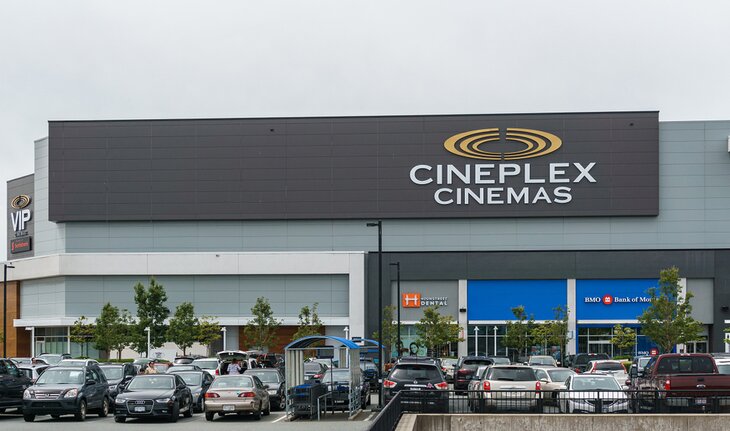 If you're seeking a little retail therapy, look no further than Highstreet, Abbotsford's most popular shopping destination. This walkable, open-air mall has the optimal mix of big-name anchors and favorite mall shops, plus restaurants and cafés to keep you fueled as you shop. The outdoor mall is perfect for window shopping in nice weather - on the other hand, if it's raining, you might prefer to head straight to the movie theater.
Kids will love the play area, as well as the seasonal events and activities that the mall puts on, from pictures with Santa to story times and craft sessions. Grown-ups will love the ample free parking - always a plus.
11. Tour the Fraser Valley Trout Hatchery & Visitor Centre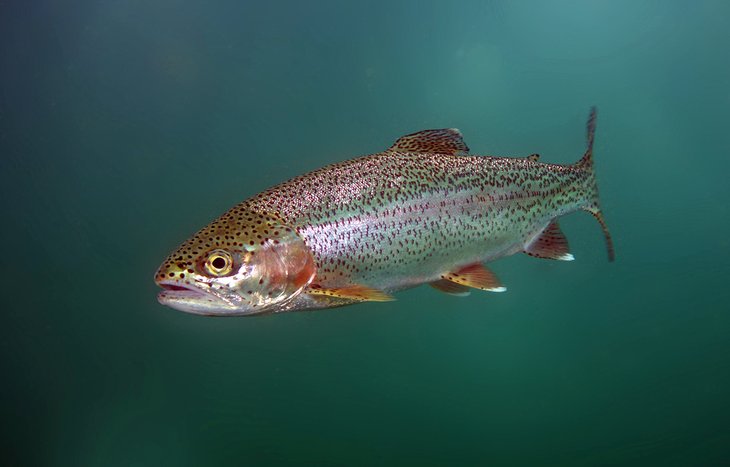 Few people know about the Fraser Valley Trout Hatchery and Visitor Centre. Looking at it from the outside, most people would drive right by - but on the inside is a renovated educational space where visitors can learn about British Columbia's freshwater fish through tours and interactive exhibits.
The center works extensively in research and fish health, with areas of focus ranging from stocking small lakes throughout the province to promoting sport fishing. They offer both family-friendly and adult tours and programs that explore the complex world of freshwater fishing. Note that tours need to be booked in advance; drop-ins are not available, so plan ahead here.
12. Go Golfing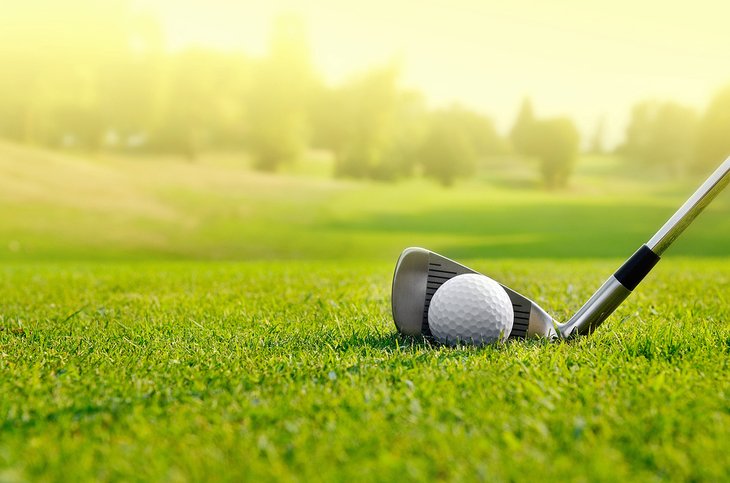 Golfers, take note: Abbotsford is home to a variety of golf courses, each with its own appeal.
Ledgeview Golf and Country Club is a challenging but rewarding 18-hole course. It is generally regarded as one of the best courses in the area and is often the top pick for visiting golf fans. Ledgeview is open year-round: unless there is snow on the ground (which is not very often), it's game on.
Fraserglen Golf Course is a mid-length 18-hole course that is highly walkable and suitable for beginners and advanced players alike, with something to challenge everyone. The facilities include a driving range and an on-site restaurant if you happen to work up an appetite.
Valley Golf Centre is a family-friendly nine-hole golf course. With a putting green and a driving range featuring both covered and outdoor stalls, Valley Golf Centre is well-suited to those who want to get some practice in without committing to an entire game.
13. Catch a Show at the Abbotsford Centre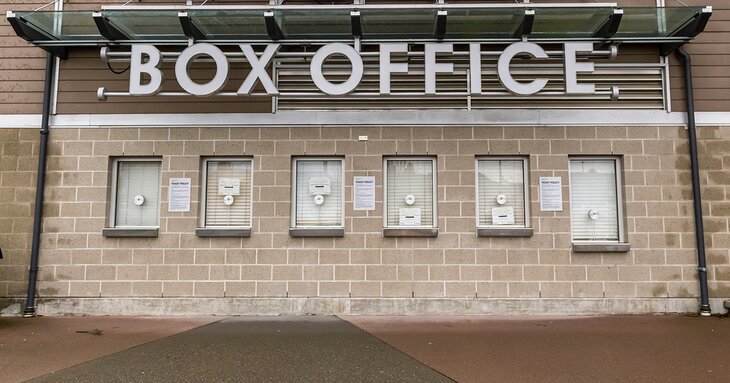 You never know what kind of musical act or performance group will be hitting Abbotsford Centre. It's worth checking the calendar of events - you might be surprised to discovered an old favorite is touring through town, or you might get to discover something new. Country music is an especially popular genre in the Fraser Valley - if there's a country artist in town, it's sure to be a good party.
If your visit lands between May and August, you may be lucky enough to catch BC's professional basketball team, the Bandits. The Bandits play in the Canadian Elite Basketball League, and the atmosphere during a game is positively electric, with pre-game events, live music, and an outdoor BBQ. Whether you're a die-hard basketball devotee or brand new to the game, attending a game is a whole lot of fun.
14. The International Friendship Garden
As you wander through downtown Abbotsford, be sure to swing by the International Friendship Garden, located behind City Hall and Clearbrook Library. Small in size, the garden makes the most of its tight spot with gorgeous displays of flowers and blooming trees.
A water feature flows throughout the garden and is crossed by an ornamental bridge. The garden is surrounded on all sides by a tall fence, making a quiet oasis in the heart of a concrete jungle. A stunning piece of public art entitled The Golden Tree is not to be missed.
Abbotsford - Climate Chart
Average minimum and maximum temperatures for Abbotsford, Canada in °C
J
F
M
A
M
J
J
A
S
O
N
D

5

-1

8

1

11

2

14

4

17

7

20

9

23

11

24

11

21

9

15

5

9

2

6

-1

PlanetWare.com
Average monthly precipitation totals for Abbotsford, Canada in mm.

201

163

145

114

89

66

51

53

86

158

221

216

Average monthly snowfall totals for Abbotsford, Canada in cm.

26

13

6

0

0

0

0

0

0

0

6

24
Average minimum and maximum temperatures for Abbotsford, Canada in °F
J
F
M
A
M
J
J
A
S
O
N
D

41

30

47

33

51

35

57

38

63

43

68

48

73

51

74

51

68

47

58

41

48

36

42

31

PlanetWare.com
Average monthly precipitation totals for Abbotsford, Canada in inches.

7.9

6.4

5.7

4.5

3.5

2.6

2.0

2.1

3.4

6.2

8.7

8.5

Average monthly snowfall totals for Abbotsford, Canada in inches.

10

5.0

2.2

0.1

0

0

0

0

0

0

2.3

9.4
Map of Abbotsford, BC - Top-Rated Things to Do
More Related Articles on PlanetWare.com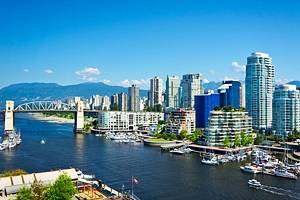 Exploring Vancouver: Abbotsford is only about an hour's drive from Vancouver. This is just one possible option when it comes to day trips from Vancouver. Alternatively, if you are staying in Abbottsford, you can easily pop over to see the sights of Vancouver. Spend a day wandering around Stanley Park, exploring Granville Island, or enjoying some fine dining.