From Vancouver to Seattle: 7 Best Ways to Get There
If you're a fan of Vancouver's mild climate, laid-back atmosphere, and picturesque ocean views, then chances are good that you'll fall in love with Seattle, too. Located on the south side of the Canada-US border, Seattle shares plenty of similarities with Vancouver while offering its own unique charm and attractions.
There's no reason to have to pick between these two world-renowned West Coast cities: at only 230 kilometers or 143 miles away, it couldn't be easier to plan a trip to Seattle straight from Vancouver.
Whatever your method of transportation, don't forget to bring your passport. You will, after all, be crossing international borders. No passport = no entry!
1. From Vancouver to Seattle by Seaplane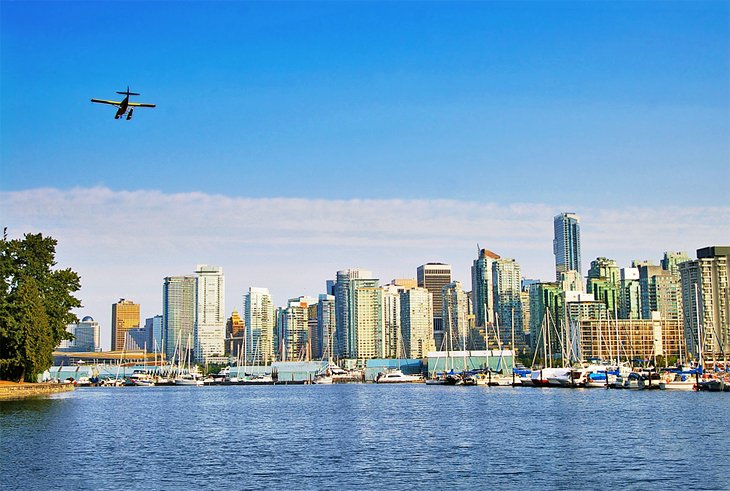 For a memorable trip from Vancouver to Seattle, book a ticket via seaplane. With service from Coal Harbour in downtown Vancouver to Seattle's Lake Union, the seaplane is conveniently located and just as quick as taking a regular plane (one hour).
Direct seaplane flights between Vancouver and Seattle only started being offered in 2018, but the central take-off and landing locations – not to mention the unique experience of being aboard a seaplane – has made it a popular option for those traveling between the two cities. The trip can be a little pricey and, given the tiny planes, luggage allowances are quite restrictive – but you can't beat those views!
The flight operator, Harbor Air Seaplanes, also offers scenic sightseeing tours of Vancouver that range from 20-minute panoramic views of downtown Vancouver to extended aerial city tours. They also offer sightseeing flights that explore the coastline over Tofino. Visit a remote lake at the foot of the alpine mountains, and even ride along while the seaplane hops from island to island delivering mail.
2. From Vancouver to Seattle by Train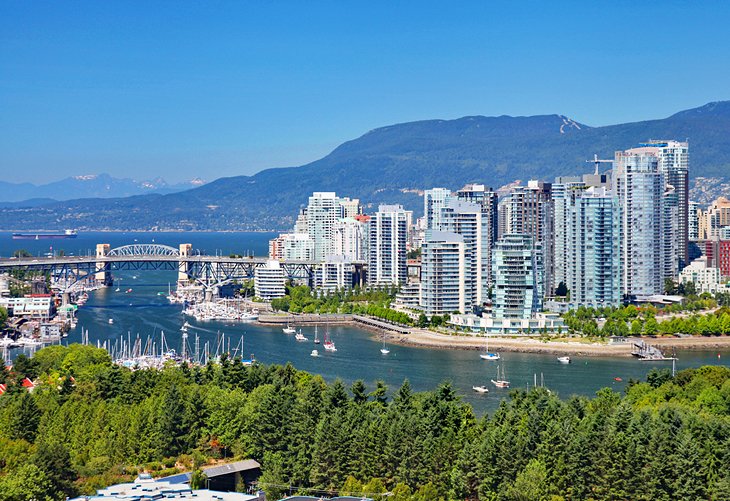 For a low-stress, scenic way to get from Vancouver to Seattle, consider booking a train ticket. Trains depart Vancouver from Pacific Central Station just outside of downtown and take you right to the heart of Seattle – it's an easy journey, and it's a much prettier route than making the trip by car.
Taking the train from Vancouver to Seattle is a relatively popular option, and there are only a couple of trips a day, so if you're planning to travel this way – especially in the busy summer months – be sure to book your trip well in advance. Remember to show up early, as you'll have to go through customs before you board the train in Vancouver.
The train is one of the slower modes of transportation between Vancouver and Seattle – the trip takes about four and a half hours – but that just gives you more time to get lost in a book or take in the scenery along the way.
3. From Vancouver to Seattle by Car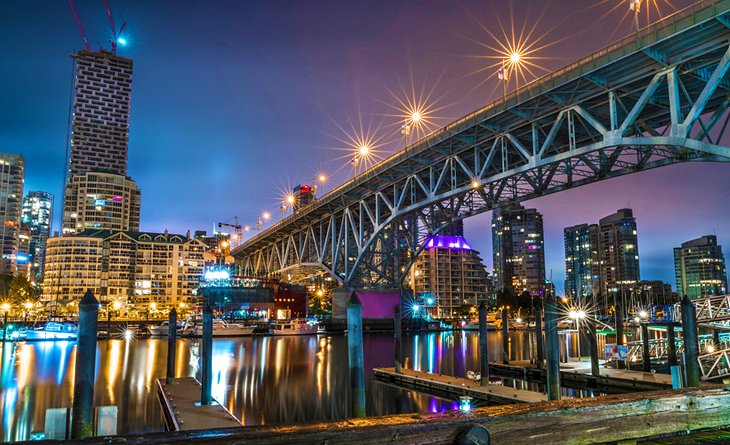 There are plenty of advantages to traveling from Vancouver to Seattle by car, like the ability to pick your own music and control the air-conditioning, to name a few. The route couldn't be more straightforward: head south on Granville Street and follow Highway 99 across the Peace Arch border, then continue on to the I-5 until you get to Seattle.
You could also try your hand at one of the other three Vancouver-area border crossings (the Truck Crossing, the Aldergrove Crossing, and the Huntingdon-Sumas crossing, all of which will get you to the I-5 in due course), depending on the wait times at the border. In light traffic and with minimal border waits, the entire trip should take around three hours.
While the flexibility of driving yourself has plenty of appeal, there are a few downsides to consider. First, waits at the border can get quite long, especially at busy travel times during weekends and holidays. Second, if you'll be approaching Seattle around rush hour, traffic can be pretty brutal. Third, expect to shell out the big bucks for parking if you'll be staying in downtown Seattle. Fourth, despite the beauty of both cities, the journey from Vancouver to Seattle isn't the most scenic of routes.
4. From Vancouver to Seattle by Bus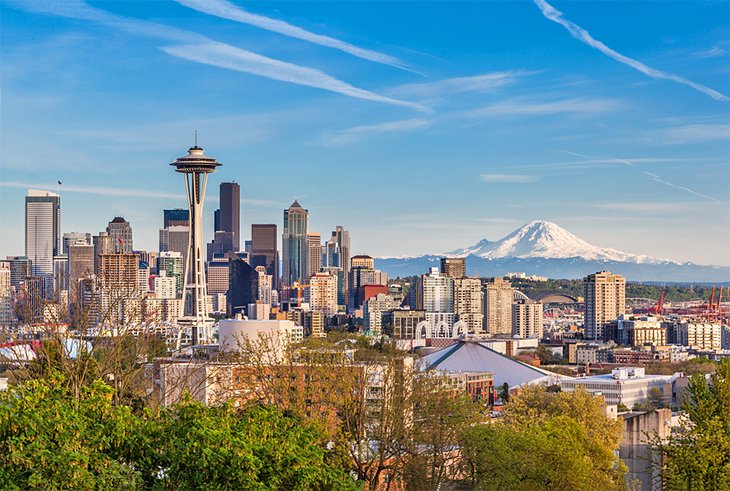 Traveling to Seattle by road is a lot less stressful when someone else is behind the wheel. That's the primary benefit of making the trip by bus. Another big perk? The price: you'd be hard-pressed to find a cheaper way to get to the Emerald City.
Catching a bus to Seattle on the Quick Shuttle means you can enjoy comfortable seats, free Wi-Fi, and power outlets at every seat. While taking the bus offers less flexibility than driving yourself, there are plenty of buses making the trip every day, so you have a range of options when it comes to scheduling.
One hurdle involved with busing from Vancouver to Seattle involves crossing the border. You need to wait for everyone on the bus to clear customs – and some people may require extra time to do this.
Also, be mindful of how many stops the bus is scheduled to make. Some routes are more direct, getting you to your final destination much quicker than those that stop in every town along the way.
Other bus operators offering this route include BoltBus and INFOBUS.
5. From Vancouver to Seattle by Air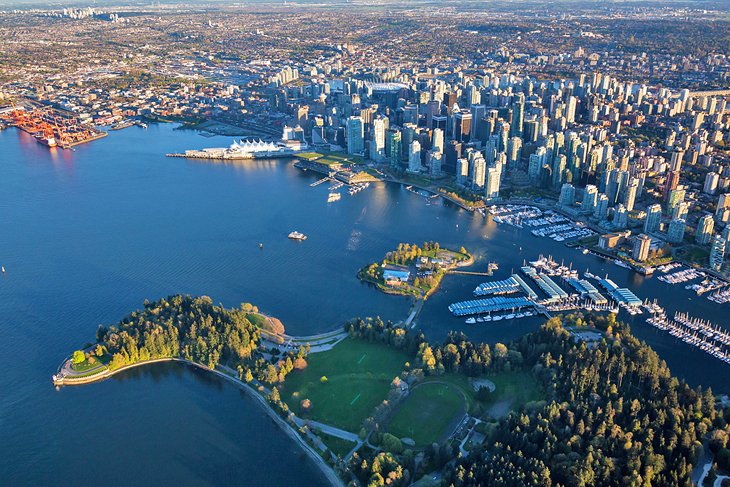 Both Vancouver (YVR) and Seattle (SEA) are home to international airports, meaning you can fly from one city to the other with relative ease. There are plenty of direct flights offered by several Canadian and US-based airlines, most of which clock in at just shy of an hour. Flying is efficient, quick, and relatively straightforward.
Though the flight itself is fast, it's still an international trip, meaning you have to get to the airport early and allow yourself plenty of time to get through customs. Both airports are just outside their respective cities, so if you're staying in downtown Vancouver and/or downtown Seattle, you'll have to consider the extra time needed to get from the city to the airport.
Finally, flying tends to be more expensive than land-based options.
6. From Vancouver to Seattle by Ferry (via Victoria)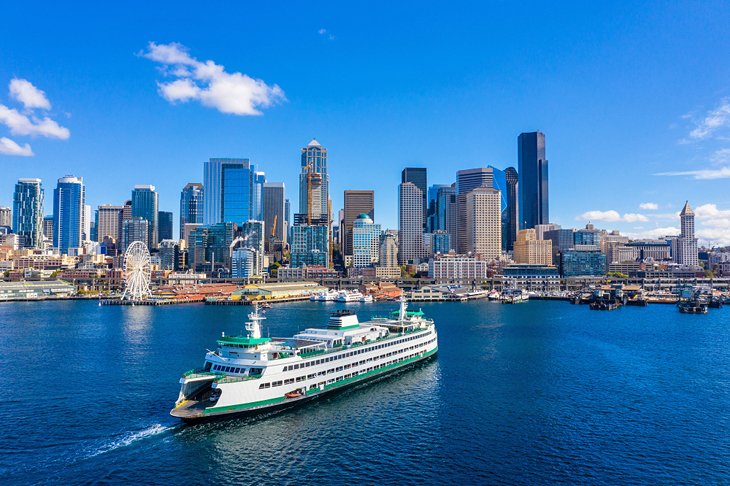 Not in a rush? Catch the ferry from Tsawwassen or Horseshoe Bay across the Strait of Georgia to Victoria, then hop aboard a second ferry and make your way down to Seattle.
This trip is for those who like to stop and smell the roses – the ferry ride from the Vancouver area to Victoria is about an hour and a half, and the second trip from Victoria to Seattle clocks in at around 2 hours and 45 minutes.
Of course, that doesn't count the time it takes you to get from Vancouver to the ferry terminal (both Tsawwassen and Horseshoe Bay are a bit of a drive), not to mention the fact that you need to arrive to the ferry terminal well in advance of the departure time. To further complicate matters, the Victoria-Seattle ferry leaves from an entirely different ferry terminal in downtown Victoria.
No, it's not the fastest route – but it is a mighty beautiful one. If you're considering adding on a side trip to spend a few days in Victoria, this just might be the best way to experience the beauty of the West Coast.
7. From Vancouver to Seattle by Cruise Shuttle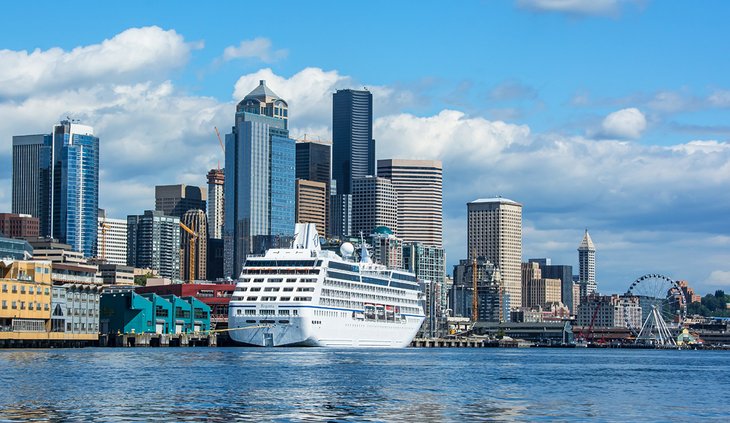 The cruise shuttle service is designed for cruise ship passengers who need to get from the airport to the cruise port (or vice-versa) between Seattle and Vancouver. Although the service only runs on days with scheduled cruise ship arrival and departures, you don't have to be a passenger on one of the major cruise lines in order to utilize the shuttle.
This option combines the convenience and efficiency of a shuttle-style service with the adventure of a boat ride, with no waiting for vehicles to drive on and off the boat. The shuttle has two routes, one operating from Seattle's Pier 91 and the other from Pier 66. In Vancouver, both shuttles depart from Downtown Vancouver, as well as the Vancouver International Airport's transfer point at the River Rock Resort.