7 Best Ski Resorts near Vancouver, BC
Vancouver might be known for its mild year-round climate, but that doesn't mean you have to go far to satisfy your craving for snow.
Skiing and snowboarding are among the most adored winter activities for Vancouverites, whether they are looking to pop up to a local hill for a few after-work laps or make a road trip for a weekend filled with glorious powder at larger ski resorts near Vancouver. There are plenty of options to choose from, depending on the type of adventure in mind.
Don't believe us? Remember, this is the city that hosted the 2010 Winter Olympic Games. Ski and snowboard events were held on Whistler Mountain and Cypress Mountain – two mountains that we've included in our list of must-ski areas in and around Vancouver. If it's good enough for the best athletes in the world, then surely, it's worth checking out yourself.
Whether you're after a rustic resort with plenty of character or a world-class destination resort that draws visitors from around the globe, you're sure to find exactly what you're looking for with our list of the best ski resorts near Vancouver.
1. Whistler Blackcomb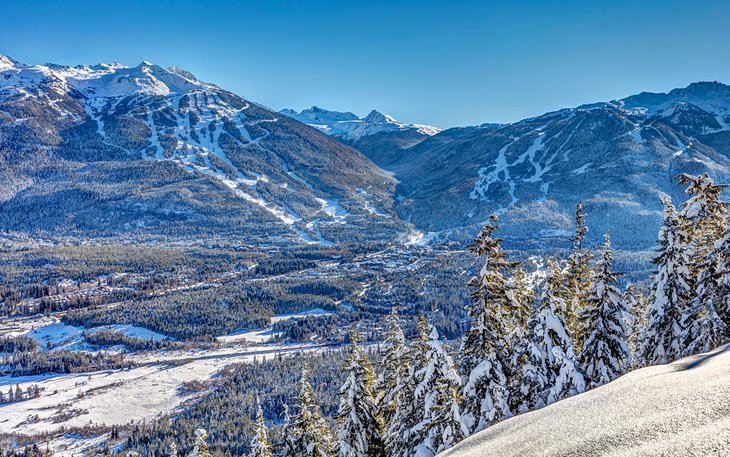 Perhaps the best known resort in the Vancouver are — and arguably in all of Canada, or even North America — is Whistler Blackcomb. With two mountains: Whistler Mountain and Blackcomb Mountain, you could spend an entire season skiing and still not hit each of the 200 runs. And with an average of over 38 feet of snow each season, you can be assured of lots of the white stuff underneath your feet.
If you're after epic, world-class skiing, then Whistler Blackcomb is the perfect resort for you. Whatever type of terrain you like best – from vast bowls and steep chutes to mellow groomers and technical terrain parks – you will find plenty of it in Whistler. Variety is the name of the game, and with 8,171 acres of terrain to explore, it's safe to say you won't get bored.
The resort continues to get better and better with the installation of a new 10-passenger gondola leaving from the Creekside Base area and the replacement of the Big Red Express quad to a six-passenger high-speed lift. The new Creekside Gondola will be able to transport 35 percent more people up the hill and will reduce the early morning lines.
The new Big Red Express improvement will also significantly alleviate a major bottleneck on the mountain, where skiers riding up from Creekside combined with skiers descending from the high alpine both tried to access the lift.
Whistler Blackcomb offers an amazing ski school program – and it's not just for first-timers (although they do have lessons for beginners). From steep ski clinics and women's only ski camps to programs that allow you to ski with Olympic athletes, the classes are a great way to have an experienced local show you the best spots on the mountain.
Although Whistler is undoubtedly known for its skiing and snowboarding, they're only the tip of the iceberg in terms of activities and attractions of the Whistler area. Plan to stay for as long as you can for a chance to try dogsledding, ziplining, snowmobiling, bungee jumping, dining tours – the list goes on.
Official site: https://www.whistlerblackcomb.com/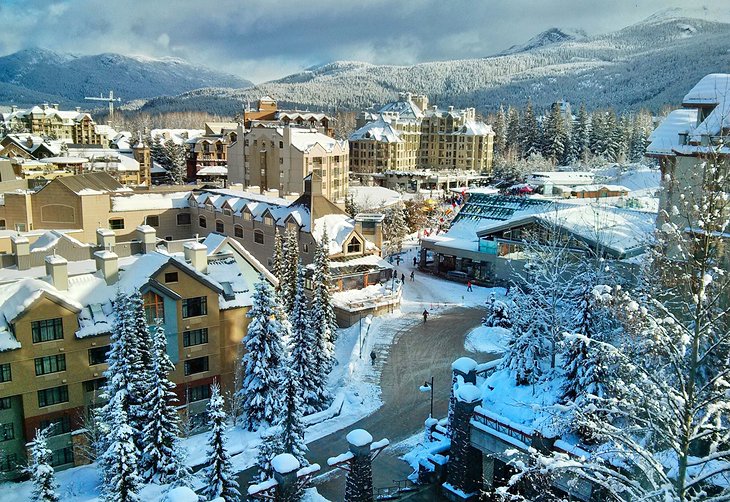 Where to Stay: Although Whistler can be done in a day trip from Vancouver, it makes for a pretty long day. Your best bet is to stay in the Resort Municipality of Whistler. There are plenty of hotels right in Whistler Village, meaning you can stomp your ski boots through the Village Stroll straight to the gondola line.
With plenty of restaurants, festivals, and events year-round, the Village can get pretty hectic in peak season. Consider staying just outside the main Village – perhaps in the Benchlands or in the Upper Village – where you'll still be close to the action but are likely to get a little more sleep if you plan on making first chair in the morning.
The Fairmont Chateau Whistler Resort and Four Seasons Resort and Residences Whistler offer the most luxurious accommodations in town although be aware that the Four Season is a bit of a walk from the hill. The resort solves this problem by having your ski gear heated and dried overnight and ready for you at the base of Blackcomb. Also, it's important to note that all hotels can get pricey in the busy winter season, especially on weekends.
2. Grouse Mountain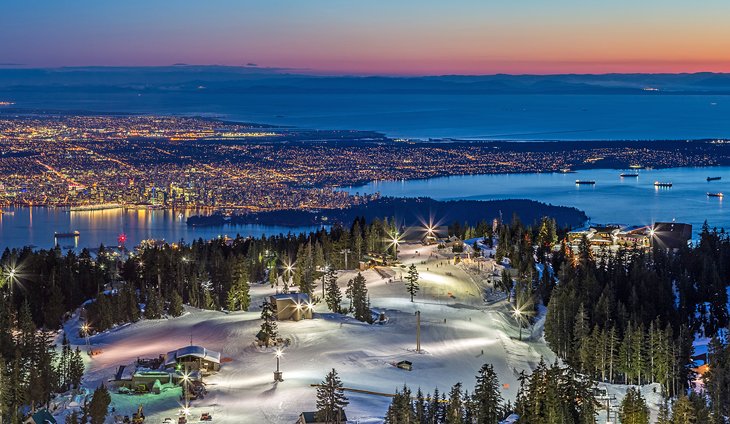 Just 12.5 kilometers from downtown Vancouver, Grouse Mountain in North Vancouver is a fantastic option for those who want to get to snow as quickly as possible. A quick gondola ride from the base of the mountain will get you right into the heart of the action: 33 runs, four different chairlifts, and six terrain parks, clocking at 1,200 meters above sea level.
The resort's perfect location and elevation snags any snow coming towards the North Shore Mountains, ensuring that Grouse Mountain keeps to its average seasonal snowfall total of just over 31 feet.
Though it has a dedicated beginner area, most of the mountain's trails are a mix of blue and black runs, making it a perfect choice for those with a bit of experience under their belt who are looking for a quick snow fix without straying too far from the city.
One of the best features of Grouse Mountain's ski area is the fact that it stays open for night skiing. When the sun goes down — and in the winter months in Vancouver, that can be pretty early — 15 different runs remain open and well-lit until 10pm. Standing on the snowy slopes of Grouse and looking out onto the city lights below is one of those special moments that takes your breath away. You won't get a better view of Vancouver from anywhere else.
If you're looking to squeeze in a few laps after school or work, it doesn't get much better than Grouse.
Official site: https://www.grousemountain.com/
Where to Stay: Grouse Mountain is so incredibly close to Vancouver that you can easily stay right in downtown Vancouver and still fit in plenty of skiing. Unless traffic is especially bad, you can get to the resort in less than half an hour. The heritage Sylvia Hotel on the West End is close to Stanley Park and will get you across the Lion's Gate Bridge and onto the North Shore quickly. Downtown hotels near Waterfront Station, like the Fairmont Waterfront and the Pan Pacific Vancouver, offer access to North Vancouver by Seabus, a quick passenger ferry across the Vancouver Harbour.
There are also public transit options that will take you straight to the mountain. North Vancouver has plenty of hotels for those who prefer to be close to the snow but away from the hustle and bustle of downtown Vancouver.
3. Cypress Mountain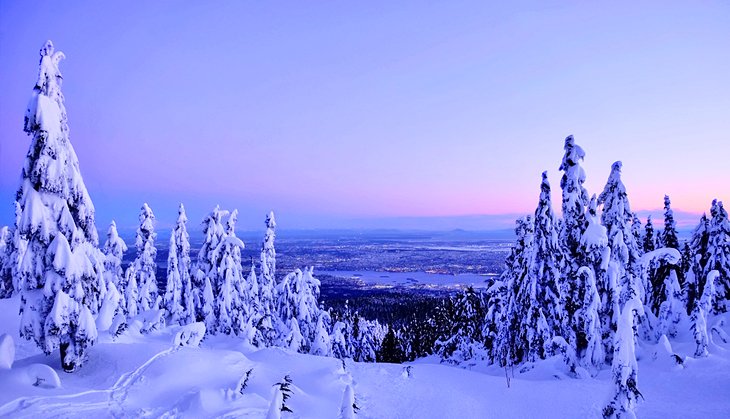 If you covet even more terrain but want to stick close to Vancouver, look no further than Cypress Mountain. It's a little farther from the city, though not by much, at roughly 30 minutes away from downtown. Tucked away just past West Vancouver and up a winding mountain road, Cypress feels like a winter wonderland after a fresh snowfall. With an annual average snowfall of over 20 feet, that feeling happens time and again.
Big news for fans of Cypress for the 2022/23 season: a new quad chairlift is being installed. The old double Sky Chair, formerly of Apex Mountain Resort and dating from 1968, has been retired and in its place will be the new Sky Quad. This high-speed chairlift will significantly boost uphill capacity, and with its conveyer belt loading system, getting on the chair couldn't be easier. The trip to the top of Mount Strachan will take a mere four minutes.
In addition to the new chair, a massive, new, heated outdoor deck with retractable umbrellas beside the Cypress Creek Lodge will make lingering at lunchtime a distinct possibility. Also, 15 new SMI Super Pole Cat snowmaking guns will be in operation, ensuring the runs have a perfect snow cover.
The Cypress ski area spans three mountains: Mount Strachan, Black Mountain, and Hollyburn Mountain, featuring 53 ski runs over 600 acres of terrain, all accessed through a series of six chairlifts. If you want the greatest variety of terrain close to Vancouver, this is where you'll want to head.
Night skiing is available on select runs at Cypress until 10pm. If you decide to switch things up, the resort also offers cross-country skiing, snowshoeing trails, and snow tubing.
Getting to Cypress couldn't be easier. If you don't have a car and are staying downtown or on the north shore, just hop on one of the frequent shuttles operated by Cypress Coach Lines. They'll whisk you up to the mountain while you sit back and enjoy the view. The main shuttle stops are: Vancouver Public Library, Lonsdale Quay, and Park Royal.
If you are driving, the route is simple and along divided highway until you reach the road to the resort, where it becomes single lane and twisty. Note that you need winter or all-season tires to drive on this road from October 1st to April 30th. Most rental cars have these tires, so you shouldn't have any issues — just double check that they have the M+S symbol or the picture of a mountain with a snowflake inside on the sidewall.
Official site: https://cypressmountain.com/
Where to Stay: You could easily drive up to Cypress from downtown Vancouver, but it's also worth booking a night at an AirBnb in Horseshoe Bay. This quaint village is perched on the shores of Howe Sound and serves as a key departure point for ferries heading to Vancouver Island, the Sunshine Coast, and Bowen Island.
Horseshoe Bay is about a half-hour drive from Cypress, but it offers a nice break if you're looking to take a breather from the busy city. As a bonus, staying in Horseshoe Bay makes it easy to jump over to Vancouver Island for more exploring and adventuring (see Mount Washington below).
4. Mt. Baker Ski Area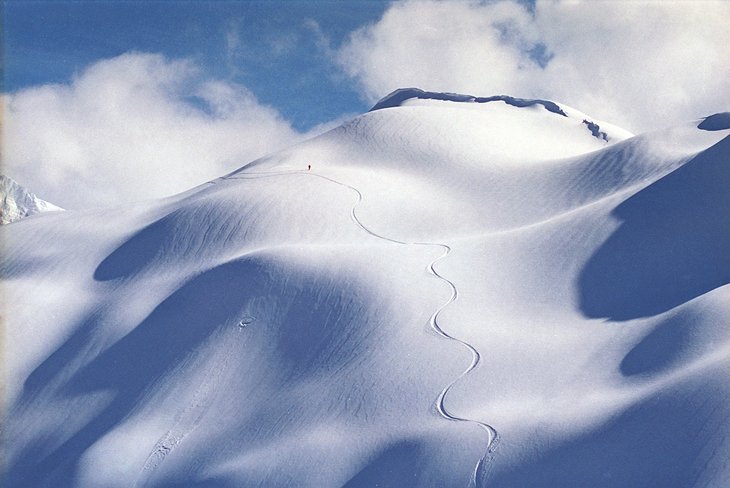 Technically, Mt. Baker isn't actually in British Columbia — or even Canada — but you're sure to find plenty of Vancouverites at this ski resort just south of the border in Washington State. It's a favorite option for those looking for seriously good skiing with an unpretentious atmosphere.
If Whistler is all about five-star hotels, Baker has more of a rustic cabin-in-the-woods feel to it. But make no mistake about it: the ski terrain, accessed by eight chairlifts and two handle tows, is fantastic, particularly for more experienced skiers who are comfortable skiing blues, blacks, and beyond.
Mt. Baker is also all about snow. No matter what's happening at other resorts in North America (or around the world for that matter), Mt. Baker will have snow. Most seasons you can count on a minimum of 60 feet of snow. That is not a typo! In fact Mt. Baker holds the world record for snowfall in a season (1998/99) at an astounding 95 feet.
Mt. Baker has a homegrown, grassroots vibe, perhaps best evidenced by the Mt. Baker Banked Slalom, a snowboard slalom race that brings out locals and snowboarding pros alike every February. The heart and soul of a ski area like Baker is the kind that many resorts try to replicate, but it can't be faked.
Official site: https://www.mtbaker.us/
Where to Stay: Since Baker is roughly 150 kilometers away from Vancouver, you'll probably want to make a visit an overnighter in order to avoid dealing with potential delays at the US/Canada border. While there aren't any accommodations right in the ski area itself, there are plenty of options for short-term stays within a half-hour drive.
We weren't joking when we said that Baker is a cabin-in-the-woods kind of place. Book yourself a night (or two, preferably) in a cabin with a wood-burning stove. Dry out your gear, disconnect for a little while, and enjoy the simple things in life, like good snow, good skiing, and good company.
5. Sun Peaks Resort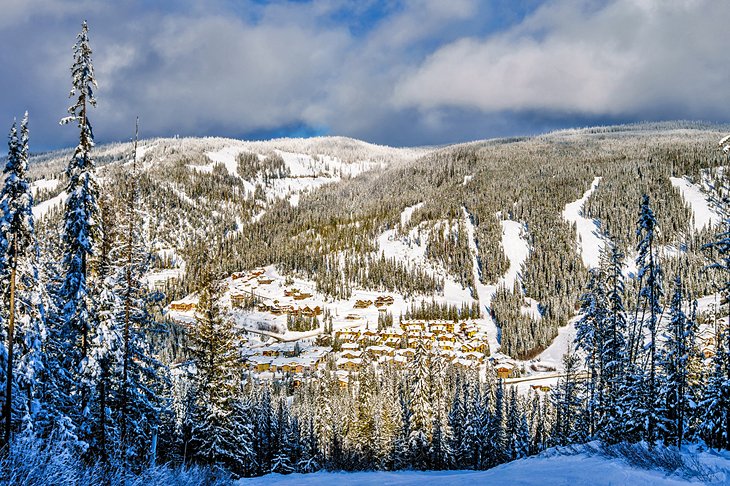 Load up the car with ski gear and hit the road: Sun Peaks Resort is worth the road trip (or if you'd rather skip driving in winter conditions, you can catch a quick flight from Vancouver to Kamloops). It's got everything the bigger ski resorts in North America have — the terrain (4,270 acres worth), the full mountain access (13 chairlifts), plenty of runs (138), the snow (generally light, powdery, and all around glorious) — virtually without the crowds.
While some of the bigger name resorts get tracked out quickly after a fresh snowfall, it isn't unusual to find untouched powder stashes days after a storm at Sun Peaks. That means you can enjoy a bit of a sleep in and a cup of coffee before heading up the mountain, rather than waiting in long lines to nab fresh tracks.
Sun Peaks actually consists of three adjacent mountain areas: Tod, Sundance, and Morrisey. Sundance offers lots of beginner-friendly terrain, while Morrisey offers plenty of blue runs for intermediate skiers. Mount Tod boasts the most elevation and a variety of runs for all abilities. Allow yourself at least a couple of days at Sun Peaks to get a feel for all three.
Official site: https://www.sunpeaksresort.com/
Where to Stay: The family-friendly Sun Peaks Village is positively magical – it's not unusual to see skiers whiz through the village, still on skis. Any of the hotels, rental town homes, or rental condos in the Village are great bets, or check out the neighborhoods just above the Village for a ski-in, ski-out rental. The most well-known hotel is the centrally-located Sun Peaks Grand Hotel & Conference Centre – the views from the rooms can't be beat.
Though the Village isn't huge, it's got plenty of shops and restaurants to keep you entertained before the lifts open and after they close. It's the kind of place where you can park your car and forget about it the entire time you're here. A complimentary shuttle runs on a regular schedule throughout the day and into the evening, with convenient stops located throughout the village and base area.
6. Mount Washington Alpine Resort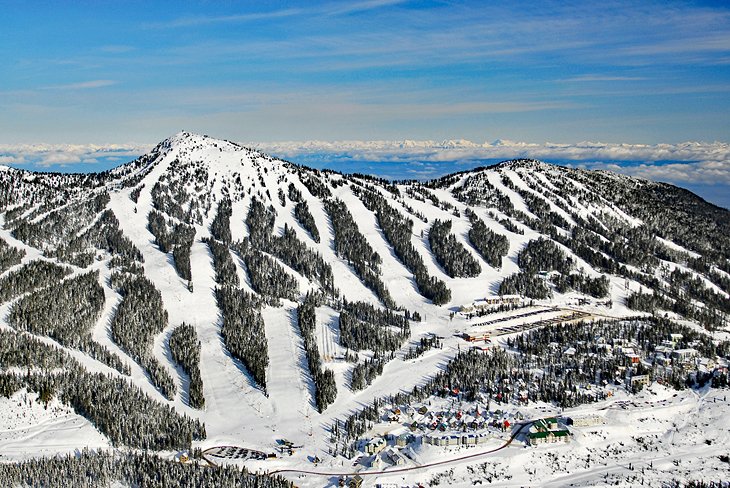 Got skis and willing to travel a little further afield from Vancouver? Hop on a ferry and cross the Strait of Georgia to Vancouver Island, then make your way up towards Mount Washington (which, despite its name, is not located in Washington State!)
Vancouver Island is well worth a trip in its own right, with beautiful towns and cities to explore like Victoria and Tofino – but Mount Washington is the crown jewel that attracts skiers and snowboarders to the area. The reason can be summed up in two simple words: record snowfall.
The vastly underrated Mount Washington gets some of the biggest dumps of snow anywhere in North America, with an average annual snowfall of 36 feet. You might want to bring your snorkel as you explore the 1,700 acres of terrain.
While there is snow in abundance, one thing that is lacking is the crowds. Lift lines are typically minimal or non-existent, and at times, you'll feel like you have the place to yourself.
Official site: https://www.mountwashington.ca/
Where to Stay: Immerse yourself in the Mount Washington lifestyle by securing a ski-in, ski-out rental nestled in the Alpine Village at the foot of the mountain. This pedestrian-only area has the cozy vibe of a European village tucked among the Alps. Bonus points for booking a place with a hot tub — your body will be begging for some TLC after a day in the powder.
Bear Lodge and Deer Lodge offer ski-in ski-out rental condos and, yes, hot tubs.
7. Sasquatch Mountain Resort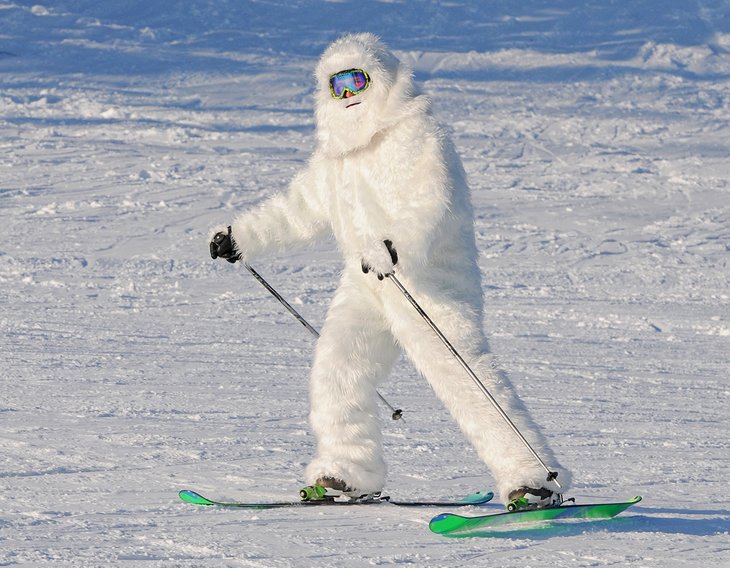 Only 150 kilometers inland from Vancouver lies the underrated Sasquatch Mountain Resort. The mountain is all about family fun, and with the addition of a new quad chairlift, the experience just got a whole lot better. Plus Sasquatch Mountain Resort, or SMR for short, is one of the most affordable ski destinations near Vancouver.
Snow conditions at SMR are very good. The resort receives on average nearly 33 feet of snow per season, so you'll never be dulling those new edges on rocks or roots. SMR has 36 runs and one terrain park called Whistle Park. Getting back up to the top is easy — just ride one of the three chair lifts or two surface conveyers.
Unlike many of the other resorts, SMR also has a tubing hill where your family can have endless hours of fun. If tubing isn't your thing, try snowshoeing on one of the two trails either the Base Loop or the Mount Klaudt Loop.
Plans have recently been approved by the Fraser Valley Regional District that will see Sasquatch Mountain expand its runs by a factor of 10, and build out new accommodations and other infrastructure in a major way. The 2.5-billion-dollar plan is expected to be executed over the next 15 years.
Official site: https://sasquatchmountain.ca/
Where to Stay: The nearby town of Harrison Hot Springs has a wide variety of places to stay at all price ranges. One of the best spots is the Harrison Hot Springs Resort & Spa with its large outdoor heated pool open all year.
Map of Ski Resorts near Vancouver, BC
Vancouver, Canada - Climate Chart
Average minimum and maximum temperatures for Vancouver, Canada in °C
J
F
M
A
M
J
J
A
S
O
N
D

6

0

8

1

10

3

13

5

16

8

19

11

22

13

22

13

18

10

14

6

9

3

6

1

PlanetWare.com
Average monthly precipitation totals for Vancouver, Canada in mm.

150

125

109

76

61

46

36

38

64

114

170

178

Average monthly snowfall totals for Vancouver, Canada in cm.

21

9

4

1

0

0

0

0

0

0

3

19
Average minimum and maximum temperatures for Vancouver, Canada in °F
J
F
M
A
M
J
J
A
S
O
N
D

42

32

46

34

49

36

54

40

61

46

66

51

71

54

71

55

65

50

56

43

48

37

43

33

PlanetWare.com
Average monthly precipitation totals for Vancouver, Canada in inches.

5.9

4.9

4.3

3.0

2.4

1.8

1.4

1.5

2.5

4.5

6.7

7.0

Average monthly snowfall totals for Vancouver, Canada in inches.

8.1

3.4

1.6

0.2

0

0

0

0

0

0

1.0

7.3
More Related Articles on PlanetWare.com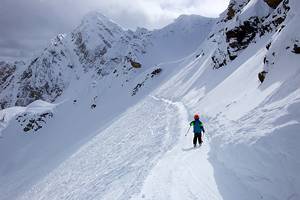 Skiing in Canada: If you have time to travel further afield in search of great skiing, be sure to see our guide to the best ski resorts in Canada. Several of the best ski resorts are in British Columbia and neighboring Alberta, which are all within easy reach of Vancouver if you are willing to hop on a short flight or spend a little more time driving.