9 Top-Rated Things to Do in Vancouver with Kids
It's no wonder Vancouver is a popular destination for families with kids: it's a safe and beautiful city with a very walkable downtown, and its most spectacular attractions — the beaches, parks, and forests — are easy to enjoy, no matter what age you are. If you're looking for things to do in Vancouver with kids, you're in luck: there's no shortage of family-friendly attractions waiting for you.
You don't need to leave the city to experience British Columbia's natural beauty, and, as a bonus, it's free to take a walk through the woods or to feel the sand beneath your toes. With a mild climate, you can enjoy outdoor activities year-round, as Vancouverites typically do.
If you didn't pack your rain gear (we get it, rain boots take up a lot of precious suitcase space), not to worry — there are several kid-approved indoor activities that will keep you busy on a rainy day.
We've rounded up our favorite all-ages attractions, with a wide range of indoor and outdoor activities that can be enjoyed no matter what time of year you're visiting. From satisfying your curiosity to immersing yourself in the local sports culture, here is our list of the top things to do on your family trip to Vancouver.
1. Learn Something New at Science World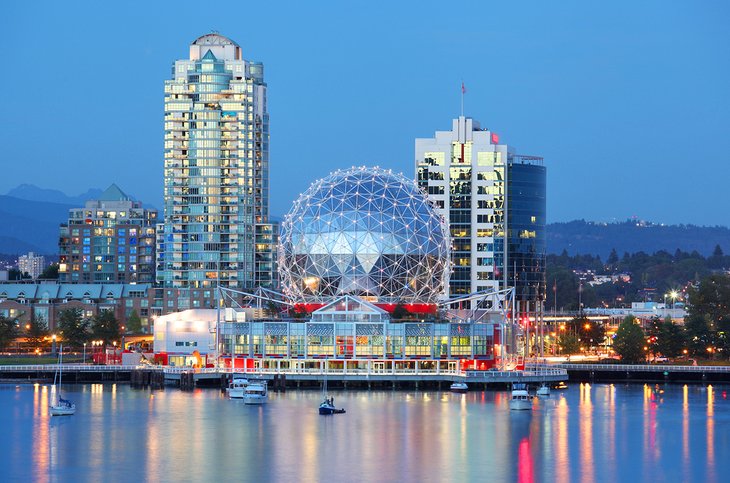 You could easily spend an entire day at Science World experiencing the interactive and fascinating displays, exhibits, shows, and activities.
Science World takes a playful approach to celebrating science: from exploring the ins and outs of the human body to diving deep into the world of animals, plants, and Mother Nature's finest creations, there's a ton to do, see, and learn. Most activities are geared towards kids, but many adults will have fun checking it out, too.
While exhibits and experiments form a large part of the facility, there's even more to explore. For instance, a 306-square-meter play space is the perfect place to visit to burn off some energy. The outdoor science park offers an educational experience while getting some fresh air. There's also an Omnimax theater featuring a variety of films and live shows.
This isn't the cheapest activity for kids in Vancouver — the price of admission ranges by age, with the Omnimax films costing extra. You can easily end up spending more than $100 for a family of four, and that's not including food. Still, on a rainy day — and there are plenty of those in Vancouver — it's a fun (and informative) way to enjoy your time.
As a bonus, Science World is easily accessed by public transportation, with a SkyTrain stop just outside the center. You can't miss the building: it's the giant mirrored ball that stands out in Vancouver's skyline.
Address: 1455 Quebec Street, Vancouver, British Columbia
Official site: https://www.scienceworld.ca
2. Discover the Magic of Stanley Park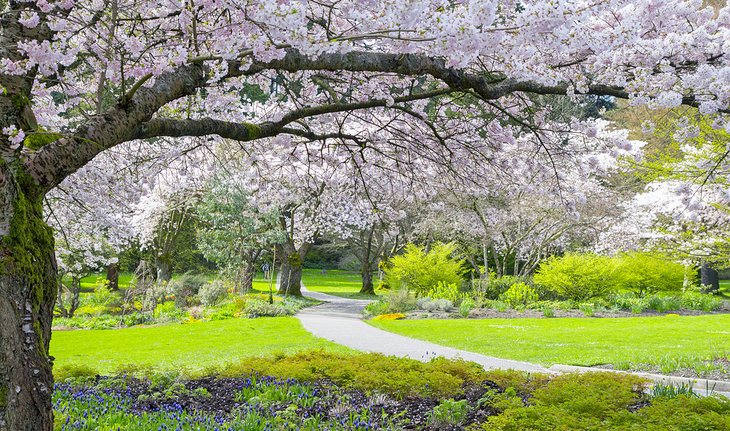 British Columbia's biggest draw is its natural beauty. Luckily, you don't need to go far to experience it firsthand.
Stanley Park is a 405-hectare lush, green park with towering trees, plenty of trails to explore, and sandy beaches along the ocean shore — and it's located right in downtown Vancouver.
What is there to do in Stanley Park? In a word, lots. There are plenty of casual and unstructured ways to enjoy the beauty of the park — among the most popular is a cruise along the Stanley Park Seawall. This paved trail follows the ocean along the perimeter of the park. At nearly nine kilometers (or 5.5 miles) in length, it's a little too long for most kids to walk, but it's a great place to go for a bike ride. There are several bike shops in the vicinity that provide rentals.
There's also a large network of dirt trails that wind through the park's forests. You can head out for a quick walk or link several trails together and make a longer hike of it. Most trails are quite flat and non-technical, which makes for a nice and easy outing.
There are two sandy beaches in the park: both Second Beach and Third Beach are popular places to swim and suntan in the summer, but even on an overcast day, it's fun to lean up against a piece of driftwood and take in the views. There's also a huge outdoor swimming pool near Second Beach and some epic playground facilities. When it's time to grab a bite to eat, you can visit one of many restaurants, cafes, and food kiosks scattered throughout the park.
You can explore Stanley Park in a more leisurely fashion by booking a horse-drawn carriage ride or by hopping aboard the Stanley Park Train. The train runs seasonally in the summer, as well as during holidays like Halloween, Christmas, and Easter.
Needless to say, there is a lot for families to enjoy in Stanley Park, but our favorite attraction in the park is the next one on this list.
Official site: https://vancouver.ca/parks-recreation-culture/stanley-park.aspx
3. Make Friends with the Local Fish at the Vancouver Aquarium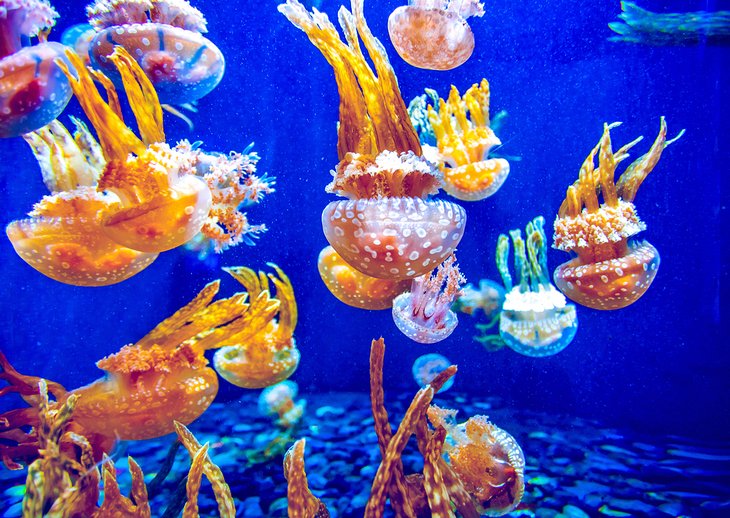 Arguably the coolest thing to do in Stanley Park is to visit the Vancouver Aquarium, a spectacular facility exploring the magical and mysterious world under the sea.
As a city by the ocean, it's only natural that Vancouver would have a museum dedicated to its coastal creatures. The aquarium does an excellent job at revealing the critters of the BC Coast, but it also explores several other places, from the tropics to the Arctic and beyond.
The exhibits are organized by geographical region, with tank after tank of colorful fish, frogs, turtles, and more. If you head outside, you can catch the sea lions, penguins, and other animals in action.
There are special presentations, story times, labs, and shows that take place throughout the day, each of which are super kid-friendly. The Vancouver Aquarium is truly an all-ages attraction — even babies will enjoy taking in the sights and sounds.
Address: 845 Avison Way, Vancouver, British Columbia
Official site: https://www.vanaqua.org
4. Sail Away on the Aquabus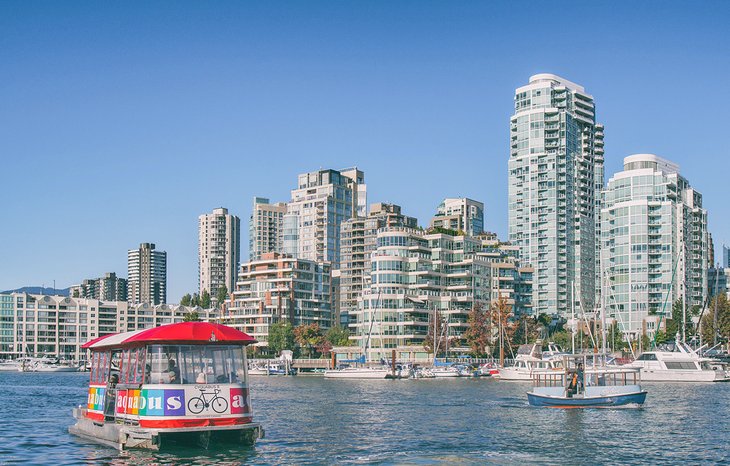 When you're a kid, sometimes the simplest things are the most memorable. Case in point: the Aquabus.
These mini rainbow-colored ferries putter around False Creek, serving as water taxis that link popular destinations like Granville Island, Yaletown, and the Plaza of the Nations (among others).
But the Aquabus is so much more than a mode of transportation: it's a short tour along the water allowing you to experience Vancouver from a totally different vantage point. Boats come along regularly — at least once every 15 minutes — so you never have to wait for too long to hop aboard.
Ferries operate year-round (except for Christmas Day) and generally run from 6:45am to 10:30pm. A day pass allows you to hop on and off to your heart's content, but you can also purchase one-way and round-trip tickets.
Official site: https://theaquabus.com
5. Wander through Granville Island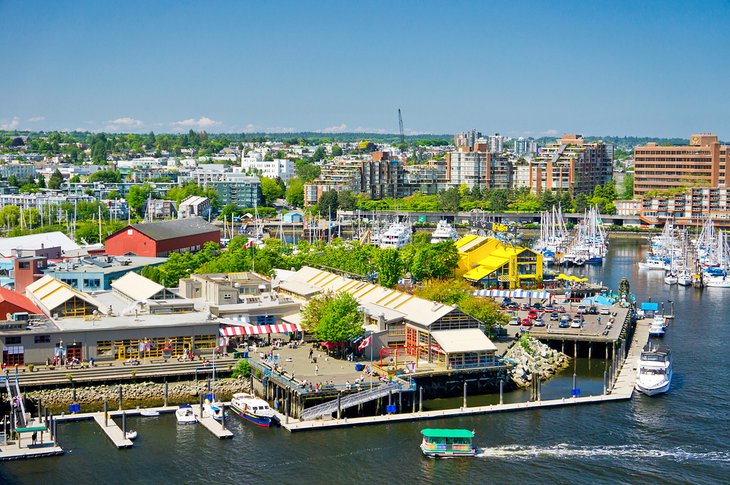 If you visit Granville Island — perhaps by way of the Aquabus — you'll be pleasantly surprised at how much there is to do in this pedestrian-oriented little village.
Kids and adults alike will enjoy perusing the sights, sounds, and smells of the public market, which is open daily from 9am to 7pm. Fresh produce, locally made delicacies, and handcrafted items are all for sale — you can grab lunch, groceries, and souvenirs all in one place.
In addition to the market, there are shops and restaurants to explore around Granville Island. One of the most popular places to eat is Go Fish, with its sensational fish and chips that can be enjoyed right by the water.
There are a few different kid-centric attractions to enjoy on Granville Island: The Adventure Zone is a huge indoor jungle gym where kids can climb, slide, jump, and move freely. Carousel Theatre for Young People features an ever-evolving program of plays and other events — it's well worth checking out what's on the program during your visit.
The Kids Market has a variety of shops and services geared towards children, including bumper cars and an arcade. In the summer, kids will be begging to hit up the massive water park — and parents will love the fact that it's completely free.
Official site: https://granvilleisland.com
6. Splash Around at Kits Beach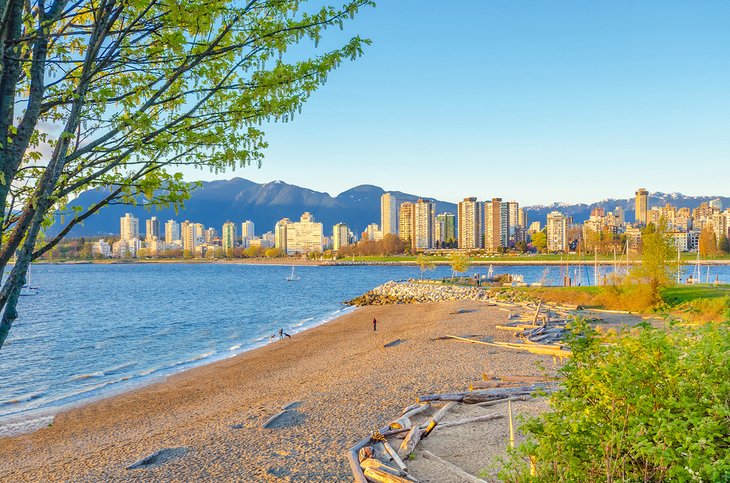 You really can't go wrong at any of Vancouver's eight beaches on the Pacific, but if we had to pick the most family-friendly one, we'd go with Kitsilano (or just Kits) Beach.
Just across from downtown Vancouver along the Burrard Street Bridge, Kits Beach offers a huge expanse of sandy shoreline. There are plenty of places to park your towel and build a sandcastle in the summer. You can also hop in the water for a swim; there are lifeguards at the beach from late May to early September.
Not a fan of swimming in the ocean? There's a huge heated saltwater pool overlooking the ocean, if that's more your thing. There's also volleyball, basketball, and tennis courts, plus a fabulous playground and a paved path that runs along the entire beach (and beyond), making it the perfect place to visit to get moving.
Official site: https://vancouver.ca/parks-recreation-culture/kitsilano-beach.aspx
7. See Canada from a Bird's-Eye View
For a seriously cool, family-friendly rainy day activity, look no further than FlyOver Canada.
It's hard to describe this incredible activity in words, but we'll do our best: picture yourself soaring over some of Canada's most incredible landscapes, feet dangling as you weave your way through the spectacular scenery, with the wind blowing in your hair (seriously, there's a wind machine).
This isn't just watching a regular old drone video — it's a fully immersive experience that engages all five of your senses for eight glorious minutes. It's a short but sweet activity, although there are some exhibits to enjoy pre-show, extending the experience a little longer.
Almost anyone can enjoy FlyOver Canada — just note that riders need to be at least 102 centimeters (or 40 inches) tall. You can book tickets online ahead of time; this is a good idea, especially during the summer holidays and other busy times.
Address: 999 Canada Place, Vancouver, British Columbia
Official site: https://www.flyovercanada.com
8. Cheer on Local Sports Teams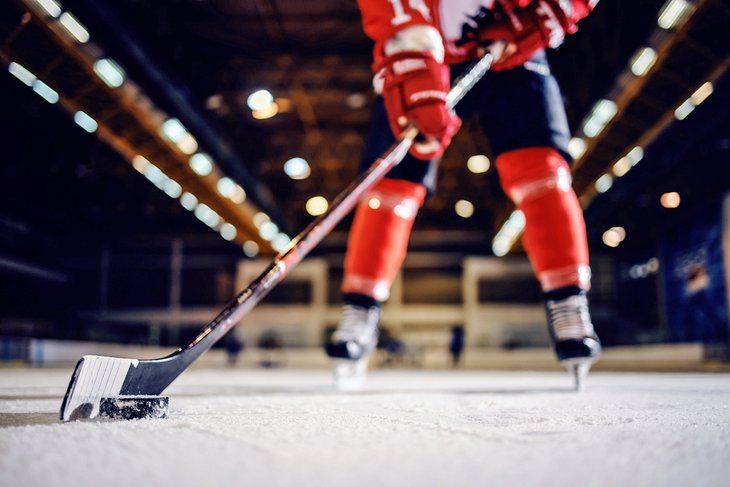 A great way to get a feel for Vancouver culture is to join the locals and root for the home team at a professional sports game. The atmosphere of a live game — no matter the sport — is a recipe for a good time, with lots of entertainment, excitement, and sugary snacks.
Whatever time of year you're visiting, there's a game for you to watch. From winter to spring, there's nothing like catching a hockey game with the Vancouver Canucks. From spring to fall, check out a soccer game with the Vancouver Whitecaps. From summer to fall, take in a football game with the BC Lions.
Families looking for all the fun of the big leagues with fewer crowds (and often at a more reasonable price) can check out some of Vancouver's other sports teams: the Vancouver Giants are the local major junior ice hockey team (most players are 20 years or younger), while the Vancouver Canadians are the local minor league baseball team.
9. Go for a Ride at the PNE and Playland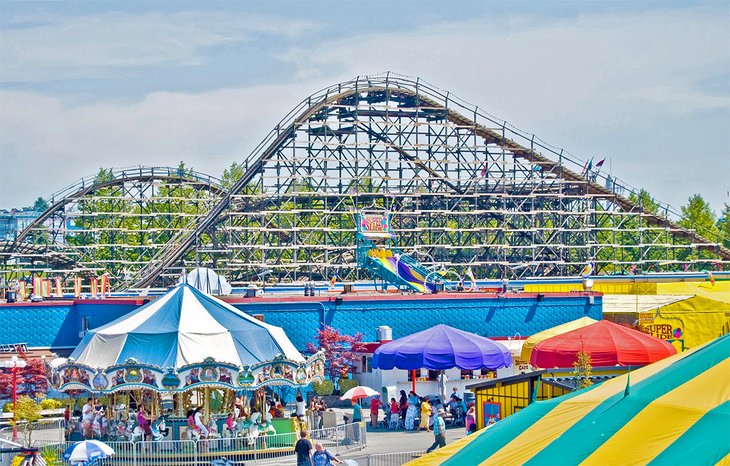 If you're lucky enough to visit Vancouver in the summer — typically the time of year with the best weather — then you'll definitely want to make a point of visiting the Pacific National Exhibition (better known as the PNE).
More specifically, you'll want to visit Playland, the ultra-fun amusement park featuring everything from mellow rides for little ones to roller coasters for thrill-seeking older kids. The Atmosfere offers great panoramic views of the city (albeit while swinging at 70 kilometers per hour — that's about 45 miles per hour), while The Revelation lets riders experience G force, à la fighter pilot — we recommend riding that one before lunch.
Playland also features all your typical fair favorites — carnival games, face painting, deep-fried foods — with some special features, too. One of our favorites is the Summer Night concert series, which take place nightly throughout the summer and are included in the price of your general admission. Performers range from small local acts to major international performers, often featuring your favorite throwback bands from the '80s, '90s, and beyond.
Although Playland is only open seasonally, there are often other fun events taking place at the PNE year-round. Check the schedule while you're in town — there might be a concert, market, or other show going on during your visit.
Official site: https://www.pne.ca
Map of Things to Do in Vancouver with Kids