11 Top-Rated Campgrounds at North Cascades National Park
We may earn a commission from affiliate links ()
Defined by dramatic mountain peaks and turquoise blue bodies of water, North Cascades National Park provides perhaps the most rugged place to visit in all of Washington state and a wonderful place to camp. The park encompasses over a half million acres, including the Lake Chelan and Ross Lake National Recreation Areas.
The scenic and seasonal North Cascades Highway (State Route 20) runs across the entire park between roughly May and November, depending on weather conditions. The drive along this scenic roadway is an adventure all its own and connects many dramatic attractions along the way, including the Skagit River, Diablo Lake, and the Methow Valley, as well as many of the great campgrounds that enable multiple days of exploring.
The National Park Service operates five campgrounds within park boundaries, four of which can be accessed via the North Cascades Highway, including the popular Colonial Creek and Newhalem Creek Campgrounds. More spots to spend the night can be found in the larger national forests that surround the park, and like Mineral Park and Lone Fir.
To really experience the grandeur, North Cascades offers other unique overnight opportunities, including boat-in campsites, scenic community campgrounds, and remote backcountry sites. Find the best spots to pitch your tent with our list of the top campgrounds at North Cascades National Park.
Note: Some businesses may be temporarily closed due to recent global health and safety issues.
1. Colonial Creek Campground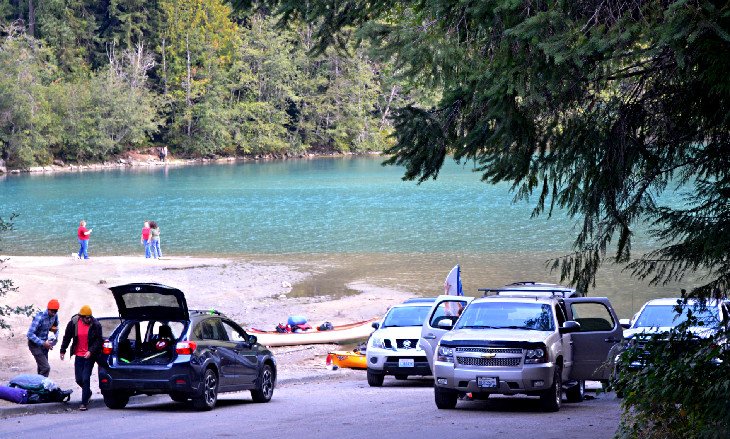 Located off the North Cascades Highway, Colonial Creek is one of the most popular campgrounds in the North Cascades. Centrally located, Colonial Creek stays busy thanks to its public pier and boat launch, which accesses Diablo Lake. Numerous hiking trails can also be found close to the campground, including the hike to Thunder Knob and the trail to Fourth of July Pass, one of the best hiking trails in the North Cascades.
Camping season for Colonial Creek typically stretches from May to September, though select lakefront sites on the South Loop remain open throughout the winter with limited facilities. The 100 campsites on South Loop can be reserved ahead of time, while the remaining 42 campsites that comprise the North Loop are granted on a first-come, first-served basis. All visitors to the campground have access to flushing restroom facilities and drinking water. A 2.5-hour drive from the Emerald City, Colonial Creek also receives some of its popularity from being one of the best campgrounds close to Seattle.
2. Newhalem Creek Campground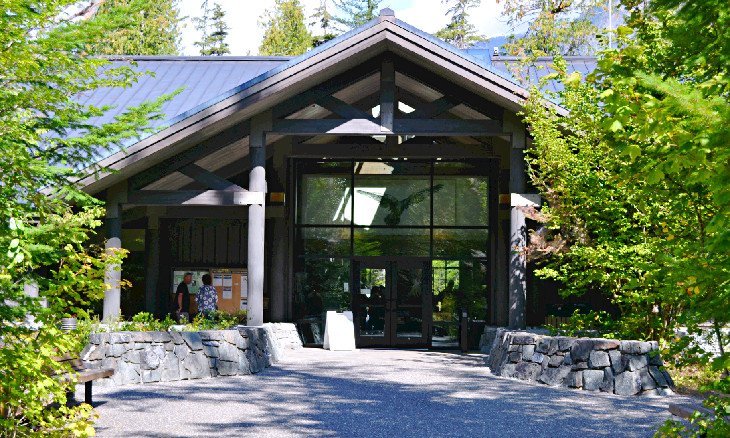 One of the largest campgrounds within the park, Newhalem Creek is a great home base for exploring the North Cascades. The North Cascades Visitor Center can be accessed within a short walk from the campground. Here, you can find a large-scale relief map of the park, a multimedia exhibit gallery, and an educational movie theater. The small unincorporated community of Newhalem can also be reached from the campground within a short drive, where trailheads for popular hikes like Ladder Creek Falls and the Trail of the Cedars invite further exploration.
Newhalem Creek Campground is a popular spot for RVs of all sizes with over 100 pull-through sites available, and the privacy afforded through dense foliage makes the campground popular for tent campers, too. Open seasonally between May and September, depending on the weather, Newhalem Creek Campground features flushing toilets and potable water.
Ranger programs and other interpretive events occur at the campground throughout the season, and camping supplies can be purchased in the nearby town of Newhalem. Group sites are also available at Newhalem Creek Campground and can accommodate up to 30 people.
3. Mineral Park Campground
Editor's Pick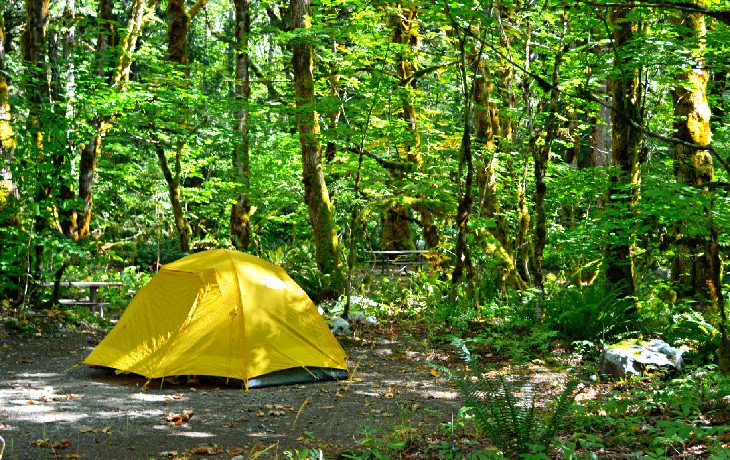 Accessed via the seasonal Cascade River Road and 17-mile drive from the town of Marblemount, Mineral Park Campground is surrounded by designated wilderness areas and dense forest landscapes. A great view of Mount Baker can be seen from the campground on clear days, and the Wild and Scenic Cascade River is a constant presence amid the campsites.
Best suited for tent campers and small recreational vehicles, and those who enjoy more remote settings, Mineral Park is split between a west and east zone with 21 total sites available. Vault toilets can be found at Mineral Park Campground, and overnight users will want to pack in all the water they need.
4. Goodell Creek Campground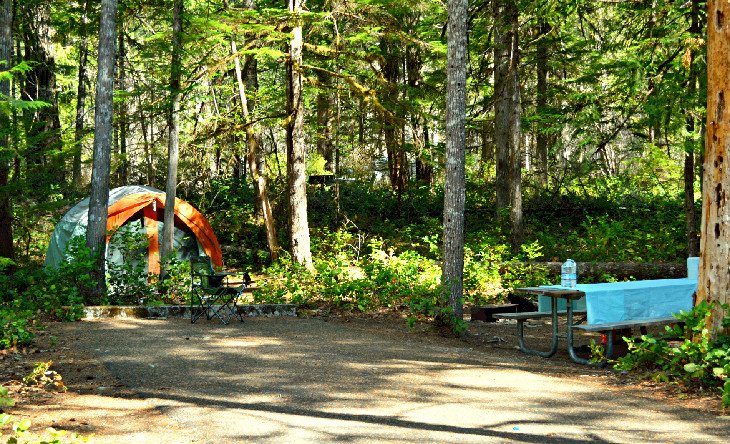 On the opposite bank of the Skagit River from the Newhalem Campground, Goodell Campground is tucked within an ancient forest abounding with natural activity. The main campground at Goodell Creek offers 19 sites on a first-come, first-served basis best suited for tent camping and small RVs. Goodell Creek also offers large Lower and Upper Group Camps farther up the creek, which can accommodate 50 and 30 people respectively.
The Skagit River provides much of the appeal of the Goodell Creek Campground, and nearby tributaries provide even more water to fish and explore. Visitors to the campground can visit the North Cascades Visitor Center and Skagit Information Center in Newhalem within a short walk or drive.
5. Lone Fir Campground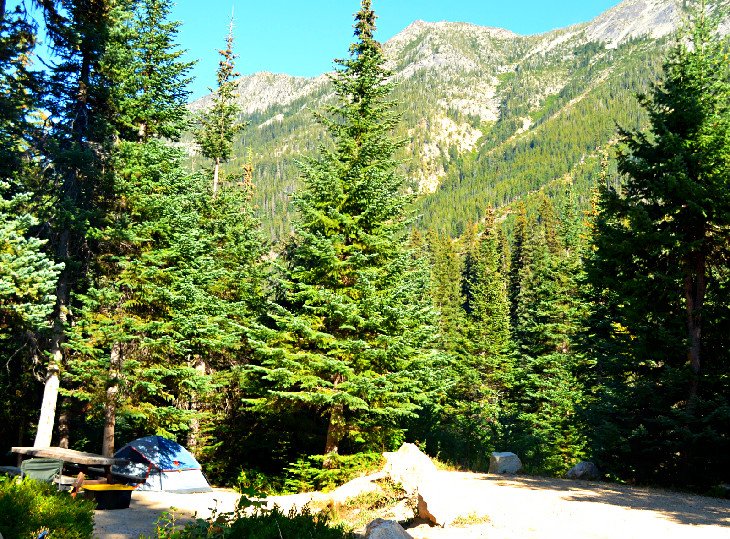 Operated within the Okanogan-Wenatchee National Forest outside the eastern boundary of North Cascades National Park, less than 30 miles from the old western town of Winthrop, Lone Fir Campground has 27 sites available on a first-come, first-served basis. A great beginning or ending point for exploring the North Cascades, Lone Fir Campground is adjacent to Early Winters Creek and is surrounded by great mountain views and a thriving forest.
The two-mile, interpretive Lone Fir Trail extends directly from the campground, and the popular Cutthroat Creek Trail can be accessed within a short drive. Popular for overnight cyclists and family tent camping, Lone Fir Campground is open seasonally between June and October.
Official site: https://www.fs.usda.gov/recarea/okawen/recarea/?recid=59303
6. Gorge Lake Campground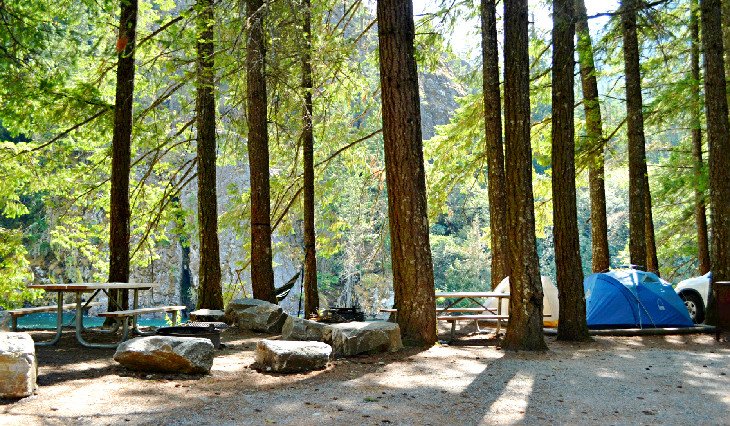 West of the Diablo Dam, Gorge Lake offers six year-round lakeside camping sites near the streaming sounds of Stetattle Creek. Best suited for tent camping and small recreational vehicles, Gorge Lake Campground is reached via State Route 20 and lends access to many nearby natural attractions, including Diablo Lake.
Popular hiking endeavors from the campground include the Pyramid Lake Trail and the Sourdough Mountain Trail. For educational opportunities, the North Cascades Environmental Learning Center can be reached within a 10-minute drive from Gorge Lake. Vault toilets are available at the campground, but all overnight users need to pack in all their own supplies, including water. A boat ramp to access Gorge Lake at the campground is available to all overnight and day-use visitors.
7. Hozomeen Campground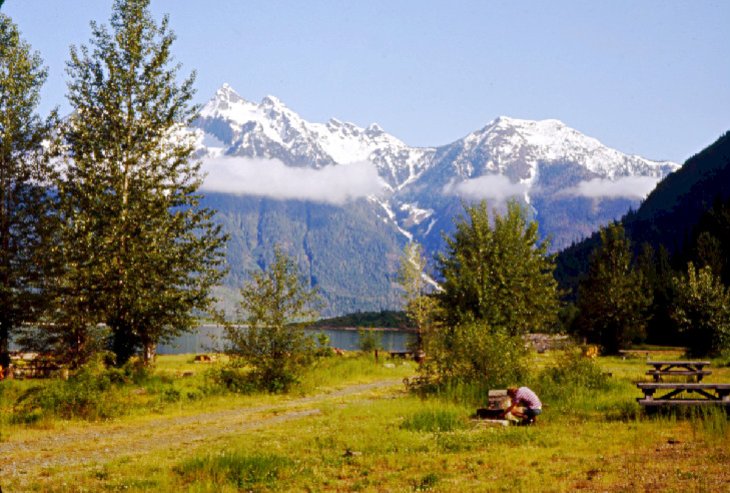 At the tip of Ross Lake near the Canadian border, Hozomeen Campground is a free campground operated by the National Park Service that attracts international attention. The campground is only accessible from the United States by hiking trail or watercraft, but visitors can also reach the Hozomeen Campground via an access road from Hope, British Columbia and a border crossing. Over 75 sites are available on a first-come, first-served basis at Hozomeen, as well as other designated camping areas.
Despite the primitive and relatively remote setting of this scenic campground, Hozomeen is a popular place to stay throughout the limited summer season, much in thanks to the stunning, surrounding alpine scenery.
8. Howard Miller Steelhead Park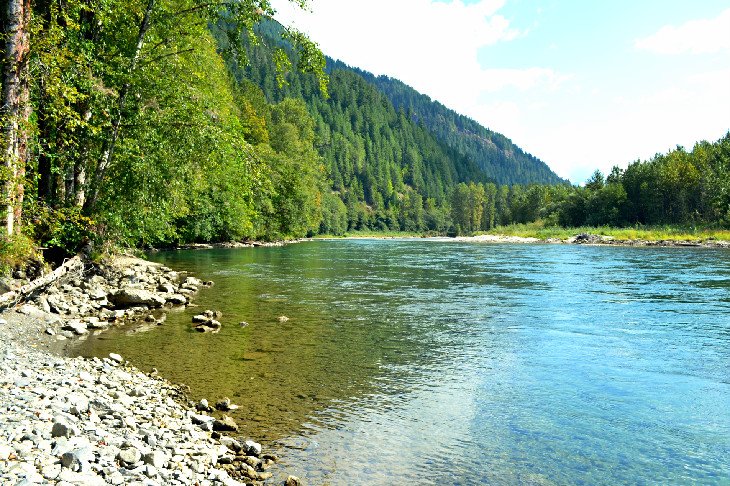 Popular for county residents and river enthusiasts from across the world, Howard Miller Steelhead Park is adjacent to the Wild and Scenic Skagit River. Accessed via State Route 20 and named after a long-term Skagit County commissioner, Howard Miller features nearly 50 spaces for RVs and 10 walk-in tent sites.
Fishing and rafting are prevalent on the adjacent Skagit River, and a public boat ramp at the park helps facilitate these endeavors. Hiking and biking along the shore is also popular from the park, and the interpretive Wetland Wildlife Trail extends from Howard Miller before connecting to other trails in the area. Amenities at the campground include hot showers, clean restrooms, and a playground area.
Official site: https://www.skagitcounty.net/Departments/ParksAndRecreation/parks/howardmiller.htm
9. Sahale Glacier Campground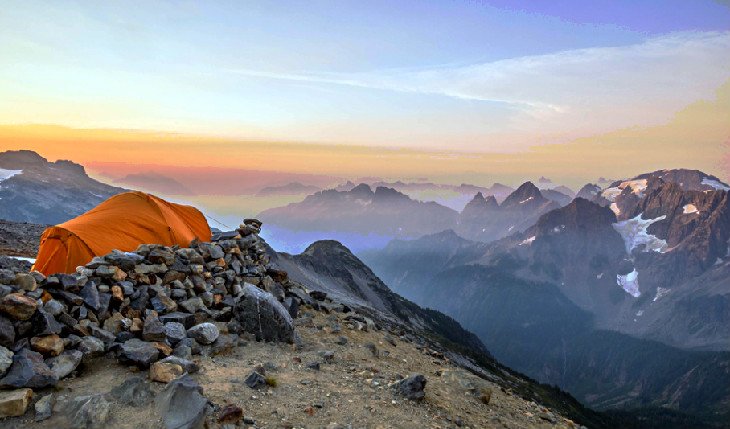 Defined by serrated mountain landscapes and glistening glaciers, the massive expanse of rugged terrain that is the North Cascades is best experienced via a backcountry campground. Permits are required for all overnight travel into North Cascades backcountry, and the Sahale Glacier Campground is one of the most sought after permits. At an elevation of over 7,500 feet, the six sites at Sahale Glacier Campground reveal an exposed and panoramic view of the surrounding mountains.
Beginning at the terminus of the scenic Cascade River Road, it's a roughly six-mile hike up Cascade Pass to reach Sahale Glacier Campground. Hikers on this trail, which is one of the best hiking trails in Washington, really earn the spectacular views along Cascade Pass, and other hiking paths and backcountry campsites stem from this memorable mountain route. The view from Sahale Glacier Camp, however, including the terminal moraine of the glacier itself, is one of the most rewarding views to wake up to in the park.
10. Lower Valley Campground, Stehekin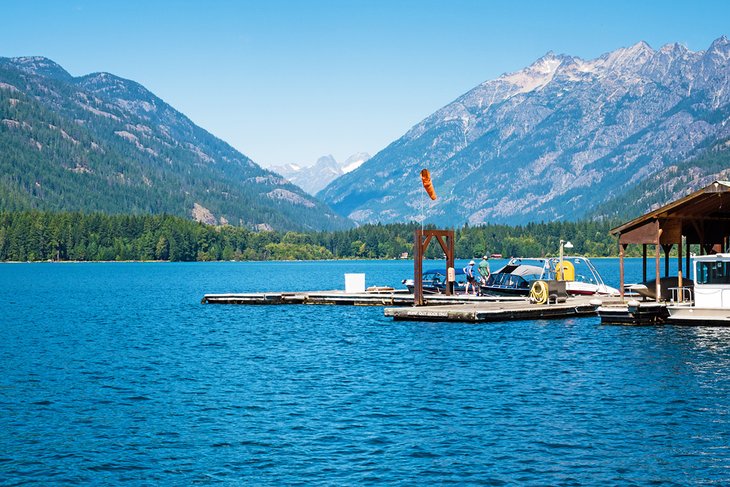 At the northern tip of Lake Chelan, within the Lake Chelan National Recreation Area of the North Cascades National Park Service Complex, Stehekin is a small community only accessible by hiking trail, boat ride, or aquatic aircraft. The rustic North Cascades Lodge and adjacent Golden West Visitor Center are among the few man-made landmarks in Stehekin, as well as the savory Stehekin Pastry Company. To make the most of this scenic region, it's recommended to take advantage of its great campgrounds.
Lower Valley Campground is the largest, land-based campground accessed from Stehekin, with 10 sites available, only a short walk from the visitor center and lodge. Overlooking Lake Chelan, Lower Valley is nothing short of a postcard place to pitch a tent. Stehekin also serves as a great place to explore the backcountry of the North Cascades, and the Pacific Crest Trail meanders throughout the area before terminating at the international border.
11. Big Beaver and Little Beaver Boat-In Campgrounds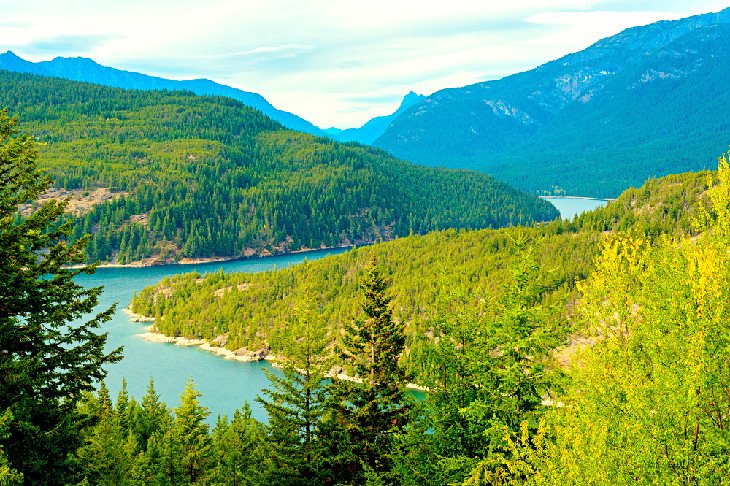 For a unique overnight experience in the North Cascades, the defining shores and turquoise waters of Ross Lake have 19 boat-in campgrounds to discover. Backcountry permits are required to spend the night at any of these shoreside sites, and proper food storage techniques apply. The largest campgrounds on the Ross Lake shoreline are the Big Beaver and Little Beaver Campgrounds, hosting seven and five sites respectively.
Besides epic views over the lake, half the adventure of these shoreside camping spots is simply traveling across the water. Direct access to Ross Lake can only be accomplished by crossing the border from Canada and utilizing the boat ramps at the Hozomeen Campground. Alternatively, to access Ross Lake from the North Cascades Highway, boaters can hop on Diablo Lake at the Colonial Creek Campground, paddle five miles, and portage around Ross Lake Dam — a service offered for a fee by Ross Lake Resort.
A Note about Camping at North Cascades National Park
National Park Service Campgrounds and Reservations: Newhalem Creek Campground and the majority of Colonial Creek Campground offer advanced reservations for campsites. Reservations can be made through Recreation.gov up to 180 days before any visit. Gorge Lake Campground will also be available on the reservation system beginning 2019. Goodell Creek Campground and Hozomeen Campground both operate on a first-come, first-served basis.
Backcountry Camping and Boat-In Campsites: Permits are required for all backcountry camping in North Cascades National Park, with 60 percent of all permits available for advanced reservation beginning March 15th. The other 40 percent of permits are issued on a daily first-come, first-served basis at ranger stations within the park. For information on wilderness reservations and how to apply, visit the North Cascades National Park Wilderness Trip Planner.
Camping Outside the National Park Boundaries: Multiple campgrounds line the national forests that surround the North Cascades National Park System complex, and sites like Lone Fir Campground and Howard Miller Steelhead Park vary in reservations guidelines. See the official site of each campground for more details.
Where to Stay after Camping in North Cascades National Park
If you are looking for a place to stay before or after your camping trip, or if the weather isn't cooperating and you decide to abandon camping altogether, here are some nearby hotels we recommend.
Mid-Range Hotels: Some of the best hotel options for the North Cascades can be found in the neighboring old western town of Winthrop. On the eastern flank of the mountain range and an hour drive from Diablo Lake, hotels like Chewuch Inn &

Cabins

offer a rustic appeal with modern amenities. Directly off State Route 20, Mt Gardner

Inn

is another great overnight spot in Winthrop, which features 11 themed rooms and immediate access to Winthrop's downtown western motif. Farther south on the North Cascades Highway, AbbyCreek

Inn

is a popular family hotel with a reasonable rate and extra-fun attractions, like miniature golf, Lazy River Tubing, and pet-friendly rooms.
Budget Hotels: For the best places to spend the night near the North Cascades that won't break the budget, plenty of affordable options can be found across the border in British Columbia. A popular spot for Pacific Crest Trail hikers and tourists alike, the Manning Park

Resort

features affordable rates, spacious rooms, and a well-maintained pool and spa area. Farther west in Hope, the Heritage

Inn

has a great reputation for a clean facility, beautiful surroundings, and quick access to Hozomeen Campground. Even farther west, the Coast Chilliwack

Hotel

is a popular place to stay and provides first-class amenities at an affordable rate.
More Related Articles on PlanetWare.com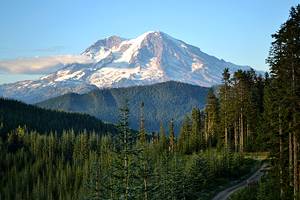 Camping in Washington: For a great look at some of the top campgrounds in the state, our Best Campgrounds in Washington State article can point you in the right direction. If your adventure is beginning in Seattle, some of the best campgrounds close to Seattle aid in awesome weekend getaways. To stay at some of the best state and national parks of Washington, be sure to check out the other campgrounds in Olympic National Park and Mount Rainier National Park. Over on the east side of the state, campgrounds near Spokane also deliver on great places to spend the night.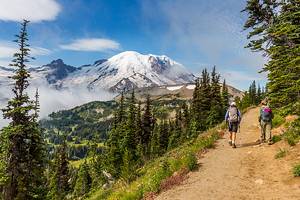 Adventure in Washington: From the state's best hiking trails to the top-rated waterfalls, Washington is stacked with adventure. North Cascade hiking trails will test your legs, as will the best hiking trails at Mount Rainier National Park, and the hiking trails at Olympic all lead to inspiring places.
Top-rated hot springs are another fun thing to check out in Washington, as well as some of the best kayak adventures. During winter, Washington comes to life with a wide variety of awesome ski resorts.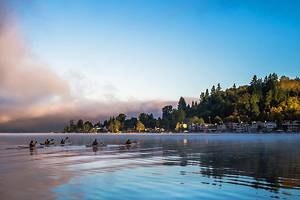 Cities and Towns to Explore in Washington: The state has plenty of great cities to explore, and Seattle is a great place to start. From here, visiting some of the best small towns in Washington state is a rewarding way to spend your time. Places like Bellingham, Bellevue, and Olympia are serious contenders for the top fun cities in Washington, and over on the east side of the state, Spokane delivers with many fun things to do.