14 Top-Rated Attractions & Things to Do in Olympia
Washington's state capital, Olympia, sits at the southern end of Puget Sound. Here, the Deschutes River meets saltwater, and the glaciated slopes of Mount Rainier rise on the eastern horizon. It's a compact and bustling city with an array of grandiose government buildings, many of which are found on the landscaped Washington State Capitol Campus.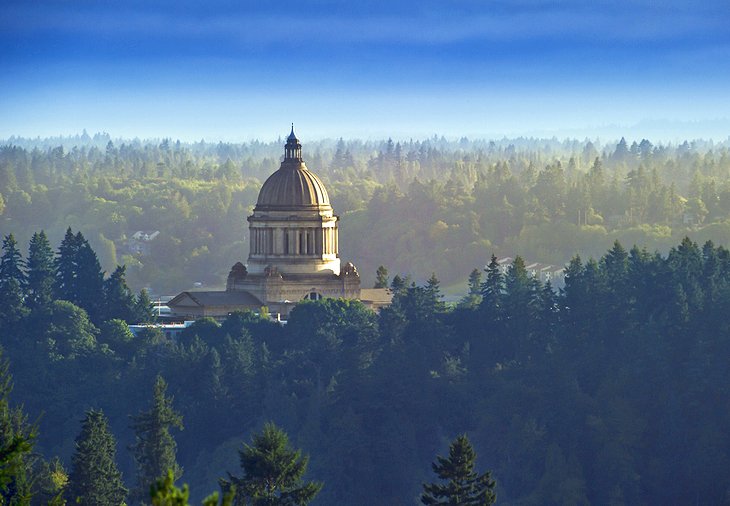 Olympia appeals to residents and tourists with a lively waterfront district and historic downtown. The weather in Olympia is also appealing, with temperatures rarely below freezing. The winters in Olympia, however, can be a bit wet. But with plenty of restaurants, shopping, and museums to choose from, even rainy days are full of fun.
And for the adventurous, Olympia is an excellent base camp for all types of local and regional travel. Places like the Billy Frank Jr. Nisqually National Wildlife Refuge are not far from the city limits, as well as unique geological locations like Mima Mounds. And for bigger adventures, Olympic and Mount Rainier National Parks are both within a two-hour drive.
Plan your next Pacific Northwest adventure with our list of the top things to do in Olympia.
See also: Where to Stay in Olympia
1. Washington State Capitol Building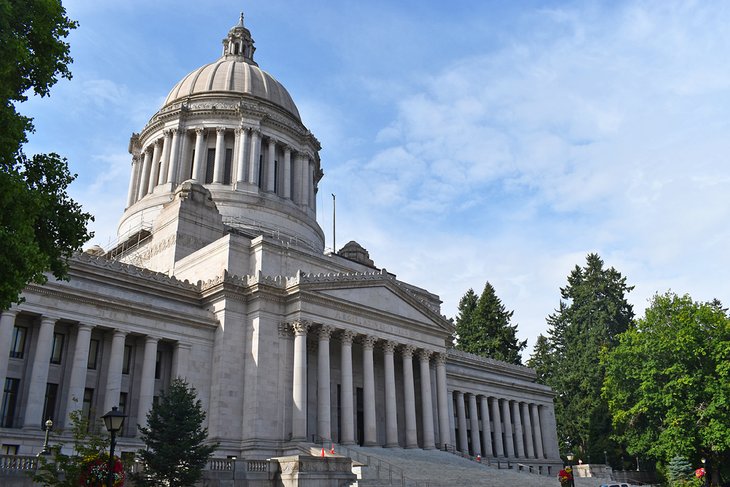 Completed in 1928 at a cost of more than seven million dollars, Washington's Legislative Building rises 287 feet above the Capitol Campus. The impressive white dome is visible from across the city, and ranks as the tallest masonry dome in North America.
The historic campus surrounding the capitol building is also fun to explore, including a wide selection of memorials, fountains, and gardens. Make a point to visit the Tivoli Fountain, especially if you're carrying a camera. For a good look at history, the Governor's Mansion on the capitol Campus is the oldest building around and has been hosting governors and their families for over a century.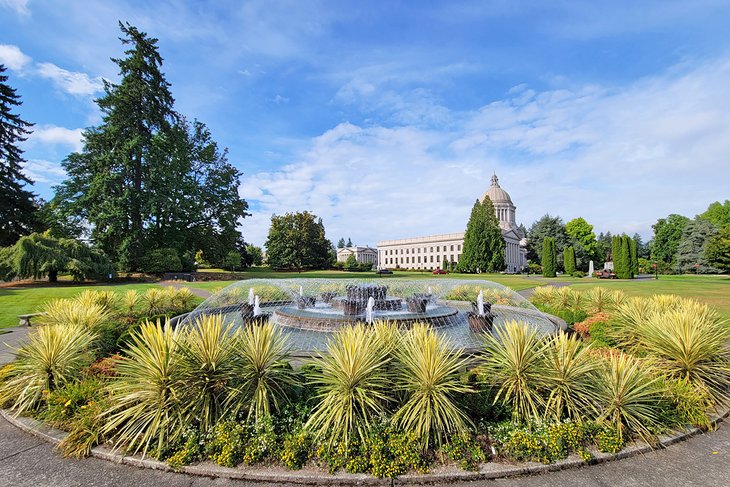 Visitors can stroll the grounds, but a tour is worthwhile to see the lavish interior, which includes a five-ton Tiffany chandelier. Free guided tours run daily. Tours are also available for the botanic gardens and Governor's Mansion.
Address: 416 Sid Snyder Avenue Southwest, Olympia, Washington
Accommodation: Where to Stay in Olympia
2. Find Something Fresh at the Olympia Farmers Market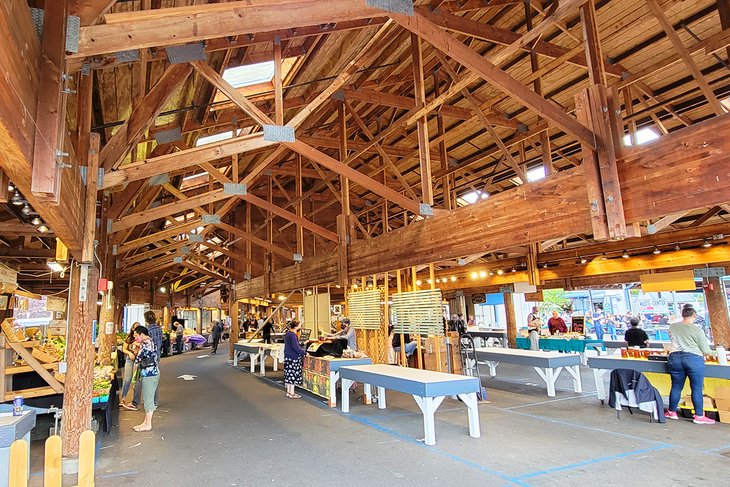 Stroll along Olympia's Percival Landing boardwalk with this famed farmers market as the destination. Upon arriving, head in the right direction into the large pavilion lined with local produce and goods. After perusing the selection, it becomes clear that with over 40 years of experience, this farmers market stands out as one of the best in the Pacific Northwest.
The market's availability is in part what makes it great. During the summer season of April through October, The Olympia Farmers Market is a four-day event each week, from Thursday to Sunday. The market occurs throughout the entire year, with hours changing depending on the season.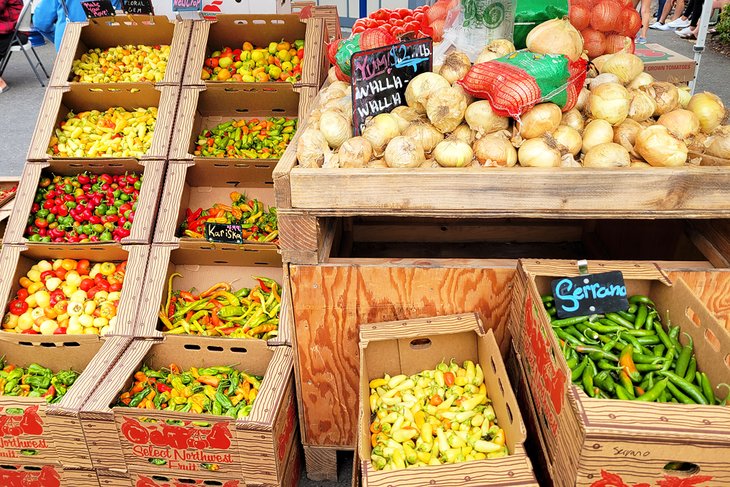 Local berries, baked pastries, and handcrafted cheeses stock the varied stalls, and a rotating lineup of live music often fills the air. And fresh food vendors, representing cuisine from across the world, line the perimeter of the market alongside picnic bench seating.
Address: 700 Capitol Way North, Olympia, Washington
Official site: http://www.olympiafarmersmarket.com/
3. Shop and Dine in the Downtown Historic District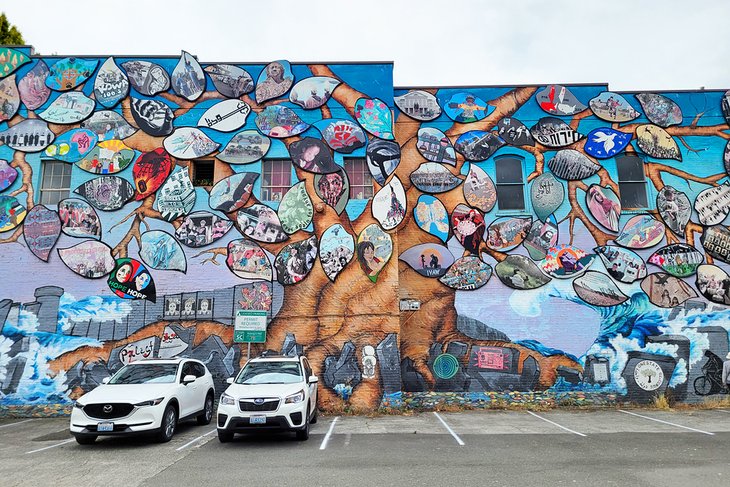 For restaurants and shopping in Olympia, head to the downtown historic district, a few blocks north of the capitol building. This charming district encompasses approximately 17 blocks, with several buildings listed on the National Register of Historic Places. And today, several modern establishments inhabit the antiquated storefronts.
Dining in the historic district covers every meal of the day. More than a few coffee shops offer early morning aromas, and places like 5th on 4th Sandwiches have long menus for lunch. If you're looking for somewhere special to go for dinner, say for a romantic date, check out Basilico Ristorante on Capitol Way.
Keep your eyes peeled for the many murals adorning the downtown historic district. The city has over 50 registered murals, emblazoned on building sides and tucked away in alleys. Maps are available for those intent on checking out specific spots, but half the fun of this public art project is turning the corner and stumbling upon something new.
4. Walk around Capitol Lake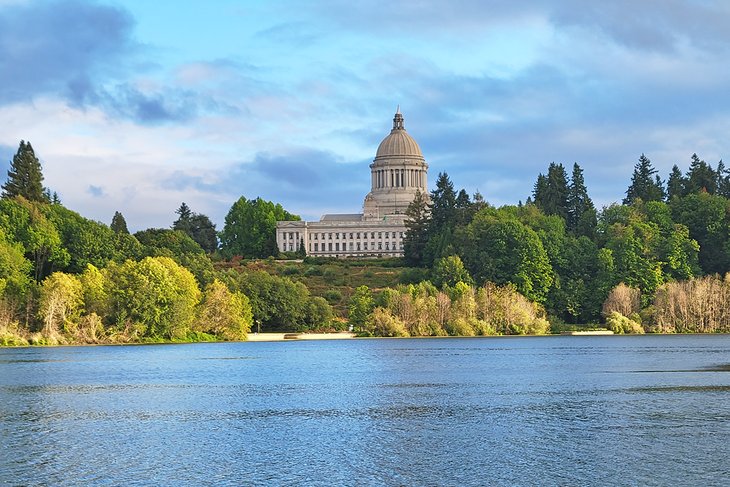 Capitol Lake is a 260-acre lake located below the Washington State Capitol. This body of water has some history, and its story is still being written today. This artificial lake sits at the intersection of the Deschutes River and Puget Sound. Before the construction of the 5th Avenue dam in 1950, the area was an active estuary covered by expansive tidelands.
Today, the freshwater lake does add a scenic appeal to the Washington State Capitol Campus. And the Capitol Lake Park on the north end of the water offers a valuable community space, with grassy lawns and a beautiful walking path. The 3.5-mile trail that lines the lake is popular with walkers, runners, cyclists, and stroller pushers. This paved route also connects other popular parks, like Heritage Park and Marathon Park.
But the artificial lake has seen its share of environmental problems. Specifically, the Deschutes River sends a surplus of sediment into the lake each year, drastically shallowing the lake and causing a buildup of nutrients. This has led to high bacteria levels closing access, and in 2009, the presence of an invasive mud snail closed the lake to all public use, which is still in effect today.
The Capitol Lake saga continues. The years have also added up on the debate whether to convert the lake back to an estuary. Today, it's a scenic place to visit for sunset, and an interesting spot for those keen on urban planning case studies.
5. Stroll the Boardwalk at Percival Landing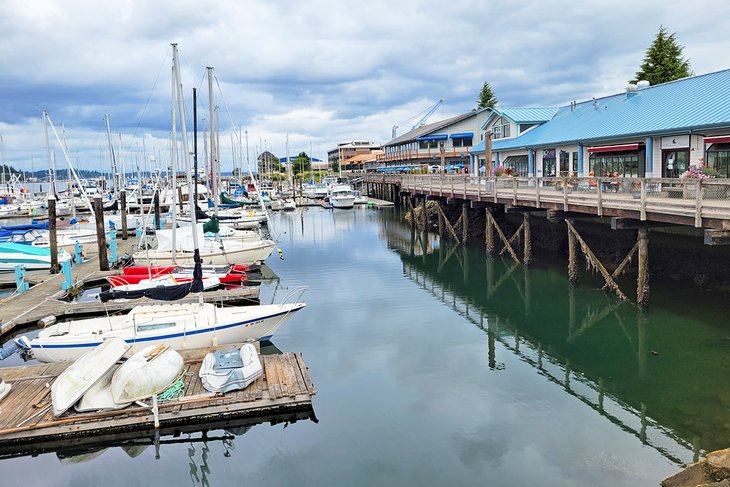 Percival Landing is a 3.4-acre public waterfront park on the Budd Inlet, on the far southern end of Puget Sound. A wooden boardwalk lines this picturesque public space and makes a great connecting route between the Historic District and the Olympia Farmers Market. And on its own, Percival Landing offers a scenic spot to take in the waters that help define the city.
Several patio-clad restaurants line Percival Landing, popular for lunch and dinner with a view. Among the dining selections, Budd Bay Café is a local's favorite with menus for all three meals of the day. Budd Bay Café also has a popular weekend brunch that often sends a line out the door.
6. Catch a Show at the Capitol Theater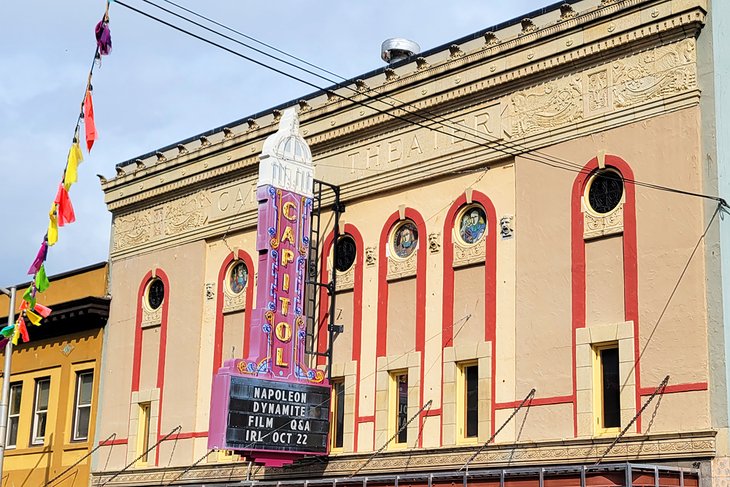 Owned and operated by the non-profit Olympia Film Society (OFS), the historic Capitol Theater has been continuously providing entertainment to the community since 1924. Today, the rotating performances at the Capitol Theater include live music, independent films, and open gallery space for local artists to display their works. The theater has also evolved to provide several streaming options for at-home viewing.
The annual Olympia Film Festival is a big draw every year, providing discussion panels, guest speakers, and a long lineup of films over a ten-day period.
Address: 206 5th Avenue Southeast, Olympia, Washington
Official site: http://olympiafilmsociety.org/
7. Billy Frank Jr. Nisqually National Wildlife Refuge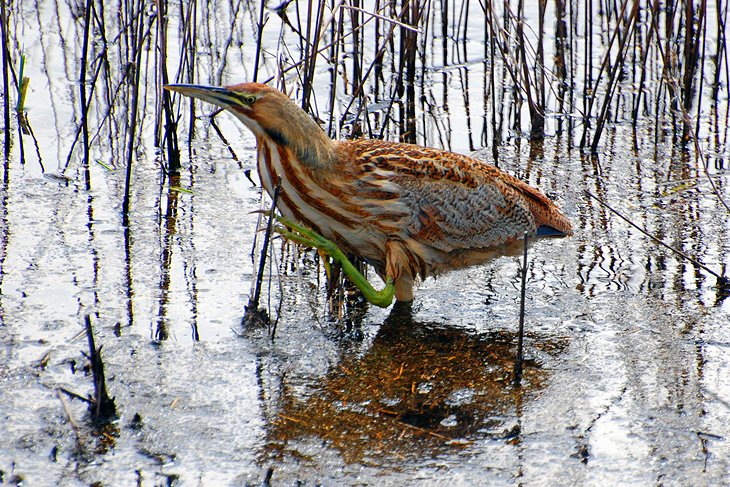 The Billy Frank Jr. Nisqually National Wildlife Refuge is a vast habitat of protected fresh and saltwater marshes, grasslands, and forests for migratory birds. This wildlife-abundant landscape is less than 10 miles east of Olympia. It's part of the larger Nisqually National Wildlife Refuge, which also includes Grays Harbor National Wildlife Refuge to the west.
Common bird species to spot, among the 200 that visit annually, include the great blue heron, American bittern, and peregrine falcon. For the best birding opportunities, the refuge recommends arriving within two hours of high tide. Other wildlife also commonly spotted at the refuge includes pronghorn antelope, box turtles, and migratory orca whales.
Address: 100 Brown Farm Road, Olympia, Washington
Official site: https://www.fws.gov/refuge/Billy_Frank_Jr_Nisqually/
8. Hands on Children's Museum
The Hands On Children's Museum is just north of the downtown historic district, near East Bay Public Plaza. It features eight detailed galleries with numerous interactive displays. Children are encouraged to play creatively while learning in a stimulating range of settings.
Popular permanent exhibits at the museum include an Arts & Paint Studio, a Fabulous Forest, and an interactive Outdoor Discovery Center. And unlike some children's museums, this facility is designed for a variety of age groups — including parents with infants.
For more family-friendly and interactive museum visits, the WET Science Center is a nationally recognized education space located a block away. WET stands for water education and technology, and this water-focused science center presents a series of galleries with interactive exhibits about one of the earth's most essential resources.
Address: 414 Jefferson Street Northeast, Olympia, Washington
Official site: http://www.hocm.org/
9. Mima Mounds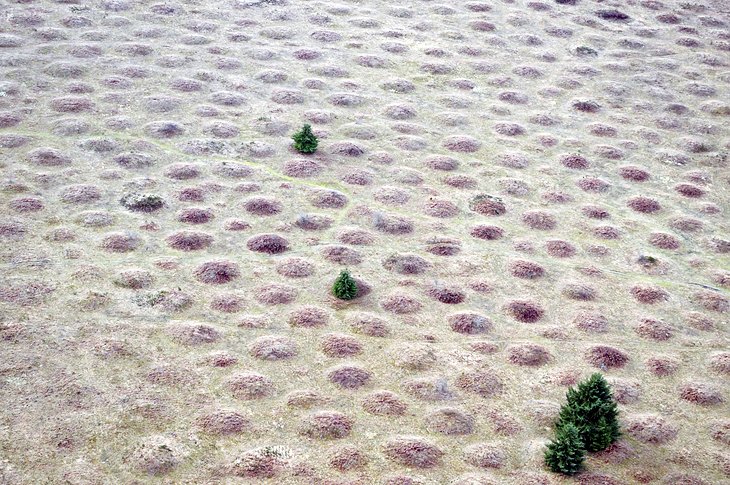 Just what created these odd, bubble-like mounds southwest of Olympia is a mystery. Proposed solutions to this puzzle include giant gophers to earthquakes and glaciation, as well as extraterrestrial activity. Half the fun of visiting is speculating what made this interesting and scenic landscape.
Whatever the answer, the Mima Mounds Natural Area Preserve is a great place for walking or hiking, particularly in the spring, when the wildflowers are in bloom on the rolling hills. A half-mile, fully accessible path at this National Natural Landmark allows everyone to enjoy the unique and inviting landscape.
10. Tumwater Falls Park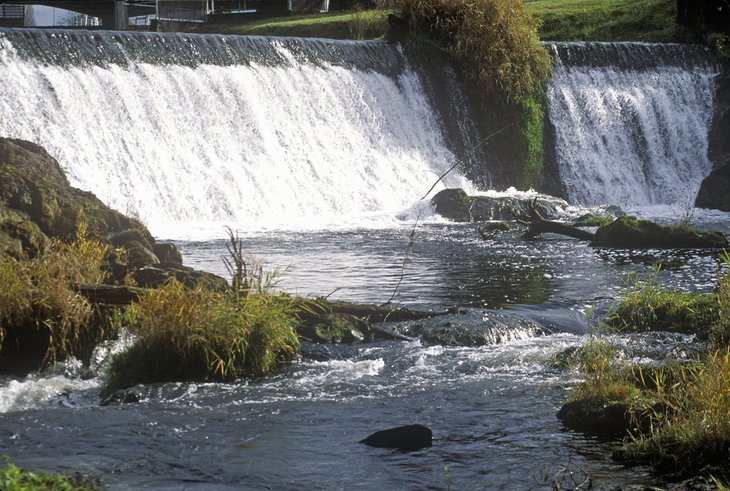 In the neighboring city of Tumwater to the south, Tumwater Falls Park is on the southern shore of Capitol Lake. This scenic spot is popular for waterfall enthusiasts and anyone looking for a landscaped space to enjoy. It's owned and managed by the Olympia Tumwater Foundation.
A half-mile hiking trail tours the cascading waterfalls created by the powerful Deschutes River. An additional 15 acres at the park provide ample space to enjoy the landscaped scenery with a picnic, stroll, or watchful eye on the changing seasons.
Address: 110 Deschutes Way Southwest, Tumwater, Washington
Official site: http://olytumfoundation.org/what-we-do/tumwater-falls-park/
11. Olympic Flight Museum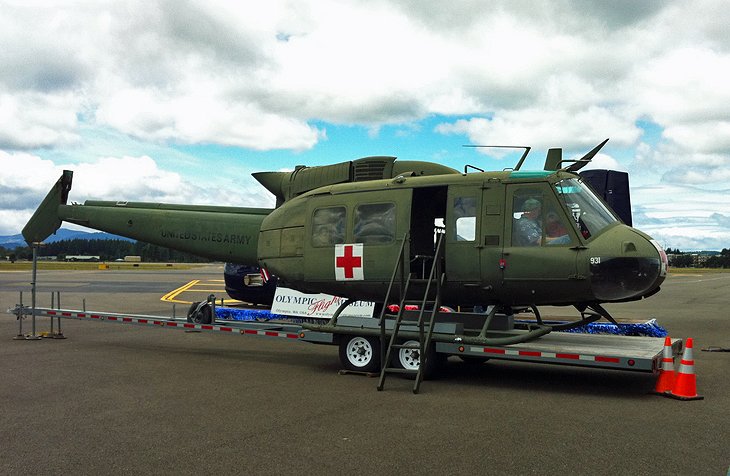 This aviation museum was established in 1998 and is at the Olympia Regional Airport. The dedicated museum hangar shelters heritage planes and helicopters, as well as memorabilia. It's a popular spot for aviation enthusiasts, and often a hit with young kids.
Prominent aircraft on display includes World War II fighter jets, Cobra helicopters, and military aircraft from the Soviet Air Force. The museum also hosts the annual Olympic Air Show in August, when some of its own heritage planes take to the sky. Other special events include collectors shows and gear swaps.
Address: Building A, 7637 Old Highway 99 Southeast, Tumwater, Washington
Official site: http://www.olympicflightmuseum.com/
12. Bigelow House Museum
Bigelow House Museum is noted for being Olympia's oldest home. It was built in the mid to late 1850s for the influential Bigelow family (although the exact year of completion is the source of some debate).
The house contains a large collection of original furnishings offering insight into local life during the 1800s. The only way to admire the entirety of the Bigelow House Museum is to hop on one of the daily guided tours. These 45-minute narrations provide insight into the legacy of the Bigelow family and the history of the city.
Address: 918 Glass Avenue, Olympia, Washington
13. Plan a Day Trip or Weekend Adventure to Mount Rainier National Park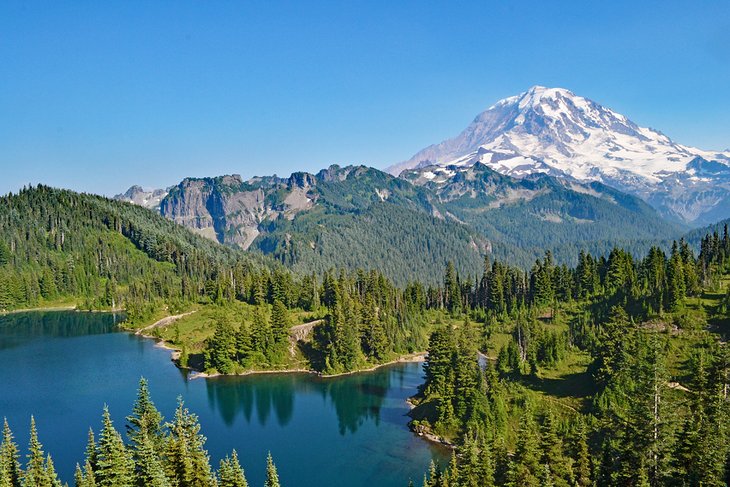 Mount Rainier National Park is approximately 65 miles southeast of Olympia and centered around its namesake feature: the tallest mountain in the Pacific Northwest. The national park is one of the most popular in the country, and more than two million people visit each year to hike, climb, and camp among the alpine splendor of this glacier-streaked mountain.
Some of the best hiking trails at Mount Rainier National Park access waterfalls, glaciers, meadows, and icy cold rivers, and all provide fantastic views of Mount Rainier. Two notable and aptly named areas to visit include Paradise and Sunrise.
Four auto-campgrounds operate within the park, though several more are located in the surrounding national forests. The park is also well known for extensive backpacking endeavors, like trips on the Wonderland Trail, that offer a more primitive overnight experience.
Official site: https://www.nps.gov/mora/index.htm
14. Take a Trip to Olympic National Park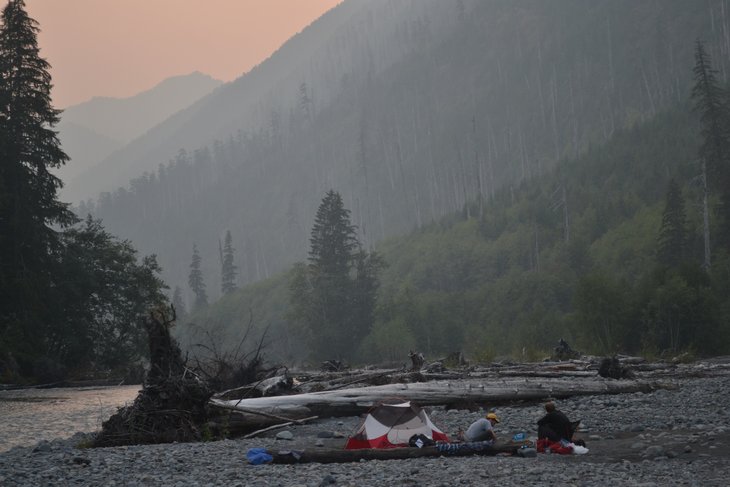 High alpine peaks, lush rainforests, and a rugged coastline punctuated by sea stacks — the dazzling landscapes of the Olympic Peninsula are accessible from Olympia with a short commute.
Favorite places to visit in Olympic National Park include the Hoh Rain Forest, Hurricane Ridge, and Ruby Beach. Other equally scenic spots include the Quinault Rain Forest, Sol Duc Hot Springs, and Shi Shi Beach on the northern coast.
Olympic provides nearly endless adventures and things to do, from great hiking trails to beautiful campgrounds. And Olympia provides a great home base for travels into the complex and inviting environments of the peninsula.
Official site: https://www.nps.gov/olym/index.htm
Where to Stay in Olympia for Sightseeing
Mid-Range Hotels:
Many great hotels in Olympia can be found along the Interstate 5 corridor. To the east of the downtown district, the Ramada by Wyndham

Olympia

is a top-rated hotel of the area thanks to a 24-hour pool and hot tub, an accommodating front desk staff, and a complimentary hot breakfast that goes well beyond your ordinary muffins and orange juice.
Near the Ramada, the Hampton Inn & Suites Olympia

Lacey

is another popular mid-range option, which features modern rooms and suites and beautiful furnishings for a stylish "home-away-from-home" feeling.
Within the downtown district, the Hilton Garden Inn

Olympia

is popular for its comfortable, cozy, and private environment, and its bustling downtown location.
Budget Hotels:
For great value close to downtown, the Quality Inn

Olympia

features affordable rates, clean rooms, and many repeat guests.
In the neighboring community of Lacey to the east, La Quinta Inn Olympia –

Lacey

is located close to the interstate and is popular for its friendly staff, convenient location, and spacious rooms featuring fridges and microwaves.
South of Olympia in Tumwater, and near Tumwater Falls Park, the Extended Stay America – Olympia -

Tumwater

is a great option for those looking for a little extra space.
Best Time to Visit Olympia, WA - Historical Climate Averages
Average minimum and maximum temperatures for Olympia, WA in °C
J
F
M
A
M
J
J
A
S
O
N
D

7

0

9

1

12

1

14

3

18

6

21

8

24

10

25

9

22

7

16

4

10

2

7

0

PlanetWare.com
Average monthly precipitation totals for Olympia, WA in mm.

192

157

134

91

58

45

21

28

52

106

207

200

Average monthly snowfall totals for Olympia, WA in cm.

18

9

4

0

0

0

0

0

0

0

3

12
Average minimum and maximum temperatures for Olympia, WA in °F
J
F
M
A
M
J
J
A
S
O
N
D

44

32

48

33

53

34

58

37

65

42

70

46

76

50

77

49

72

45

60

39

50

35

44

32

PlanetWare.com
Average monthly precipitation totals for Olympia, WA in inches.

7.5

6.2

5.3

3.6

2.3

1.8

0.8

1.1

2.0

4.2

8.1

7.9

Average monthly snowfall totals for Olympia, WA in inches.

7.2

3.6

1.6

0.1

0

0

0

0

0

0

1.3

4.8
More Related Articles on PlanetWare.com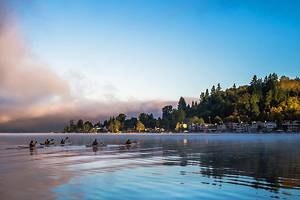 Other Cities in Washington: Rich in the culture of the Pacific Northwest, the city of Seattle is filled with all sorts of cultural and natural attractions. Near Olympia and Seattle, the city of Bellevue provides its own unique attractions, including art museums, botanical centers, and nature parks. Farther north, Bellingham is a college city with the great backdrops of Bellingham Bay and the San Juan Islands.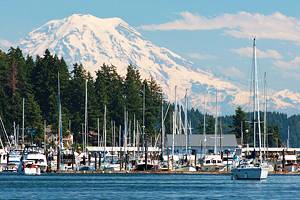 More to Explore in Washington: The many top attractions of Washington state stretch from border to border and include Mount Saint Helens, Spokane, and the stunning environment found in the San Juan Islands. For other scenic places to visit, the best small towns to visit in Washington state provide open communities and stunning natural attractions. For exploration of the waters bordering Olympia, our guide to the Puget Sound can have your sails heading in the right direction.