14 Top-Rated Attractions & Things to Do in Bellevue, WA
Bellevue is immediately east of Seattle in Western Washington, across the waters of the massive Lake Washington. While it offers a slower and less-crowded pace than Seattle, it's still one of the most populous cities in the state.
Much of the city's attractions center around the downtown district, including the eye-catching Bellevue Downtown Park. This charming public space offers bountiful green grass and a perpetual waterfall sculpture, all framed by the downtown skyline. Other downtown tourist attractions include shopping malls, art museums, and several options for local dining.
Bellevue's appeal extends beyond the downtown center, especially in the form of natural spaces. The allure of the Pacific Northwest beckons within city limits and nearby places like Bellevue Botanical Gardens and Mercer Slough. And the city is an excellent launching pad for bigger adventures, including excursions to Mount Rainier National Park.
Discover more great places to visit with my list of the top attractions and things to do in Bellevue.
1. Bellevue Downtown Park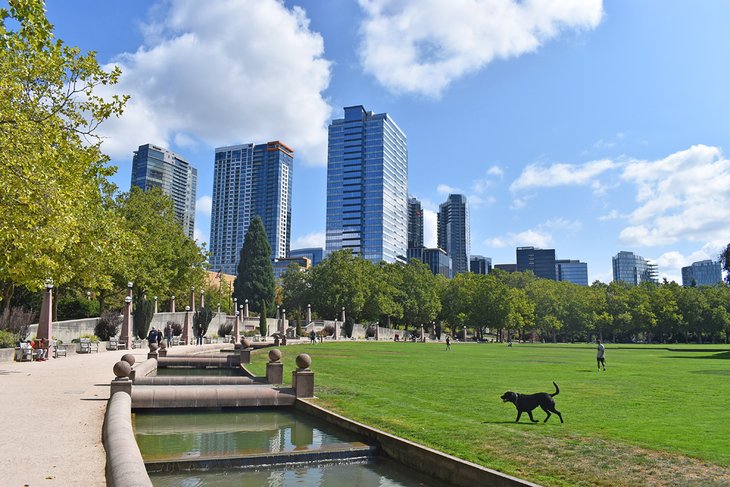 The 21-acre Bellevue Downtown Park is a perfect open space among the urban sprawl and is a popular gathering ground for community members and tourists alike.
Bellevue Park is a great place for casually strolling along the wide promenade, navigating the beautifully landscaped circular lawn, and taking a moment to sit on one of the many benches throughout. These sitting spots offer an excellent view of the downtown skyline. They also seemed to be popular picnic spots for people enjoying a lunch break outdoors. A rhythmic waterfall sculpture follows this entire path, playing a soundtrack of running water throughout.
The Inspiration Playground at the park is quite a sight and provides an engaging place for kids to climb and explore the art-inspired play space. The park also hosts a huge number of community events, including the annual Fourth of July fireworks and a summer series of outdoor movies.
Address: 10201 NE 4th Street, Bellevue, Washington
2. Bellevue Arts Museum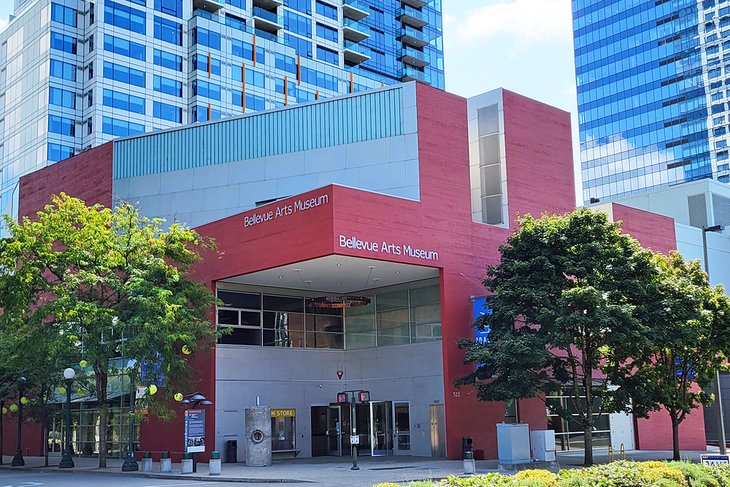 Referred to simply as BAM, the Bellevue Arts Museum hosts an impressive display of artworks from regional and international artists. It's located among the bustling streets of the Bellevue downtown district, only a few blocks away from Downtown Park. Quick visitors may breeze through the entire museum in an hour, although most should expect to spend 90 minutes to two hours touring the exhibits.
The museum has several large permanent installations hanging from the ceiling and draped across the walls. But primarily, BAM features rotating exhibits that display masterful art pieces. The museum also gives visitors a glimpse at the artistic process with behind-the-scenes looks at how the art was created.
Self-guided tours are available Wednesday through Sunday when the BAM is open, and trained curators also offer private tours. The museum also hosts several special lectures, presentations, and educational workshops for kids, teens, and adults. Admission is free on the first Friday of each month.
Address: 510 Bellevue Way NE, Bellevue, Washington
Official site: https://www.bellevuearts.org/
3. Bellevue Botanical Garden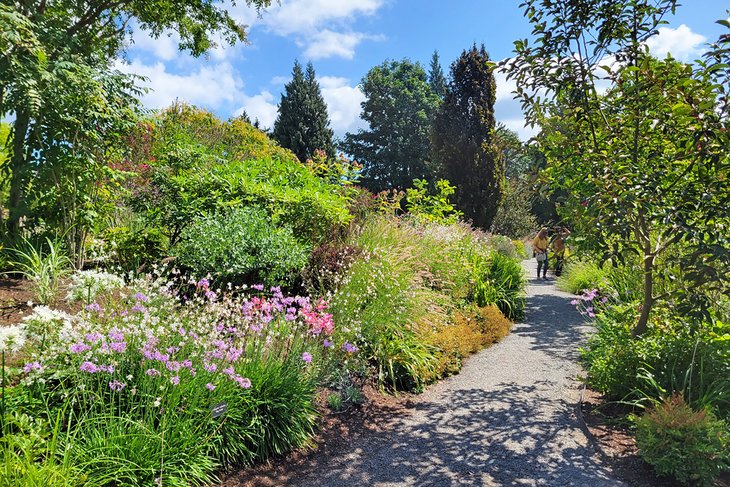 Though Bellevue isn't lacking in natural attractions, perhaps the most concentrated view of Pacific Northwest flora can be found in the 53 acres encompassing the Bellevue Botanical Garden. This urban display of botanical beauty is on Main Street and is open daily from dusk to dawn. Admission is always free. I took a photo of the Garden's map near the entrance, aiding me in navigating the sprawling space full of blooming flowers.
Special places to visit at Bellevue Botanical Garden include the decorative Rock Garden and seasonal Dahlia Display. But the entire property is a masterpiece of landscaping and horticulture. Garden layouts ensure something new is blooming every month of the year, offering several reasons to visit. Locals and tourists also have the opportunity to tour native plant species and learn a bit more about their environment.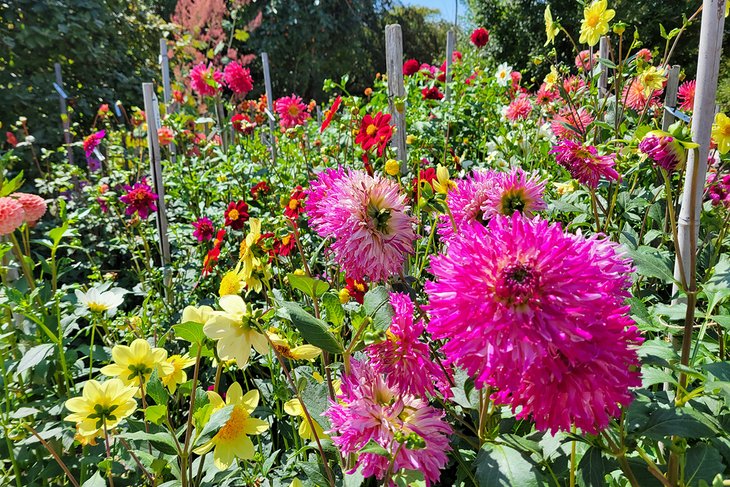 Besides simply walking among the many gardens and displays, the best way to use this natural space is by participating in the classes and tours the garden provides throughout the year. The garden is home to a few events each year, including a special Garden d' Lights that occurs every winter. This festive event features over a half-million lights carefully placed throughout the area.
Address: 12001 Main Street, Bellevue, Washington
Official site: http://www.bellevuebotanical.org/
4. Explore Mercer Slough Nature Park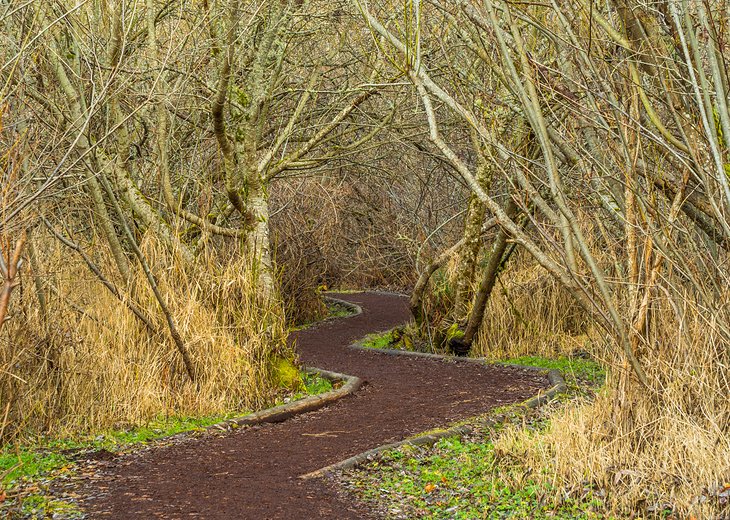 Mercer Slough Nature Park is Bellevue's largest city park, with over 320 acres to wander throughout the year. The park has more than seven miles of trails that explore the surrounding wetland environment. A 2.6-mile water trail also winds its way through the park, accessible via canoe.
Mercer Slough Nature Park also hosts an on-site blueberry farm, which sells seasonal produce. And the Winters House Visitor Center is a 1929 Mission-style mansion at the park on the National Historic Register. These two park attractions are accessible with a connecting hiking trail.
Besides the wetland scenery, perhaps Mercer Slough's biggest tourist attraction is the collaborative Environmental Education Center hosted by the city of Bellevue and the Pacific Science Center. This hands-on facility provides classes, programs, and exhibits to enrich a Mercer Slough sightseeing experience.
Address: 1625 118th Ave. SE, Bellevue, Washington
5. Spend the Afternoon at Meydenbauer Beach Park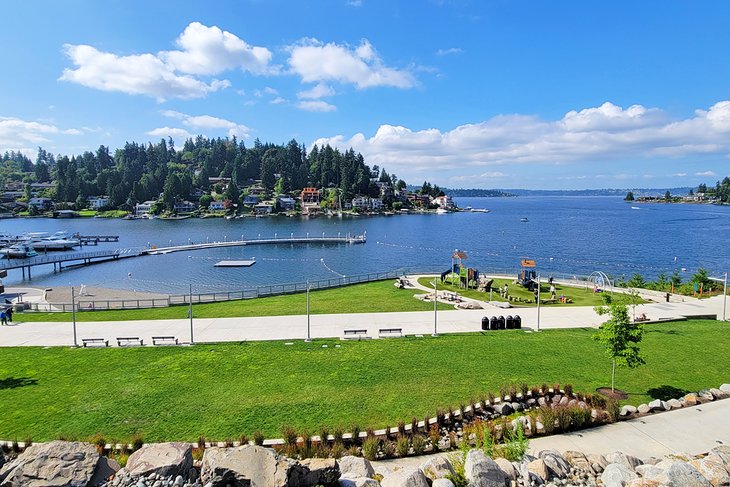 The Meydenbauer Beach Park is a bit of a hidden gem of Bellevue. The park is beautifully landscaped, with a tiered walkway that leads down to the water. Here, a modern playground entices younger members of the family. The park also has a unique walkway that leads out to the middle of Meydenbauer Bay, presenting a panoramic view of Lake Washington.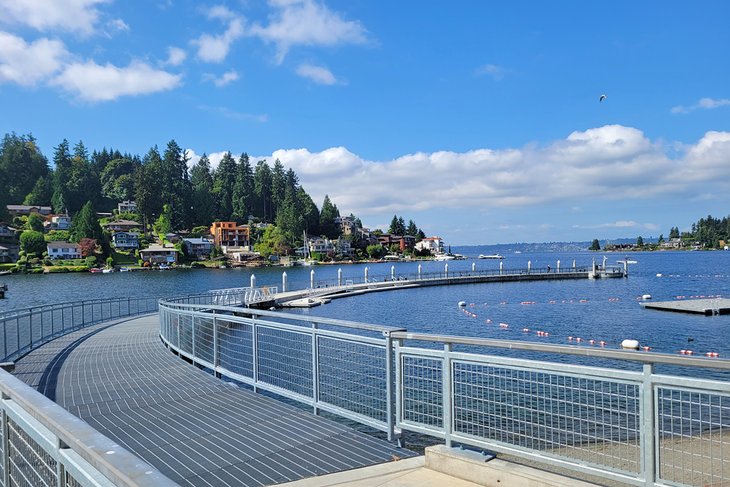 Meydenbauer Beach Park is also a popular place to swim in the summer months when the water is warm enough, and lifeguards are on duty.
It is also a significant point in the city's history. Located on Meydenbauer Bay, on the shores of Lake Washington (King County's largest freshwater lake), this area was once the landing site for ferries running from Seattle. This historic ferry spot was pivotal in the development of Bellevue.
Address: 419 98th Ave NE, Bellevue, Washington
6. Go for a Hike at Cougar Mountain Regional Wildland Park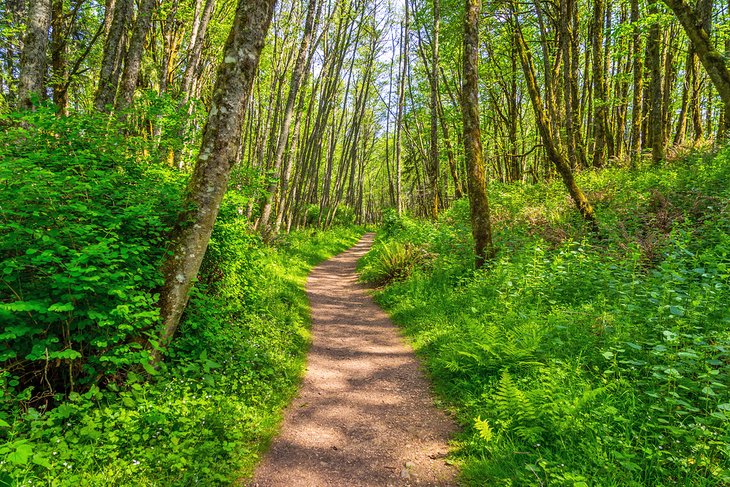 Cougar Mountain Regional Wildland Park offers a wild space to explore less than 10 miles southeast of Bellevue. This wild environment encompasses over 3,000 acres and over 35 miles of maintained trails.
Mountain bikes aren't allowed at Cougar Mountain Regional Wildland Park, but some trails support horse riding. Many of the trails lead to stunning views of Lake Sammamish and the Cascade Mountains.
For more to explore, Cougar Mountain Regional Wildland Park connects to Squak Mountain State Park via Cougar-Squak Corridor Park. This narrow park and valley adjoin the two public spaces, collectively known as the Issaquah Alps, and provide more than 15,000 acres of forest to explore.
Address: 18201 SE Cougar Mountain Drive, Renton, Washington
7. KidsQuest Children's Museum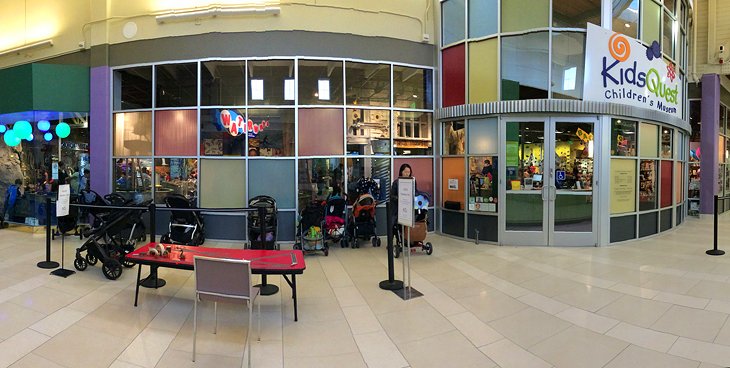 The KidsQuest Children's Museum is every child's dream come true. This family-friendly play space features a two-story Atrium Climber for kids to climb in, on, and around, plus eight other interactive exhibits designed to encourage development in children.
Focusing on the key areas of science, technology, engineering, art, and math, the KidsQuest Children's Museum isn't about sitting down at a desk and writing on the blackboard. Instead, this educational institution focuses on hands-on interaction with the different moving parts of life.
KidsQuest is specifically designed for children ages 0-10 and features more than 650 programs offered throughout the year. Available programming includes summer camps and whole-family science workshops.
Address: 1116 108th Ave NE, Bellevue, Washington
Official site: http://www.kidsquestmuseum.org/
8. Shop and Dine at The Bellevue Collection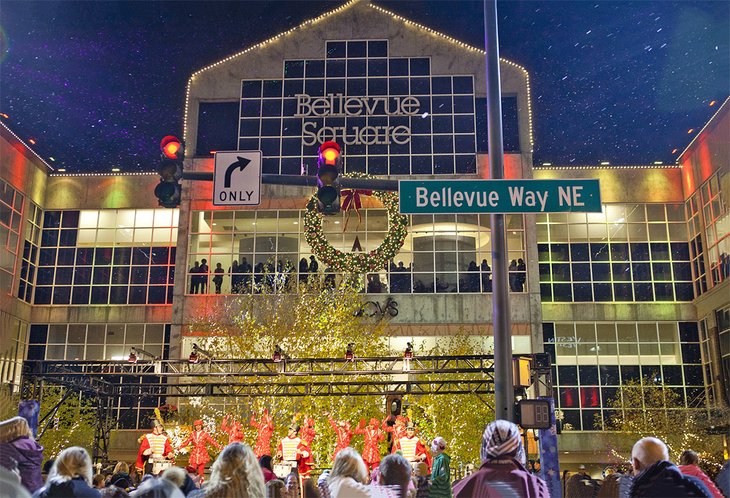 The Bellevue Collection is three distinct shopping areas in the Bellevue downtown district. These shopping areas provide a dense concentration of shopping, dining, and overnight accommodations. Alongside unique and name-brand shopping opportunities, the Bellevue Collection also offers seasonal events that draw a crowd.
The Bellevue Collection includes the Bellevue Square shopping mall with more than 200 retail storefronts in a spacious and well-lit space. Lincoln Square is also included in the collection and has several cultural dining destinations. The third shopping area, Bellevue Place, has some of the best places to stay. The Bellevue Collection hosts everything you need in a few blocks to keep yourself busy for many long weekends.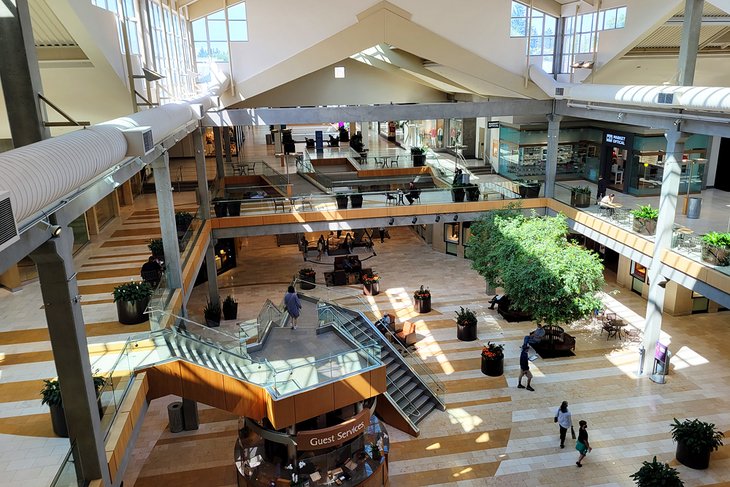 This part of town is especially festive during the holiday season. The Bellevue Collection organizes Snowflake Lane throughout December. This family fun celebration is outside the Bellevue Square shopping mall, where the street is alive with glittering lights, electronic animations, and always falling snow.
Address: 575 Bellevue Square, Bellevue, Washington
Official site: http://bellevuecollection.com/
9. Lake Sammamish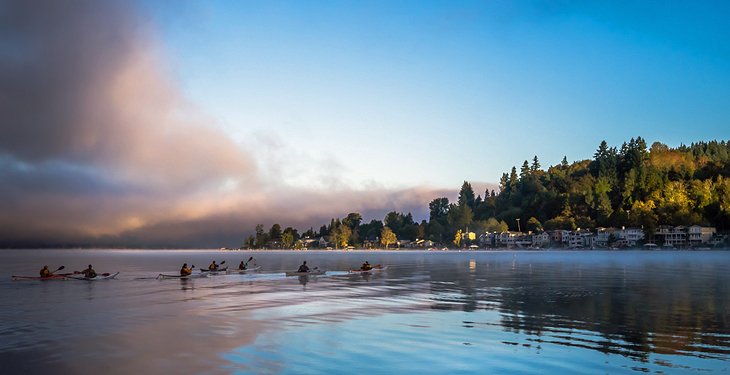 While Lake Sammamish may seem like a puddle compared to the far-spreading waters of Lake Washington to the west, it looks massive when you're standing on its shores. This body of water provides important recreational opportunities for Bellevue residents and its connected communities.
In Bellevue, on the eastern shore of Lake Sammamish, Vasa Park Resort provides picnic areas; boat launches; and a perfect spot to swim, with diving boards and waterslides. Vasa Park is also a popular spot to pitch a tent or park an RV.
Marymoor Park is on the north end of Lake Sammamish, connected to the city of Redmond. I know Marymoor Park best for its awesome outdoor concert series. Marymoor's Summer Concert Series occurs throughout the week between June and August. A public water-skiing slalom course is also on the north end of the lake.
Lake Sammamish State Park in Issaquah offers outdoor adventures throughout the year on the southern shore,
Address: 3560 W Lake Sammamish Pkwy SE, Bellevue, Washington
10. Sneak in 18 Holes of Golf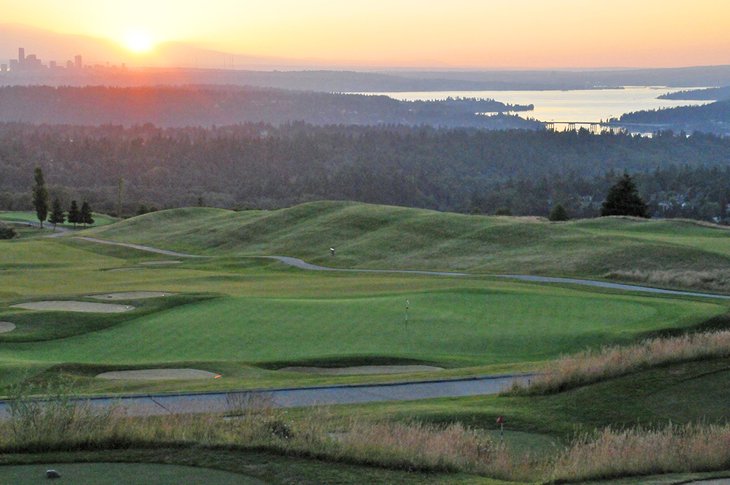 Several of Western Washington's top golf courses are in or within a short drive of Bellevue. These courses serve the region as a whole and not just Bellevue residents, so advanced tee times are always recommended.
The Golf Club at Newcastle offers arguably some of the best golf in the Pacific Northwest, less than a 12-mile drive from downtown. This club is open to the public and offers 36 holes of championship golf. The facility encompasses 350 acres perched atop the foothills of Cougar Mountain Regional Park. This high vantage point lends to incredible views of the Seattle skyline and landscapes, including Mount Rainier and the Olympic Mountains.
Bellevue also maintains the Bellevue Golf Course. This public course offers more affordable rates closer to town. It doesn't skimp on scenery, though, and the course has a reputation for its well-maintained landscaping and greens. A popular driving range is also on-site.
The city also oversees the Crossroads Par-3 Course on the east side of town. This nine-hole putt-and-chip course is open from April through October. It's a great place to visit for a quick golf outing, catering to experienced players looking to perfect their short game or those new to the sport.
11. Bellevue Zip Tour
For a unique way to explore the natural side of Bellevue, the Bellevue Zip Tour takes visitors speeding among Douglas firs and broadleaf maples as they explore the scenery from above. This city-owned facility consists of 6.5 ziplines, ranging from 70 to 450 feet, and operates every season except in the winter.
The Bellevue Zip Tour is just west of the South Bellevue Community Center. Whether looking for a fun time for the whole family or a great place for a group getaway, it provides a fast-flying way to see some Pacific Northwest nature from a new perspective.
Address: 450 110th Ave. NE, Bellevue, Washington
Official site: http://www.bellevueziptour.com/
12. Day Trip to Seattle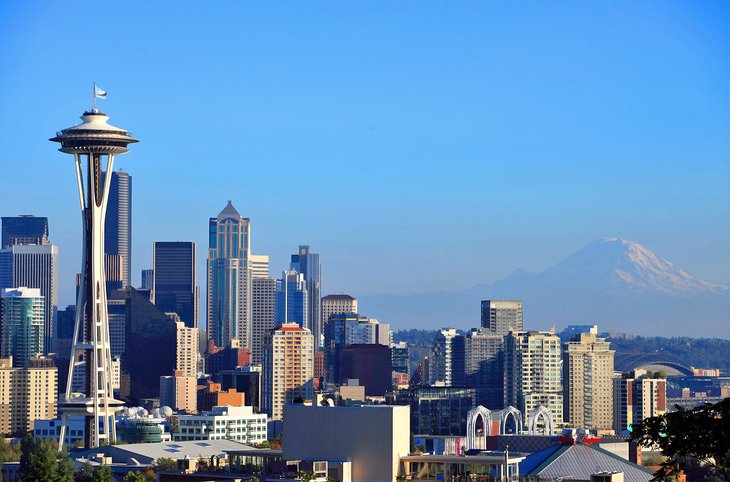 It's only a 15-minute drive across Lake Washington to the Emerald City from Bellevue or, if you're like me and prefer to leave the car parked, a 30-minute bus ride. If you're visiting Bellevue and have some extra time on your hands, it's well worth the trip across the lake to check out this cultural capital of the Pacific Northwest.
Iconic spots like the Space Needle and Pike Place Market are well worth the visit, but Seattle is so much more than these two iconic attractions. Peel back the layers of the city with a day of exploring beach parks, international districts, and gardens of glass. To plan your next Emerald City adventure, check out my guides to the Top Attractions of Seattle and the Best Beaches in Seattle.
13. Whale Watch from Bellevue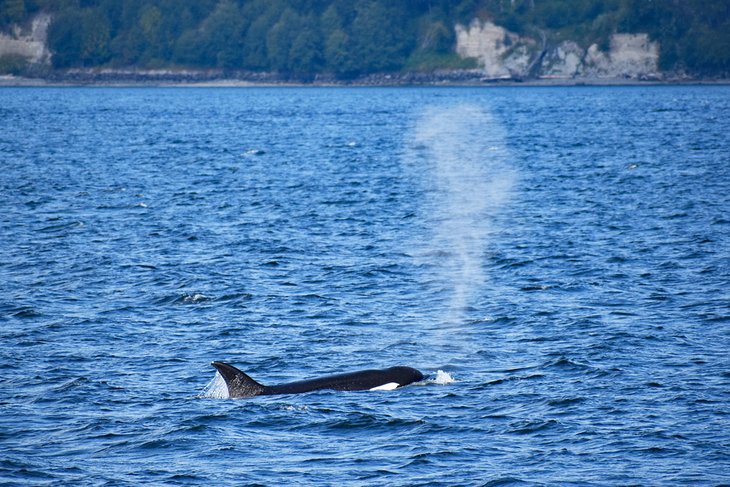 A big appeal of visiting the Pacific Northwest and the Puget Sound region is the opportunity to spot wild whales in the water. The summer is the best time to see whales, approximately between May through October. Bellevue is a bit too inland to spot any of these massive mammals from the city, but several sightseeing options aren't far away.
It's possible to see whales from Seattle without boarding a boat, although I've never been successful at it. Public areas lining the Puget Sound shoreline, like Golden Gardens and Alki Beach Park, offer the necessary panoramic views across the water. It helps to know what to look for and to have a bit of patience when spotting whales from the land. It also helps to utilize community resources like the Orca Network.
Another popular option is booking a boat tour. This ups the chances of seeing whales tenfold, and some companies even guarantee a sighting or they'll give out a free voucher for another trip.
I took a trip with Puget Sound Express, which is well advertised throughout the area. My trip departed from Edmonds, approximately a 25-mile drive from Bellevue. And I didn't have to worry about any free vouchers for my next trip, as our expedition saw more orca whales and dolphins than I could count. The entire tour took almost five hours and departed early in the morning.
14. Weekend Trip to Mount Rainier National Park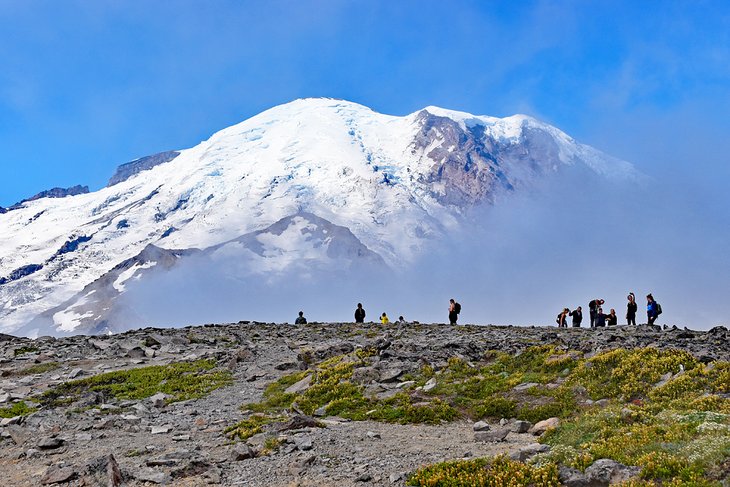 The mighty Mount Rainier is easily seen from Bellevue on clear days. And the massive national park surrounding this iconic mountain of Washington is accessible from the city with a 90-mile drive. I can't recommend checking out this majestic mountain enough, whether for a day trip or an overnight expedition, as its size and beauty are unrivaled throughout the region.
Mount Rainier has four main entrances, and the Southwest Nisqually Entrance and Northwest Carbon River Entrance are closest to Olympia, accessible within a two-hour drive. I'd recommend heading to the Nisqually Entrance for a first-time visit or just generally, as it's home to several accessible hiking trails and historic areas of the park. It also lends access to the outstanding Paradise region, home to the Skyline Trail, one of the most iconic hiking trails in the county.
Mount Rainier is a hiking paradise. While some of the trails require massive elevation gain, other family favorites don't require nearly as much sweat equity. But what all the trails share is an outstanding view of one of Mount Rainier's many glistening glaciers up close and personal. To find the right hike for your wants and abilities, check out my guide to the Best Hiking Trails at Mount Rainier National Park.
Similarly, if you're planning an overnight trip to Mount Rainier, it helps to know all the camping options. My guide to Camping at Mount Rainier includes the park's three auto-campgrounds, plus several other options in the national forests surrounding the park.
Official site: https://www.nps.gov/mora/index.htm
Map of Attractions & Things to Do in Bellevue, WA
Bellevue, WA - Climate Chart
Average minimum and maximum temperatures for Bellevue, WA in °C
J
F
M
A
M
J
J
A
S
O
N
D

8

2

10

2

12

3

14

6

18

8

21

11

24

13

24

14

22

11

16

8

11

4

8

2

PlanetWare.com
Average monthly precipitation totals for Bellevue, WA in mm.

114

93

98

72

53

43

25

25

43

84

125

138
More Related Articles on PlanetWare.com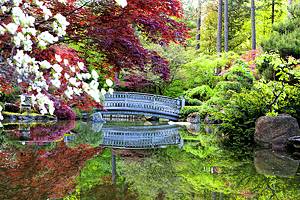 More Washington Cities to Explore: For other cultural attractions on the west side of the state, the charming university city of Bellingham features waterfalls, historic districts, and great views of the San Juan Islands. The state capital of Washington, Olympia, is also on the west side of the state not far from Bellevue and provides several fun things to do. To properly explore Eastern Washington, the city of Spokane is a great place to start.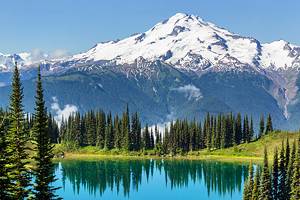 Exploring Washington's Wonders: The state of Washington is blessed with many beautiful landscapes. The best state and national parks in Washington highlight these regions with campgrounds and hiking trails. The top hot springs in Washington have a steamy appeal and tend to help alleviate any sore muscles. For some wintertime activity, our guide to Washington ski resorts will have you tackling the black diamonds in no time.