10 Top-Rated Ski Resorts in Washington State, 2023
No matter the time of year, the state of Washington is never lacking in fast-paced recreation. During the summer months, the mountains of Washington cater to hiking, biking, and overnight camping. But come winter, skiing and snowboarding reign supreme.
Whether you are new to the pizza-pie stopping technique or looking for some fresh powder in the backcountry, the state of Washington offers plenty of chances to carve down a mountain. The type of snow and amount of precipitation varies from ski resort to ski resort. However, a common denominator between the best ski resorts in Washington is a winter wonderland the moment you get off the chairlift.
Find the best spot for your next winter vacation with our list of the top ski resorts in Washington State.
1. The Summit at Snoqualmie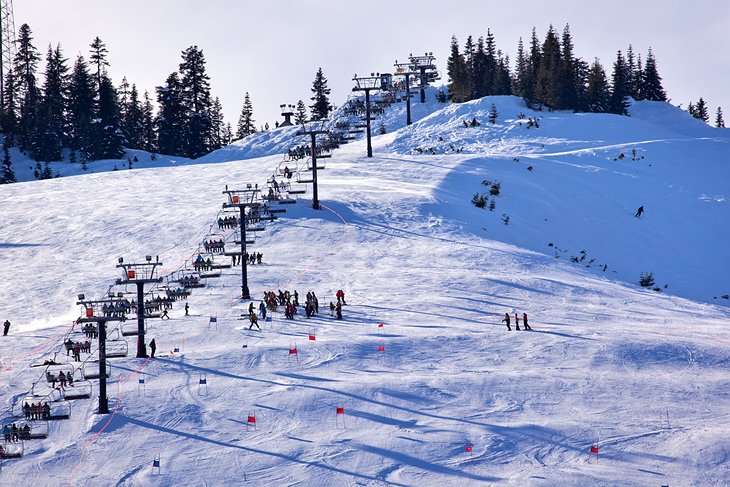 The Summit at Snoqualmie comprises four mountain bases, including Summit East, Summit Central, and Summit West. The fourth ski area at Snoqualmie, Alpental, is on the other side of Interstate 90 and features steeper terrain.
The cumulative Summit at Snoqualmie is the closest ski resort to Seattle and caters to all types of skiers and boarders. This convenient location makes the Summit at Snoqualmie a popular destination. However, it's really the world-class winter terrain within the Mount Baker/Snoqualmie National Forest that keeps the chairlifts running.
The Summit at Snoqualmie has plenty of winter recreation value even if you're not from Seattle. The mountain has more than 100 designated downhill runs and almost 2,000 skiable acres to explore. Over 20 chairlifts and surface lifts spread out the crowds that visit on the weekends.
Summit at Snoqualmie also features 50 kilometers of groomed Nordic ski trails leading out from the resort. This popular Nordic network is one of the largest in the state. Day and season passes are available specifically for cross-country skiing.
Other resort amenities include snow tubing, night skiing, and slope-side lodging.
Address: 1001 WA-906, Snoqualmie Pass, Washington
Official site: http://www.summitatsnoqualmie.com/
Accommodation: Where to Stay in Snoqualmie Pass
2. Crystal Mountain Resort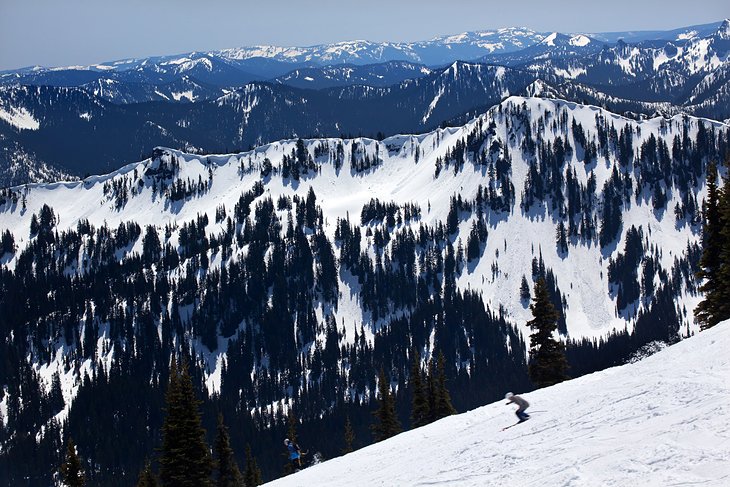 Crystal Mountain Resort has 2,600 skiable acres to shred, nearly standing in the shadow of Mount Rainier National Park. The terrain is accessible via 10 chairlifts, including the eight-passenger Mt. Rainier Gondola to ride into the sky. And if the weather is right, Crystal Mountains also provides one of the best views of Rainier you'll ever see while skiing down a slope.
The resort is located only two hours from Seattle and Bellevue, and visitors should expect chairlift lines on the weekends. But as the largest ski resort in the state of Washington, there is plenty of mountain to explore once you've made it to the top.
Alongside a new logo and user-friendly website, Crystal Mountain recently acquired new terrain and snowmaking equipment. Beginner visitors can also take advantage of the new Terrain Based Learning at the resort. And snowshoe enthusiasts have six new snowshoe trails to explore in the Bullion Basin Area. The resort also added new gondola cabins to their Mt. Rainier Gondola.
Crystal Mountain also offers a few lodging options. Book a room in the Silver Skis Chalet for the ultimate ski weekend, including modern furnishings and ski-in access. Other accommodations include rooms at the Alta Crystal Resort, featuring a popular outdoor heated pool.
Address: 33914 Crystal Mountain Blvd, Enumclaw, Washington
Official site: https://crystalmountainresort.com/
Accommodation: Where to Stay in Enumclaw
3. Stevens Pass Resort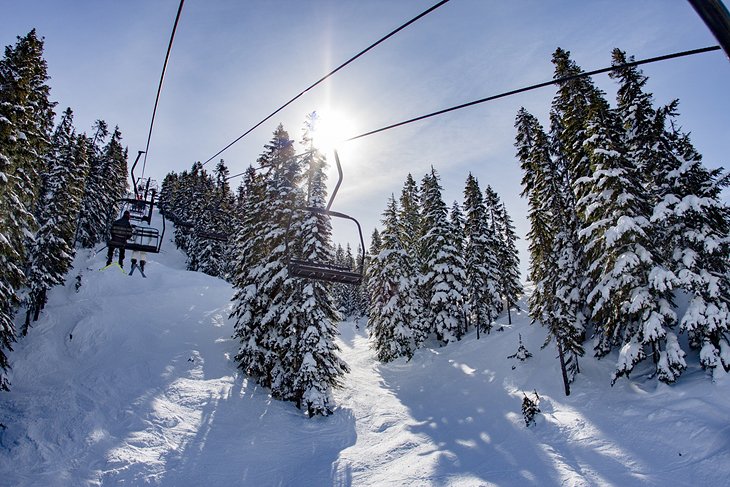 Spanning three sides of two different mountains, Stevens Pass is a pinnacle of Washington skiing. With more than 1,125 acres to explore and 460 inches of average snowfall each winter, experts and beginners alike can enjoy its wide variety of runs. Ten different chairlifts, including four high-speed quads, service the large amount of terrain.
The wide variety of dining options, including the Cascadian Kitchen, provides plenty of warm spots to dry some mittens. Throw in the night skiing that happens nearly every day of the week during the peak winter months, and it adds up to the resort's status as one of the most popular ski spots in all of Washington.
Stevens Pass is only 90 minutes from Seattle, and its proximity to the Emerald City also makes it a popular destination. Expect to contend with some crowds on the weekends, but several mid-mountain chairlifts keep the action spread out.
The resort is even closer to the Bavarian town of Leavenworth on the eastern slope of the Cascade Mountains. One of Washington's best small towns to visit, Leavenworth provides an awesome winter weekend getaway in combination with Stevens Pass.
The abundant cross-country skiing and snowshoe trails at the Stevens Pass Nordic Center also make it one of the most popular spots for other winter recreation. The resort is under the umbrella of the larger Vail Resorts. This Vail-affiliation means that Epic Pass holders have unlimited access to the mountain.
Address: US-2, Skykomish, Washington
Official site: https://www.stevenspass.com/site
Accommodation: Where to Stay in Skykomish
4. Mt. Baker Ski Area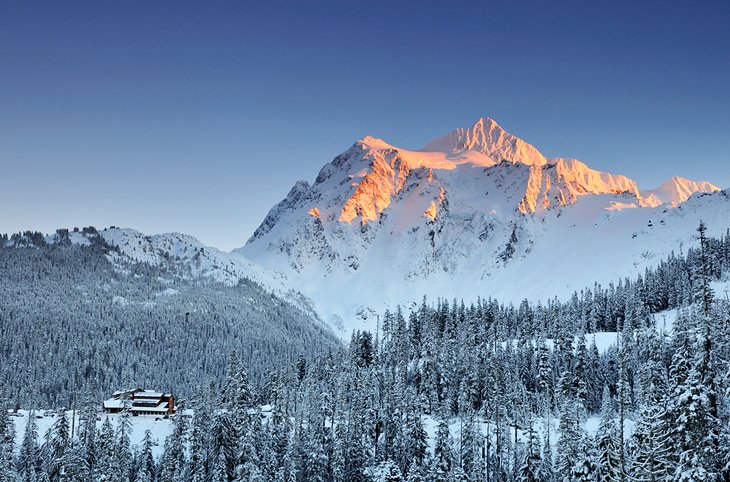 Mt. Baker Ski Area is just over an hour east of Bellingham in northern Washington. The ski area shares a border with North Cascades National Park, and its 1,000 acres of skiable terrain lies sandwiched between the inspiring peaks of Mount Baker and Mount Shuksan.
Mt. Baker Ski Area receives the most snowfall of any ski resort in Washington. And with an average of over 600 inches of snow a season, powder days are more common than not. With 150 days making up the average ski season, many winter athletes flock from all sides of the country to enjoy the extended season.
Mount Baker caters to the experienced skier and snowboarder. The steep elevation challenges the legs, and extensive tree runs test the reflexes. But it's not all expert terrain at Baker, and the mountain also has a scattering of groomed routes and runs for those relatively new to the sport.
Alongside great skiing, Mt. Baker hosts numerous social gatherings, including "Music on the Mountain" during weekends throughout the season. Mt. Baker is also home to the Legendary Banked Slalom in February, which features sure-footed snowboarders flying down a twisting track.
Address: Mount Baker Highway, Deming, Washington
Official site: https://www.mtbaker.us/
Accommodation: Where to Stay near Mt. Baker Ski Area
5. White Pass Ski Area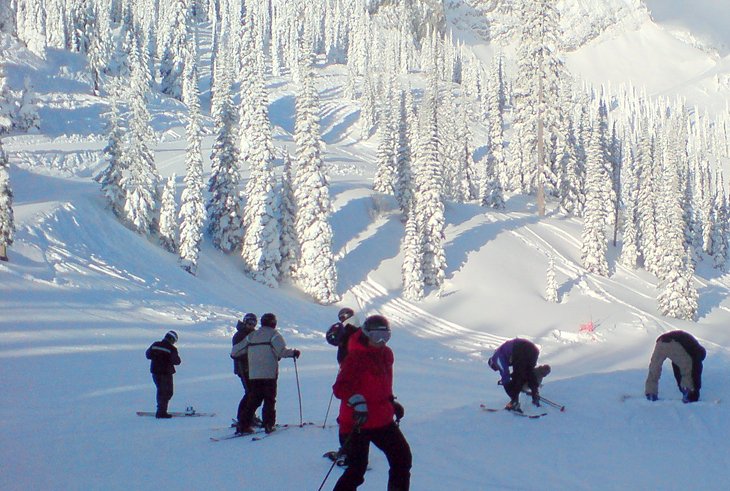 White Pass Ski Area is within eye sight of Mount Rainier and draws big crowds from the town of Yakima, only 50 miles away. It has more than 1,500 acres of accessible terrain, serviced by six chairlifts and two rope tows. Add in the slope-side dining and lodging, and this ski area offers a full winter vacation.
All levels of skiers find slopes at White Pass Ski Area. For some of the smoothest groomed routes, head up the Couloir Express or Quad Basins to Paradise Valley. Alternatively, experienced skiers enjoy the challenging terrain found off the Great White Express.
White Pass is a true winter gem in the state of Washington. Outside of the slopes and the wide variety of routes for every level of skier, White Pass hosts a huge number of events and other snow activities. A Winter Carnival in February provides a fun winter party for the whole family.
A Nordic Center at the resort caters to a different type of skiing with 18 kilometers of groomed trails. The Nordic Center has several rentals available, including snowshoes, skate skis, and traditional cross-country skis. A warming yurt and retail center are at the trailhead.
Address: 48935 US Highway 12, Naches, Washington
Official site: http://skiwhitepass.com/
Accommodation: Where to Stay in Naches
6. 49° North Mountain Ski & Snowboard Resort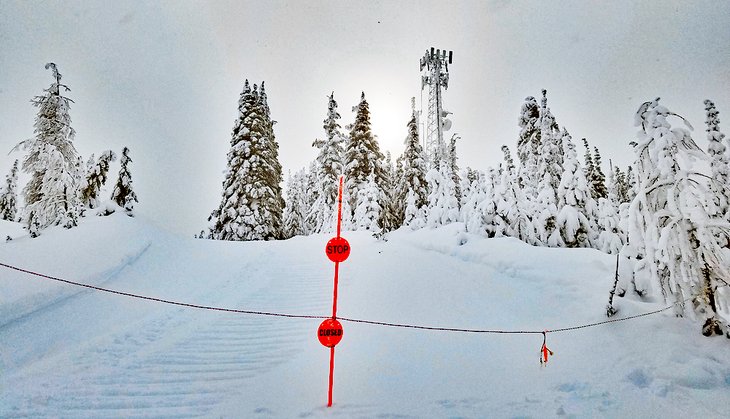 The 49° North Mountain Resort is less than 60 miles north of Spokane in northeast Washington and surrounds Chewelah Peak. It's a favorite in the region for skiing and snowboarding, much in thanks to its impressive 2,300 acres of skiable terrain and 50 different runs.
But like all ski resorts on this list, it's the community and entertainment options that solidify this Washington ski resort as one of the best. The fun never really stops at 49° North, with weekly events like Saturday Night Skiing and Live Music, plus annual celebrations like Hawaiian Daze. The Boomtown Grill in the main lodge offers other tasty reasons to visit.
Lift tickets to 49° North are now available through the Indy Pass, which gives skiers two-day access at 46 different resorts across the country. The resort also offers day passes, which differ in price for weekday and weekend outings. Individual season passes are also available.
49° North is also home to a popular Nordic Center next to its alpine base. Its 25 kilometers of trails cater to cross-country skiing, snowshoeing, and fat biking. Rentals and lessons are also available. Day passes are required to use the Nordic trails at 49° North.
Address: 3311 Flowery Trail Road, Chewelah, Washington
Official site: http://www.ski49n.com/
Accommodation: Where to Stay in Chewelah
7. Mission Ridge Ski & Board Resort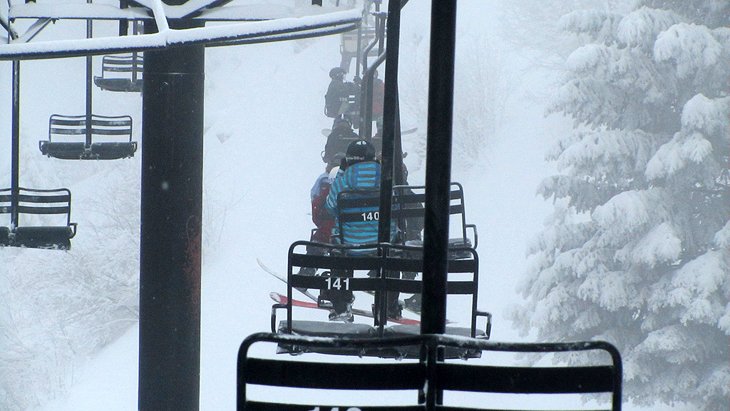 Mission Ridge, on the eastern portion of the Cascade Range, touts itself as having a small mountain vibe with big mountain terrain. As a testament, the resort has 2,000 acres to explore but rarely a line waiting for any one of its four chairlifts. This relaxed atmosphere at Mission Ridge adds nicely to the adrenaline-pumped action on the slopes.
To take in all the fun of Mission Ridge, night skiing is offered every Saturday throughout the winter. And the Hampton Lodge at the mountain's base serves up some of the best poutine (French fries topped with cheese curds and gravy) found in the entire state.
The typical season at Mission Ridge spans from late November to early April. Snowmaking capabilities at the resort make for a long season. Wenatchee is also world-famous for its sunny weather forecast, topping out at more than 300 days of sunshine a year.
Mission Ridge has been actively working on expanding operations since 2015. New improvements to the resort will include expanded beginner terrain and overnight lodging options. The resort recently updated its iconic Liberator Express chairlift to a high-speed, four-person lift with plexiglass covers.
Address: 7500 Mission Ridge Road, Wenatchee, Washington
Official site: https://www.missionridge.com/
Accommodation: Where to Stay in Wenatchee
8. Mt. Spokane Ski and Snowboard Park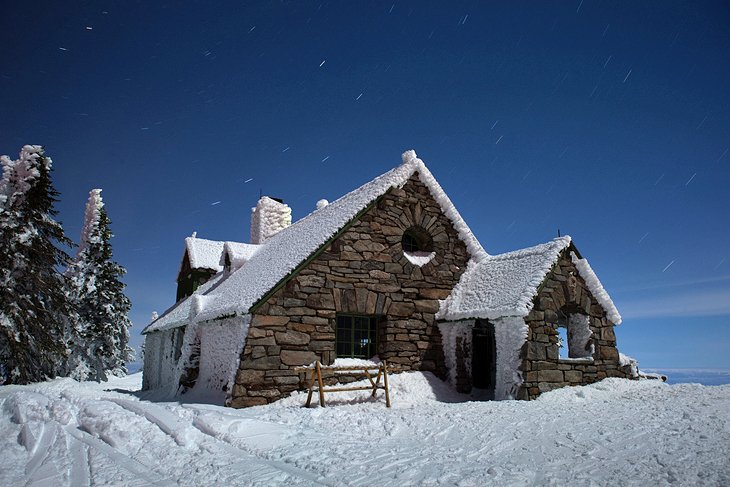 Mt. Spokane Ski and Snowboard Park is entirely encompassed by Mt. Spokane State Park, 25 miles from Spokane. It features 1,700 skiable acres, six chairlifts, and an average of 300 inches of snowfall a year. While being a popular spot to ski in eastern Washington, it doesn't see the same crowds as ski resorts closer to Seattle.
It's not the quantity of snow Mt. Spokane receives that draws the most attention, it's the quality. On the drier east side of Washington, Mt. Spokane Ski and Snowboard Park receives light and fluffy snow compared to the "Cascade concrete" sometimes present west of the Cascades.
The typical season at Mt. Spokane spans from early December through the beginning of April, weather depending. Day passes vary in price between weekday, weekend, and holiday rates. For the 2022/2023 season, midweek day passes go for $54 for adults. Season passes are also available.
Mt. Spokane offers night skiing Wednesday through Saturday between December and March. The Children's Choice Tubing Hill at the resort is also open on the weekends. The four terrain parks are also popular spots at Mt. Spokane, including the natural Gnarwood Forest, which is made up of organic features.
Address: 29500 N Mt. Spokane Park Drive, Mead, Washington
Official site: http://www.mtspokane.com/
Accommodation: Where to Stay near Mead
9. Alpental Ski Resort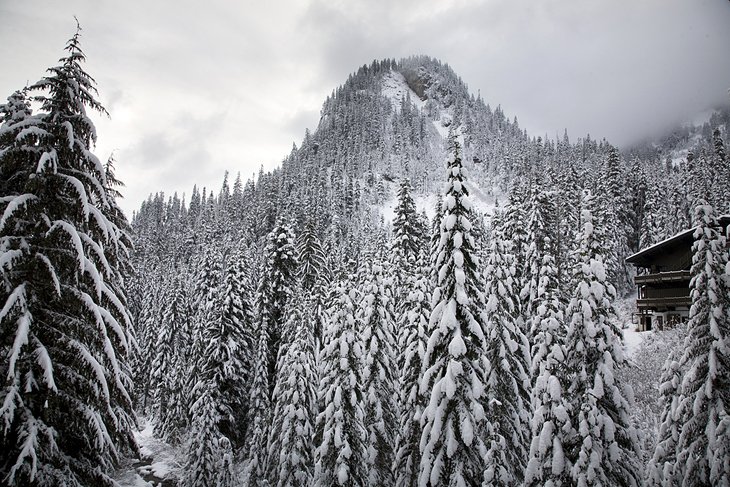 Alpental is one of the four ski areas that comprise the Summit at Snoqualmie, and it stands uniquely apart from the other three mountain bases. Not only is Alpental on the other side of Interstate 90 from the rest of the resort, but the ski area also offers more variety and challenging terrain.
Alpental has approximately 800 acres, primarily consisting of more difficult runs suited to advanced skiers. Hone some edges, though, and Alpental consistently ranks as some of the biggest inbounds terrain for experienced downhill enthusiasts.
The Alpental Back Bowls features some of the best backcountry skiing you can easily access in the state. Alpental does have a small spread of beginner routes, but it's not a beginner mountain, and good technique, as well as avalanche safety and knowledge, are required.
Alpental also hosts its own dining opportunities, including fresh tacos and burritos at the Powder House. Lift tickets for Alpental are purchased through the Summit at Snoqualmie website. The ticket grants access to the entirety of the resort.
Address: 1001 State Route 906 Snoqualmie Pass, Washington
Accommodation: Where to Stay in Snoqualmie Pass
10. Ski Bluewood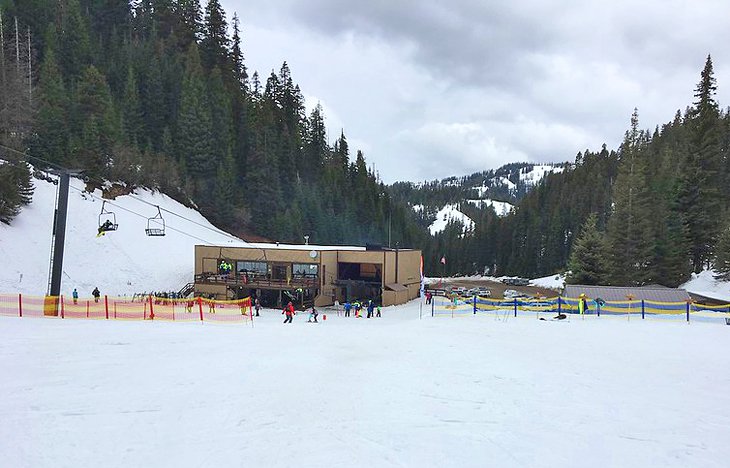 Also known as the Bluewood Ski Area, Ski Bluewood is close to both the Oregon and Idaho border in the Blue Mountains of southeastern Washington.
With only 400 skiable acres and roughly 25 named runs, Ski Bluewood isn't the biggest resort in Washington by any means, but to some, it's the best-kept ski secret in the state.
With a base height of 4,450 feet, leading to ample snow throughout the winter, Ski Bluewood has a long and consistent season. Lift tickets are also more affordable here.
Whether you happen to be on the east side of Washington or you are looking for a family-friendly alternative to massive mountain resorts, you'll feel ready for a satisfying night's sleep after a full day exploring the slopes of Ski Bluewood.
Address: 2000 N Touchet Road, Dayton, Washington
Official site: http://www.bluewood.com/
Accommodation: Where to Stay in Dayton
More Related Articles on PlanetWare.com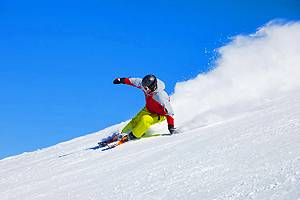 Skiing the American West: For a taste of the Rocky Mountains, the best ski resorts in Montana deliver with iconic places like Big Sky and Whitefish. South along the Pacific Coast, the top-rated places to ski in California offer a wide diversity of downhill fun. For the ultimate skiing in the United States, the top-rated ski resorts in Colorado deliver world-class skiing and a Summit County filled with big mountains to visit. And don't miss our piece on the best ski resorts in Utah.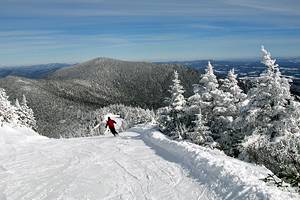 Ski Resorts in the East: To shred some powder on the other side of the country, the best ski resorts on the East Coast offer different landscapes to appreciate from the slopes. For some of the best skiing the East has to offer, the northern states of Vermont, New Hampshire, and New York deliver with winter wonderlands.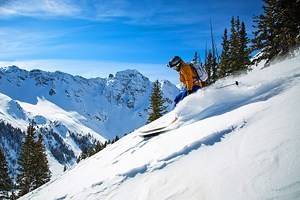 More Skiing in North America: Skiing isn't always a cheap hobby, and our guide to the top cheap ski destinations in North America can help spread the skiing budget further through the winter. To the north of Washington across international borders, the best places in Canada to ski have some of the biggest terrain accessible by chairlift.