18 Top-Rated Day Trips from Seattle, WA
We may earn a commission from affiliate links ()
Seattle's surroundings add to the significant appeal of living in or visiting the city. It's surrounded on all sides by defining Pacific Northwest landscapes, including volcanic mountains, the open sea, and an ancient archipelago filled with adventure. These day-trip landscapes also include many of Washington's best state and national parks, including Mount Rainier, North Cascades, and the Olympic Peninsula.
Larger cities near Seattle, like Tacoma and Bellevue, also lure visitors with their art museums and international cuisine. Smaller communities along Puget Sound maintain a slower speed, a pace that makes time for boat trips to state parks, discovering fun local heritage, and simply enjoying the island escapes.
All the best day trips from Seattle are accessible by car, ferry, or other forms of public transportation. And while any time of year is good for adventures outside of the city, the summer months are arguably the best time to plan a trip. Find your next memorable excursion from the city with our list of the top day trips from Seattle.
1. Puget Sound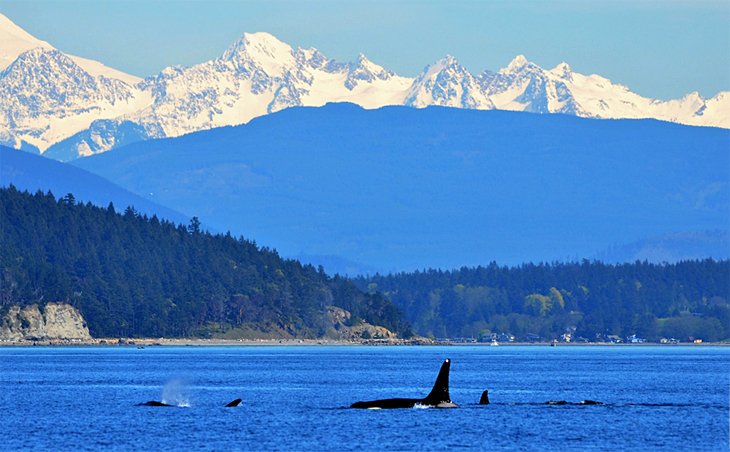 Puget Sound is much more than a geological feature. It's a cultural region of Washington framed by an intricate system of channels, inlets, and islands. The lovely island escapes and communities of Puget Sound warrant more than a day trip, but it is still easy to see some major highlights without spending the night.
Directly west of Seattle, Bainbridge Island boasts beautiful landscapes and hiking trails, like those found within the island's Grand Forest. North of Seattle, Whidbey Island is home to many attractive towns and natural attractions, like Deception Pass State Park. And further north, the San Juan Islands offer even more of a watery world to enjoy.
If you want to explore the waters of Puget Sound on a day trip and see some of the region's wildlife at the same time, the Friday Harbor Day Trip & Whale Watching tour from Seattle is a great option. This full-day tour departs directly from downtown Seattle and includes round-trip ferry service. The a 2.5-hour guided whale-watching cruise with an experienced naturalist, and a visit to Friday Harbor on San Juan Island.
Minke whales, humpbacks, orcas, seals, porpoises, otters, and bald eagles are just some of the magnificent animals you might see while cruising the waters of Puget Sound. Whale sightings occur in Puget Sound throughout the year, but the best time to visit for whale watching is between June and September.
2. Mount Rainier National Park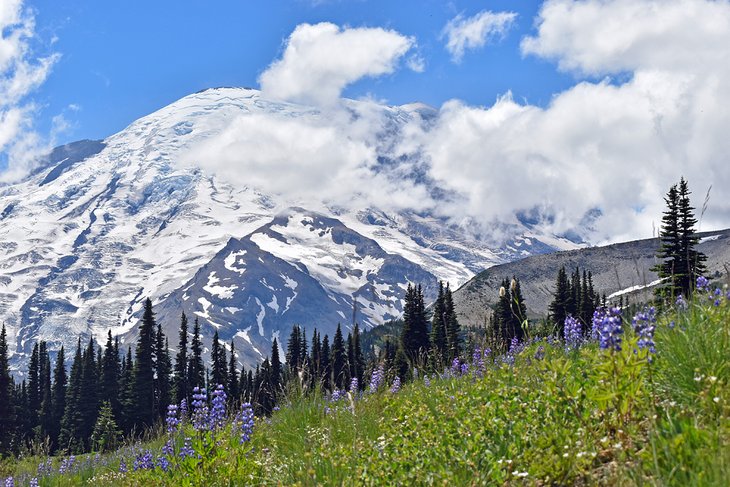 Mount Rainier stands at more than 14,000 feet. It's the tallest mountain in the Pacific Northwest and one of the region's most iconic landforms. A national park encompasses the mountain on all sides, and hundreds of visitors flock to Mount Rainier National Park each year, for good reason.
Between accurately named areas like Paradise Valley and the beautiful landscapes found on hiking trails like the Skyline Trail, this wildlife-rich natural space is nothing short of awe-inspiring. The 93-mile Wonderland Trail circumnavigates the base of the mountain (a permit is required for overnight travel), and the park hosts several great campgrounds.
Residents and visitors to Seattle can easily see the peak and explore some trails in a day. The Nisqually Entrance is one of the most popular spots to head from Seattle, but the less-developed Mowich Lake region is closer. With an early enough departure, the entire park is accessible in a day.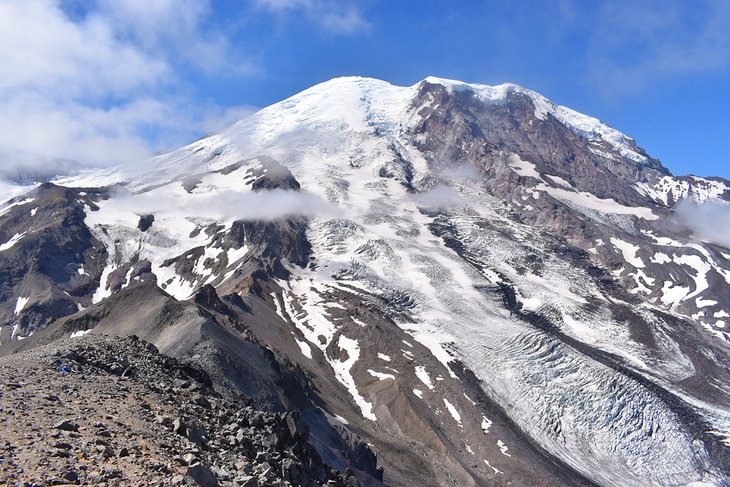 3. Victoria, British Columbia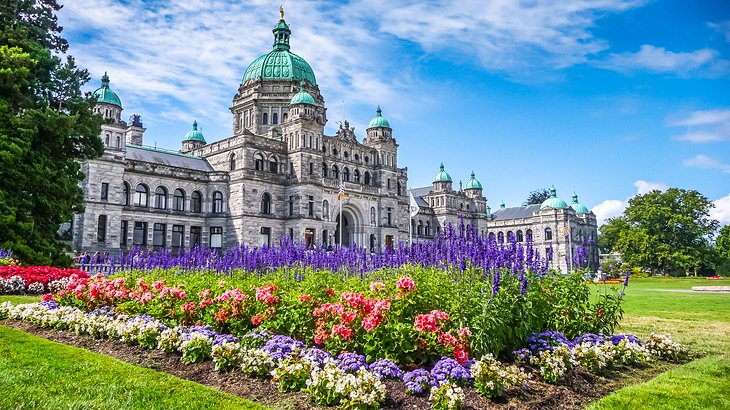 Flower-flecked Victoria on Vancouver Island is the capital of British Columbia and one of Canada's prettiest cities. This international tourist destination is a three-hour high-speed ferry ride from Seattle. And thanks to its sheltered location between the surrounding mountains and the warm North Pacific current, Victoria enjoys one of the country's mildest climates.
Highlights of a visit to Victoria include beautiful Butchart Gardens; the Royal British Columbia Museum; the magnificent dome-capped parliament buildings; and Craigdarroch Castle, an evocative example of Victorian architecture.
A fun thing to do on any visit is enjoying afternoon tea at the Fairmont Empress, a landmark hotel dating from 1908. Miniature World is another popular attraction on the hotel grounds, with delightful dioramas depicting the past, present, and future.
An easy way to visit the island and capital city is via the Day Trip from Seattle on the Victoria Clipper. Departing early in the morning from Pier 69 in downtown Seattle, guests can relax on the ferry's comfortable seats and purchase duty-free goods as well as beverages and snacks on board. After a day spent exploring the sights and attractions of Victoria, and perhaps some afternoon tea, visitors hop back aboard the ferry and return to Seattle by late evening.
Accommodation: Where to Stay in Victoria
4. San Juan Islands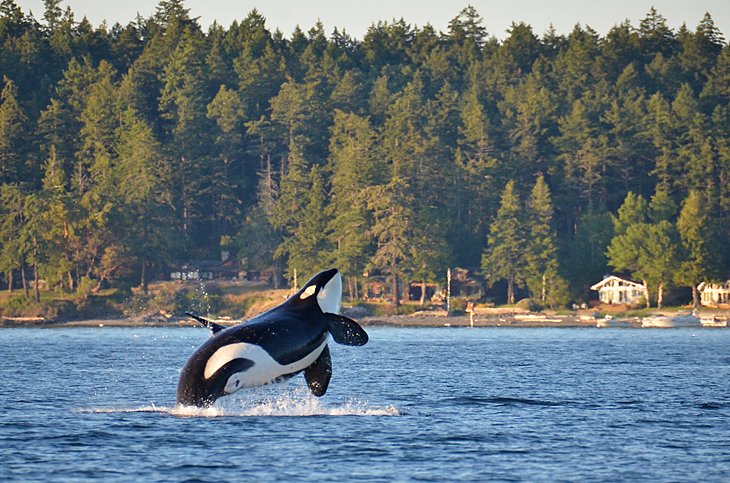 North of Puget Sound and the Strait of Juan de Fuca, the San Juan Islands are a cluster of communities, islands, and natural spaces that offer a recreational and relaxing getaway. The archipelago encompasses over 170 named islands, including four main islands: San Juan, Orcas, Lopez, and Shaw.
The most populous, San Juan Island, features fun natural places to explore, including Lime Kiln State Park. Diverse communities inhabit San Juan Island too, including Friday Harbor, a fun jumping-off town to explore the rest of the islands.
Orcas Island, also known as the "Gem of the San Juans," is home to a verdant and rural landscape that's fun to explore on a scenic drive, hike, or airplane tour. Here, the spacious Moran State Park offers some great adventures, including a hiking trail to the top of Mount Constitution.
Adventures abound on and around the San Juan Islands. Popular activities include sea kayaking, seasonal whale watching, and simply enjoying the stunning views found in this far northwest corner of the country.
5. Olympic National Park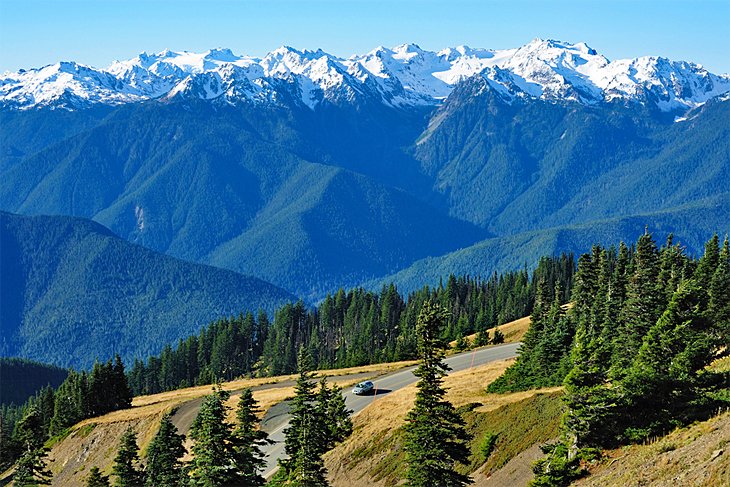 Olympic National Park is a beautiful region of snow-capped mountains, lush old-growth forests, alpine wildflower meadows, and rugged beaches. It takes up almost the entire Olympic Peninsula, and roads only ring the park's outskirts, never entering the park's wild heart.
Many visitors spend several days or a week exploring Olympic National Park. For a day trip from Seattle, making the drive up to Hurricane Ridge from Port Angeles is recommended. Other day trip options include 90-foot Marymere Falls near Lake Crescent and exploring the mossy environment of the Hoh Rain Forest.
For converting a day trip into an overnight adventure, the many campgrounds in Olympic cater to all types of travelers. Spending the night allows ample time to explore the best hiking trails in Olympic Park.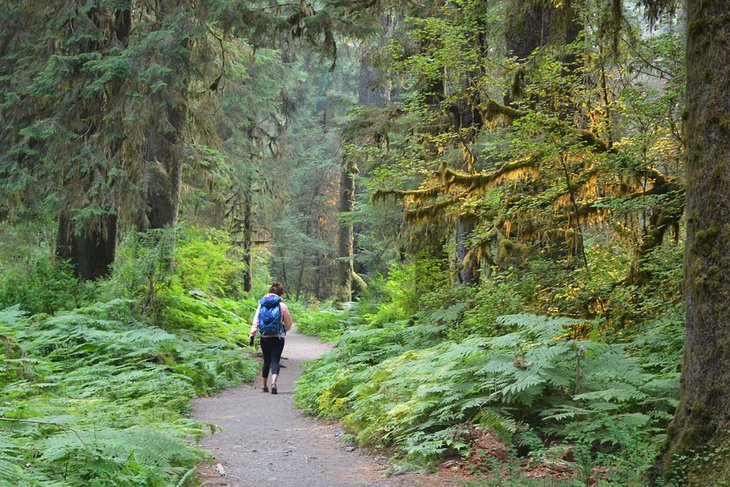 The Olympic National Park tour from Seattle handles the logistics of traveling into this dense region. After a pickup in downtown Seattle, the tour includes a leisurely two-hour drive in a van or SUV and a guided experience of the forest, beaches, and snowcapped mountains that define the Olympic Peninsula. With breakfast and a gourmet lunch included, all that tour members need to bring are their cameras and comfortable clothes for exploring outside.
Address: 3002 Mt. Angeles Road, Port Angeles, Washington
Official site: http://www.nps.gov/olym/index.htm
6. Mount St. Helens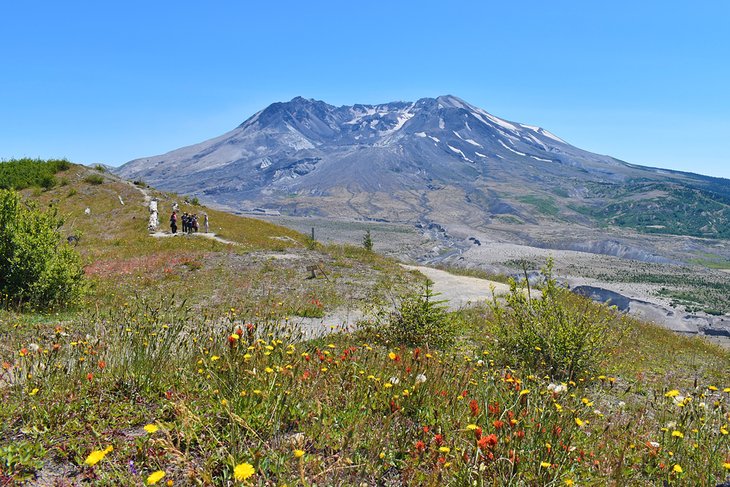 Just south of Mount Rainier and located within the Gifford Pinchot National Forest, Mount St. Helens stands as a testament to Washington's volcanic past and present. It is best known for its dramatic 1980 eruption, which scorched more than 200 square miles of the surrounding forest. Visitors to the Mount St. Helens National Volcanic Monument today can still see the major impacts of this massive geological event that happened 40 years prior.
Lakes, caves, and wildflowers are at the center of recreation at Mount St. Helens, and users with a permit can even make the steep climb to the edge of the crater. And all the best hiking trails in the park do well to explore the volcanic impact on the region. Fishing, camping, and horseback riding are other popular adventures.
One of the most interesting aspects of visiting Mount St. Helens is learning about its geological history. To get the full story, the small-group full-day tour of Mount St. Helens Volcano from Seattle explores the beautiful landscapes with a knowledgeable guide. As well as a narrated experience, this tour takes care of all the logistics of traveling to the crater and back, plus a locally sourced lunch.
Official site: http://www.mshinstitute.org/
7. North Cascades National Park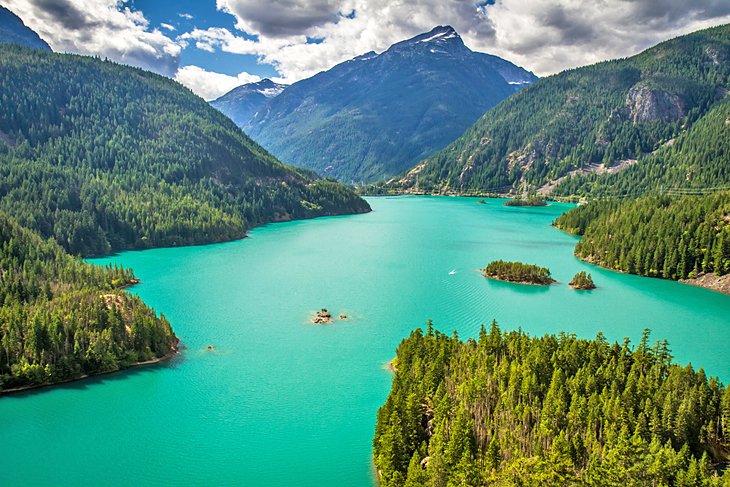 The North Cascades are a rugged mountain territory filled with vertical landscapes. They encompass much of northern Washington and span across the British Columbia border. The main entry point for most people is the North Cascades Highway (State Route 20), which cuts horizontally across this region.
This scenic byway is accessible from Seattle with less than an hour's drive, and it's approximately another hour's drive to reach the park properly. Along the way, scenic destinations like Ross Lake National Recreation Area and the turquoise waters of Diablo Lake encourage pitstops. Highway 20 is a seasonal thoroughfare and remains unplowed throughout the winter. The typical operating season is between early May and mid-to-late November.
Farther north into the North Cascades, outside the national park, Mount Baker Ski Area is a popular downhill ski destination with a reputation for high amounts of snow. This mecca for downhill snow sports also has a reputation as one of the best ski resorts in Washington. Mount Baker Ski Area is a three-hour drive from Seattle.
8. Leavenworth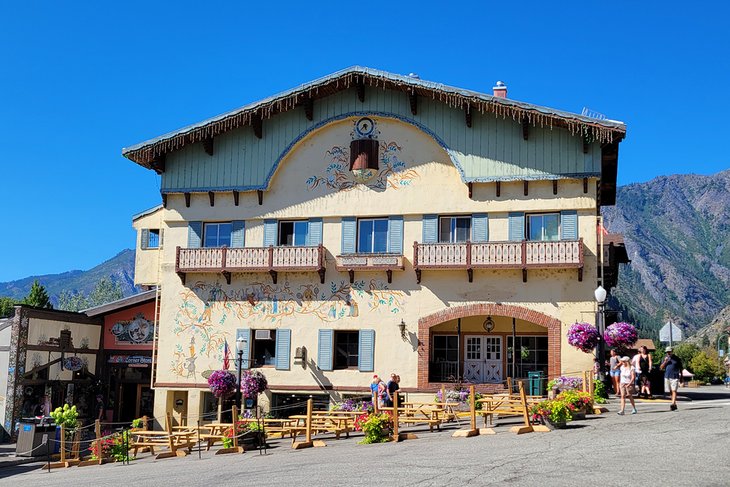 Leavenworth is a unique mountain town on the east side of the Cascade Crest, approximately two hours from Seattle. Alongside incredible mountain peaks surrounding the streets, what makes this tourist-friendly town stand out is its unique Bavarian flair. Thanks to revitalization efforts throughout the late 1900s, every inch of Leavenworth today, including the local McDonalds, is decked out with genuine Bavarian architecture.
Alongside the authentic storefronts and landscaping, the town also hosts several annual Bavarian festivals. Almost every month of the year offers Leavenworth visitors a reason to celebrate, including events like Maifest in May and a Kinderfest in July. The town also illuminates during the month of December with the very popular Village of Lights and the Christmas Lighting Festival.
Leavenworth is also a major adventure destination in the state. It's located near the confluence of Icicle Creek and the Wenatchee River, and startling Cascade peaks add to the town's Alps-inspired theme. One of the first stops to head, and a reason for a day trip alone, is the Icicle Creek corridor on the north side of the city.
Read More: Top-Rated Things to Do in Leavenworth
9. Tacoma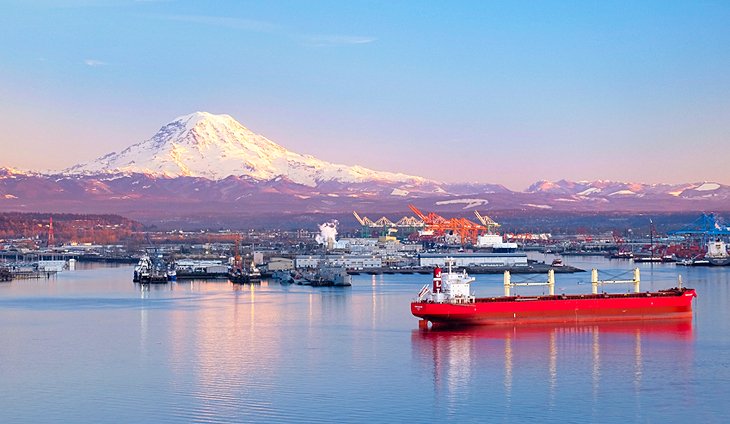 From its industrial roots, Tacoma has developed into a modern city with a host of excellent and engaging museums. Thirty miles south of Seattle and on Puget Sound shoreline, the city is perhaps best known for its stunning glass sculptures, many by renowned Washington artist and Tacoma-native Dale Chihuly. The city's immense Museum of Glass is a testament to his art form.
Stretching 500 feet, the Bridge of Glass pedestrian walkway connects the Museum of Glass to the Washington State History Museum. And there's more art to behold at the nearby Tacoma Art Museum, with a collection featuring over 5,000 pieces from primarily regional artists.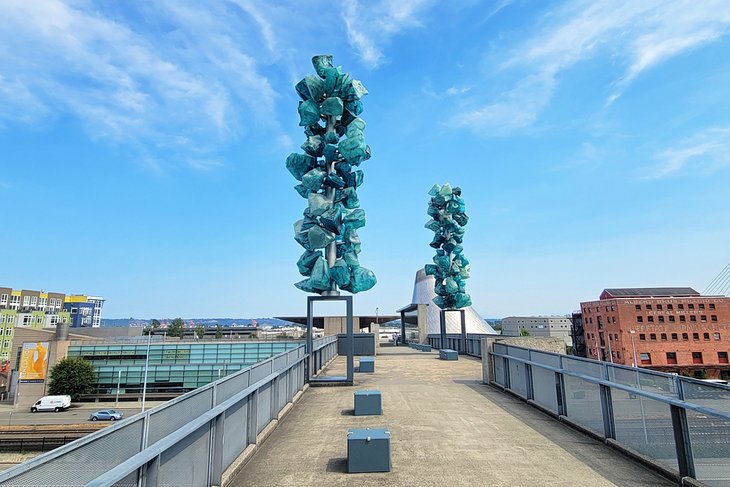 Outside of the downtown museum hub, LeMay – America's Car Museum displays a world-class collection of automobiles. An average of 250 cars is permanently on display, with approximately 100 other cars on temporary exhibit from private collections.
Accommodation: Where to Stay in Tacoma
Read More: Top Things to Do in Tacoma, Washington
10. Bellevue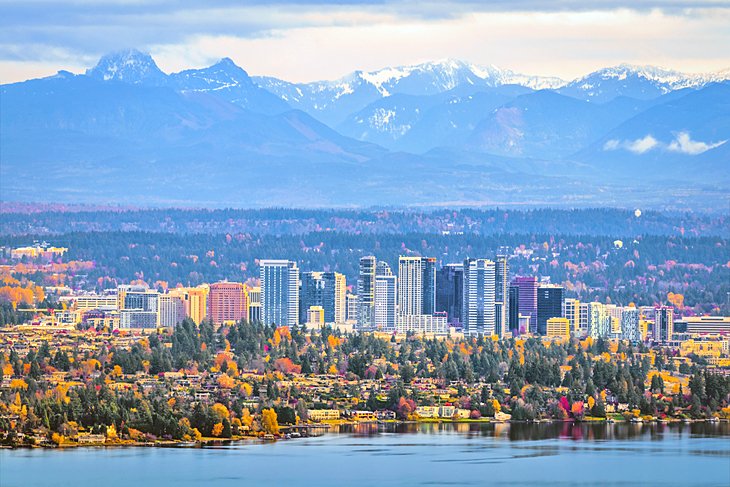 On the eastern outskirts of Seattle, the city of Bellevue lies in a picturesque setting in front of the Cascade Mountains. It is a rather prosperous and growing community that attracts commuters from the surrounding areas.
The Bellevue Arts Museum is a primary attraction, featuring changing exhibits, programs, lectures, and workshops. With free entry, the Bellevue Botanical Garden is also a popular place to visit. The gardens cover 53 verdant acres and feature Washington's showy state flower, the rhododendron.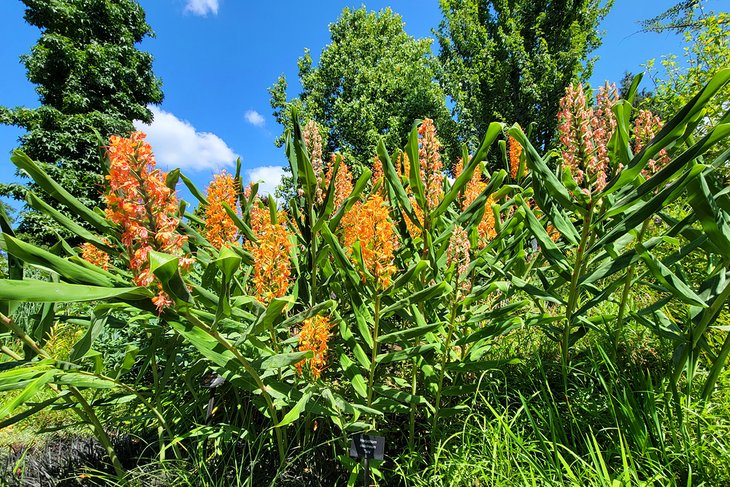 For some window shopping in a relaxed atmosphere, Bellevue Square has a reputation as one of the best shopping malls in the Seattle metro, with more than 200 stores and 50 restaurants to choose from. Other shopping and dining opportunities line the downtown district of Bellevue.
Farther east along I-90, Issaquah is a growing town with family-friendly attractions like Cougar Mountain Zoo. Endangered species are a highlight of this zoo, along with large mammals like cougars, reindeer, and alpacas.
Accommodation: Where to Stay in Bellevue
11. Bellingham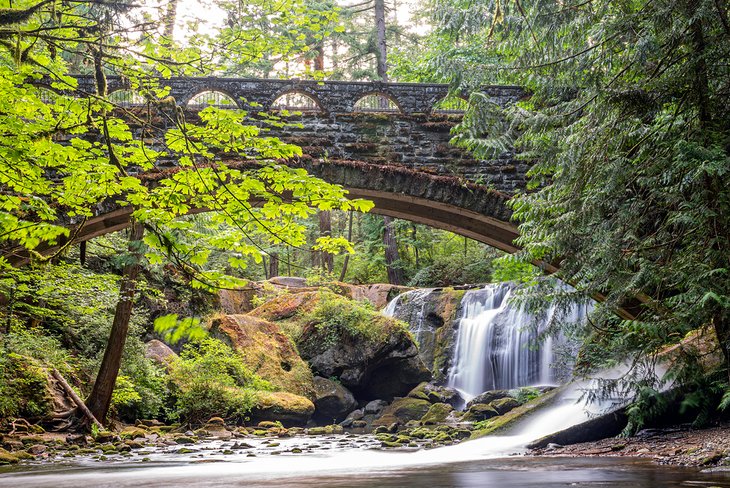 Bellingham is a university city in northern Washington, approximately 80 miles north of Seattle. The city sits next to Bellingham Bay and has the impressive Mount Baker as a backdrop to the east. It's also home to Western Washington University and nearly 90,000 residents. This combination of collegiate appeal and defining Pacific Northwest landscapes add to the town's laid-back charm and emphasis on outdoor adventures.
And outdoor recreation is aplenty in Bellingham. One of the first routes to follow is Chuckanut Mountain Drive, where places like Larrabee State Park offer several routes to explore these uniquely named mountains. Other adventure destinations in Bellingham include places to visit like Whatcom Falls and Galbraith Mountain Bike Park.
After a mountain bike ride or trail run, Bellingham also offers plenty of places to refuel with food and entertainment. The downtown district sits adjacent to the waterfront with several local storefronts lining the streets. Similarly, south of downtown, the Fairhaven Historic District also offers menus for all three meals of the day.
Read More: Top-Rated Attractions & Things to Do in Bellingham
12. Blake Island Marine State Park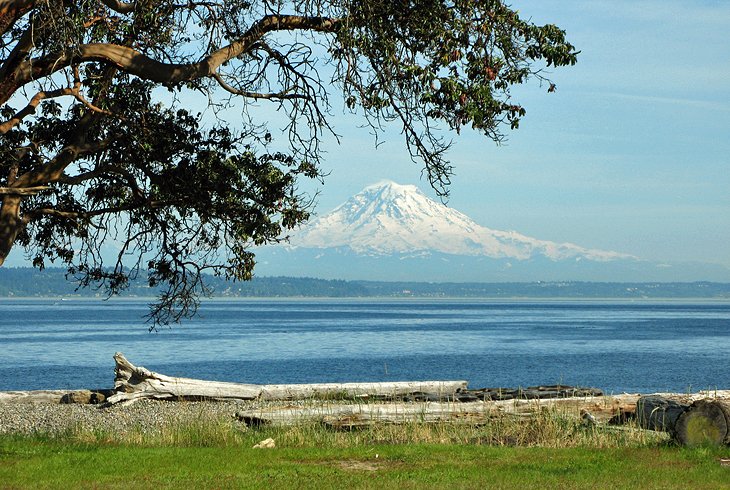 Blake Island State Park is within Puget Sound and is accessible only by boat. It's a marine park known for its calm beaches, Native American heritage, and beautiful views of the Olympic Mountains looming in the background.
Miles of hiking and biking trails wind their way throughout the island, and the shoreline provides plenty of moorage for personal watercrafts. This picturesque island was the birthplace of the famous local leader Chief Seattle, and you can soak up some of the island's heritage at Tillicum Village at its northeast end.
A fun and convenient way to explore the island from Seattle is the Tillicum Village Cultural Experience tour. On this half-day excursion, you can hop aboard a 45-minute narrated cruise to the island, tour the village, and learn all about Native American culture. The tour also includes round-trip boat transportation, a salmon feast, and traditional storytelling and dance performances.
Official site: https://parks.state.wa.us/791/Blake-Island-State-Park
13. Bainbridge Island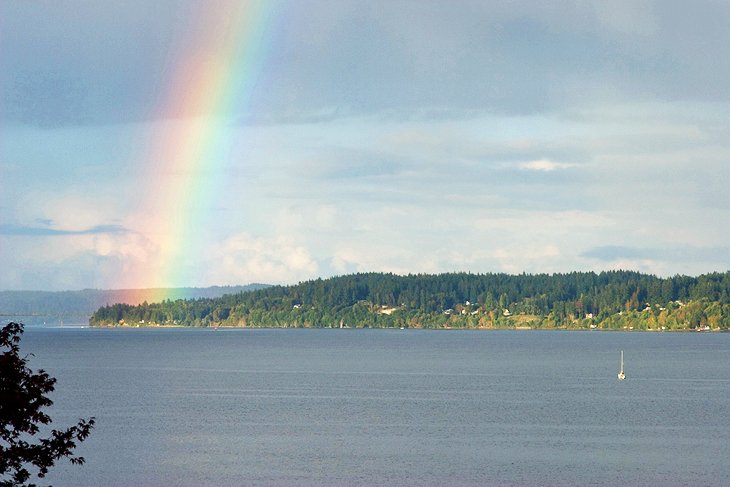 Within Puget Sound, Bainbridge Island is a small island community located just west across the bay from Seattle. Tourists can access Bainbridge Island either by ferry (on foot or with a car) or by personal vehicle without crossing the water via an extended route leading through Tacoma.
A short distance from where the ferry docks, the Bainbridge Island Historical Museum is housed in a 1908 schoolhouse. The museum contains artifacts, photographs, and information on local history. Other island attractions highlight nature, such as the lovely grounds of Bloedel Reserve and the shoreline of Fort Ward Park.
Fort Ward State Park is one of Washington's best beaches, and for good reason. This retired military installation is now well equipped for day-use visitors. At the park, alongside a long rocky shoreline with a boat ramp overlooking Puget Sound, visitors enjoy various forested inland hiking trails.
14. Gig Harbor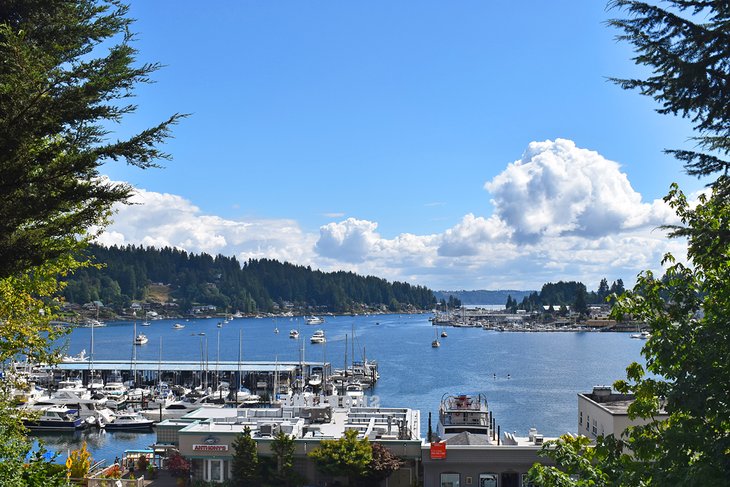 In Puget Sound opposite Tacoma, the city of Gig Harbor is a popular tourist hangout and one of the most rewarding small towns to visit in Washington state. The backbone of the city is a historic waterfront sprinkled with shops, galleries, and restaurants.
Visitors from Seattle reach the community by crossing the twin Tacoma Narrows suspension bridges, which replaced the infamous "Galloping Gertie" bridge that collapsed in 1940. The town's Harbor History Museum features permanent displays about this history, as well as Native American culture, boat building, and early life on the Gig Harbor Peninsula.
This welcoming community also features plenty of natural places to explore, as well as easy access to the rest of Puget Sound. A popular means of recreation in Gig Harbor is the 6.2-mile Cushman Trail, a 16-foot-wide, paved pedestrian and bike path surrounded by green spaces.
Accommodation: Where to Stay in Gig Harbor
Read More: Top-Rated Things to Do in Gig Harbor, WA
15. Future of Flight - Aviation Center & Boeing Tour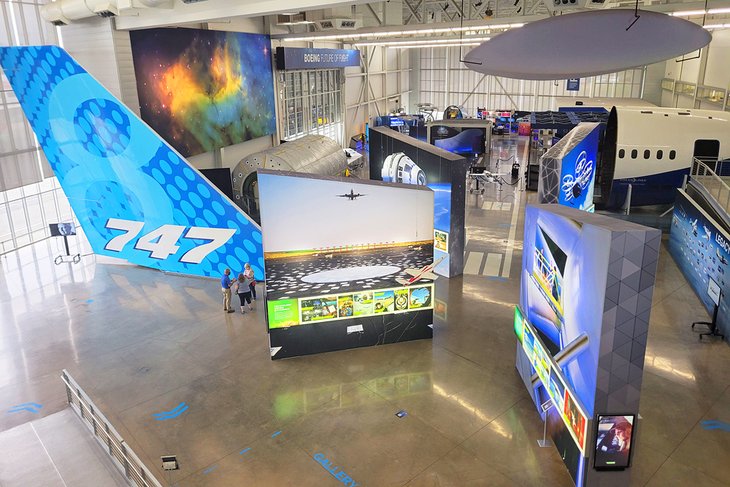 In the seaside city of Mukilteo, half an hour's drive north of Seattle on US 526, the Boeing assembly plant is the largest aircraft construction hangar in the world. Here, you can see the latest high-tech aircraft under construction, as well as different models of the enormous Dreamliner, and watch a short film about how the planes are built.
Visitors also enjoy interactive exhibits in the Aviation Center Gallery, including a flight simulator. A convenient way to visit the center from Seattle is on the 4.5-hour Boeing Tour, including hotel pickup and drop-off and an experienced guide.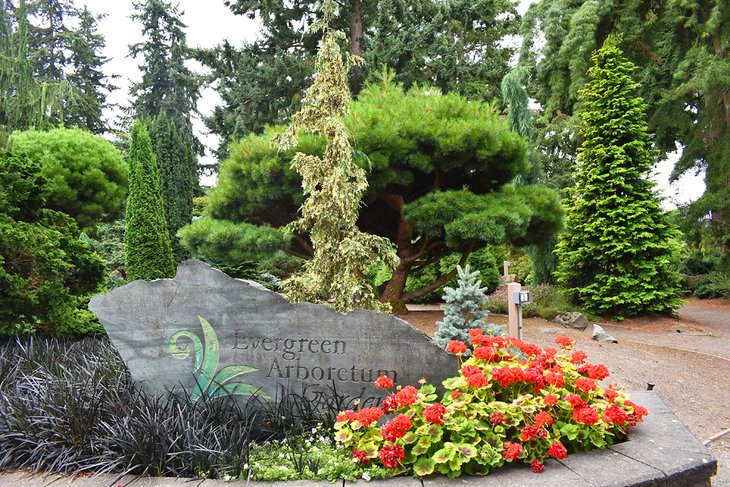 A visit to the nearby city of Everett, on the shores of Port Gardner Bay, is a great way to round out your day trip to the Aviation Center. Popular attractions in Everett include arboretums; event centers; and the increasingly popular Funko headquarters, where this toy company offers the chance to make a custom Pop! Vinyl, their flagship collectible product.
Laid out like a mini town, Everett's Imagine Children's Museum offers fun and exciting exhibits for children of all ages. The city is also home to the Schack Art Center, where a robust collection of multi-media artwork appeals to all family members.
Address: 8415 Paine Field Boulevard, Mukilteo, Washington
Official site: http://www.futureofflight.org/
16. North Bend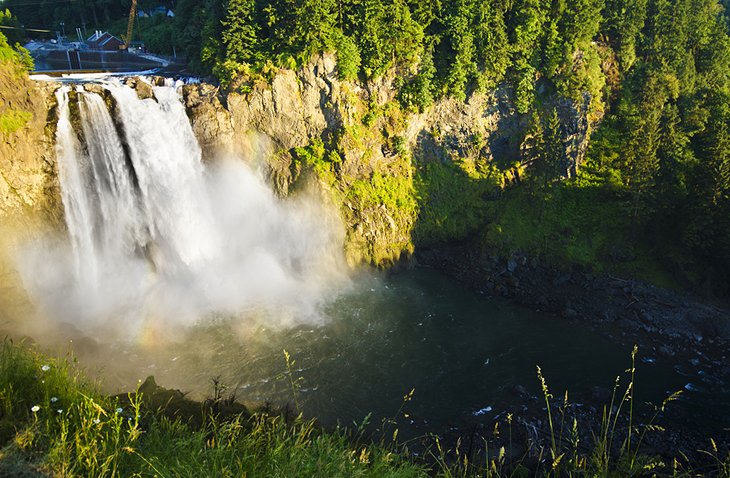 In the Snoqualmie Valley east of Seattle, North Bend is probably best known as the filming location of the television series Twin Peaks. The town sits in a scenic area along the foothills of the Cascade Mountains.
This relatively small city is home to many delicious restaurants and bakeries that are worth the drive alone. Just to the south of the city limits, Rattlesnake Mountain Scenic Area offers some popular day hikes near Seattle, like the rugged Rattlesnake Mountain and Rattlesnake Ledge trails.
Northwest along the river, the equally small community of Snoqualmie is also featured regularly in the Twin Peaks TV show. The town's centerpiece is the 270-foot Snoqualmie Falls, and a historic lodge overlooks the spectacular view. The town's Northwest Railway Museum is also a favorite with railroad buffs.
17. Renton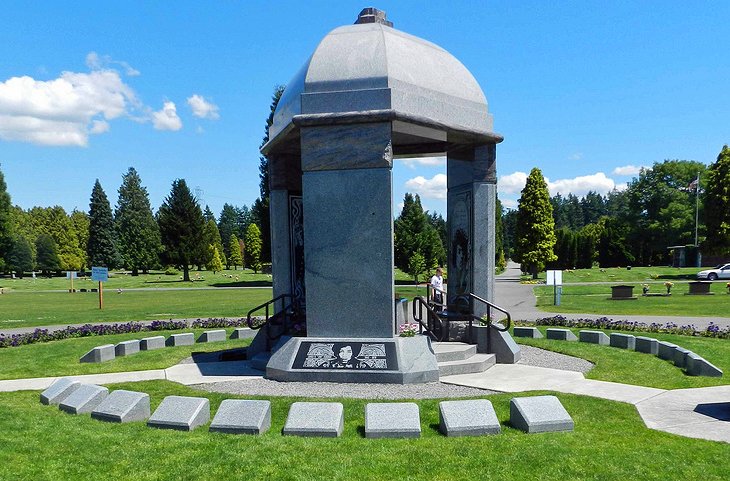 Renton is a southeastern suburb of Seattle and is primarily famous as the final resting place of musician Jimi Hendrix. A Hendrix family memorial is in Greenwood Memorial Park. Another interesting local attraction is the Renton History Museum, where exhibits present Native American history and pioneering artifacts in an Art Deco-era fire station.
For outdoor recreation, Gene Coulon Memorial Beach Park, on the shore of Lake Washington, is a great place to swim, fish, and launch a boat into the water. This popular park also features a large playground area, reservable picnic shelters, and tennis courts. Dogs and bicycles are prohibited at Gene Coulon.
A short drive and easily accessed from Renton, Cougar Mountain Regional Wildland Park offers other outdoor areas worth a day trip. The park comprises more than 3,000 acres of important wildlife habitat and trails to explore. From Cougar Mountain, it's easiest to come back to Seattle through Bellevue.
18. Bremerton & Poulsbo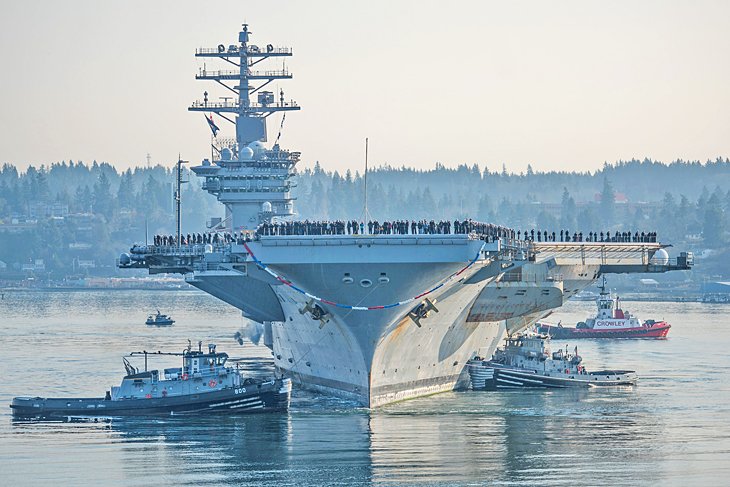 Bremerton is home to an important naval base with many large vessels (such as the USS Turner Joy naval ship museum) but is otherwise a small city. It is located directly west of Seattle across Puget Sound and offers a pleasant and easy day trip from the city with a ferry ride. Popular attractions to include on a day trip to Bremerton are the Puget Sound Navy Museum and the adjacent Harborside Fountain Park.
Farther north, on the Kitsap Peninsula, the quirky town of Poulsbo proudly displays its Norwegian heritage and welcomes visitors. Several local shops and bakeries in Poulsbo attest to these Northern European roots. This bayside city is also home to great cultural and natural attractions, like the U.S. Naval Undersea Museum and Kitsap Memorial State Park.
From Poulsbo, it's possible to drive southeast to Bainbridge Island and return to Seattle by ferry.