12 Top-Rated Things to Do in Leavenworth, WA
We may earn a commission from affiliate links ()
Welcome to Bavaria in the heart of the Cascade Mountains of Washington. Leavenworth, a former logging and railroad town, revitalized its relevance in the 1960s with a drastic transformation. Through community efforts and inspiration, the city converted into an authentic Bavarian Village with a craggy mountain backdrop that adds to the effect.
It's not just the city-wide storefronts that resemble a Bavarian hamlet in Leavenworth. The entire community embraces old-world and modern German traditions. And today, the city entices tourists with annual celebrations like a Bavarian Icefest, Maifest, and end-of-year Christkindlmarkt.
Over a million visitors flock to Leavenworth every year. And it's not only in-town things to do and places to visit that attract such a crowd. Stunning mountain backdrops and national forest surround Leavenworth, providing ample opportunity for adventure. And outdoor excursions span the entire year with a surplus of snowy endeavors nearby.
Only two hours east of the Emerald City, this unique mountain town is one of the best weekend getaways from Seattle. For sightseeing ideas during your visit to "Bavaria in Washington," read our list of the top things to do in Leavenworth.
1. Enjoy the Festivities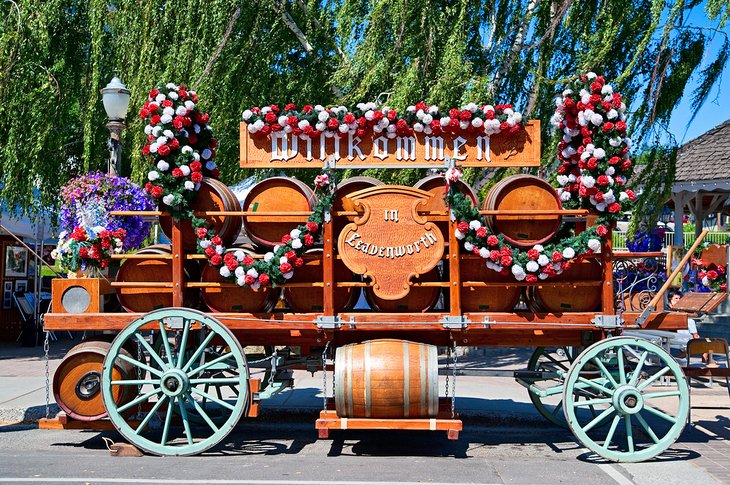 A big draw to Leavenworth is the many festivals that take place amid the Bavarian architecture. A different city celebration occurs every month, from the Bavarian Icefest in January to the Christmas Lighting Festival in December.
Festivals range from Bavarian traditions to themed celebrations of the season. Maifest is one event not to miss, typically taking place over Mother's Day weekend with dancing, music, and a parade. A similar but different celebration occurs during the Washington State Autumn Leaf Festival in the fall.
Leavenworth's local culinary scene is also the center of many town events. Taste Leavenworth! occurs in April and offers one of the best ways to sample the local flavor. One of the most well-attended events in Leavenworth, Oktoberfest, happens on weekends throughout October, complete with lively German music and dancehall events.
2. Explore Icicle Creek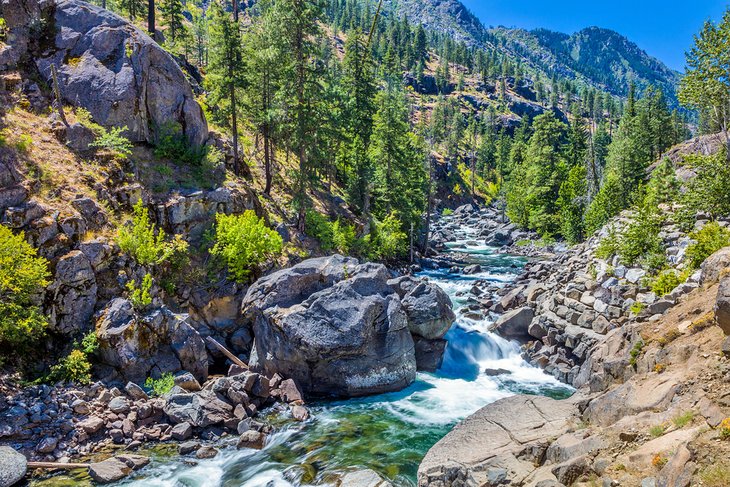 Icicle Creek begins high in the Cascade Mountains and connects to the Wenatchee River near Leavenworth. Icicle Creek Road follows a lengthy portion of this waterway from town. And the road is the city's gateway to magic mountain environments.
If ever in the rare moment of feeling bored in Leavenworth, drive down this 20-mile partially primitive road. Stunning mountain features and landscapes line the entire route. It's also lined with hiking trails, scenic pullouts, and places to camp.
Just outside of town on Icicle Creek Road, the Leavenworth National Fish Hatchery offers a unique stop. Alongside the opportunity to learn about the salmon life cycle, the hatchery provides excellent views on the Icicle Creek Nature Trail.
The Fish Hatchery is just the tip of Icicle Creek attractions. Other notable hikes include the similarly-named Icicle Creek Trail and Icicle Gorge Trail. The route into The Enchantments is also accessible along Icicle Creek at the Stuart Lake Trailhead. Primitive camping is available, and the U.S. Forest Service also operates designated campgrounds.
3. Stand in Awe in The Enchantments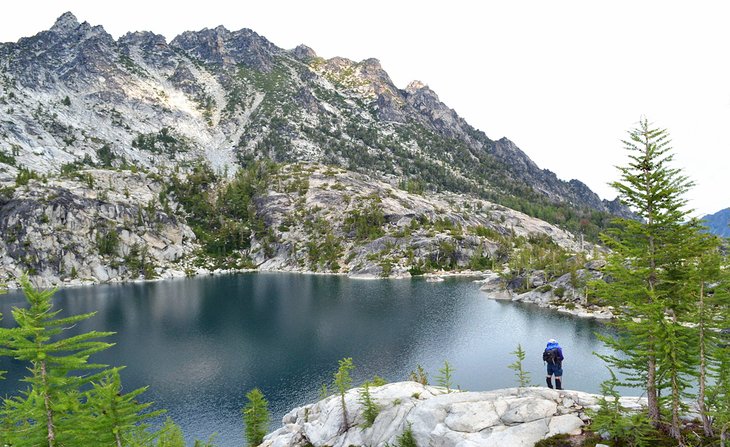 The four-million-acre Okanogan-Wenatchee National Forest surrounds all sides of Leavenworth. This spectacular swath of mountains, rivers, and glacial remnants affords a lifetime of adventure. But visitors only need to drive 15 miles from town to arrive at the trailhead for the most jaw-droppingly beautiful area of the entire forest.
The Enchantments, within the Alpine Lake Wilderness, is even more stunning than it sounds. With other aptly named features like Perfection Lake and Asgard Pass, this high-alpine paradise is brimming with jagged peaks and wild mountain goats. Most hikers start their journey at the Stuart Lake Trailhead, 13 miles down Icicle Creek Road from Leavenworth.
The hike through The Enchantments is a challenging 18-mile, point-to-point trek with over 4,000 feet of elevation gain. The hike is more enjoyable as a multi-night backpacking trip, which requires scoring a competitive permit. Without the permit, day hiking through The Enchantments is doable for experienced hikers.
Read More:
4. Feel the Holiday Spirit at the Christmas Lighting Festival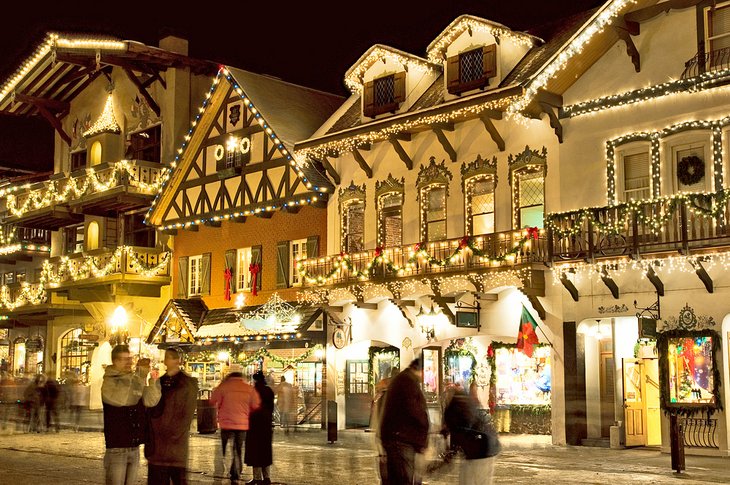 Every winter, the Bavarian downtown storefronts of Leavenworth come under a special glow. Between Thanksgiving and Valentine's, over a half-million lights illuminate the cold weather evenings. This display always manages to captivate adults and children alike.
The real magic occurs every weekend in December, with celebratory Christmas Lighting Festivals starting at 4:45pm. Other special touches to this illuminating event include appearances by Santa Claus and a reindeer petting zoo. And roasting chestnuts literally fill the air at this holiday experience.
Another way to celebrate the season is at the annual Christkindkmarket. This festive market occurs over Thanksgiving weekend and is the unofficial kickoff to the holiday season. Alongside handmade arts and crafts, this open market features ready-to-eat Bavarian hot food served on steaming plates.
5. Camp at Lake Wenatchee State Park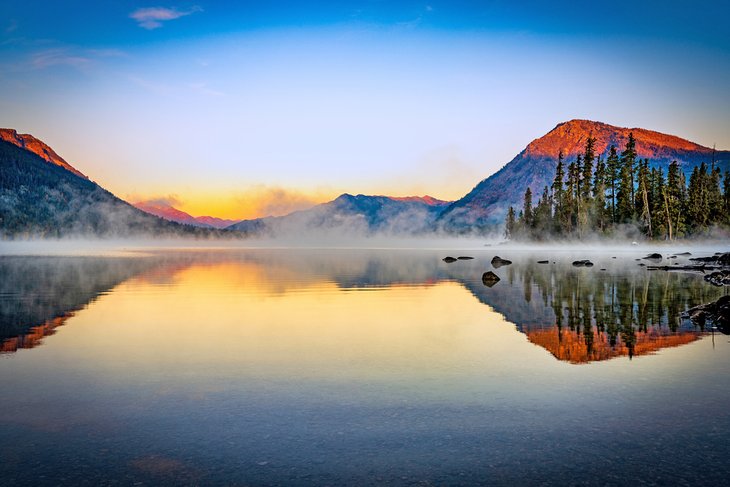 A 20-mile drive from Leavenworth, Lake Wenatchee is one of Washington's best state parks. This 489-acre camping park is near the eastern shoreline of the five-mile-long Lake Wenatchee, on either side of the Wenatchee River. The glimmering water with a mountainous backdrop is the signature and most consistent view at the park.
Activity is abundant throughout the year at Lake Wenatchee. Summer weather and the park's boat launch lend to afternoons fishing on the water. And seven miles of hiking trails tour the scenic environment, as do the guided horseback rides offered by the park. The area is most popular, however, for bringing a picnic and enjoying the sprawling shoreline.
Lake Wenatchee is also a haven for winter travel. The state park's 150 standard campsites close during the winter, but a designated snow camping area offers a safe place to spend the night. Heated restrooms and hot showers are available for winter campers. And spending the night is the only way to experience all the park's 40 kilometers of groomed cross-country ski trails.
Official site: https://parks.state.wa.us/535/Lake-Wenatchee
6. Ski at Stevens Pass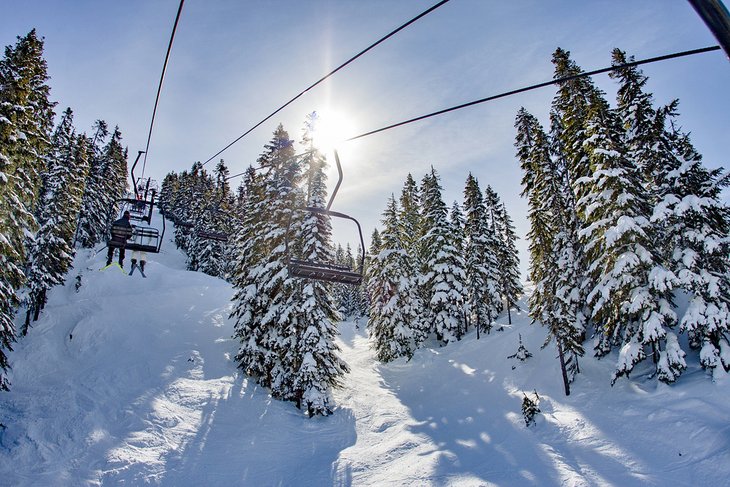 Stevens Pass, one of Washington's best ski resorts, is 35 miles west of Leavenworth on Highway 2. This renowned ski resort is on the Cascade Range crest and receives a whopping 460 annual inches of snow on average. All that snow spreads out over 1,100 acres, lending to plenty of powder stashes to discover between December and April.
It's a short 40-minute drive from Leavenworth to the ski slopes when roadways are clear. It's not a far drive to Stevens Pass from Seattle, either, with city-dwellers donning their skis in less than a two-hour commute. This proximity to Seattle brings crowds of people to the mountain on winter weekends. But with 10 chairlifts, the skiing is reasonably spread out.
Night skiing takes place on the mountain up to five nights of the week in the heart of the season, Wednesday through Sunday. The resort features other snowbound activities, including a dedicated sled and tubing hill that the public can use at no cost.
For a more local flavor, downhill enthusiasts can also find runs at the Leavenworth Ski Hill. This in-town ski hill has a friendly local flare and two rope tows for some classic lines.
7. Cross-Country Ski or Snowshoe Close to Town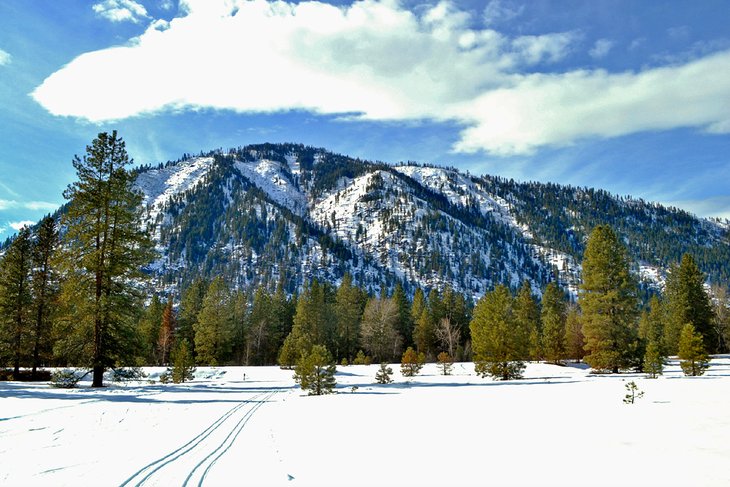 Winter is an excellent time to visit Leavenworth. Alongside festive downtown decor this time of year, Leavenworth is a hot spot for snowy adventures. And with a great location on the east side of the Cascades, abundant sunshine often accompanies each outdoor activity.
Downhill skiers enjoy the rush at the local Leavenworth Ski Hill or nearby Stevens Pass. And cross-country skiers and snowshoers have a surplus of places to experience the tranquility of winter travel. The Leavenworth Ski Hill, and its corresponding Leavenworth Winter Sports Club, maintain over 26 kilometers of groomed trails near downtown.
The Sports Club maintains trails in Waterfront Park, on the Leavenworth Golf Course, within Icicle Canyon, and at the Leavenworth Ski Hill. This incredible spread allows cross-country skiing to be an everyday endeavor in the winter. Lessons are available on the Icicle Creek trails.
And these are just the tip of winter trails near Leavenworth. Groomed and ungroomed routes litter the surrounding Okanogan-Wenatchee National Forest. And Lake Wenatchee State Park, 20 miles away, is a mecca for cross-country skiing with 40 kilometers of trails and heated restrooms.
Official site: https://skileavenworth.com/
8. White Water Raft the Wenatchee River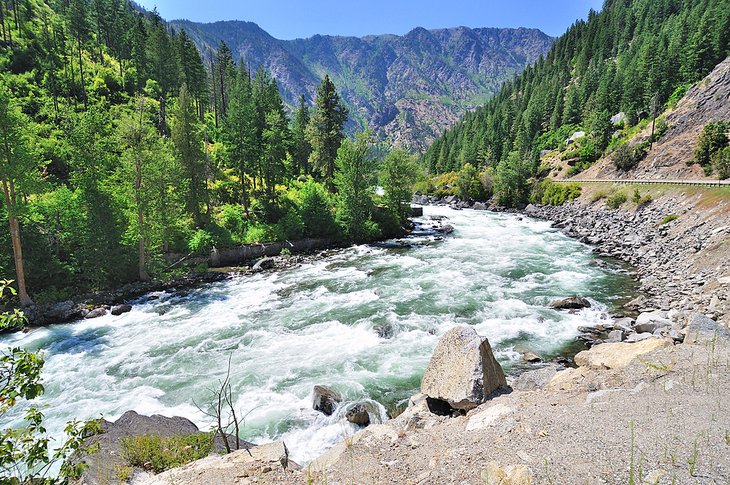 Leavenworth is a central hub for white water rafting. Several local outfitters run memorable trips down the Wenatchee River, which flows right next to the center of town. Thanks to rip-roaring fun in the high-water season (May and June), and mellower waves in mid-summer, the Wenatchee is one of Washington's best rivers for white-water rafting.
Guiding companies like Orion River Rafting, Blue Sky Outfitters, and Osprey Rafting all offer full-day trips. These trips start near Leavenworth, and many companies also offer express journeys for those crunched on time. During high-water season, expect consistent Class III rapids and at least 10 miles of river rafting.
More casual floats on the Wenatchee River are also popular. The section closest to downtown offers a slow pace and a wonderful way to spend the day. Other agencies like the Leavenworth Outdoor Center facilitate floating trips with tube rentals and shuttles.
9. Take Some Spa Time
A spa treatment goes a long way on a Leavenworth vacation. The fresh mountain air somehow adds to the exfoliating effects. And three reputable spas in Leavenworth offer a long list of services.
The Alpine Spa at Icicle Village Resort is always a popular choice for guests and stand-alone appointments alike. Treatments like mud wraps, facials, and hot stones occur in a tranquil studio space with abundant natural light. Alpine Spa also specializes in Swedish massage.
Near the center of town, the Spa at Posthotel oozes with European elegance. This luxurious hotel and spa offers various comprehensive treatments, some spanning multiple hours of the day.
Down Icicle Creek Road, Sleeping Lady Mountain Resort also offers treatments at the in-house Aspen Leaf Day Spa. Unique amenities at this spa include a self-guided art walk, an organic garden, and complimentary tea and chocolate. The spa specializes in jade treatments, including a signature jade body wrap.
10. Enjoy the Show at Leavenworth Summer Theater
The Leavenworth Summer Theater has blossomed over the last 25 years to become one of the largest productions between Seattle and Spokane. It's a combination of outdoor aesthetics and a talented cast and crew that makes these summer shows so popular.
With at least three different shows a year, a longstanding staple has been The Sound of Music. The 2021 production of The Sound of Music will be the 25th appearance of the von Trapp family in Leavenworth, with a stunning Cascade Mountain backdrop. Shows typically take place in July and August.
The theater company performs on two different outdoor stages. Summer weather in Leavenworth is generally nothing short of gorgeous. Still, patrons to this outdoor performance may want to bring a jacket for any drizzle (umbrellas not allowed).
Official site: https://leavenworthsummertheater.org/
11. Find Something Fresh at the Leavenworth Community Farmers Market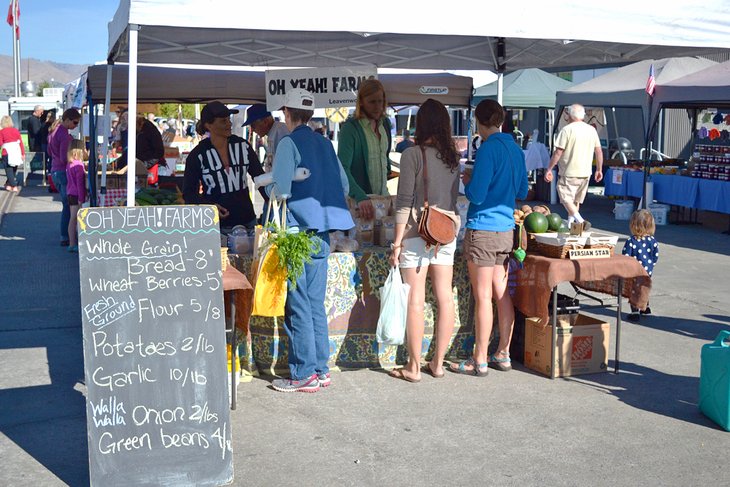 The Leavenworth Community Farmers Market takes place Thursdays evenings throughout summer and fall. This community event brings together local vendors, citizens, and tourists of Leavenworth. Alongside bolstering the local economy, the markets also feature a variety of engaging events.
Makers Markets designed for kids almost always accompany the traditional market activities. These free children's engagements offer a fun way to play and make new friends. Other special events at the Market include Yoga at the Market and an annual Barter Fair.
Official site: https://leavenworthfarmersmarket.org/
12. Spend the Night in Bavaria
In keeping with the town's Bavarian motif, Leavenworth offers several places to stay reminiscent of a European vacation. The Bavarian Lodge is undoubtedly one of those places. This lodge-inspired hotel features ingrained comfort in every room with features like fireplaces, private patios, and plush furniture.
Another popular downtown hotel oozing with style, the Posthotel, is just two blocks from the Bavarian Lodge. Alongside the lavish Spa at Posthotel, this luxurious resort features other wellness services, including a decadent pool area.
Down Icicle Creek Road, Sleeping Lady Mountain Resort also transports guests to a world of relaxation. This local mountain resort is popular with family vacations and romantic getaways alike. The resort helps guests connect to nature with a beautiful property, bike rentals, and a complimentary shuttle system.