12 Top-Rated Weekend Getaways from Seattle
We may earn a commission from affiliate links ()
The capital of culture and entertainment in the Pacific Northwest, Seattle is surrounded by a dense collection of unique places to visit for a weekend getaway. From the towering peaks of the North Cascades to the tourist-friendly San Juan Islands, half the fun of visiting or living in Seattle is exploring the rich attractions outside the city. Whether planned months ahead of time or for a last-minute weekend getaway, iconic destinations like Olympic National Park, Deception Pass, and the Winthrop Valley are accessible from Seattle via ferry, train, or scenic highway.
Under two hours from downtown, Mount Rainier provides unforgettable alpine views for family weekend getaways, and other surrounding cities like Bellingham, Leavenworth, and Port Angeles provide their own unique set of fun things to do. For a warm weekend getaway from Seattle, the fertile soil and sunny weather of Yakima is only a short drive away.
Romantic places to visit surround the city as well, and weekend getaways for couples include island exploring, mountain lodges, and charming downtown districts. Find the best places for your next two-day escape with our list of the top weekend getaways from Seattle.
Note: Some businesses may be temporarily closed due to recent global health and safety issues.
1. San Juan Islands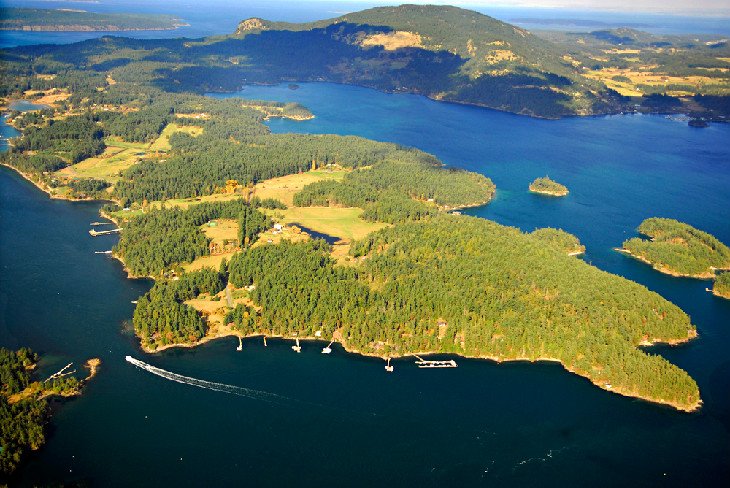 A premier weekend getaway from Seattle, the San Juan Islands invite a feeling of distant travel only a short ferry trip away. Offering whale watching, fresh seafood, and some of the best smoldering sunsets in the country, the San Juan Islands are a popular weekend getaway for couples and families. The most populated island of the archipelago, San Juan Island, hosts the tourist-friendly and extremely walkable Friday Harbor. A popular spot to bunk up for the night in Friday Harbor is the Tucker House Inn, particularly for couples looking for a romantic retreat.
Also popular for tourists and weekend getaways, Orcas and Lopez Islands provide seaside accommodations with individual flair. On Orcas Island, Moran State Park has one of the best campgrounds in Washington, as well as a trail leading to the top of the park's centerpiece feature, Mount Constitution. Lopez Island offers quieter surroundings and a slower pace, with quaint cafes and cozy restaurants in Lopez Village.
2. Mount Rainier National Park
Editor's Pick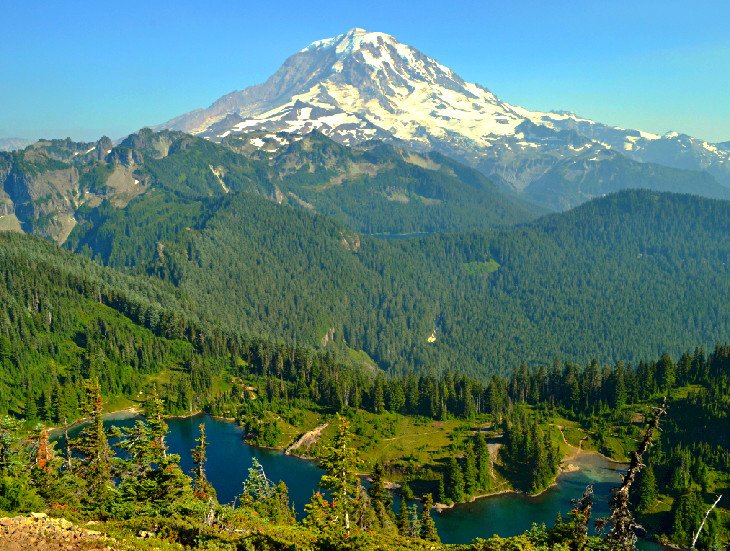 Overlooking Seattle on clear days, Mount Rainier is within a two-hour drive of the city. A landscape of old-growth forests, rushing waterfalls, and the tallest peak in the state, Mount Rainier National Park is an international destination filled with hiking trails, campgrounds, and memorable adventures. The Skyline Trail, within the aptly named Paradise area of the park, tops the list of the best hiking trails, as does the surreal alpine valley found at Spray Park near Mowich Lake.
Campgrounds like the Ohanapecosh Campground are great for families, and backcountry sites including the Ipsut Creek Campground provide a more wilderness-based overnight experience. Hotels and lodges surround the national park in gateway communities like Packwood and Ashford. For the full overnight experience on a weekend visit, the National Park Inn at Mount Rainier provides cozy suites and quick access to the park.
Official Site: https://www.nps.gov/mora/index.htm
3. Leavenworth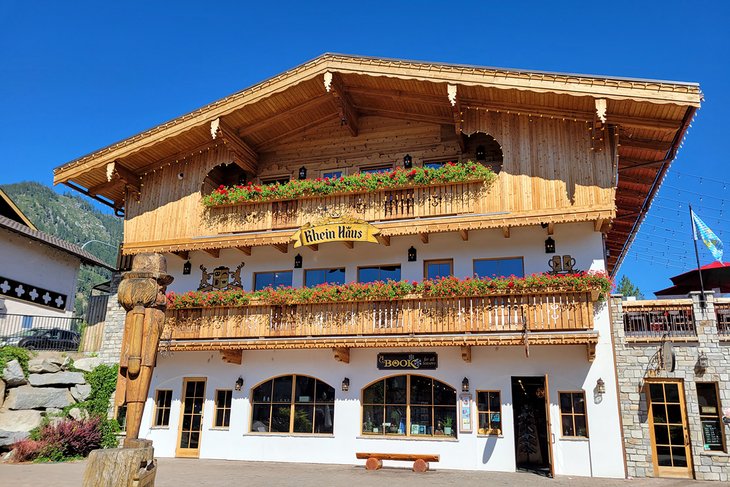 Along Highway 2 and opposite Stevens Pass from Seattle, Leavenworth is a Bavarian-themed town complete with annual celebrations and high mountain backgrounds. The town incorporates an unmistakable Bavarian motif, and the annual Oktoberfest is a very popular time to visit, when the streets are lined with live polka music and lederhosen. The Enzian Inn provides a great and authentic place to spend the night in Leavenworth no matter the time of year, and the surrounding mountains host great recreation during all four seasons.
4. Port Angeles or Port Townsend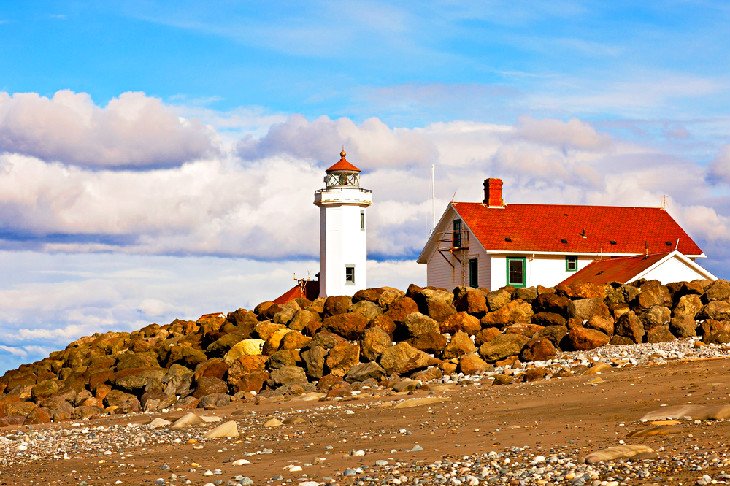 The Olympic Peninsula of Washington provides many landscapes to explore and gateway towns to spend the night. Accessed from Seattle via ferry, both Port Angeles and Port Townsend provide charming backdrops for fun weekend adventures, and each encompass a distinctive charm that brings tourists coming back for more.
Port Angeles is a great locale for those looking to dive deeper into Olympic National Park. Home to the Olympic National Park Visitor Center, and providing quick access to iconic places like Lake Crescent and Hurricane Ridge, Port Angeles provides a great place to rest between full days of adventure. Thanks to this prime location next to Olympic National Park, Port Angeles ranks as one of the best small towns in Washington.
For a charming Victorian seaport town with plenty of opportunities to walk, eat dinner, and stay the night at a stylish hotel, Port Townsend provides all the necessary ingredients for a great last-minute weekend getaway. The Bishop Victorian Hotel is a top-rated hotel in Port Townsend, featuring Victorian-inspired furnishings in the heart of the Historic District. A great place to catch a bite to eat in Port Townsend, The Fountain Cafe caters to all appetites and tastes.
5. Whidbey Island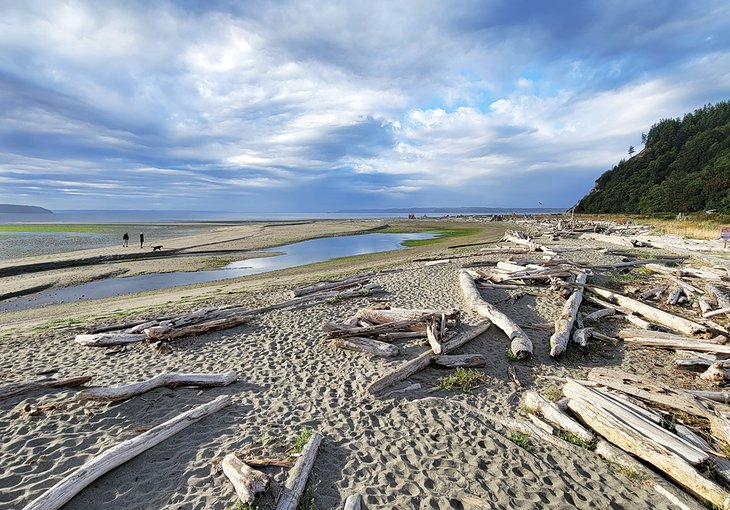 The largest island in Puget Sound and one of the most accessible from Seattle, Whidbey Island is primed for family weekend getaways. Farm fresh restaurants, art galleries, and miles of scenic shoreline are found throughout the island, as well as many great places to explore the wild surroundings. Fort Ebey State Park, near the center of the island, provides great historical context and a decommissioned coastal fort to explore.
On the northern tip of Whidbey, connecting Fidalgo Island, Deception Pass State Park is one of the best state parks in Washington. Featuring hundreds of campsites to pitch a tent or park an RV, Deception Pass also has an abundance of tide pooling opportunities, hiking trails, and scenic vistas. With leashed pets welcomed on the trails at Deception Pass State Park, and other off-leash areas on the island, Whidbey is a great option for a dog-friendly weekend getaway.
6. Bellingham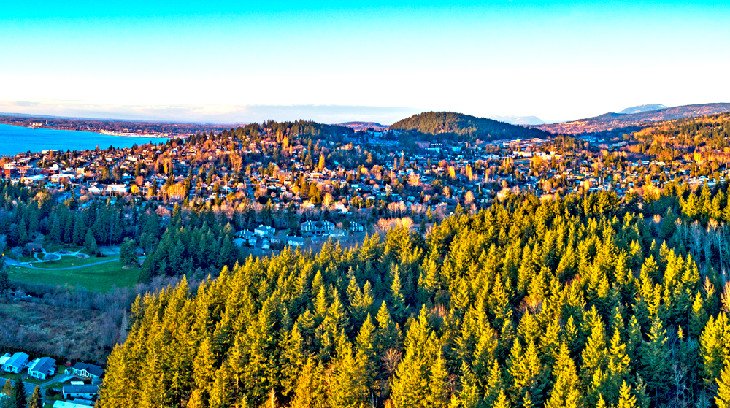 By the sea and adjacent to the San Juan Islands, Bellingham is also a gateway city to Mount Baker and the North Cascades. Providing a distinct charm and vibrant cultural scene, Bellingham is home to Western Washington University and warrants many weekend visits. A recommended route when driving from Seattle, the Chuckanut Scenic Byway presents a stunning scene of mountains meeting the sea. For a taste of the wild landscapes that lend flavor to Bellingham, the hiking trails at Whatcom Falls Park explore lush surroundings and cascading water features.
7. North Cascades National Park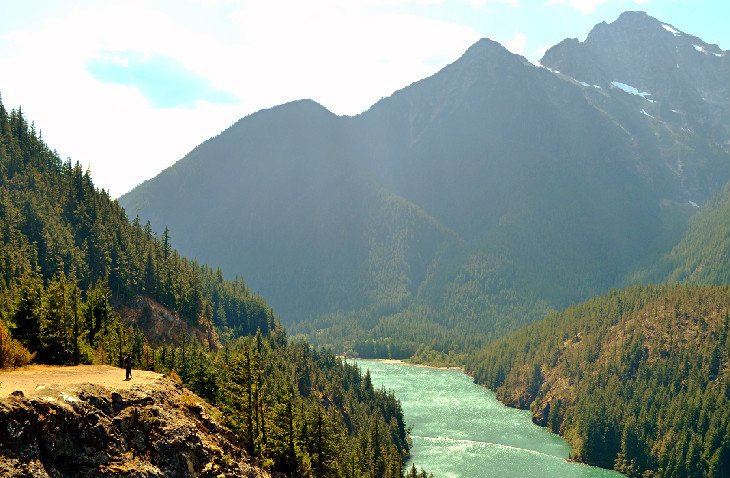 A scenic two-hour drive from Seattle, North Cascades National Park encompasses mountain landscapes and aquamarine lakes. Many great places to visit line the North Cascades Scenic Highway, including several of the best campgrounds in North Cascades National Park, like Colonial Creek and Newhalem Campground. Other must-see stops along the highway include Diablo Lake, Rainy Pass, and the Methow Valley. Great places to spend the night can be found in the Methow Valley, four hours from Seattle, within the charming towns of Winthrop, Twisp, and Mazama.
Official site: https://www.nps.gov/noca/index.htm
8. Yakima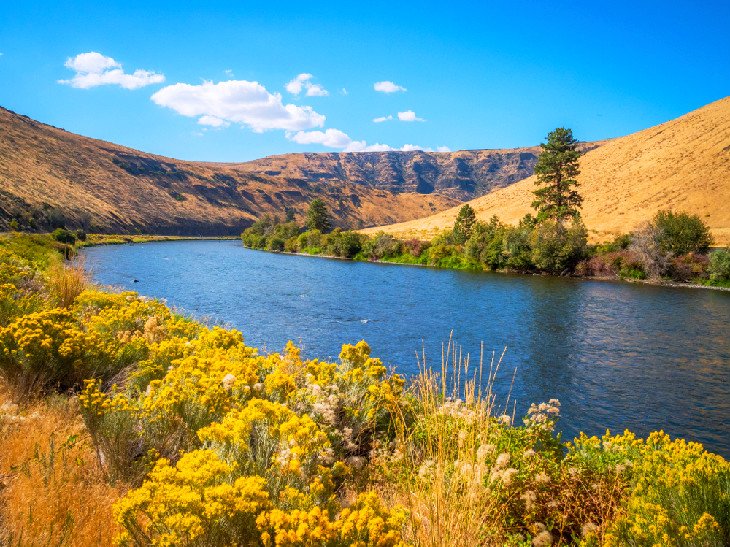 Home to cultural attractions and agricultural splendor, Yakima is an easy two-hour drive and often quick fix for a warm weekend getaway from Seattle. The Yakima Greenway and Cowiche Canyon are fun places to visit and offer a great way to appreciate the sunnier weather, and the Yakima Area Arboretum provides a great picnic spot for a relaxing afternoon. Agricultural tours and tastings are popular in Yakima, and no visit is complete without a stop at a roadside fruit stand. For a reliable place to stay, Oxford Suites Yakima has friendly staff and an evening reception.
9. Portland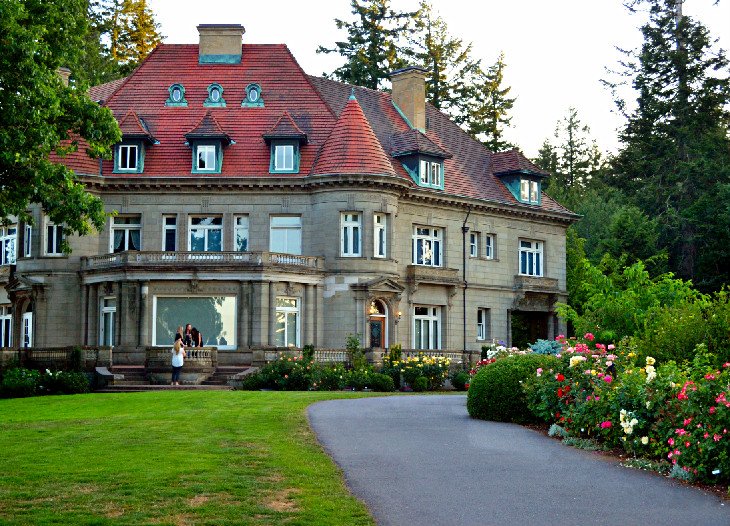 The largest city in Oregon, Portland provides an urban vibe distinctly different than Seattle. Portland lies less than a three-hour drive away, crossing over the Columbia River Gorge. A few iconic places to visit in Portland are the Portland Art Museum, Pittock Mansion, and Powell's City of Books, as well as Washington Park, including the International Rose Test Garden and Hoyt Arboretum. The city of Portland never sleeps, and great restaurants, shops, and unique coffee houses are found within each distinctive neighborhood of the city.
Accommodation: Top-Rated Places to Stay in Portland, Oregon
10. Bainbridge Island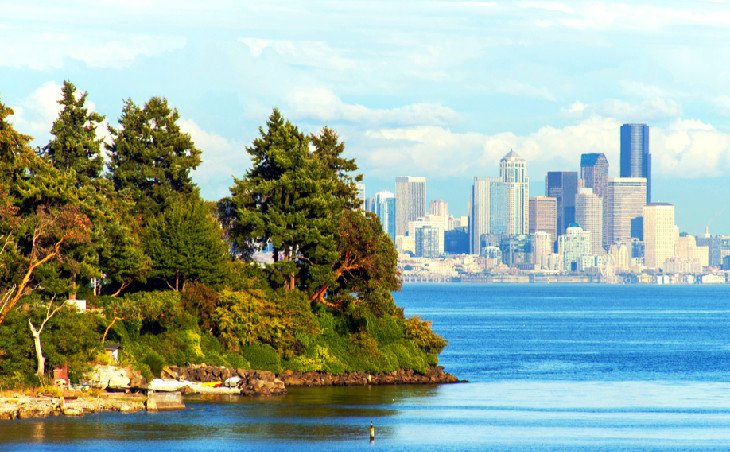 Across Puget Sound from Seattle and accessible by ferry, Bainbridge Island features forest trails, cultural celebrations, and 360-degree postcard views. Popular places to go on Bainbridge Island include the Bloedel Reserve with manicured gardens and interpretive trails. Another popular attraction, Tillicum Village on the island provides a cultural feast and celebration for visitors, including pre-arranged transportation back and forth from Seattle. For hiking and camping on Bainbridge, Manchester State Park is a popular option for day trips and weekend visits.
11. Vancouver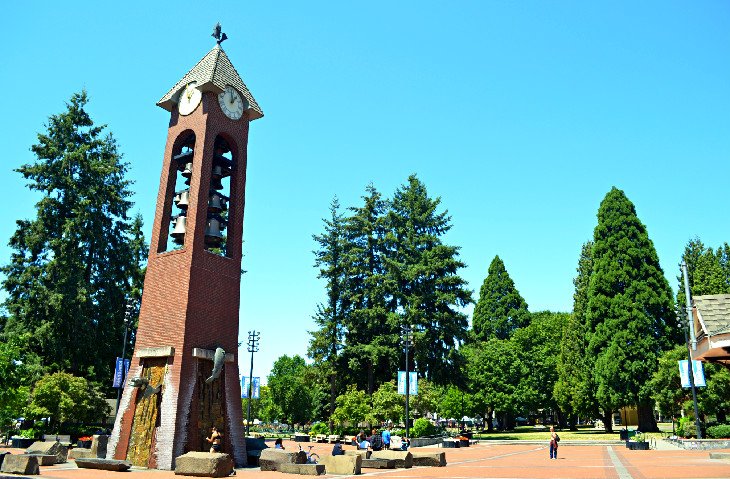 Bordering the Columbia River in southern Washington, Vancouver provides a small-town feel with significant history lining the streets. The city is home to Fort Vancouver National Historic Site, and much of the footprint of this early 19th-century fur trading post remains today. Downtown Vancouver is filled with life, especially at Esther Short Park, where farmers markets take place each week. A popular basecamp for exploring Vancouver, and Portland across the Columbia River, Heathman Lodge features a swimming pool and on-site restaurant.
12. Ellensburg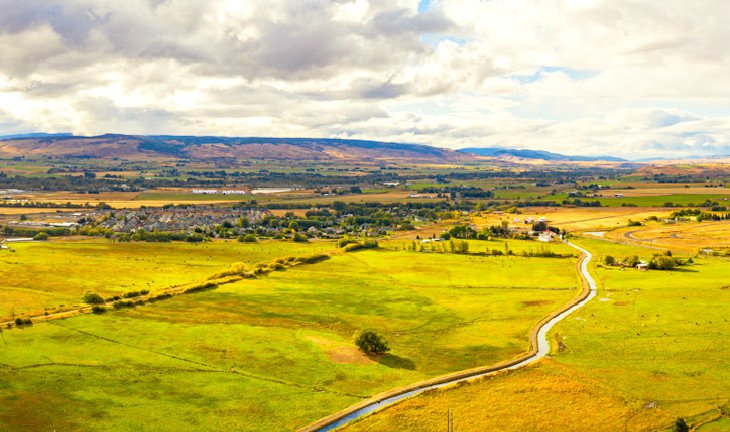 Filled with local restaurants, shops, and an abundance of city parks, Ellensburg provides a small-town getaway from the busy city streets of Seattle. The academic institutions of Central Washington University add a certain collegiate culture to downtown Ellensburg, and an abundance of public art adds even more scenic appeal to the city.
Getting outside is easy in Ellensburg, especially at places like Irene Rinehart Park, featuring a boat launch and swimming access. For those interested in the history of the region, the Kittitas County Historical Museum offers free admission throughout the week.
More Related Articles on PlanetWare.com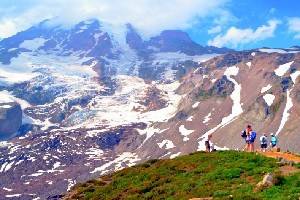 More to Explore from Seattle: Alongside some great weekend getaways surrounding the city, the best hiking trails and campgrounds near Seattle deliver on even more to do at the end of the week. For some sand under your toes and water to swim in, the top-rated beaches in the Seattle area invite afternoon picnics and impromptu volleyball games.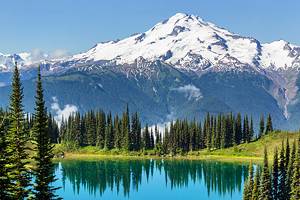 Outdoor Attractions in Washington: The top-rated hiking trails in Washington explore many different environments, as do the best state and national parks. For extra fun explorations, check out the state's top-rated hot springs. Come wintertime, the best ski resorts in Washington deliver, with immense skiable terrain and an abundance of snow.