14 Top-Rated Attractions & Things to Do in Yakima, WA
The fertile soil of the Yakima River Valley in Central Washington is the foundation of its largest metropolitan area, Yakima. This fruit-producing city is home to a diverse offering of attractions and things to do. I enjoy the city's fertile landscape by visiting orchards, fishing the Yakima River, and tackling the Cowiche Canyon Trail. And skiing at White Pass has become a new winter tradition.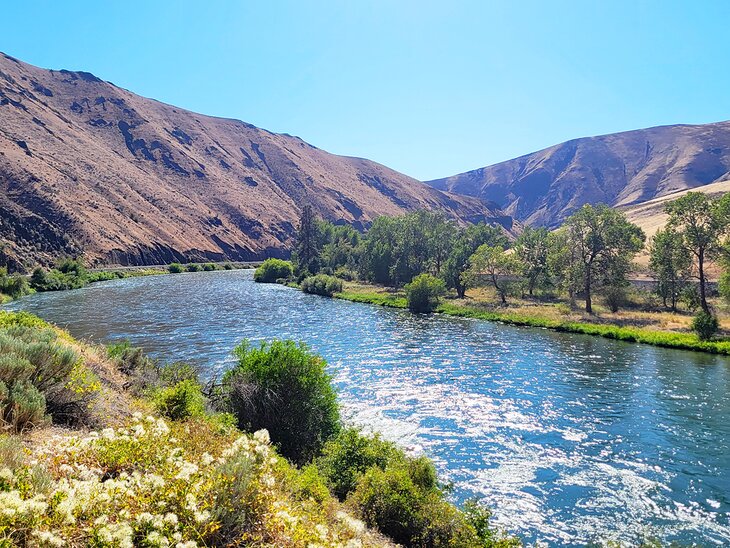 Yakima also offers several cultural attractions. From museums to historic theaters, it's not all outdoor fun.
Yakima is approximately a 90-mile drive east of Mount Rainier and just over a two-hour drive southeast of Seattle. Portland, Oregon is only three hours away.
Learn more about the best places to visit in the city with my list of the top things to do in Yakima.
1. Dive into History at the Yakima Valley Museum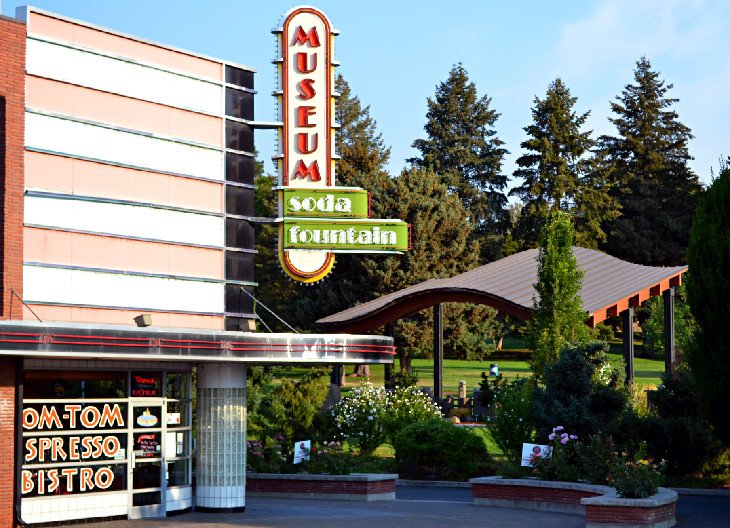 Yakima Valley Museum is adjacent to Franklin Park at the city's center. It provides a fascinating look into the Yakima River Valley's past, present, and future. Exhibits throughout the museum detail native communities, early settlers, and the still prevailing fruit industry. The museum also features an old-fashioned soda fountain, which is great for a fizzy drink.
Expect to spend at least a few hours wandering around the detailed exhibits. It's a kid-friendly museum, so you may see young students roaming the galleries. The museum is open Tuesday through Saturday with a small cost of admission. Children under 5 are free.
Franklin Park, next to the museum, is one of the most popular public spaces in the city. It's a great natural space to add to a visit, with plenty of shade trees and tables to enjoy a picnic. Franklin Park is also home to one of the few public swimming pools in the city. The wide-open green space has also personally proven to be helpful for practicing fly fishing casts.
Address: 2101 Tieton Drive, Yakima, Washington
Official site: https://www.yvmuseum.org/
2. Yakima Area Arboretum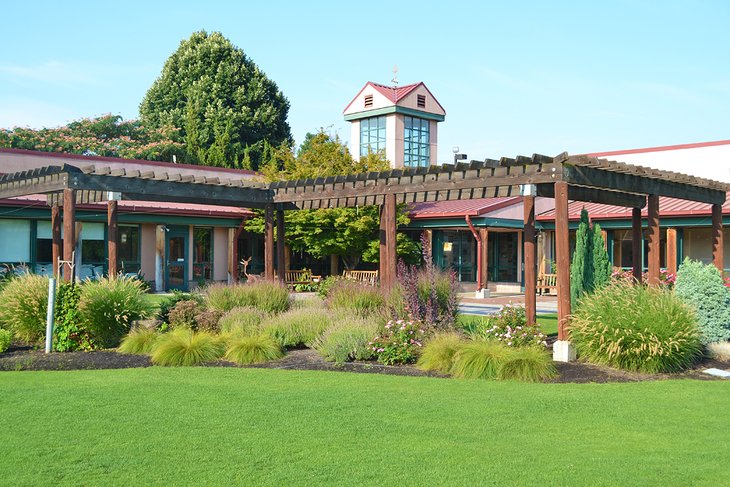 The Yakima Area Arboretum is nestled between Interstate 82 and Highway 24 on the city's east side. It maintains more than 40 acres of manicured green space and gardens.
The first time I visited the Arboretum was on a bright and sunny day in July when the area was in full bloom. The Yakima Valley is well known for its sunny weather, which shows within the lush foliage at the Arboretum.
A wide assortment of trees thrives at the Arboretum alongside the thousands of plant species spread throughout the property, which are labeled to identify their role in the habitat. Distinct gardens and attractions at the Arboretum include butterfly gardens, wetland trails, and a flowering ornamental fruit tree collection.
Despite its proximity to prominent roadways, the trees buffer out the highway noise. The Arboretum is free to enter and open every day of the week. I visited on Sunday, the only day the onsite Jewett Interpretive Center was closed. Here, the Arboretum leads nature camps and meets for guided nature walks, among other programs and events.
Address: 1401 Arboretum Drive, Yakima, Washington
Official site: http://www.ahtrees.org/
3. Stroll along the Yakima Greenway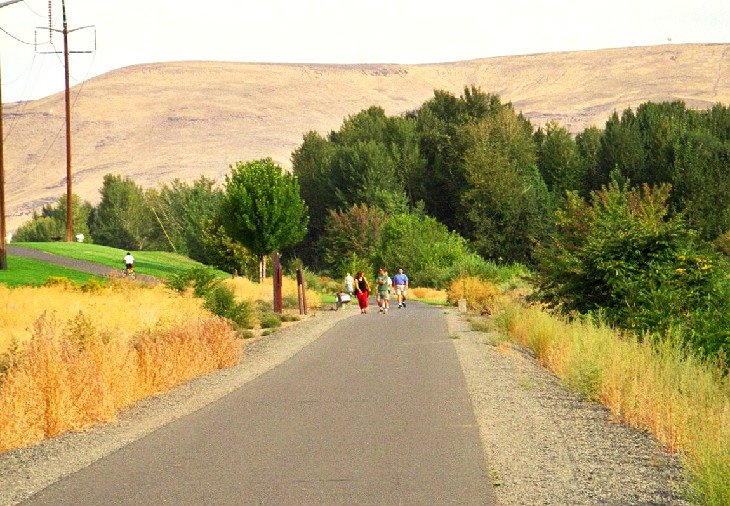 The Yakima Greenway is one of my favorite ways to get around town. If I have nothing else to do, I'll usually hop on a bicycle and make my way around. The trail stretches over 20 miles, connecting many of the city's top natural attractions. The Yakima Area Arboretum is accessible along the greenway, as are several bodies of water, including Myron Lake, Willow Lake, and Lake Aspen.
Much of this non-motorized pathway passes beneath shady trees and veers away from traffic, and water and restrooms line much of the path. Expect other trail users, including bicyclists and strollers, throughout the week and especially on the weekends. The exposed sections of the trail can be stifling hot midday and throughout the afternoon in the summer.
An off-leash dog area at Sherman Park is also accessible via the greenway, and I've been told it's a great spot to bring a pet.
Official site: https://www.yakimagreenway.org/
4. Find a Fresh Bite at Johnson Orchards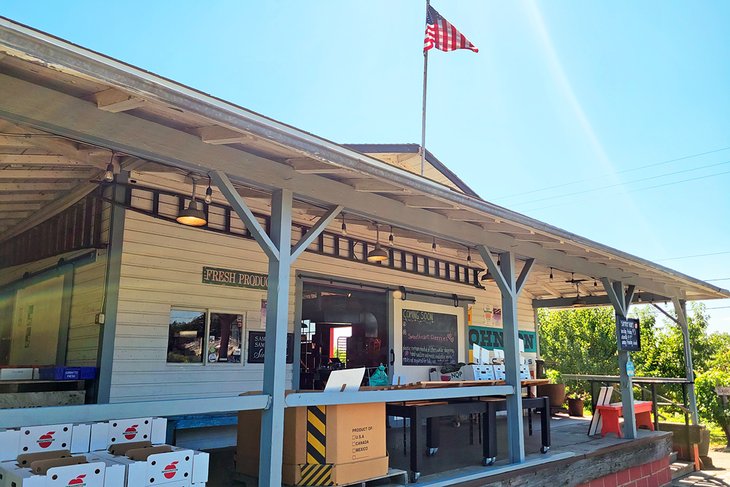 To taste Yakima's agricultural bounty, head to Johnson Orchards on the west side of town. This family-owned orchard has been in operation since 1904. And it's a local favorite still today. Keep an eye out for the sign on Summitview Avenue when driving to the orchard, indicating the slightly obscured driveway.
The best time to visit this orchard oasis is mid-June through August. The signature crop to purchase by the pound is the array of cherries available between mid-June and late July. Other stone fruits on sale throughout the rest of the season include apricots, peaches, and nectarines.
For those with a sweet tooth, like myself, the Little Bake Shop within the orchard's purchasing area offers fresh confections Wednesday through Saturday. I left with a few fresh cherry pies toward the end of the season. Call ahead or check the website for the latest availability before visiting.
Address: 4906 Summitview Avenue, Yakima, Washington
Official site: https://www.johnsonorchardsfruit.com/
5. Hike the Cowiche Canyon Trail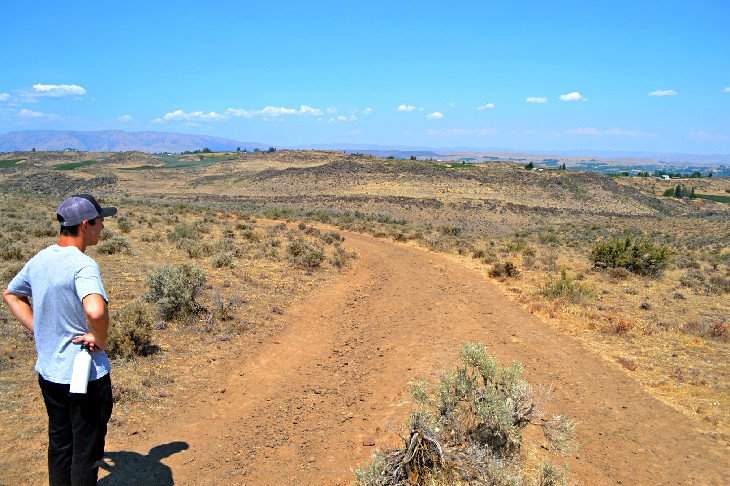 Cowiche Canyon is a brilliant shrub-steppe environment easily accessed just west of the city. It's perfect for a quick or day-long escape into nature.
The Cowiche Canyon Trail was the first place a friend took me when I first visited Yakima. He knew I enjoyed hiking and wide-open spaces, and sure enough, it won me over. It's a great hiking trail for day hikes big and small, and offers an excellent chance to escape into Yakima's natural habitat.
The non-profit Cowiche Canyon Conservancy maintains and protects this scenic area just west of the city, including its 30-plus miles of hiking trails. The trail system climbs up and down to give stunning views of the surrounding landscape, following small creeks and tributaries within the Canyon.
Several trailheads are accessible near the city, including several pull-offs from Summitview Avenue – where we typically start our adventures. The Canyon provides a great sense of solitude despite its close location to the city. It helps to have a map when visiting or a friend who knows where they are going. Be careful of the heat if visiting during the summer, as much of the trail is exposed to the blazing hot sun.
The Cowiche Canyon Conservancy also hosts several special events throughout the year, including butterfly release parties, guided walking expeditions, and volunteer opportunities.
Official site: https://www.cowichecanyon.org/
6. Yakima Sportsman State Park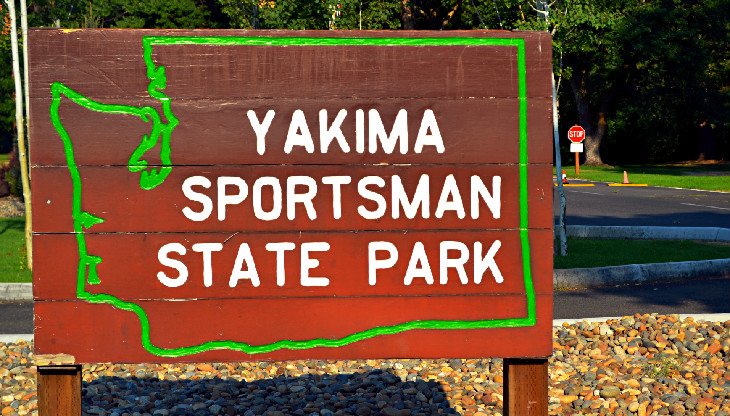 This 266-acre state park was initially created by the Yakima Sportsman's Association as a game management zone, and today is filled with green spaces and an abundance of trees. It's on the city's eastside along the Yakima River, offering a surprisingly lush environment surrounded by an otherwise desert landscape.
Hiking, bird-watching, and fishing are popular recreational outlets within Sportsman State Park, and a campground with 60-plus tent and RV sites enables multiple days of exploring. Volleyball, horseshoes, and reservable picnic shelters are also features of the park.
The park is closed in the winter but remains popular throughout the year. Autumn provides a particularly scenic time to visit, when the trees turn color, as does spring during annual wildflower blooms.
Address: 904 University Parkway, Yakima, Washington
Official site: https://parks.state.wa.us/278/Yakima-Sportsman
7. Experience the Yakima River Canyon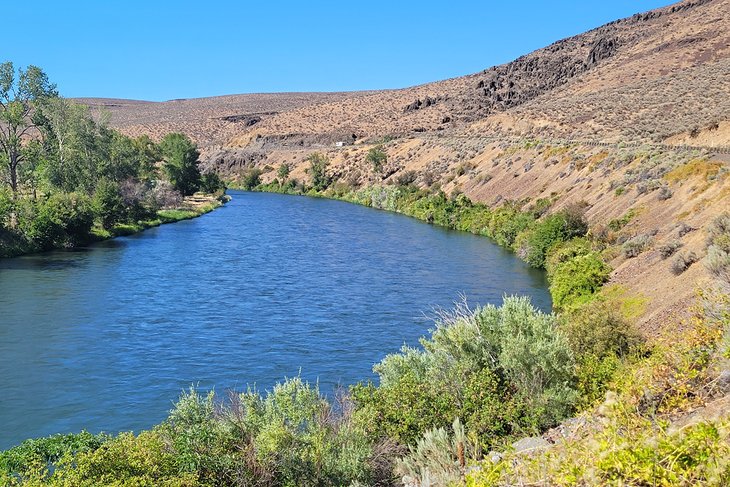 The Yakima River gently curves its way between Yakima and Ellensburg through a canyon of basalt cliffs and rolling desert terrain. This scenic stretch parallels and offers an alternative to Interstate 82. It took me a few visits to discover this scenic side route. And even though the speed limits are a bit slower, I much prefer the amazing river views.
Several recreation opportunities also line the interstate and river. The Bureau of Land Management (BLM) oversees much of the Canyon, including four designated recreation sites. The four sites are Umtanum, Lmuma Creek, Big Pines, and Roza. All four sites have campgrounds, day-use facilities, and river access. And they are hot spots for boating, tubing, fishing, and swimming.
Campsites are reservable between May 1st and September 30th and are first-come, first-served the rest of the year. Big Pine has the most overnight spots. Tents and trailers are both welcome, but no electrical hookups are available. All campers have access to vault toilets but must bring their own drinking water.
8. White Pass Ski Area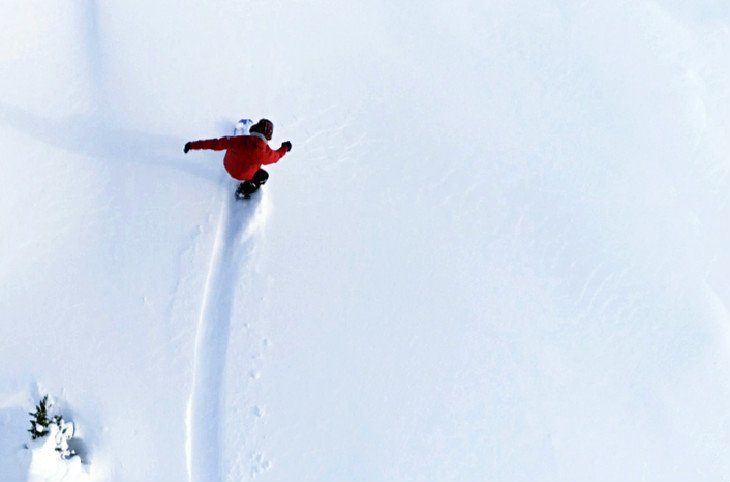 White Pass Ski Resort is the local favorite among Yakima residents and one of Washington's best ski resorts. It's 50 miles west of the city near the southeast entrance of Mount Rainier National Park. Every ability of skier and snowboarder finds something to enjoy at White Pass come winter, including beginner-friendly ski lessons and expert-only terrain incorporating cliffs and chutes.
The resort encompasses 1,500 skiable acres accessible by six chairlifts, ensuring plenty of terrain to cater to the crowds that flock to the slopes each weekend. The mountain does get busy, but it's not the busiest in the state, and I've never waited more than thirty minutes for a lift. I brought my own skis and paid just under $90 for a single-day lift ticket on my last visit, so it's not the cheapest ski resort in the state, but it's also not the most expensive.
I've been trying to make it a point to visit the White Pass Nordic Center, featuring 26 kilometers of groomed cross-country trails, but I have yet to visit. And the only time I explored White Pass during the summer was during my 2016 thru-hike of the Pacific Crest Trail, which passes through the area on its cross-country route. From that experience, I know this alpine region is stunningly beautiful, and I've been told there are several other trails to explore.
Official site: https://skiwhitepass.com/
9. Catch a Show at the Capitol Theatre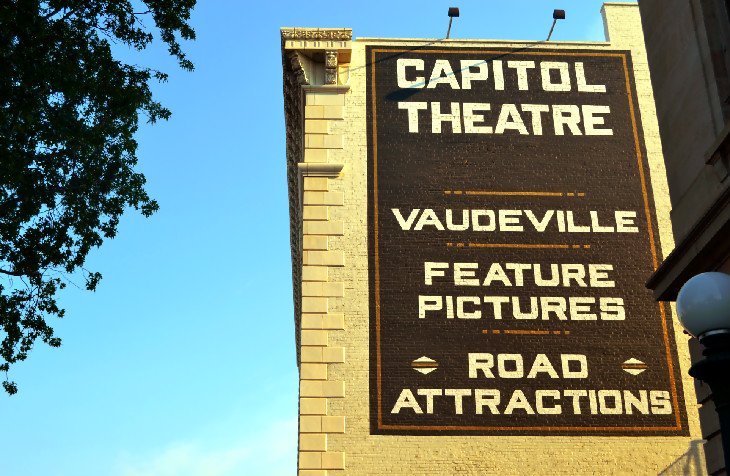 This downtown theatre has entertained the Yakima community for nearly a century with a wide variety of shows and performances. Today, visitors find hundreds of engagements throughout the year, including musicals, ballets, symphonies, and stand-up comedy.
The refurbished architecture and upgraded light and sound system of the Capitol Theatre add to the entertainment value.
Younger thespians may want to check out the esteemed "Capitol Kids" youth theater arts program for all grade school levels.
Address: 19 South Third Street, Yakima, Washington
Official site: https://capitoltheatre.org
10. Enjoy the Downtown Yakima Farmers' Market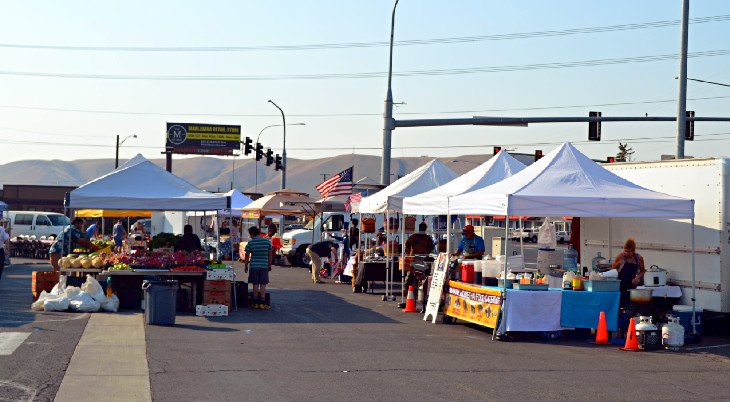 The Downtown Yakima Farmers Market occurs every Sunday between May and October on 3rd Street, outside the Capitol Theatre. Expect to find locally grown produce, handmade confections, and artisan creations each week. Hot food items like kabobs, coffee, and breakfast sandwiches are also available.
More than 20 vendors make up the Yakima Farmers' Market stalls. A few fresh items to keep an eye out for include cherries, apples, cheese, eggs, and peppers. Live music also typically adds a soundtrack to these community events.
Address: Nine East Valley Mall Boulevard, Union Gap, Washington
11. Take a Trip to Mount Rainier National Park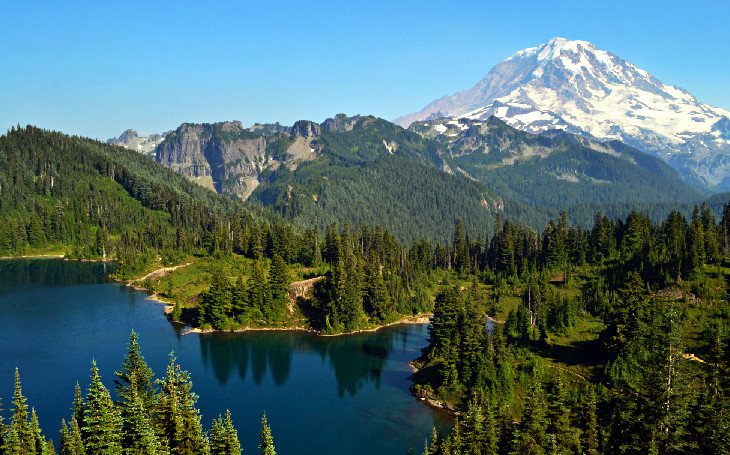 Mount Rainier, the tallest mountain in the Pacific Northwest, stands less than 70 miles from Yakima. It's one of my favorite national parks, and thanks to my friends in Yakima, I combine visiting the two whenever possible. The closest entrances to Yakima are the southwest Stevens Canyon Entrance and the eastern White River Entrance.
The route to the White River Entrance from Yakima follows the seasonal Chinook Pass Scenic Byway that introduces the alpine environment well. The White River Entrance also leads to one of my favorite park areas, the Sunrise region, offering the highest paved parking spots nearest the mountain.
The Stevens Canyon Entrance also leads to incredible day trips and overnight adventures in Rainier, accessible by the more mellow Highway 12 from Yakima. Visitors here encounter the alluring Ohanapecosh Campground and Visitor Center before reaching the entrance, including its stunning namesake river. The Stevens Canyon Entrance also leads to other iconic hiking trails and park areas, including the aptly named Paradise region.
Mount Rainier is a day hiking and backpacking paradise. Some great views are accessible by car, but the best are earned along any one of its hundreds of miles of hiking trails. These views have included many that have made me shout out loud, amazed by the mountain's glaciated beauty and massive stature first appearing along the path. Check out my article on Hiking Trails at Mount Rainier to find the right route to make you scream with glee yourself.
Similarly, if you're planning to turn your day trip into an overnight adventure, check out my guide to Camping at Mount Rainier, which includes tons of options in the national forests surrounding the park.
12. Yakama Nation Museum and Cultural Center
South of the city, the Yakama Nation Museum and Cultural Center provides a great introduction to the Yakama Nation's history and people. It's a 12,000-square-foot facility with a vast collection of artifacts, art, and photographs. It's also home to the Heritage Theater and Yakama Nation Library.
Different displays and dioramas at the museum include life-size dwelling replicas and immersive exhibits with special sound effects. And the immediate surroundings of the campus are worth visiting alone, including a prominent view of Mount Adams on clear days.
Address: 100 Spilyay Loop, Toppenish, Washington
Official site: http://www.yakamamuseum.com/
13. Central Washington Agricultural Museum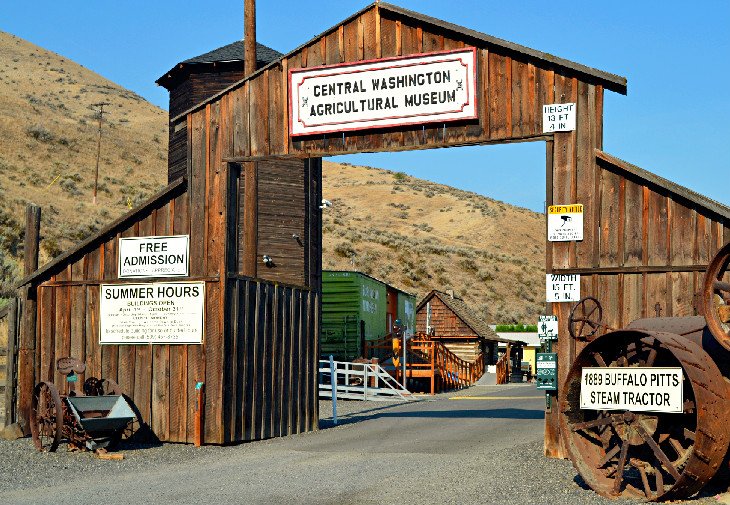 The Central Washington Agricultural Museum is a 15-acre property highlighting the equipment and people of the region's agricultural past. It's in Union Gap on the south side of Yakima. Multiple display buildings and equipment comprise the museum's collection, including a 1908 homestead, a Northern Pacific Railroad boxcar, and a working 1930s-era sawmill.
The Farm Equipment Yard at the museum is another hard-to-miss display, and the hundreds of donated tractors and farm equipment give a firsthand look at older generations of farming. Featured events at this Ag Museum include Old Town Days, Civil War reenactments, and an Annual Old Steel Car Show.
Address: 4508 Main Street, Union Gap, Washington
Official site: http://centralwaagmuseum.org/
14. Step Back in Time at Fort Simcoe Historical State Park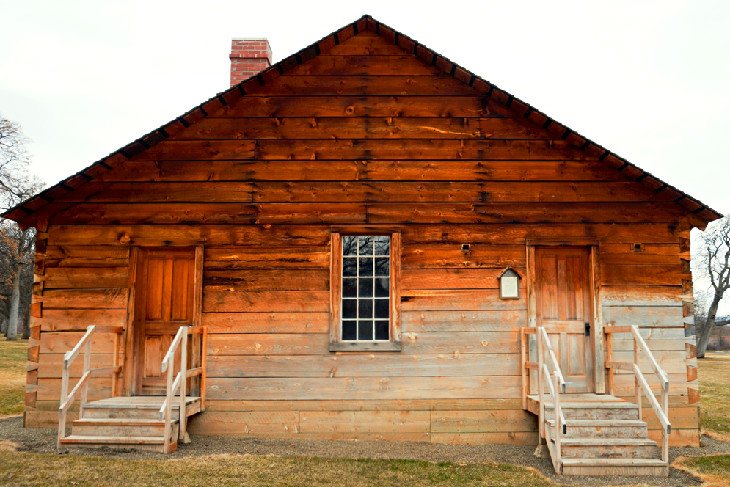 Fort Simcoe is within the Yakama Indian Reservation, less than an hour's drive from downtown Yakima. It was initially constructed in 1856 and still stands today. It's now a 200-acre heritage site on the National Register of Historic Places. This day-use area offers visitors a chance to learn about the fort's history through an adjoining Interpretive Center.
Three preserved officers' homes are also available for a self-guided tour, with period-authentic furniture and decor. It's a very popular spot for bird- and wildlife watchers, and Fort Simcoe's abundant green space is also perfect for picnics and playing outside.
Address: 5150 Fort Simcoe Road, White Swan, Washington
Official Site: https://www.parks.wa.gov/509/Fort-Simcoe
Map of Attractions & Things to Do in Yakima, WA
More Related Articles on PlanetWare.com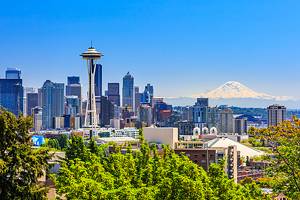 Cities & Towns in Washington: Seattle is a must-do city if you are wandering around the state. If you have time to explore beyond the city, consider heading off on one of the many possible day trips, spend some time at the beaches in the Seattle area, or hit some of the nearby hiking trails. For smaller cities and towns, our 12 Best Small Towns to Visit in Washington State article can give you a few more directions to head.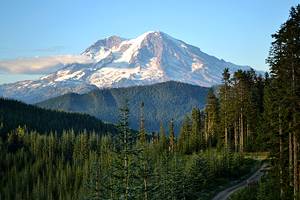 Washington's Parks: Our 12 Best State and National Parks of Washington article covers the many unique landscapes of the state. Mount Rainier might be the crown jewel of all the parks, including some great hiking trails and amazing campgrounds. Olympic National Park can't be overlooked either. This park embodies a kid-in-a-candy-shop experience for adventure seekers with its outstanding hiking trails and beautiful campgrounds. A little more rugged and just as stunning, North Cascades National Park also delivers with its own set of steep hiking trails and forest-infused campgrounds.