10 Best Places to Camp near Mount St. Helens, WA
Author Brad Lane has visited Mount St. Helens on a few different occasions, including a summit trip in the summer of 2021.
Mount St. Helens is a massive stratovolcano in the western Cascade Range of southern Washington, 50 miles north of Portland. It's one of several volcanic mountains rising above the horizon in the region and the only one to have erupted in modern history.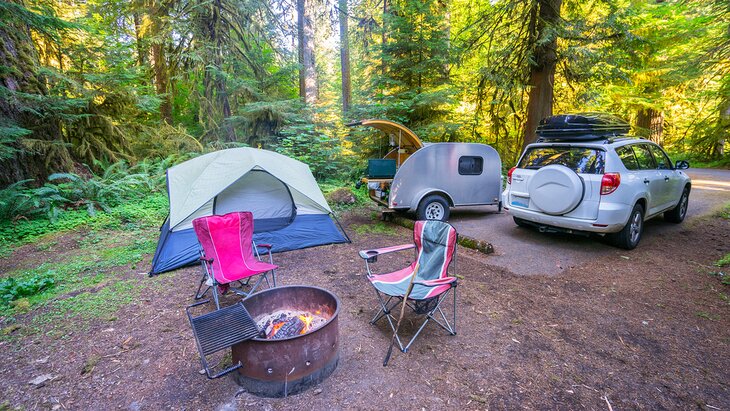 The landscape and mountain permanently changed with an eruption on May 18, 1980. Today, thousands of visitors come to see the rebounding landscape and the majestic nature of this still-active volcano. Gifford Pinchot National Forest oversees Mount St. Helens National Volcanic Monument.
The Volcanic Monument circles the mountain, divided into three main visiting areas: the west, east, and south sides. Each of these areas has unique trails and viewpoints and camping options for pitching a tent or parking an RV.
The most abundant camping possibilities are on the south side of the mountain, near the town of Cougar. Here, different agencies, including the PacifiCorp energy utility company, also operate lakeside campgrounds.
No matter the campground, if you're planning a summer visit, consider making reservations months in advance. Find your next favorite place to pitch a tent or park an RV with these best places to camp near Mount St. Helens.
1. Swift Forest Camp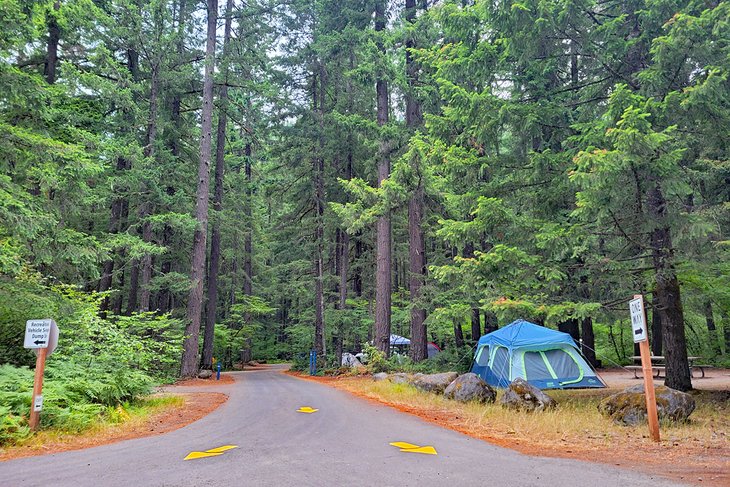 This large campground is on the southern end of Forest Road 25 on the Swift Reservoir. It's operated by PacifiCorp electric power company and has 93 sites available for tents and RVs. Reservations are available for individual sites between May and September. Sites often sell out fast throughout the season.
Swift Forest Campground lends quick access to attractions and hiking trails on the southern flank of Mount St. Helens. Nearby places to check out include the Trail of Two Forests and Ape Cave, approximately 13 miles away. The south side of Mount St. Helens is also home to June Lake, Lava Canyon, and the Climber's Bivouac Trailhead.
The campground has flushing toilets, garbage disposal, and potable water during its peak operating season (May through September). Camping is available in October and November on a first-come, first-served basis, with none of the above amenities. A public boat launch and swimming beach lend easy access to the Swift Reservoir.
2. Iron Creek Campground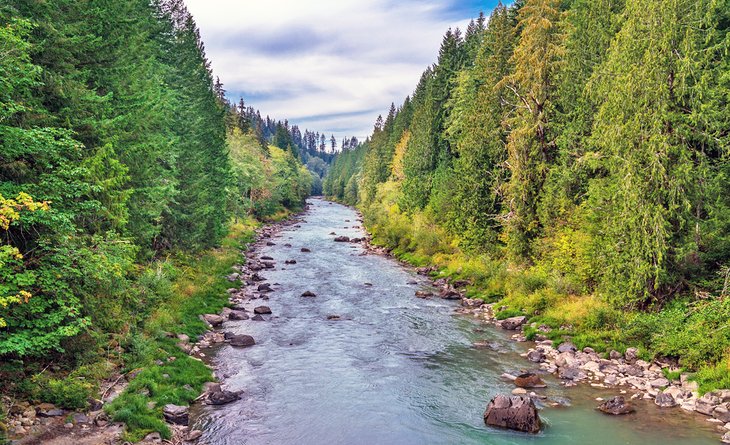 This large Forest Service campground has over 90 sites available on the east side of Mount St. Helens. It's accessible via the paved Forest Road 25, approximately 10 miles south of Randle. As the only campground on Forest Road 25, it offers a valuable place to pitch a tent or park an RV when exploring this more remote side of Mount St. Helens.
The Cispus River babbles next to the campground, and old-growth trees like Douglas firs and cedars punctuate much of the space. Campsites are well spread throughout these lush surroundings, offering relative privacy for such a large campground. Potable water and vault toilets are available to every overnight guest. The campground is open from approximately Memorial Day through Labor Day (late May through early September).
Forest Road 25 is paved the entire way, with curves and potholes helping enforce its slower speed limit. Ten miles south on Forest Road 25 from the campground is Forest Road 99, leading to notable volcanic attractions like Meta Lake and Windy Ridge. And approximately another 25 miles south, the town of Cougar offers another basecamp for St. Helens' adventures.
3. Cougar Park & Campground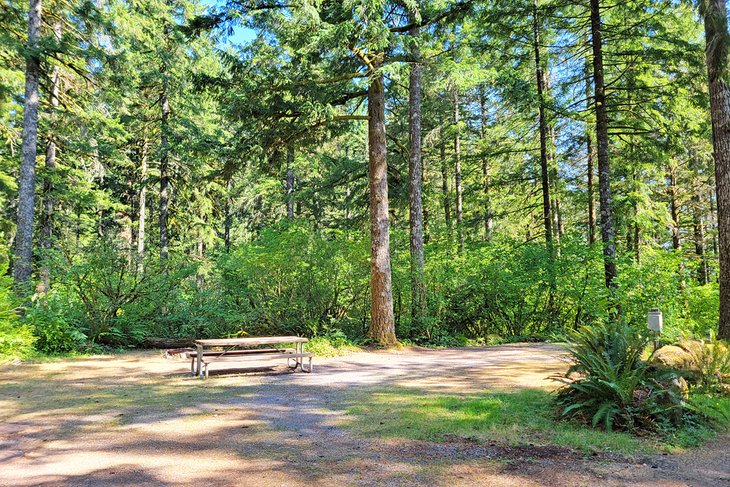 Cougar Campground is a PacifiCorp Campground on the Yale Reservoir shoreline, south of Mount St. Helens. Cougar Campground is unique among others in that it's tent-only and does not support RVs. This RV restriction makes it a popular spot for car camping.
Because of its tent exclusivity, the campground tends to be quieter and more nature orientated. It's also one of the smallest campgrounds operated by PacifiCorp, with 45 sites available. All overnight and day-use guests have access to potable water and flushing toilets.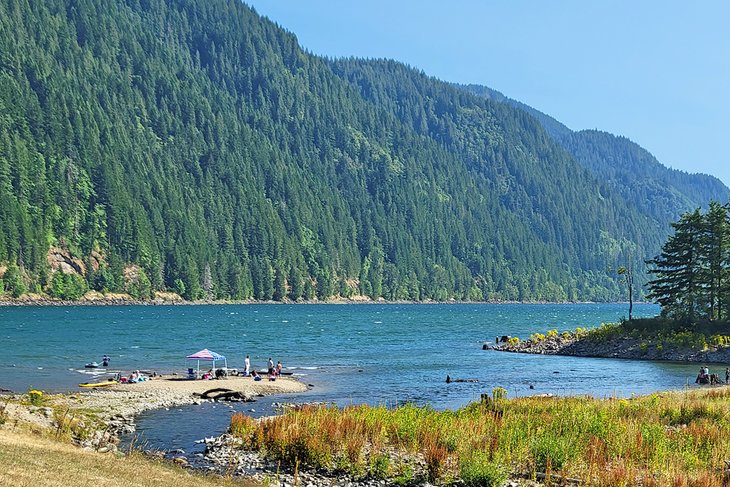 A covered picnic area draws several day users to the park. As does the swimming beach and a boat ramp that is popular with non-motorized watercraft. The natural scene at the campground, where the creek meets the reservoir, is also remarkably stunning to explore on foot. A hiking trail connects to the adjacent Beaver Bay Campground.
4. Eagle Cliff Campground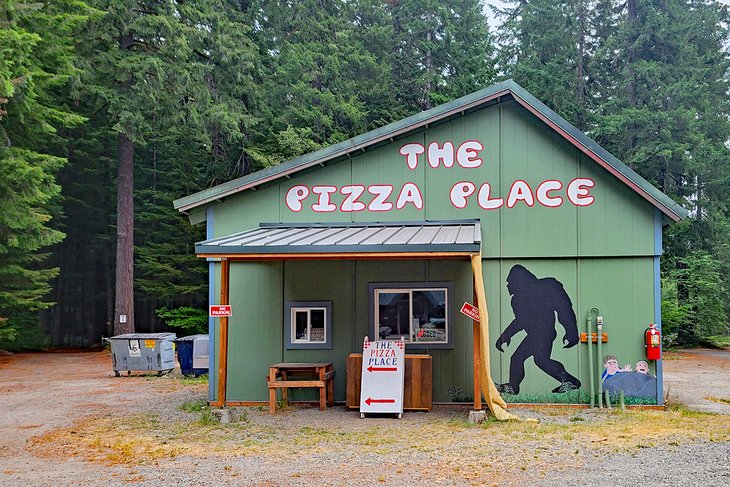 Eagle Cliff Campground is a privately owned campground on the east side of the Swift Reservoir. It's approximately 20 miles east of Cougar, one of the main basecamps for exploring the mountain's south side.
The campground has 150 sites generously spread out among wooded surroundings. Sites have picnic tables and fire rings and can accommodate RVs and fifth wheels, though no electrical hookups are available. The campground also has four lightly furnished cabins that sleep up to four adults, and interested parties can rent out the entire campground for special events.
Alongside a friendly rate, the campground also offers a pizza restaurant and camp store. Pizza Place is only open on the weekends during the summer, and the camp store offers the essentials seven days a week.
5. Beaver Bay Campground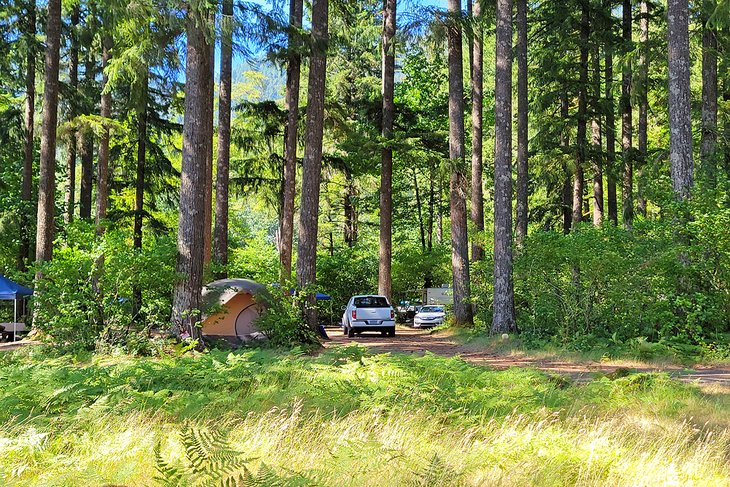 Beaver Bay is another PacifiCorp Campground on the south side of Mount St. Helens. It's on the east bank of Yale Reservoir and has 63 sites available between late April and September. Potable water, showers, and flushing toilets are also available during this peak operating season.
All sites are reservable ahead of time, and it's not uncommon for the summer season to sell out as soon as it's available. The campground is popular with RVs and tents alike, with spacious sites situated among old-growth Douglas firs. No electric hookups are available. It's a family-friendly campground, and visitors should expect kids running around and exploring. Slow speed limits are enforced.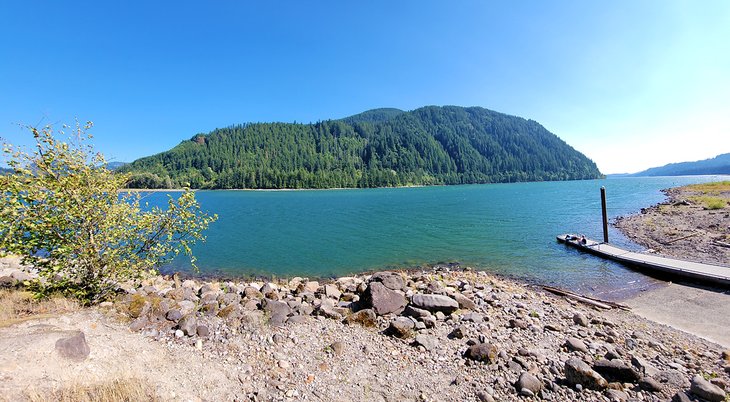 The campground makes an excellent jumping-off point for exploring the south side of Mount St. Helens. Within a half-hour drive are places like Ape Cave, June Mountain, and Lava Canyon. The campground also has a public boat launch to access the waters of the Yale Reservoir, and a hiking trail connects to the nearby Cougar Campground.
6. Merrill Lake Campground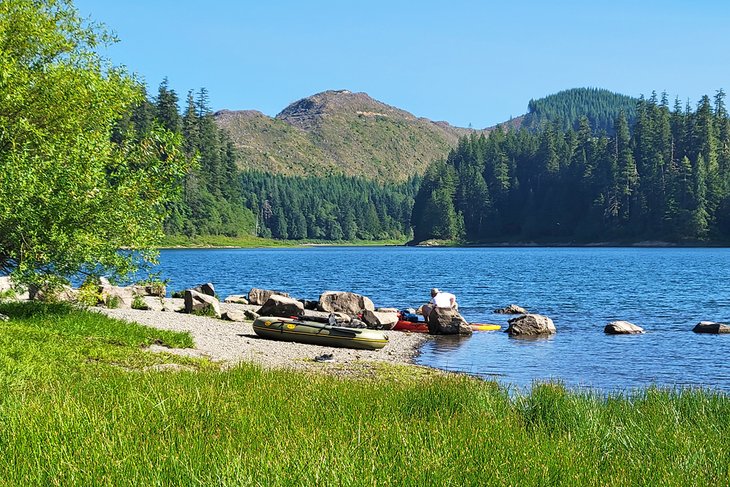 Merrill Lake is a small campground operated by the Washington DNR near the south side of Mount St. Helens. It's approximately six miles north of Cougar and 15 miles from volcanic places to visit, like the Trail of Two Forests interpretive site.
Nine sites are available at Merrill Lake Campground on a first-come, first-served basis. Most of the campsites are accessible with a short hike from a parking area. Tenting is the best option for spending the night. A few sites have adjacent parking. Arrive at the campground early if trying to secure a site.
A boat launch enables easy access for non-motorized watercraft into Merrill Lake. It's a popular body of water for catch-and-release fly fishing throughout the season. An interpretive trail on-site also allows for easy exploration from the campground. The trail passes by the lakeshore and navigates a lush Douglas fir and western hemlock forest.
7. Swift Reservoir and Yale Reservoir Shoreline Camping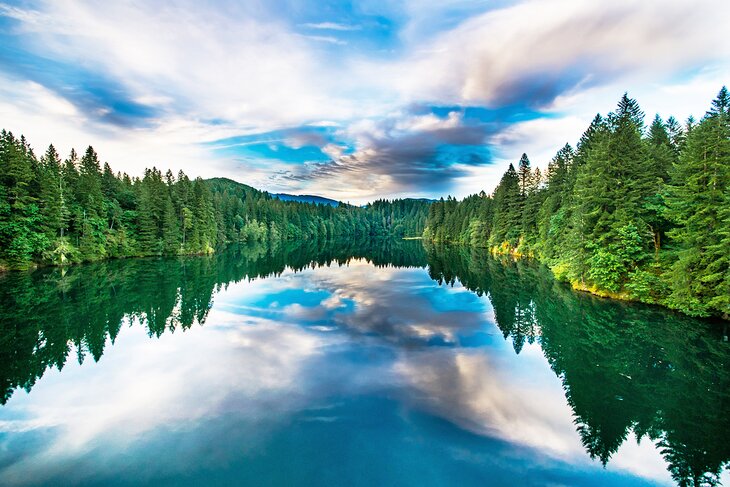 Alongside developed campgrounds on Yale and Swift Reservoirs, PacifiCorp also offers unique shoreline camping experiences. These designated shoreline campsites require visitors to pack in all necessary camping gear. And a few sites require boat access. Dispersed campgrounds also require visitors to dig a hole to dispose of their human waste.
Camping along either Yale or Swift shoreline is permitted only in designated camping areas. These spots are available on a first-come, first-served basis. There's a small fee to leave a car parked at the trailheads. These fees also help manage the sites and ensure nothing is double booked.
8. Dispersed Camping in Gifford Pinchot National Forest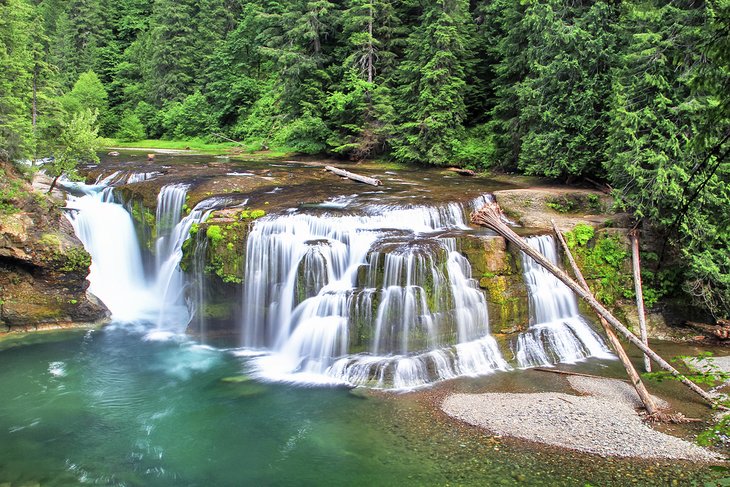 Dispersed camping, sometimes known as primitive camping, refers to camping in the national forest outside of a developed campground. It's typically free and involves pulling off the side of a forest service road to set up camp. It also involves no amenities like potable water, restrooms of any kind, or picnic benches.
While dispersed camping sites aren't developed, it's generally clear to see where past campers have inhabited the space. It's best to occupy these already-trodden sites to prevent further intrusion into the forest. It's also vital to practice Leave No Trace ethics, including packing out all garbage accumulated.
Several dispersed camping spots line Forest Road 25, navigating the length of Mount St. Helens' east side. Forest Road 25 is paved with a slow speed limit thanks to its curvy and weathered nature. The dispersed campsite pull-offs are gravel and easy to spot. However, some require higher-clearance vehicles.
9. Climbers Bivouac Trailhead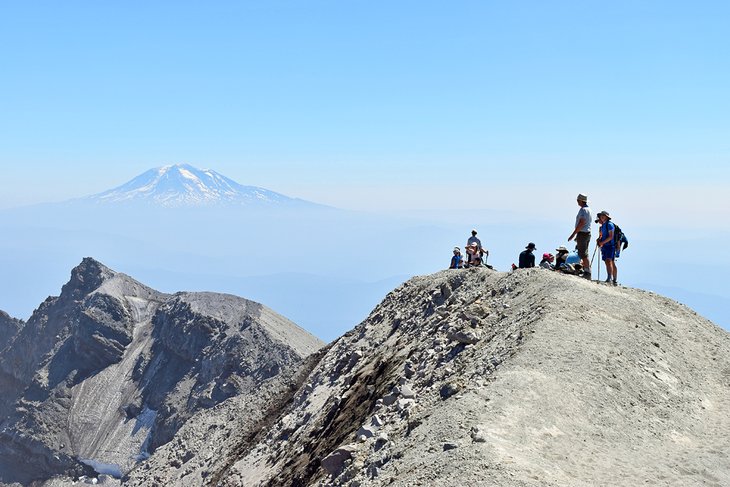 The Monitor Ridge Climbing Route, the main summer route to summit Mount St. Helens, departs from the Climbers Bivouac Trailhead on the mountain's south side. It's a 14-mile drive from Cougar, ending with a three-mile rough gravel road. Here, ambitious hikers often depart from the trailhead before the break of dawn to attempt the challenging 4,500-foot climb.
Because of this early approach, the trailhead has various roadside campsites at the ready. These primitive sites are scattered among the edges of the parking area and provide a great place to tent down the night before making the hike. Pit toilets are available, but campers need to bring their own supply of drinking water.
The trailhead doesn't provide any remarkable mountain views, and the three-mile gravel approach is a bit rough on the axles. For these reasons, the trailhead campsites aren't very accommodating for those not summiting the mountain. And with limited places to pitch a tent, it's best to leave the spaces for those making the permitted trek.
Summiting Mount St. Helens requires permits year-round, with a quota in place between April 1st and October 31st. This strenuous endeavor is a real bucket-list adventure worth training for. No technical climbing skills are required, but some past hiking experience will help you navigate the 4,500 feet of elevation gain in the five-mile hike to the top.
10. Mount Margaret Backcountry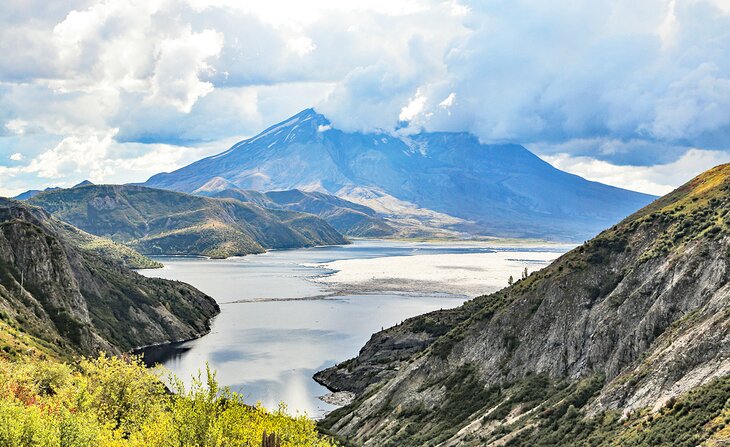 For those looking for a more "out-there" camping experience, consider strapping on a backpack and trekking into the Mount Margaret Backcountry on the mountain's northside. This expansive wilderness is accessible from both the west and east side and opens a world of backcountry lakes and unique views of the mountain.
The Forest Service operates eight primitive campsites in the Mount Margaret Backcountry. Permits are required to spend the night and are available with advance reservations. Groups are limited to four people per permit. A bit of backpacking experience helps navigate the skinny and steep trails of the St. Helens' backcountry.
Best Time to Go Camping near Mount St. Helens
Summer is the best time to camp near Mount St. Helens, specifically July and August, as winter buries the landscape during the rest of the year. Many of the facilities at the National Monument, including nearby campgrounds, operate loosely between Memorial Day and Labor Day (late May to early September).
July and August offer the best weather and the longest days to visit. This sunny weather makes it easy to capitalize on the many great hikes in the area or capture a great view of Mount St. Helens' crater. Average temperatures hover around the high 70s during the day, with cool nights in the high 40s.
May, June, and September are also excellent times to plan a camping trip to Mount St. Helens, although expect cooler evenings at the ends of the spring and fall seasons. Expect snow to cover the landscape by October and stick around through April. PacifiCorp doesn't offer campsites throughout the winter. Other campsites are inaccessible by snow-covered roads.
Map of Places to Camp near Mount St. Helens, WA