11 Best Parks in Portland, OR
The best parks in Portland display the city's striking Pacific Northwest surroundings. These iconic outdoor spaces range from quiet riverfront parks on the Willamette River to signature destinations like Washington Park, home to several Portland attractions, including the Portland International Rose Test Garden and Portland Japanese Garden.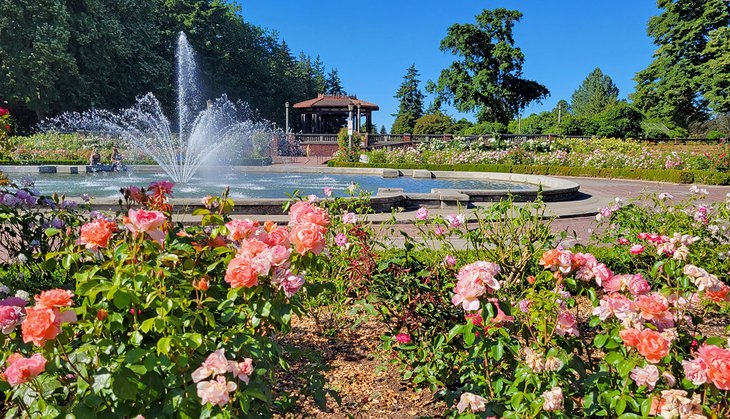 Other notable landscapes in Portland parks include volcanic cinder cones, historic bridges, and the remarkable 5,200-plus-acre vast urban wilderness known as Forest Park. This array of public parks provides a broad collection of things to do outside in Portland. And while each park offers unique amenities, they all share the same Pacific Northwest splendor.
For the latest information on park conditions and hours, visit the Portland Parks and Recreation site.
Dive deep into the Pacific Northwest with our list of the best parks in Portland, Oregon.
1. Washington Park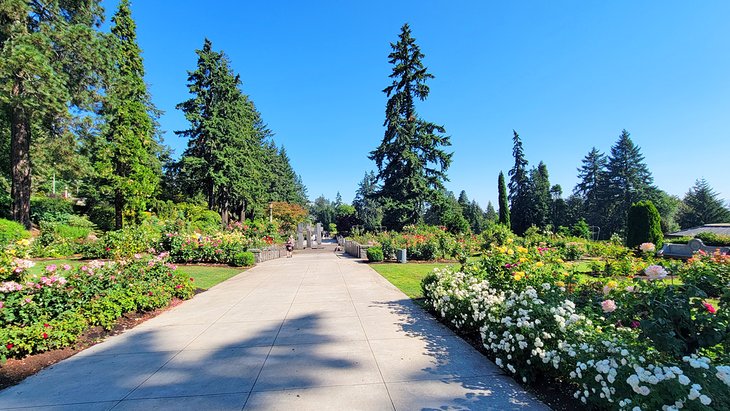 Washington Park is Portland's signature outdoor space. It's home to many of the city's top attractions, including the Oregon Zoo, International Rose Test Garden, and the Hoyt Arboretum.
But besides these iconic Portland institutions and more, the park also encompasses a dense 400 acres of lush Pacific Northwest natural terrain.
Other attractions within the park include the Portland Japanese Garden and World Forest Center Discovery Museum. The park is also home to an archery range and a popular fenced-in playground.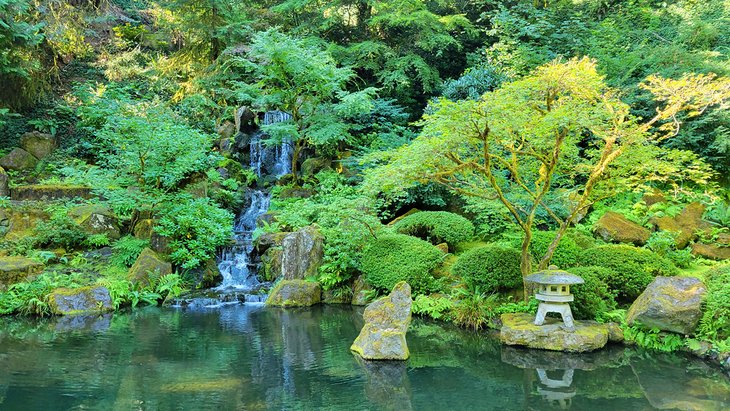 Solemn memorials also abound in the park, including the Vietnam Veterans of Oregon Memorial and the Oregon Holocaust Memorial.
It's free to visit Washington Park. However, attractions like the Portland Japanese Garden and Oregon Zoo require an additional fee. But with so much to do without the price of admission, Washington Park is a favorite place for free activities. Picnicking at the park or navigating its 15 miles of trails are a few free things to do.
Several public transportation options lead to the park, negating the $2/hour parking fee. Upon arriving at the park, the Washington Park Free Shuttle makes getting around a breeze. This shuttle stops every 15 to 30 minutes and operates year-round with extended hours in the summer.
2. Mt. Tabor Park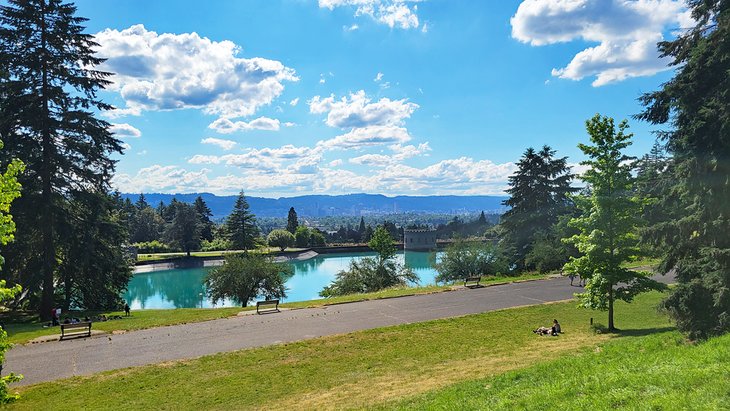 Mt. Tabor Park is a unique public space on Portland's east side. The park encompasses a volcanic cinder cone, representative of the region's geothermal history. This elevated space has been a city park since 1909 and is still one of the most popular parks in Portland.
One of the park's most popular activities is navigating the landscaped grounds and trails that lead to the summit overlooking the city. Native plants, bountiful gardens, and historic reservoirs are in view along the way, as well as gaggles of people.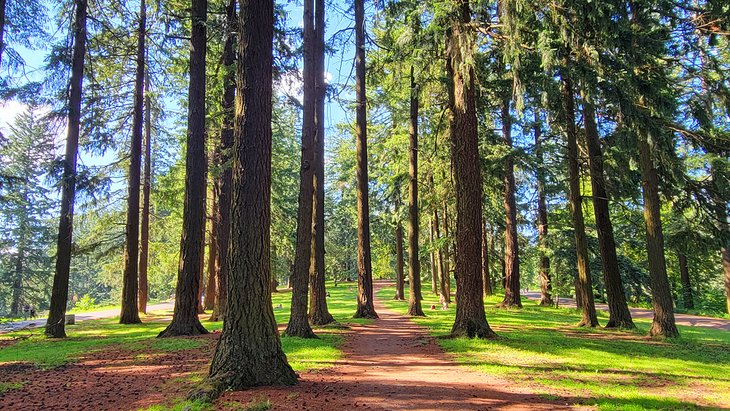 Mt. Tabor also has facilities like tennis courts, basketball courts, playground equipment, and an outdoor amphitheater. The park is also home to a popular off-leash dog area where Portland's canine citizens enjoy sniffing around.
Parking is available within the park but is limited. Additional parking is accessible on the surrounding city streets but is also competitive. The easiest way to reach the park is via TriMet Bus 15 or 71, which makes a stop near the park's northwest corner.
3. Forest Park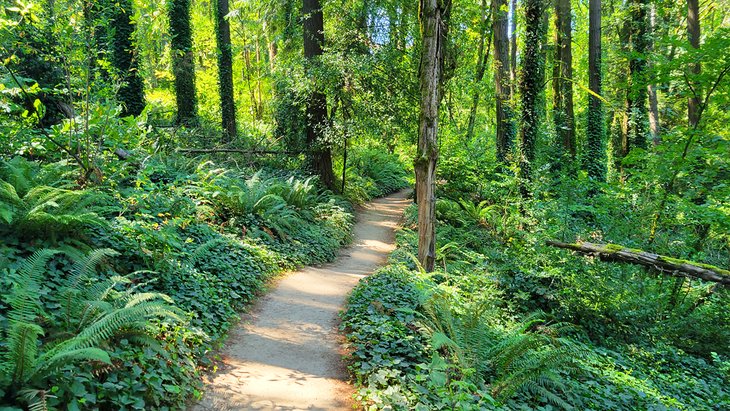 Forest Park comprises a remarkable 5,200-plus acres in Northwest Portland. This massive amount of space makes it one of the largest urban forests in the country.
And with over 80 miles of trails to explore, it's easy to escape the hustle and bustle without ever leaving the city limits.
Hiking, mountain biking, and horseback riding are some of the most popular activities at the park. The 30-mile Wildwood Trail spans much of the space and is the backbone of the whole trail system. Several side trails and forest roads branch from this main thoroughfare, offering endless adventure throughout the lush terrain.
Signposts are present throughout Forest Park, but a map or GPS is recommended when navigating new trails. The park has over 40 access points and a wide range of parking lots. These parking areas range from small lots for less than 10 cars to places like the Lower Macleay Trailhead, with more than 20 spots.
Macleay Park provides a popular entry point into Forest Park. From this small park with a public playground, users head into the dense foliage of Forest Park and connect with the Wildwood Trail. From here, it's a short hike to the historic Pittock Mansion. It's approximately a five-mile round trip from Macleay Park to Pittock Mansion and back.
4. Laurelhurst Park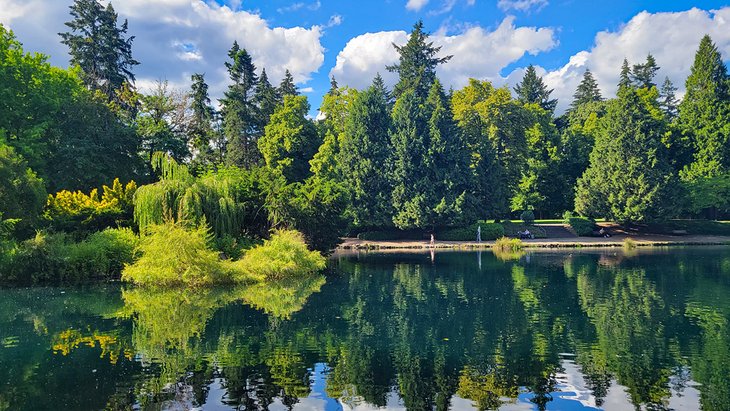 Laurelhurst is a century-old city park in northeast Portland, encompassing a beautiful 32 acres. It's a heavily wooded parkland with several wide and accessible dirt trails. And almost all paths lead to the scenic Firwood Lake on the park's east side. This photogenic pond is a popular spot for resident ducks and park visitors alike.
Other popular activities at Laurelhurst include hiking the trails, finding a shady spot, and enjoying free community concerts. Laurelhurst is also home to an off-leash dog area where canine companions run free.
The park has a playground and other recreation courts on the other side of Oak Street. This side of the park is also where to find the most open green space for lawn games, like throwing a frisbee. Public restrooms, water fountains, and picnic tables are also on this side of the park.
5. Tom McCall Waterfront Park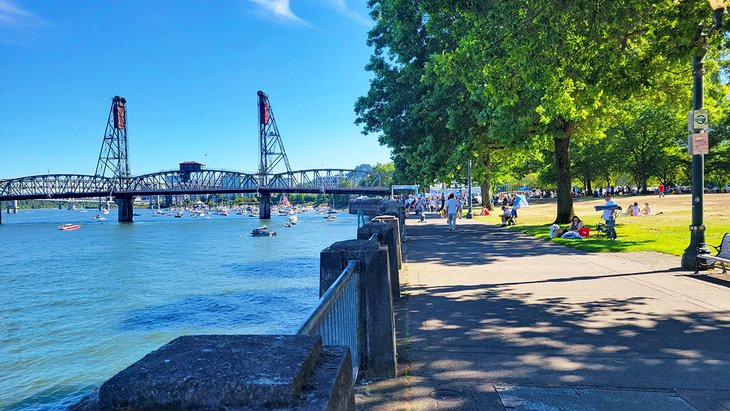 Governor Tom McCall Waterfront Park occupies 30 acres next to the Willamette River and downtown. It's named after the governor who spurred its creation in the 1970s, tearing up what used to be the six-lane Harbor Drive. And today, this once busy traffic corridor is a premier public space, home to several monuments, memorials, and annual events.
Tom McCall Waterfront Park spans approximately 1.5 miles along the waterfront. Lawn areas and a paved trail punctuate the space between cultural attractions, including the Japanese American Historical Plaza. Waterfront Park is also home to the popular Salmon Street Springs, offering the perfect place to cool off during a hot summer day.
Several annual and weekly events occur at Tom McCall Waterfront Park. Portland Saturday Market overtakes some of the park each week between March and December. Large annual events include the Portland Rose Festival (September), Waterfront Blues Festival (July), and Fleet Week (June).
6. Peninsula Park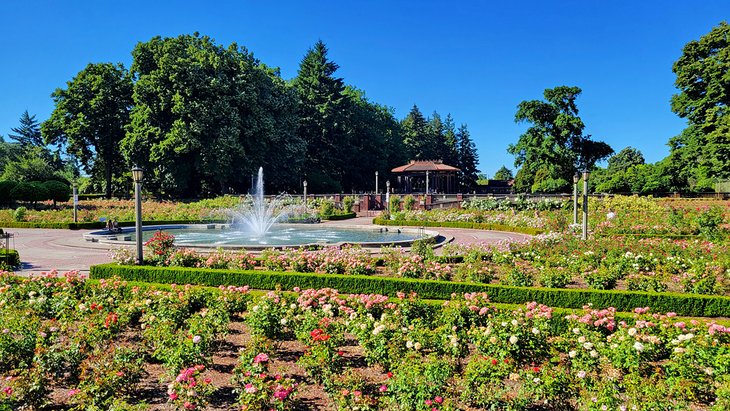 Peninsula Park is in North Portland in the Piedmont neighborhood. It's one of Portland's older city parks, dating back to 1909. Its most distinguishing feature is the beautiful Peninsula Park Rose Garden, with the proud designation as the city's first rose garden.
The Peninsula Park Rose Garden has a typical blooming season from mid-June through October. A decorative fountain sits at the center of the rose garden, lending the sound of rushing water to rows upon rows of colorful petals. The compact gravel pathways throughout the garden are wheelchair accessible.
It's not just the rose garden that makes Peninsula Park popular. The park is also home to toddler playground equipment, a splash pad, and plenty of open green space. Other points of interest include a historic community center and a historic bandstand.
7. Crystal Springs Rhododendron Garden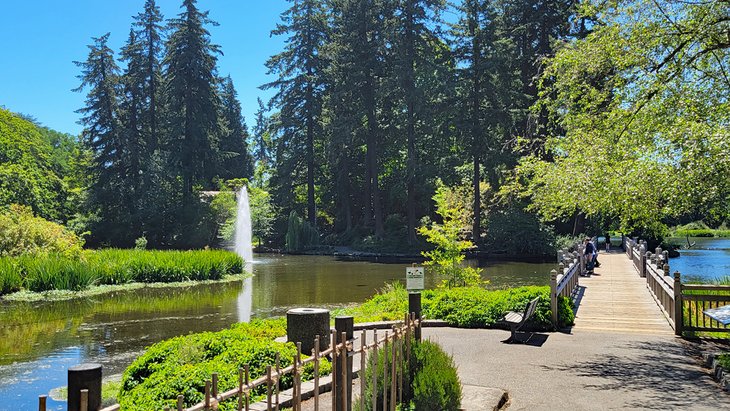 Crystal Springs is a lush 9.5-acre park space in Southeast Portland accessible with paid admission. The park dates to the 1950s and is a collaborative effort between Portland Parks and Rec and the non-profit Friends of Crystal Springs Rhododendron Garden. This organization was once known as the American Rhododendron Society Portland Chapter.
Over 2,500 rhododendrons, azaleas, and other plants define the landscape at Crystal Springs. Small placards and interpretive information are also throughout, helping identify the lush surroundings. Also, expect to encounter some avian wildlife, including geese and ducks. Visitors are asked not to feed these resident animals.
As of 2022, there's a $5 entry fee into the gardens. Children under 12 receive free admission, and there's no admission on Mondays.
Arguably, the best time to visit Crystal Springs Rhododendron Garden is February through June to see the Rhododendrons bloom. But with a varied landscape, something is always blooming throughout the year.
8. Cathedral Park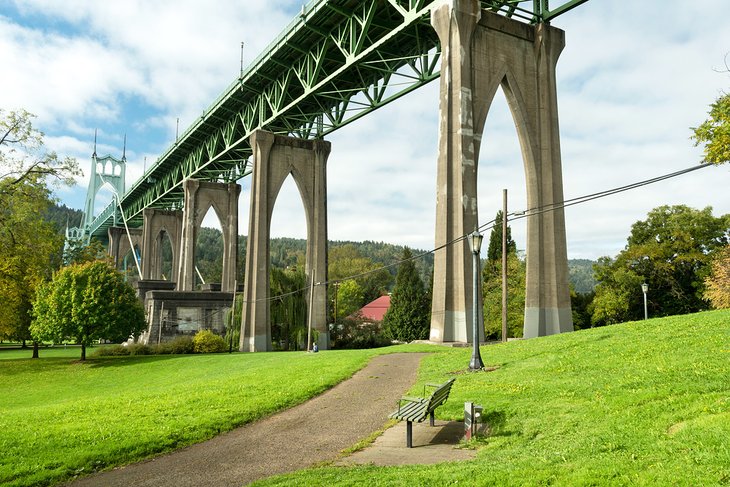 Cathedral Park is in Portland's far northwest city limits, on the east shore of the Willamette River. It's a site steeped in history, dating to native populations, and later, as a potential campsite for the Corps of Discovery. Today, it's better known for its lawn space and river access, alongside a stunning view of the St. Johns Bridge.
Several amenities draw a crowd to Cathedral Park. It's home to picnic tables, nature patches, and a popular off-leash dog area.
The park also provides a boat ramp and dock for accessing the water with non-motorized boats. There's also a restroom at Cathedral Park and several paved paths throughout.
It's almost impossible not to admire the St. Johns Bridge at Cathedral Park. The park itself is named after the bridge's aesthetic archways that imbue a tone of Gothic architecture. The view of this historic suspension bridge is worth the visit alone.
9. Council Crest Park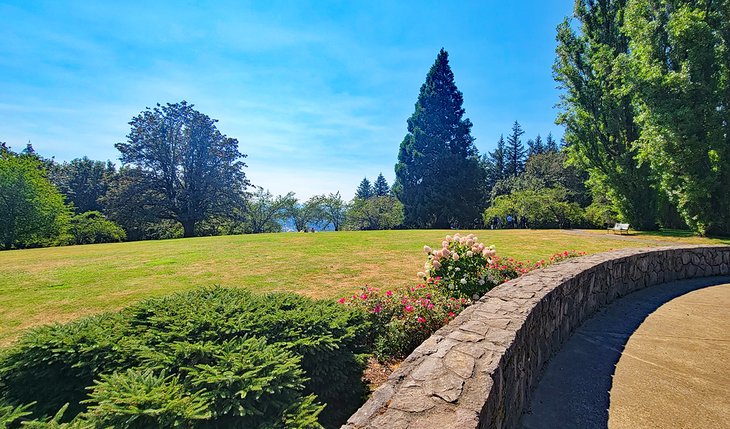 Council Crest is a popular park in southwest Portland with an incredible view. It's noted as one of the tallest points in the city, rounding out at approximately 1,073 feet above sea level. This high vantage point gives a view of the prominent Cascade Mountains, including Mount Hood, Mount St. Helens, and Mount Rainier.
Council Crest is also home to significant cultural history, spanning from Indigenous populations to early city amusement parks. Some of this historic appeal is still on display today, including an observation-tower-turned-water-tower. And it's still a great place to meet up with a council of friends and family.
Visitors can walk or drive up to Council Crest Park. The park's roads open to vehicle traffic starting at 8am throughout the year. Parking may become competitive during the summer season. Alternatively, the Marquam Trail leads to the park from Marquam Nature Park.
Hiking trails also connect Council Crest Park with Washington Park via the Oregon Zoo.
10. Powell Butte Nature Park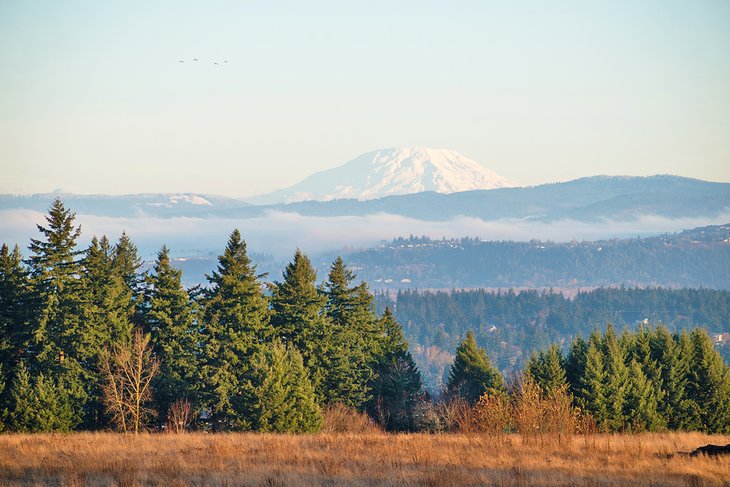 Powell Butte is an extinct cinder cone prominently rising on the city's far east side, near Gresham. Powell Butte Nature Park opened to the public in 1990 and today encompasses over 600 acres of meadow, forest, and view-enabling hiking trails. It's also home to some of the most diverse wildlife in Portland's parks, including foxes, deer, and coyotes.
Powell Butte Nature Park is most popular for its trails. Hikers, mountain bikers, and equestrians all find routes to follow within its vast trail network. The Mountain View Trail is one of the many popular hiking trails open to all three types of trail users.
Take some time to visit the Powell Butte Nature Park Visitor Center on the grounds. Here, several interpretive and hands-on activities share the story of the park's vast ecosystem and cultural history. This welcoming facility is open Wednesdays through Sundays until 3pm. Restrooms are available at the visitor center.
11. Sellwood Riverfront Park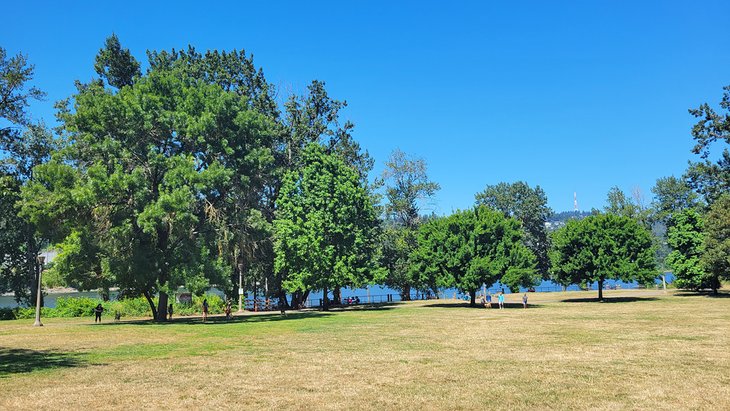 Sellwood Riverfront Park is on the south side of Portland on the Willamette River, near the beautiful Sellwood Bridge. The park is a popular spot for dog owners throughout the year. A large, designated leash-free area lends access to woodland trails and ample beach space throughout the summer.
The beach at Sellwood Riverfront Park is also popular for non-pet-owners. Summer is the best and only season to enjoy the sand next to the Willamette River, as the river swells throughout the rest of the year. Quick dips in the water are also popular this time of year, though no lifeguards are on duty, and swimmers enter the water at their own risk.
Sellwood Park is on the other side of the railroad tracks from Sellwood Riverside Park. This larger green space has several more park amenities to make a day out of visiting. A few popular outlets at the 16-acre Sellwood Park include picnic areas, playground equipment, and sports fields.
Map of Parks in Portland, OR