From Portland to Mount Hood: 4 Best Ways to Get There
The majestic Mount Hood is a scenic two-hour drive from Portland. Two routes access Mount Hood from Portland, including Interstate 84 through the Columbia River Gorge. From Interstate 84, Mount Hood is accessible by heading south on Highway 35.
The alternative route is hopping on Highway 26 right from the city. It's a quicker route, taking approximately 90 minutes. Highway 26 and Highway 35 represent either half of the Mount Hood Scenic Byway.
Both routes offer great Pacific Northwest adventures along the way. Both directions are also accessible via public transportation or private transfer. And campgrounds, trailheads, and plenty of pull-offs line either route.
Additional shuttles to Mount Hood are available during the winter and ski season. Several of the mountain's ski areas, including Mt. Hood Meadows, are happy to give people a ride in the winter.
The easiest way to experience Mount Hood from Portland is aboard an organized day tour. With pickup available at most downtown hotels, these guided trips leave behind worries like driving and trip planning. These day tours are equipped with a professional guide that gives insight into the area.
1. From Portland to Mount Hood by Organized Tour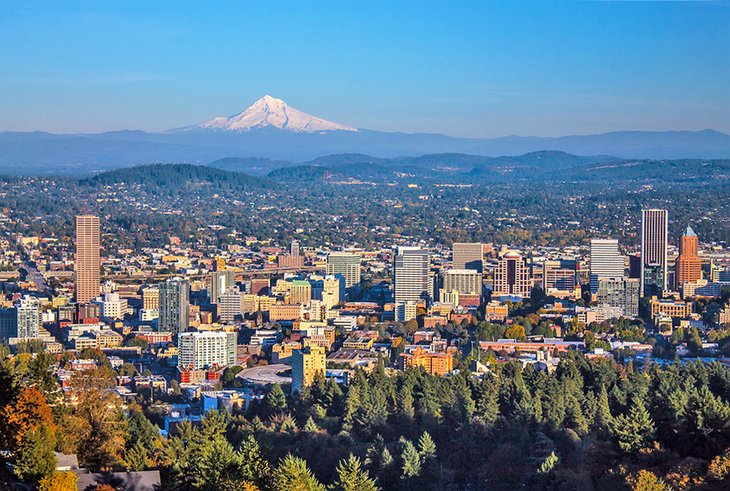 An organized Mount Hood Day Trip is one of the best ways to experience the luscious landscapes surrounding Portland. Without the stress of driving or trip planning, this approximately 8.5-hour tour begins with a pickup at most downtown hotels. The tour heads straight to the Columbia River Gorge and stops at one of Oregon's tallest waterfalls.
After spending time admiring the double drop of the 611-foot-tall Multnomah Falls, the tour makes a quick stop at Rowena Crest. This outstanding natural area in the Columbia River Gorge features a short hike and an excellent viewpoint.
Appetites are then satisfied with a stop in Hood River, where tour members have a variety of local eateries to choose from for lunch. On windy days, visitors also enjoy the scene of windsurfers riding the currents above the Columbia River Gorge.
After lunch, the view of Mount Hood only gets better as the tour heads south. One of the best views of the mountain comes from the tour's next stop at Trillium Lake. Stunning mountain meadows surround Trillium Lake, which has a mirror-like ability to reflect Mount Hood. After taking in the sights at Trillium Lake, the tour makes its final stop at the historic Timberline Lodge.
On the south slope of Mount Hood at an elevation of 6,000 feet, the Timberline Lodge dates back to 1937. The tour concludes at this National Historic Landmark with free time to explore the hotel and its high mountain surroundings. This full-day tour officially ends after getting dropped back off at your hotel. And without having to drive a single mile or worry about parking, it's the easiest way to see Mount Hood from Portland.
2. From Portland to Mount Hood by Car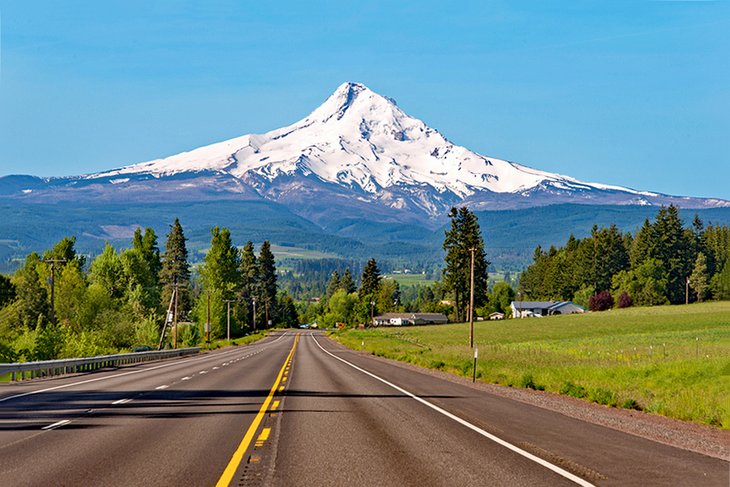 Whether renting or taking your own vehicle, Portland drivers have two options to reach Mount Hood by car. Each route takes approximately 2.5-hours to reach the mountain. The possibilities of side adventures line both routes to Mount Hood. These side trips include campgrounds, trailheads, and charming communities along the way.
North of the city, Interstate 84 heads east through the Columbia River Gorge and connects to Highway 35 at Hood River. Several scenic roadside attractions, like Multnomah Falls, line the 60 miles of the Columbia River Gorge at the beginning of this route. And the towns of Cascade Locks and Hood River are both fun to check out along the way.
From Hood River, Mount Hood is accessible within 45 minutes driving south on Highway 35. This is also an incredibly scenic route, with Mount Hood growing bigger with each mile. This part of Highway 35 is half of the Mount Hood Scenic Byway. Tamanawas Falls is one of the first major Mount Hood attractions encountered along this route, with a trailhead approximately 25 miles south of Hood River.
Alternatively, Highway 26 offers the most direct route to the south flank of Mount Hood from Portland, including Timberline Lodge. Highway 26 is accessible by taking Highway 224 south from the city, or by taking Exit 14 on Interstate 84. Impressive views of Mount Hood only get bigger as you drive closer to the mountain on Highway 26. This route also leads through the charming community of Government Camp.
3. From Portland to Mount Hood by Transfer Service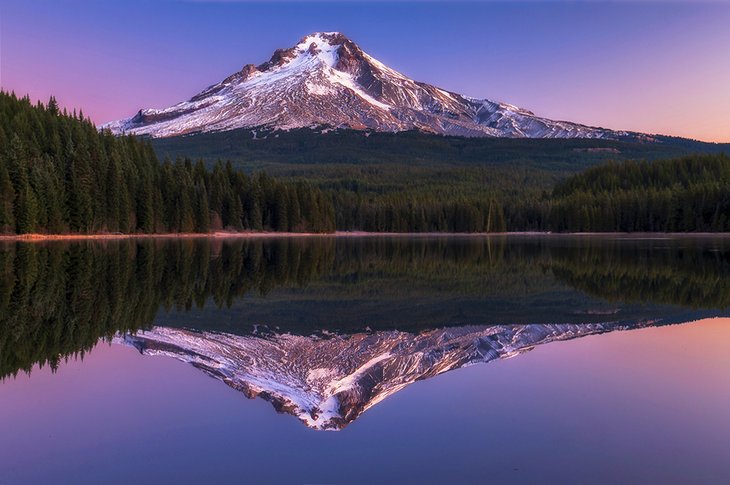 Several transfer services offer shuttle routes from Portland to Mount Hood. Sea to Summit Tours & Adventures features year-round shuttle options to the mountain and back. The Sea to Summit fleet is highly capable of mountainous driving, with studded tires and rugged adventure vans. The company offers several tours to Mount Hood, including add-on trips throughout the Columbia River Gorge.
Aspen Limo & Tours offers other year-round shuttle options. The fleet at Aspen Limo includes stretch limousines and rugged 4x4 vehicles that handle rough terrain. The company charges by the hour and drops off passengers anywhere they want surrounding Mount Hood. Custom trips are also available.
The ski season opens a lot of extra shuttle options to Mount Hood from Portland. One of the local ski resorts, Mt. Hood Meadows, offers a Park-and-Ride from Portland. This $35 round-trip in a luxury bus is only available on weekends and holidays. Mt. Hood Meadows also offers a free daily shuttle from Hood River.
The Portland-based Green Dream Bus also makes daily trips to Mount Hood from Portland throughout the ski season. The fleet of Green Dream includes biodiesel vans with stylish interiors. The bus picks up at ReRack in Portland. Like all transfer services to Mount Hood from Portland, a ride is only guaranteed with a reservation.
4. From Portland to Mount Hood by Bus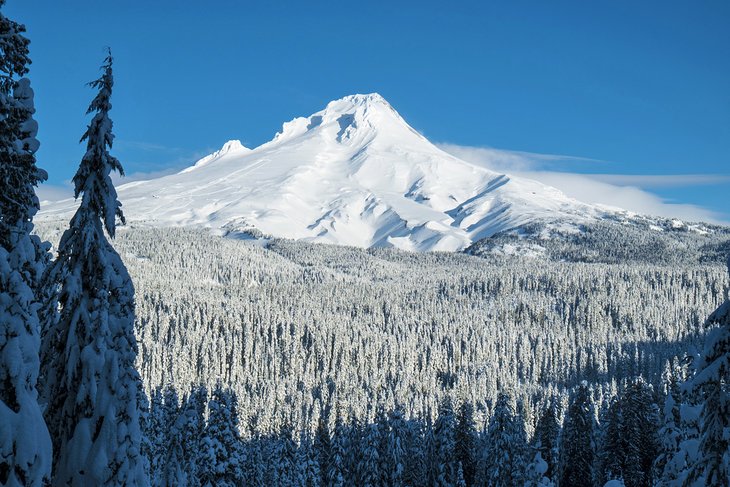 Getting to Mount Hood from Portland by bus takes around three hours. The key to public transportation to Mount Hood is hopping on the Mount Hood Express in Sandy. This local bus line operates seven days of the week and makes a dozen stops before turning around at the Timberline Lodge. Ski Bowl West is a prominent stop on the bus line during the winter.
To catch the Mount Hood Express at the Sandy Transit Center, visitors from Portland need to first get to the Gresham Transit Center. Bus, light rail, and commuter rail can get you to the Gresham Transit Center from Portland. The official TriMet website assists with trip planning for anywhere in the city.
From the Gresham Transit Center, the Gresham Service offered by Sandy Area Metro delivers riders to Sandy. It takes at least two connections to get to Mount Hood from Portland, but with timely services, the process is usually hassle-free. Skiers and snowboarders may find it difficult to transport their gear on public bus lines in Portland.
For smartphone users, apps like Google Maps and Apple Maps greatly assist in navigating public transportation. Toggle the public transportation icon when searching for directions, and a route should pop up utilizing all the public transit authorities.