Oregon Travel Guide: Plan Your Perfect Trip
Oregon is arguably one of the best vacation spots in the country. And it's not a bad place to live either. Whether searching for some high-alpine activity or oceanside splendor, you'll find it in Oregon. Planning a trip has never been easier with Planetware's collection of guides on the top cities, attractions, and outdoor activities throughout the state. And with such a wide variety of terrain to explore, including ancient calderas and high-desert spires, go ahead and plan for a few extra days in the Beaver State.
Inspirational Ideas for a Trip to Oregon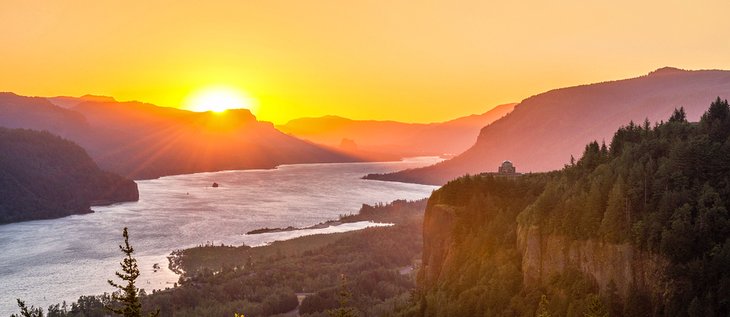 Oregon is a big state with many destinations, landscapes, and cities. When planning a first-time trip or repeat visit, it helps to have a broad look at everything to explore. Reading through our article overviews on the top attractions and places to visit is a good starting point for planning a trip. From there, start putting together a memorable Oregon weekend getaway or extended itinerary.
Best Time to Visit Oregon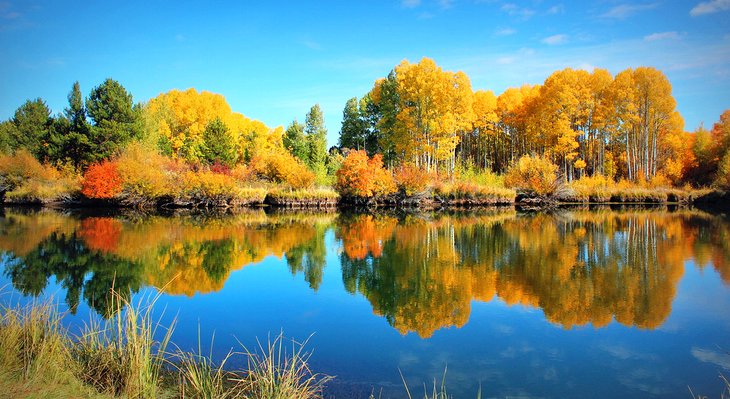 Summer: Reasons to visit span the entire year, but arguably, summer is the best time to visit Oregon. High mountain passes are free of snow, the forests abound with wildlife, and suntanning on the coast hits its peak appeal. The summer is a great time to visit outdoor places like the Columbia River Gorge or Crater Lake National Park. Similarly, cities like Portland are brimming with creative locals and visitors throughout this time of year. The season is also ideal for endeavors like backpacking, mountain biking, and general exploring.
Fall: September and October are gorgeous months to visit Oregon. Some of the tourism dies down alongside the dropping temperatures. At the same time, many of the destinations take on a new color. The smaller crowds lead to easier travel, with less competition for hotel rooms and campgrounds. For cities and destinations in the heart of the Willamette Valley and Southern Oregon, these two months offer ideal times to visit after scorching summer temperatures cool down.
Winter: Winter is a very active time in Oregon. October through March brings the ski and winter sports season to the state. And several local and internationally renowned resorts offer all-day activity. Mount Hood, the tallest mountain in Oregon, provides five places to ski. But it's not just the snow adding winter appeal. In high-desert locations like Bend, the winter still translates to sunny weather and T-shirts. And for the adventurous, winter storms on the coast are known to make quite the impact.
Spring: March ushers in a special time in Oregon. Melting snow swells the rivers, and persistent sunshine tends to turn everything green. Flowers in Portland's International Rose Garden begin their bloom in spring, and residents flock to the outdoor spaces to enjoy the change in weather. Multiple layers of clothing are recommended this time of year, as rain, snow, and sleet are still in the forecast. But chances are, you'll still catch some sunshine during spring in Oregon.
Visitors Guide to Portland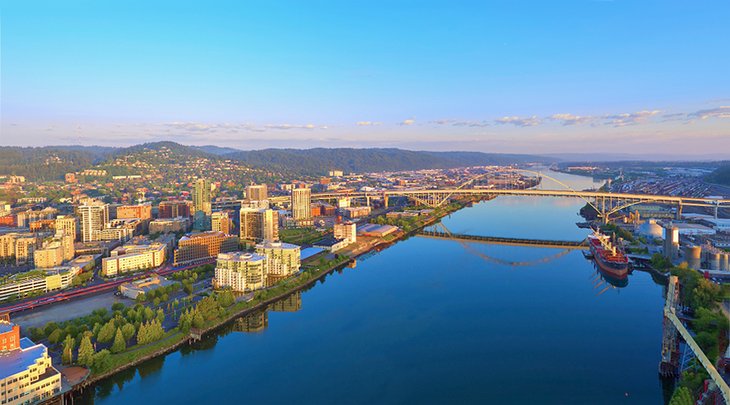 Portland, also known as the City of Roses, is a cultural capital of the Pacific Northwest. This vibrant metropolis is often reason alone to visit the state, with museums, restaurants, and a community that "Keeps Portland Weird."
While Portland's city slogan evokes images of abstract fashion and design, at its heart is a passion for the local economy, sustainable solutions, and community cohesion. This gives the city a smaller-town feel, despite the population of Portland exceeding 650,000.
Portland is also a base camp for the great outdoors. Stunning outdoor landscapes saturate the city. The spectacular Columbia River Gorge borders the city to the north. And Mount Hood, the state's tallest mountain, stands prominently to the east. And with the ocean under two hours away and the verdant Willamette Valley to the south, a trip to Portland often extends beyond city limits.
Things to Do in Portland
Getting Around Oregon from Portland
Plan a Vacation on the Oregon Coast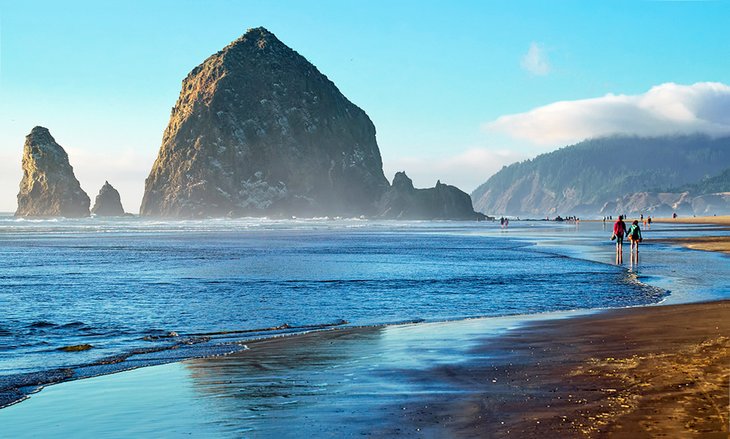 The Oregon Coast stands on its own as a vacation destination. This long slice of coast is over 360 miles long and is entirely open to the public every inch of the way. And dotting the landscape are miles-long stretches of sand, dominating headlands, and picture-perfect sea stacks jutting from the surf. With such postcard-worthy landscapes, Oregon's coast is a must-visit at least once in a lifetime.
Cities and Small Towns on the Oregon Coast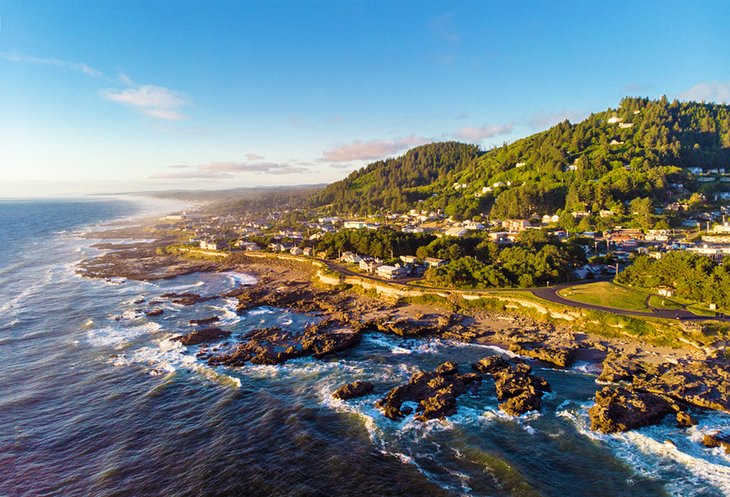 Dive deep into planning an Oregon Coast vacation with our overviews on the best cities near the surf. While all the best small towns and cities on this edge of the country share ocean views, each exhibits a unique community and culture. Decide for yourself which one you like best by linking multiple cities together.
From North to South
Other Cities and Small Towns to Explore in Oregon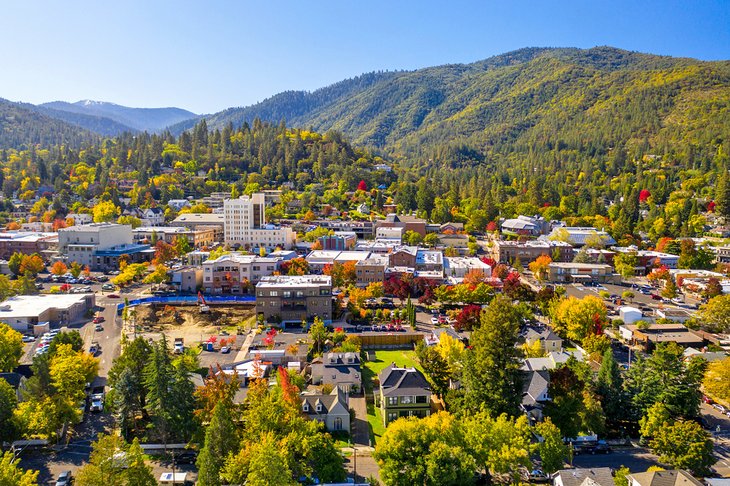 There's so much more to explore outside of Portland. Throughout the Willamette Valley and on both sides of the Cascade Mountains, other cities and small towns in Oregon offer easy access to mountains, volcanoes, scenic drives, and places to slow down and relax.
Head to places like Bend and Three Sisters for mountain biking, alpine adventures, and geological attractions. Enjoy kitesurfing and other water sports in Hood River. Hit scenic spots like Medford in Southern Oregon. Excellent cities worth visiting span the entire state. And while all have different terrain to explore, every small town and city offers homegrown hospitality and a certain charm lost on bigger city streets.
Hiking, Camping, and Outdoor Attractions in Oregon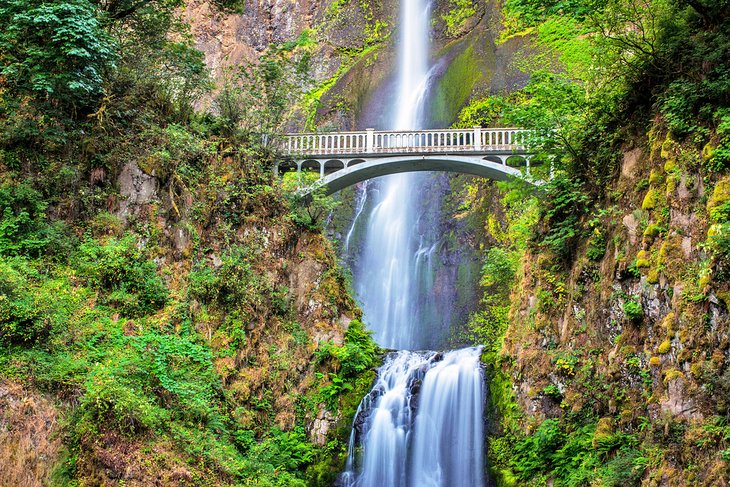 For nature lovers the outdoors is a big part of travel to Oregon. And in a state with active volcanoes, a churning coast, and high-desert rock climbing hot spots, there's a lot to do outside. Whether looking for the perfect place to hike, camp, soak in a hot spring, or ski down a mountain slope, Oregon offers adventure 365 days of the year.
Hiking Trails:
Campgrounds:
Other Outdoor Adventures:
Interesting Facts and Common Questions about Oregon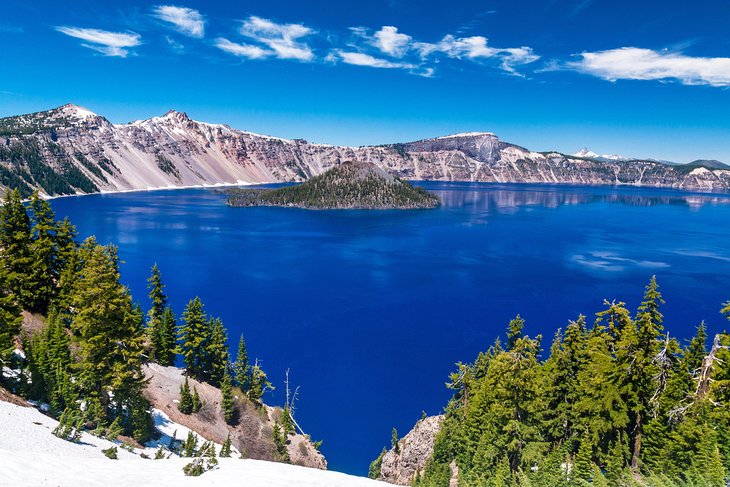 Population of Oregon: The population of Oregon is over 4.2 million and growing. The state continually attracts new residents looking for mild weather and adventurous communities. The state's largest city, Portland has a population of more than 650,000 in the metropolitan area. Oregon's next largest cities, Salem and Eugene, each have nearly 170,000 residents in comparison.
What is Oregon State's Nickname? Oregon's best-known moniker is the Beaver State, thanks to the early history with these large webbed-footed rodents. Early pioneers of the area relied on beaver pelts for trade. Today, the state identifies with the animal's intelligence and ingenuity. The beaver is Oregon's official state animal and is also on the back of the state flag. And the state's largest university, Oregon State University, is home to Beaver athletics.
Crater Lake is the Deepest Lake in the U.S.A. In Southern Oregon, with a maximum depth of 1,943 feet, Crater Lake is the deepest lake in the country and one of the deepest lakes in the world. This magnificent body of water has many other unique attributes, including its status as an ancient caldera, also known as a volcanic crater.
Over 7,700 years ago, the 12,000-foot Mount Mazama erupted and collapsed, leaving behind the massive basin today known as Crater Lake. No inlets or outlets stem from the lake, meaning that only rain and snowmelt contribute to the lake water. And because of these pure water sources and the incredible depth, the lake shimmers a fantastic blue tone that catches the eye.
What Sports Teams are in Oregon? Oregon is home to three professional sports teams, all of which have their home crowd in Portland. The Portland Trailblazers are part of the National Basketball Association (NBA) and play at the Moda Center, formerly known as the Rose Garden. The city is also home to the Portland Timbers of Major League Soccer (MLS) and the Portland Thorns FC of the National Women's Soccer League (NWSL). Both soccer teams play at Providence Park, a few blocks from the International Test Rose Garden.
Does Oregon have Sales Tax? Oregon is one of only a few states not to impose a sales tax. When paying for goods in-state, this lack of sales tax means that the price on the tag remains the same at the register. Oregon does make up for some of this tax revenue with higher levies on personal income.