12 Top-Rated Attractions & Things to Do in Ashland, OR
Ashland is a cultural destination in Southern Oregon and the Rogue Valley, surrounded by stunning natural spaces. The city offers several engaging reasons to visit, including world-famous Shakespeare productions and 100-acre city parks. Other popular things to do include indulging in the local agriculture of the region and spending the day shopping and dining in a charming downtown district.
The renowned Oregon Shakespeare Festival draws the most visitors to Ashland. This longstanding production spans a season between February and October with over 700 productions. The energy of the Elizabethan Theatre and theatrical performers spill out across Ashland, adding a unique ambiance to the city found few other places in the country. For extra theatrical showings, the nearby Oregon Cabaret Theatre offers unique dining menus with each show.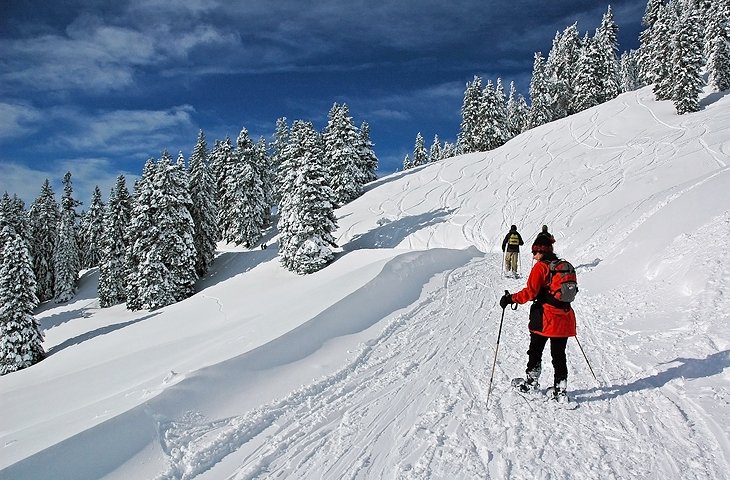 Numerous day and weekend trips stem from Ashland, with public spaces like Emigrant Lake and Mt. Ashland Ski Area a short drive away. One of the top natural marvels of the American West, Crater Lake National Park, is also accessible from Ashland in just over an hour's drive. More outdoor activities line the entirety of the Rogue River—whitewater rafting, hiking, and lodge-to-lodge adventures are just a few of the fun things to do on this wild waterway.
For more ideas on how to spend your time, see our list of the top things to do in Ashland, Oregon.
1. Oregon Shakespeare Festival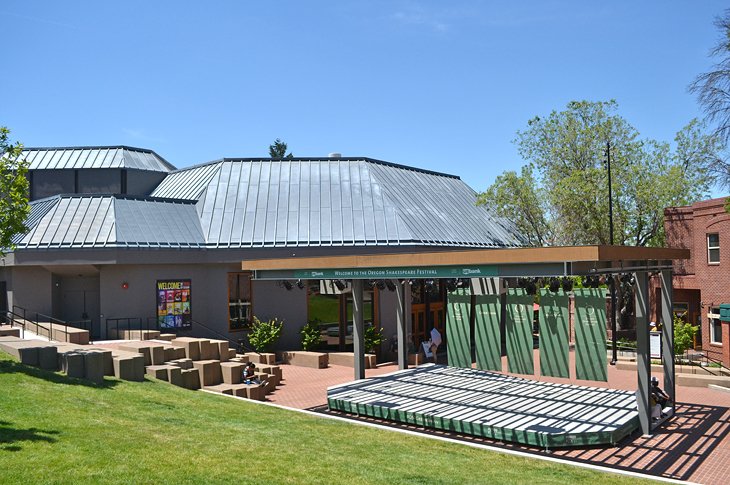 The Oregon Shakespeare Festival is the center stage attraction of Ashland. It's among the oldest and largest non-profit theaters in the country, celebrating over 80 years of Shakespeare plays, and today attracts international attention with over 700 shows each year.
The Oregon Shakespeare Festival is spread across three stages in downtown Ashland. The season typically spans between February and October with multiple showings of 11 different performances. On any given day of a show, the surrounding downtown district is filled with the energy of theatergoers making their way to their seats. This energy adds a contagious excitement to the town and makes finding parking a challenge.
While the Angus Bowmer Theatre and Thomas Theatre put on spectacular shows, the eye-catching Allen Elizabethan Theatre provides the most authentic Shakespeare experience. With an outdoor stage and two tiers of seating, attending a show at the Allen Elizabethan Theatre is a unique and special thing to do in Oregon.
Fun and free pre-show entertainment occurs at the centrally located Green Show Courtyard and Stage, featuring live music from local and regional performers. And special behind-the-scenes tours of the different theaters are available through advanced reservation. Numerous hiking trails and scenic picnic spots line the neighboring Lithia Park for a leg stretch before or after the show.
Official site: https://www.osfashland.org/
2. Lithia Park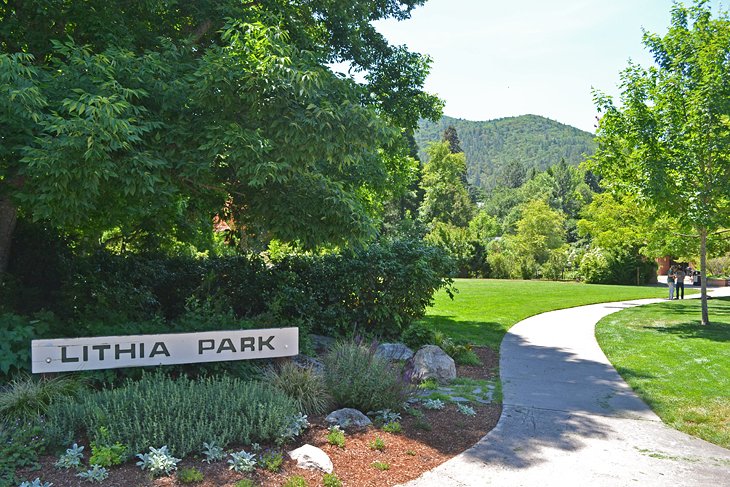 Lithia Park is the crown jewel natural space in Ashland. It extends south from downtown as it follows the meandering banks of Ashland Creek, and encompassing over 100 acres, this linear park reveals hidden gems and unique park amenities around every turn of the trail.
A Japanese Garden, beautiful bandshell, and decorative fountain are found in Lithia Park with a short walk, and picnic spots and gatherings areas are spread throughout. The immensity of things to do in Lithia Park is a bit disorientating when exploring the public space, but the linear fashion and popularity of the park makes it hard to get lost.
Public events and spillover of the Oregon Shakespeare Festival takes place at the north end of Lithia Park. Numerous downtown restaurants are also at this end of the park, making for great outdoor seating overlooking the landscaped surroundings.
3. Downtown Ashland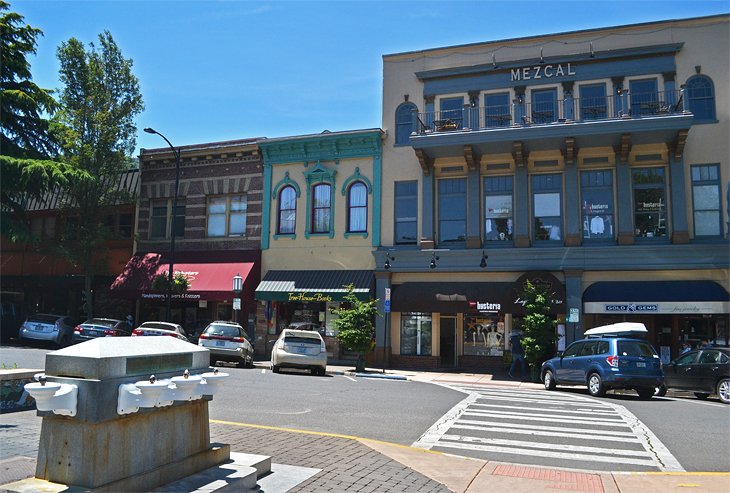 Local restaurants, unique shops, and tons of character line downtown Ashland. A historic downtown plaza anchors this charming shopping and dining corridor, complete with an odiferous mineral water fountain. Walking through the heart of this downtown area is reminiscent of European street markets, with garden-lined paths and vibrant storefronts
This European flair also comes from downtown's proximity to the stages of the Oregon Shakespeare Festival. Expect leagues of theatergoers filling the streets before and after a show. The northern end of the sprawling Lithia Park connects with downtown, offering an easy escape from any crowds that might gather.
For delicious Shakespearean-themed entrees and décor, Oberon's Restaurant features aromatic entrees like Shepard's pie and beef stew. Greenleaf is another popular downtown restaurant offering fresh fare for every meal of the day. The Tudor Guild Shop offers other Shakespearean keepsakes to take home, and Bloomsbury Books is the quintessential local bookstore of Ashland.
Numerous events occur in downtown Ashland throughout the year, including the Ashland Saturday Market featuring fresh fruits, flowers, and veggies. First Friday Artwalk also takes place downtown once a month with a block party vibe.
4. Rogue River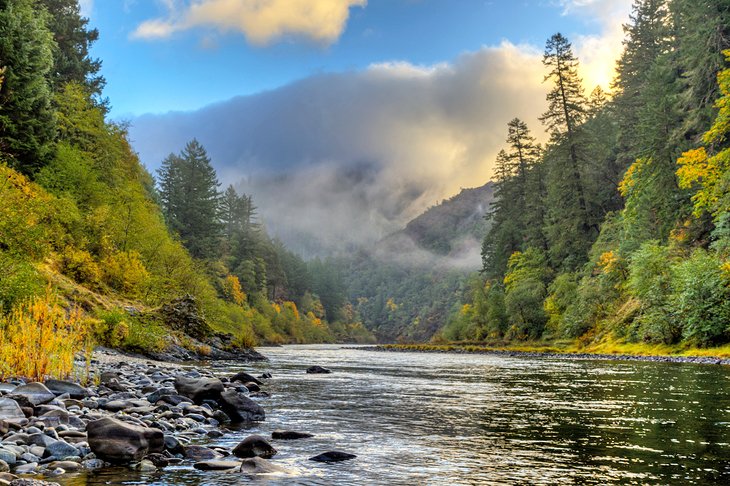 The Rogue River travels 215 miles from its headwaters in Crater Lake to the ocean at Gold Beach, carving through the landscape and creating a rich community on both sides. Numerous recreational, scenic, and tasteful attractions surround the banks of the river and subsequent Rogue Valley, including plenty of things to do on the water.
For one of the best paddling trips in the nation, the Wild and Scenic Lower Rogue River delivers, with lodge-to-lodge rafting tours and world-renowned white water. Paddlers travel from across the country to tackle the Lower Rogue in season, typically between April and October. Permits are required to put a boat on the water.
A half-hour north of Ashland and departing from the scenic and historic Table Rock Area, Rogue Jet Boat Adventures provides a fast-moving and guided ride atop the water. With great views of both Upper and Lower Table Rock, the guided tour details the history of the surrounding Rogue Valley with an emphasis on native populations of the region. Jet boat riders meet at TouVelle Park, which is also a great place for a picnic or quick dip in the river.
North towards Crater Lake and the river's headwaters, the Natural Bridge of the Rogue River further illustrates the unique beauty found along the banks. The trail leading to this unique natural feature caused by the river suddenly turning sideways into a 250-foot lava tube is paved and very accessible. Other popular things to do on the Rogue River include salmon fishing and hiking the Rogue River National Recreation Trail.
5. Emigrant Lake County Park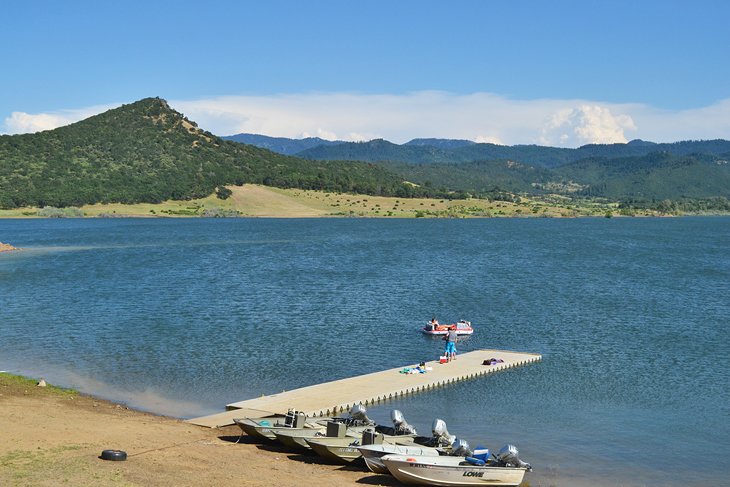 The wide-reaching shores of Emigrant Lake invite all types of summer fun within a thirty-minute drive of Ashland. Popular activities include boating, swimming, and spending the night next to the water. This proximity makes it a popular spot for weekend and after-work trips.
This 800-acre reservoir is a result of the impoundment of the Rogue River. It features two campgrounds that exclusively cater to tents or RVs respectively. Group campgrounds are also available at Emigrant Lake.
Official site: http://jacksoncountyor.org/parks/Camping/Emigrant-Lake
6. Crater Lake National Park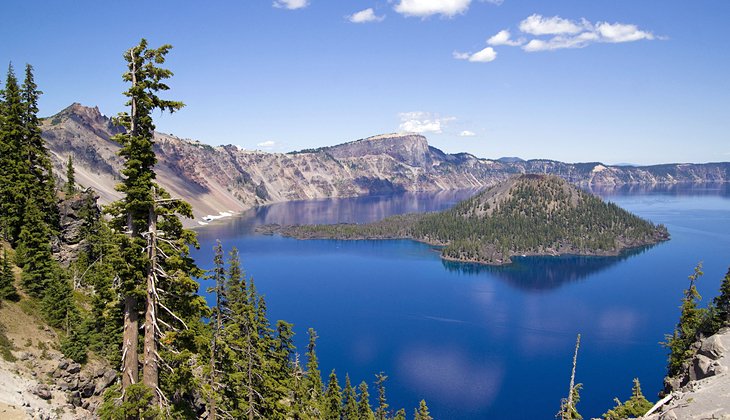 Crater Lake is one of the grandest natural marvels of the American West and is accessible from Ashland in just over an hour's drive. This stunning natural landscape is an ancient caldera formed by a massive volcanic event over 7,000 years ago. Today, it's filled with icy blue snowmelt and rainwater and is the deepest natural lake in the United States.
The most popular thing to do at Crater Lake is travel along the Rim Trail and stare in awe at the wonder below. The Rim Trail is also one of the best day hikes on the Pacific Crest Trail, and the hiker/biker sites at the park's Mazama Campground are often filled with thru-hikers spending the night. The campground also accommodates tents and RVs with over 200 sites available.
For additional things to do, hikers can take a ferry across Crater Lake to reach the protruding Wizard Island. And for something fun to do in the winter, the Rim Road remains unplowed and primed for cross-country skiing and snowshoeing.
Official site: https://www.nps.gov/crla/index.htm
7. Oregon Cabaret Theatre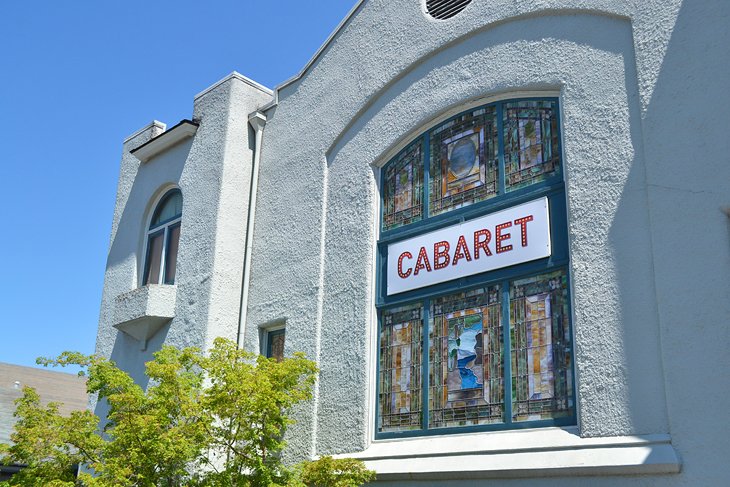 For additional theatrical attraction in Ashland, Oregon Cabaret Theatre offers dinner and a show. This current performance space was renovated from an old church in the neighborhood, adding a certain dramatic aesthetic to every show.
A variety of acts take place at the Oregon Cabaret Theatre, including season-long shows and special One Night Only performances. Guests can enjoy appetizers, dinner, and casual company before each performance, with a unique menu accompanying each production.
Address: 241 Hargadine Street, Ashland, Oregon
8. Ashland Ski Area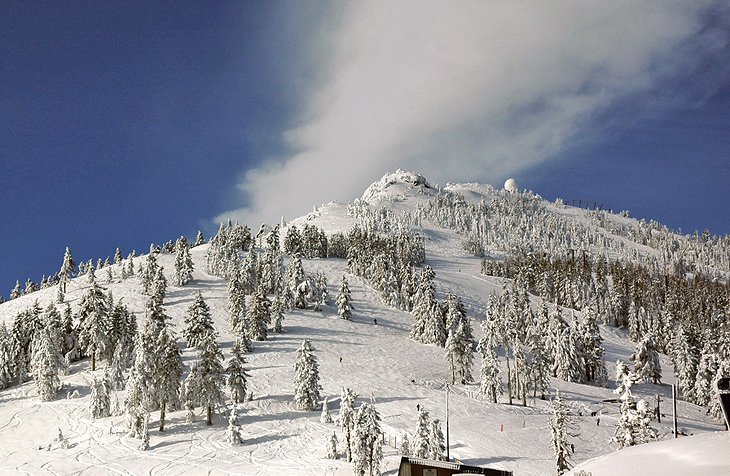 Mount Ashland is one of the premiere wintertime ski destinations in the region. It surrounds the tallest peak in the Siskiyou Mountains south of the city and is reachable from Ashland within an hour's drive. This proximity tends to pack the slopes on snowy weekends throughout the winter.
Mount Ashland encompasses over 200 acres and 23 named runs, offering plenty of room to spread out. Some of the runs access big mountain terrain at Mount Ashland, catering to experienced skiers and snowboarders only.
The mountain is also a local favorite based on its affordability. Lift tickets hover around $60 during the peak season, with special deals and discounts available. The mountain also draws a crowd with regularly occurring winter events, including a Midwinter Jam Series and a Dummy Downhill.
Address: 11 Mt. Ashland Ski Road, Ashland, Oregon
Official site: https://www.mtashland.com/
9. ScienceWorks Hands-On Museum
Engaging children of the Rogue Valley since 2002, ScienceWorks Hands-On Museum features numerous interactive exhibits aimed at spurring the imagination. Popular exhibits at this children's museum include a Wild Music multimedia display and a special Discovery Island for children five years old and younger.
Science Camps at the museum are often coveted by parents and children alike, and regularly occurring classes and programs offer fun things to do for the whole family. Check out the museum on the first Sunday of the month for specially reduced admission.
Address: 1500 E Main Street, Ashland, Oregon
Official site: https://scienceworksmuseum.org
10. Schneider Museum of Art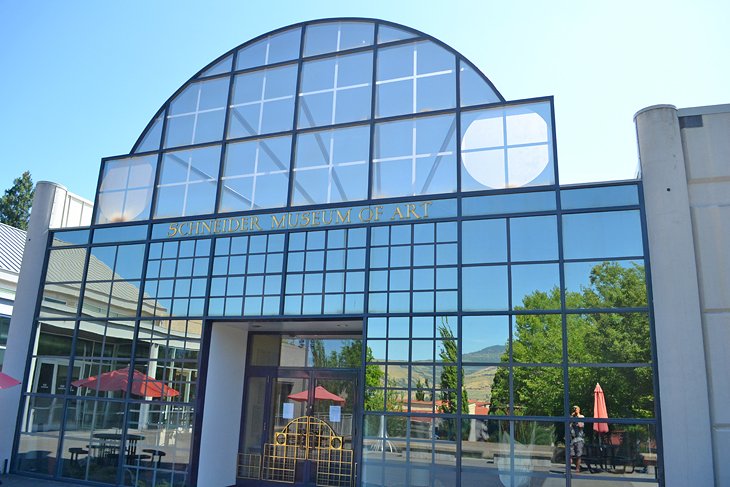 The Schneider Museum of Art has a heavy focus on visual displays on the campus of Southern Oregon University. It's open to all members of the public and showcases student, regional, and national artworks. The museum also regularly rotates their exhibits for something new to see with each visit.
The Schneider Museum of Art is part of the larger Oregon Center for the Arts at the University. Other cultural contributions on campus include chamber music concerts and a ShakespeareAMERICA Institute.
11. Oredson-Todd Woods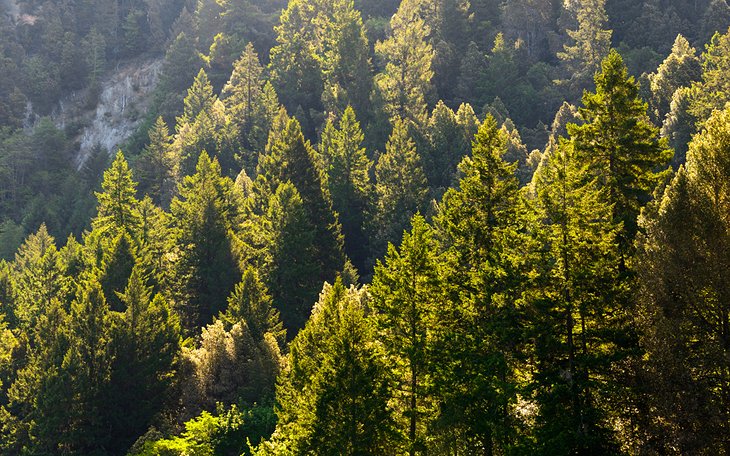 Above the south side of the city in the slopes of the Siskiyou Mountains, Oredson-Todd Woods provides a popular access point for hiking and mountain biking on the city's edge. Combined with the adjacent Siskiyou Mountain Park, over seven miles of challenging trails navigate the forested canyon.
The White Rabbit Trail is one of the most popular trails and extends beyond park boundaries. The trail and surrounding woodlands are a fun place to visit with dogs in Ashland, and the vertical terrain is well equipped to burn off some extra pet energy.
Official site: https://www.landconserve.org/oredsontodd-woods-siskiyou-mt-park
12. Ashland Library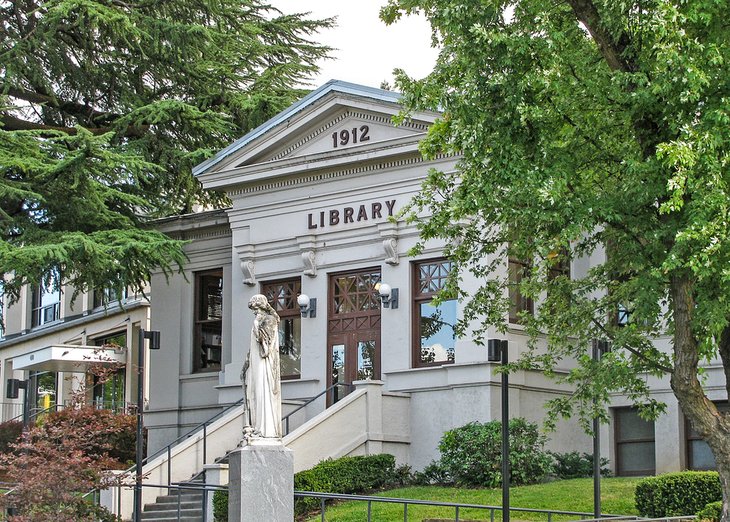 The Ashland Library stands out as a place to visit thanks to its many valuable resources and aesthetic design. The interior of the library caters to quiet study with high ceilings, natural light, and fast and free internet, and landscaped grounds surround the stately courthouse design of this Carnegie Library.
The library offers rentals of common popular resources like books, magazines, and newspapers. Other community resources include computer stations, kids' storytelling times, and public meeting rooms. Check the official website for current operating hours.
Address: 2196, 410 Siskiyou Blvd, Ashland, Oregon
Official site: https://jcls.org/ashland/home
13. Day Trip to Medford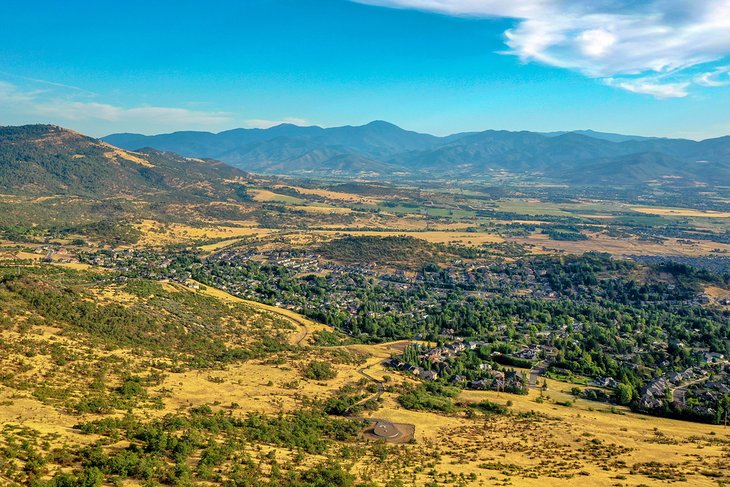 Medford is the largest city in Southern Oregon and a quick 13-mile drive from Ashland, heading north on Interstate 5. It has a larger footprint than Ashland, offering a bigger collection of restaurants, shopping, and hotels. And it also provides its own taste of community flavor with several stand-alone tourist attractions.
A few popular places to visit in downtown Medford include the Craterian Theater and the Southern Oregon History Center. The downtown area is also a fun place to amble around, guided by the senses. Several local restaurants, like Jaspers Café and Porters, offer reason to sit down awhile and enjoy a meal.
Like Ashland, the outdoors is a big appeal of Medford. Similar adventures entice day trips from Medford and one of the most popular is climbing to the top of the prominent nearby feature known as Table Rock. These two towering mesas, Upper and Lower Table Rock, offer a dazzling view with a short but steep hike to the top.
Ashland, OR - Climate Chart
Average minimum and maximum temperatures for Ashland, OR in °C
J
F
M
A
M
J
J
A
S
O
N
D

8

-2

12

-1

14

1

17

2

21

4

26

8

31

10

30

9

27

6

20

2

11

0

8

-2

PlanetWare.com
Average monthly precipitation totals for Ashland, OR in mm.

63

49

53

43

39

23

13

16

22

37

72

71

Average monthly snowfall totals for Ashland, OR in cm.

8

3

3

1

0

0

0

0

0

0

1

6
Average minimum and maximum temperatures for Ashland, OR in °F
J
F
M
A
M
J
J
A
S
O
N
D

47

29

53

31

57

33

63

35

70

40

78

46

87

50

86

49

80

43

68

36

52

32

46

29

PlanetWare.com
Average monthly precipitation totals for Ashland, OR in inches.

2.5

1.9

2.1

1.7

1.6

0.9

0.5

0.6

0.9

1.5

2.9

2.8

Average monthly snowfall totals for Ashland, OR in inches.

3.0

1.2

1.1

0.5

0

0

0

0

0

0

0.3

2.4
More Related Articles on PlanetWare.com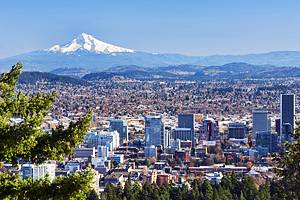 Other Cities in Oregon: Immediately to the north of Ashland, the city of Medford offers other prime examples of what makes the Rogue Valley such a fun place to visit. Farther north in the state, within the Willamette Valley, the collegiate city of Eugene caters to students, long-term residents, and tourists alike. For the cultural capital of Oregon, the city of Portland shines, with food trucks, bookstores, and distinct neighborhoods all filled with character.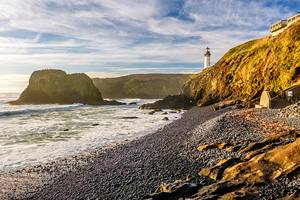 Exploring the Oregon Coast: From Astoria to Brookings, the top things to see on the Oregon Coast dazzle with seaside appeal. For a more in-depth look into some of the best spots to fish from the shore, hike a sand dune, or explore a tide pool, our guide to the best beaches on the Oregon Coast points the way. If it's some community flavor you're after, including numerous seafood restaurants touting the best in the West, the best small towns on the Oregon Coast deliver with a fresh taste.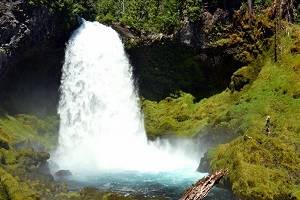 Adventure in Oregon: Ranging from ancient volcanic calderas to a stunning seashore, the state of Oregon is blessed with many adventurous things to do. The best hiking trails in Oregon cover all the dynamic landscapes of the state, and the best waterfalls focus on some of Oregon's fastest moving features. For a little rest and relaxation during adventure travel, the best hot springs in Oregon deliver with soothing delight.