12 Top-Rated Attractions & Things to Do in Redding, CA
We may earn a commission from affiliate links ()
In the northeast corner of California, Redding is surrounded by scenic natural attractions and numerous things to do outside. Near Lassen Peak and Mount Shasta, the Sacramento River runs right through the middle of the city, paralleled by the postcard perfect Sacramento River Trail. The 217-foot-tall Sundial Bridge is the gateway to the Sacramento River Trail and downtown Redding, and the centerpiece feature of Turtle Bay Exploration Park–Redding's top attraction for family fun.
Other fun things to do at Turtle Bay Exploration Park include regular animal shows, an interactive museum, and access to the well-manicured 20 acres of McConnell Arboretum and Botanical Gardens. With over 300 days of sunshine each year, things to do on the few rainy days in Redding include catching shows at the Cascade Theatre or checking out regional artworks at the Old City Hall Arts Center.
Redding has extra appeal thanks to the many day trips that surround the city. Wild and scenic rivers, high mountain peaks, and active volcanic areas are all reached from Redding in less than an hour's drive, as well as Shasta Lake–California's largest man-made reservoir. Popular day trips and things to do on the weekend from Redding include mountain biking, backpacking, cavern exploring, and all things paddle sports.
Plan your sightseeing with our list of the top attractions and things to do in Redding, CA.
Note: Some businesses may be temporarily closed due to recent global health and safety issues.
1. Turtle Bay Exploration Park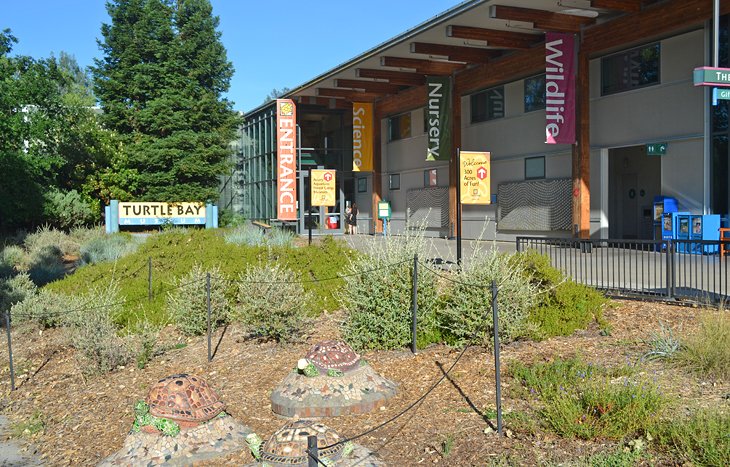 A 300-acre park and campus on the banks of the Sacramento River, Turtle Bay Exploration Park is the number one stop in Redding for family fun. The central attraction of the Exploration Park is Turtle Bay's Museum featuring numerous interactive exhibits detailing the connection between the city and its natural surroundings. Attractions at the museum include a Visible River Aquarium, a recreated cave system, and a main Exhibition Hall featuring artwork from around the world.
Other top attractions of the city stem outwards from the museum, including the striking Sundial Bridge spanning the Sacramento River. Connecting the museum to the lush acreage found at the McConnell Arboretum and Botanical Gardens, the Sundial Bridge is also the gateway to the scenic Sacramento River Trail. Numerous educational programs and events take place on the campus, including children's discovery camps and professional development workshops for adults.
Animal experiences occur regularly at the Paul Bunyan Forest Camp within the park, including a "Walk on the Wild Side" animal show at the Forest Amphitheater. A large butterfly house also tends to be popular between May and June, and special meet-and-greet experiences with the resident North American beavers can be scheduled ahead of any visit. An interactive Parrot Playhouse is also on campus, as well as themed play structures and historical steam engines.
Address: 844 Sundial Bridge Drive, Redding, California
Official site: https://www.turtlebay.org
2. Sundial Bridge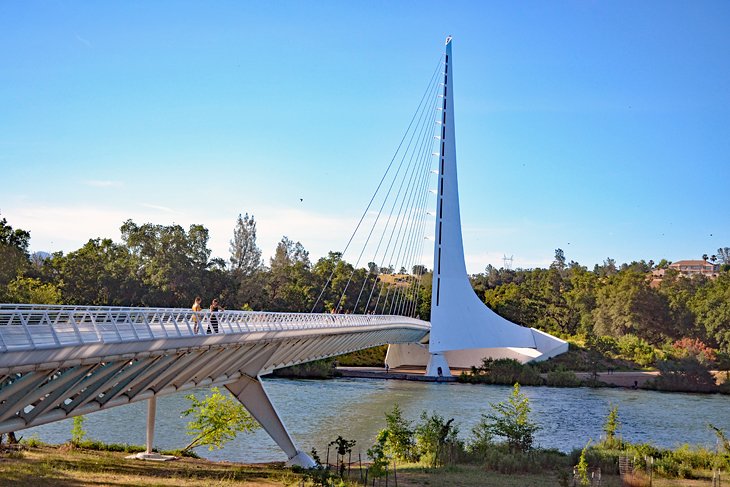 Within Turtle Bay Exploration Park and spanning the Sacramento River, the Sundial Bridge is an eye-catching and useful piece of urban engineering. Considered the gateway to downtown and the Sacramento River Trail, this massive sundial casts the correct time of day throughout the afternoon and features great views of the river. Completed in 2004, this 700-foot long superstructure has plazas on either end to enjoy the tranquil riparian habitat that surrounds it.
Official site: https://www.turtlebay.org/sundial-bridge
3. Whiskeytown National Recreation Area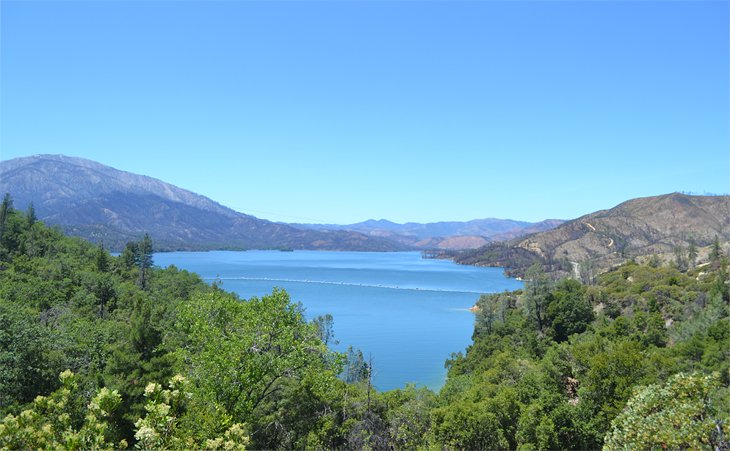 An easy 15-minute drive west of Redding, the massive expanse of Whiskeytown National Recreation Area is centered around Whiskeytown Lake. With over 30 miles of shoreline, water-based activities are popular things to do at this National Recreation Area, including swimming, fishing, and boating. Encompassing over 40,000 acres in total, the stunning natural space is also popular for land-based activities, including four waterfall hikes, all of which can be done together in a day.
Whiskeytown originated and takes its name from a mid-1800s Gold Rush community, and the latest chapter in its history comes from the devastating 2018 Carr Fire, which burned over 90 percent of the forest within the recreation area. Cleanup and recovery efforts began almost immediately.
Visitors are welcome to check out the natural environment at Whiskeytown, which is now bouncing back after the fires, and are encouraged to check the official website prior to visiting for a guide to area closures.
Official site: https://www.nps.gov/whis/index.htm
4. Sacramento River Trail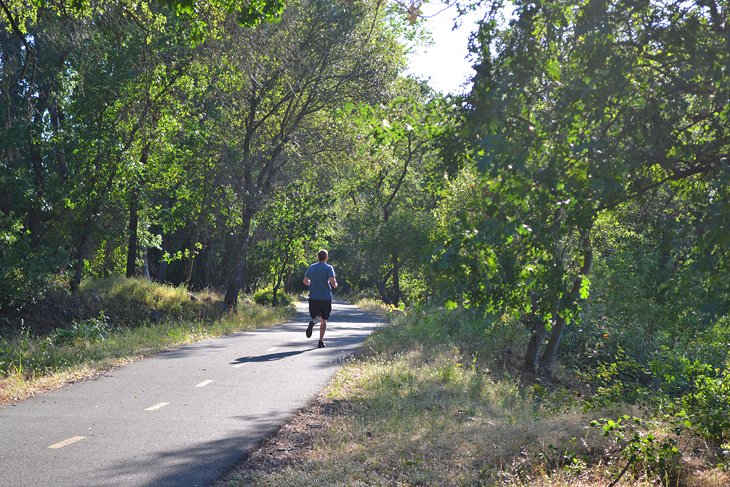 Lined with scenic attractions, the shady Sacramento River Trail extends from the eye-catching Sundial Bridge near downtown up to the Keswick Dam. Popular with walkers, cyclists, and strollers, the River Trail is paved the entire way and features numerous trailheads, restrooms, and park benches along the route. The River Trail is also popular with dog owners looking to burn off some extra pet energy.
For extended adventures, the trail connects with the Sacramento River Rail Trail and follows converted railroad tracks all the way to Shasta Dam. This 17-mile route from the Sundial Bridge to Lake Shasta is a popular all-day bicycling route, including a refreshing dip in Lake Shasta at the turnaround point. The Sacramento River Trail and Sacramento River Rail Trail combined comprise the Sacramento River National Recreation Trail.
5. Shasta State Historic Park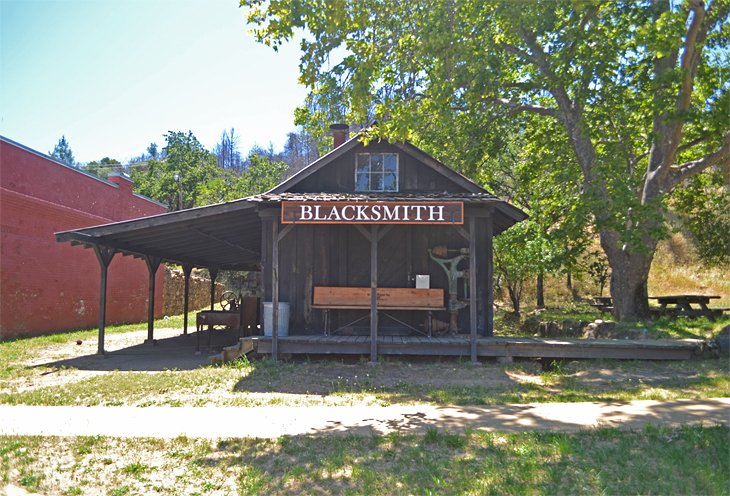 Once the "Queen of the Northern Mines," much of what remains of the historic city of Shasta are the remnants and ruins within this public park, which provides interesting insight into the California Gold Rush. Visitors to Shasta State Historic Park should start their exploration at the Courthouse Museum. Restored to resemble its 1860 appearance, the Courthouse Museum is filled with numerous artifacts, displays, and information regarding this 19th-century gold-mining town.
Address: 15312 CA-299, Redding, California
Official site: http://www.parks.ca.gov/?page_id=456
6. McConnell Arboretum and Botanical Gardens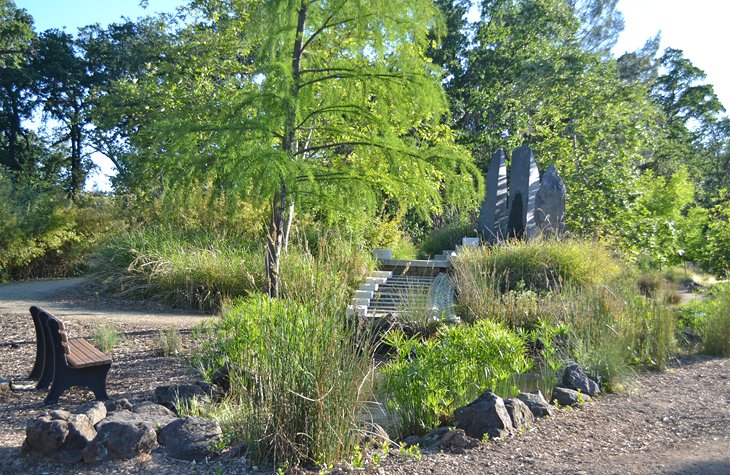 Part of Turtle Bay Exploration Park, across the Sacramento River from the museum via the Sundial Bridge, this 20-acre arboretum and garden space features living demonstrations of the local flora. With extensive landscaping and primarily Mediterranean garden displays, the grounds of McConnell Arboretum are simply fun to stroll and enjoy the day. Lending easy access to the equally stunning Sacramento River Trail, the gardens are a great place to start or end a bike ride.
Address: 1125 Arboretum Drive, Redding, California
Official site: https://www.turtlebay.org/gardens
7. Shasta Lake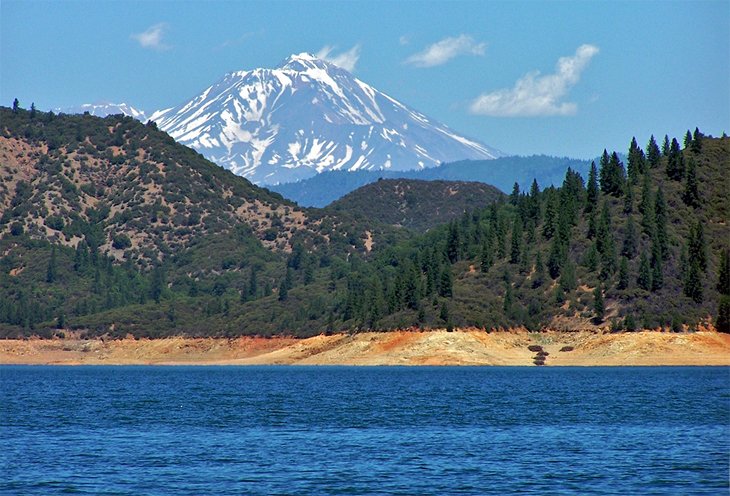 A massive reservoir with many fingers, Shasta Lake is the state's largest man-made water feature, with over 360 miles of shoreline. Numerous coves, access points, and secret pull-off spots line this massive lake, providing many things to do and ways to enjoy the water. Boating is by far the most popular activity at Shasta Lake, especially come summer, with hundreds of vessels, ranging from one-person kayaks to houseboats each finding their own space to explore.
It's a 20-minute drive from Redding to some of the southern shores of Lake Shasta, making this valuable water resource practically in the backyard of the city. With stunning views of the perpetually snow-covered Mount Shasta glistening on the horizon, Shasta Lake is surrounded by other adventurous things to do. Only accessible via a guided boat ride and tour, Lake Shasta Caverns is a popular trip for the whole family to enjoy, only 20 miles from Redding.
8. Lassen Volcanic National Park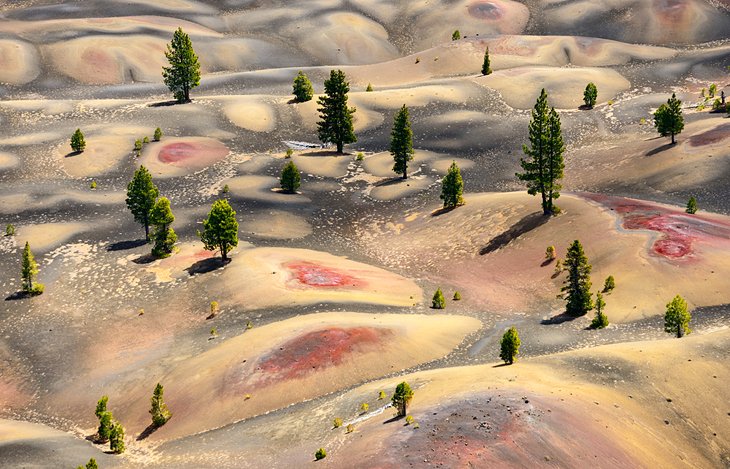 A great day trip from Redding, the active environment of Lassen Volcanic National Park can be accessed from the city in less-than-hour's drive. The park features numerous things to do outdoors, including hiking on the 150-mile trail system, stargazing throughout the park's many campgrounds, and walking the boardwalks lined with fumaroles, mud pots, and boiling pools. With an average of 30 feet of snow in the winter, Lassen is also popular for skiing and snowshoeing.
Popular hiking trails at Lassen Volcanic National Park include Echo Lake, Devils Kitchen, and Lassen Peak, all within different regions of the park. Several hikes in Lassen are snow covered throughout the year, and parking can be limited at popular trailheads throughout the summer. The nation-spanning Pacific Crest Trail travels 17 miles through the park, leading to a collection of thru-hikers congregating outside the Lassen Café within the park.
Official site: https://www.nps.gov/lavo/index.htm
9. Cascade Theatre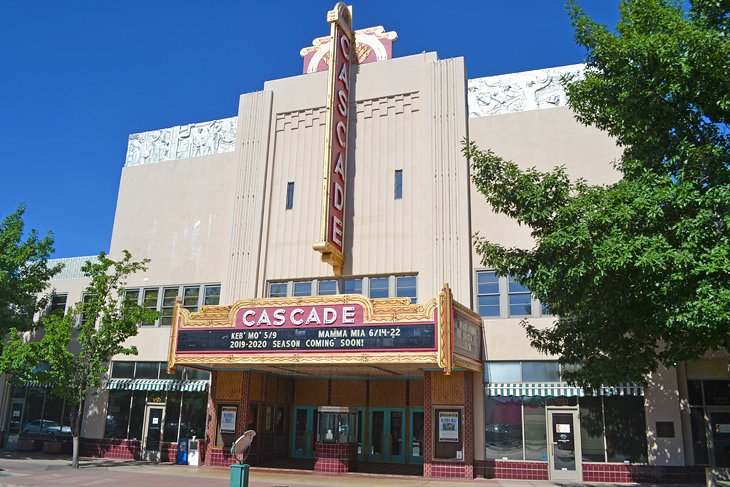 Entertaining the community since 1935 and now on the National Register of Historic Places, this community favorite venue continues to put on great shows. Regional and nationally touring performances in music, theater, and comedy fill the event listings of the Cascade Theatre, all backdropped brilliantly by the preserved 1930s Art Deco interior design. For cinephiles, film and movie titles also fill the historic marquee of the Cascade Theatre.
Address: 1731 Market Street, Redding, California
Official site: https://cascadetheatre.org
10. Shasta-Trinity National Forest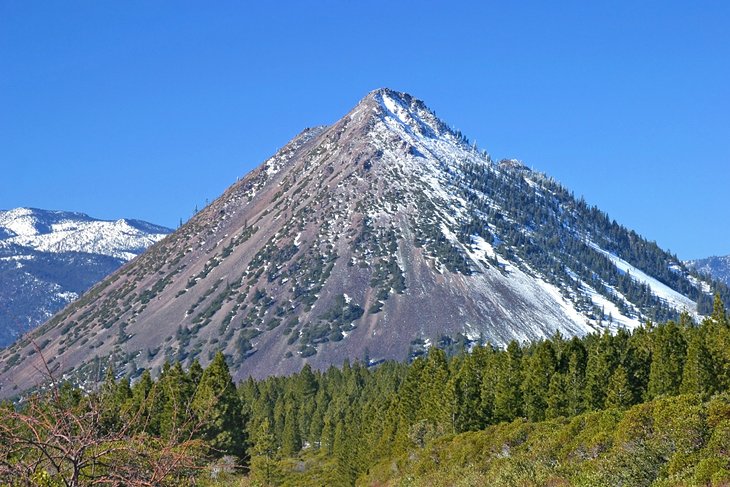 A great day trip or extended weekend getaway from Redding, the lush surroundings of Shasta-Trinity National Forest are within an hour's drive of the city. Encompassing over two million acres, including wild and scenic rivers, hundreds of trail miles, and five designated wilderness areas, Shasta-Trinity provides outdoor lovers a lifetime of things to do. Popular activities within the national forest rotate throughout the seasons, ranging from mountain climbing to cross-country skiing and including backpacking, fishing, and horseback riding.
Surrounded by Shasta-Trinity National Forest, Castle Crags State Park is a popular day-trip destination or overnight travel spot, with a campground available. Backdropped by impressive 6,000-foot mountains, the campground at Castle Crags has over 70 campsites available for tents and RVs. Popular with long-distance and day hikers, one of the best day hikes on the Pacific Crest Trail passes through Castle Crags State Park.
Official site: https://www.fs.usda.gov/main/stnf/home
11. Old City Hall Arts Center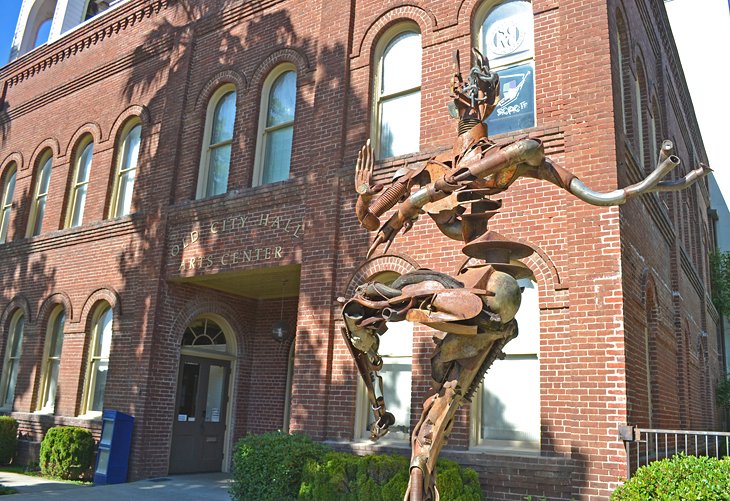 Originally constructed in 1907 and now administered by the Shasta County Arts Council, the Old City Hall Arts Center is a creative community space open for the public to enjoy. Great for a rainy day or a creative afternoon spent indoors, numerous classes, camps, and open studio times take place at the Art Center throughout the year. The gallery within the Old City Hall Arts Center features local and regional artists with regularly rotating exhibitions.
Address: 1313 Market Street, Redding, California
Official site: https://www.shastaartscouncil.org/old-city-hall/
12. Swasey Recreation Area
Operated by the Bureau of Land Management, Swasey Recreation Area offers 17 miles of woodland trails to explore southwest of the city. Popular with trail runners and mountain bikers, some trails include special features like berms, bumps, and jumps. The adjacent Mule Ridge Trail increases the exploration possibilities at Swasey Recreation Area, providing more outlets to enjoy wildflowers, wildlife, and excellent views of Mount Shasta, as well as remnants of historic gold mining encampments.
Official site: https://www.blm.gov/visit/swasey-recreation-area
Where to Stay in Redding, California for Sightseeing
Mid-Range Hotels:
Budget Hotels:
One of the best deals in town, Travelodge by Wyndham Redding

CA

, offers competitive rates and clean rooms. The hotel has an excellent reputation for its comfortable rooms and convenient location, just north of the Sundial Bridge and McConnell Arboretum. Other amenities that encourage repeat visits include an outdoor pool, high-speed internet, and complimentary breakfast. Standard rooms and more spacious suites are available.
At the heart of downtown, Thunderbird

Lodge

offers a great rate in a prime location. This roadside hotel has provided rooms for several decades and today has a nostalgic feel alongside modern amenities. Standard king and double-queen rooms are available, as well as accommodations with a small kitchenette, including an electric stovetop. Alongside the low overnight rate, complimentary parking is also available, which is a real value in this busy downtown area.
The Super 8 by Wyndham

Redding

, east of downtown on the Interstate 5 corridor, offers another reputable place to stay with low overnight rates. This pet-friendly hotel features clean and comfortable standard rooms, with a combination of bedding available. Each room comes with a coffee maker, air-conditioning, and a high-definition TV. Complimentary high-speed Wi-Fi is also available throughout the property.
More Related Articles on PlanetWare.com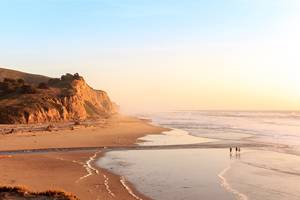 Exploring Northern California: For seaside attractions in Northern California, the historic and eccentric city of Eureka delivers, with coastal temperatures and a creative community. More sandy beaches and postcard aesthetics can be found on the best beaches of Northern California. For culture and entertainment in Northern California, the many things to do in San Francisco appeal to tourists young and old.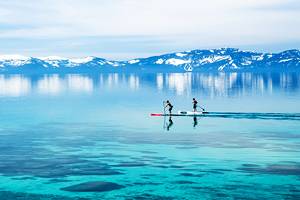 Sacramento and Lake Tahoe: Another prominent stop when exploring Northern California, the city of Sacramento is brimming with cultural appeal. To find the right hotels that fit your type of travel, our guide to Sacramento hotels spans everything from budget-friendly accommodations to luxurious resorts. Lake Tahoe is another common destination to head to from Redding, including many of the best campgrounds at South Lake Tahoe.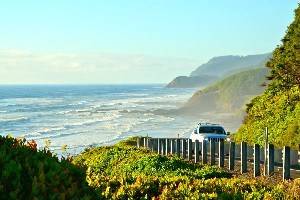 California Road Trip: Many of the best places to visit in California require multiple days to explore, including spots like Los Angeles, Yosemite National Park, and Mammoth Lake. For a great way to link together many memorable destinations, some of the best West Coast road trips tour through California for an epic ride. To add some unique destinations to a California itinerary, our guide to California off-the-beaten-path offers extra special suggestions.