9 Best Campgrounds at South Lake Tahoe, CA
Water sports, hiking trails, and the glorious stretches of beach that line the cobalt blue waters and turquoise bays of Lake Tahoe make it a dream destination for summer camping in California. Daytime temperatures are not oppressively hot, and nights are wonderful for sitting around a campfire.
South Lake Tahoe is one of the most popular areas around the lake. You can find private, city-operated, and government-run campgrounds. Some have only a dozen campsites or less; others can accommodate 200 to 300 tents and RVs.
Campgrounds only operate from spring until fall, usually from mid-May to mid-October, but some campgrounds may have a more limited season depending on the year and conditions.
Pets and camping in the Lake Tahoe area don't mix well. Many of the commercial operations do not accept pets. In the state parks, dogs are not allowed on any of the trails or beaches, but they are allowed in some of the campgrounds on a leash.
For details on camping, see our list of the best campgrounds at South Lake Tahoe.
1. D.L Bliss State Park Campground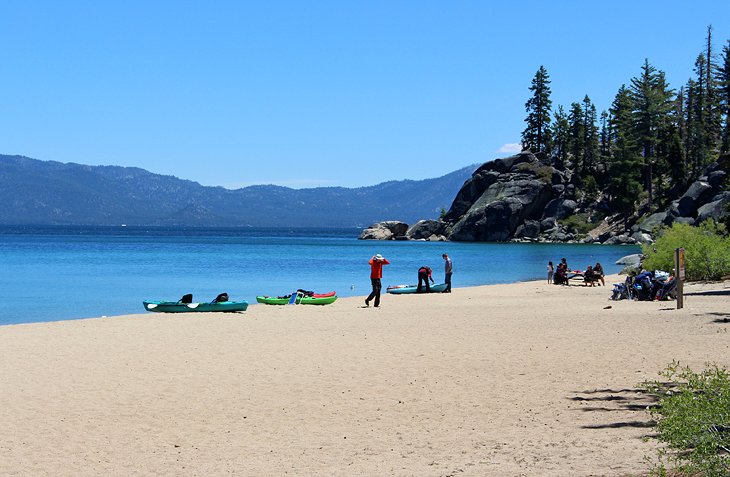 D.L. Bliss State Park has one of the most scenic locations on Lake Tahoe. A beautiful stretch of golden sand, bounded by impressive rock outcroppings, lines the waterfront. The water is crystal clear, and in the distance, you can see the mountains on the opposite shore.
Kayakers can put in from the beach and explore the shores, children can play in the shallow water, and hikers can access the popular Rubicon hiking trail directly from the park.
The park's campground is set high up above the lake, with sites closest to the lake offering glimpses of the water through the pine trees. Sites are set in a heavily wooded area and are generally well-spaced and private.
The campground is divided into five loops, all of which are more than acceptable. The Beach Camp Loop, which includes sites 142 to 165, is closest to the beach and is the most desirable camping area in the park.
Sites can be reserved online up to six months in advance. Note that the campground is not designed for large RVs. The maximum size is 18 feet, and the maximum size for a trailer is 15 feet. Showers and a dump station are available.
All food must be stored in the storage lockers provided, as black bears are prevalent.
2. Meeks Bay Resort and Marina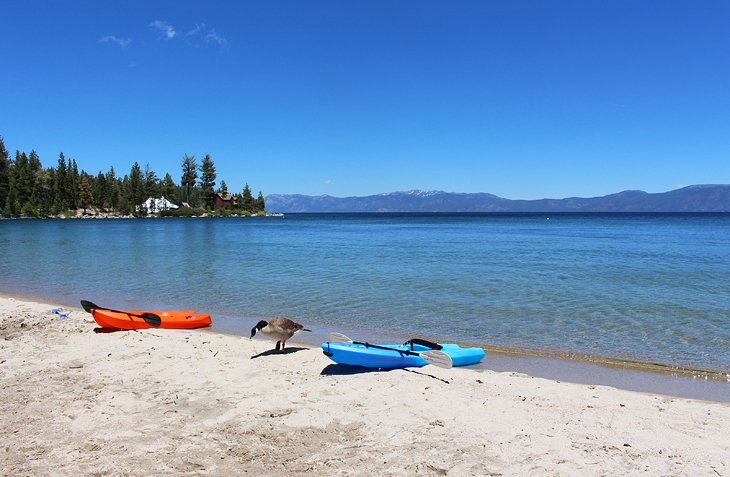 If you are looking for more amenities and a summer camp or resort type of atmosphere, Meeks Bay Resort and Marina is the perfect choice. Along the waterfront of Meeks Bay is a large, crescent-shaped beach with shallow water, perfect for young children.
The resort backing the beach is a large-scale operation, with cabins overlooking the lake, a beachside restaurant, and a campground.
This is a big campground with spacious sites, towering pine trees, and easy access to the beach. The campground offers tent and RV sites, full hookups, some pull-through sites, and restrooms and showers. Pets of any kind are not accepted at this resort.
Reservations should be made as far out as possible and are accepted online the first week of May for the following summer.
Official site: https://meeksbayresort.com/
3. Meeks Bay Campground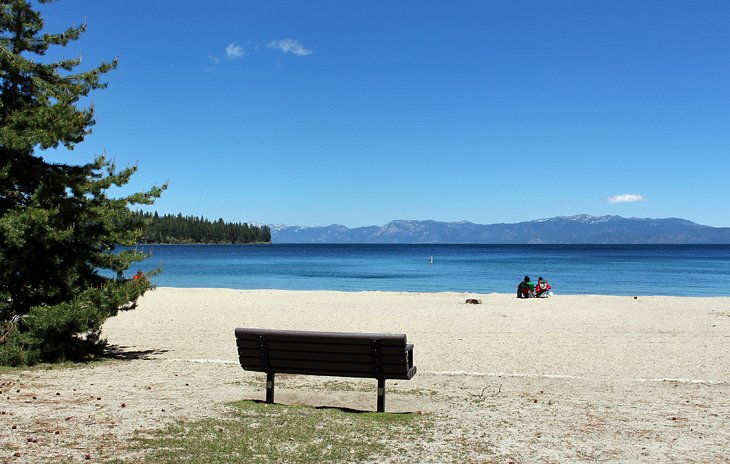 Located just down the beach from Meeks Bay Beach Resort and Marina is the small, federally operated Meeks Bay Campground. This is a much quieter and more primitive camping experience than the resort, but still set along the same fabulous stretch of beach.
Sites are big and bright but generally quite close together. Large pine trees offer shade here and there, and some sites have nice views over the lake. Campsites are all back-in and do not have hookups. RV sites can typically accommodate equipment of 18 to 25 feet in length, with a few exceptions for longer units.
The campground is set relatively close to the highway, so traffic noise can be a factor. Facilities include flush toilets but no showers. Reservations can be made up to six months in advance on a rolling date basis.
4. Fallen Leaf Campground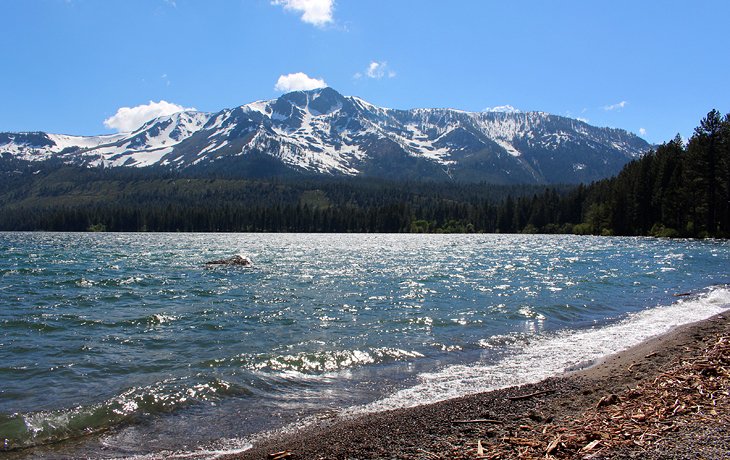 If you don't have your heart set on camping along the lake, Fallen Leaf Campground is the perfect choice. Set amid towering pines and surrounded by forest, this campground offers a more wilderness style experience.
A short trail to Fallen Leaf Lake leaves from the campground, offering a nice escape from the crowds along Lake Tahoe, a little less than a mile away. Other trailheads in the area include Glen Alpine and Mt. Tallac, as well as the Moraine Trail, which leaves directly from the campground.
Fallen Leaf Campground offers 200 tent and RV sites, as well as six yurts. Parking pads are paved, and some sites are pull-through. The maximum length varies by campsite, but some sites can accommodate very large units. Facilities include flush toilets. Reservations must be made in advance.
5. Eagle Point Campground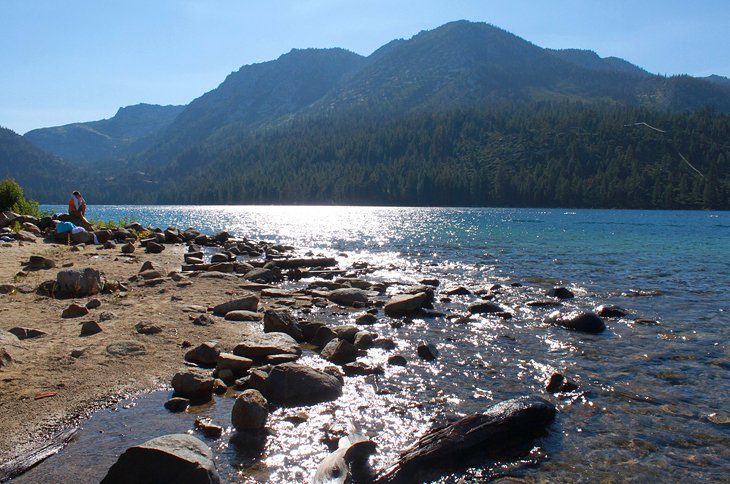 Eagle Point Campground is located in Emerald Bay State Park, on a point of land at the entrance to Emerald Bay. This scenic spot is a good base for exploring the area.
The trailhead for the Rubicon hiking trail, one of the most popular hikes near South Lake Tahoe, is located in this campground. Farther up the highway is Eagle Falls, as well as more hiking trails.
This campground opens later in the season than many of the other campgrounds in the area. Sites are small and can accommodate tents, trailers up to 18 feet, and motorhomes up to 21 feet. Make sure the campsite you book is large enough to contain your equipment.
If you are considering camping here and have a dog, note that dogs are not allowed anywhere in the park outside of the campground.
Reservations can be made at Emerald Bay State Park up to six months in advance.
6. Campground by the Lake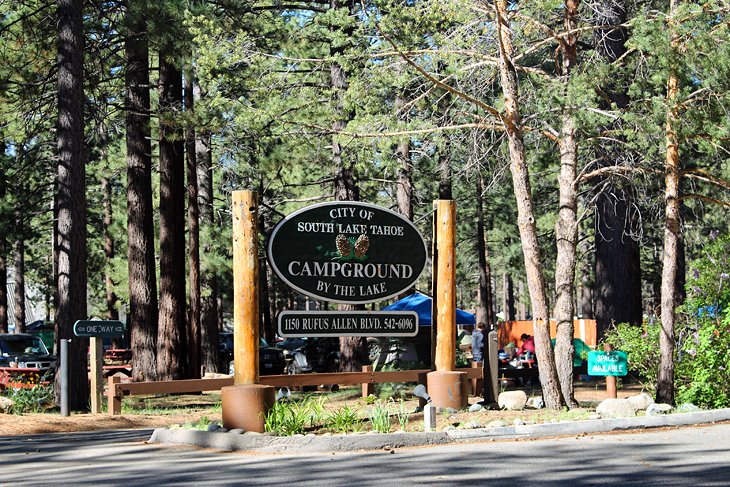 Located right in the town of South Lake Tahoe, Campground by the Lake is extremely convenient for visitors who are simply here to enjoy the lake, beaches, and town.
Large pine trees provide plenty of shade, but a lack of ground cover, particularly on sites closest to the lake, means campers may have little privacy. The sparkling blue lake can be seen through the trees from many of the campsites.
This large campground is operated by the City of South Lake Tahoe. The 178 sites can accommodate tents and RVs of almost all sizes. Loop A has full hookups and Loop B has only electrical hookups. The campground has Wi-Fi and some cell phone reception, which is a serious advantage for campers who want to stay connected.
Nearby are a public playground and basketball courts. The campground is pet-friendly, with up to three dogs allowed per site.
For 2022, Campground by the Lake has significant infrastructure improvements planned. The most significant development is the construction of a brand-new aquatics and recreation center. The addition of this fantastic new facility will revitalize this popular campground. However, with construction comes noise, dust, and an overall disturbance to the tranquility. Campers should be prepared to deal with this throughout the 2022 season. Also, due to the construction, campground loops A, B, and C are not available for advance reservations.
You can reserve a site up to one year in advance.
7. Bayview Campground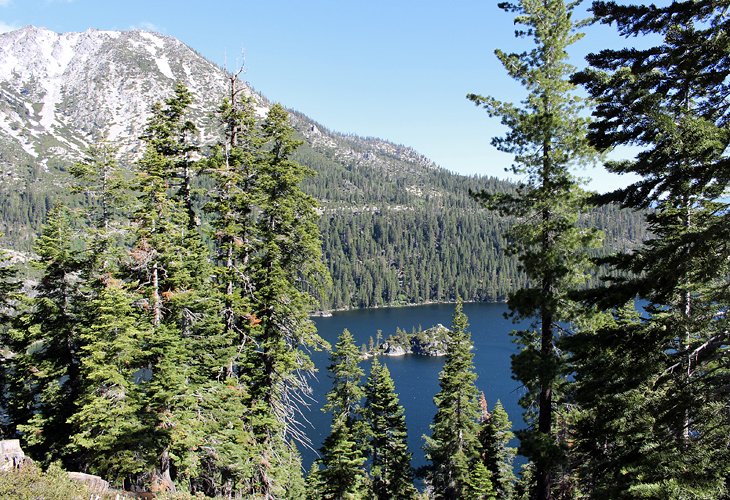 Directly across the highway from Inspiration Point Lookout on Emerald Bay is the small Bayview Campground. For hikers and sightseers, it's hard to beat this fabulous location. You can hike right from this campground to some of the most popular hiking trails in the area, including Cascade Falls/Cascade Lake, Granite Lake, and beyond to other connecting trails that run through Desolation Wilderness.
The campground is right off Highway 89, so traffic noise is a factor. However, considering parking can be very difficult to find along this scenic stretch, being able to access many of the sites on foot is a real advantage.
You can't see Emerald Bay from the campground, but there are views through the large trees to the surrounding mountains. For nice views over the water, walk across the highway to the lookout.
This campground has 12 first-come, first-served campsites, which can accommodate tents and small RVs. Facilities include pit toilets, and each site has a picnic table, fire pit, barbecue, and food storage locker.
Note that the campground is at an elevation of 7,100 feet, so the nights will be cool to cold, even in the middle of summer.
8. Campgrounds at Camp Richardson Historic Resort and Marina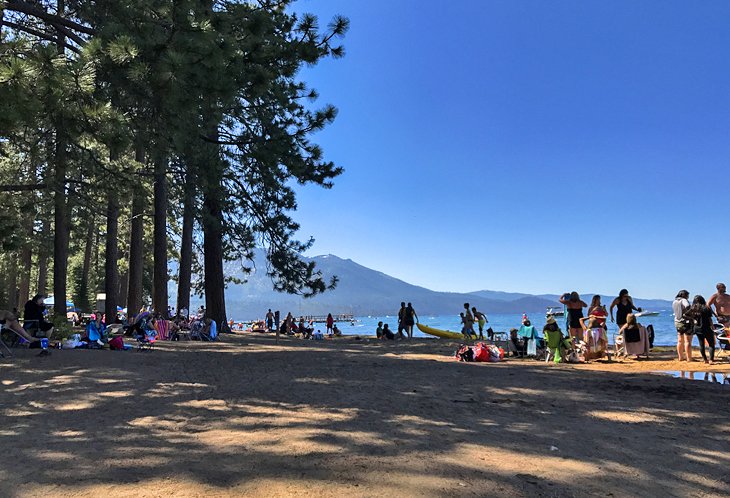 Just west of South Lake Tahoe, Camp Richardson Historic Resort and Marina is a large operation with various accommodation options, including a hotel, cabins, and three campgrounds. Two campgrounds, Eagle's Nest and Badger's Den, offer well over 100 tent sites.
The separate RV Village, complete with full hookups, can accommodate approximately 100 RVs. Its convenient waterfront location and full range of on-site amenities, from a store and restaurant to sports equipment rentals, make this a great choice for families. However, they do not accept pets.
Official site: https://www.camprichardson.com/
9. Ed Z'berg Sugar Pine Point State Park Campground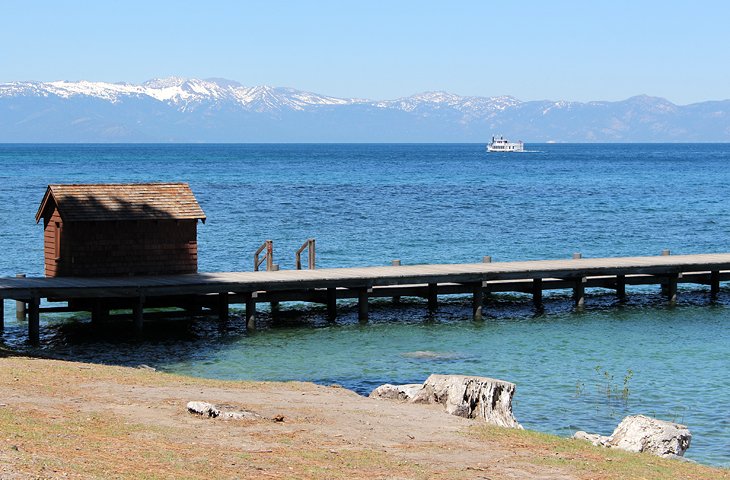 Located about a 40-minute drive northwest of South Lake Tahoe, just north of Meeks Bay, Ed Z'Berg Sugar Pine Point State Park is set on a beautiful point of land on the edge of Lake Tahoe.
The park's most famous feature is the Ehrman Mansion, but its real charm is the setting. Tall pines line the rocky shoreline and look out over the shallow, turquoise waters that transition to a glistening dark blue before reaching the mountains on the far side of the lake.
The campground is well back from the water and on the opposite side of the highway from the lake, a little less than a mile from the main area of the park. The camping area is heavily treed with large pines, which block much of the light and leave the campsites a little dark. Most sites are very large and well-spaced.
This is forest camping, and the campground is not near the lake, but a walking trail connects the campground with the waterfront area. Facilities include flush toilets, showers, and an RV dump station. Trailers up to 26 feet and motorhomes up to 32 feet are accepted.
Reservations can be made at Ed Z'Berg Sugar Pine Point State Park up to six months in advance on a rolling date basis.
Map of Campgrounds at South Lake Tahoe, CA
Frequently Asked Questions
When is the best time to camp at Lake Tahoe?
Average minimum and maximum temperatures for South Lake Tahoe, CA in °C
J
F
M
A
M
J
J
A
S
O
N
D

5

-9

6

-8

8

-6

12

-3

16

0

21

3

26

4

26

3

22

1

17

-3

9

-7

6

-10

PlanetWare.com
Average minimum and maximum temperatures for South Lake Tahoe, CA in °F
J
F
M
A
M
J
J
A
S
O
N
D

41

15

42

17

46

22

53

26

61

32

70

37

79

40

79

38

72

33

62

26

49

20

42

14

PlanetWare.com
The best time to camp at Lake Tahoe is from June through to the end of August. At this time of year, the weather is sunny and warm with temperatures in the mid to high 70s Fahrenheit.
The beaches are inviting, and the hiking trails will be free of snow. However, with the warmer weather also come the crowds. It's imperative that you book a campsite in advance or you will be out of luck.
For a quieter and cheaper camping experience, consider September. The weather is still fine, and the crowds will have departed – especially mid-week. You'll be looking at warm days in the low 70s, but the nights will be cooler and downright cold by the end of the month.
For something completely different, consider camping in May. You may be able to ski in the morning and lay on the beach in the afternoon!
One thing to consider when camping at Lake Tahoe is elevation. The lake is set at 6,229 feet, which makes the air thin. You may find yourself huffing and puffing as you set up your site. The other factor related to elevation is temperature. At this height, as soon as the sun sets, you'll note a distinct chill in the air. Even during the hottest days of summer, the nights can be downright cold. Be sure to bring a warm jacket and long pants for evenings spent around the campfire.
Explore More Camping & Outdoor Destinations in California