6 Best Campgrounds in Sequoia National Park
In a place where time seems to have stood still for centuries, you can wander around the base of giants from another age, and camp in the surrounding forest. The sequoias here are the largest living things on Earth, and among the oldest. The ages of these living monuments vary, but some date back more than 2,000 years.
The trees you see today were born during the time of the Roman Empire, or the Dark Ages, or, in the case of the younger ones, when Columbus first set sail for the Americas. And General Sherman, the largest living tree on Earth, sprung to life around the 1st century.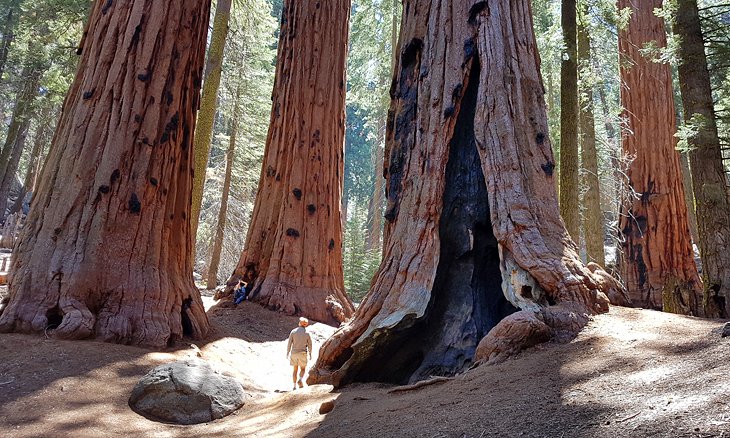 If you have an opportunity to camp here, you should seize it. After touring the park and hiking among the giant sequoias, there is no better way to cap off the day than to pitch your tent below towering pines and set up a chair under the night sky.
Campgrounds in the park, particularly those close to the giant sequoia groves, are wonderful places to appreciate nature and soak up the tranquil environment. If campgrounds in Sequoia National Park are full, you can also find outstanding campgrounds at nearby Kings Canyon National Park.
Unlike other parks, Sequoia National Park has a slightly different reservation process. Instead of lotteries and six-month rolling windows here, you can only book 30 days in advance of your arrival date. This process is only in place during peak season, generally from Memorial Day through to Labor Day. Outside of these times some, but not all campgrounds, are available on a first-come, first-served basis.
1. Lodgepole Campground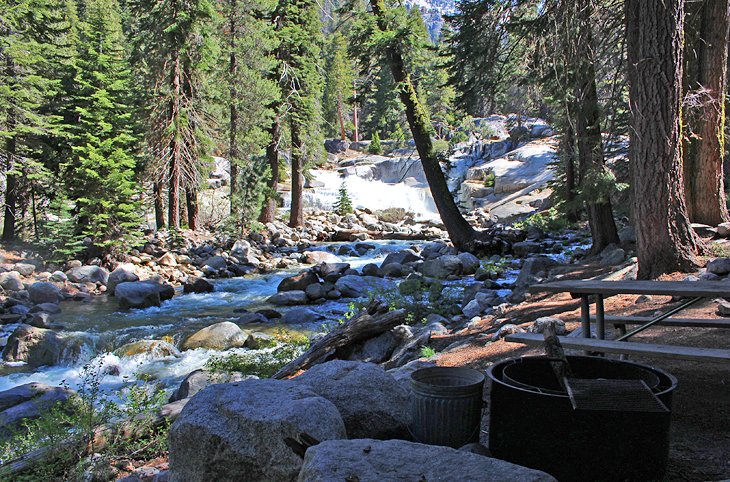 Set along a picturesque portion of the Marble Fork of the Kaweah River, this large, boulder-strewn campground has the best location in the park. The Giant Forest area, where many of the largest sequoias are found, is just two miles from here, and the campground is also conveniently located directly behind the Lodgepole Village Visitor Center.
At the Village Visitor Center is a store and a shuttle bus stop. Shuttle buses transport visitors to the park sites and trailheads.
The campground has a mix of sites in several loops on both sides of the river, but the most beautiful sites are those farthest from the visitor center, getting progressively better as you work your way up stream.
On the south side of the river, campsites creep up the hillside and are nicely treed. In the very last loop, at the upper end of the river, a waterfall cascades over smooth rocks and huge boulders, and runs past a number of campsites. Mountain tops are visible in the distance, beyond the falls.
Some of these sites are easy-to-access, walk-in tent sites, with rocks forming the boundaries of each camping space. Large pine trees provide plenty of shade and a forest-like setting. This is a quieter area of the campground.
Campsites on the north side of the river are pleasant, although more open, and generally receive more light. Sites very near the visitor center are extremely exposed, with little shade and no privacy, but are still a good option if nothing else is available, particularly for RV campers.
This campground has more than 200 tent and RV sites, and can accommodate RVs up to 42 feet. It is located at an elevation of 6,700 feet and open from mid-April to the end of November, but this can vary depending on snow conditions.
Reservations are available 30 days in advance of your visit during the summer months, from late May through late September. Outside of these dates, sites are first-come, first-served.
2. Stoney Creek Campground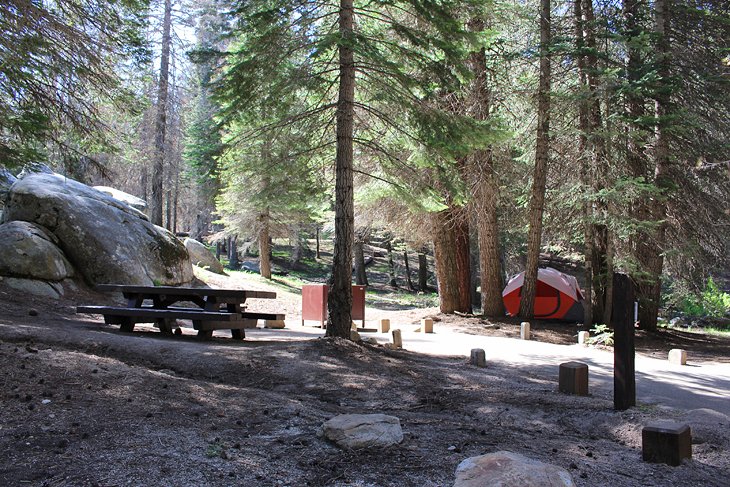 Stony Creek Campground is located just beyond the southern edge of Kings Canyon National Park and is a Forest Service campground, but it is convenient for visiting Kings Canyon or Sequoia National Park. The drive time to Grant Grove Village in Kings Canyon to the north, and to Lodgepole Village to the south, is about 25 minutes from Stony Creek Campground.
The main campground here has 50 reservable sites and is set in a heavily forested area with hills and large boulders at the back of some sites. The campground is located at an elevation of 5,250 feet.
A river runs alongside the campground. Sites are heavily shaded and generally small but well-spaced. Most are best suited to tents or small RVs. Facilities include flush toilets and showers, as well as picnic tables, food storage lockers, and fire pits at each site.
Across the road is the Stoney Creek Day Use Area and Upper Stony Creek Campground, an 18-site campground with large, open campsites. The sites here are actually nicer than the main campground, but facilities are limited to pit toilets. As these are Forest Service campgrounds, reservations for both campgrounds are accepted on a rolling date basis six months out.
3. Buckeye Flat Campground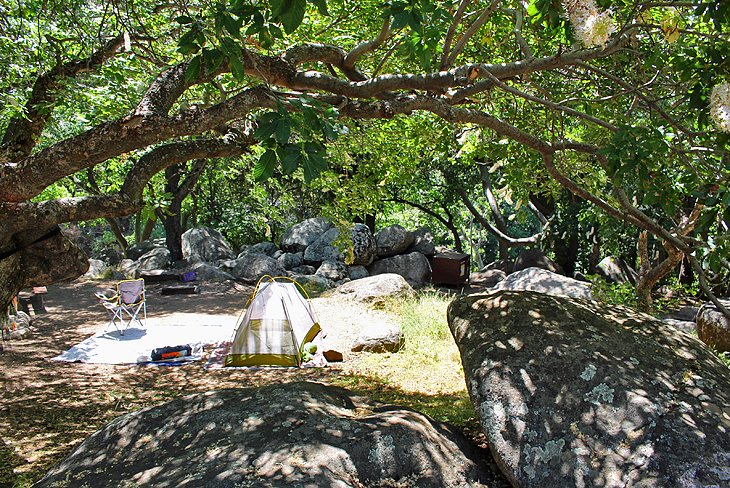 Buckeye Flat is located in the south section of Sequoia National Park, near Hospital Rock, and at least a 30-minute drive from the major attractions in the park, like Moro Rock or General Sherman Tree.
Set above a scenic section of the Middle Fork of the Kaweah River, this quiet campground offers 28 private, shady, tent-only sites, dominated by large and sprawling deciduous trees. Sites don't have clear river views, but you can hear the rushing water below. Each site has plenty of space to spread out, and many are surrounded by large rocks and low-level vegetation.
The elevation here is only 2,800 feet, much lower than most of the other campgrounds in the park. As a result, the summer temperatures here are hot, but spring and fall are very pleasant.
Buckeye Flat Campground is open from late March or early April to September, and sites can only be reserved 30 days in advance of your intended visit. Access to the campground is along a narrow, two-way road that hugs the mountainside.
4. Potwisha Campground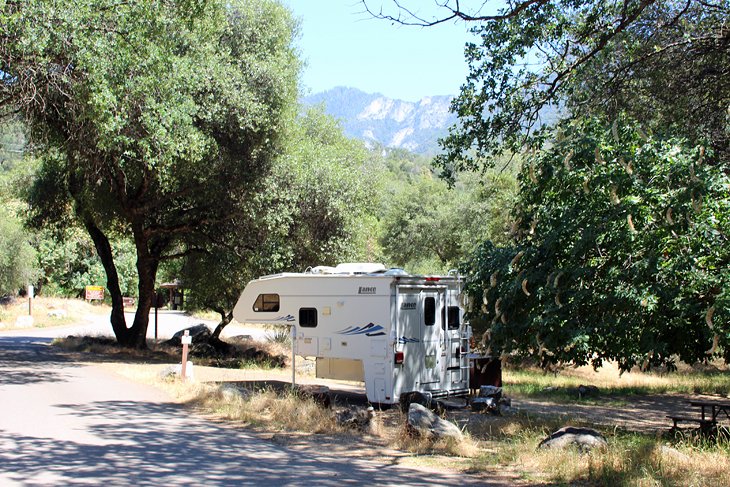 Potwisha Campground has a completely different setting and feel than all other campgrounds in the park. Set in the Sierra Foothills, in the south section of the park, not far from the Foothills Visitor Center, this campground is very open, grassy, and dotted with oak trees.
The Middle Fork of the Kaweah River runs along the side of the campground, and between the trees are views to the distant mountains. At an elevation of 2,100 feet, this is the lowest campground in the park and also the hottest. Like Buckeye Flat, this campground is more than 30 minutes from the main attractions in the park.
Potwisha Campground is open year-round and can accommodate tents and RVs. Most of the 42 sites are large, some are pull-through, and, although they don't offer much privacy, they are generally all well-spaced. Facilities include flush toilets only. All sites can be reserved 30 days in advance.
5. Big Meadows Campground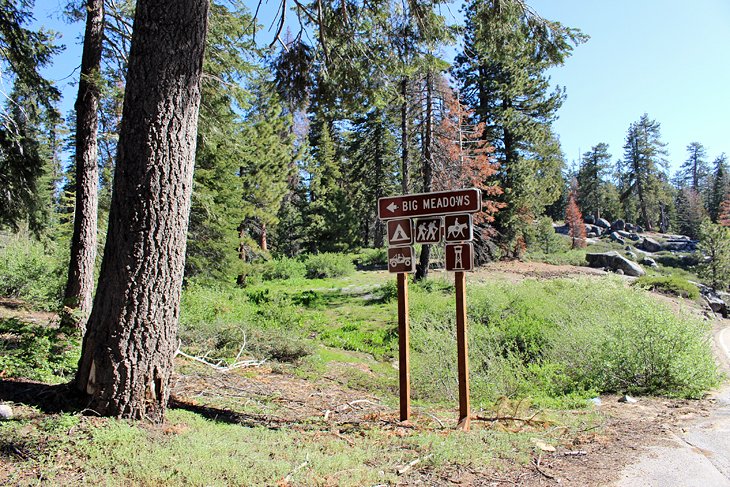 North of Sequoia National Park, in Sequoia National Forest, Big Meadows Campground is another camping alternative if you are unable to secure a campsite in the park. Although this campground is closer to Kings Canyon National Park than Sequoia, it is still a good option if you are visiting either park from June to September, when it's open.
Big Meadows is located at an elevation of 7,500 feet and is five miles off General's Highway. This campground has 40 sites and accepts reservations up to six months in advance, and as close as three days prior to your visit. Each site has a picnic table, fire pit, and food storage locker. No potable water is available, and the only facilities are vault toilets. Reservations are available on a six-month rolling basis.
6. Dorst Creek Campground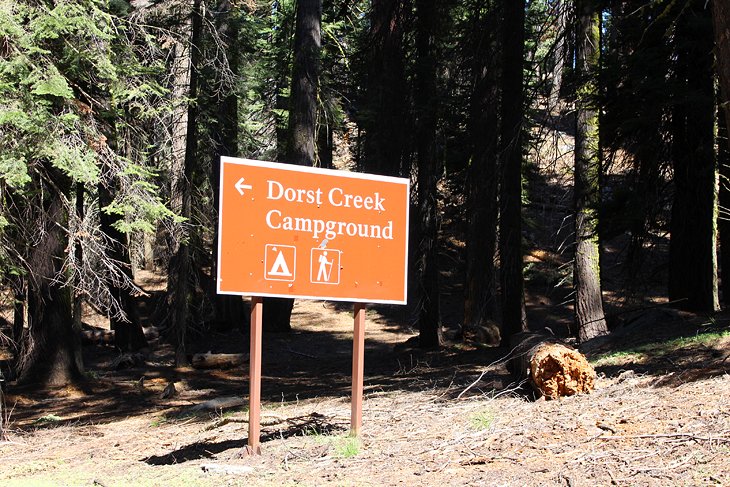 Dorst Campground was badly damaged during the KNP fire and will remain closed for the entire 2022 season. Significant repairs to sites and tree removal continues, and the park is hoping to have the campground open again for the 2023 season. How the campground will look after this remains to be seen.
If and when the campground reopens, this is the second most convenient camping location in Sequoia National Park. If you are arriving from Kings Canyon National Park, this is the first campground when you enter the park, located about 10 miles before the Giant Forest area.
It's well positioned if you are exploring both Sequoia and Kings Canyon National Parks. The hiking trail to the Muir Grove of giant sequoias leaves from the campground. The park shuttle stops at Dorst Creek Campground, making touring the park very easy from this location.
With 281 campsites, this is a large campground, but it has a bit of a quieter feel to it than the Lodgepole Campground, which can seem busy due to the nearby Lodgepole Village. Sites, which include pull-throughs, can accommodate almost all sizes of RVs.
The elevation here is about 6,800 feet, meaning nights can be cool. The campground is open from mid-June to mid-September. Reservations are accepted 30 days in advance of your visit, from late May until late September. Outside of these times, the campground is first-come, first-served.
Camping Details
Food-storage lockers are located at each campsite in the park and use of these is mandatory. Bears are a problem in the park, and these lockers prevent problems. Campers who don't store food properly can face large fines.
Reservations for campgrounds within the park can be made through the Sequoia & Kings Canyon National Parks website.
Map of Campgrounds in Sequoia National Park
Frequently Asked Questions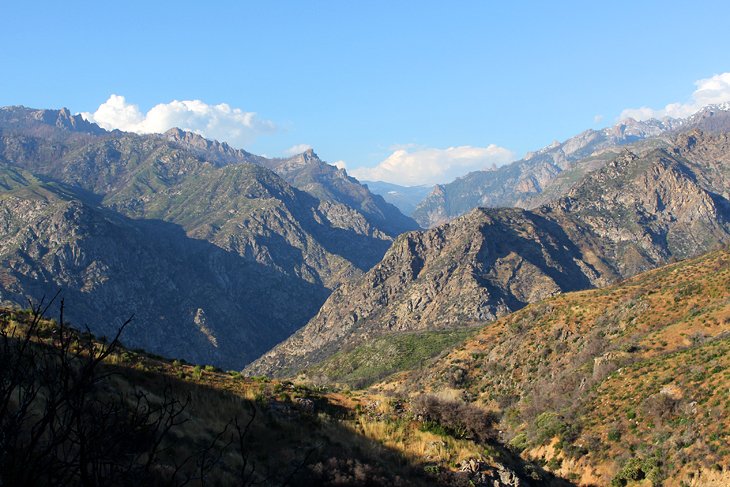 When is the best time to camp at Sequoia National Park?
The best time to camp in Sequoia National Park is from June until mid-September. However, it's important to note that the campgrounds listed above are at different elevations, ranging from 2,100 feet to 7,800 feet. The higher you go, the cooler the temperatures, especially at night.
The campgrounds located at the lowest elevations will be the warmest earliest in the season. These are good options if you are camping in May.
The campgrounds are always busy when school is out. For a quieter experience with greater availability, come in September or late August.
What other campgrounds are nearby?
Immediately to the north of Sequoia National Park is Kings Canyon National Park, also home to giant sequoias and other beautiful sights. Some of the campgrounds are nicer than those you'll find in Sequoia, but they are quite spread out, and a few are remote and far from the main attractions in the park. For more information, see our article on camping in Kings Canyon National Park.
Is there hiking nearby?
Yes, indeed. The mountains, deserts, and coastal areas of California offer some great opportunities for day hikes or longer treks. About three hours away, you can find outstanding hikes in Yosemite National Park. Explore this spectacular park with its famous waterfalls, rivers, and mountains.
Other options further afield include tackling portions of the Pacific Crest Trail. Great information can be found in our guide to the Best Day Hikes on the Pacific Crest Trail. For a general overview of hikes in the state, see our piece on the best hiking trails in California.