10 Top-Rated Attractions in the California Desert Region
Author Lana Law loves the desert and has spent many trips exploring this region of California.
California is home to areas of the Mojave Desert, the Colorado Desert, and the Great Basin Desert. Each of these has unique characteristics, beautiful attractions, and incredible places to visit. Mountains, canyons, sand dunes, Joshua trees, and miles of dry cracked earth create a landscape to make outdoor photographers drool.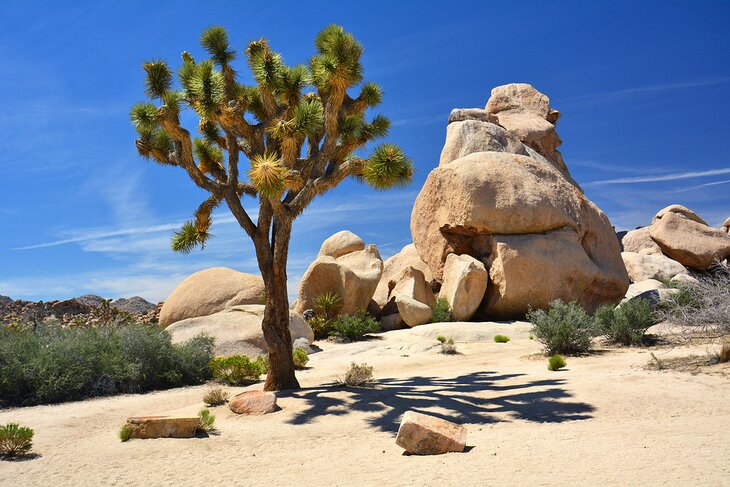 Depending on the season and time of year, California's desert region offers wonderful places for hiking, rock climbing and bouldering, sightseeing, and other recreational opportunities.
Cities like Palm Springs; Palm Desert; or even Las Vegas, Nevada make good bases for exploring some of the national parks and desert areas. Have a look at some of the most spectacular places with our list of top desert destinations in California.
1. Death Valley National Park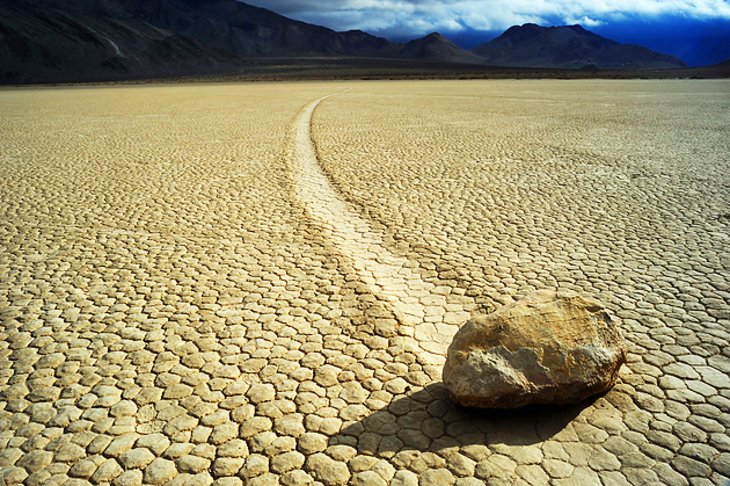 Of all the desert areas in California, Death Valley is perhaps the most diverse and interesting for sightseers. Salt flats, mountains, sand dunes, black volcanic fields, colorful hills, cracked parched earth, and even a lake, are all part of what makes this valley so unique.
This region is known for its harsh landscape and is home to the hottest, driest, and lowest point in the United States. Highway 190 runs through the park and offers access to the major attractions of Death Valley.
You can visit the park as a Day Trip from Las Vegas, just a couple hours away. If you want to stay closer to the park, you'll find accommodation right in Death Valley National Park, or in nearby Beatty.
2. Joshua Tree National Park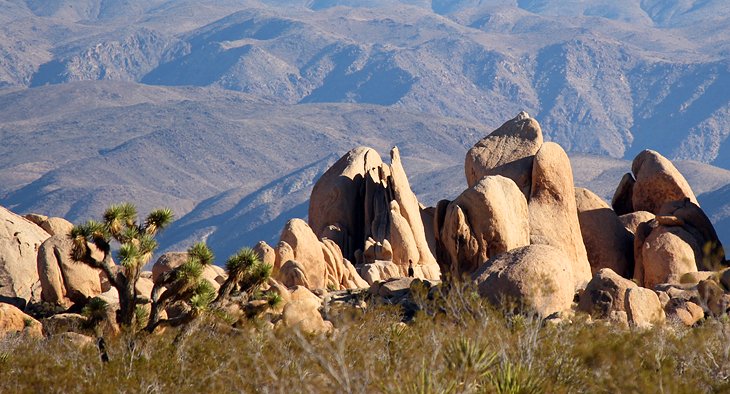 Joshua Tree National Park, named for this whimsical-looking tree that only grows in the Mojave Desert, covers a fantastic landscape of interesting rock formations, mountains, and one-of-a-kind sites. Many people describe the area as peaceful or even spiritual.
Numerous hiking trails in Joshua Tree NP lead through the trees or to high points in the park and are a great way to experience the serenity of the desert.
In winter, this park is a haunt for climbers who set up camp here for extended periods. If you are planning on camping in Joshua Tree National Park, be aware that finding a spot can be difficult in the high season.
Joshua trees reach a height of up to 60 feet and belong to the Yucca family. Many of these trees are said to be several hundred years old. The thickest clumps of trees are found in the west, in the "Wonderland of Rocks". This area has interesting rock formations, shaped by the huge pressure and high temperatures under which the gneiss was forced up out of the earth many millions of years ago.
The park is home to a wide variety of wildlife. By day the visitor will come across only a few species of animals, such as squirrels, dwarf antelopes, and occasionally a coyote. In summer visitors should be equipped for the heat, which often exceeds 40° C.
3. Salton Sea Recreation Area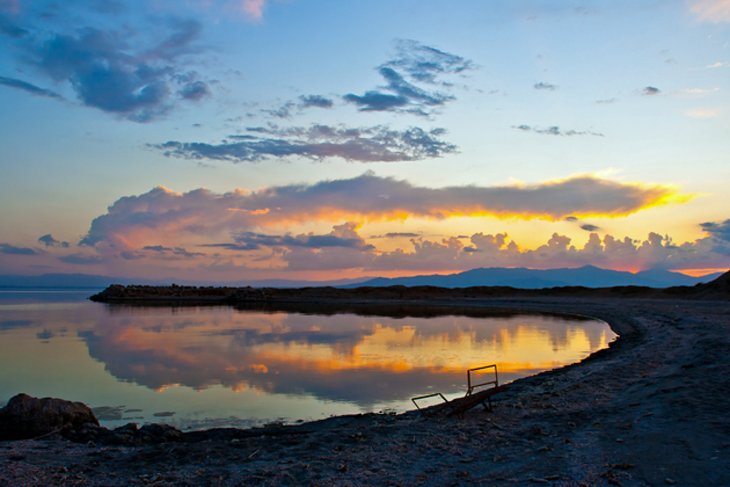 An ancient dried-up lakebed became an actual "sea" again in 1905. Having broken through an irrigation canal in Imperial Valley, the Colorado River flooded over into the old bed and filled it to a depth of 82 feet. The river continued to flood until 1907.
This inland lake, measuring approximately 30 miles by 8 to 14 miles, lies below sea level and has no natural outlets.
The Salton Sea State Recreation Area has been created on the northern bank, where there are campsites and picnic areas. This is a popular spot for fishermen and water sports enthusiasts, as well as bird-watchers.
4. Kelso Dunes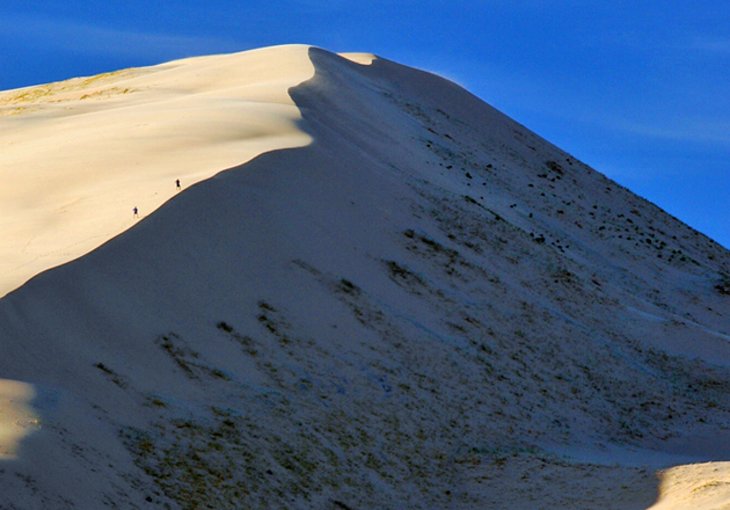 The Kelso Dunes can be admired from a distance, but adventurous souls will want to walk to the top. The highest point is 700 feet above the desert floor.
Although the hike to the top of the highest dune is only three miles round-trip, walking across the sand and the completely exposed nature of the hike make it somewhat challenging. However, be sure to persevere and make it to the top — you'll be rewarded with spectacular views. And remember, the run down the dune takes mere minutes.
This lovely geological formation is located in the Mojave National Preserve.
5. Palm Springs and Palm Desert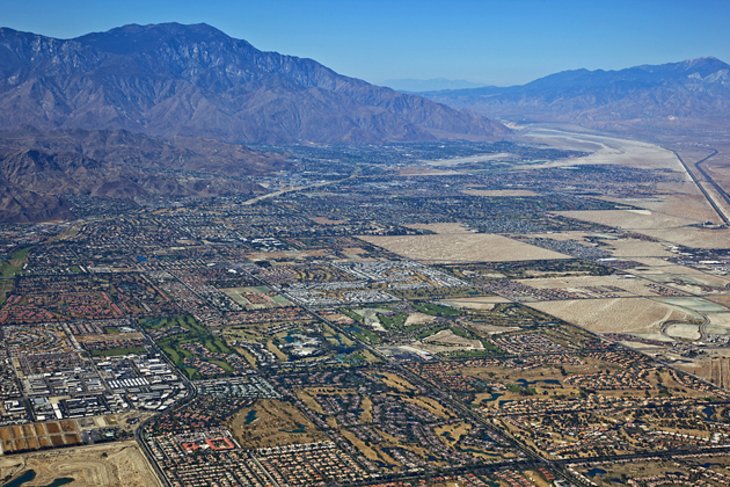 Set at the base of the San Jacinto Mountains, Palm Springs is a vibrant city on the edge of the Colorado Desert. The sun shines here almost every day of the year. In summer, its undeniably hot, but in winter, when daytime temperatures are in the 70s F, it is a wonderful place to be.
Downtown Palm Springs is home to excellent restaurants, quaint shops, and a variety of attractions.
One of the most popular things to do in the area is to take a ride up the Palm Springs Aerial Tramway to the top of Mount San Jacinto. Up here, where the air is much cooler, you'll find a completely different landscape. Some of Palm Springs' best hiking trails are found up here.
Palm Desert is a bedroom community of Palm Springs and home to sensational scenery, golfing, and numerous attractions. Both Palm Desert and Palm Springs are home to some beautiful resorts, particularly for guests interested in golf.
6. Anza-Borrego Desert State Park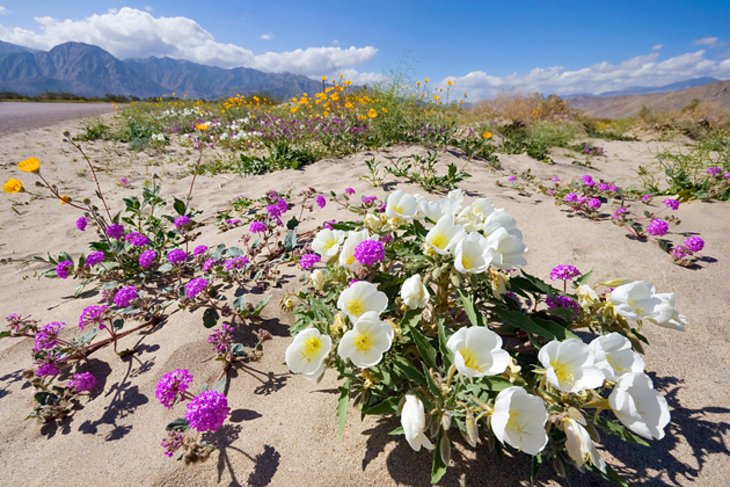 About 85 miles northeast of San Diego is the entrance to the biggest State Park in California. Anza-Borrego Desert State Park covers an area of about 600,000 acres of remote desert landscape consisting of sand dunes, alluvial land, canyons, palm groves, flowers, and cacti.
Although this may seem like a harsh wasteland, time your visit right, generally in April after a rainstorm or two, and you'll be rewarded with a kaleidoscope of colors when the desert flowers and cacti come into bloom. The park has the latest blooms on its website.
Highlights of a visit here include a stroll through the Borrego Badlands and a trip to soak up the views at Font's Point. In order to truly experience the park, especially the incredibly dark night skies, consider camping here.
Dispersed camping is free and you can literally set up your campsite anywhere you choose if you follow some basic rules. If you prefer a more formal campground, two are available.
7. Red Rock Canyon State Park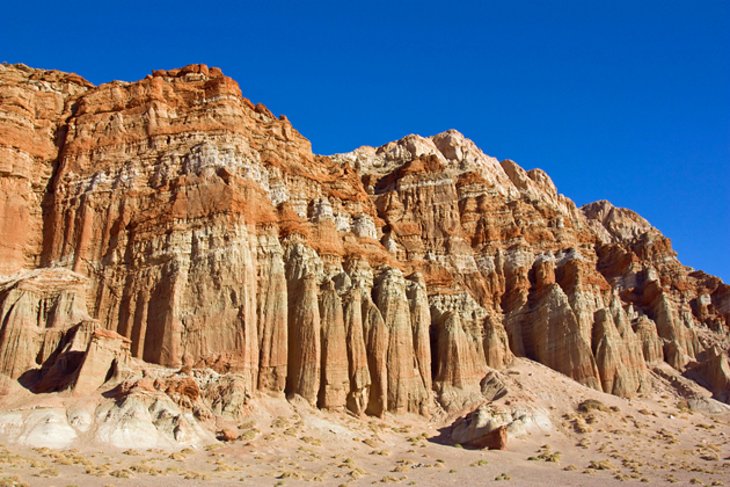 Red Rock Canyon State Park is home to a beautiful desert landscape with cliffs, buttes, and other unique rock formations. This is a good place to spot wildlife, particularly roadrunners, hawks, and lizards.
In Last Chance Canyon, which runs through the park, you can see rock art and the remains of old villages.
Many people come here to enjoy the hiking trails or to camp. Miles of trails run through the park, and camping is available at the Ricardo Campground.
8. Algodones Dunes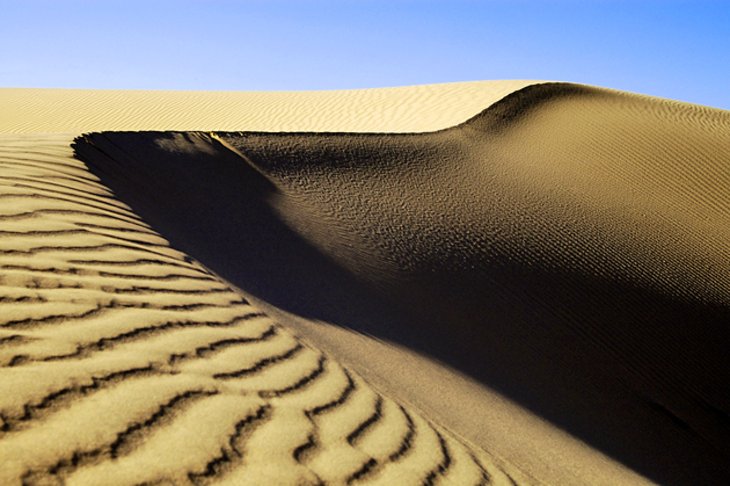 About 20 miles east of Brawley in the southeast corner of California are the Algodones Dunes, one of the largest dune regions on the continent. The shifting sands are a beautiful site but it is off the beaten path and one of the lesser visited desert sites in California. Few roads and a lack of nearby cities make it less accessible than some of the more popular attractions.
The largest dunes are on the west side. Camping is permitted in the North Algodones Dunes Wilderness Area but off-road motorized vehicles are not.
9. Calico Ghost Town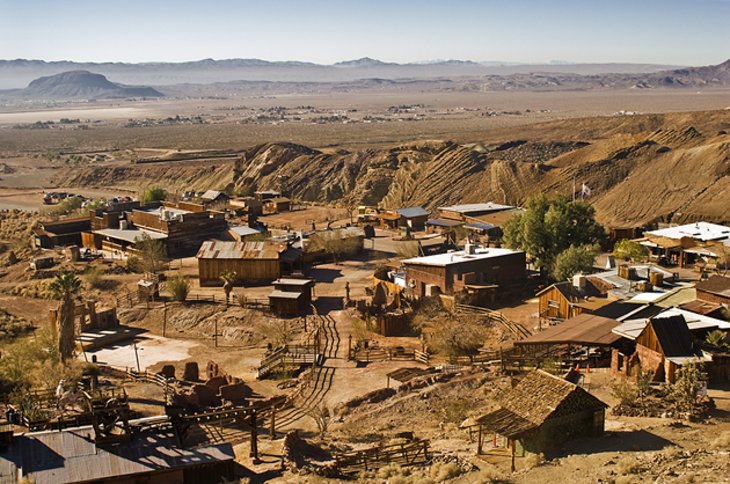 The ghost town of Calico lies 10 miles east of Barstow. From 1881 to 1896 it was one of the most important American towns, from where thousands set off hoping to find their fortune by prospecting for silver in the nearby mountains.
When the price of silver fell in 1895 the silver mines closed and Calico went into decline. In 1954, the ghost town was restored by the owner of Knott's Berry Farm and is now a tourist attraction, with restaurants, stores, and other activities.
10. Big Morongo Canyon Preserve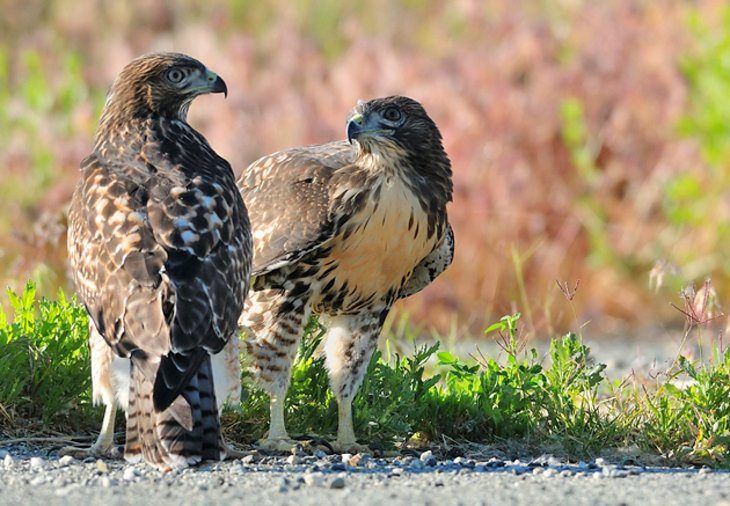 The Big Morongo Canyon Preserve is located in the Morongo Valley area just west of Joshua Tree National Park in the San Bernardino Mountains. The preserve runs through portions of the Mojave Desert and the Colorado Desert, and is one of the best birding spots in California.
Over 250 bird species have been spotted here, including some rare species. Numerous hiking and walking trails, ranging in distance from under a half-mile to 11 miles, are available; all trails leave from the parking area.
The park is open from 7:30am to sunset every day and is free to enter, but donations are gratefully accepted.
Map of Attractions in the California Desert Region
Frequently Asked Questions
What are the best day trips in California's desert regions?
Excluding Death Valley, which is off on its own, two day trips are recommended.
Starting and finishing in Palm Springs, head to Joshua Tree National Park and travel from north to south, eventually ending at the Salton Sea. From here, head across to Anza-Borrego Desert State Park. The great thing about this route is that you'll be able to see where you are going from Keys Lookout in Joshua Tree National Park.
Another route starting in Palm Springs is to combine Red Rock State Park, Calico Ghost Town, Kelso Dunes, and Big Morongo Canyon Preserve. This route has a great deal of variety.
The best time to visit is in the spring, as you'll have moderate temperatures and the best chance of seeing the desert wildflowers in bloom.
More Related Articles on PlanetWare.com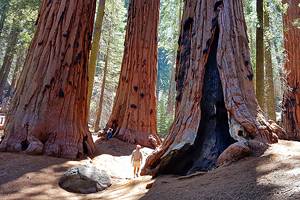 Explore California Parks: Some of the most fantastic sites on the planet are found in California's national parks. Head for Sequoia National Park to see the largest trees in the world and spend a night under the stars at one of Sequoia's beautiful campgrounds. Afterward, move on to hike the trails in Redwood National and State Parks to see the tallest trees on Earth. Explore things to do in Yosemite National Park, including hiking and camping.