15 Best Things to Do in Palm Desert, CA
Palm Springs' eastern neighbor in the Coachella Valley is a thriving city set in a desert mountain landscape filled with art, culture, great shopping, and plenty of things to do outdoors. Located in the foothills of the Santa Rosa and San Jacinto Mountains, Palm Desert's scenery is strikingly beautiful and fun to explore on foot, mountain bike, or jeep.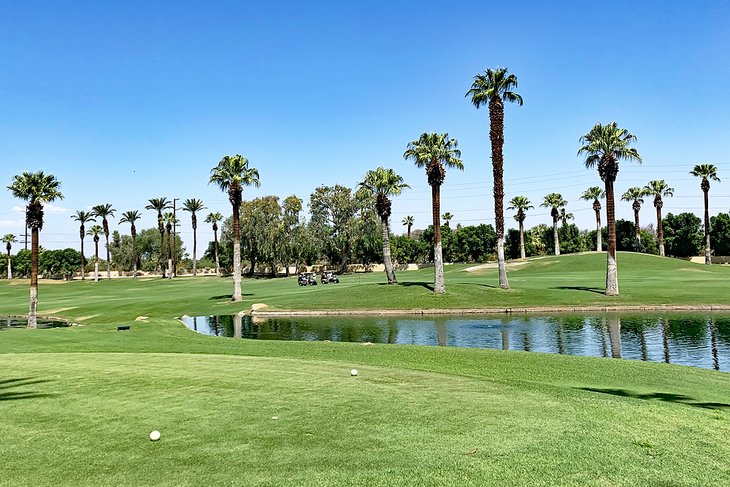 Get out into that desert environment and hike Palm Desert's popular Bump and Grind Trail, a moderate loop trail taking you into the foothills with great city views. Try a 20-mile downhill mountain bike experience or visit the San Andreas Fault on a jeep tour.
Don't miss the chance to feed a giraffe at the Living Desert Zoo and Gardens and, of course, dive deep into some retail therapy at the luxurious retailers along El Paseo.
Discover the top places to visit with our list of the best things to do in Palm Desert.
1. Feed a Giraffe at the Living Desert Zoo and Gardens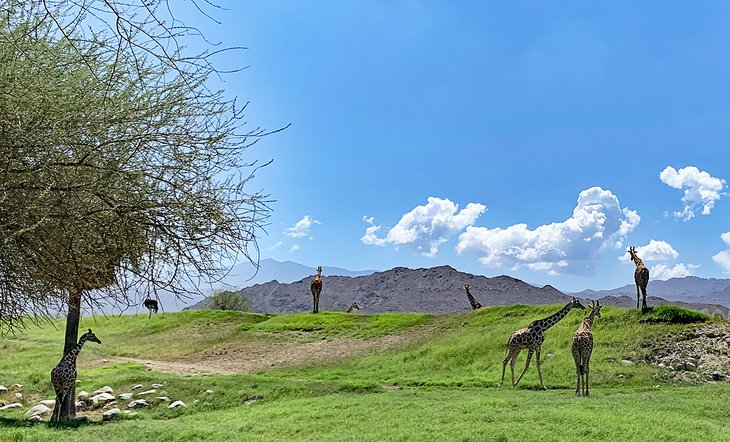 What started as a section of raw desert preserved from development, has evolved over 50 years into a fully-fledged zoo, world-renowned animal hospital, and desert wildlife preserve.
While you might not normally associate giraffes with the California desert, the highlight of a visit to the Living Desert Zoo is the opportunity to get up close and personal with these huge, yet gentle, creatures. Giraffe feedings are done throughout the day (in summer, mornings only) and the cost is only $8 (plus zoo admission).
The zoo has lots of different animals. Highlights are the Rhino Savanna, home to two African black rhinos; and the Australian Adventures area, with kangaroos and other native Aussie species. Throughout the zoo, you can also see leopards, cheetahs, camels, zebras, hyenas, and warthogs, with a population of over 50 different species.
The zoo is also home to a nature preserve with three trail loops, including one to Eisenhower Peak. The hiking trails are open from October through May.
Address: 47900 Portola Avenue, Palm Desert, California
Official site: https://www.livingdesert.org/
2. Explore the Desert in a Red Jeep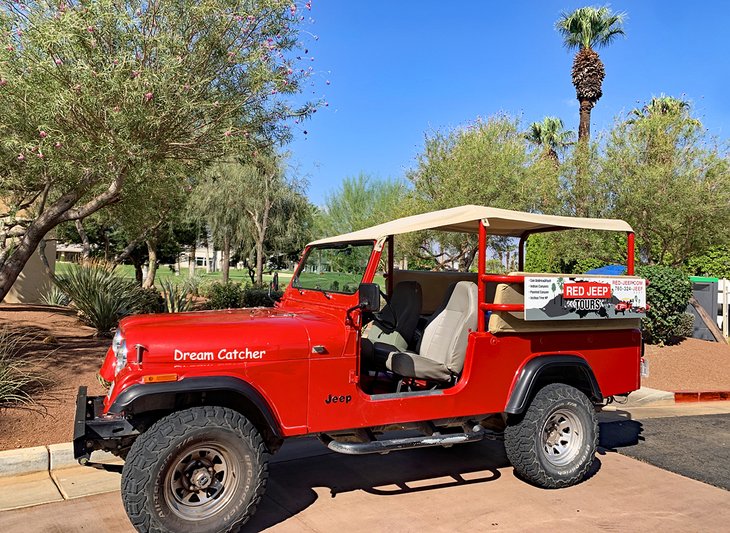 Red Jeep Tours by Desert Adventures, in covered, air-conditioned, specially-outfitted red Jeeps, give Palm Desert visitors a chance to get out into the desert to experience it firsthand. The company has unique and exclusive access to an 800-acre private area, where they have signage and displays, making it like a giant geology theme park.
The three-hour San Andreas Fault Jeep Tour from Palm Desert takes passengers to the famed San Andreas Fault, where two of Earth's tectonic plates come together. On the tour, aside from a visit to the fault itself, you'll see a palm oasis fed by a hidden, underground spring, and visit a Native American site, where petroglyph and stonework evidence shows people were living here thousands of years ago.
San Andreas Fault tours are led by an experienced naturalist and include bottled water and pickup/drop-off in Palm Desert.
Official site: https://www.red-jeep.com/
3. Take a Guided Hike or Mountain Bike Tour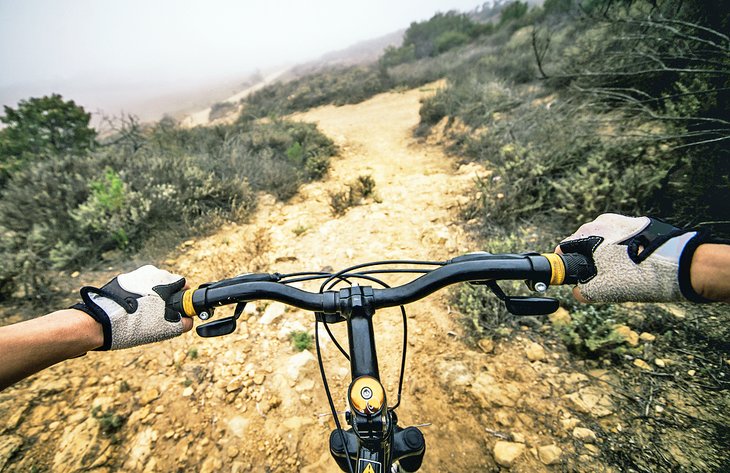 If you've heard about the area's great hiking and multiple trail options, why not take a hike led by a local professional? It's easier and safer than doing it on your own, and you'll also learn a lot about the local geology, zoology, and history along the way.
Big Wheel Tours leads guided tours of Palm Desert and the surrounding mountain areas on foot, by bike, and by Jeep.
Some of the local Palm Desert mountain trails can be explored on a mountain bike, and Big Wheel Tours' Earthquake Canyon Express Downhill Bicycle Adventure is a fun and easy way to see a lot of the Coachella Valley. They take you up into the mountains, and then it's a gentle 20-mile ride downhill, passing some great viewpoints along the way.
Official site: https://bwbtours.com/
4. Shop and Dine on El Paseo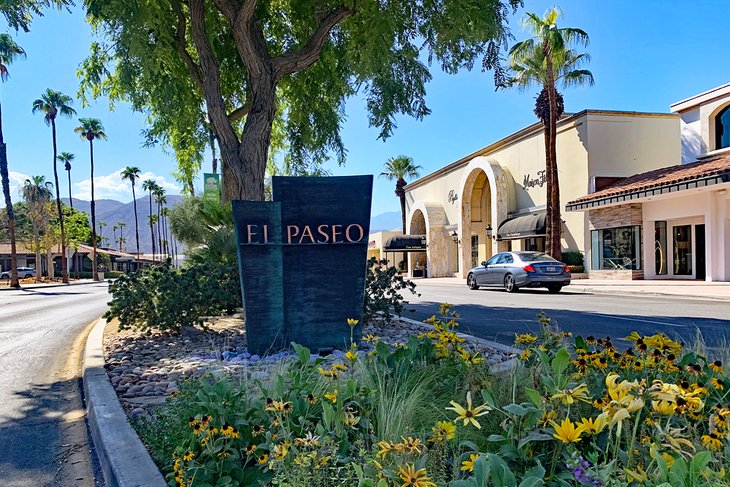 El Paseo is a Palm Desert shopping street and district considered the Rodeo Drive and Beverly Hills of the Coachella Valley.
When you take a stroll down El Paseo, you'll find a mix of locally owned boutiques, art galleries, and businesses, along with stores from all the major luxe brands, including Louis Vuitton, Gucci, and Tiffany. There's also an Apple Store, as well as a delectable mix of places to eat, from quick bites to gourmet meals.
It's a great place to visit to shop for artwork, with 15 art galleries in the district. Be sure to check out all the public art – sculptures line the median and are placed along El Paseo.
Visit El Paseo on Friday nights during the "season" (September through May), and you'll find yourself surrounded by cool and classic cars, whose owners gather to cruise.
The main El Paseo shopping area is along a street named El Paseo, between SR 111 and Monterey Avenue. Street parking is free, and there are several free parking garages located behind the Gardens on El Paseo and the El Paseo Village shopping areas.
5. Hike with a View on the Bump and Grind Trail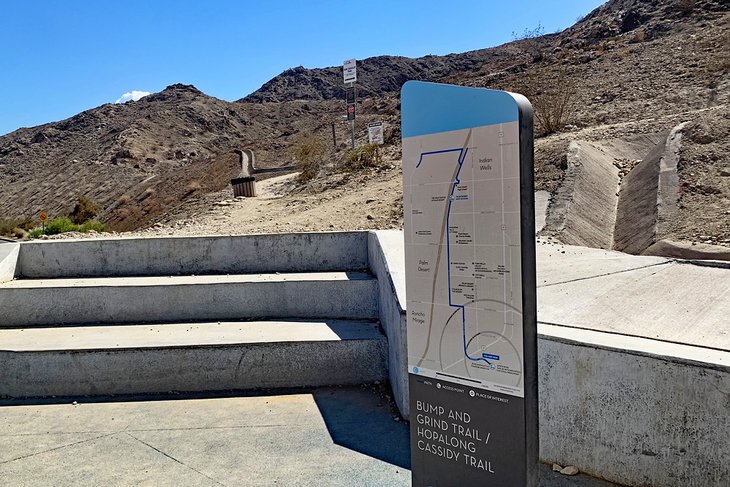 The Palm Desert and Palm Springs areas are very popular hiking destinations for both serious trekkers and casual walkers.
One of the top hiking trails in the Palm Desert area, the famous Bump and Grind Trail is a four-mile loop trail that rises behind a shopping center on SR 111. The trail is considered moderate, with an 1,100 foot rise in elevation over its course. You'll share the trail with mountain bikers but no dogs, as they aren't allowed.
The trail goes up a small mountain, loops around it, and comes back down. You get some nice views of the valley and the mountains as you traverse it.
Palm Desert gets very hot in the summer months, and the Bump and Grind hike should only be done before 8am or after 7pm to avoid life-threatening heat issues. There is no shade or water anywhere on the trail.
6. Catch a Show at the McCallum Theatre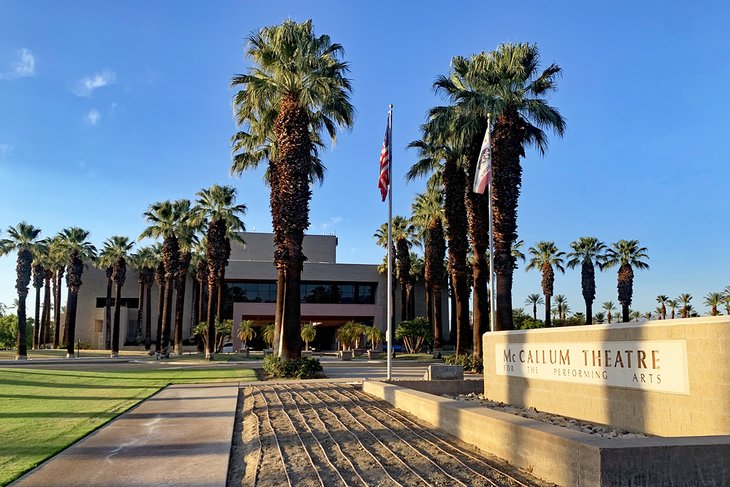 This live event venue, located on the campus of the College of the Desert, presents a wide, truly eclectic range of programming.
From spoken word performers and comedians like Lewis Black to music stars like Paul Anka and Barry Manilow, the McCallum is also home to Broadway productions, film screenings, lectures, and all kinds of performing arts. One night you might have a National Geographic presentation from a naturalist or explorer and the next a performance of the Book of Mormon Broadway show.
The 1,127-seat theater was designed in the tradition of classic European opera houses and is small enough to have some intimacy between the performer and the audience, yet big enough to attract internationally recognized artists.
Parking is free, and tickets can easily be purchased online for individual shows, some of which include options for artist meet and greets.
The McCallum is one of the largest theaters in the Coachella Valley not located at a casino.
Address: 73000 Fred Waring Drive, Palm Desert, California
Official site: https://www.mccallumtheatre.com/
7. Shop at the College of the Desert Street Fair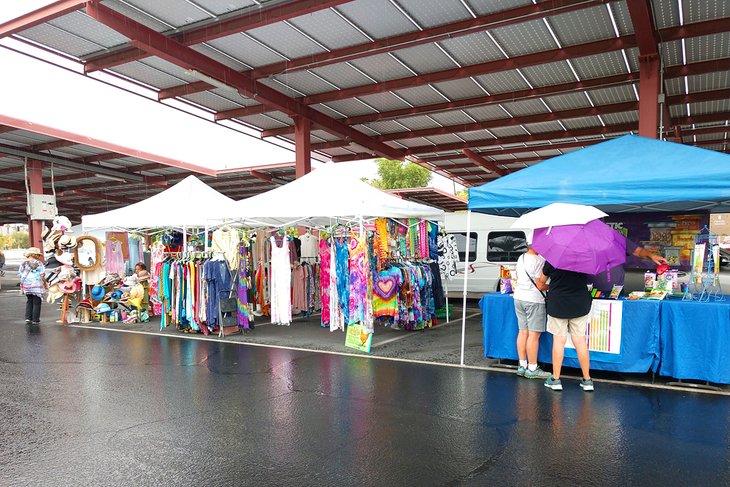 For almost 40 years, the College of the Desert Street Fair has been a great weekend destination for the area's foodies, collectors, and bargain hunters. The street fair/art fair/farmers market has a lot of things to see, buy, do, and eat.
The event is on Saturdays and Sundays in the parking lot of the College of the Desert. It runs most of the year, shutting down for July and August.
The organizers focus on vendors who sell antiques and collectibles, along with artisans selling hand-made items. No selling of new items is permitted.
The food at the COD Street Fair is excellent, there's a well-curated group of local food vendors who present delicious homemade selections.
Classic car buffs will love the old car section, which is like a car show.
Address: 43500 Monterey Ave., Palm Desert, California
Official site: https://codaastreetfair.com/
8. Drive the Palms to Pines Scenic Byway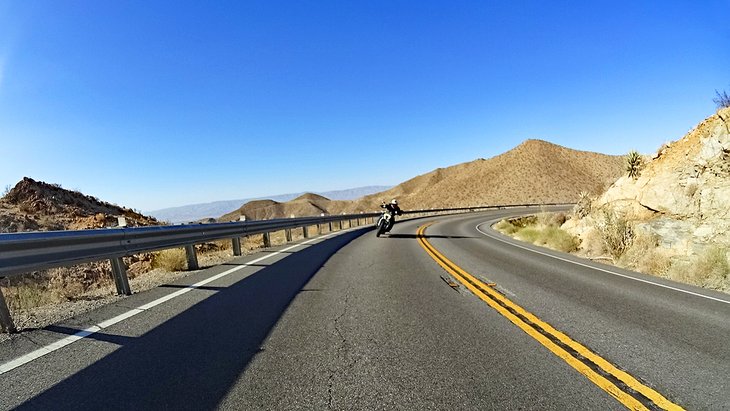 A section of SR 74, leading up from the desert of Palm Desert to the pine trees of the Idyllwild area, is called the Palms to Pines Scenic Byway. It's 50 miles of epic driving road, rising about 6,000 feet in elevation over those 50 miles.
The treacherous road is mostly a two-lane highway with no room for error; you have a cliff on one side and a rock wall on the other. Driven carefully, it's one of the country's great driving roads whether in a car or on a motorcycle.
The byway leads to the quaint mountain community of Idyllwild, a great day-trip destination from Palm Desert. The small village is filled with locally owned places to eat, along with cool shops and art galleries.
The route starts in Palm Desert about five miles south of SR 111. Just head south on Monterey Avenue, which becomes SR 74. You can go from the triple-digit desert temperatures of Palm Desert to the cooler pine-tree-scented mountain air of Idyllwild in about 45 minutes.
9. Take in the Sweeping Views from the Coachella Valley Vista Point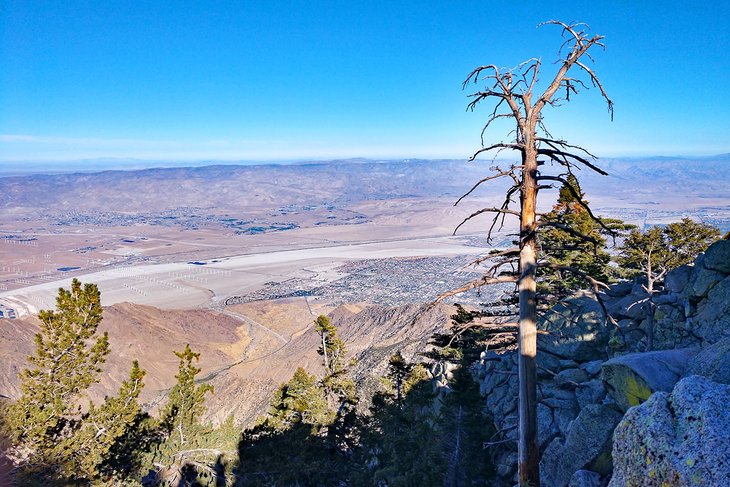 A stop on the Palms to Pines Scenic Byway (SR 74), this viewpoint offers some sweeping views of the Coachella Valley, including Palm Desert, Indian Wells, and La Quinta. The elevated perspective, from about 4,000 feet above sea level in the Santa Rosa Mountains, is only five miles south from SR 111.
As you look out, you can see the San Gorgonio and San Jacinto mountain ranges. If it's a clear day, look for the tip of the Salton Sea, located about 40 miles away. As you look directly north across the Coachella Valley at the ridge of mountains on the far side, think about the Joshua Tree National Monument (another great day-trip from Palm Desert), which is just on the other side.
The vista point area is open from dawn to dusk, and there is a fairly large parking area.
10. Play Golf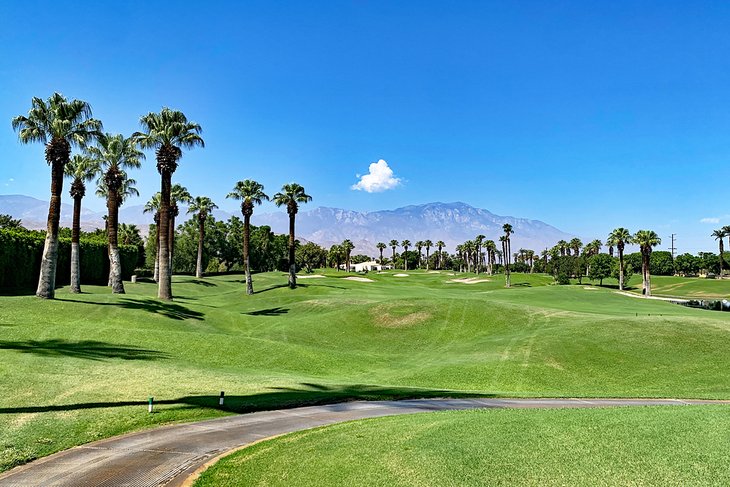 Palm Desert and the greater Coachella Valley are home to more than 100 golf courses, making it one of the most played areas in the world.
The Desert Willow Golf Resort was created by the city of Palm Desert to showcase what can be offered as a public golf course. The world-class golf resort includes two championship courses. It's home to the Palm Desert Golf Academy, which offers a wide range of instruction for all levels of golfers.
As a city-owned course, there was a focus on the fragile natural resources, mainly water, required to maintain a course. Plant choices and the overall course design are sensitive to the environment while highlighting the beautiful desert and mountains. The golf resort, which does not offer accommodations, does have a very nice restaurant called the Terrace, which serves breakfast and lunch.
Desert Willow is also the home course of the American FootGolf League, a sport that combines golf and soccer. Rounds are played like golf, except with a soccer ball and 21-inch-diameter holes. You can book a round just like booking a round of golf.
Address: 38995 Desert Willow Drive, Palm Desert
Official site: https://desertwillow.com/
11. Escape the Heat at the Santa Rosa and San Jacinto Mountains National Monument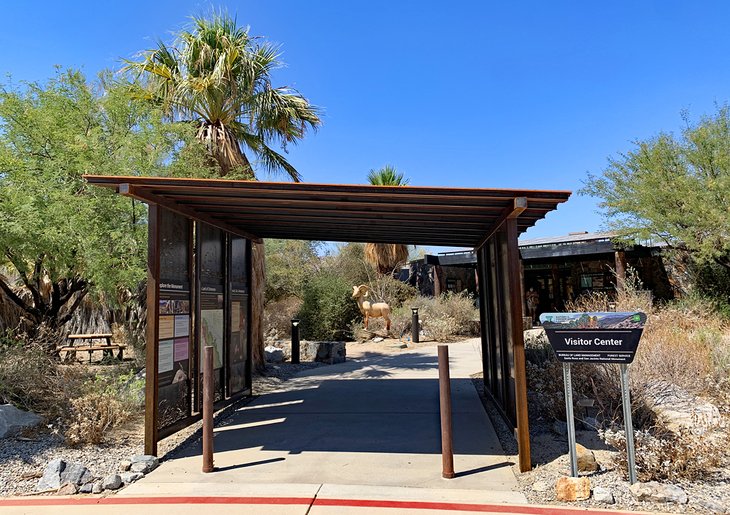 The Santa Rosa and San Jacinto Mountains National Monument is a vast 280,000-acre mountain and desert area. The visitor center is in Palm Desert, a few miles north of SR 111, just before SR 74 starts to snake up into the mountains on the Pines to Palms Scenic Byway.
Inside the visitor center, you'll find a well-presented history and story of the two mountain ranges which make up the national monument area. Geologic history in the area goes back millions of years, and human history goes back 30,000 years.
There are two trails on-site at the visitor center: the first is the easy, 0.2-mile Ed Hastey Garden Trail, and it's a great introduction to the desert wildlife. Leashed dogs are allowed on this trail.
The Randall Henderson Trail is a 2.5-mile loop trail that includes informational signage about the plants and animals found in the area.
Address: 51500 CA 74, Palm Desert, California
12. Visit the Palm Desert Visitor Center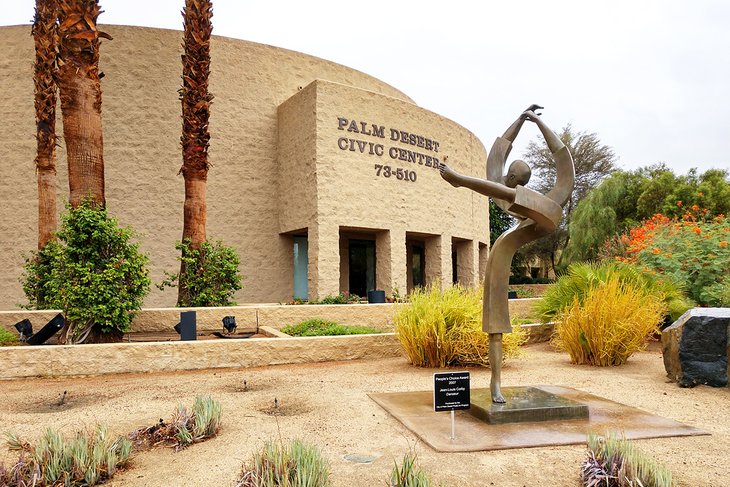 Located inside Palm Desert City Hall, the Palm Desert Visitor Center is an excellent resource for people from out of town, people thinking of moving to Palm Desert, and even locals.
It's staffed Monday through Friday from 8am to 5pm. The friendly volunteers can help plan your adventures and advise on what's open, things to do, tourist attractions, and the best places to visit. There is also an extensive selection of maps, brochures from attractions, and guide books.
Aside from the visitor services, there are a few displays with information about the city's history and rapid growth, from raw desert to a thriving cosmopolitan desert destination in less than 100 years.
Address: 73510 Fred Waring Drive, Palm Desert, California
13. Go for a Swim at the Palm Desert Aquatic Center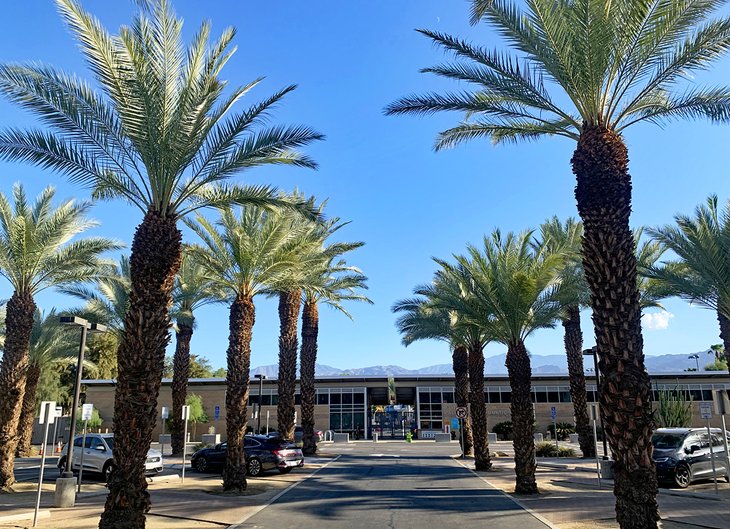 Palm Desert's climate means it's possible to swim year-round. In the summer, a cool pool is the best place to beat the heat, which constantly exceeds 100 degrees during midday. If your accommodation lacks a pool, or if you want a place to swim laps and keep up your fitness regimen, or to let the kids splash around, the Palm Desert Aquatic Center is the perfect place.
More than a public pool, it's like a mini water park, with three swimming pools, play features, diving boards, and multiple waterslides.
The pool is part of the Palm Desert Civic Center Park. Admission is $6 for adults and $4.50 for kids, with discounts for local residents. Hours vary for each part of the aquatic center, but it's open during the week in the morning and late afternoon until 7pm, closing from noon to 3pm. On weekends, you can swim from 10am to 3:45pm.
Address: 73751 Magnesia Falls Drive, Palm Desert, California
Official site: https://pdpool.com/
14. Remember History at the Desert Holocaust Memorial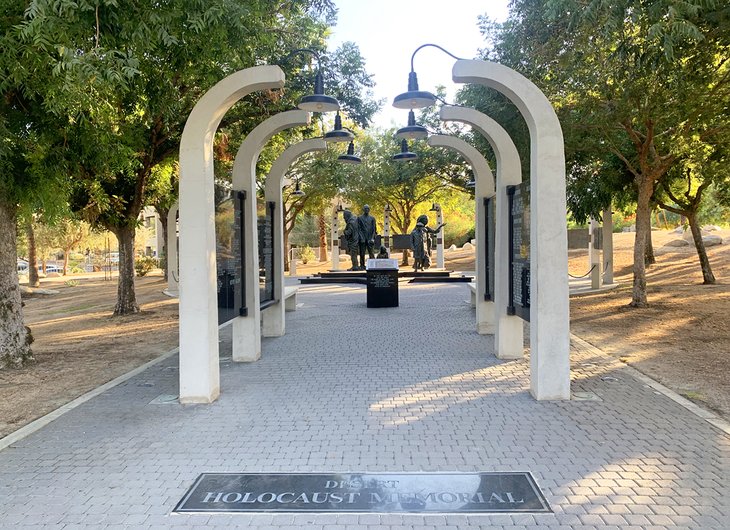 A moving place of remembrance, the Desert Holocaust Memorial honors the millions of innocent men, women, and children who lost their lives in the Holocaust. The memorial consists of 11 bas-relief plaques telling personal stories of real events.
On the inside of the memorial area there are seven life-sized sculptures of Holocaust victims, representations taken from actual photographs of real people.
Created by artist Dee Clements, the memorial both educates visitors, as well as allowing them to quite literally walk among the victims, by standing with and walking around the human-scale sculptures.
The Desert Holocaust Memorial is in Palm Desert's Civic Center Park, near city hall.
15. Have a Spa Day with Flamingos at the JW Marriott Desert Springs Resort & Spa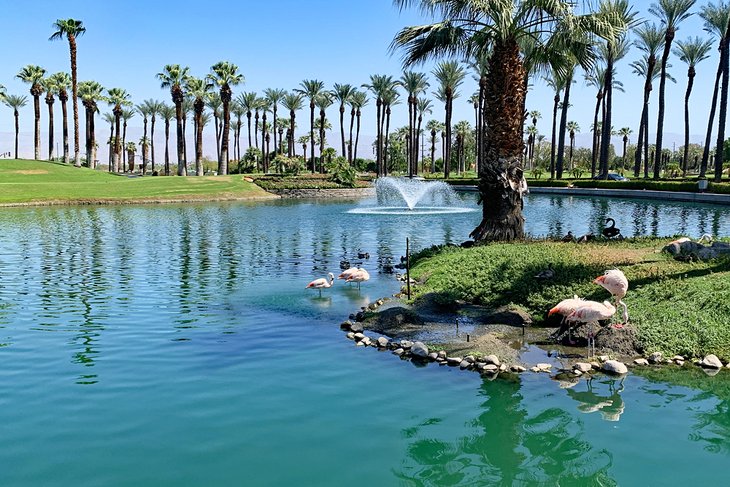 This large resort, spread over 450 acres of beautiful scenery and with 884 guest rooms, is home to its own flamboyance (yes, that's the right word for a group of pink flamingos). The resort is covered with 18 acres of lakes and waterways, even utilizing electric boats to ferry guests around the vast property. The flamingos hang out in the large pond directly in front of the resort's main entrance.
The JW Marriott Desert Springs Resort & Spa is also home to The Spa and Salon at Desert Springs. It's a great place to visit for a day of pampering, as they offer a wide array of skin, beauty, and body treatments. The large facility has 48 treatment rooms along with a salon, bistro, a full fitness center, and its own saltwater lap pool.
Many of the spa treatments make use of local, ancient healing methods, and the spa locally sources ingredients like citrus and Coachella Valley dates.
Address: 74855 Country Club Drive, Palm Desert
Map of Things to Do in Palm Desert, CA
Palm Desert, CA - Climate Chart
Average minimum and maximum temperatures for Palm Desert, CA in °C
J
F
M
A
M
J
J
A
S
O
N
D

22

6

24

8

27

11

31

15

34

18

39

23

42

26

41

26

39

22

33

17

27

9

22

5

PlanetWare.com
Average monthly precipitation totals for Palm Desert, CA in mm.

20

17

12

2

2

0

3

5

5

3

5

7