9 Best Campgrounds in Joshua Tree National Park & Camping Details
Joshua Tree National Park is like no other place on Earth. The park's signature trees, giant boulders, and surrounding mountains create an almost surreal landscape that feels like another world.
Camping here is nothing less than spectacular, with scenic campgrounds spread around massive rock formations and sites just perfect for pitching a tent or setting up an RV. However, note that the facilities are very basic, with no power, water, or other typical features. Expect to use pit/vault toilets when you need to go.
It's hard to say any one campground is significantly better than another, and sometimes deciding where to camp in Joshua Tree really comes down to where you want to be centered in the park and what is available when you arrive.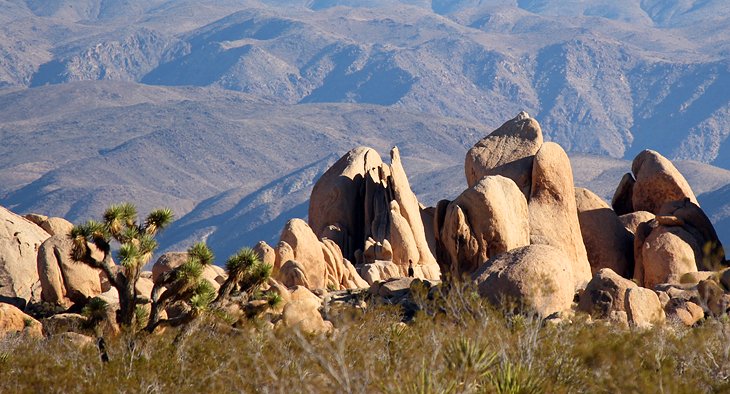 The main road through the park, running from east to west, is called Park Boulevard, and this is where many of the most popular hikes and sites are found. Some campgrounds lie along this corridor, and a couple of others are nearby. For the most part, this is the best place to camp in Joshua Tree National Park.
Along Park Boulevard, Hidden Valley, Ryan, and Jumbo Rocks are the three campgrounds most central to the main tourist attractions, and all offer outstanding scenery.
Belle and White Tank campgrounds are on the east side of the park and are slightly more removed but have equally stunning settings and beautiful sites.
Indian Cove is a nice campground set amid boulders, but it is off the main roads running through the park and will require commuting and possibly a wait at the entrance station to get into the main section of the park.
1. Hidden Valley Campground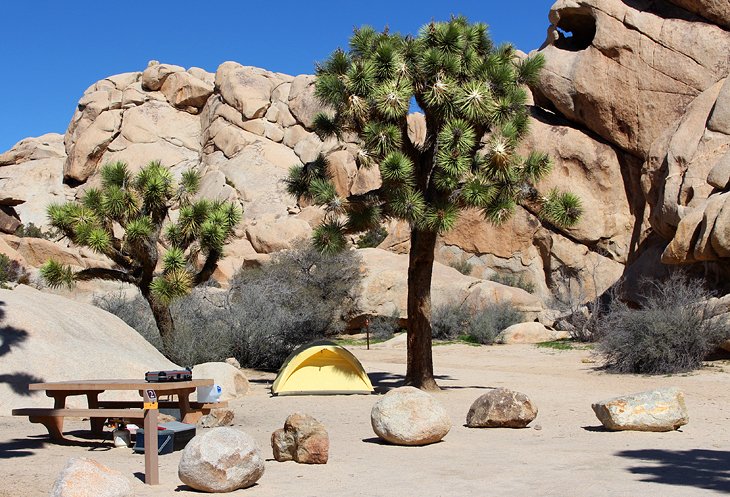 Hidden Valley Campground, open to both tents and RVs, is the most popular campground in the park. It's convenient to many of the day hikes, but more importantly, it's close to the best climbing sites in the park. As a result, it is always busy in the high season, and since it is first-come, first-served, it's best to arrive early in the week if you really want to have any chance of camping here.
The 44 campsites available are all spectacular, spread around huge rock formations, and dotted with mature Joshua trees. It's also quiet; generators are not allowed. This is the best campground in Joshua Tree and the perfect place to camp if you can get a site.
This is the closest campground to the West Entrance Station, on the west side of the park, which is arguably the most scenic portion of Joshua Tree National Park.
2. White Tank Campground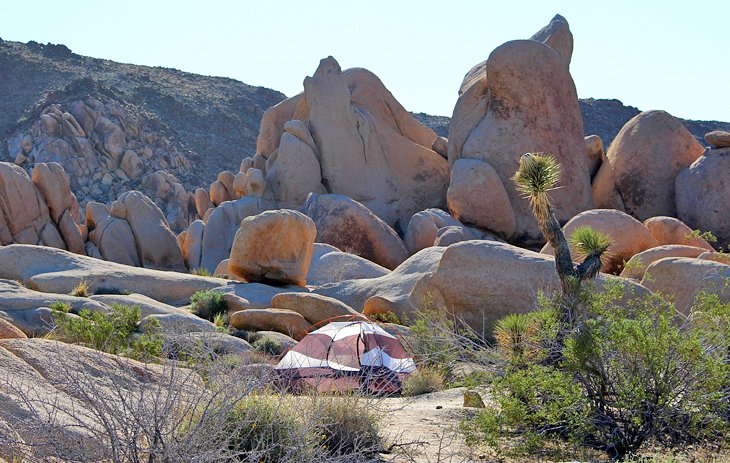 White Tank is on the east side of the park, on the road that runs between the North Entrance Station and Cottonwood.
The boulder-strewn landscape here provides an awesome setting for a campground, with plenty of privacy, areas to scramble around the rocks, and a few Joshua trees for added atmosphere. The campground is located away from most light and is considered one of the darkest places in the park, making it an ideal spot for seeing the stars in the night sky.
With only 15 well-spaced sites and plenty of surrounding rocks for privacy, this is a great option for campers looking for a quiet experience. Generators are not allowed, and RVs must be less than 25 feet.
3. Belle Campground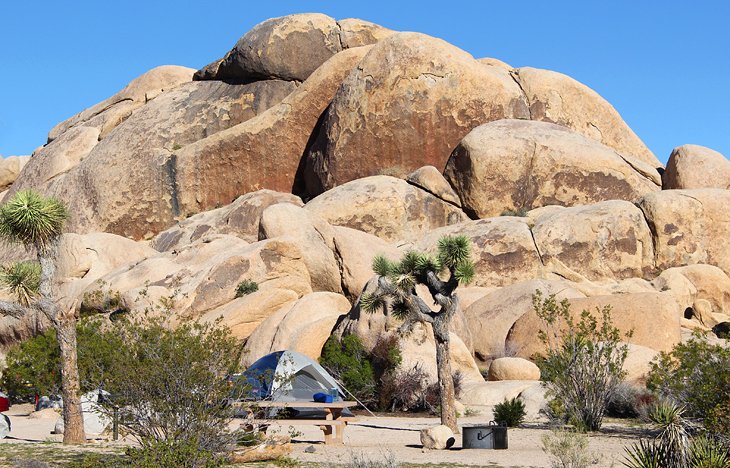 Just down the road from White Tank Campground, towards Twentynine Palms, Belle Campground has the same sort of feel as White Tank. Large boulders are piled high, and Joshua trees are sprinkled around the sites.
Eighteen first-come, first-served campsites are spread throughout the campground, many of which are only large enough for a tent. Generators are not allowed.
White Tank and Belle campgrounds are both quite tranquil, and while they are still within easy reach of Park Boulevard and attractions like Skull Rock, they have a remote feel to them.
4. Jumbo Rocks Campground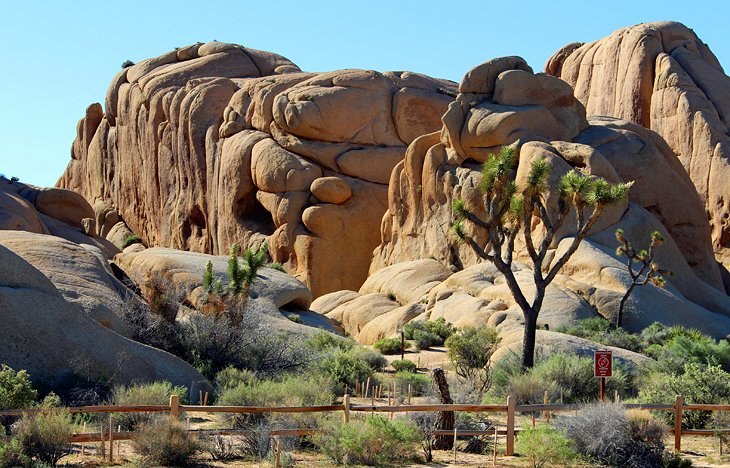 Jumbo Rocks is the largest campground in the park, with 124 sites, and is often your best chance for getting a campsite within the park gates. Centrally located in the park and set around huge rocks with sheer cliff faces and some large Joshua trees, it offers a mix of spacious and tiny campsites.
Some of the sites here can accommodate RVs up to 32 feet (no generators), and others are only big enough for a small tent. But even the smallest campsite here, barely big enough for a single tent and crammed in next to the road, is more impressive than some of the best campsites in other national parks thanks to its setting beneath a towering rock formation that reflects the late-day sun.
This is a beautiful campground, and you can't go wrong finding a site to park your RV or pitch a tent at Jumbo Rocks.
5. Ryan Campground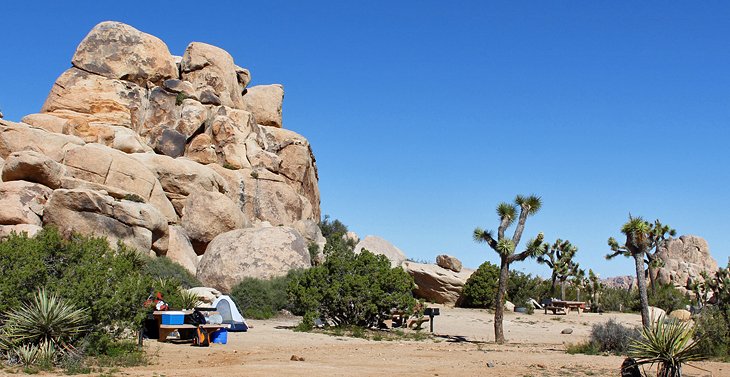 Ryan Campground is sometimes referred to as the overflow campground for Hidden Valley, but that doesn't mean it's a bare patch of sand in the desert. This is still a lovely camping area, with spacious sites, although sites offer slightly less privacy than at other campgrounds in the park. Generators are not allowed here.
Ryan Campground is also very well positioned if you want to be in the west end of the park. The campground is especially popular with equestrian riders, owing to the nearby location of the California Riding Trail. Reservations for the 31 sites are available online, and of those 31, three are for bicycles and four are for equestrians.
6. Indian Cove Campground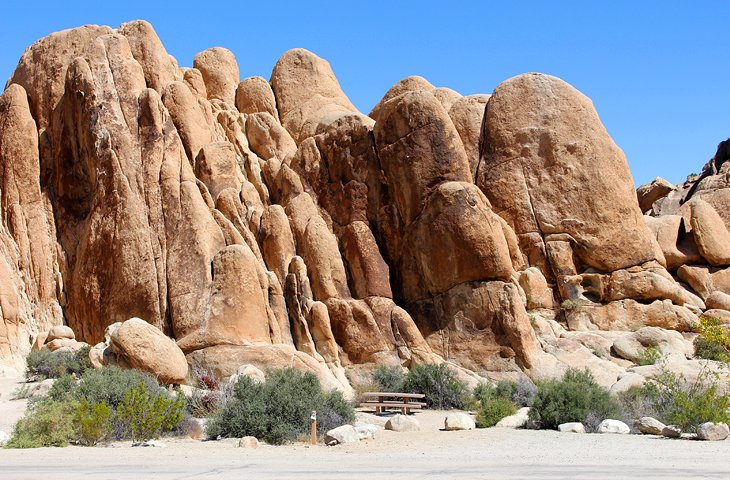 Indian Cove is a decent camping area but is not in the main section of the park and is outside of the entrance gates, near Twentynine Palms. The entrance to this campground is off Highway 62. Driving into the campground, the area looks like a moonscape - relatively barren and piled high with small boulders and giant monoliths.
This area is at a lower elevation and has only small trees and vegetation. On the plus side, Indian Cove is reservable in the high season, from October to May, so you don't have to worry about finding a site if you plan ahead. Note that from Memorial Day to Labor Day, only 39 sites are reservable.
The campground has 101 sites for tents and RVs (this total includes 13 group sites) and can accommodate RVs up to 35 feet. The very pleasant group campsites are set off on their own.
Generators are allowed, but only for two-hour stretches at specific times of the day.
7. Cottonwood Campground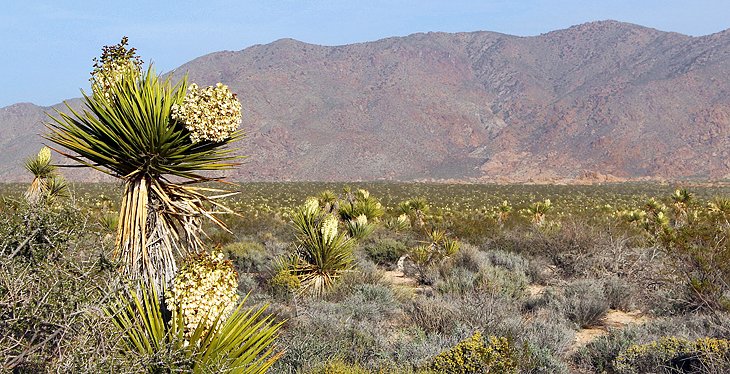 Cottonwood Campground is far removed from the main attractions and is one of the least scenic campgrounds in the park. Sixty two sites are spread out in a wide area set among small scrub trees. The campground is at a lower elevation, 3,000 feet, so it is much warmer here than in other areas of the park.
Cottonwood Campground is located on the southeast side of the park, and it can be a good option if you are looking for somewhere to camp near Interstate 10.
Each site has a picnic table and fire ring. Potable water is available at one tap in each campground loop. Flush toilets are available, but there are no showers.
Generators are allowed, but only for two-hour stretches at specific times of the day.
8. Black Rock Campground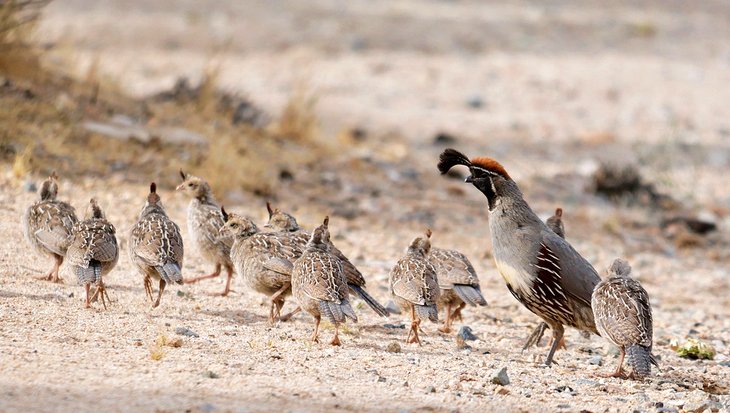 On the opposite side of the park from Cottonwood, west of the town of Joshua Tree, off Highway 62, is Black Rock Campground. This is a scenic campground, with 99 sites and a high concentration of Joshua trees; it's also known as a good bird-watching area.
The biggest drawback to this campground is the distance to the main section of the park, which is at least a 45-minute drive away. However, campsites here are reservable, and that may be an important factor from fall to spring.
It's also the closest campground to the major population centers to the west. The small town of Yucca Valley is five miles away.
Each campsite has a picnic table and a fire ring, and the campground has flush toilets. Generators are allowed but only during certain hours three times a day.
9. Camping outside the Park on BLM Lands
Two free camping areas are available if the park is completely full, and you don't want to camp at a commercial campground near the park entrances. The first site is north of the park entrance. Drive 2.5 miles up Sunfair Road and take a right at Sunflower Road. At the junction of Sunflower and Cascade road, you'll find the designated area. No campfires are permitted here.
The second area is south of the park and much larger. It's also more scenic. As you exit the park on Cottonwood Springs Road, look for side roads heading east or west. Take either one and find your patch of dirt.
Dispersed camping is also available south of Interstate 10. Campfires are permitted here, but you need to have a permit, available online at the BLM website.
Map of Campgrounds in Joshua Tree National Park & Camping Details
Reservations & First-Come, First-Served Campgrounds
The park's nine campgrounds have a total of about 500 sites, although Sheep Pass is only open to groups. The campgrounds are a mix of first-come, first-served (108 sites) and reservable (386 sites). With the exception of Jumbo Rocks and Ryan campgrounds, the best campsites remain first-come, first-served. The first-come, first-served campgrounds are: Belle, Hidden Valley, and White Tank.
To have the greatest chance of getting a site, it's best to arrive as early in the week as possible and don't count on getting a site on a Friday afternoon from October to May. In many cases, you may not even be able to secure a campsite on a Thursday afternoon, especially if the weather is nice. The campgrounds are almost always full on weekends during this time period.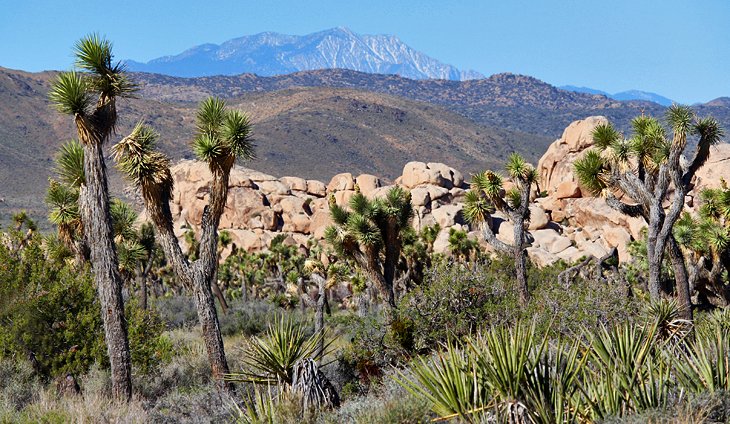 Four of the campgrounds are reservable in the high season, from September to May. During this time, reservations are available six months in advance at Black Rock, Indian Cove, Cottonwood, and Jumbo Rocks Campgrounds.
Be aware that with the exception of Jumbo Rocks, none of these four are on the main roads through the park or close to the most interesting sights. Black Rock and Indian Cove are reached by short, isolated access roads that lead from Highway 62 to the campgrounds. These two do not have road access to the rest of the park.
This means to explore the park, you will have to leave your campground, go back out to Highway 62, and enter the park at one of the entrance stations. Cottonwood is located at the far southern entrance to the park.
From Indian Cove, it is only a 15-minute drive to the north entrance, but from Black Rock, it is about 40 minutes to the nearest gate, which is the west entrance. From Cottonwood it is about 50 minutes to the central area of the park.
Group campsites are also reservable and available at Cottonwood Springs, Indian Cove, and Sheep Pass.
Facilities in the Campgrounds
You need to bring everything with you into the park, as there are no stores, water, or places to buy supplies. If you forget something, there are stores and facilities in nearby Twentynine Palms, but it is a relatively long drive in and out of the park.
The campgrounds are equipped with picnic tables, fire pits, BBQs, and depending on the campground, flush or vault toilets. There is limited cellular service, no Wi-Fi, no RV hookup capability, and no water.
Only Black Rock and Cottonwood Campgrounds have dump stations but these are quite a distance from the central campgrounds.
When to Camp in Joshua Tree National Park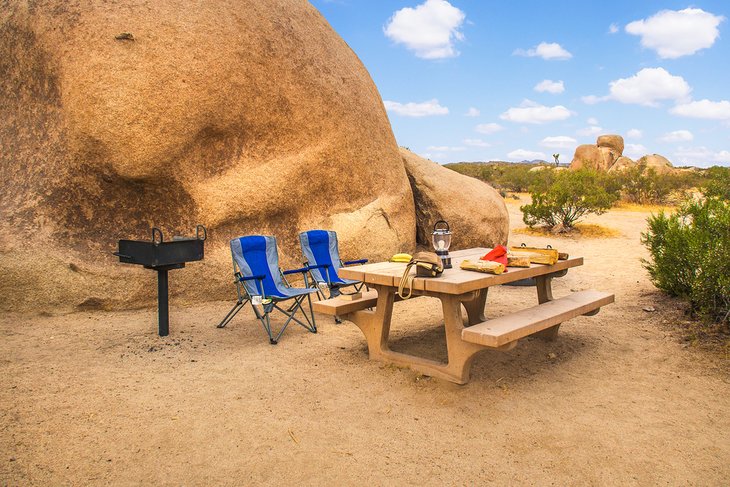 The best time to camp in Joshua Tree National Park is from September through May. This is considered high season and for a good reason: the weather is very pleasant, with warm days and cool to cold nights. From May through September, the daytime temperatures are extreme, and camping becomes almost impossible. One thing to be aware of is that it can get very windy in the park, so plan accordingly.
Joshua Tree National Park also has a unique sort of high season that can vanish in the blink of an eye. This is due to the large number of climbers in the park. The place can be packed, especially the Jumbo Rocks Campground, until other climbing areas open. As soon as the weather in Yellowstone or other popular areas becomes stable, these folks migrate from Joshua Tree to this new location as a pack.