A Visitor's Guide to Exploring Downtown Palm Springs, CA
Palm Springs is known for golf, its beautiful natural scenery, warm weather, and mid-century modern architecture and style. The desert resort is 100 miles east of Los Angeles, and as long as you avoid LA rush hour, it takes about two hours to drive between the two cities.
The revitalized downtown Palm Springs area offers a range of shopping, both trendy modern brands and locally owned boutiques, as well as a bunch of new hotels and a huge range of dining options. The city is also home to some interesting museums and cultural tourist attractions. This is an easy place to fill your days and evenings.
Things to Do in Downtown Palm Springs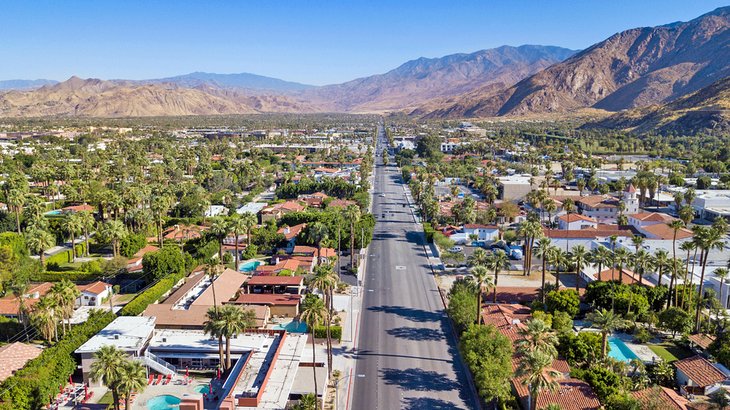 The downtown area, roughly extending from Ramon Road to Vista Chino at the north and south end and between Belardo Road and Indian Canyon Drive from the east to the west, can be easily explored on foot. There is a lot of shopping, and the area is filled with restaurants and unique food shops.
If you visit over a Thursday night, be sure to get out and explore the Palm Springs VillageFest. Each Thursday night, year-round, a quarter-mile-long stretch of Palm Canyon Drive is closed to cars and turned into a street fair and night market. There are food booths, crafts, artists, and more to discover.
And if you want to just get a little outside of downtown, the Palm Springs Air Museum is a fun way to spend an afternoon. The large museum has a vast collection of civilian and military aircraft. It's located right at the PSP airport. You can also take a drive to the Palm Springs Aerial Tramway and explore the local mountains. In 10 minutes, the rotating tramway takes you up the side of the mountain from the desert to an alpine forest at around 8,500 feet above sea level. There is snow at the top most of the year, so you can swim in the sunshine and play in the snow all within an hour. There are 50 miles of hiking trails at the top as well.
Architecture fans flock to the city, as it's home to the largest preserved collection of mid-century modern buildings in the world. This includes both residential and commercial, and many of these commercial buildings can be found downtown. You can also see examples of California Spanish Mission or Spanish Colonial-style architecture downtown at the historic La Plaza shopping center. Mid-century modern enthusiasts from around the world congregate in the city each February for Modernism Week.
Getting to and around Downtown Palm Springs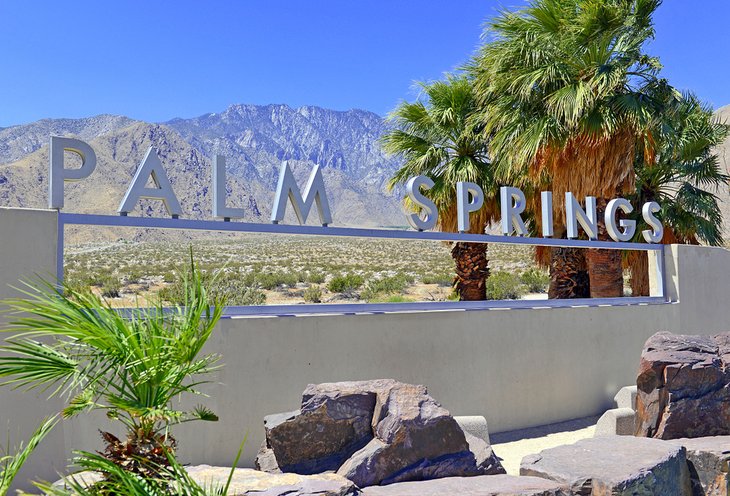 The city's compact size makes it easy to get around on foot. Both Greyhound and FlixBus serve Palm Springs with bus service to Los Angeles, Las Vegas, Phoenix, and other western cities. There is an Amtrak train station as well.
PSP, Palm Springs International Airport, has daily, direct flights to many US cities from several carriers. They also have direct flights to several Canadian cities. There are more flights in the high season, from September through May.
If you drive there or rent a car at the airport, it's easy to drive around Palm Springs. The majority of street parking is free and there are several free, public parking structures as well. Ride-sharing services like Uber and Lyft are also popular choices, and there are always a lot of cars available from both companies. There are also taxis who work the airport and the downtown area. Bicycles are also a popular mode of transportation.
Shopping in Downtown Palm Springs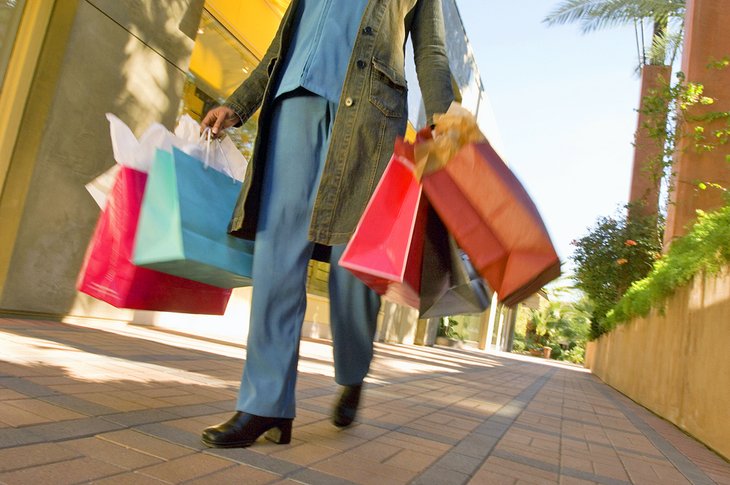 The compact nature of the city means you can do a lot of your shopping on foot. Just park the car and explore, or better yet stay at one of the city's downtown hotels and you won't need a car. The downtown shopping area is mainly on Palm Canyon Drive, between Ramon Road and Alejo Road. This has locally owned shops, as well as a nice range of upscale chains like H&M, Sephora, MAC, Free People, West Elm, and Kiehl's. There's even a Starbucks Reserve, a special limited-edition branch of the coffee outlet with premium coffees, drinks, and specially trained baristas.
The downtown area also has a lot of art galleries, antique stores, vintage clothing shops, and cool home goods stores. If you go north on Palm Canyon Drive, you'll find yourself in the Uptown Design District. This is a two-mile stretch of retail with a heavy focus on mid-century modern art, style, and design. There are a lot of galleries, interior design shops, and home goods stores.
For those looking for serious luxury shopping, head to El Paseo in Palm Desert, about 25 minutes from downtown Palm Springs. That's the Rodeo Drive of the Coachella Valley, and it has all the big luxury brands. If all that wasn't enough retail therapy, there is a large outlet mall at Cabazon, about 30 minutes outside Palm Springs (on the way to LA).
Getting Outdoors and Active in Downtown Palm Springs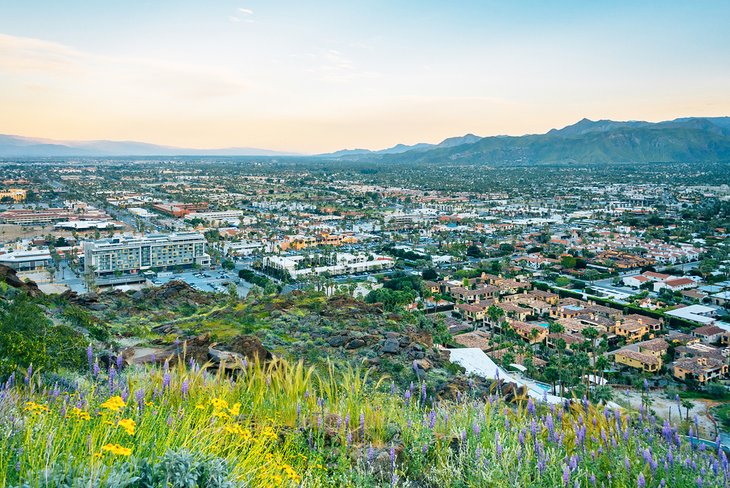 The city's perfect weather (it's sunny and warm about 350 days a year) means you can always just go outside and take a walk or go for a run. It's also fun to go swimming, especially during the hot summers. The compact downtown area is perfect for exploring on foot.
Palm Springs is also very bike-friendly with dedicated bike lanes and bike paths. Many hotels offer guests free loaner bikes, and there are many places in town that rent bicycles and e-bikes. You can really have some fun on the bike-only Gene Autry Bikeway located an easy ride from downtown off Ramon Road near the airport.
If you visit Palm Springs in the summer, between June and September, be prepared for some extreme heat. Daytime temperatures can routinely exceed 120 degrees Fahrenheit (38 degrees Celsius), and most people do their outdoor activities very early in the morning or in the early evening.
Pickleball, an easier version of tennis, is popular in Palm Springs, and there are 12 public pickleball courts at Demuth Park, located near the airport. Ruth Hardy Park is a downtown park with lots of green space, basketball and tennis courts, sand volleyball courts, and picnic areas.
Palm Springs is surrounded by mountains, and it's very easy to get out and explore them. There are two popular hiking trails located right in the downtown area. One is the North Lykken Trail, which starts at the end of Ramon Road, one of the city's main thoroughfares.
Another downtown hiking trail is the Palm Springs Museum Trail, which starts right behind the city's art museum. This trail is relatively difficult, as it rises about 1,000 feet. The loop trail is two miles long, and the turnaround point boasts picnic tables and a great view of the Coachella Valley. It connects with the North Lykken Trail here. The Museum Trail is also the start of the epic Cactus to Clouds hike, considered one of the most difficult in the US.
Arts and Culture in Downtown Palm Springs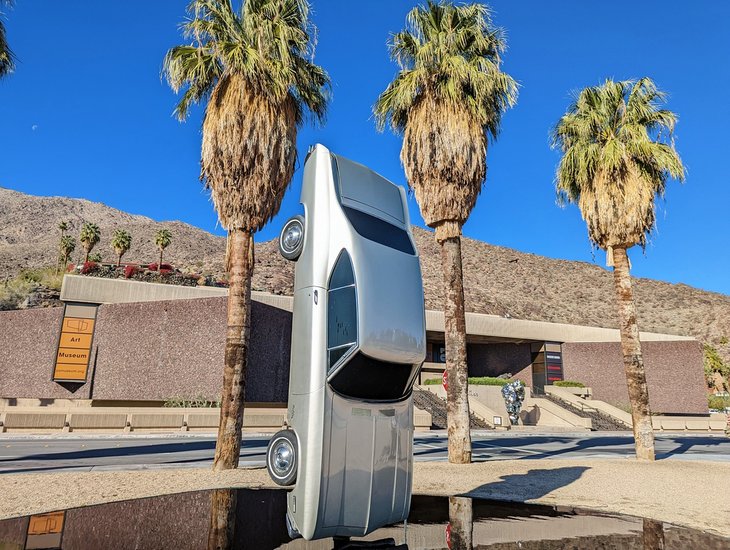 The city's main art museum, the Palm Springs Art Museum, is downtown, a block from Palm Canyon Drive. The museum has a large fine art collection, with an emphasis on contemporary American western art and artists. The museum also focuses on natural history, with a vast collection of Native American art and objects along with fossils and mounted animals.
The art museum also runs the Frey House II, an architectural masterpiece in the mountains designed by architect Albert Frey. The house can be toured. There is a satellite campus of a museum on Palm Canyon Drive focused on architecture and design. It's called the Palm Springs Art Museum Architecture and Design Center, Edwards Harris Pavilion, and it's housed in a preserved mid-century modern bank building from 1960.
As home to the world's largest collection of intact mid-century modern architecture, Palm Springs has a lot of buildings to explore, both homes and commercial buildings. The city celebrates the movement with Modernism Week, which happens each February and draws architecture and design enthusiasts from around the world.
As a celebrity getaway, there are also a lot of celebrity homes in and around Palm Springs. Some can be toured, like the Elvis honeymoon house, and homes owned at one time by Marilyn Monroe, Frank Sinatra, Bob Hope, Bing Crosby, Lucille Ball, and more. The world of cinema is celebrated each January, when the city hosts the Palm Springs International Film Festival. The festival is open to the public, and many of the activities take place downtown at theaters and the convention center.
The art museum's Annenberg Theater presents a wide range of music, theater, and dance performances throughout the year. The city's Palm Canyon Theatre, on Palm Canyon Drive, has been presenting Broadway and other musical theatrical productions for over 20 years.
The Agua Caliente Cultural Museum is located in downtown Palm Springs on Palm Canyon Drive. It tells the story of the local Agua Caliente Band of Cahuilla Indians, who have lived in the area for thousands of years. A larger museum, spa, and cultural center is currently under construction down the street. The Palm Springs Historical Society occupies two restored 19th-century buildings in the same area on Palm Canyon Drive. Aside from the small museum, the society hosts an extensive series of excellent walking tours focusing on various aspects of the city's history and its famous residents.
If you like cacti and other desert plants, the Moorten Botanical Garden and Cactarium is a privately owned one-acre nature center and nursery. It's about a mile south of downtown Palm Springs and is a large park and nature preserve dedicated to desert flora.