22 Top-Rated Things to Do in Big Bear, CA
A two-hour drive from Los Angeles, Big Bear is a Southern California hot spot for adventure. Sitting at over 6,700 feet, Big Bear, and the neighboring Big Bear Lake, offer different activities for every season. Most of the things to do in Big Bear revolve around the lake or the surrounding San Bernardino mountains, with peaks rising to over 8,000 feet.
In the winter, the area's two ski resorts, Bear Mountain and Snow Summit, offer the full range of winter sports. You can go sledding and tubing, skiing and snowboarding, and even ride a horse in the snow. During the summer, the mountain offers hiking and mountain biking. Several chairlifts are open to take you to the top.
Big Bear Lake is also the focus of fun things to do in the summer. Several marinas line the 22 miles of shoreline, offering different ways to enjoy the water. You can explore the lake in a kayak, go water skiing, or fish for the lake's huge rainbow trout.
With over 300 days of sunshine each year, no season is the off-season in Big Bear. Find something new to discover every season with our list of the top things to do in Big Bear.
1. Enjoy the Water of Big Bear Lake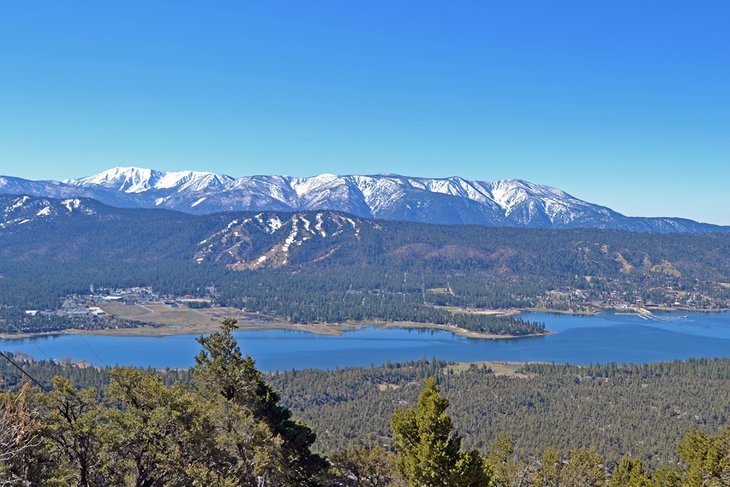 Big Bear Lake is a central sightseeing destination in the San Bernardino National Forest. This human-made lake caters to just about every water activity under the sun, including boating, fishing, and swimming. The lake also adds a scenic touch to many of the area's hiking and walking trails, including the Alpine Pedal Path on the north shore.
Approximately six marinas dot the 22 miles of shoreline. These places to fuel up also offer rentals like kayaks, pontoon boats, Jet Skis, and outboard fishing vessels. These marinas circle the entire lake, with some popular spots on the south shore including Big Bear Marina and Pleasure Point Marina. Places like Captain John's Fawn Harbor and Paddles and Pedals line the north shore.
The lake also has several charter fishing expeditions available. Other unique experiences on the water include single and tandem parasailing and a fun flyboarding experience.
For one of the best places to visit for a lakeshore picnic, check out Boulder Bay Park near the Bear Valley Dam.
2. Ski or Snowboard at Big Bear Mountain Resort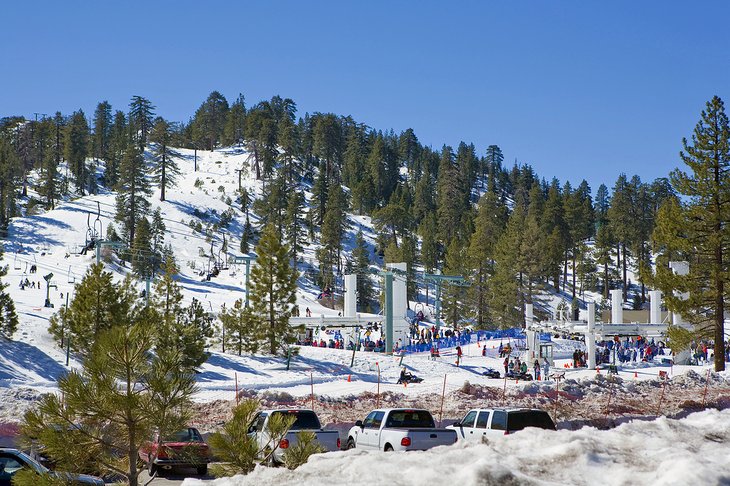 The best skiing and snowboarding in Southern California is at Big Bear Mountain Resort, minutes from the south shore of Big Bear Lake.
The resort is split between two distinct mountain areas: Snow Summit and Bear Mountain. These mountains each have unique attributes and base areas located less than three miles from one another.
There are some subtle differences between the two and those who visit them. Bear Mountain has a lot of backcountry and canyon terrain and a more youthful vibe, with many kids and hardcore snowboarders. The boarders come for the almost 200 features in 19 different terrain park areas including rails, boxes, walls. multiple pipes, and So Cal's only Superpipe.
Snow Summit goes for a more old-school, traditional ski resort vibe, and it's more popular with families and those with little kids. It does welcome snowboarders and has its own, smaller terrain park called Westridge.
Snow Summit is also home to the Grizzly Ridge Tube Park, a dedicated area for snow tubing with its own magic carpet lift (you stand on a moving walkway). You can purchase a lift ticket just for the tube park, and it's a great thing to do in the snow for those who don't want (or don't know how) to ski or snowboard.
Lift tickets are valid for same-day use at either mountain (they're owned by the same company), lending access to over 400 skiable acres and dozens of terrain features. Free shuttles take you back and forth between the resorts.
Official site: https://www.bigbearmountainresort.com/
Read More: Top-Rated Ski Resorts in California, 2022
3. See Wildlife at Big Bear Alpine Zoo at Moonridge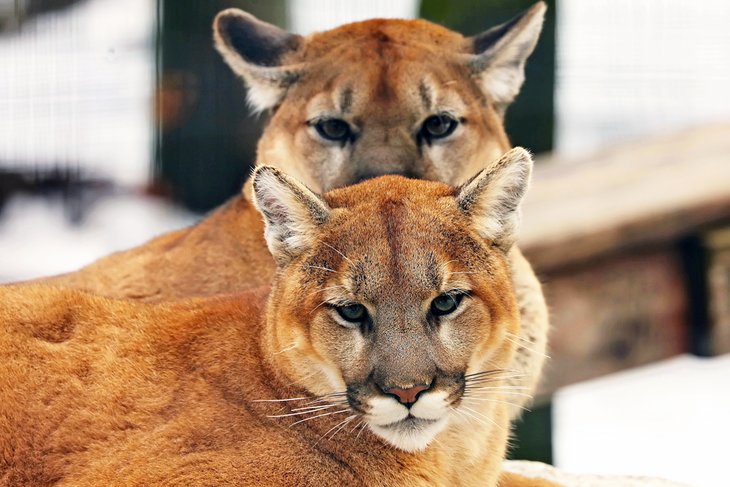 The Big Bear Alpine Zoo at Moonridge, formerly Moonridge Animal Park, has helped rehabilitate wildlife since 1959. Unlike traditional zoos, Big Bear Zoo is exclusively home to orphaned and injured animals or those otherwise not fit to live in the wild. Many of the zoo residents are short-term guests who eventually make it back to their natural habitats.
Visitors to the zoo have the unique opportunity to see several wild animals up close. A few of the common species include black bears, snow leopards, mountain lions, and foxes. The zoo also houses several species of big birds, including golden eagles and great horned owls. Other animals of interest include American badgers, gray wolves, and flying squirrels.
No physical interactions between animals and humans, except for the trained zookeepers, occur at the zoo. However, every day around noon, a keeper brings an animal to the amphitheater for an educational presentation. This popular tourist attraction also offers special Saturday night tours with limited entry.
Address: 747 Club View Drive, Big Bear Lake, California
Official site: https://www.bigbearzoo.org/
4. Visit the Big Bear Discovery Center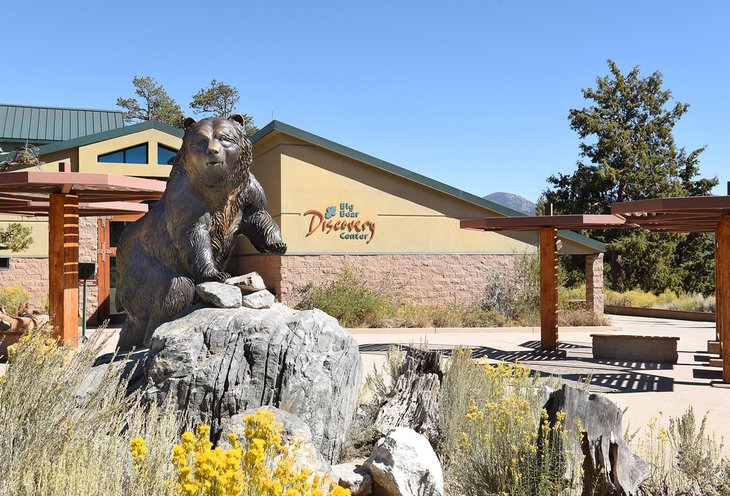 The Big Bear Discovery Center, near the lake's north shore, should be one of the first stops on a Big Bear vacation. Information is aplenty here, including valuable resources about the surrounding San Bernardino National Forest. It's also a great spot to pick up an Adventure Pass, which is required to park at most trailheads.
Exhibits about the ecosystems and wildlife are on display throughout the Discovery Center. And the facility puts on evening presentations in an outdoor amphitheater. The same manicured outdoor space also houses a new Nature Discovery Zone catering to children aged two to seven.
The Discovery Center ultimately educates the public about how to be good stewards in the San Bernardino National Forest. You can put this knowledge to the test at the nearby Cougar Crest Trail, less than a mile to the west.
Note that the Big Bear Discovery Center is due to reopen in late 2022 after an extensive remodel. For now, services and activities are offered outdoors.
Address: 40971 North Shore Drive/Hwy 38, Fawnskin, California
Official site: https://mountainsfoundation.org/programs/big-bear-discovery-center/
5. Hike to Castle Rock and Beyond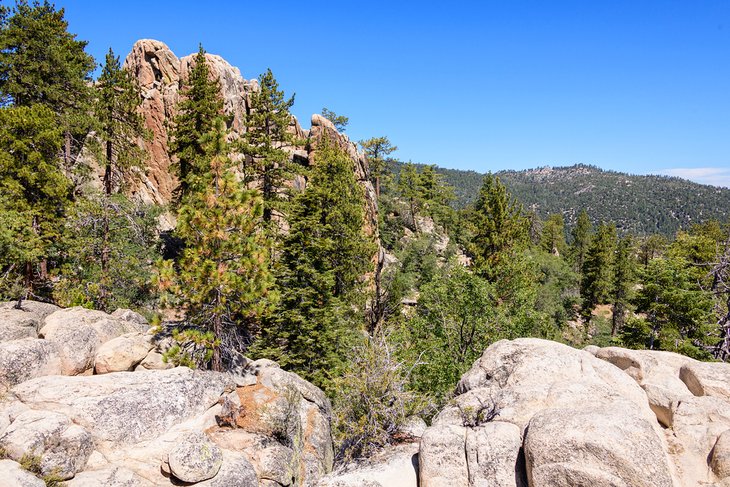 Surrounded by the stunning acres of San Bernardino National Forest, hiking trails are abundant around Big Bear – as are stellar views. One of the most frequented hikes in the area, Castle Rock Trail is well-trodden by local and visiting families. The trailhead is in town near the lake's southwest shore, less than a mile from Boulder Bay Park.
The hike up to Castle Rock is just over a mile one-way, with approximately 800 feet of elevation gain. This steepness gives the hike a moderate rating, but the trail's brevity makes the trek manageable for most skill levels. And the view of Big Bear Lake from the top rewards the uphill effort.
Castle Rock is just one of many excellent hiking trails in Big Bear. On the other side of the lake, the Cougar Crest Trail is another popular route that connects to the Pacific Crest National Scenic Trail.
For a more challenging hike, try the Skyline Trail. This 15-mile route traverses the high-mountain region above the lake's southern shore and is also popular for mountain biking. Another trail for experienced hikers is the Sugarloaf National Recreation Trail, a 10-mile hike to the area's tallest peak.
There are dog-friendly hiking trails, like the Maple Hills Trails, and the city even has a fenced and fully-paved ADA-compliant trail called the Happy Hills Trail, which starts at city hall.
You don't need any kind of permit to hike, but a pass is needed for parking at U.S. Forest Service trailheads (available at the Big Bear Visitor Center) or an America the Beautiful (National Parks) Pass can be used.
6. Spend Time at Boulder Bay Park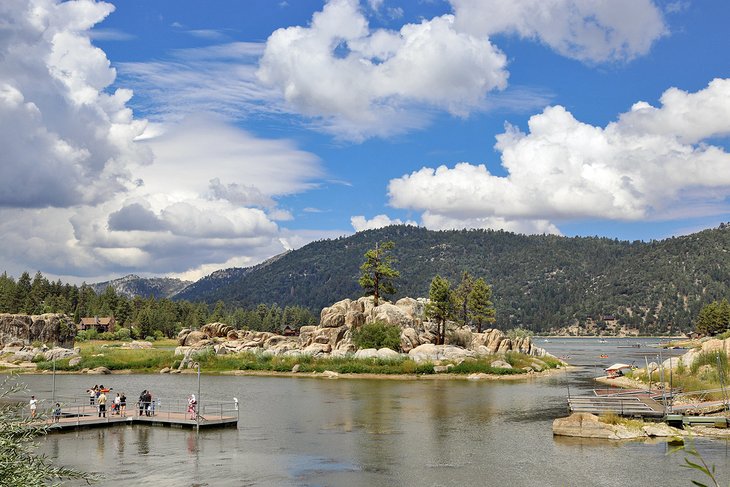 Boulder Bay Park offers the perfect postcard image of Big Bear. The scenery here includes the water, the mountains, and massive rock islands that catch the eye. Situated two miles east of the Bear Valley Dam, this beautiful public space offers recreation throughout the year.
The park is popular in the summer for activities like picnicking and enjoying the panoramic views. Boating is also very popular in the summer for non-motorized, hand-carried vessels. Boaters can paddle out to the namesake boulder islands that define the park, and climb around at their caution. The park also has abundant green space for lawn activities.
Spring and autumn provide a new appeal to Boulder Bay when the season's colors add impressive hues to the environment. April is prime time to see wildflowers throughout the park and surrounding mountainsides.
Come winter, activities like snow-pal building and other snowbound activities encourage time spent outside.
Address: 39148 CA-18, Big Bear Lake, California
7. Kayak around Big Bear Lake
One of the best ways to explore Big Bear Lake is on your own or with a friend in a kayak. The kayaks, which are very buoyant and cannot sink, allow you to quietly explore the lake and its wildlife. The lake is very calm, with little or no current or rough water, so it's a good place to kayak even for novice kayakers.
You might want to pack some fishing gear with you, so you can fish from the kayak or maybe from a secluded cove.
Kayaks can be rented on an hourly or daily basis from several businesses in the marina. If you bring your own kayak, a boat permit is required and can be easily obtained from most local businesses in the marina. Many rental places in the marina also offer guided kayak tours, which are excellent for beginners.
8. Cycle on the Alpine Pedal Path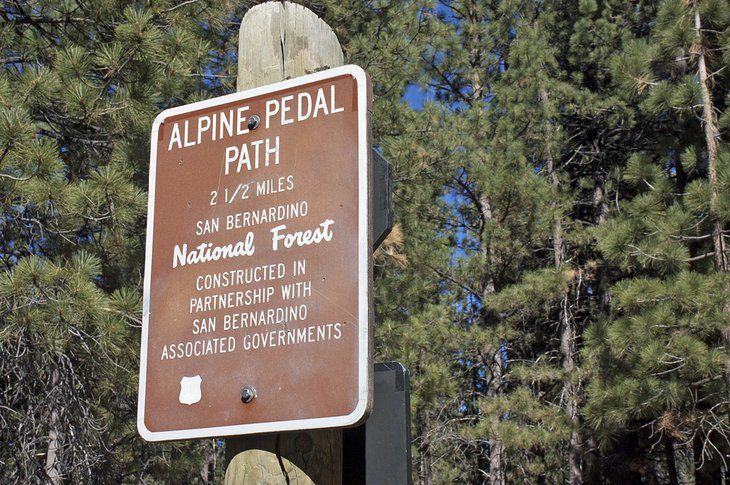 The Alpine Pedal Path is a stunning bike trail that meanders along the north shore of Big Bear Lake. Stretching between the Stanfield Cutoff to the Big Bear Solar Observatory, this approximately 3.2-mile path is one of the most popular free things to enjoy in Big Bear. The route also connects to the Big Bear Discovery Center.
The route is relatively flat and accommodating for all walking abilities. The trail is also popular for bicyclists. And a stunning view of the lake and mountains accompanies every inch of the pathway. Between May and July, several wildflowers also line the route.
The Alpine Pedal Path allows all forms of non-motorized transportation. On any given day, expect to encounter walkers, bikers, rollerbladers, strollers, and scooters. And visitors should expect to encounter some crowds on sunny afternoons.
9. Take the Scenic Sky Chair to the Top of the Mountain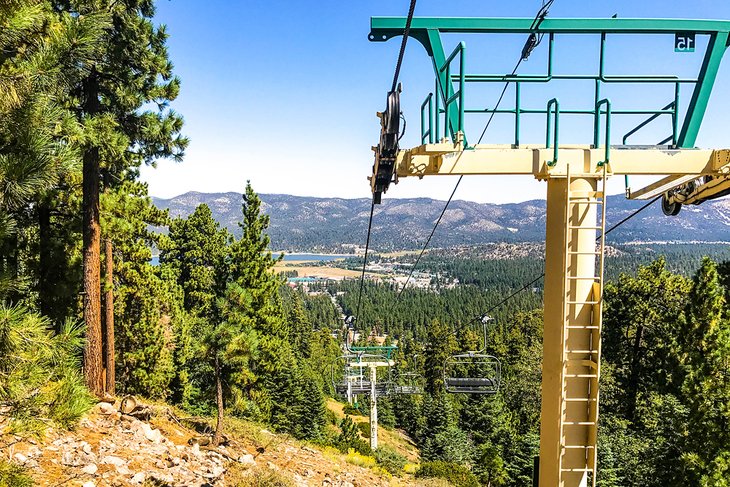 Let's be real, while there are a lot of places to hike around Big Bear, the best views can be seen from the top of the mountain. Take a mile-long chairlift ride through the San Bernadino National Forest to the top of the mountain, 8,200 feet above sea level.
The panoramic views of the Big Bear Valley from the Scenic Sky Chair at Snow Summit are quite spectacular, and you can hike; walk around the summit; or have a meal at the Skyline Taphouse, which has a special children's menu and an outdoor BBQ.
Before eating, the kids can enjoy the mountaintop play area with logs, ropes, and other obstacles.
Small children (four and under) and seniors (80 and over) ride the Scenic Sky Chair for free. If you purchase your tickets in advance online, you get direct-to-lift access, with no waiting, a smart thing to do on busy weekends or holidays.
10. Grab Some Grub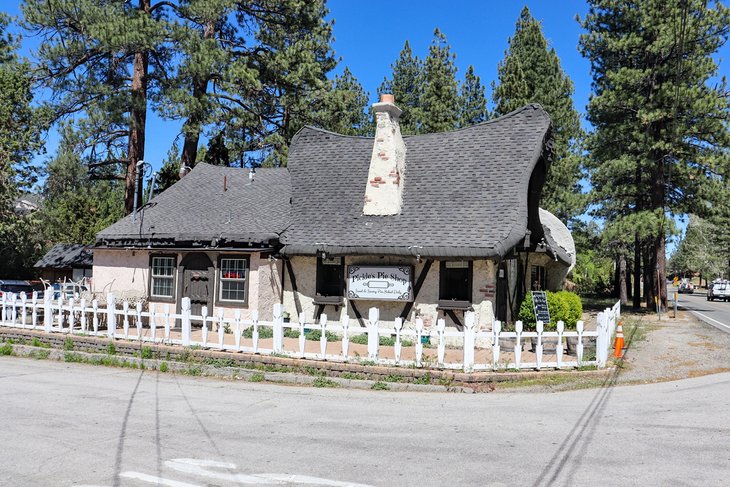 While many visit the Big Bear region for its four seasons, the area's restaurants also add to repeat visits. It's the influx of tourists that has developed dining traditions in Big Bear. From classic breakfast joints to casual cafés and classy eateries, eating out in Big Bear is often a fun part of the visiting experience.
A couple of classic breakfast spots in Big Bear include Teddy Bear Restaurant and Grizzly Manor Cafe. These staple restaurants serve much more than breakfast entrees, but feature the longest wait times in the mornings. For those craving something sweeter, Dank Donuts is a new bakery in town that specializes in handmade morning pastries.
Lunch and dinner menus are nearly endless in Big Bear. For burgers served with a side of Americana, Get the Burger in Big Bear is the place to head, and Pickle's Pie Shop sells its delicious namesake items in savory or sweet versions.
For a more upscale dining experience, the atmosphere at Peppercorn Grille offers the perfect location for a romantic date. And to dine internationally, the popular Himalayan Restaurant features Nepalese fare on the menu.
11. Big Bear Snow Play & Big Bear Ropes Course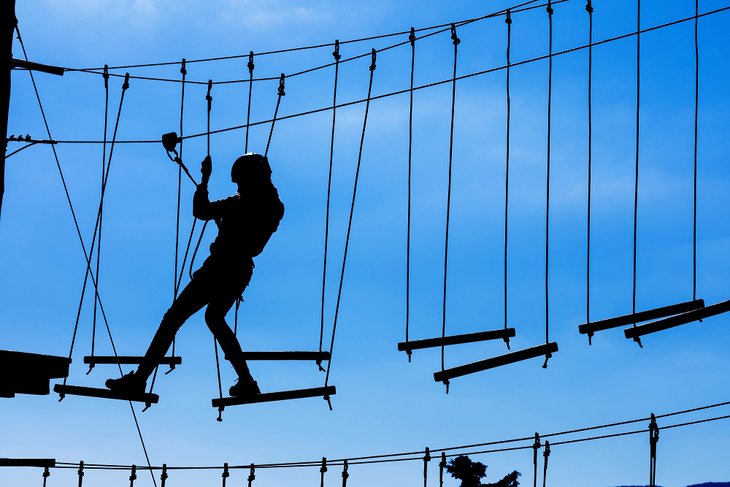 Big Bear Snow Play, near the lake's southwest shore, is the number one spot for family fun in winter. This ski-hill-turned-snow-tube-mecca features the longest tube runs in Southern California. A convenient magic carpet at the facility eliminates any uphill travel.
The snow tubing season typically spans from mid-November to Easter. Near the beginning and end of the season, Big Bear Snow Play supplements with snowmaking machines. A single pass at Big Bear Snow Play allows all-day access to the excitement. And Glow Tubing is offered in the evening on the weekends and holidays.
The facility also features an indoor heated lodge with a snack bar. Big Bear Snow Play doesn't go dormant in the winter, either. Big Bear Speedway revs up once the snow melts, offering fast-paced and family-friendly go-karts.
Big Bear Ropes Course is also available in the summer, which has visitors navigating obstacles up to 35 feet in the air.
Official site: http://www.bigbearsnowplay.com/
12. Meet Some Thru-Hikers on the Pacific Crest Trail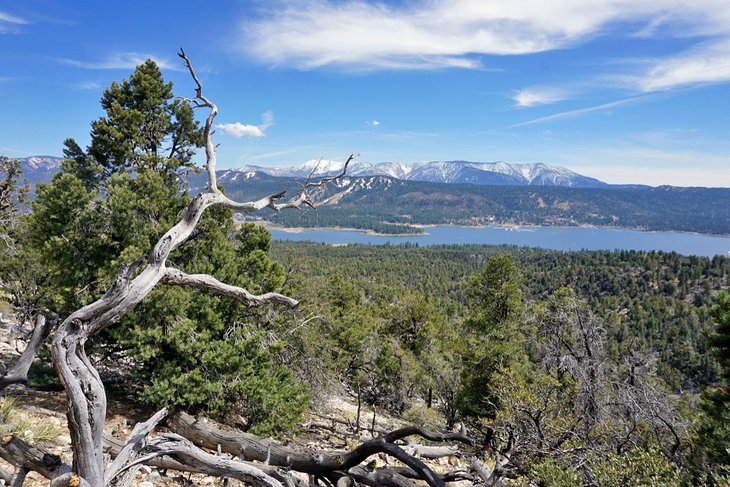 The country-spanning Pacific Crest Trail (PCT) traverses the steep San Bernardino Mountains on the north shore of Big Bear Lake. Long-distance hikers, also known as thru-hikers, access the city with a 2.5-mile side trip on the Cougar Crest Trail. For those hiking northbound from Mexico, Big Bear is mile 266 on the approximately 2,650-mile journey.
This proximity to the PCT makes Big Bear a frequent trail town for hikers. Thru-hikers are generally distinguishable by their large backpacks, hiking poles, and, usually, a little dirt caked onto their clothing. Northbound hikers arrive in the area around May, and many thru-hikers are happy to talk about their journeys if asked to elaborate.
More importantly, the proximity also enables visitors to access the PCT themselves. The Cougar Crest Trail is a half-mile west of the Big Bear Discovery Center and climbs approximately 800 feet up to the PCT. Here, visitors can take a leisurely day hike or embark on an overnight trip on one of the country's most famous hiking trails.
For the full Cougar Crest experience, the trail connects with the PCT for a quarter-mile. It then continues on its own for another 0.8 miles to Bertha Peak. Here, the view of Big Bear Lake is fantastic.
13. Do Some Gravity-Fed Mountain Biking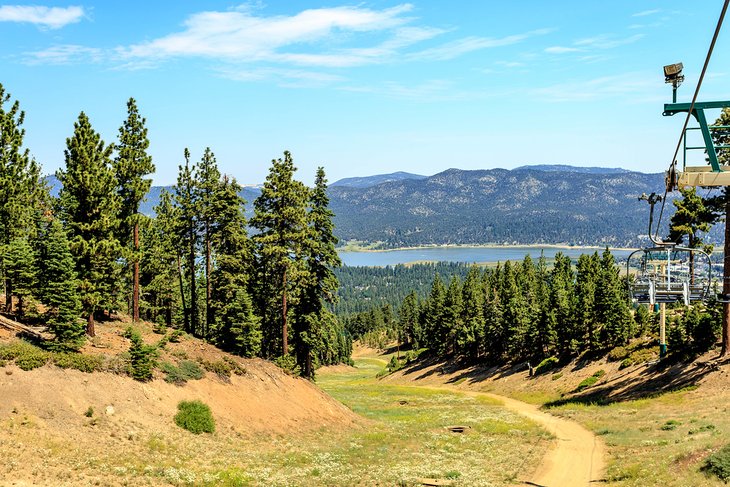 One of the most popular things to do in Big Bear when there's no snow on the ground, is explore the area on a mountain bike. Big Bear's Summit Bike Park is the ultimate lift-served, gravity-fed mountain biking experience.
Lift-served means the ski lifts operate in the summertime, with bike racks. Gravity-fed means you take the lift up the mountain and then ride down the trails with gravity doing most of the work.
The bike park gives riders over 1,200 feet of vertical descent and access to over 60 miles of cross-country trails. Beyond the trails within the official Big Bear Mountain Resort area, you can connect to hundreds of miles of forest service fire roads, which can also be biked.
There are trails and terrain for riders of all skill levels, and you can use BMX or mountain bikes (bike and gear rentals are available on-site and at most of the local ski rental places in town). The bike park offers group and private lessons for first-timers and those who want to improve their skills; it also offers guided trail rides.
14. Pretend You're an Olympic Bobsledder at the Alpine Slide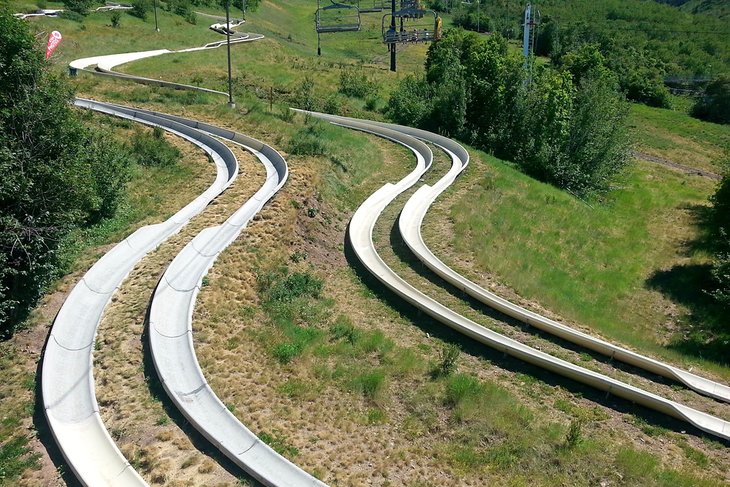 Part of the little Magic Mountain Recreation Area, the Big Bear Alpine Slide is one of the few places in the U.S. where you can feel what it's like to ride in an Olympic bobsled.
You start with a chairlift ride (with sweeping views of the lake) to the top of a huge hill. Then you sled down one of the two-quarter-mile-long cement tracks, which feature high-banked turns and long straightaways, just like a bobsled track. The sleds have Teflon runners and ball bearing wheels, and you can go as fast (or as slow) as you like by using the brake.
If you visit during the summer (between Memorial Day and Labor Day), Magic Mountain has a waterslide and a big swimming pool. They also have a ride called the Soaring Eagle, which is like a giant swing. It pulls you 100 feet in the air and 500 feet back, then lets you swing forward.
Address: 800 Wild Rose Lane, Big Bear Lake, California
Official site: www.alpineslidebigbear.com
15. Ride a Mountain Roller Coaster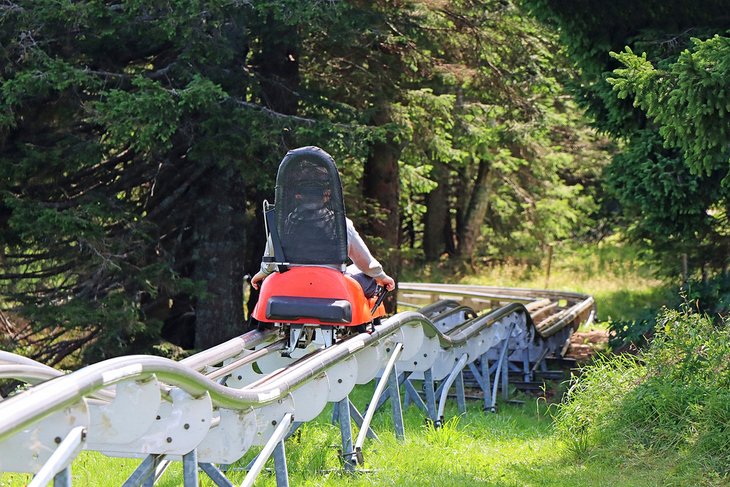 Designed to simulate riding in an out-of-control mining cart, the Mineshaft Coaster at the little Magic Mountain Recreation Area is a unique, gravity-powered alpine roller coaster, which travels over a mile.
The mountain coaster's cars, which accommodate one or two people, ride on twisting metal tracks with steep descents, seriously sharp turns, and a 360-degree corkscrew. Unlike most roller coasters, the mountain coaster's cars have brakes, so you can slow yourself down if you get scared.
The raised track gives riders some great views of the lake, the many ponderosa pine trees, and the surrounding mountains, as they hurtle down the track. This Big Bear attraction is open year-round, and it's a lot of fun to zoom around the track looking around at the snow white landscape.
Address: 800 Wild Rose Lane, Big Bear Lake, California
Official site: www.alpineslidebigbear.com/mineshaft
16. Fish for Rainbow Trout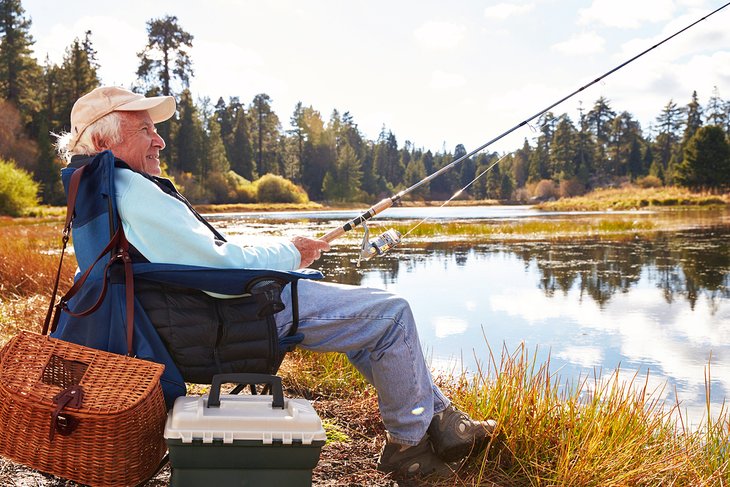 One of the most popular things to do in Big Bear is fishing in the lake. The most popular fish species is rainbow trout; the big fish thrive in the lake's cold, deep waters.
Aside from trout, you can fish for carp; catfish; bass; and even crayfish, which are found under rocks near the shore. A popular spot is right near the dam, as the lake is deepest here. If you're in a boat, there are floating buoys you can tie up to.
There are multiple ways to go fishing at Big Bear Lake, but keep in mind they all require a fishing license. Licenses (including one-day licenses) are available from any of the tackle shops or other nearby businesses that rent gear.
Once you have your license and your gear, you can fish from the shore, a dock, a boat (including a kayak or canoe), or you can take a group charter boat with an expert guide.
There are size and catch limits, so be sure to know them before you start. You can catch and release, but all the fish found in Big Bear Lake can be eaten. The rainbow trout are especially delicious and popular for lakeside grilling.
17. Play a Round of Mountain Golf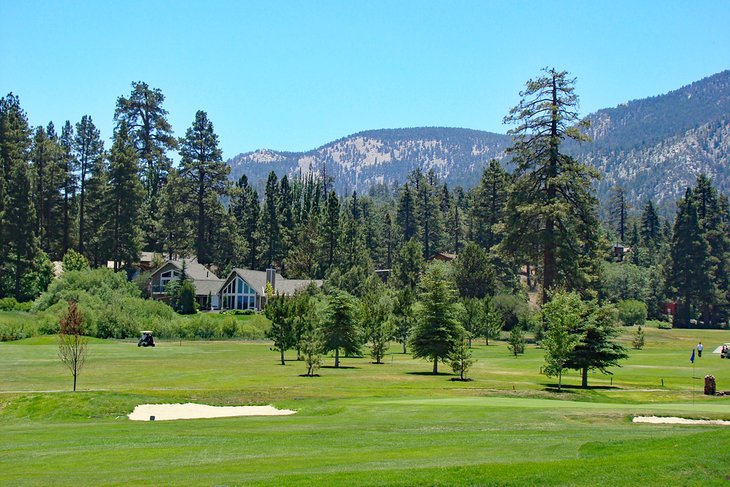 Covered in snow during the winter, the Bear Mountain Golf Course is right at the base of the Big Bear Mountain Resort. The 9-hole, par-35 Executive Course provides a unique alpine golf experience.
The Bear Mountain course, which sits at about 7,000 feet above sea level, has some amazing mountain views and is surrounded by towering ponderosa pine trees. Golfers typically play two rounds on the 9-hole course to make one full round. The well-designed and well-manicured course has a good number of par 4s and even long par 5s; it's much more than a chip-and-putt.
Aside from the course, there's a driving range, a putting green, a chipping area, a pro shop, and a clubhouse grill. The course offers club rentals and even has an on-site pro, who gives golf lessons. Playing a round here is a fun thing to do for both experienced golfers or for some family fun for first-timers.
You can book tee times starting in mid-May, and the season usually goes into October. The course hosts nighttime Glow Golf over a few summer weekends. Glow-in-the-dark golf balls are used, and the fairways and greens are lined with glow sticks.
Address: 43092 Goldmine Drive, Big Bear Lake, California
Official site: www.bigbearmountainresort.com/Golf
18. Test Your Driving Skills in Formula One-Inspired Karts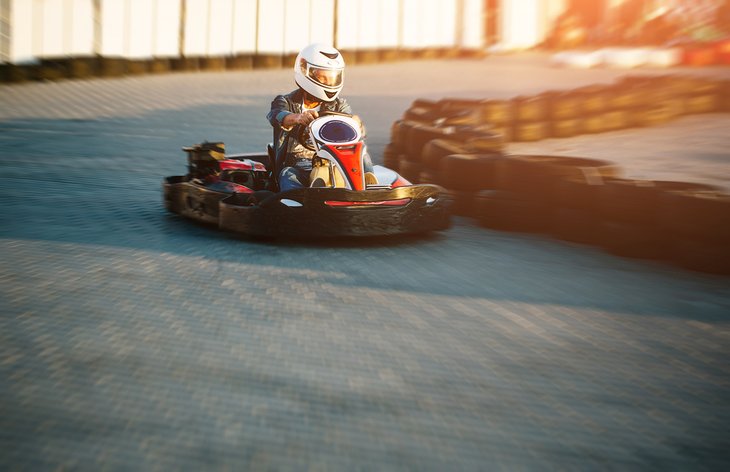 The Big Bear Speedway is a challenging track that uses the same F1-inspired Sodi RT8 karts that many Formula One drivers got their start in. The mini racecars have Honda engines and a power-to-weight ratio that makes them very fast. Race-derived suspensions and brakes give them incredible handling and performance on the tight course.
Safety is the priority here, and the karts have such a low center of gravity that it's almost impossible to flip them. The karts have four-point safety harnesses and can be controlled remotely (shut-down or throttled back) by the pit crew to ensure safe operation.
The Big Bear Speedway is open from mid-April through mid-October. If you're over 18, you'll need a driver's license to drive the karts; kids need to be at least 14 years old and a minimum of 62 inches tall.
Two-seat karts are also available. These need to be driven by a licensed adult, and the passenger must be at least 40 inches tall.
Address: 42825 Big Bear Blvd., Big Bear Lake, California
Official site: www.bigbearsnowplay.com/speedway
19. Sail aboard a Pirate Ship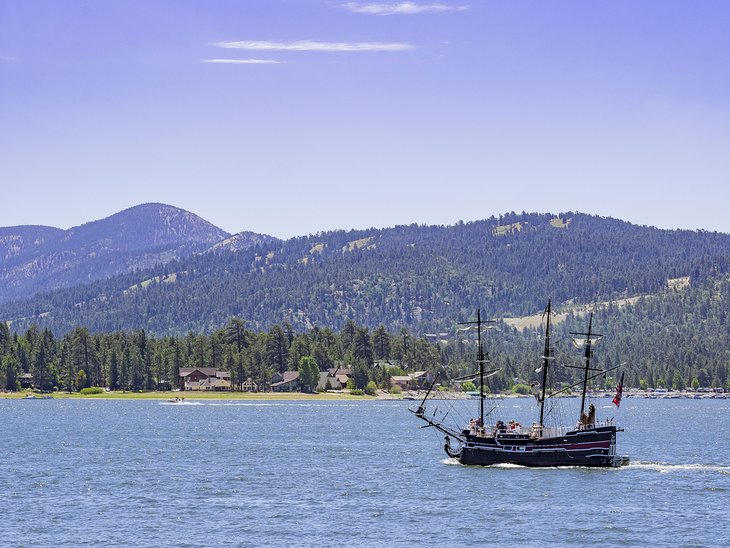 Featured in the 1980s Monty Python side project film Time Bandits, the Time Bandit pirate ship now sails the waters of Big Bear Lake. It's a hand-built ⅓ scale replica of a 17th century Spanish galleon warship and each day they do 90-minute lake cruises which feature costumed pirate crew characters, mock battles and a lot of fun and funny performances.
It's a unique way of seeing the area from the water and kids always love the pirates and their jokes. You'll witness a pirate mutiny and on most cruises, someone is forced to walk the plank and jump into the lake.
You even get a bit of history as the ship is an authentic recreation of a Spanish warship complete with sails and cannons. The Time Bandit is berthed in Holloway's Marina which offers a huge range of boat rentals and charters.
Official site: https://www.bigbearhollowaysmarina.com/thepirateship
20. Ride a Horse through the Snow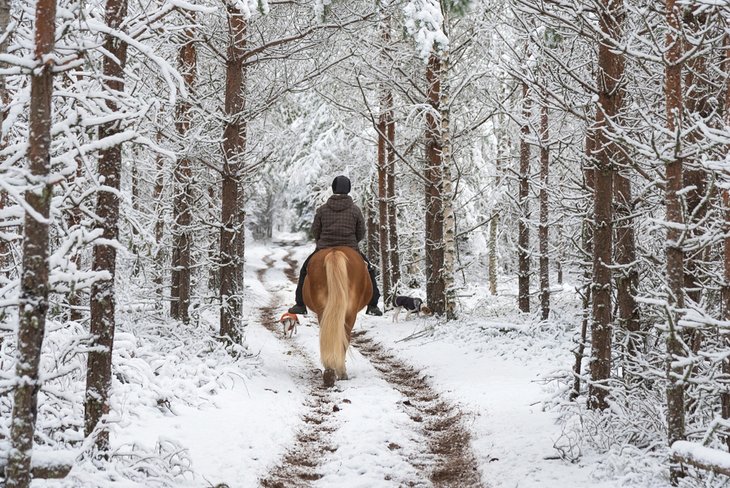 Winter or summer (or spring or fall) Baldwin Lake Stables gives riders the opportunity to experience the scenic mountain wilderness on horseback. Whether you're an experienced rider or you've never been on a horse before, they can create an adventure you'll never forget.
From romantic trail rides in the snow for couples to hand-led pony rides in a corral for the kids, they have a wide range of horseback adventures. You can do one-, two-, or three-hour trail rides or the half-day ride, which includes a break for lunch. Special sunset rides are also available.
The stables really cater to novice riders and have some very friendly, easy-to-ride horses and some very experienced, patient guides.
After your ride, visit the petting zoo and pet and feed llamas, goats, sheep, rabbits and chickens. The stables are about 10 minutes outside Big Bear Village, and they're open year-round.
Address: 46475 Pioneertown Road, Big Bear City, California
Official site: http://www.baldwinlakestables.com/
21. Stay the Night in a Cabin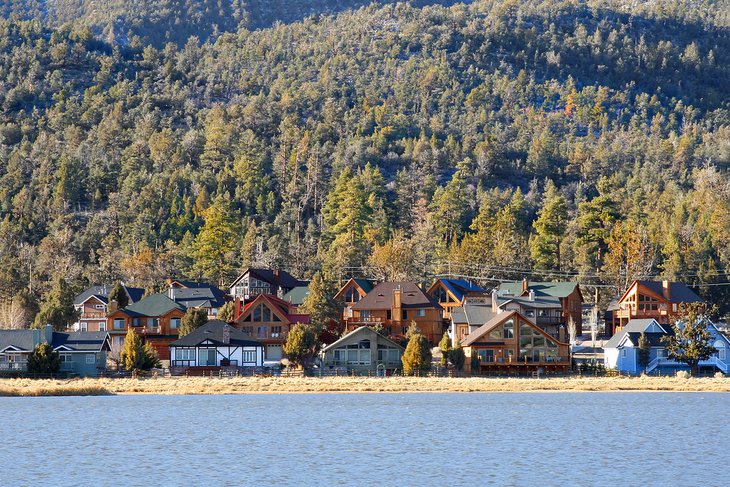 Big Bear has several vacation rentals to spend the night. Arguably the coziest accommodations are the several cabins available near the lake. These rustic retreats amplify the aesthetics of the surrounding San Bernardino National Forest.
The Laken Haus is always a popular place to visit, located on a small peninsula near the lake's south side. This cozy abode features three bedrooms and some of the best lake views in town. The Lakefront Chalet on Boulder Bay is another sought after cabin for families and groups up to eight people. Farther inland, the peaceful property of Three Bears Cabin also lends to well-deserved vacations.
Big Bear is also home to several larger cabin rental companies. Both Big Bear Cabins and Big Bear Cool Cabins offer several properties near and on the lake. For those looking for more affordable accommodations and dorm rooms, the Big Bear Hostel is a clean and tidy place to stay with incredible value. Big Bear Hostel also features private rooms and cabins.
22. Go Glow Bowling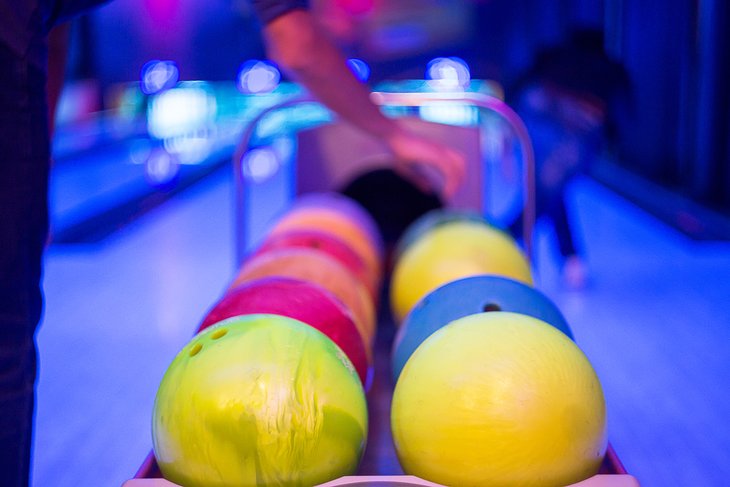 A great thing to do in Big Bear for families is bowling. Instead of the usual bowling experience, try something wild, and go glow bowling. Glow bowling happens every night at Big Bear's Bowling Barn bowling alley. Glow bowling involves bowling in special black and colored lighting, accompanied by some great music.
During the day, the bowling alley is open for regular play, and in the early evenings, they have local league play. Aside from 16 modern lanes, the Bowling Barn has a fully automated and computerized scorekeeping system, so no more keeping track of how many pins each person knocked down.
This is a fun thing to do with kids in Big Bear, as aside from bowling, there's a big arcade filled with video games, and a laser maze.
Address: 40625 Big Bear Blvd, Big Bear Lake, California
Official site: www.bowlingbarn.com
Map of Things to Do in Big Bear, CA
Big Bear City, CA - Climate Chart
Average minimum and maximum temperatures for Big Bear City, CA in °C
J
F
M
A
M
J
J
A
S
O
N
D

8

-6

9

-6

11

-4

14

-2

19

1

24

5

27

8

26

8

23

5

18

0

12

-4

9

-6

PlanetWare.com
Average monthly precipitation totals for Big Bear City, CA in mm.

104

117

90

24

13

5

19

25

14

20

39

68