12 Top-Rated Attractions & Things to Do in Laguna Beach, CA
We may earn a commission from affiliate links ()
A charming oceanfront city lined with luxurious mansions and offering a variety of things to do, Laguna Beach is a Southern California hot spot. Located halfway between Los Angeles and San Diego, this relatively quiet coastal city garners international attention much in thanks to its brilliant sea cliffs, beaches, and massive homes that overlook it all. The annual Festival of Arts Pageant of the Masters also tends to draw a crowd, with live recreations of famous artworks.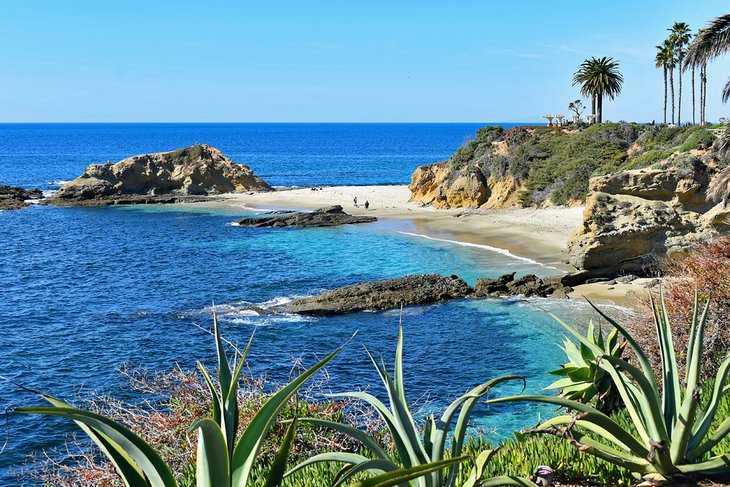 An iconic destination and popular spot for tourists and celebrities alike, Main Beach Park connects the artistic Downtown District to the ocean via manicured spaces. Branching from Main Beach Park in either direction, a stunning Southern California shoreline invites memorable days spent at the beach. Places to visit along the Laguna Beach coastline include the Heisler Park; a picturesque Pirate Tower; and a scenic, sandy spot called Thousand Steps Beach.
Alongside the beautiful people and bustling community of Laguna Beach, the city also features an abundance of natural spaces to explore. It's home to one of the best state parks in California, Crystal Cove State Park, which features campgrounds with ocean vistas, and miles of multi-use trails navigating through inland chaparral canyons. Crystal Cove also connects to the much larger Laguna Coast Wilderness Park, which encompasses over 7,000 acres of unspoiled coastal terrain.
Discover the best places to visit in this scenic city with our list of the top things to do in Laguna Beach.
Note: Some businesses may be temporarily closed due to recent global health and safety issues.
1. Heisler Park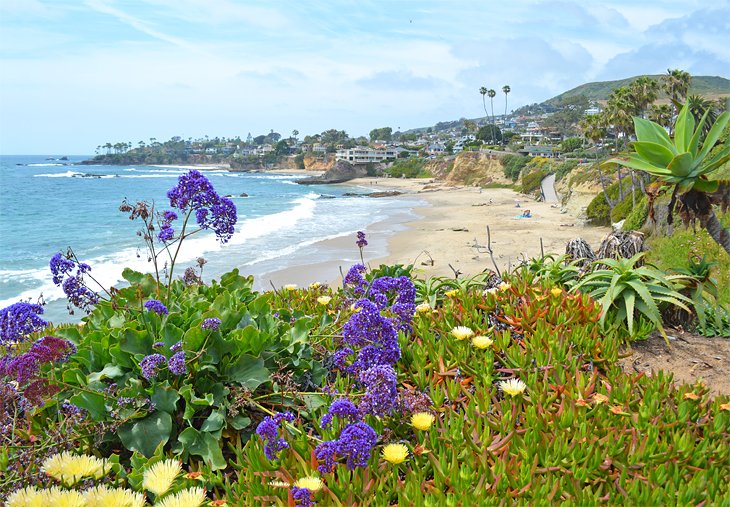 An oceanfront park full of scenic attraction, Heisler Park provides perhaps the most scenic stroll in all Southern California. With mile-long views of the ocean, the paved pedestrian path navigating Heisler Park meanders by public art, beautiful bench seats, and an array of blooming gardens and wildflowers. Picnic tables, barbecue grills, and plenty of access points to the ocean also line the path. Pairing well with the scenic attraction of the city park, the adjacent Laguna Art Museum displays a wide range of California artists.
Address: 375 Cliff Drive, Laguna Beach, California
2. Crystal Cove State Park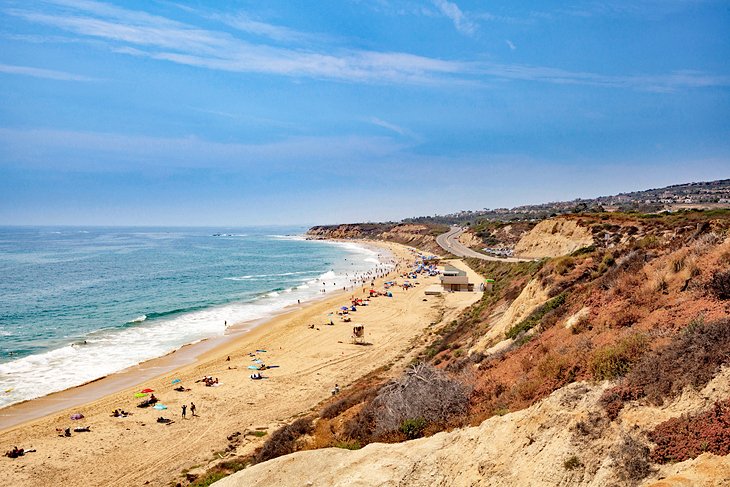 The Southern California coastline is on full display at Crystal Cove State Park in Laguna Beach. Accessed from the Pacific Coast Highway, this top-rated state park in California encompasses over three miles of sandy shoreline and thousands of acres of inland wilderness. This abundance of public natural space is a commodity in Southern California, and Crystal Cove provides ample outlets to explore it all.
The state park's oceanfront property comprises seven different coves, each providing opportunities to sunbathe, swim, snorkel, and explore tide pools. The multi-use trails into Morro Canyon at Crystal Cove require some uphill effort, but each lead to spectacular ocean views. The Laguna Coast Wilderness Park is directly adjacent to the backcountry trails at Crystal Cove, adding even more miles to explore underfoot.
Camping is incredibly scenic and very popular at Crystal Cove, ranging from tent camping with a view to backcountry sites accessed with a hike. One of the best campgrounds in Southern California, the Moro Campground at Crystal Cove overlooks the ocean for breathtaking sunsets atop a coastal bluff. Alternatively, inland primitive camping is available at Crystal Cove for hikers, mountain bikers, and equestrians.
Address: 8471 N. Coast Highway, Laguna Beach, California
Official site: http://www.parks.ca.gov/?page_id=644
3. Main Beach Park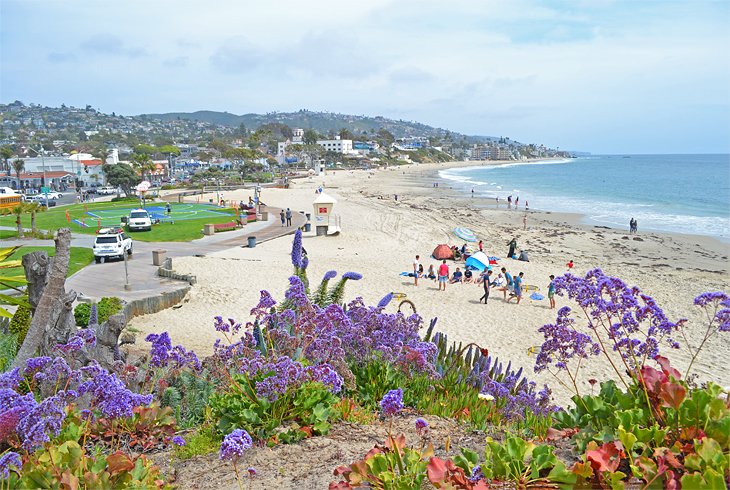 At the intersection of Broadway Street and the Pacific Coast Highway, Main Beach Park is an iconic oceanfront destination complete with sand volleyball nets, a boardwalk, and lifeguards on duty. Popular for celebrities and average tourists alike, the beach area gives a certain vibe that just feels like Southern California, especially come sunset when the surrounding hillsides full of mansions seem to glow. Riptides are present just offshore, and those interested in swimming should consult with the lifeguards first.
A central attraction of Laguna Beach, Main Beach Park branches in either direction for more beautiful sights to see. Plenty of local shops and restaurants of Laguna Beach are inland from the park, including the local favorite, Nick's Laguna Beach. To the north of Main Beach, Heisler Park sits atop a bluff and provides stunning landscaped gardens with ocean backdrops.
Address: Broadway Street & Pacific Coast Highway, Laguna Beach, California
4. Festival of Arts and Pageant of the Masters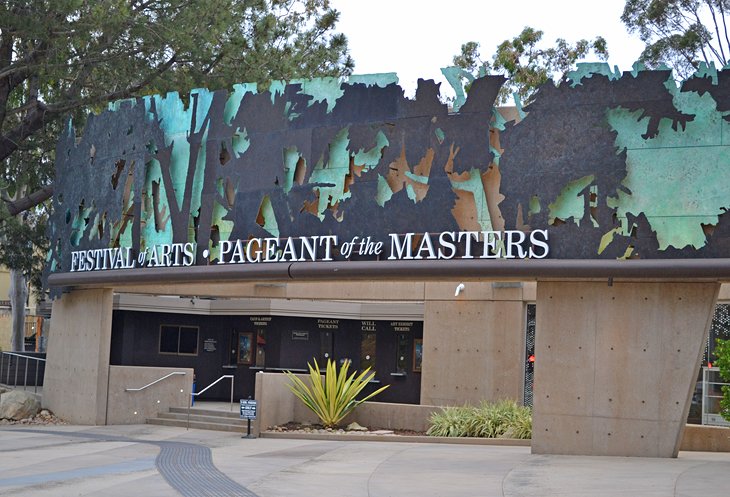 A beloved summer event in Orange County, Pageant of the Masters brings classic paintings to life with live actors and a full orchestra. Hosted by the Festival of Arts, the large outdoor seating area surrounding the stage invites guests to spread out a blanket and get comfortable late into the summer evening. Other attractions and reasons to arrive early include the Festival Art Show featuring fine art from local California artists.
Adjacent to the Festival of Arts and Pageant of the Masters facility, the Laguna Playhouse is another top-rated attraction providing evening entertainment. This historic theater is well known in the region for bringing in top names in talent, as well as offering a year-round selection of plays, musicals, comedians, and family-friendly performances. For budding thespians, the Laguna Playhouse Youth Theatre offers some limelight for young actors and actresses.
Address: 650 Laguna Canyon Road, Laguna Beach, California
Official site: https://www.foapom.com/
5. Crescent Bay Point Park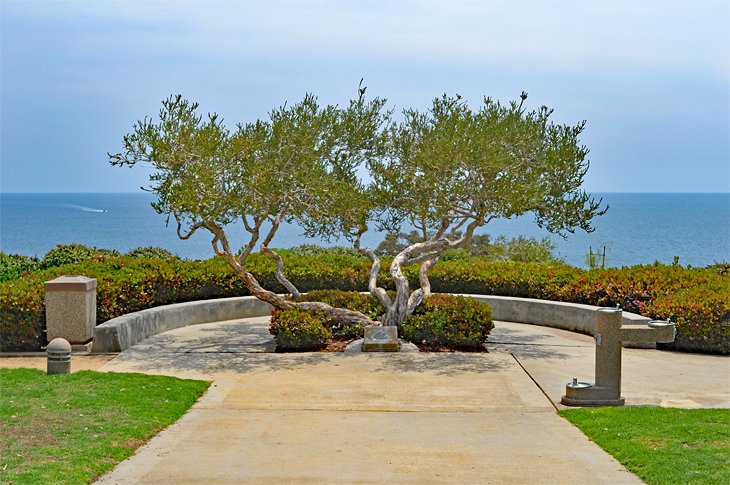 A small hidden gem of Laguna Beach, Crescent Bay Point Park is tucked into a neighborhood off the highway and provides one of the best sunset viewing spots in the city. Overlooking Crescent Bay Beach directly below, this small cliffside park provides railings and park benches to appreciate the 180-degree views of the coastline. Adding extra appeal, the landscaping of this neighborhood park makes for a peaceful atmosphere far from the traffic noise nearby.
Address: Crescent Bay Drive, Laguna Beach, California
6. Art & Shopping Downtown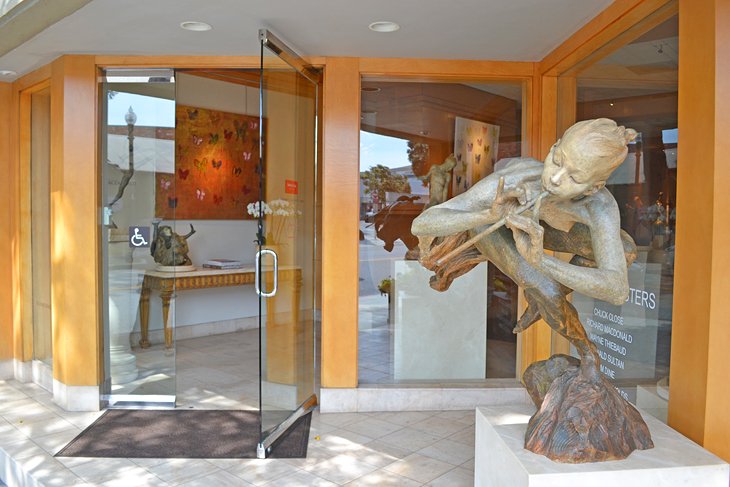 Much of the locally sourced creativity of Laguna Beach can be found in the Downtown District near the ocean. Beginning at Main Beach Park and stretching to Legion Street, the downtown area is filled with homewares, fashion labels, and many mediums of art on display. Perusing the galleries, boutique shops, public artworks, and ample local dining options of downtown Laguna Beach is an excellent way to spend the afternoon.
7. Pacific Marine Mammal Center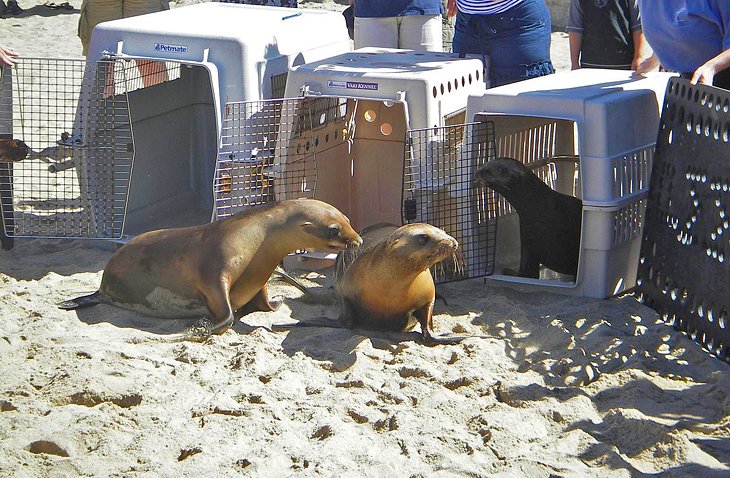 Facilitating a process of rescue, rehabilitation, and release of injured marine mammals, this non-profit animal center encourages tourists to come and learn about their resident patients. Comprised primarily of California sea lions and Northern elephant seals, the rescued animals have an average length of stay of about three months until they are ceremoniously released back into the wild. Many of these animals can be seen from the Visitor Yard at the Pacific Marine Mammal Center, where admission is free, and donations are appreciated.
Address: 20612 Laguna Canyon Road, Laguna Beach, California
Official site: https://www.pacificmmc.org/
8. Laguna Coast Wilderness Park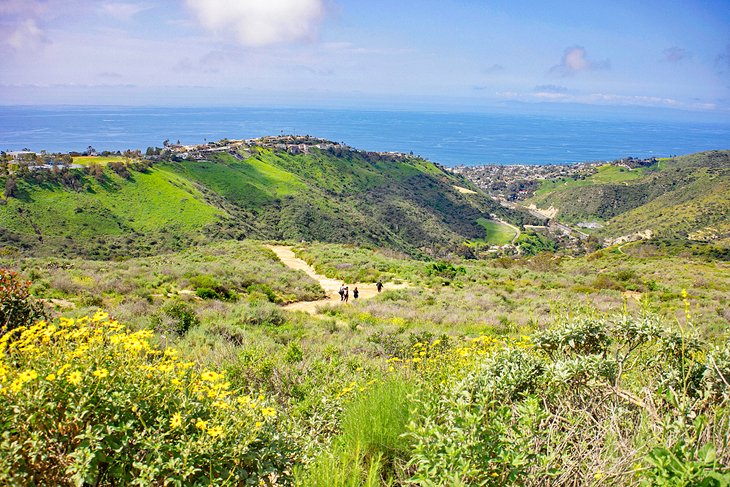 A tract of undeveloped land bordering the Southern California coast, this sprawling natural space comprises over 7,000 acres of dense coastal canyon terrain. Over 40 miles of multi-use trails span the oak and sycamore woodlands of the wilderness park, some leading up to high rocky bluffs, where stunning views of the ocean unfold. Numerous trailheads to the Wilderness Park can be accessed from Laguna Canyon Road, including the popular Big Bend Trail, open to hiking, biking, and horse riding.
The 7,000 acres of Laguna Coast Wilderness Park are complemented nicely by other unspoiled surrounding acreage. Crystal Cove State Park is adjacent to Laguna Coast Wilderness Park, as is Aliso and Wood Canyons Wilderness Park, totaling nearly 20,000 acres with a sprawling network of trails to explore. Trails may be closed for a few days following rain. More information about the area can obtained at the Nix Nature Center on-site.
Address: 18751 Laguna Canyon Road, Laguna Beach, California
Official site: http://www.ocparks.com/parks/lagunac/
9. Thousand Steps Beach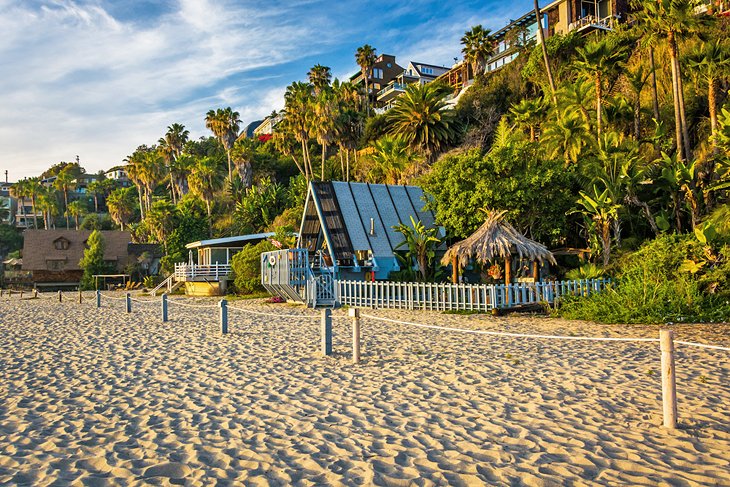 Of the many different coves and beaches lining the city, Thousand Steps Beach may be the best one to visit for a workout. It's not quite a thousand steps leading from the Pacific Coast Highway down to the beach, probably closer to 300, but it feels like a healthy grand as you make your way back up. Perhaps thanks to this extra effort involved, Thousand Step Beach often sees far fewer crowds than its neighboring beaches.
To the north of Thousand Steps, Table Rock Beach is the next beach over and provides a rugged coast to explore. Featuring a dynamic shoreline and abundance of rock features, Table Rock Beach has a scenic rock archway that's possible to pass through (with caution) during extremely low tide. Not accessible from the Pacific Coast Highway, this tucked away beach is also a good spot to avoid the crowds.
10. Treasure Island Park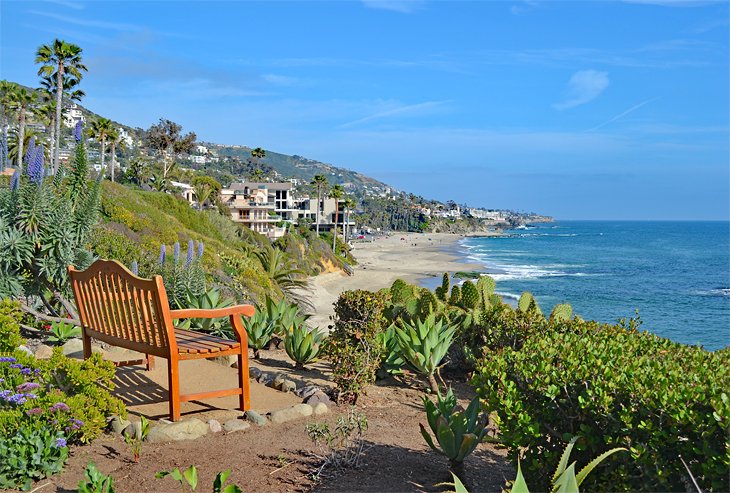 This stunning stretch of coastline in South Laguna Beach is defined by different coves, crazy cliffside homes, and eye-catching installations including a seaside castle. Treasure Island Park is an excellent jumping-off point for this scenic stretch of coast with panoramic picnic benches and access to the ocean.
Directly north of Treasure Island Park, Victoria Beach is home to a picturesque Pirate Tower adjacent to the cliffside. South of Treasure Island, Aliso Beach is known for its ocean activity including swimming, skimboarding, and skin diving.
Official site: http://treasureislandpark.com/
11. Alta Laguna Park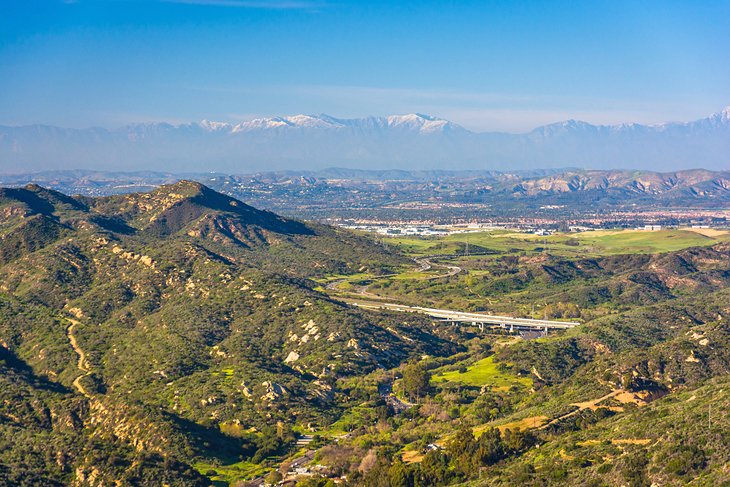 Also known as the Top of the World, this hilltop public space features park amenities like picnic tables, tennis courts, and a baseball field–but it's most popular for the views. Simply driving up to this scenic city park to catch the sunset is a fun and free thing to do. Playgrounds, restrooms, and running water are also available at the park. Quick-changing weather can hit the Top of the World from time to time, making a rain jacket a good item to bring along.
Address: 3299 Alta Laguna Boulevard, Laguna Beach, California
12. Pacific Coast Highway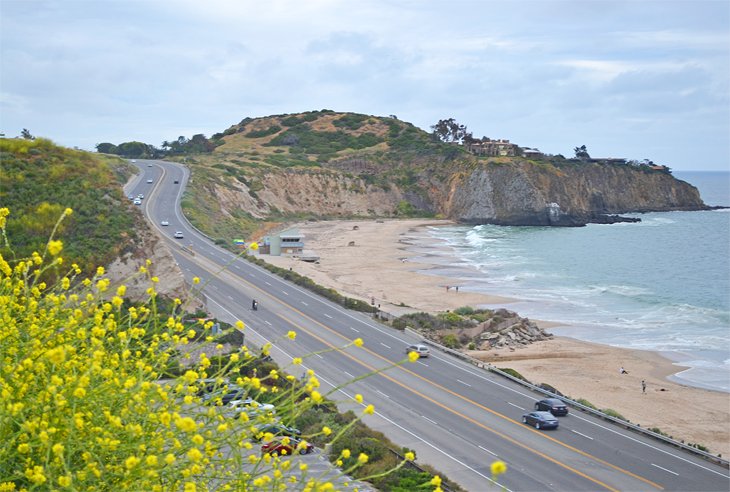 Separating the city from the sea, the Pacific Coast Highway connects numerous seaside cities and stunning places to visit up and down the California coast. Laguna Beach is a stop on one of the best West Coast road trips, and it also makes an excellent base camp destination. Other cities nearby on the Pacific Coast Highway include Huntington Beach and Long Beach to the north, and Carlsbad to the south. For easy parking and traveling on the Pacific Coast Highway in Laguna Beach, the Laguna Beach Trolley is a free service offered on the weekends.
Where to Stay in Laguna Beach, California for Sightseeing
Luxury Hotels:
Mid-Range Hotels:
More Related Articles on PlanetWare.com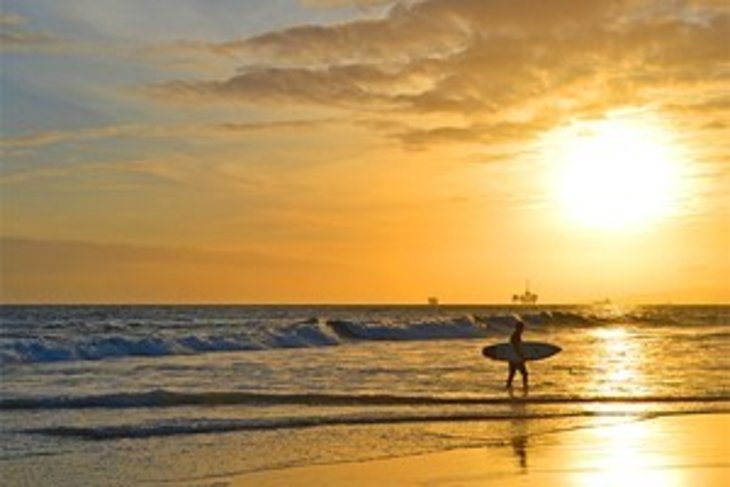 Other Cities in Orange County: Orange County is arguably one of the most beautiful regions in the country, and alongside Laguna Beach, places like Huntington Beach reaffirm that notion. The neighboring city of Anaheim also tends to draw a lot of visitors, much in thanks to the Happiest Place on Earth found here, also known as Disneyland Resort. For even more urban shopping and dining opportunities in Orange County, the tourist-friendly city of Irvine is a short drive from Laguna Beach.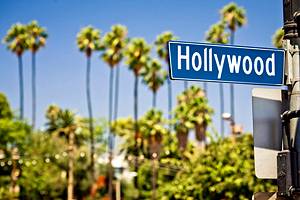 Exploring Los Angeles: The massive metropolis of Los Angeles, less than sixty miles from Laguna Beach, is worth braving the traffic to visit. Our Top-Rated Tourist Attractions in Los Angeles article is a great place to start exploring all there is to see in Los Angeles, and to explore Tinseltown further, all the top things to do in Hollywood add depth to any visit. For more sandy shores near L.A., the top-rated beaches in the Los Angeles area deliver on more postcard sunsets.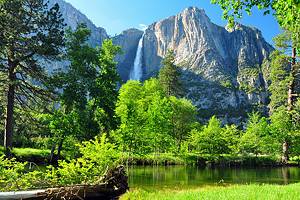 California Vacations: If you are considering some California travel plans, our Best Places to Visit in California article can lend some inspiration. For the ultimate adventure, the top-rated West Coast road trips include some California routes with stops at numerous jaw-dropping locations. For more surf and sand, the best beaches in California include Main Beach at Laguna Beach and so much more.