12 Top-Rated Attractions & Things to Do in Long Beach, CA
We may earn a commission from affiliate links ()
Less than 30 miles from Los Angeles, Long Beach is an oceanfront metropolis filled with fun things to do. The Downtown Waterfront district is where tourists and locals gather for good times and great attractions like the Aquarium of the Pacific and Rainbow Harbor. Nearby, The Queen Mary ocean liner enjoys her retirement in Queensway Bay, where those looking for something unique to do can hop aboard and enjoy the history.
Extending from the Waterfront District, the public beaches of Long Beach stretch for over three miles along the ocean. The most popular of these beaches, Junipero Cherry Beach, is great for swimming, sunbathing, and simply enjoying the sunny weather. For cyclists, rollerbladers, and runners, a paved pedestrian path follows the shoreline. The best perspective on the postcard beauty of Junipero Beach is found in Bluff Park, with manicured grounds and green space overlooking the ocean.
On the south end of Junipero Beach, beyond the sand of Rosie's Dog Beach and the shopping spots of Belmont Shore, a special neighborhood of Long Beach invites a unique adventure. Reminiscent of Italian canals and architecture, the Naples neighborhood is well known in part because of the Gondola Getaway, who operate the largest fleet of gondolas in the country. For romantic interests, gondola rides at sunset provide an intimate experience. Plan your visit with our list of the top things to do in Long Beach.
Note: Some businesses may be temporarily closed due to recent global health and safety issues.
1. Downtown Waterfront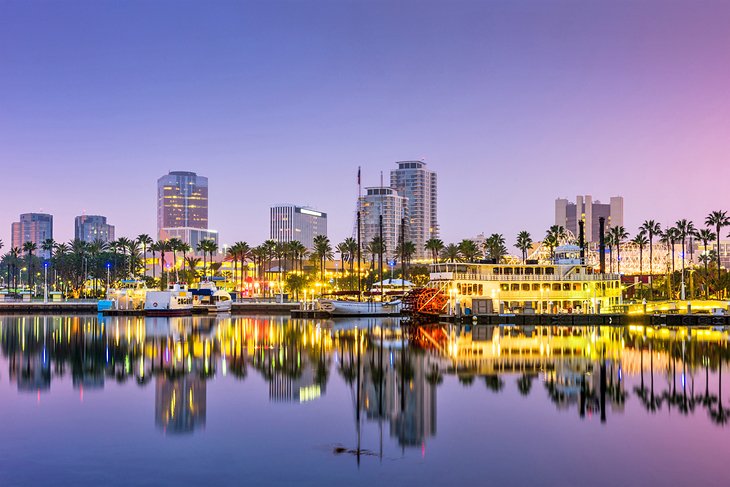 Overlooking Queensway Bay, the Downtown Waterfront is a popular spot for tourists to gather. Encompassing large-scale attractions like the Aquarium of the Pacific and the Long Beach Convention Center, this pedestrian space is simply fun to walk through and enjoy the seaside sights. The Rainbow Harbor Esplanade connects the lighthouse-centered Shoreline Aquatic Park and Rainbow Harbor itself, which is a great spot to find chartered fishing trips, whale-watching tours, or private dinner cruises.
Opposite Shoreline Aquatic Park, Shoreline Village is another popular destination to visit. With plenty of rental bikes parked outside, Shoreline Village is filled with shopping, dining, and family fun things to do. Parker's Lighthouse is a great spot for fresh seafood, while Louisiana Charlie's is perfect for flip-flops and more casual dining. Kids at Shoreline Village tend to gravitate towards the Pelican Pier Pavilion featuring a giant sea-themed carousel surrounded by numerous arcade games.
2. Aquarium of the Pacific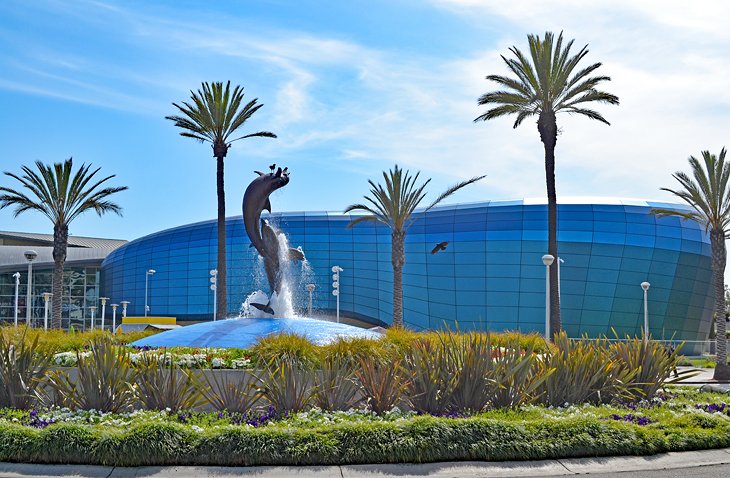 With over 50 exhibits and 11,000 ocean animals on display, the Aquarium of the Pacific is the largest facility of its kind in Southern California. Highlighting the diversity of the nearby Pacific Ocean, millions of tourists visit the aquarium each year to engage in animal encounters, science discussions, and behind-the-scenes tours. The aquarium has something for everyone, adults and children alike, including the family favorite June Keyes Penguin Habitat, home to 20 Magellanic penguins.
Other popular exhibits at the museum include the Lorikeet Forest, Shark Lagoon, and the Moon Jelly Touch Lab. The Ocean Science Center at the aquarium also uses a unique NOAA Science on a Sphere® to give an engaging presentation of ocean impacts across the globe.visitors to the museum can sign up for special animal encounters including interactions with sea otters, octopuses, penguins and seals.
Address: 100 Aquarium Way, Long Beach, California
Official site: http://www.aquariumofpacific.org/
3. The Queen Mary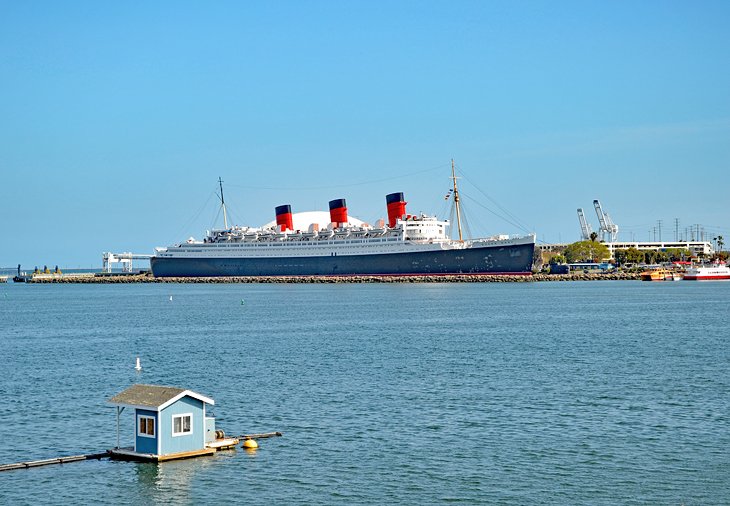 Once the grandest ocean liner to navigate the Pacific Ocean, The Queen Mary first set sail in 1936 from Southampton, England. It was an instant hit, and thousands of tourists boarded The Queen Mary, followed by thousands of soldiers, as the luxury cruise liner actively participated in the Second World War. Upon the advent of affordable air travel, fewer passengers began boarding The Queen Mary, ultimately leading to her 1967 retirement along the sunny shores of Southern California and Long Beach.
Permanently docked in Long Beach, The Queen Mary has seen more passengers as a retired vessel than as an active ocean liner. Visitors hop aboard The Queen Mary daily to experience the history themselves, and for a unique and timeless place to stay, luxurious staterooms and suites are available. Twilight is perhaps the most magical time on the boat, and some staff would say the most supernatural, with regular occurring events including tours, dinners, and paranormal investigations.
Address: 1126 Queens Highway, Long Beach, California
Official site: https://www.queenmary.com/
4. Naples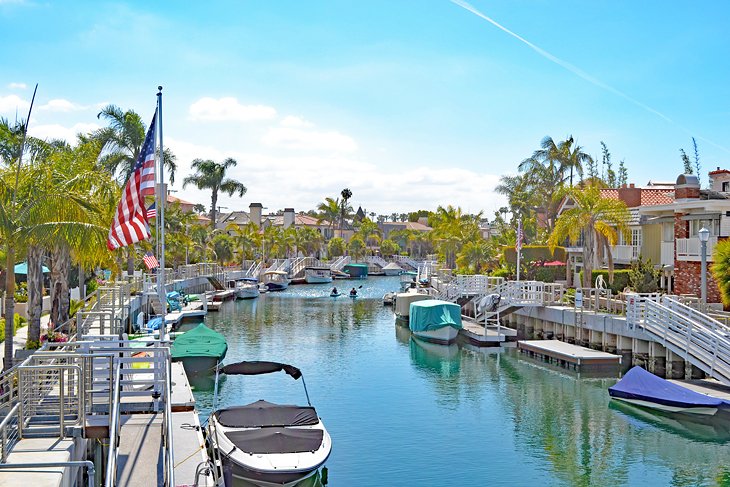 The southernmost neighborhood of Long Beach overlooking the Pacific Ocean, Naples is a charming neighborhood built on three islands lined with picturesque canals. A landscaped plaza and decorative fountain are at the center of Naples, surrounded by multi-million-dollar homes and street names reminiscent of the Italian character of the neighborhood.
One of the best ways to explore Naples is hopping aboard a gondola via the Gondola Getaway. Departing from the Leeway Sailing Center, Gondola Getaway operates the oldest and largest fleet of Gondolas in America.
On all sides of Alamitos Bay surrounding Naples, other Long Beach attractions provide popular things to do. Inland, the Marina Pacifica Mall features hundreds of retail shopping opportunities close to the ocean. More shopping and dining can be found in the adjacent neighborhood of Belmont Shore, particularly on 2nd Street extending from Naples. Souvenir stores, chic fashion boutiques, and a variety of dining define this energetic area of Belmont Shore.
5. Catalina Island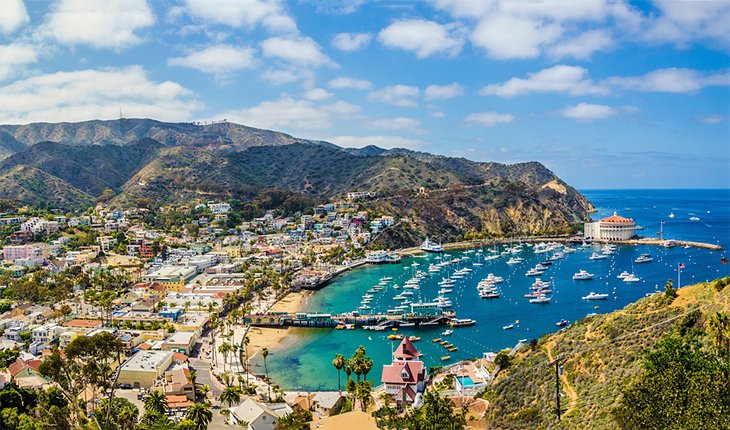 Twenty-two miles off the shore of Southern California, Catalina Island provides a picture-perfect escape from the hustle and bustle of the mainland. A prominent port to embark on a pleasure cruise to Catalina Island is within the Downtown Waterfront district, next to the Aquarium of the Pacific. The Catalina Express shuttles visitors to Catalina Island throughout the day with a typical hour-long ride. A popular day trip from Los Angeles, visits to Catalina Island are characterized by upscale hotels, oceanside dining, and an air of traveling abroad.
Address: 320 Golden Shore, Long Beach, California
Official site: https://www.catalinaexpress.com
6. The Beaches of Long Beach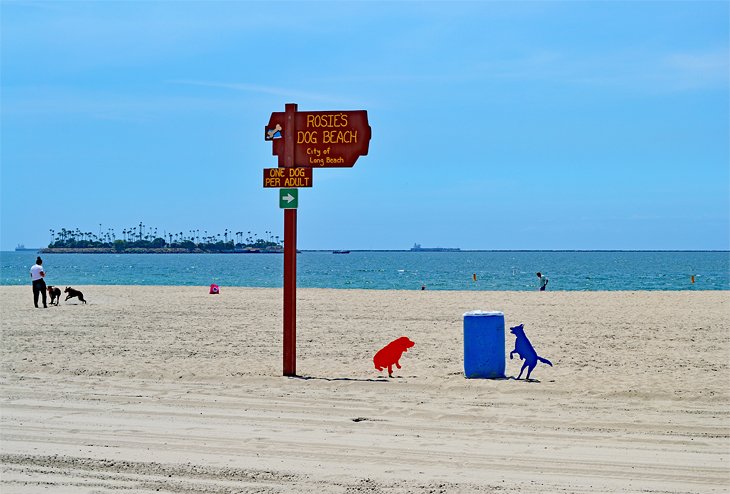 The long stretch of beach that comprises the city's southern border is divided between different designated beach areas. Alamitos Beach is the closest to downtown, followed by Junipero Cherry Beach, both of which feature calm water, an abundance of sandy space, and amenities like bathrooms and lifeguard towers.
Belmont Shore Beach is farther east, with special activities like movies on the beach, sandcastle competitions, and pet-friendly areas like Rosie's Dog Beach. Other beaches can be found inland, particularly along Alamitos Bay and the Alamitos Peninsula.
7. El Dorado East Regional Park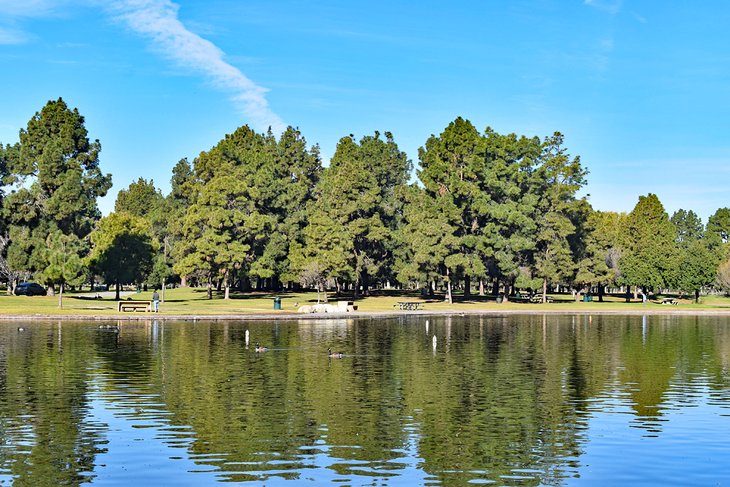 An expansive natural space close to downtown, El Dorado East Regional Park is the largest park in Long Beach and a favorite place to escape the city. A four-mile bike and pedestrian path winds throughout the park area, connecting two stocked fishing lakes and other park amenities, including playgrounds, picnic shelters, and a model aircraft flying area. The El Dorado Dog Park is popular with pet owners, and the El Dorado Nature Center provides educational displays and local artwork on the walls.
Address: 7550 E Spring Street, Long Beach, California
Official site: http://www.longbeach.gov/park/park-and-facilities/parks-centers-pier/el-dorado-nature-center/
8. Bluff Park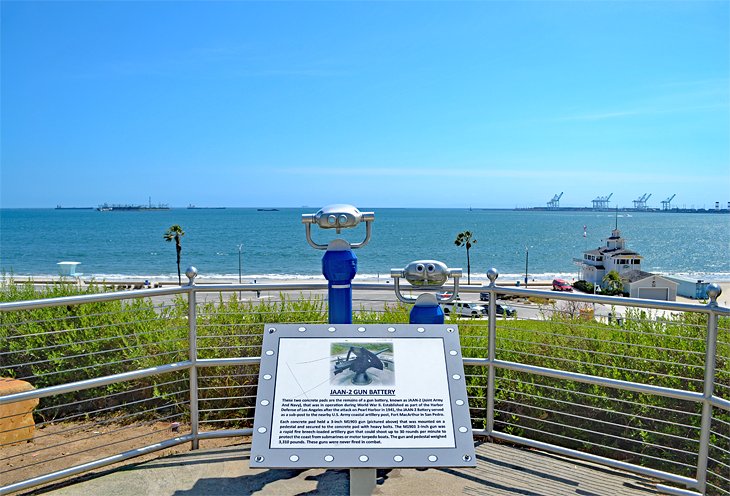 Between Ocean Avenue and the Pacific Ocean, Bluff Park is one of the most scenic green spaces in Long Beach. This 13-acre linear park comprises only palms trees and vibrant green grass, but no more is needed with the ocean vista available. Couple the long-distance view of Junipero Beach with the gentle sea breeze that is nearly always present, and Bluff Park encourages relaxing moments during the day.
Possessing a storied history, Bluff Park was an active military space in World War II. Interpretive information stands today where gun batteries were once installed, and the Lone Sailor Memorial statue commemorates the naval history of the city. On the north end of Bluff Park, the Long Beach Museum of Art offers cultural works to pair with the surrounding natural beauty.
Official Site: http://www.longbeach.gov/park/park-and-facilities/directory/bluff-park/
9. Long Beach Museum of Art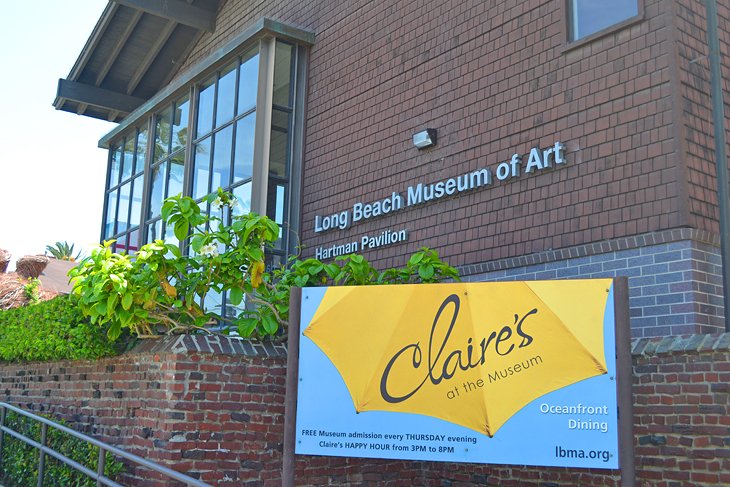 On the northern end of Bluff Park, the Long Beach Museum of Art is housed within a century-old summer home overlooking the ocean. Featuring American decorative art, regional contemporary art, and early-20th-century European Art, the museum is open Tuesday through Sunday, with free admission offered every Friday. The museum's restaurant, Claire's at the Museum, is a popular spot to enjoy lunch near the ocean.
Another popular museum located in the downtown district, the Museum of Latin American Art (molaa) has even more cultural appeal on display. In the East Village Arts District of downtown, molaa is one of the only museums in the country solely dedicated to contemporary Latin American art. The museum features a wide range of rotating artworks, as well as a 15,000-square-foot, outdoor Sculpture Garden. Admission to this signature downtown museum is free on Sundays.
Address: 2300 E. Ocean Boulevard, Long Beach, California
Official site: https://www.lbma.org/
10. Downtown Long Beach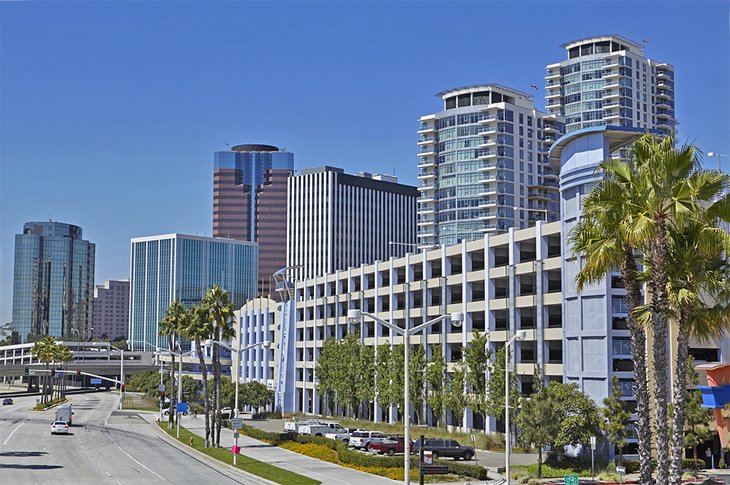 For local shopping, dining, and nighttime entertainment, downtown Long Beach has it all. Extending from the attraction-dense Downtown Waterfront district, Pine Avenue is a historic thoroughfare offering international flavors at local eateries like George's Greek Café and L'Opera Ristorante. Both inland and along the waterfront, the downtown district is very walkable and designed with cyclists in mind, including installation of well-marked bike lanes.
Major events occur in the downtown area throughout the year. The Long Beach Art Walk always brings out creative characters, and nightlife in downtown occurs every day of the week. Perhaps the biggest event to hit downtown Long Beach is the annual Grand Prix of Long Beach, where turbocharged cars take over the streets for thrilling race day action.
11. Earl Burns Miller Japanese Garden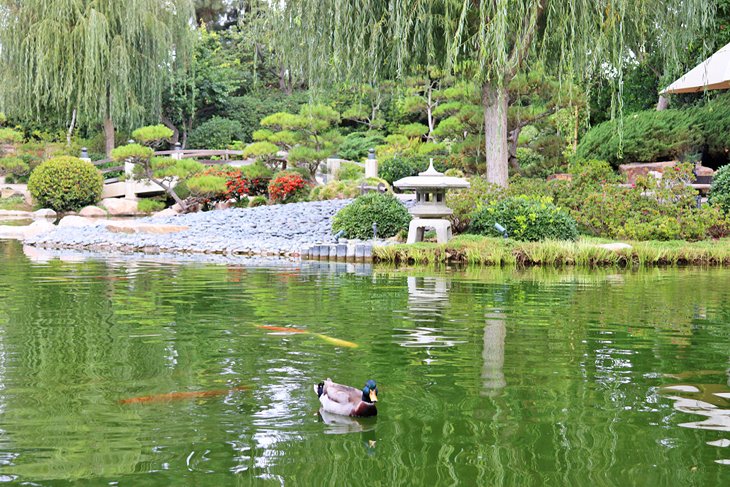 On the campus of California State University Long Beach, this intricately landscaped park is a relaxing green space used by students and community members alike. A meandering path navigates the 1.3 acres encompassed by the Earl Burns Miller Japanese Garden, connecting scenic park amenities like pagodas, decorative bridges, and a koi pond. Admission is free for faculty and students of the university. A popular place for special occasions, the Japanese Garden has the capacity to host up to 150 people.
Address: Earl Warren Drive, Long Beach, California
Official site: https://web.csulb.edu/~jgarden/
12. Long Beach Convention and Entertainment Center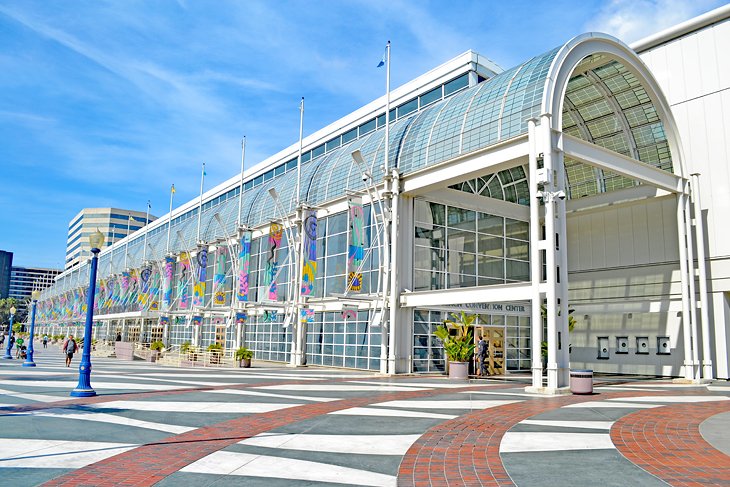 Featuring multiple theaters, an impressive plaza, and over 400,000 square feet of meeting and exhibit space, the Long Beach Convention and Entertainment Center is often ground zero for some of the city's largest events and expos. The convention center is located in the heart of downtown, overlooking the waterfront, and its sheer size is something of a spectacle. The fountains and open space provided by the plaza offer plenty of chances to sit and enjoy the day.
Across from the Convention Center, The Pike Outlets provide bountiful shopping opportunities and a carousel.
Address: 100 S. Pine Avenue, Long Beach, California
Official site: https://www.longbeachcc.com
Where to Stay in Long Beach, California for Sightseeing
Best Hotels for Business:
Conveniently located near the Long Beach Airport, the Hampton Inn Long Beach

Airport

makes business travel a breeze. On-site amenities to help stay connected include free Wi-Fi, a fully equipped business center, and plenty of available plugs in each room. For post-work hours, the hotel also provides stress-relieving amenities like a heated indoor pool and fitness center. Both standard rooms and spacious suites are available.
In downtown Long Beach, close to the waterfront, the Best Western Plus Hotel at the Convention

Center

is another popular spot for business travel - especially for those attending a conference at the Convention Center. It's great for staying connected and for experiencing a taste of Long Beach between work hours. The hotel provides essential business services like printing, faxing, and has fast, free Wi-Fi throughout. It's also within walking distance to many area attractions, including a thriving restaurant scene.
Expect to meet fellow business travelers at the Courtyard by Marriott Long Beach

Airport

, surrounded by local businesses and near the airport. This stylish hotel features several common spaces to gather or do work, including a modern lobby and bistro and an outdoor pool deck. The hotel provides versatile workspaces for typing on a laptop or facilitating meetings, and fast and reliable Wi-Fi is available throughout.
Best Hotels for Family Travel:
The larger rooms at the Residence Inn by Marriott Long Beach

Downtown

make it a popular spot for family vacations. The location, too, near top attractions like the Queen Mary and the Aquarium of the Pacific, make it easy to get everyone out the door to explore the city. Each studio or suite at the Residence Inn features a fully equipped kitchen, including a stove, for cooking family meals.
With an excellent downtown location, Hilton Long

Beach

offers the perfect basecamp for a family vacation. Several of Long Beach's top attractions are within a short walking distance, and the hotel provides transportation for anything a bit farther away. Kids stay free at this reputable hotel, and pets are also welcome to join in on the overnight adventure. Accommodations range from standard king and two-queen bedrooms to more spacious suites with separate sitting rooms.
For family travel, the Courtyard by Marriott Long Beach

Downtown

offers spacious rooms and proximity to the area's top attractions. This kid-friendly hotel is also pet-friendly so that the whole family can join the vacation. The guest rooms provide a clean and relaxing spot to rest between exploring nearby places like the Queen Mary and the Aquarium of the Pacific.
Best Hotels for Couples:
For a romantic retreat in Long Beach, consider booking a few nights at The Cove Hotel, Ascend Hotel

Collection

. This stylish hotel pampers couples with each visit and provides sumptuous surroundings to enjoy each other's company. Room amenities include ultra-plush bedding and rainfall shower heads. Common spaces to relax at the hotel include a beautiful outdoor pool deck and patio and a chic indoor lounge.
Another popular spot for romantic weekends, the Hyatt Centric The Pike Long

Beach

is centrally located near downtown and the shoreline. This prime location makes date nights easy, with several area restaurants within walking distance. For a casual dining experience without leaving the property, the hotel's rooftop pool offers light fare alongside a great view. The rooms are airy and breezy at the Hyatt Centric, each with sophisticated and stylish decor.
For a romantic vacation, the Hotel Maya - A DoubleTree by Hilton

Hotel

offers a luxurious resort experience. With Latin-American inspirations mixing with a SoCal vibe, this fashionable hotel encompasses 14 acres of waterfront property across Queensway Bay from the downtown skyline. Alongside authentic and unique decor, the hotel features the "Playa at the Maya" - one of the most extensive human-made beaches in the state.
More Related Articles on PlanetWare.com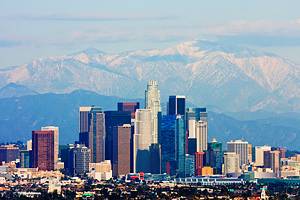 Visiting Los Angeles: Less than 30 miles from Long Beach, the city scene of Los Angeles is waiting to be explored. The top tourist attractions of Los Angeles uncover many of the fun things to do, and our Where to Stay in Los Angeles: Best Areas and Hotels article is a definitive guide to finding the best hotels for your type of travel. For quick adventures, top-rated day trips from Los Angeles deliver visitors to postcard destinations.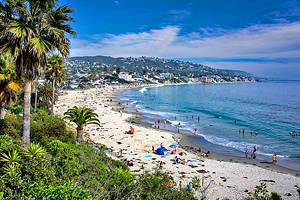 Exploring California: Being such a big state full of different adventures, our Top Tourist Attractions in California article is a good place to start planning your trip to the Golden State. Same with our Best West Coast Road Trips article, which outlines some of the best itineraries if you're driving through California. For even more ocean appeal, the top-rated beaches in California deliver on sand, surf, and smoldering sunsets.