15 Top-Rated Day Trips from Los Angeles
Within an hours' drive of Los Angeles, beyond the halting traffic, the landscape becomes rugged and refreshing. This area of Southern California has gorgeous beaches and a sunny Mediterranean climate year-round that gives the impression of an endless summer.
In the oceanfront community of Malibu, sunbathers bask on sandy beaches, and surfers ride the impressive waves. Other dreamy places to visit nearby include the quintessential So-Cal town of Laguna Beach, the fun-loving seaside village of Balboa Island, and the picturesque coastal city of Oxnard.
For those seeking a quaint and romantic getaway, Santa Catalina Island is the ideal choice. Families with kids will want to visit Disneyland, one of the top attractions in California.
Several places on this list are two-and-a-half to three-hours' drive away but are worth the extra journey: the sophisticated beach town of Santa Barbara, fashionable Palm Springs for a desert oasis retreat, California's only castle along the Central Coast, the unique California desert environment of Joshua Tree, and Big Bear Lake in the San Bernardino Mountains.
Whether you are seeking outdoor adventures or relaxation by the beach, you will find plenty of options just outside Los Angeles. Plan your getaways from the city with our list of the top day trips from Los Angeles.
1. Santa Catalina Island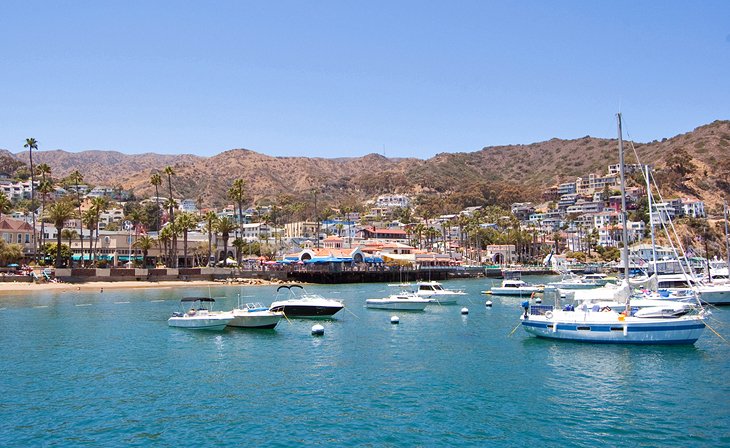 Santa Catalina Island has been luring visitors since the 1920s, when it was used as a location for Hollywood films. Today, tourists can still appreciate the island's cinematic seaside beauty.
The moment visitors set foot on the island, the idyllic atmosphere becomes obvious. With its leisurely pace, sunny weather, and soothing ocean waves, Santa Catalina Island is one of the most romantic places in California.
Besides being a delightful day-trip destination, the island is perfect for a weekend getaway, short vacation, or honeymoon centered around relaxation and recreational activities. Hiking, cycling, backpacking, sailing, sunbathing, and picnicking are all popular activities.
The picturesque town of Avalon has the island's largest selection of hotels, shops, and restaurants, along with breathtaking ocean views, palm-fringed beaches, and a botanical garden.
All of Avalon's beaches have gentle crystal-clear waters, and most are ideal for swimming. Tucked away in a sheltered cove, Descanso Beach is prized for its beach club, which offers private cabanas and oceanfront restaurant dining.
More remote in feel, Two Harbors boasts secluded coves and unspoiled sandy beaches with swaying palm trees. Two Harbors draws many outdoor enthusiasts because of its wide array of recreational opportunities. Among the many things to do are boating, camping, fishing, mountain biking, kayaking, paddleboarding, scuba diving, and snorkeling.
Santa Catalina Island is an hour-long ferry ride on the Catalina Express from San Pedro, Long Beach, or Dana Point to the port of Avalon. The Catalina Flyer operates ferry boat transportation from Newport Beach to Avalon, which takes just over one hour.
From Los Angeles, it takes about two hours (a one-hour drive to Long Beach plus a one-hour ferry ride) to arrive at Santa Catalina Island.
2. Disneyland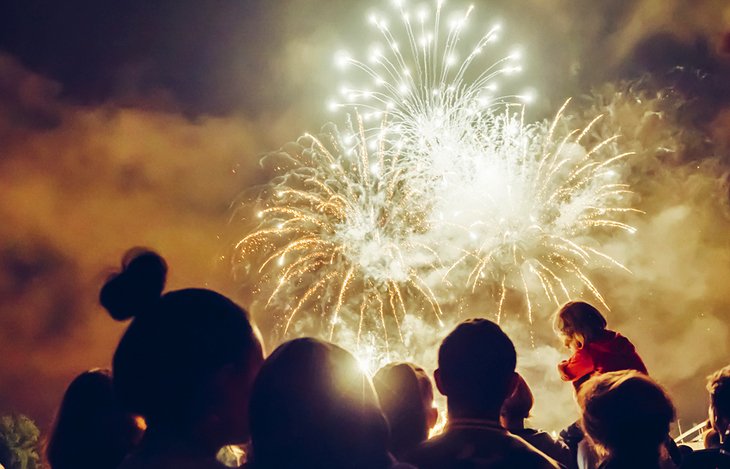 Most families with kids will already have Disneyland on their list of places to go. Often it's a destination in itself, however Disneyland is an easy day trip from Los Angeles, less than 30 miles away. This world-famous amusement park is a "Magical Kingdom" that delights children of all ages.
Little kids love the charming rides like the oversized Caterpillar cars of Alice in Wonderland; the big-eared planes of Dumbo the Flying Elephant; the Mad Tea Party, with its giant spinning teacups; and the musical boat ride of "it's a small world" in Fantasyland.
Older kids enjoy exciting attractions like the Matterhorn's bobsleds that careen through a scene of the Swiss Alps; the drama of Pirates of the Caribbean; and the Indiana Jones Adventure that features thrilling rides, a cliff-hanging journey, and a "cursed" temple.
Parents will appreciate that Disneyland has a wide selection of shops and restaurants. Some restaurants feature special ambience or entertainment such as appearances by Disney characters to delight the kids.
For a truly memorable experience, dine at the Blue Bayou Restaurant next to the Pirates of the Caribbean ride at New Orleans Square. This wildly popular Louisiana-themed restaurant serves Cajun and Creole cuisine (including jambalaya and gumbo) in an enchanting outdoor dining patio illuminated by lanterns. The ambience even includes flashes of fireflies and the sounds of chirping crickets and frogs. Because of the restaurant's popularity, it is highly recommended to make reservations well in advance.
Families can stay overnight within the Disneyland Resort at Disney's Paradise Pier Hotel, decorated with a beach vacation motif; the elegant Craftsman-style Disney's Grand Californian Hotel & Spa; or the Disneyland Hotel, which has a pool and waterslide play area.
Official site: https://disneyland.disney.go.com
3. Santa Barbara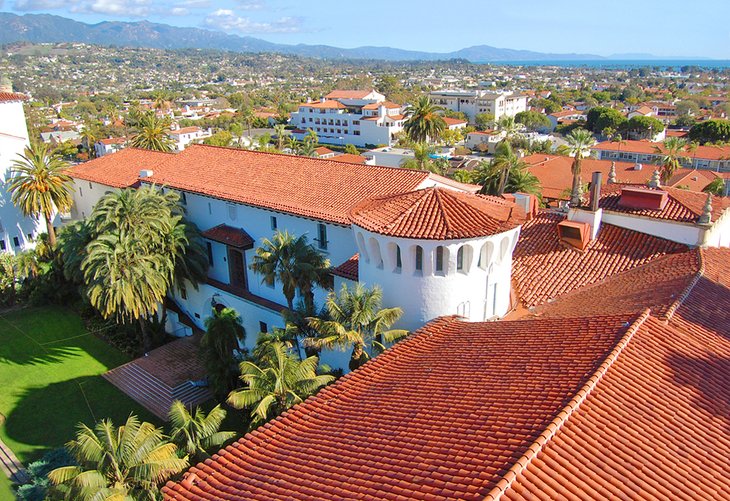 Known as the "American Riviera," this balmy beach town, about 100 miles north of Los Angeles, is a favorite getaway destination for Hollywood movie stars. However, almost everyone can appreciate the charm and beauty of Santa Barbara. Handsome historic Spanish-style buildings, towering palm trees, and miles of sandy shores beckon visitors.
The Old Mission Santa Barbara, called the "Queen of the Missions," has a beautifully preserved adobe church that dates back to 1820. This landmark was founded by the Franciscan Friars of Spain in 1786 and is filled with colonial-era artwork. The mission complex also includes a museum that displays paintings and artifacts.
Not far from the Pacific Ocean, the mission is set on 15-acre grounds with luxuriant gardens. A highlight is La Huerta Historical Garden, which features olive, citrus, peach, pomegranate, and peach trees from original mission sites. The Mission Rose Garden is a lovely spot for a picnic.
Other top tourist attractions include the Santa Barbara County Courthouse, a magnificent blend of Spanish, Moorish, Islamic, Romanesque, and Byzantine architectural elements; the Santa Barbara Museum of Art; the Santa Barbara Botanic Garden; and the 30-acre Santa Barbara Zoo.
Santa Barbara also boasts many scenic hiking trails, from trails along sea cliffs to paths through chaparral-covered canyons. The hikes range from gentle walks to vigorous uphill treks.
The restaurant scene gives travelers another reason to visit Santa Barbara. Foodies will appreciate the wide selection of restaurants, from gourmet fine dining to trendy eateries.
For French-inspired seasonal cuisine, try bouchon in downtown Santa Barbara's Art District. The menu features classic dishes like duck breast and grilled rack of lamb, as well as locally caught fish and vegetables grown on nearby farms.
Cozy and convivial, Bettina specializes in wood-fired pizzas and other authentic Italian dishes. In the Art District area of downtown Santa Barbara, Loquita treats guests to delicious Spanish cuisine prepared from local ingredients and served in a trendy dining room or on the bougainvillea-draped garden patio.
Sushi aficionados will be wowed by Sushi|Bar Montecito within the historic Montecito Inn. This Michelin-starred restaurant offers an exceptional dining experience, focused on 17-course sushi menus.
If you'd like to try a famous local taco joint, head to La Super-Rica Taqueria for authentic Mexican fare. This tiny, casual eatery almost always has a line of people waiting to order at the counter. You can choose to take out or sit down in the bright, cheerful dining room.
Los Agaves is an award-winning Mexican restaurant with two locations in Santa Barbara. The ambience is inviting yet casual (you order at the counter), but the cuisine is refined and made with high-quality fresh ingredients. Offering a unique twist on Mexican flavors, Mesa Verde Restaurant serves hearty plant-based vegan cuisine.
In addition to upscale restaurants, Santa Barbara also has many luxury hotels that deliver a first-rate vacation experience. For a pampering seaside holiday, treat yourself to a stay at one of the high-end beach resorts in Santa Barbara, which feature 5-star service, ocean views, fabulous swimming pools, chic restaurants, and other amenities.
4. Palm Springs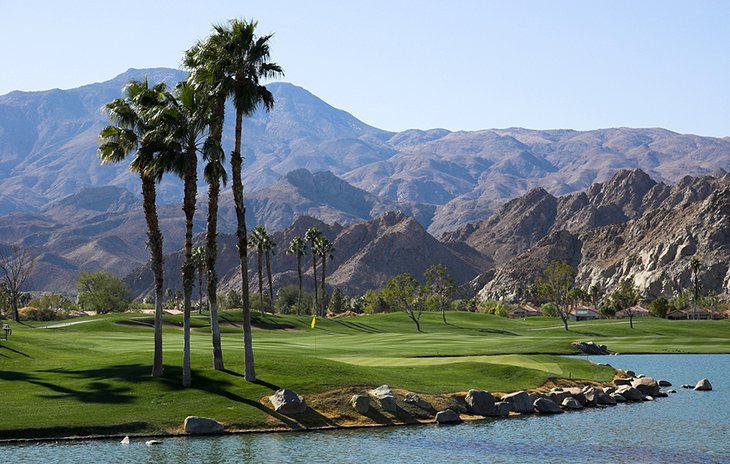 Palm Springs became a legendary winter resort in the 1930s, when Hollywood movie stars came here to relax in style. Holiday seekers still flock to this desert oasis (107 miles from Los Angeles) to bask in the sunshine at luxury resorts and enjoy recreational activities, especially from January until April when the weather is mild.
The attractive natural scenery makes Palm Springs a pleasant place to enjoy outdoor activities, such as swimming, tennis, and golf. Other tourist attractions and things to do include hiking and rock climbing.
Gorgeous wilderness trails are found at Indian Canyons (a desert oasis outside downtown Palm Springs). This pristine nature site includes Palm Canyon, with its lush flora and dramatic mountain views; Andreas Canyon, a favorite spot for bird-watching; and Murray Canyon, which has a creek and waterfalls.
Another magnificent nature site is Mount San Jacinto, a 10,000-foot, snow-dusted mountain, which can be ascended by an aerial tramway. From the 8,500-foot drop-off point, the views of the desert floor are spectacular.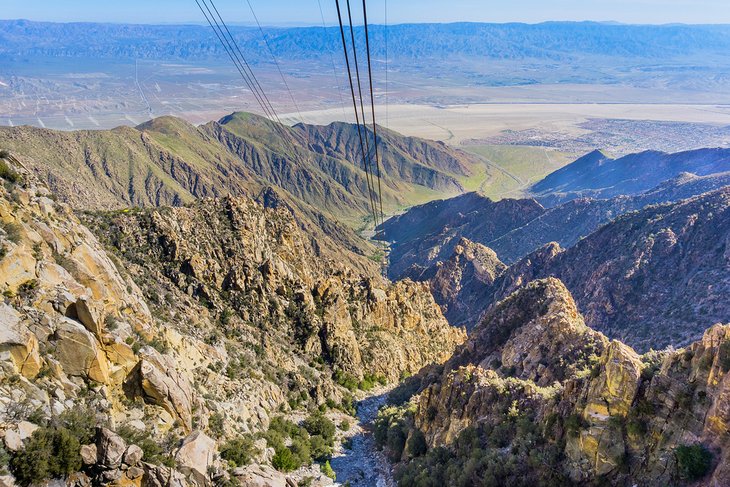 Considering its quiet location, Palm Springs has a surprising number of cultural attractions and events. The Palm Springs Art Museum boasts a superb collection of California paintings, Native American art, and Western American art, as well as Pre-Columbian artifacts.
A must-see attraction for those who appreciate mid-century modern design, the Palm Springs Art Museum is devoted to modern and contemporary architecture, art, and design. The museum displays more than 12,000 items and includes an iconic modernist building.
Many travelers visit Palm Springs to admire the city's modernist architecture. During Modernism Week, visitors can take guided tours of the town's notable mid-century modern buildings.
Palm Springs is also known for its upscale shopping, from fashion boutiques and locally owned craft shops to outlet malls.
Accommodation: Top-Rated Resorts in the Palm Springs Area
5. Joshua Tree National Park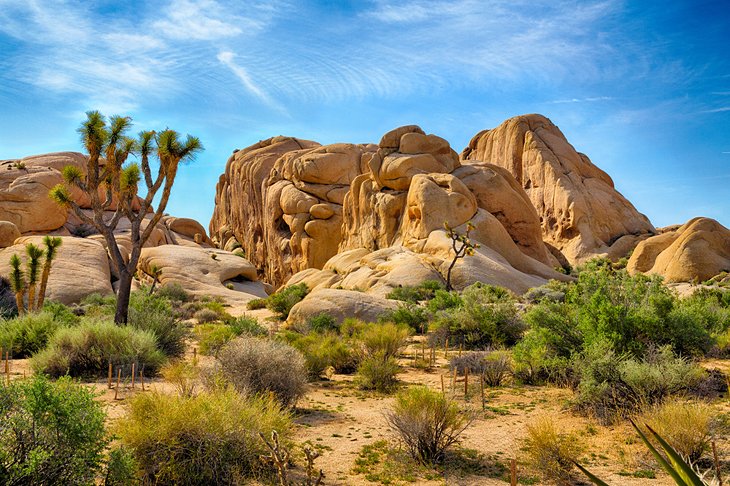 In the sun-parched California desert, Joshua Tree National Park was named after the trees (known scientifically as "Yucca brevifolia") that are indigenous to the Mojave Desert. Native Americans gathered the tree's flower buds, as well as seeds, for consumption and used the tree's fibrous leaves to make woven baskets.
The moniker "Joshua" comes from 19th-century Mormon pioneers, who thought the tree's twisted spiky branches resembled the biblical figure's outstretched arms leading them to the Promised Land.
Since the park is 131 miles from Los Angeles (about a two-hour-and-45-minute drive away), those visiting Joshua Tree National Park just for the day will want to try one of the shorter hikes or walks. Other things to do at Joshua Tree National Park include bird-watching, bouldering, admiring wildflowers (in springtime), and horseback riding.
The Fortynine Palms Oasis trail is a moderately strenuous three-mile round-trip hike that features strands of fan palm trees and refreshing pools of water.
For a short and easy walk, head to the Cottonwood Spring Oasis, where a permanent spring and shady cottonwood trees provide an inviting environment. One of the best places to visit near Los Angeles for birding, this lush palm oasis attracts hummingbirds, bushtits, and Gambel's Quail.
The Hidden Valley trail is another moderate nature walk that would appeal to day trippers. The one-mile (round-trip) loop trail traverses a valley enclosed by rocks and includes a picnic area.
If you want to turn your day trip into an overnight getaway, consider camping at Joshua Tree National Park. The park has beautiful campgrounds for tents and RVs that generally offer a quiet ambience. The campsites are scattered throughout the park.
6. Laguna Beach: A Quintessential So-Cal Town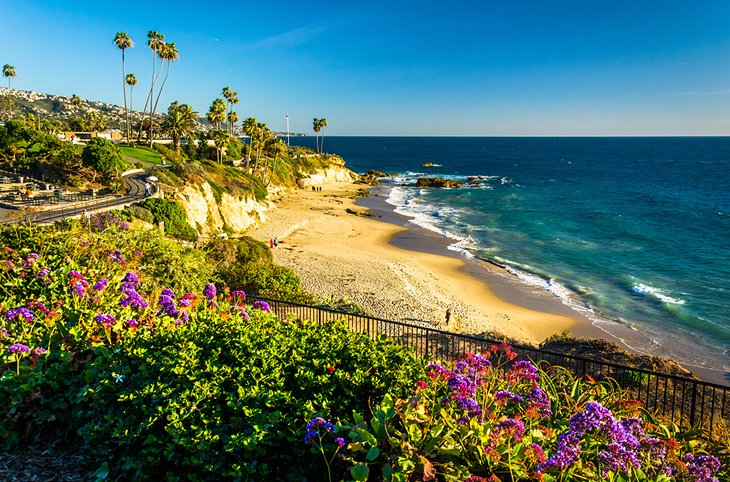 About 55 miles south of Los Angeles, this dreamy beach town is blessed with a mild sunny climate and seven miles of sandy shoreline. Nature enthusiasts are drawn to the spectacular scenery, while surfers come for the great waves.
More than simply a place to sunbathe and surf, Laguna Beach has many tourist attractions, including splendid gardens, scenic hiking trails in the rolling hills, art galleries, and cultural events.
The JoAnne Artman Gallery (326 North Coast Highway) displays a collection of award-winning art from museums or private collections. The Laguna Art Museum (307 Cliff Drive) is focused on California art created by local artists or featuring state history as a theme.
7. Malibu's Beautiful Beaches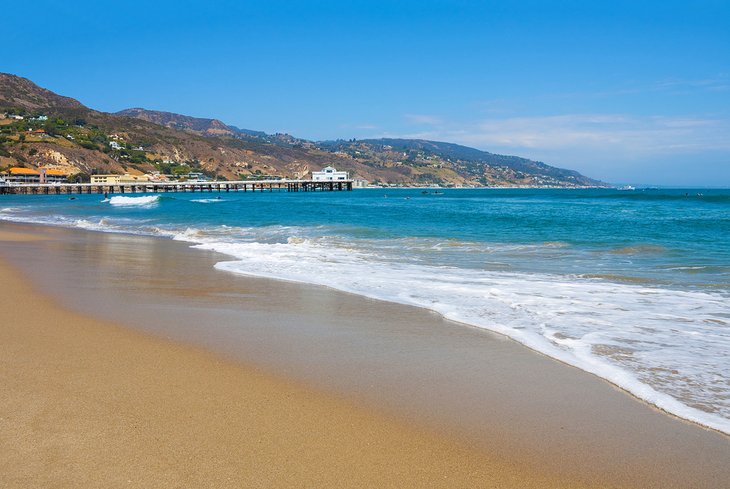 About 33 miles from Los Angeles' city center, Malibu is known for its fantastic beaches and opulent oceanfront homes. Many Hollywood movie stars reside here, and the paparazzi are known to lurk around the beaches in hopes of spotting celebrities.
Nestled in the Santa Monica Mountains, Malibu has a stunning 27-mile coastline with striking sea cliffs. The Pacific Ocean waves are ideal for surfing but not for swimming. In this breathtaking natural environment, the Santa Monica Mountains National Recreation Area offers over 500 miles of hiking trails.
Although Malibu has an air of glamour and exclusivity, all of the town's beaches allow public access (up to the "mean high-tide" level), even when bordered by private beachfront property. The public beaches are open from sunrise to sunset every day, while the public-private beaches are difficult to spot from Highway One, as they are hidden from view; many of these beaches bordering private property are only accessible through gates or adjacent beaches.
Malibu Lagoon State Beach is one of the best surfing beaches; it also has picnic tables and a saltwater marsh with abundant birdlife.
A popular spot that feels like a hidden gem when it's not crowded, El Matador Beach is a sandy beach with sea caves.
Malibu's longest stretch of shoreline, Zuma Beach extends for nearly two miles and features a wide shoreline of fine white sand. This expansive public beach has top-notch amenities, including beach volleyball nets, public restrooms and showers, and restaurants.
8. San Diego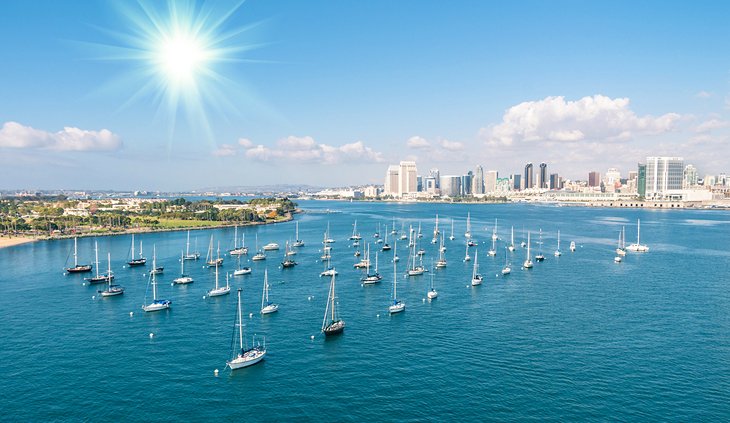 Year-round balmy weather, beautiful beaches, and a wealth of tourist attractions make this sunny Southern California town one of the most beloved places to visit in California.
San Diego's Balboa Park delights visitors with its gardens, museums, and ornate Spanish Colonial-style buildings, as well as the San Diego Zoo (home to exotic animals and beloved pandas).
Families with kids enjoy visiting SeaWorld, which features killer whale shows, roller coasters, splashy water rides, an aquarium, and close-up experiences with dolphins.
Founded in 1769, San Diego has noteworthy historic areas. The Old Town of San Diego, with its original adobe buildings, is designated a State Historic Park. The Victorian-era edifices of the Gaslamp Quarter have earned it a place on the National Register of Historic Places; this trendy area is now brimming with shops, restaurants, art galleries, and theaters.
Accommodation: Top-Rated Resorts in San Diego
9. Hearst Castle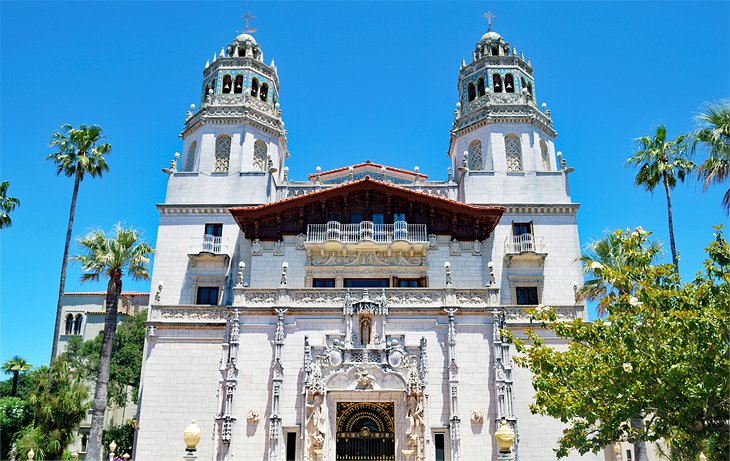 Farther away than the other destinations on this list, Hearst Castle is worth the journey because of its unique cultural value and sensational setting. This incredible landmark is perched high on a hilltop at the southern end of Big Sur on California's Central Coast, with sweeping views of the Pacific Ocean. Renowned for its dramatic natural beauty, Big Sur stretches for 90 miles north of Hearst Castle.
San Francisco newspaper baron William Randolph Hearst created California's only castle over a 28-year period (from 1919 to 1947), enlisting architect Julia Morgan to construct a lavish Spanish-style mansion with 165 rooms. The castle's architectural inspiration came from 16th-century churches in Andalusia.
The sumptuous interior is adorned with tapestries, paintings, and other treasures from Europe that Hearst purchased to display throughout the castle. In fact, Hearst Castle is now an art museum accredited by the American Alliance of Museums, although it is listed as a State Historical Monument and is operated by the California State Parks system.
Hearst called his secluded retreat "La Cuesta Encantada" ("The Enchanted Hill") because of the sublime surroundings, including 127 acres of lush Mediterranean gardens filled with palm trees, vibrant flowers, fountains, terraces, and decorative pools.
Also on the grounds are tennis courts; Moorish-style guest cottages; and the marvelous Neptune Swimming Pool, which features classical elements reminiscent of ancient Greece. Equally dazzling, the indoor Roman Pool reveals exquisite floor-to-ceiling mosaics of shimmering Venetian-glass tiles.
The Hearst Castle estate is now the property of the state of California and is open to the public for guided tours. Tickets may be purchased at the Hearst Castle Visitor Center, which has casual dining options, a gift shop, and restrooms. Tours include a five-mile shuttle bus ride up into the hills to arrive at the estate property.
For those taking a day trip to Hearst Castle from Los Angeles (231 miles away), a convenient option is to take an organized tour.
10. Huntington Beach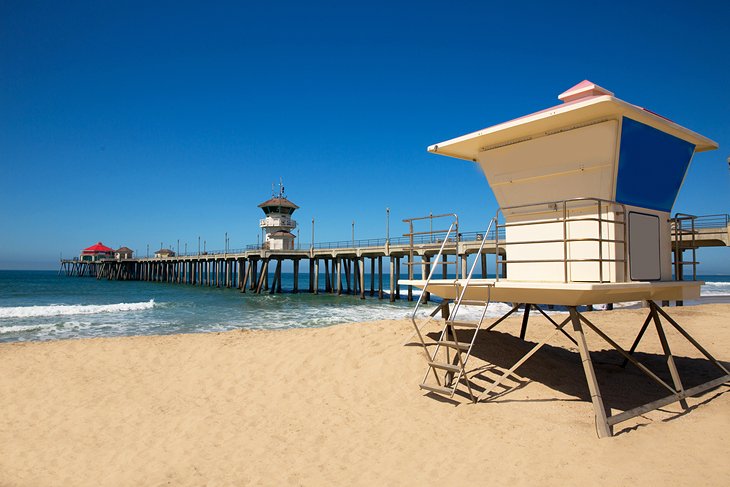 Made famous by the Beach Boys music group in the 1960s, Huntington Beach is known as "Surf City USA" because it's one of the best places to surf in Southern California. The town's beaches still live up to their reputation.
Huntington Beach boasts 10 miles of beautiful sandy shoreline in addition to other tourist attractions such as its Main Street, Central Park, and Pacific City shopping and dining area.
Surfers love the crashing ocean waves and the legendary surfing culture. Huntington Beach, with its five public beaches, is also a mecca for other outdoor sports, including beach volleyball, bicycling, jogging, and nature walks. Just a few miles from the beach, the picturesque Huntington Harbor is a great place for paddleboarding and kayaking.
Bird-watchers will find plenty of terrain to explore at Bolsa Chica Ecological Reserve, home to over 200 species of birds, including cormorants, egrets, hummingbirds, owls, sandpipers, and swallows.
11. Oxnard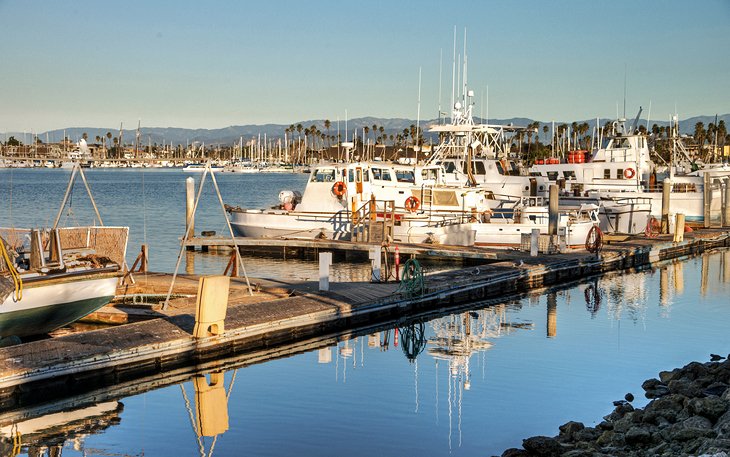 Oxnard is a lovely waterfront city with miles of pristine white-sand beaches and plenty of things to do. It's worth taking the 60-mile drive from Los Angeles to enjoy the town's relaxing atmosphere, fresh air, and outdoor activities.
The beaches of Oxnard draw many surfers and sunbathers. Other things to do include sailing, kayaking, hiking, cycling, and golf.
Sunsets at the beach are incomparable, with the glimmering Pacific Ocean waves and the glowing afternoon light reflected on the Channel Islands in the distance.
In addition to the natural attractions, Oxnard is known for its excellent restaurants, shopping, community performances, and concerts.
12. Big Bear Lake: Hiking, Water Sports, and Relaxation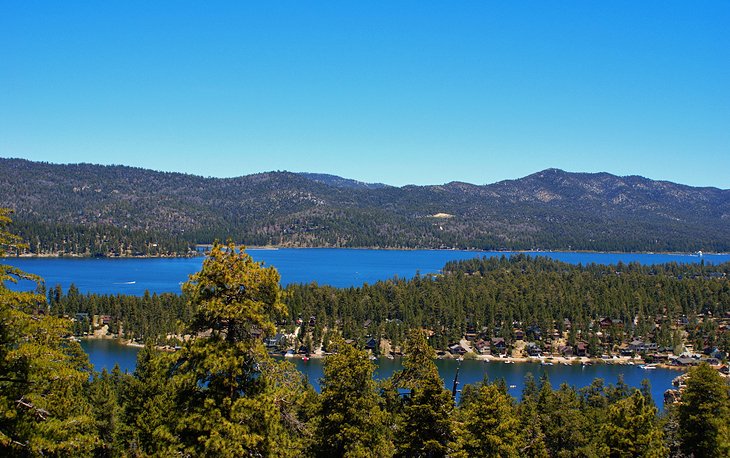 At Big Bear Lake, visitors can escape to an invigorating mountain setting (just 97 miles from Los Angeles). Surrounded by pine forests, the lake has sparkling, crystal-clear waters that are ideal for fishing, as well as summertime swimming, jet skiing, canoeing, and kayaking.
Other favorite summertime sports at Big Bear include hiking, horseback riding, and golfing. Many visitors enjoy lakeside picnics and BBQs on warm days.
During winter, Big Bear is one of the best places to visit in Southern California for alpine skiing and snowboarding. Two of California's top ski areas are found here at Big Bear Mountain Resort: Snow Summit and Bear Mountain, together offering around 1,000 acres of skiable terrain and 1,600 feet of vertical drop for exhilarating downhill runs.
Families with kids love the powder snow during wintertime at Big Bear. Snow tubing and sledding are popular activities for the little ones.
Read More: Top-Rated Things to Do in Big Bear, CA
13. Balboa Island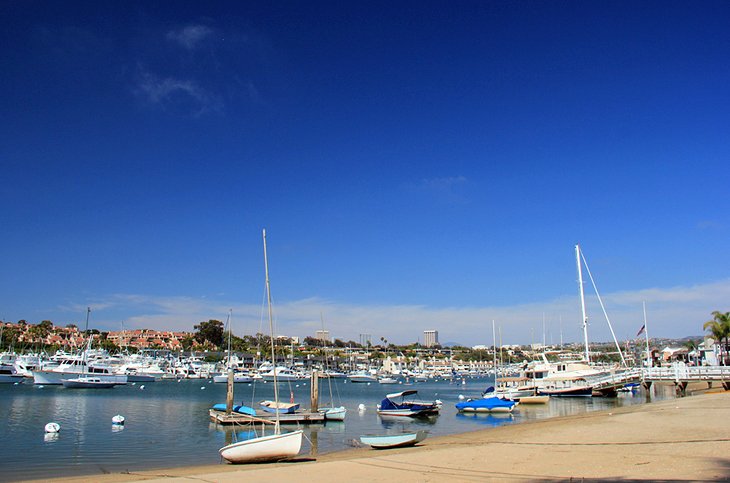 Balboa Island is a tiny island within Beacon Bay of Newport Beach, about 45 miles from Los Angeles. Visitors may arrive by ferry, which drops off near a colorful Ferris wheel.
With its sunny vacation ambience, this quaint seaside town invites relaxation. The town has a sandy, palm-fringed beach with gentle waves and a bustling marina where water sports enthusiasts enjoy sailing, jet-skiing, and paddleboarding.
Visitors will enjoy taking a leisurely stroll down Marine Avenue, a pleasant street lined with enticing restaurants and shops.
During wintertime, whale-watching is a popular activity.
Another attractive beach town, Corona del Mar, is just two miles away from Balboa Island.
14. San Gabriel Mountains National Monument/Angeles National Forest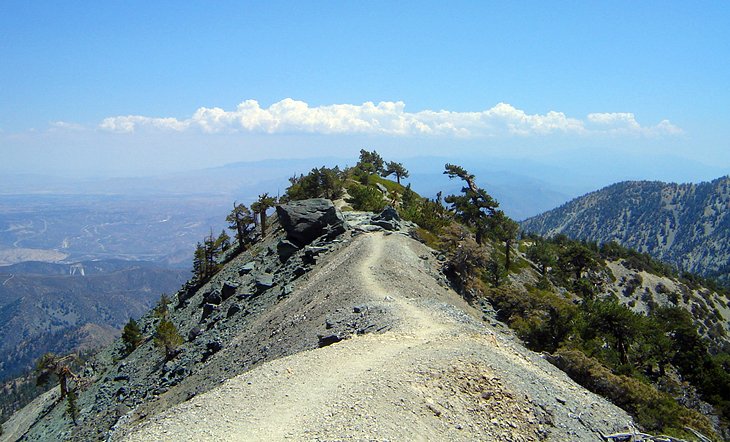 Travelers can escape from the Los Angeles metropolitan area by taking a 50-mile drive to the San Gabriel Mountains National Monument/Angeles National Forest, a peaceful wilderness environment.
During the summer and fall season (when the weather is not too hot), advanced hikers can take on the challenge of ascending Mount San Antonio, affectionately known as "Mount Baldy" because of its barren landscape.
During winter and spring, the mountain is usually covered in snow, and mountaineers approach it with ice boots, crampons, and ice axes. The 10,000-foot peak is the highest in the San Gabriel Mountain Range as well as the highest point in Los Angeles County.
Looking for a less extreme adventure? The area has many easy and moderate hikes as well as campgrounds, picnic sites, and swimming areas. A variety of hiking trails wind through the forest, and some trails accommodate mountain bikers and horseback riders.
Hiking Tip: Watch out for "Poodle-Dog Bush," a shrub with bell-shaped lavender flowers that can cause skin irritation and blisters similar to a reaction from poison ivy.
15. Tijuana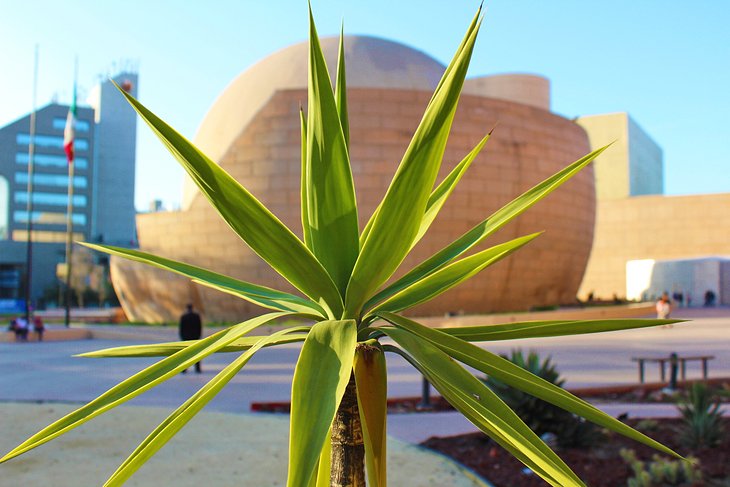 An exciting day trip about a four-hour drive away from Los Angeles, Tijuana gives visitors a taste of a foreign country just across the U.S. border. Tijuana may have a reputation for seediness and crime, however a recent cultural renaissance and government investment have enhanced the tourist appeal. With a measure of caution, visitors can enjoy the highlights of Tijuana.
Tijuana is known as the "corner of Mexico" and has a vibrant downtown area with a historic plaza, a typical Spanish bullring, and a modern cathedral. The urban center also boasts noteworthy architectural landmarks including the ornate Moorish-style Palacio de Frontón Jai Alai.
For a dose of culture, tourists can check out the avant-garde Centro Cultural Tijuana, which hosts art exhibits, music concerts, movie screenings, and cultural performances. The center also has an area designed for children, an aquarium, and a botanical garden.
Shopaholics will want to check out the Avenida Revolución, a bustling street with many retail boutiques. This avenue also has many trendy restaurants, where tourists can enjoy the delicious local cuisine.
Map of Day Trips from Los Angeles