Visiting Little Tokyo in LA: Come for the Ramen, Stay for the Culture
Author Joni Sweet travels to Los Angeles several times a year. She explored Little Tokyo for PlanetWare in the summer of 2023.
My visit to Little Tokyo started with a mission: to slurp the best vegetarian ramen in Los Angeles. The neighborhood definitely delivered on its promise of savory noodles every bit as delectable as those I had on a trip to Japan several years ago—but that was just the beginning of what made my visit worthwhile.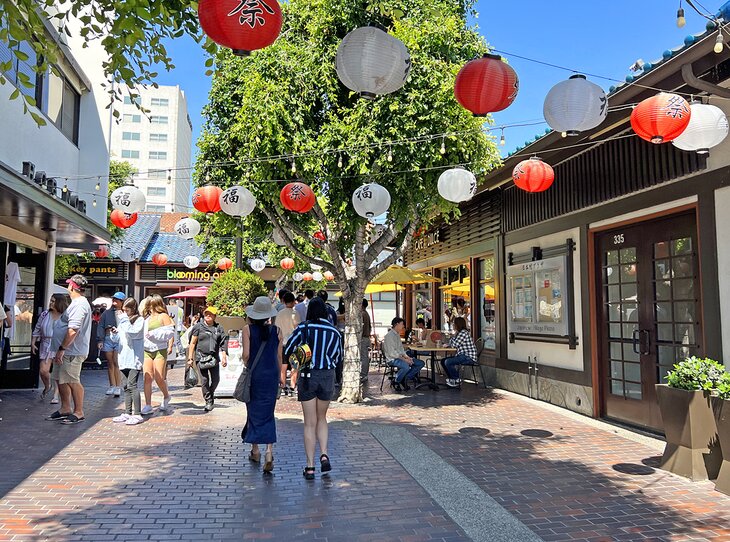 This iconic locale treated me to secret gardens, vibrant storefronts, profound museum exhibitions, and surprises around every corner. Here's what I discovered on a visit to LA's authentic Japanese enclave, Little Tokyo.
Exploring Japanese Village Plaza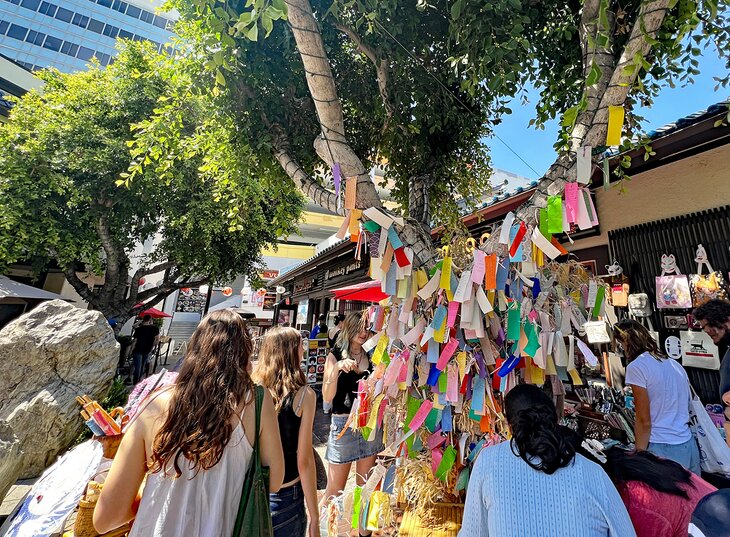 My day in Little Tokyo started at the Japanese Village Plaza, the neighborhood's central gathering place. It feels unlike anywhere else I've visited in Los Angeles.
Garlands of red and white paper lanterns dangle over the pedestrian-only brick-paved pathways and emit a gentle radiance after dark. The buildings feature Japanese-inspired architectural elements, like decorative wood screens and ornamental ridges on the roofs.
You also can't miss the Yagura Tower, a replica of the traditional fire towers found in rural Japan, that stands at the First Street entrance to the plaza. Built in 1978 as part of an effort to revitalize the neighborhood, the bright red wooden structure is considered a symbol of Little Tokyo.
This plaza sets a vibe that you'll want to soak up for an hour or more. Grab a seat on one of the benches shaded by manicured ficus trees and watch as a mix of tourists, anime fans, and teens decked out in trendy Japanese clothes swirl about in the area.
But more than just a spot for people-watching, the Japanese Village Plaza offers an opportunity to feel a sense of closeness at the wishing tree outside of the Shabu-Shabu House.
Inspired by Japan's Tanabata festival, the tree is covered with paper strips that contain handwritten wishes from people who've come through the plaza. Reading the earnestly scribbled prayers for career advancements, the health of loved ones, long-lasting romances, and brighter futures brought tears to my eyes. You can buy paper strips from the nearby Blooming Art Gallery to draft your own wish and hang it from the tree, if you're longing for something in your life.
Understanding a Complicated History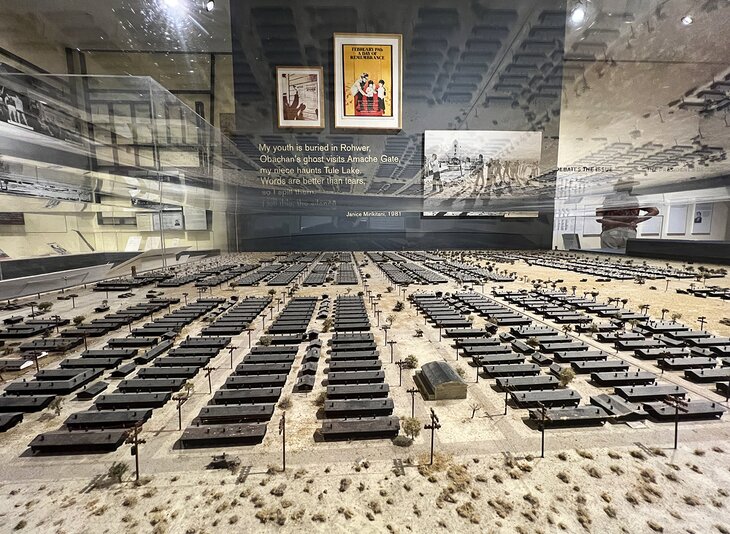 Eager to get a better understanding of the history and experience of Japanese-American communities like Little Tokyo, I made a beeline for the Japanese American National Museum. It was founded in 1992 by a group of Little Tokyo business owners and a band of Japanese Americans who fought in World War II.
There's a lot to see at this attraction, but the most moving part for me was learning more about the impact of anti-Japanese hysteria on these communities in the wake of the attack on Pearl Harbor.
It's one thing to learn about the discrimination and forced resettlement of Japanese Americans to remote internment camps in a history class. But hearing the stories of those affected by these policies and seeing historic artifacts, like vintage photos of interred families and Buddhist altars built out of discarded tin cans at the camps, humanized this history for me in a profound way. You can even walk inside a preserved structure used to house Japanese Americans in a concentration camp, relocated to the museum from Wyoming.
What will stick with me the longest are the artifacts in a temporary exhibit on the youth who came of age while interned. Displays of things created and used by kids in the concentration camps, like signed yearbooks, Boy Scout badges, hand-drawn comics, and dolls, showed how they maintained some semblance of a childhood amid heartbreaking circumstances.
Hidden Treasures Behind the Museum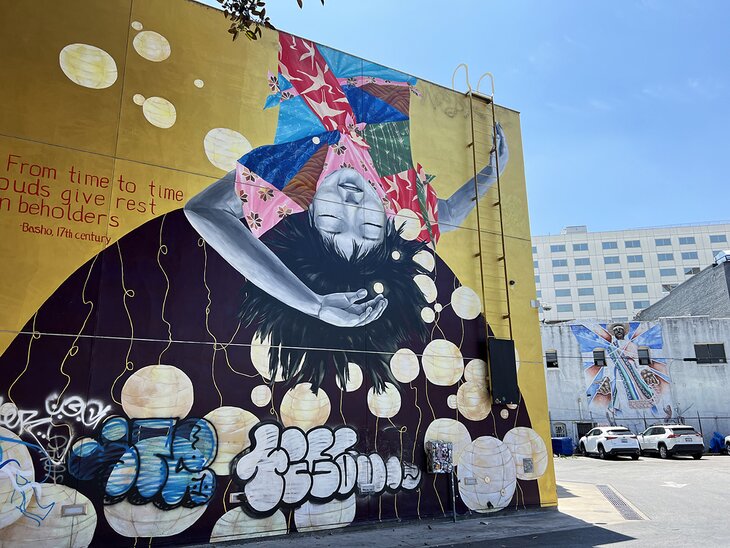 If you have some extra time to spare, take a walk behind the Japanese American National Museum to see a few other noteworthy attractions, including the MOCA Geffen, one of the top attractions in Los Angeles.
You'll immediately come across the impressive Aoyama Tree, a century-old Moreton Bay Fig tree that stretches 60 feet wide and 70 feet tall. The historic cultural monument marks the previous site of one of the oldest and largest Buddhist temples in Los Angeles, the Koyasan Daishi Mission. You can also see the "Moon Beholders" mural by fourth-generation Japanese American artist Katie Yamasaki just next to the tree. The work depicts a smiling young girl wearing traditional clothing in symbolic patterns that represent key moments in Japanese American history.
Keep heading north for a look at a giant sculpture Los Angeles-based artist created from used airplane parts, followed by the Go For Broke Monument, which is engraved with the names of 16,000 Japanese American soldiers who served in World War II.
Oodles of Noodles and Other Traditional Foods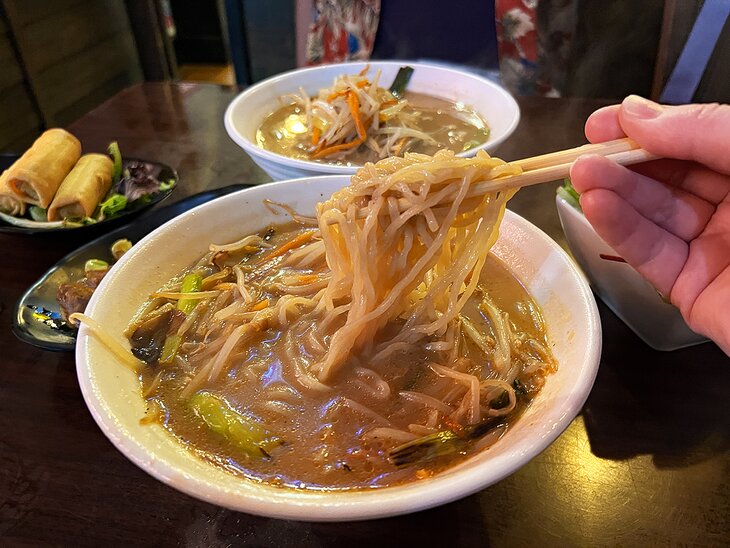 After working up an appetite from a morning of sightseeing, it was time to get back to my original quest for veggie ramen noodles. Admittedly, I've sampled oodles of noodles around Los Angeles, but I'm convinced the best vegetarian version can be found at Hachioji.
With its wood-slatted walls, vintage Japanese advertisements and signs, and strings of caged lightbulbs giving the space a warm glow, the craft ramen joint in Little Tokyo feels like an Osaka street scene. On the menu, you'll find eight distinctive types of ramen. I took advantage of the lunch special and ordered the vegan red ramen with a spicy miso bomb, along with veggie gyoza and a side salad. For under $20, the meal was a steal.
The server brought me a big bowl of curly noodles swimming alongside shredded carrots, bean sprouts, and bok choy in an umami-packed broth. It made me feel like I was back in Japan, sipping ramen from a vegan spot I frequented at Tokyo Station several days in a row.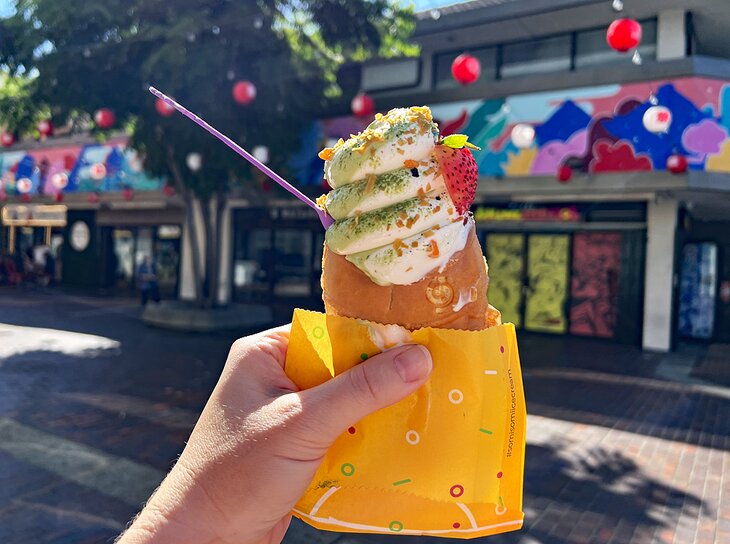 The variety of Japanese foods in Little Tokyo extends far beyond ramen, so it's worth coming hungry. Peek inside the window of Mitsuru Cafe to watch the cooks prepare red bean cakes right in front of you, then sample one yourself. Reserve a table at Chinchikurin to try Hiroshima-style okonomiyaki, an 11-layer dish of veggies, noodles, and proteins made on a teppan grill.
Pick up mochi and other Japanese treats at Fugetsu-Do Bakery Shop, which dates back to 1903. And be sure to leave room for ah-boong, a fish-shaped pastry lined with your choice of filling (like red bean paste or Nutella) and filled with soft-serve ice cream, at Somi Somi. The Korean treat, which draws inspiration from Japanese taiyaki, is as cute as it is satisfying on a hot day.
Shopping for Souvenirs (and Memories!)
Perhaps the most charming thing to do in Little Tokyo is pop around the quirky, colorful stores that turn shopping into an adventure.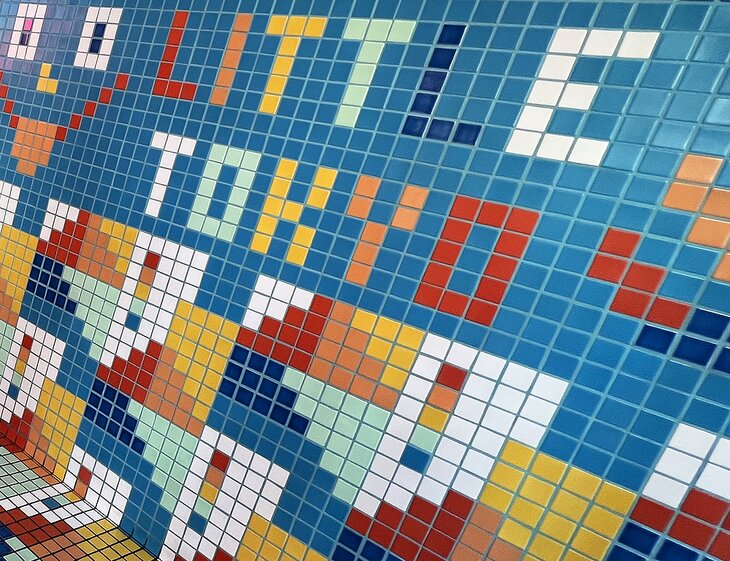 Pop Little Tokyo and its sister store, Popkiller Second, immediately caught my eye when I came across them on East 2nd Street. Don't be fooled into thinking the flagship shop sells records. What looks like vinyl covers are actually a clever display of funky t-shirts designed by local and international artists. And, at Popkiller Second, you'll find a curated assortment of vintage apparel, novelties, and funky accessories straight from Japan.
For more accessories, make your way to Mokuyabi. The stars here are the shop's made-in-America backpacks, fanny packs, and tote bags in out-of-this-world color-blocked designs and whimsical shapes. You'll want to take home one of everything.
It's also fun to check out a couple of the more legendary shops at the Japanese Village Plaza. Fans of the Japanese character Hello Kitty line up outside the Sanrio store to score collectable items (like oversized plush toys and figurines).
You can also experience what an authentic Japanese grocery store is like at Nijiya market. I was delighted to spot cans of Suntory BOSS cold brew coffee—a ubiquitous drink on my last trip to Japan—in the refrigerator at the back of the store.
Round out your retail experience at Bun-Ka Do, a two-floor gift shop loaded with fun Japanese souvenirs. This is the go-to spot for lucky cat figurines, special stationery, paper lanterns, origami paper, and ceramic cups decorated with Japanese motifs.
Secret Japanese Gardens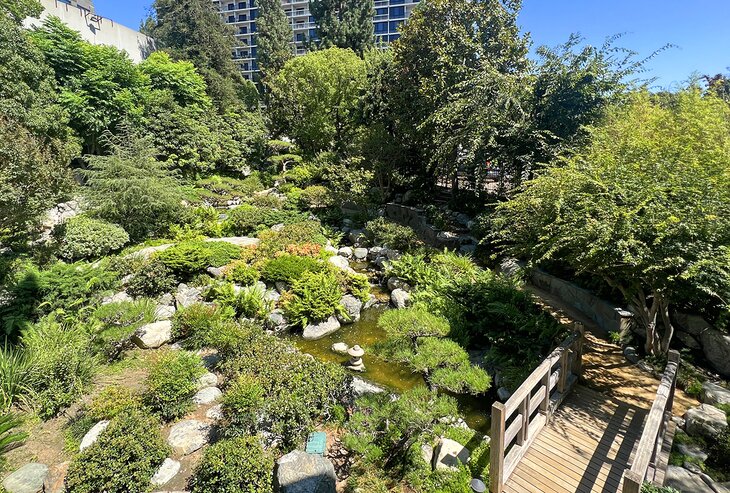 Little Tokyo is home to a couple of peaceful Japanese gardens that will leave you restored. But to find these secret spots, you'll need to know where to look.
The easiest one to reach is the James Irvine Japanese Garden. It's typically used for private events, so you probably won't be able to get up close to the award-winning garden, but you can get a fantastic view from a platform tucked behind the Japanese American Cultural Community Center. Let the 170-foot stream guide your eyes around the garden's lush bamboo, palms, and pruned bushes.
The DoubleTree by Hilton Hotel offers a more immersive garden experience. It's crowned by a half-acre Japanese garden that's so pretty, it's often used for weddings. The flowing waterfalls, carefully placed stones, verdant greenery, and winding stream offers space for serenity after an invigorating day in Little Tokyo.