Vintage Shopping on Melrose: Retro Treasures on Los Angeles' Trendiest Street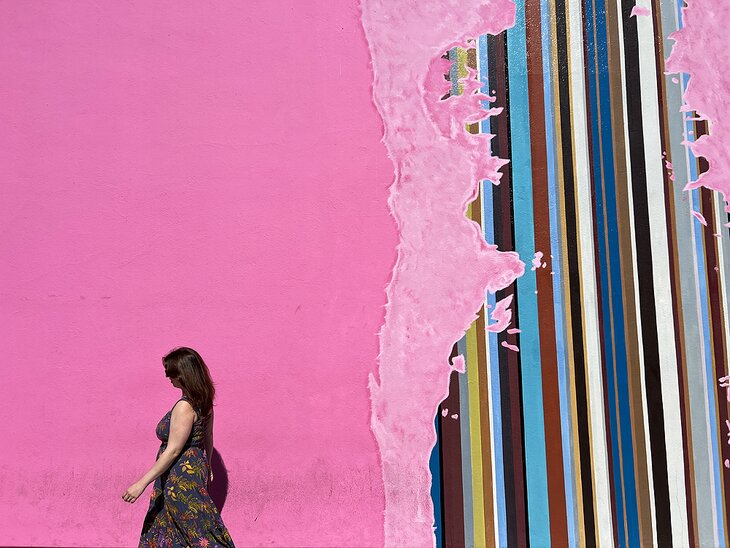 On This Page:
Want to take a piece of Los Angeles' glitzy-meets-edgy vibe home with you? Go vintage shopping on Melrose Avenue.
By my count, more than 15 vintage stores line the stretch of Melrose that runs between La Cienega Boulevard and La Brea Avenue, offering a treasure trove of fashion finds. You'll find everything from designer gowns that look like they belong on the red carpet of a Hollywood movie premiere to old-school concert T-shirts from every famous band of the last 50 years.
Exploring Melrose Avenue—one of the most famous streets in Los Angeles—is just as fun as combing the racks in the vintage shops. It's a vibrant mash-up of funk and fashion, with surreal murals splashed on the sides of buildings and trendsetters treating the sidewalks like their personal catwalks. Plus, it's home to the best vegan taqueria in Los Angeles.
Check out our guide to vintage shopping on Melrose Avenue in Los Angeles, plus other things to do in this trendy area.
Melrose Avenue West: Museum-Worthy Vintage Pieces
Fairfax Avenue splits Melrose into two distinct retail areas. Whereas the east side brims with vintage boutiques filled with eclectic clothes that will add effortless oomph to your everyday wardrobe, the west end will make you feel like you're raiding the closet of a Beverly Hills socialite. Expect lots of formalwear, rare finds from top designers, and eye-catching accessories (with price tags that are even more attention-grabbing!).
No other store captures the vibe of the west end of Melrose quite as well as Decades. Founded in 1997, it's one of the most iconic vintage stores in Los Angeles and a fashion source for top stylists, celebrities, and Hollywood studios. No need to feel intimidated, though—the laid-back staff doesn't mind when curious tourists step inside to poke around the two-floor shop.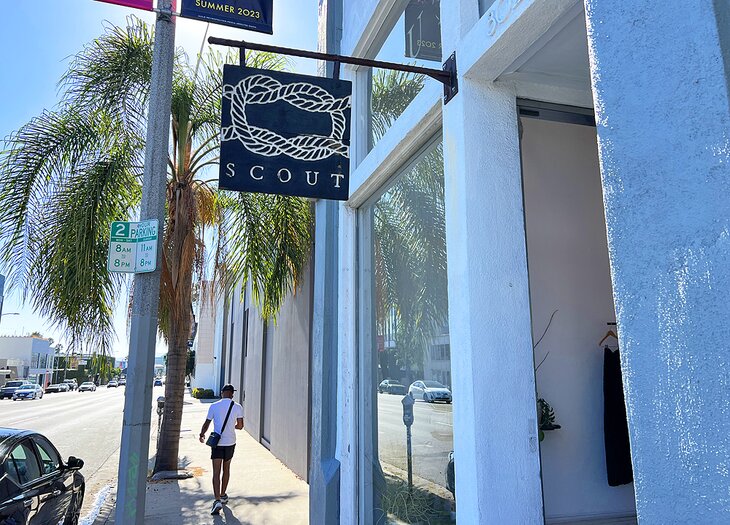 Decades keeps its ground floor casual with a mix of resort-ready dresses, oversized handbags, printed tops, chic jackets, and a range of footwear. Take a look at the rack of little black dresses beneath a giant acrylic Chanel logo—it's undoubtedly got something that will work for your next upscale event.
The real magic happens up the leopard-print staircase, though. You'll walk through a mini gallery of fashion drawings (some embellished with fabric samples) from the owner's personal art collection, before entering the formalwear department.
The racks of red carpet looks from the 1930s to the 1990s feel like an exhibit from the Metropolitan Museum of Art's Costume Institute that you can actually touch. I was dazzled by a green chiffon dress topped with purple netting and an open back from Atelier Versace. Sadly, it was out of my budget, but I loved fantasizing about what it would be like to wear it to a fancy garden party.
Within a few blocks of Decades are two other vintage stores that won't damage your credit card quite as much. Scout is a women's boutique with a carefully curated selection of hand-picked retro clothing with artsy aesthetics. The cut-out dresses, lace tops, and wooden jewelry would fit in perfectly at one of California's music festivals, like Coachella in Palm Springs.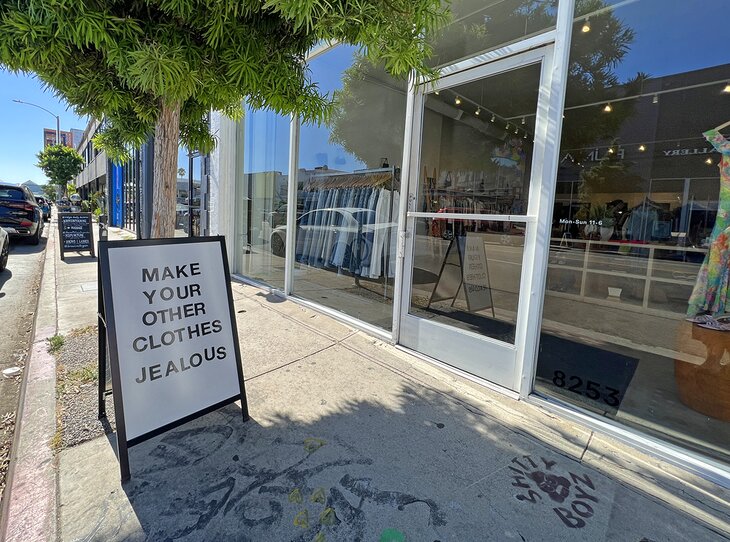 A little further west, there's also Reformation Vintage, the secondhand shop from the sustainable clothing brand Reformation. In a place as sunny as LA, you'll need a cool pair of shades, and this vintage store has plenty of options from the '90s. You can also shop for dresses that look like they came from the wardrobe department of the 1995 teen movie "Clueless," chrome high-top sneakers, designer handbags in every shape and size, and boy band tees.
Melrose Avenue East: Vintage in Mega Stores and Curated Boutiques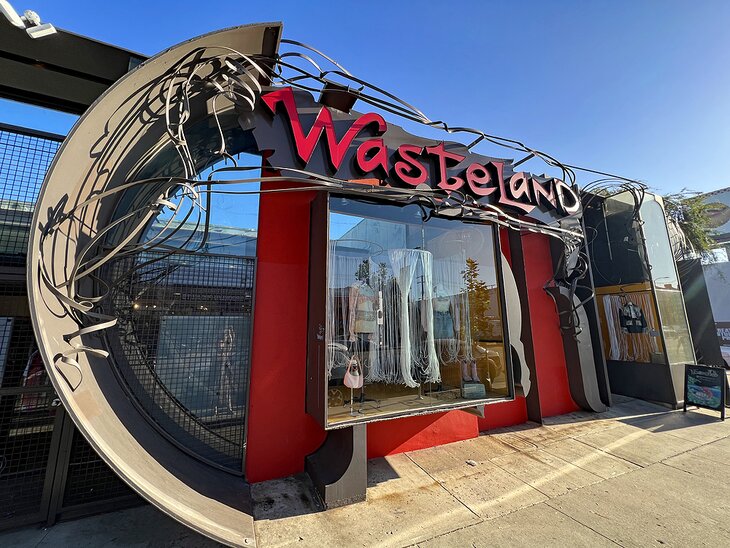 No matter your personal style or budget, you can find vintage clothing you'll love on the east side of Melrose. It's home to several mega shops with tens of thousands of items to help you build a secondhand wardrobe from scratch or enhance your existing collection.
The most striking shop on the street is Wasteland, a bright red and black storefront with a sculptural sign and dressed-up window displays on the corner of Vista Street. The store is jam-packed with clothing that represents so many decades and trends, it made me feel like I could try on new personalities.
Mannequins display some of Wasteland's most vivid garments, like Barbie-inspired skirt suits and university bomber jackets. It's also got rack after rack of clothing for men and women, ranging from casual jeans and tees to rockstar-inspired leather jackets and sequin dresses. Speaking of rockstars, head to the corner of the men's section to see framed 1970s concert tees from Aerosmith and Elton John.
A block away, American Rebel competes with its creative storefront and supersized collection of vintage clothing for men and women. The shop feels like a greenhouse with its large windows and vine-covered archways that surround the racks of clothing. It's got an impressive denim assortment, cowboy and cowgirl boots, Southwestern-style dresses and button-down shirts, leather pants, and collared bowling team shirts.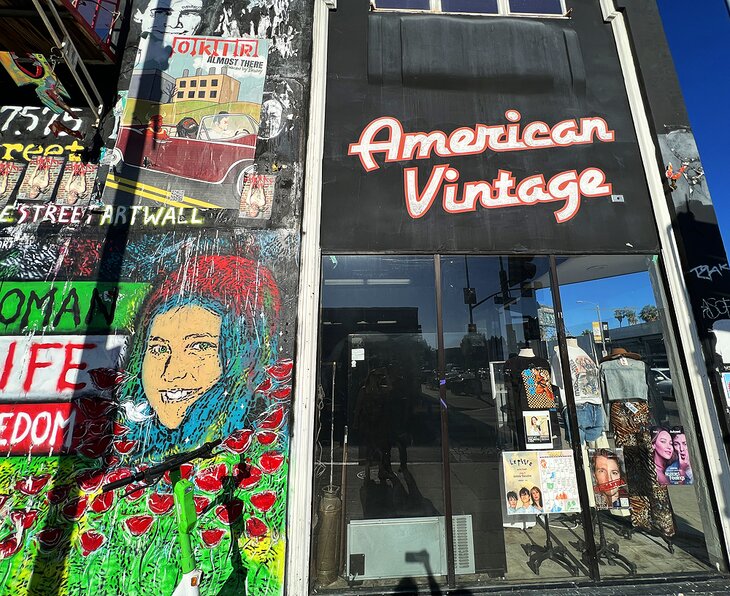 If you've still got stamina, you can continue digging through two other big vintage stores on this side of Melrose. American Superior Vintage (also known as A's American Vintage) has 80s prom dresses and leather jackets dangling from the ceiling, densely packed racks of t-shirts arranged by color, gently used shoes, and every kind of hat you could possibly imagine, from straw boaters and baseball caps to fedoras and berets.
The similarly named American Vintage has some of the most affordable vintage tees I saw on Melrose, some of which have been modernized with hand-cut fringe and cutouts. It's also a great place to go for jeans, Hawaiian shirts, and leather cowboy boots.
In contrast to the giant secondhand stores, the smaller vintage boutiques on the east side of Melrose give a more selective shopping experience. New Friend Vintage has an unlikely combination of camouflage hunting shirts and oversized band shirts that have been transformed into dresses.
The sleek Vintage by Round Two has collectible t-shirts displaying everything from specific dog breeds and Pokémon characters to rappers and athletes. Travelers, in particular, will love spotting the souvenir t-shirts and sweatshirts from obscure vacation destinations and cruise ships.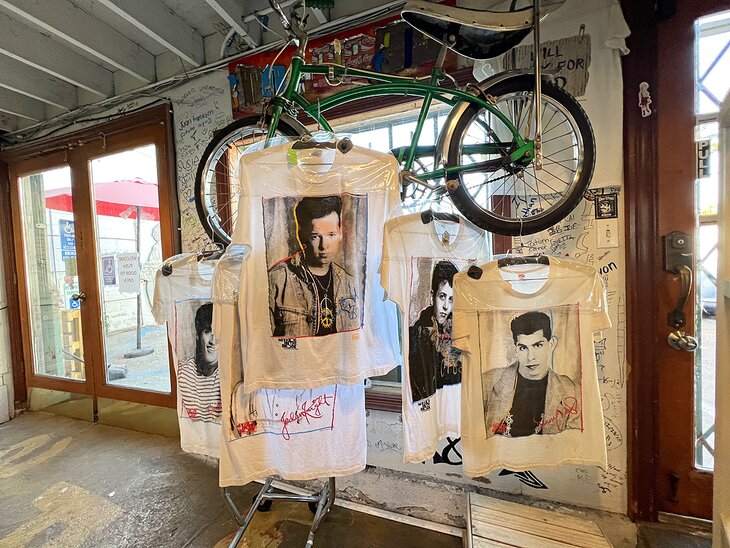 Music lovers won't want to miss World of Vintage T-Shirts. The aptly named store, complete with a pink My Little Pony statue at its entrance, has an incredible collection of retro and contemporary concert t-shirts arranged by artist name.
No genre of music is off-limits—browse shirts from Queen, the Beatles, Selena, The Who, Nirvana, Taylor Swift, Tupac, New Kids on the Block, and more. A special area behind a chain-link gate contains ultra-rare T-shirts, like an authentic Whitney Houston concert tee that likely dates to the 80s. If you couldn't make the show, at least you could pretend you did with a t-shirt from this endlessly browsable store.
More on Melrose: Comedy Clubs, Murals & Tacos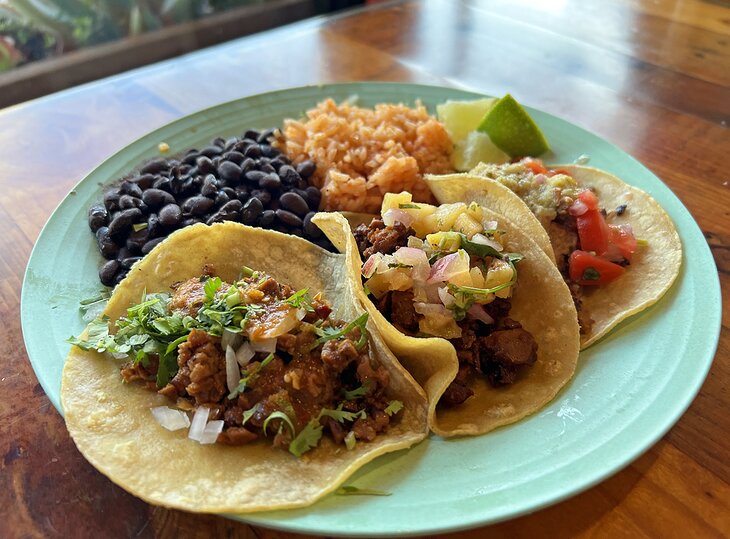 Shopping isn't the only thing to do on Melrose. Once you've found a new outfit, head to a nearby mural for an impromptu photoshoot. The bubblegum pink wall on the Paul Smith flagship store might not be the most visually interesting option, but it is definitively the most famous backdrop for influencer photoshoots in Los Angeles. The nearly 20-year-old attraction is an Instagram phenomenon and you'll likely have to wait in line behind a few influencers to take your turn using it as your background.
Better yet, snap some photos of the dreamlike murals on other buildings on Melrose. Look for the painting of Kobe Bryant dunking a basketball in the clouds on the corner of Kilkea Drive. On Laurel Avenue, there's a strange black-and-white mural of geometric shapes that's symbolic of being stuck on the merry-go-round of life, according to artist James Peter Henry. The Melrose Arts District has even created a map of all the murals on the street.
Then, refuel at one of the many restaurants on the east side of Melrose. My favorite option, Sugar Taco, is the best vegan taqueria in the city. Choose from meat-free carne asada tacos, carnitas burritos, street corn, sky-high piles of nachos, or protein bowls loaded with black beans and veggies. Drizzle on some of the housemade habanero pineapple hot sauce for an extra kick.
If you find yourself still on Melrose after the sun sets, get your night started at one of the area's other major attractions: comedy clubs. Located one block east of the Paul Smith Pink Wall, Hollywood Improv is a renowned stand-up comedy joint that dates back to 1974. Nearly every major comic has performed here, including Eddie Murphy, Jerry Seinfeld, and Joan Rivers.
For improv and sketch comedy, get tickets to The Groundlings. The 50-year-old comedy school puts on shows almost every night of the week and counts Phil Hartman, Kristen Wiig, Maya Rudolph, Will Ferrell, and Kathy Griffin among its alumni. Whichever comedy club you choose, you'll laugh harder than you ever thought possible.