15 Best Free Things to Do in Los Angeles, CA
We may earn a commission from affiliate links ()
The entertainment capital of the world is a great vacation destination because it just has so many things to see and do. Popular tourist attractions like Disneyland and Universal Studios are a lot of fun, but they also cost a lot of money. Fortunately, LA has a seemingly endless list of free things to do, and some just might surprise you.
Did you know it was free to visit Dodger Stadium on non-game days and sit in the Top Deck section and admire the view? Great LA museums like The Broad (modern art), The Getty Center (pre-1950s art), and the Griffith Observatory are all free, all the time. If you're a music lover, you might want to do a free, self-guided tour of Disney Hall, home of the Los Angeles Philharmonic.
A great free thing to do in LA is to hang out at the beach. All beaches in Los Angeles (and California), from Manhattan Beach all the way to Malibu, are completely free. Do a little something different and take a hike in Palos Verdes to visit Abalone Cove, home to one of the state's only black-sand beaches.
If you schedule your LA trip carefully, you can visit any of Los Angeles' many museums for free, as they all have one free day each month. In most cases, you'll need to make advance ticket reservations, but even though admission is free, they do charge for parking.
Plan your no-cost adventures around Los Angeles with our list of the top free things to do in LA.
1. Visit the Griffith Observatory, Space Museum, and Planetarium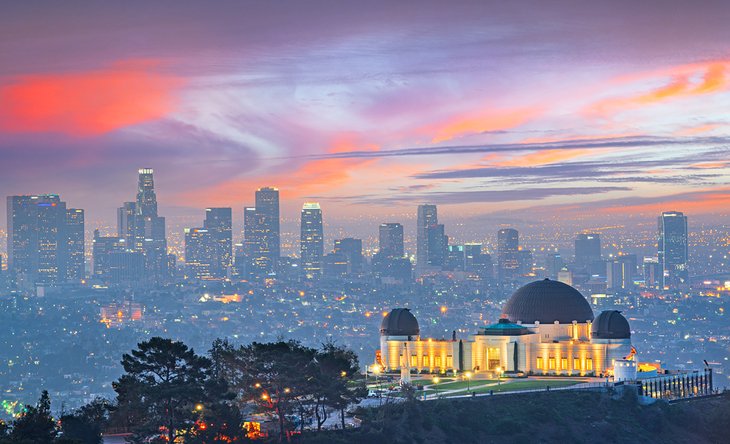 Perched atop the Hollywood Hills, a few hilltops south of the iconic Hollywood sign, the Griffith Observatory has a space and science museum, multiple telescopes, and a planetarium.
This is a great free thing to do in LA at night, as it's open until 10pm on Fridays, Saturdays, and Sundays. These are also the only days the museum is open, opening at noon on Fridays and 10am on weekends.
The main draw here are the hourly star shows in what is considered the world's best planetarium. The Samuel Oschin Planetarium is a 290-seat domed, circular theater, with a Zeiss star projector and digital projection system that projects images, video, and the entire universe on the domed, aluminum ceiling. The shows are all hosted by an expert presenter and are part education and part Disney-like attraction experience.
If you visit during the evening, you also have a chance to look through the observatory's telescopes at various things in space, including planets, the moon, stars, and more.
You may want to visit just to walk around and admire the grounds and the spectacular views of Los Angeles. There are multiple Hollywood Hills trailheads here, which lead to other local landmarks and points of interest. The grounds and exterior can be visited anytime, even when the observatory is closed.
The Griffith Observatory is free. Parking in the official parking garage does cost money, but you can park on the street leading up to the observatory for free.
Address: 2800 East Observatory Road, Los Angeles, California
Official site: griffithobservatory.org
2. Marvel at Artwork at The Broad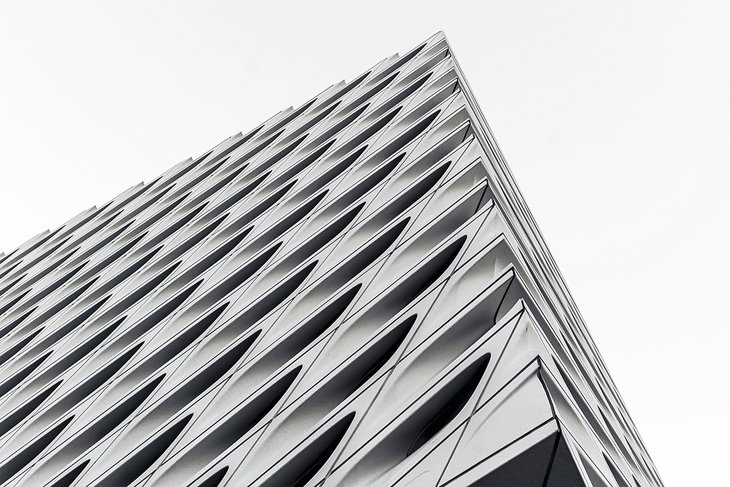 A visit to The Broad, the newest mega-museum in LA, is a great free thing to do. Not only do you get to explore the museum's vast, world-class modern art collection (1950s to the present), you can enter the Infinity Mirrored Room and become the envy of both TikTok and Instagram.
The Broad's collection includes over 2,000 works from more than 200 artists, including masters like Andy Warhol, Jasper Johns, Jean-Michel Basquiat, Takashi Murakami, and Robert Rauschenberg. It's a kid-friendly place to visit, as a lot of the artwork is sculptural and three dimensional.
The Broad is located in downtown Los Angeles (DTLA) and is within walking distance of fun areas to explore like Grand Park, the Old Bank District, Broadway, and the Arts District. Access to the general collections is free; admission is charged for special exhibitions and events.
Address: 221 South Grand Avenue, Los Angeles, California
Official site: thebroad.org
3. Tour the Walt Disney Concert Hall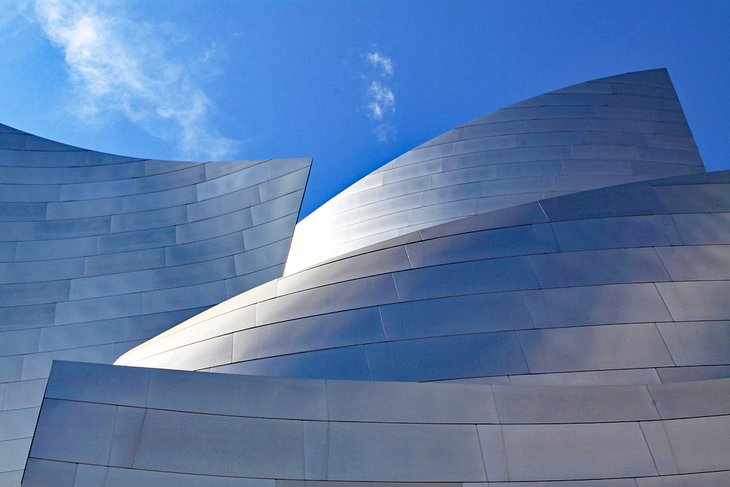 Another DTLA icon, the curving, silver Disney Hall concert venue is home to the Los Angeles Philharmonic Orchestra. While tickets to orchestra performances and other shows at Disney Hall can be pricey, you explore this world-class, Frank Gehry-designed structure for free.
Disney Hall offers complimentary, self-guided app-based tours of the concert halls (there are several). While on the 60-minute tour (narrated by John Lithgow), you'll learn about the hall's revolutionary acoustics and groundbreaking architecture.
The tour is presented on your mobile device, and you can go at your own pace. Podcatcher audio devices are loaned to guests who do not have a mobile device. Tours run daily, from 10am to 3pm, with the last tour at 2pm, and no reservations are required.
After your tour, head outside to the somewhat-secret Blue Ribbon Garden, a wonderful place to relax and escape the heat. The highlight is a magnificent rose-shaped fountain, also designed by Frank Gehry, made entirely from broken pieces of Delft blue-and-white porcelain. The art piece, entitled "A Rose for Lilly," is a tribute to the hall's benefactor, Walt's wife Lillian Disney.
Address: 135 North Grand Avenue, Los Angeles, California
Official site: laphil.com
4. Visit the Getty Villa Museum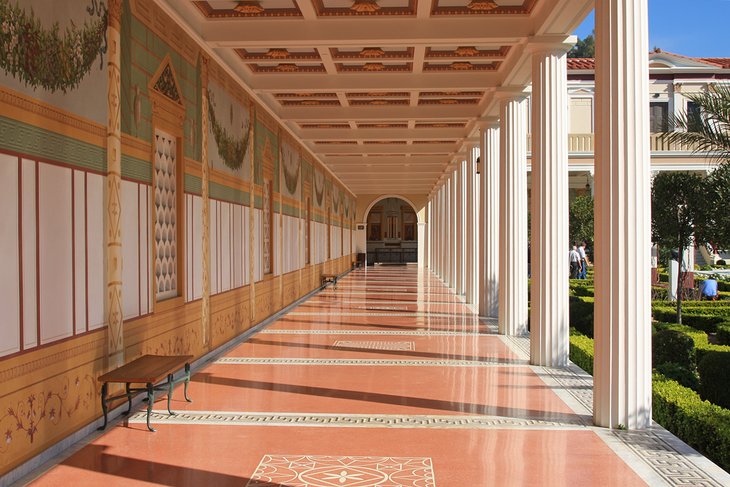 The Getty Villa Museum is one of the world's great museums of Greek and Roman antiquities, housed in an authentic recreation of a first-century ancient Roman country house. It's a spectacular experience to walk through the villa, with its fountains, gardens, mosaic and marble floors, and wall art. It's modeled on the Villa dei Papiri, discovered almost intact in Herculaneum, buried after the eruption of Mount Vesuvius in 79 CE.
Within the villa, you will find an incredible collection of artwork and objects from Ancient Greece and Ancient Rome. The museum's collection covers a nearly 4,000-year period, from the Bronze Age through the fall of the Roman Empire.
The Getty Villa is in Malibu, just off the Pacific Coast Highway. Admission is always free, but timed tickets must be reserved in advance. The museum does charge a parking fee, so consider taking public transportation or an Uber or Lyft.
Address: 17985 Pacific Coast Highway, Pacific Palisades, California
Official site: getty.edu/visit/villa
5. See Great Art at the Getty Center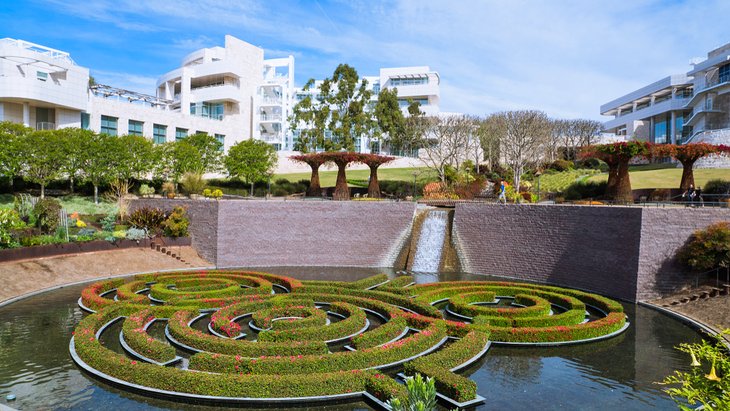 The companion museum to the Getty Villa, the J. Paul Getty Museum is just one part of the Getty Center, a large museum and art research campus located in the Santa Monica Mountains, just off the 405 freeway. This free museum has a vast collection that focuses on pre-20th century European paintings, works of art, and decorative arts, as well as 19th- to 21st-century photographs. The permanent collection is joined by changing exhibitions.
Aside from all the incredible art, the Getty Center has almost 100 acres of landscaped gardens you can explore. This includes the Central Garden, which is more like a horticultural outdoor art installation. The mountaintop location means you get dramatic, sweeping views of the Los Angeles basin all the way to the Pacific Ocean.
Admission to the Getty Center is free, and you don't need to make reservations or reserve tickets online. There is a charge for parking, and advance parking reservations are recommended.
Address: 1200 Getty Center Drive, Los Angeles, California
Official site: getty.edu/visit/center
6. Dodger Stadium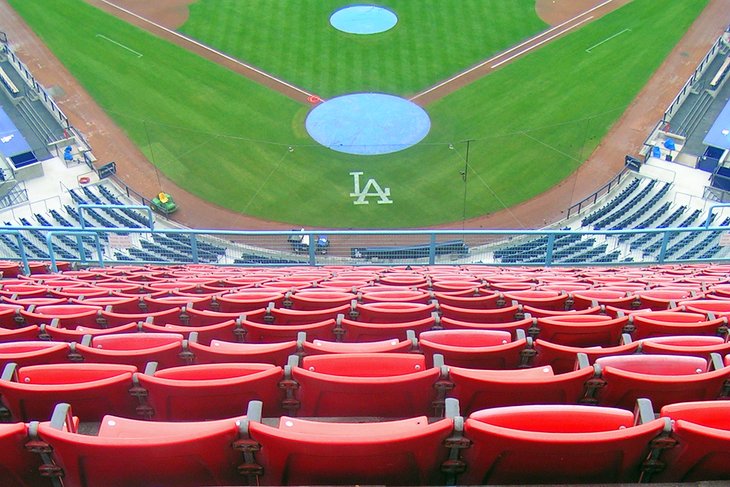 If you're a Dodgers fan or a baseball fan, one of the coolest free things to do in LA is to visit Dodger Stadium on a day when there is no game. You can admire the views, visit the Dodgers team store (open daily 10am to 5pm), and even sit in the Top Deck area inside the stadium, all for free.
Just tell the person at the stadium gate you're there to visit the Dodgers store, and they'll let you into the free stadium parking. The secret here is to pack a lunch and bring it with you.
When you arrive, check out the white letters that say DODGERS on the parking area fence, and more importantly, check out the incredible view of the downtown LA skyline. It's a great place to take photos.
You can visit the team store and walk around the Top of the Park area, which has giant numbers representing retired numbers of Dodger players like Jackie Robinson.
The gates into the stadium behind the store are open, and fans are welcome to go into the Top Deck area and sit in the seats, considered by some to have the best views in the ballpark.
Address: 1000 Vin Scully Avenue, Los Angeles, California
Official site: mlb.com/dodgers
7. Visit LA Museums for Free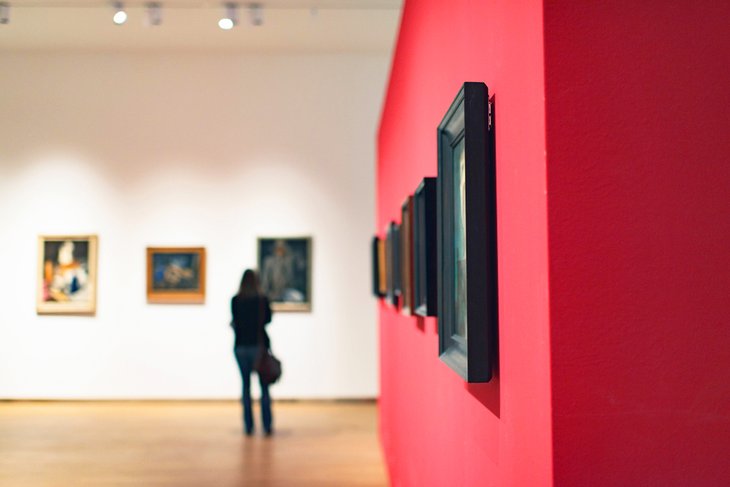 Los Angeles has an incredible array of museums, and they all have a free day each month. Those free days differ from museum to museum, but Discover LA, the city's official tourism website, has an excellent list of which museums are free, listed by day.
If you visit LA on a Sunday, head to Long Beach and visit MOLAA, the Museum of Latin American Art, the only museum in America dedicated to modern and contemporary Latin American and Latino art.
If you visit on the second Tuesday of any month, you can visit LACMA, the Los Angeles County Museum of Art or the Autry Museum of the American West for free. The Huntington Museum, Library, and Botanical Gardens in Pasadena is free on the first Thursday of every month, and the nearby Norton Simon Museum is free on the first Friday of every month.
In most cases, tickets for the free entry must be reserved in advance. There will also be a fee for parking if you park in the museum's official parking lot or garage.
8. Touch a Space Shuttle at the California Science Center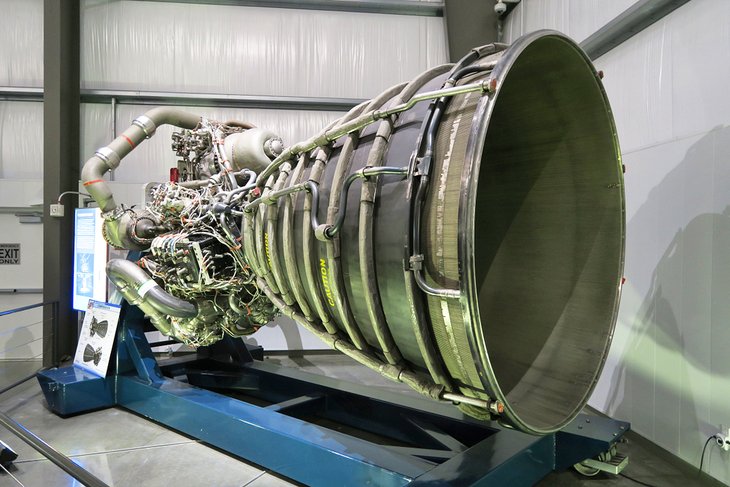 The shuttle Endeavor is on permanent display at the California Science Center museum near USC. The Science Center offers free entry, and its permanent collection includes all kinds of interactive, engaging science-related displays. It's a great thing to do with kids, and they can learn all about space, the natural environment, and science while having a lot of fun.
At the air and space exhibits, you can visit with Endeavor and check out a retired space shuttle up close. You can't tour the interior of the shuttle yet (plans are in place to create a new interactive exhibit, which will include interior tours) but you can touch the tires.
Admission to the Science Center's permanent exhibition galleries (including the Space Shuttle) is free, but they do charge a $3 service fee to reserve your timed entry ticket online. You can avoid this fee by going to the museum box office and getting your same-day, timed entry tickets in person. The disadvantage to doing this is you may discover the museum is sold out or they do not have tickets for your desired entry time.
Address: 700 Exposition Park Drive, Los Angeles, California
Official site: californiasciencecenter.org
9. Hike Down to a Hidden Black-Sand Beach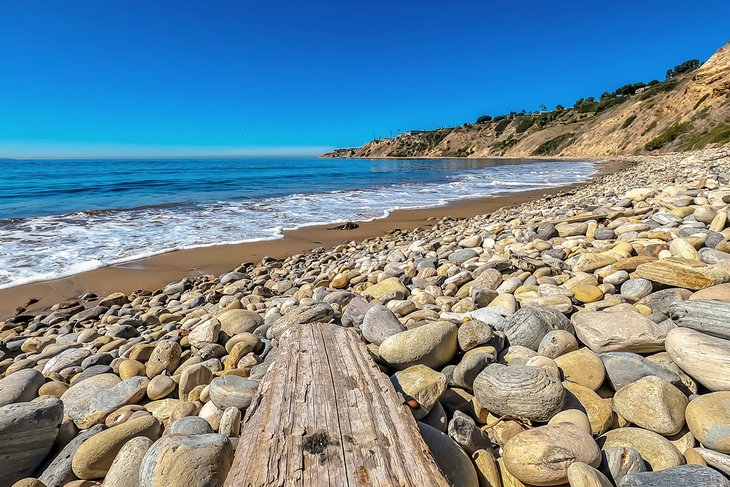 Abalone Cove Shoreline Park, part of the Abalone Cove Ecological Reserve on the Palos Verdes Peninsula takes some work to get to, but you're rewarded with a secluded, somewhat hidden beach. There are two beaches, Abalone Cove and Sacred Cove, separated by cliffs.
Take the Cave Trail all the way to Sacred Cove, and then hike down to the beach. It's a steep but easy hike, and at the last part, it takes you down about 400 feet from the bluff top to the beach. Here, you will find a beautiful, usually deserted (except for holiday weekends) protected cove and black-sand beach.
Parking is free if you park near the trail access adjacent to the Terranea Resort. There is a fee to park in the official Abalone Cove Shoreline Park parking lot (first 30 minutes is free if you want to make a very quick visit).
10. Find Inner Peace at the Japanese Garden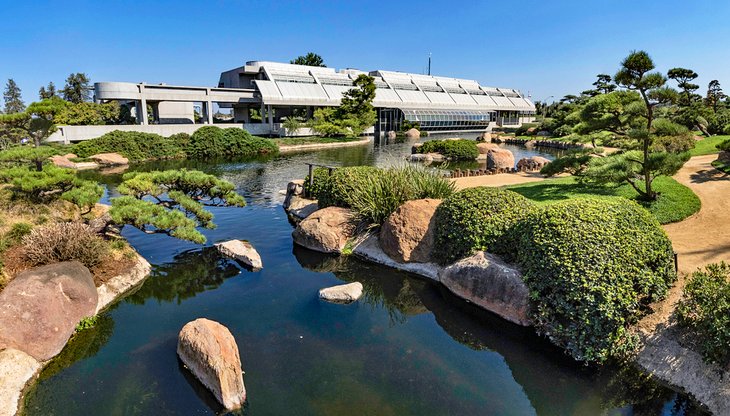 The Japanese Garden is a 6.5-acre garden complex in the San Fernando Valley, right near where the 101 and 405 freeways intersect. The garden is free to visit and has three separate gardens, which are visited in succession.
First there is a dry Zen meditation garden, with traditional elements like stones, wisteria, and tortoises. Next there is what's called a Chisen-Kaiyushiki or wet garden, with lakes, streams, and waterfalls. Finally, you can enjoy a tea garden complete with a teahouse.
The unique thing about The Japanese Garden, and especially the water it uses, is that it's reclaimed water; the garden is part of a city water reclamation (sewage treatment) plant. Opened in 1984, it was designed to be an oasis from the fast pace of the city and an example of how reclaimed water can be used, even for a delicate environment like that of an ornamental Japanese garden.
The full walk through all three gardens is about two miles. The garden is free, but advance, timed reservations are required. You (and your group of up to five people) get the full garden to yourselves for an hour.
The garden is open from Monday through Thursday, from 10am to noon and then from 12:30pm to 3:30pm. They are closed for 24 hours after a rainstorm.
Address: 6100 Woodley Avenue, Van Nuys, California
Official site: thejapanesegarden.com
11. See Steam Locomotives at Travel Town Museum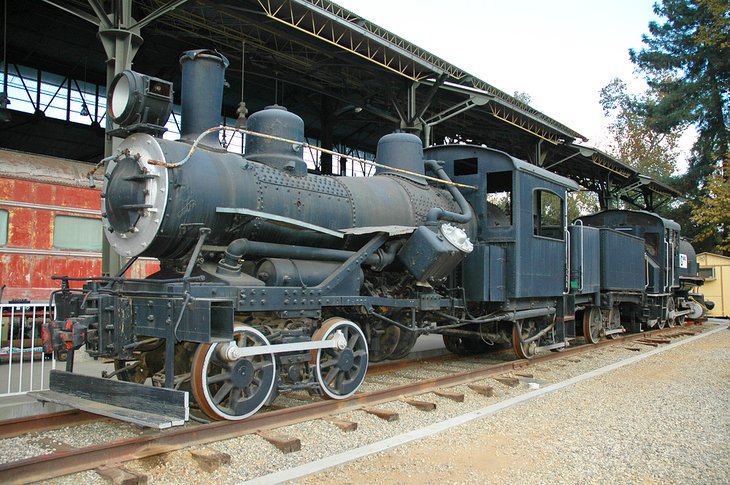 LA's Travel Town Museum, located in Griffith Park, traces the history of trains and train travel in and around Los Angeles from the 1880s through the 1930s. It's a great free thing to do with kids, and they love the huge steam locomotives and train cars displayed on the tracks.
The museum has an extensive collection of over 40 locomotives, freight cars, cabooses, passenger cars, and interurban trolleys like LA's iconic Red Cars. Most of the trains are displayed on tracks, and you can climb aboard and explore them. None of the trains are operational, but there is a miniature-gauge steam railway that goes around the exterior of the museum complex ($4 per ride).
The Travel Town Transportation Museum is in Griffith Park, not far from the Los Angeles Zoo. It's open from 10am to 5pm, seven days a week; closed on official holidays.
Address: 5200 Zoo Drive, Los Angeles, California
Official site: traveltown.org
12. Attend a Free Music Festival at Santa Monica Beach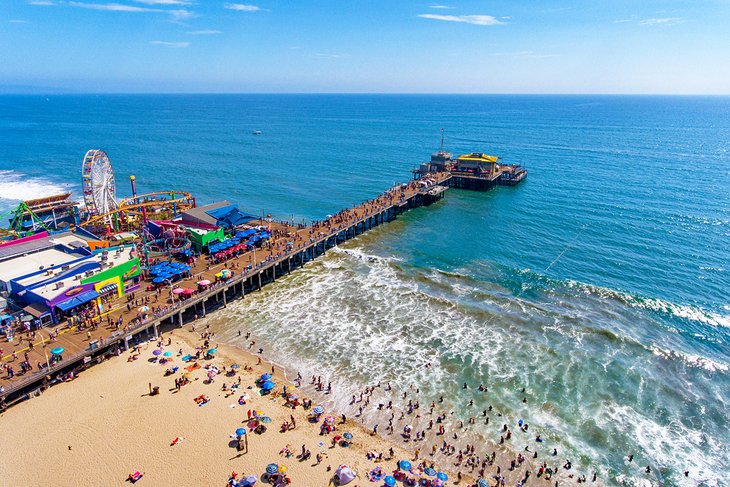 For six weeks during the late summer and fall, the Santa Monica Pier presents their Twilight on the Pier free weekly music festival every Wednesday night. For the past 35 years, the event has been a community gathering point to discover new music and listen to iconic artists as well. Recent years have included a separate comedy stage, art experiences, and on-site makers, as well as interesting food.
The festival is very popular and can be crowded, so arrive early to claim a good spot. You can also sit on the beach next to the pier, where you can hear the music but won't be able to see the stage. The festival is known for curating a great combination of big-name artists along with new and up-and-coming performers.
The Santa Monica Pier (and the huge stretches of beach on either side) is a great, free beach destination, so you might want to spend your day here and then stick around for the music festival.
13. Take Photos at Urban Light, LACMA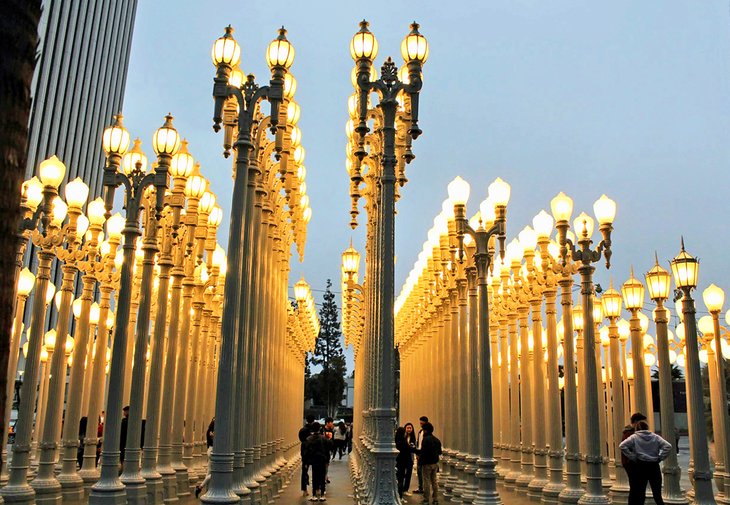 The public art installation in the forecourt of LACMA, the Los Angeles County Museum of Art, has become a symbol of the city. It's a dense square of 202 restored cast iron antique Los Angeles city streetlights from the 1920s and 1930s, arranged in rows. This is something you can do 24 hours a day as the (solar-powered) lights are turned on at dusk and kept on all night long. The artist says at night it transforms into a "building with a roof of light."
The landmark public art piece was created in 2008 by artist Chris Burden, and although it seems like the streetlights are perfectly aligned, they are not. The alignment depends on your perspective and where you are standing. The lights have become a must-visit spot for Instagram and TikTok posts.
If it's not too dark out, walk next door to visit the iconic La Brea Tar Pits. It's free to walk around the big Lake Pit, which is right on Wilshire Blvd. There are life-size models of Stone Age animals like wooly mammoths seemingly trapped in the thick tar.
Address: Forecourt of Los Angeles County Museum of Art, 5905 Wilshire Blvd., Los Angeles
Official site: https://www.lacma.org/
14. See the Stars on Hollywood Boulevard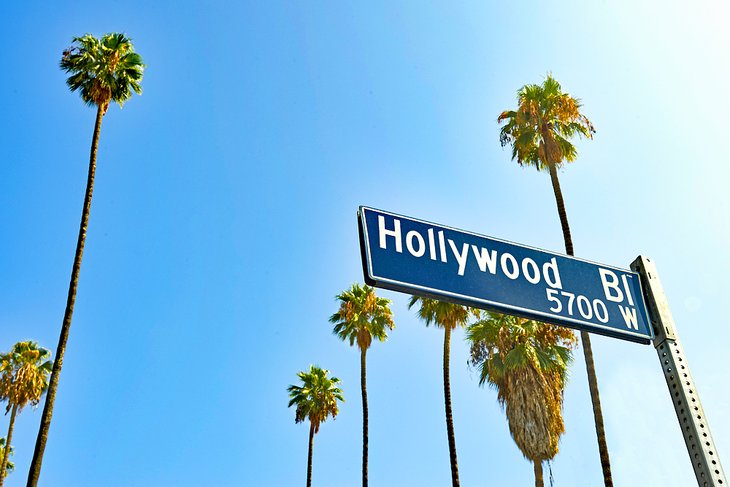 Still one of the most fun things to do in LA is to walk up and down Hollywood Boulevard to visit the star of your favorite celebrity in the Hollywood Walk of Fame. More than 2,700 bronze stars are embedded into a larger terrazzo star in the sidewalk, representing some of the biggest names from the worlds of TV, music, radio, live theater, sports, and film.
The stars are on the sidewalks of Hollywood Blvd., between Gower Street and La Brea Avenue, and along Vine Street between Sunset Blvd. and Yucca Street.
To find your favorite stars, check with the Walk of Fame organization. You can also check about upcoming star ceremonies, which are open to the public.
After you've checked out all the stars in the street, head to what's now called the TCL Chinese Theatre and check out all the stars' handprints and footprints in the cement of the theater's iconic forecourt. Since 1927, every major star in Hollywood has added their handprint and footprint as part of a promotional ceremony. It's fun to put your hand in their handprints and your feet in their footprints – you'll be surprised how small some of Hollywood's most famous stars' feet and hands are!
15. Hike through Solstice Canyon to the Ocean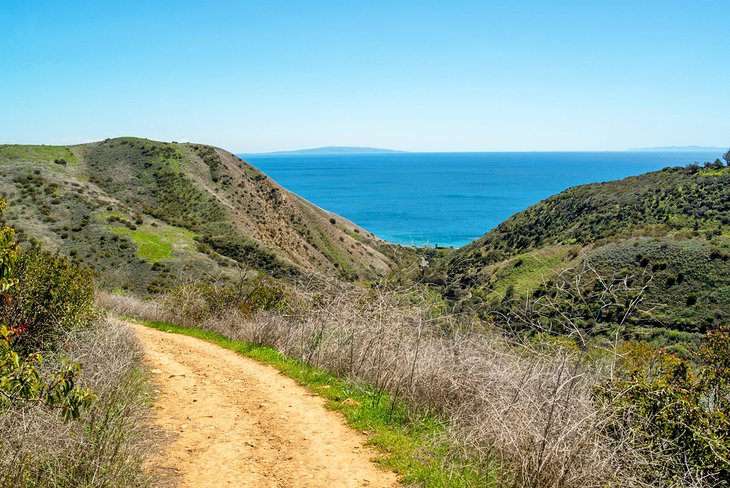 There are a lot of hikes and trails in LA but one of the best is Solstice Canyon in Malibu. It's not too difficult; not too crowded, if you arrive early; and offers a lot of beautiful scenery to enjoy along the way.
Part of the Santa Monica Mountains National Recreation Area, the canyon runs up from the ocean and the Pacific Coast Highway, so you can park at the trailhead and hike out and back. When you're coming back, you'll be rewarded with sweeping views of the blue Pacific Ocean, as it's revealed at the canyon mouth.
In addition to the spectacular scenery, there are Native American archaeological sites, including a Chumash burial ground, along with the ruins of several 19th-century ranch houses and structures. There are also the ruins of the Roberts House, a once-famous mid-century modern home designed by famed architect Paul Williams.
The parking area for Solstice Canyon is right off Corral Canyon Road. The various trails are clearly marked, and there is a visitor's center. The full hike, out up into the canyon and back, can be done in less than an hour.
Read More: Top-Rated Things to Do in Malibu, CA