From Los Angeles to Yosemite National Park: 4 Best Ways to Get There
The majestic natural wonder of Yosemite National Park is quite easy to get to from Los Angeles. The park's more than 1,000 square miles of raw wilderness is accessible to visitors, by car, bus, train, and/or plane.
It's easy to just drive from LA, but the area's YARTS (Yosemite Area Regional Transportation System) makes it easy to get around without a car. The system even connects you to Mammoth Yosemite Regional Airport, as well as regional bus and train stations.
Here are some ways to get from Los Angeles in Southern California up to Yosemite National Park.
Note: Some businesses may be temporarily closed due to recent global health and safety issues.
1. From Los Angeles to Yosemite National Park by Car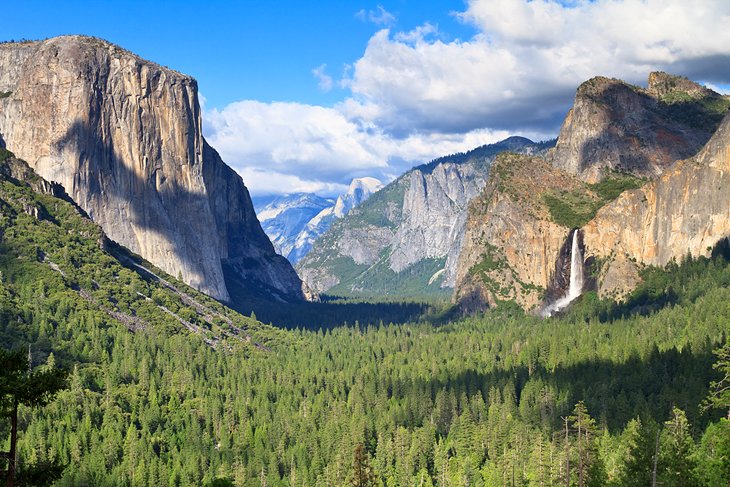 If you want to get to Yosemite National Park from LA by car, there are two main choices: You can do the direct route or choose a longer, more scenic drive from Los Angeles to Yosemite. The direct route will take a little more than five hours, while the most scenic route (up the coast) will take about 10 hours, not counting stops.
For the fastest route from LA, take the I-5 freeway north for about two hours and connect with CA-99 north just after you go over the Grapevine. Take the 99 all the way to Fresno. There you connect to CA-41, drive for an hour, and this will take you right to the park. Most of the drive takes you through California's agricultural heartland, and the majority of the drive is on interstate highways.
The scenic route starts in Los Angeles and takes you up the coast, starting with the Pacific Coast Highway. You go through Malibu, then Oxnard and Ventura and then Santa Barbara, a good place to stop and eat. Then it's up through Lompoc, the Santa Maria Valley, and Pismo Beach. Perhaps a stop at Hearst Castle is a good side trip here.
Next on the itinerary is some intense coastline as you explore Monterey, Carmel, and cruise along the spectacular 17-Mile Drive. Head next to the garlic capital of the world, Gilroy, before you take the CA-152 east towards Yosemite. After an hour or so, you connect with CA-41, which takes you right into the park.
2. From Los Angeles to Yosemite National Park by Plane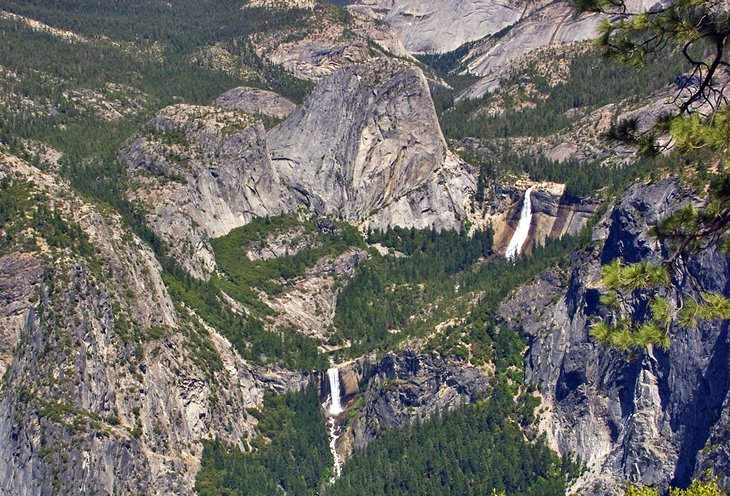 The fastest and easiest way to get from LA to Yosemite National Park is to fly. Flights from Los Angeles to Yosemite are limited. Currently United Airlines serves the route, but they do have daily flights year-round.
There are two flights a day from LAX: a direct afternoon flight that takes about an hour and an early morning flight that stops in San Francisco. The local airport is Mammoth Yosemite Airport (MMH), and it also serves the Mammoth Lakes ski resort area.
Seasonally (in the winter ski season), JSX operates a charter jet service from two Los Angeles airports: You can fly from Burbank (BUR) or John Wayne Airport (SNA) to MMH on one of their four flights per week. They don't fly from Yosemite to LAX, but both of those airports are convenient to most parts of Los Angeles. The flights are on small 30-seat business jets, and they use the private jet terminal, so it's a much more luxurious travel experience.
Once you arrive at MMH, it's easy to get to Yosemite National Park. You don't really need a car (although you can rent one at the airport). You can take the YARTS (Yosemite Area Regional Transportation System) bus from the airport right to the park. Once here, you're connected to a network of YARTS shuttles that operate within the park.
3. From Los Angeles to Yosemite National Park by Bus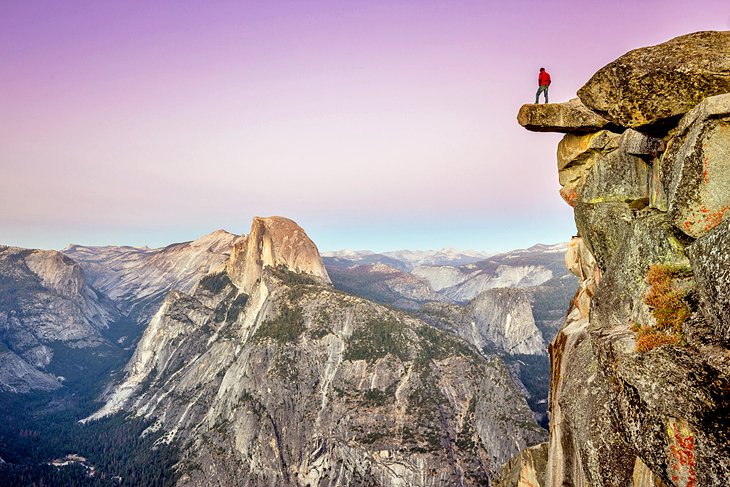 An easy option to get from LA to Yosemite is to take the bus. Greyhound doesn't offer a direct LA to Yosemite bus, but you can do it easily with only one transfer. The ride takes between nine and 10 hours and requires only one change in buses.
To do the trip in the same day, you'll need to start at the Greyhound terminal in DTLA (downtown Los Angeles) with the 9838 bus, which departs LA at 2am. That bus will take you north to Bakersfield, then Fresno, and finally Merced, California.
In Merced, you switch to the 0004 bus (operated by YARTS), which will take you right to the Yosemite National Park visitor center. You'll arrive around 11:30am. The Greyhound bus stops every few hours for rest and food breaks, and the buses are outfitted with restrooms and offer free Wi-Fi.
4. From Los Angeles to Yosemite National Park by Train and Bus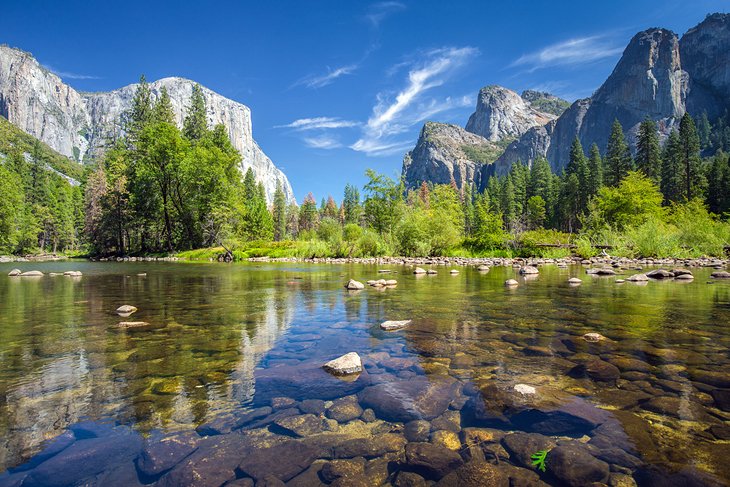 If you want to use a train as part of your trip from Los Angeles to Yosemite National Park, it's possible to do it with Amtrak. Most of the trip is on a bus, but you can include a train ride from Bakersfield to Merced. The entire trip (from LA) will take about 10 hours.
The journey starts in Los Angeles at Union Station, where you first take the Amtrak bus 5811 to Bakersfield. The bus leaves around 1am, and the trip takes about three hours. From Bakersfield, you catch the 711 San Joaquins train, which takes you to Merced, a journey of about three hours.
From Merced, you then take the 8402 bus, which takes you right to the park visitor center. After leaving LA at 1am, you'll arrive at Yosemite around 11:30am.
For a more scenic experience, you could also take the Pacific Surfliner train from Los Angeles to San Luis Obispo (then the Amtrak bus to San Francisco) then the San Joaquins train from San Francisco to Merced. There is a bus service from downtown San Francisco to the station in Emeryville, and the YARTS shuttle from the Merced station to the park.
If you book the trip to Yosemite with Amtrak, the fare includes the park shuttles and even park admission. Your YARTS ticket also includes park admission.
More Related Articles on PlanetWare.com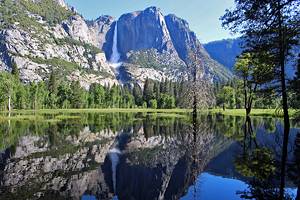 Visiting Yosemite National Park: Figuring out how to get to the park is the first step. Next, plan your time in the park. Many people come here to sightsee, which is easily done by hopping on the park shuttle buses. Another popular past time is hiking in Yosemite. This is the best way to get up close to rivers, waterfalls, and to escape some of the crowds. If you want to have a truly memorable trip, camping in Yosemite is an incredible experience. To camp here, you need to plan and reserve well in advance.