12 Top-Rated Attractions & Things to Do in Pismo Beach, CA
We may earn a commission from affiliate links ()
A vintage coastal city in San Luis Obispo County, Pismo Beach exudes a hometown charm with great ocean views. The historic Pismo Beach Pier is a central gathering spot for the community and tourists alike, extending 1,200 feet into the ocean, and connecting to a downtown district lightly scented with the aroma of locally sourced seafood specialties. North and south of the pier, the natural landscape and laid-back community of Pismo Beach encourages a slower pace of travel.
On the southern edge of town, Pismo State Beach and Oceano Dunes are popular places to visit. A habitat for thousands of migrating monarch butterflies each year, the state beach also offers two campgrounds for migrating tourists to spend the night. Oceano Dunes is one of few Special Vehicle Recreation Areas operated by the state, allowing for the unique opportunity to drive ATVs and off-road vehicles onto the sand dunes.
North of Pismo Beach Pier, the Shell Beach neighborhood displays old-fashioned coastal cottages and one of the most scenic stretches of coastline in central California. Lined with public spaces like Spyglass Park and Dinosaur Caves Park, the rugged sea stacks, sea caves, and wildflower bluffs of this coastline invite exploration with postcard views. One of the most popular things to do along this part of Pismo Beach is simply watching the Pacific Ocean pound against the high bluff edge of town.
Plan your trip with our list of the top attractions and things to do in Pismo Beach.
Note: Some businesses may be temporarily closed due to recent global health and safety issues.
1. Pismo City Beach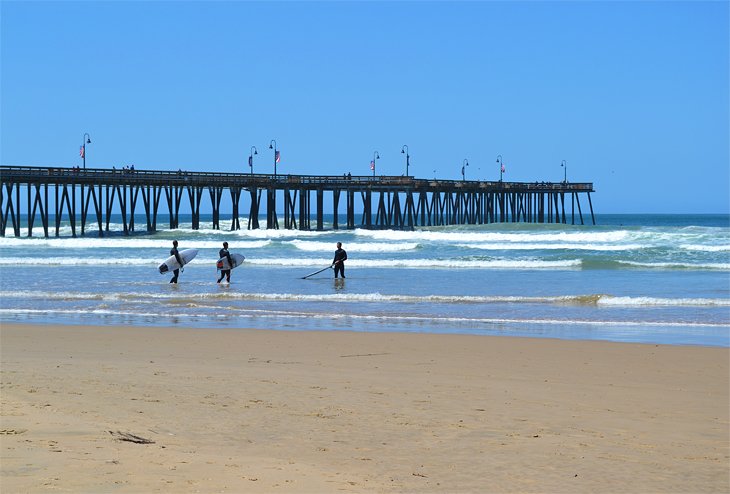 The main stretch of sand lining the downtown district, Pismo City Beach is a very popular spot to enjoy the ocean. Jutting into the Pacific Ocean from downtown, the Pismo Beach Pier is an iconic landmark of the city and a popular pedestrian pathway for fishing, strolling, and photographing the long stretch of beach on either side. Connected to the pier, the Pismo Beach Promenade provides a great vehicle-free pathway to navigate the beach.
To access the quieter north end of the beach, a large wooden staircase owned by the city is found on Wilmar Avenue stretching down to the sand. Clam digging has always been popular on the beach, though special regulations now apply to protect the species, and those interested in harvesting need to obtain a license first. Other popular activities on the beach include sand volleyball, kiteboarding, and taking long walks on the wide shoreline.
2. Dinosaur Caves Park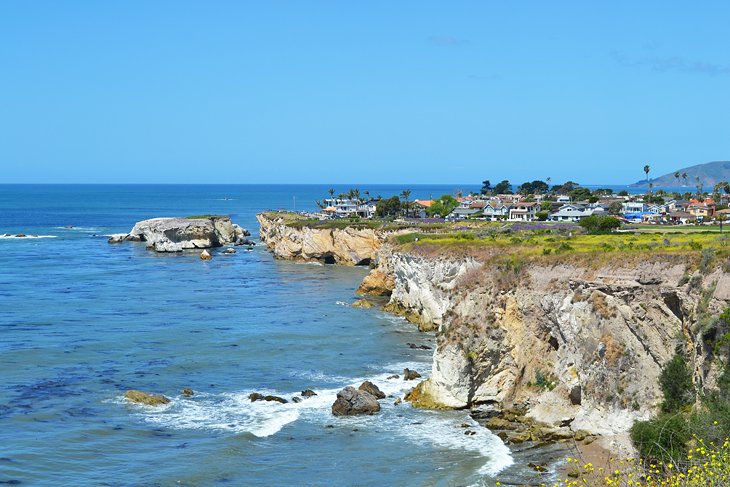 The crown-jewel natural space of Pismo Beach, this 11-acre public park has an interesting history regarding a large concrete dinosaur that could be seen from the highway. The novelty dinosaur no longer exists at this city-owned space, and the stunning shoreline and natural features make this one of the most popular oceanfront parks in the county. Atop a high rugged bluff with generous views, a paved path makes its way around the perimeter of the park to reveal the many sea caves below.
For those interested in touring the offshore sea caves, kayakers can access the ocean in the nearby Margo Dodd Park, with rentals available in the downtown area. Popular with children, the park's playground includes many unique amenities such as dinosaur and sea creature play structures, as well as decorative "dinosaur eggs" kids can crawl into. The park also features rentable venue space including an amphitheater, reception area, and an ocean-vista ceremony space.
Address: 2701 Price Street, Pismo Beach, California
Official site: https://www.pismobeach.org/288/Dinosaur-Caves-Park
3. Monarch Butterfly Grove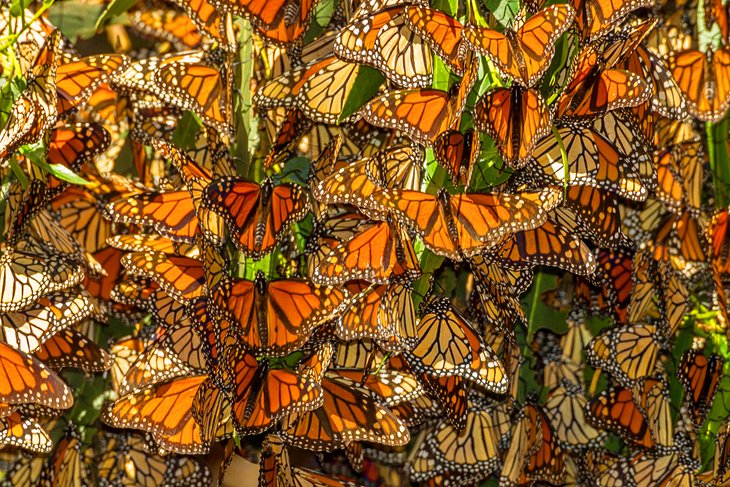 On the north end of Pismo State Beach, the Monarch Butterfly Grove is an essential stop during annual monarch butterfly migrations. Between November and February, tens of thousands of monarch butterflies descend upon this natural shelter from cool ocean winds and literally overtake the branches of the surrounding eucalyptus and pine trees. An amazing natural cycle and demonstration of long-distance migration, the Monarch Butterfly Grove is a free and fun activity the whole family can enjoy.
Address: 400 South Dolliver Street, Pismo Beach, California
Official site: https://www.experiencepismobeach.com/beach-and-outdoors/monarch-butterflies/
4. Spyglass Park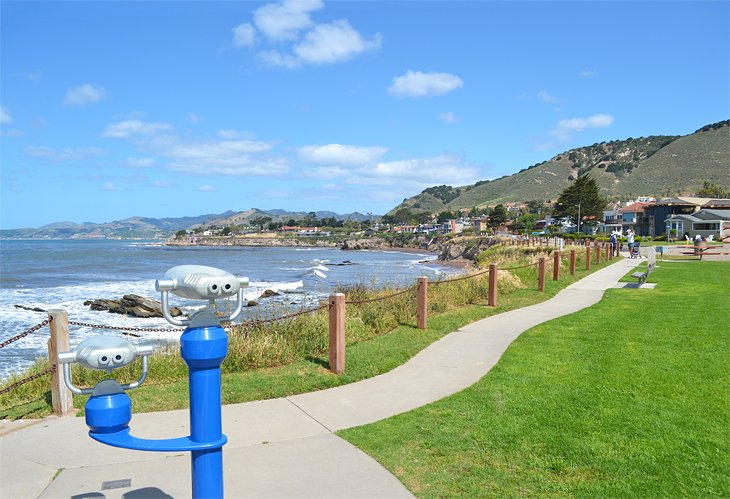 A quiet neighborhood park with ocean views, Spyglass features playground equipment, barbecue pits, and a large grassy area perfect for lawn games. One of the real appeals of this four-acre park is its access to a mile-long stretch of beach, enabling activities like surfing, sunbathing, and tide pool exploring. The trail leading down to the beach is steep and can be difficult to navigate, and high tide can make the trail inaccessible–making a tide chart handy to bring along when visiting the beach at Spyglass Park.
A few blocks from Spyglass Park in the Shell Beach neighborhood, Eldwayen Ocean Park is another popular community space. Spanning over a mile along the coastline, Eldwayen features a manicured path atop a short ocean bluff to enjoy the moving coastline. A set of steep stairs within the park accesses a sandy beach, where tide pools are exposed during low tide.
Address: Spyglass Drive, Pismo Beach, California
5. Pismo State Beach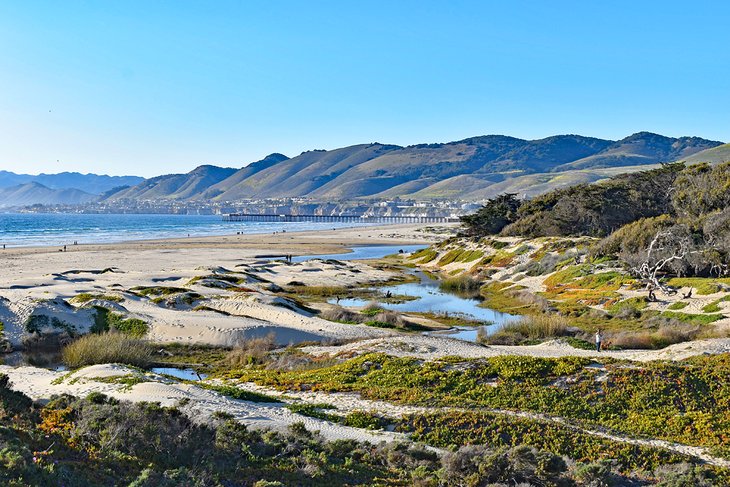 Stretching for miles along the coastline south of downtown, Pismo State Beach offers a wide variety of seaside activity. Surfing, swimming, suntanning, and all the usual beachside attractions are easily accommodated, as well as more unique things to do like clam digging, freshwater fishing, and sand dune exploring. Pismo State Beach is also the only beach in California where visitors can drive onto the beach with off-road and personal vehicles.
The Oceano Dunes State Vehicular Recreation Area (SVRA) allows trucks, four-wheelers, and other motorized vehicles to explore the abundant shore, including many enormous and shifting sand dunes. Two campgrounds are available for tents and RVs at Pismo State Beach, with motorsports enthusiasts often filling the Oceano Campground to the south. The North Beach Campground, closer to downtown, features quieter surroundings and proximity to a Monarch Butterfly Grove also located within the park.
Address: 399 S Dolliver Street, Pismo Beach, California
Official site: https://www.parks.ca.gov/?page_id=595
6. Oceano Dunes SVRA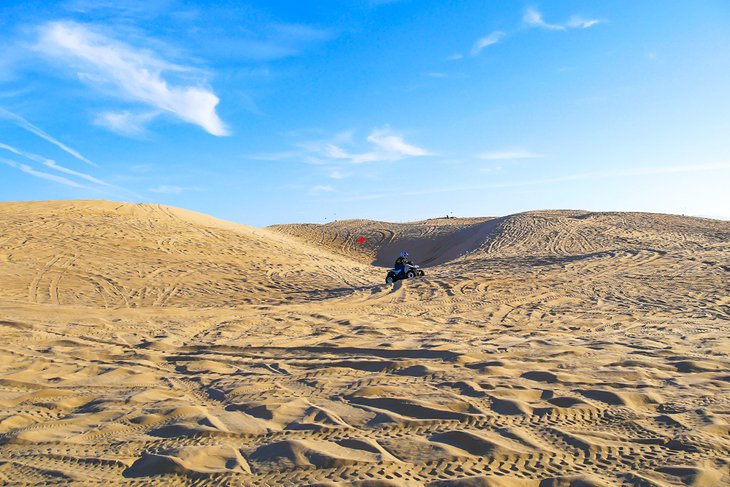 Within Pismo State Beach, Oceano Dunes State Vehicular Recreation Area is a unique spot along the coast and the only place in California where motor vehicles can access the beach. Vehicles with four-wheel drive have a much easier time navigating the beach without the risk of getting stuck, and many visitors opt for ATVs, dune buggies, or motocross bikes to navigate the sprawling sand dunes. This unique SVRA status makes Oceano Dunes a very popular place, especially on the weekends.
Address: 1001 Cabrillo Hwy, Oceano, California
Official site: https://www.parks.ca.gov/?page_id=406
7. Pismo Beach Premium Outlets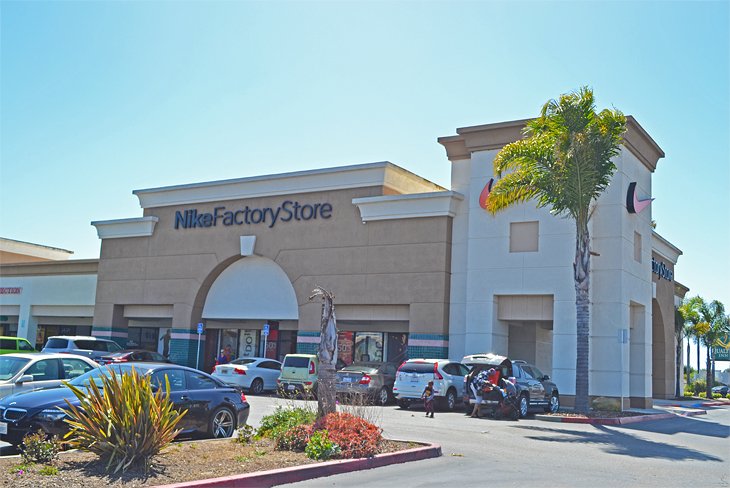 Accessible from the 101 on the southeast part of town, Pismo Beach Premium Outlets features name-brand deals and nearly 40 stores offering discounts from their regular retail price. Storefronts like the Nike Factory Store, Kate Spade, and Tommy Hilfiger are often reason enough to visit, with other popular retailers including Levi's, OshKosh B'gosh, and IZOD. Parking is plentiful at Pismo Beach Premium Outlets, and most stores are open seven days a week.
Address: 33 5 Cities Drive, Pismo Beach, California
Official site: https://www.premiumoutlets.com
8. Palisades Park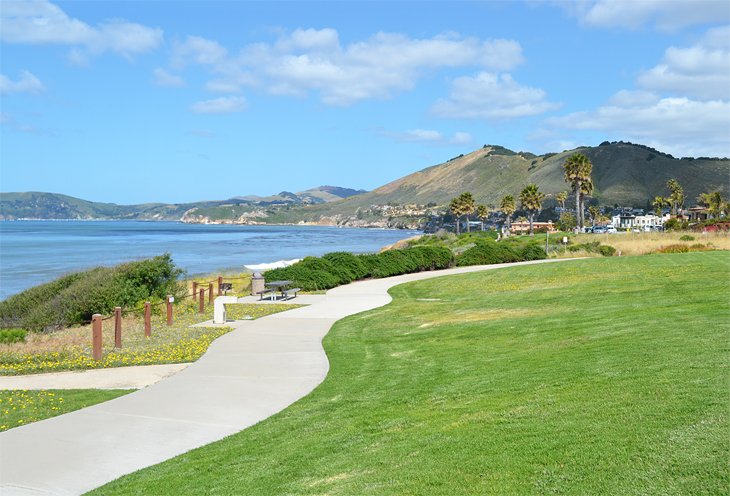 A charming seaside park north of downtown, Palisades Park comprises six acres of ocean views. Neatly manicured with clean, cut grass and a mile-long pedestrian path, Palisades is a great place to go for a picnic or leisurely stroll. A playground at the park is popular with young children, and public tennis courts offer a fun way to volley near the ocean. Picnic tables and barbecue pits can be reserved at Palisades Park for large group activities.
Address: Florin Street, Pismo Beach, California
9. Mission San Luis Obispo de Tolosa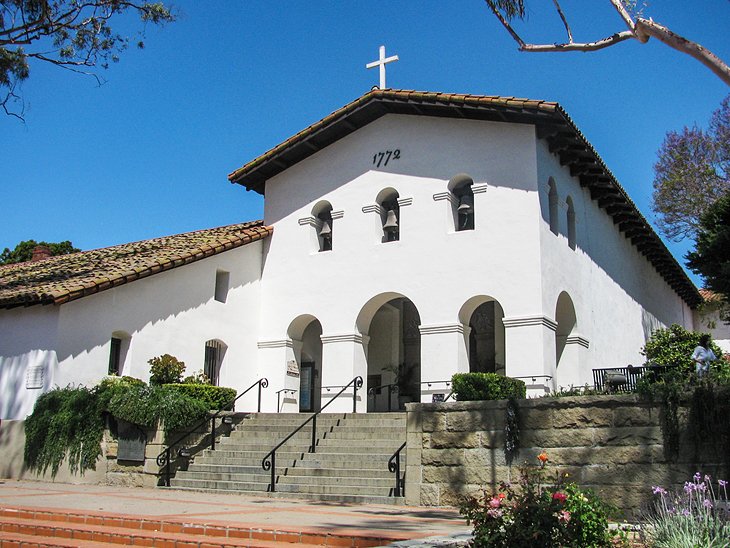 One of the many top tourist attractions of San Luis Obispo, the stunning Mission San Luis Obispo de Tolosa can be reached from Pismo Beach with a 15-minute drive. Established in 1772, Mission San Luis Obispo was the fifth mission in California founded by Father Junipero Serra. Public and private services are still held in the historic mission, and an on-site museum details its centuries-long history. Many other scenic and historic attractions of San Luis Obispo are within walking distance of the Mission.
Address: 751 Palm Street, San Luis Obispo, California
Official site: http://missionsanluisobispo.org
10. Avila Hot Springs
Featuring places to stay, play, and swim just northwest of Pismo Beach, Avila Hot Springs is near Avila Beach and offers fun for the whole family. The appeal of this public facility, situated atop a natural artesian mineral hot spring, comes from the heat and health benefits of the water. The large freshwater heated swimming pool has plenty of space to splash around, and the 400-square-foot mineral pool at the facility reaches a muscle-soothing 104-degrees Fahrenheit.
Day passes are available at Avila Hot Springs, open seven days of the week, and dry camping and cabins enable overnight visits. Long-term cabin rentals are also available for those looking to stay for an extended time. Other amenities at Avila Hot Springs include swimming lessons, couples' massages, and bike rentals to cruise along the nearby Bob Jones Trail.
Address: 250 Avila Beach Drive, San Luis Obispo, California
Official site: https://www.avilahotsprings.com/
11. Bob Jones Trail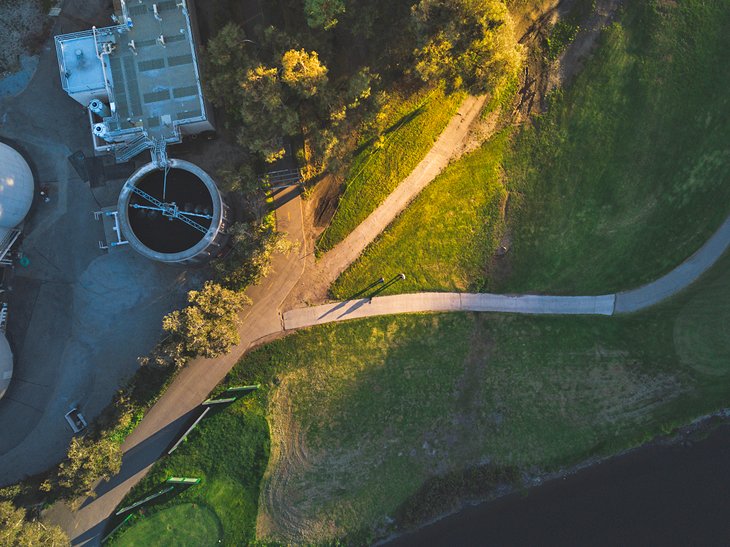 Also known as the City to the Sea Trail, this paved bike path offers a great way to spend the afternoon exploring San Luis Obispo County. Starting near Avila Hot Springs, where bicycles are available to rent, the three-mile path lives up to its nickname as it heads to Avila Beach following San Luis Obispo Creek. Crossing scenic pedestrian bridges and escaping the sound of motor vehicles, the trail passes through a golf course before ending near the Avila Beach Pier.
12. Pismo Beach Clam Festival
Every October, thousands of people flock to the shores and streets of Pismo Beach to celebrate the city's biggest event: The Pismo Beach Clam Festival. Entering its 73rd year of festivities in 2019, the Pismo Beach Clam Festival celebrates the natural bounty and unofficial pastime of Pismo Beach. Live music and three days of community flavor define much of the festival, as well as parades, surf competitions, and clam digs.
Official site: https://www.experiencepismobeach.com/clam-festival/
Where to Stay in Pismo Beach, California for Sightseeing
Luxury Hotels:
Encompassing five oceanfront acres toward the north side of town, Dolphin Bay Resort &

Spa

offers one of the most luxurious stays in Pismo Beach. With the beach nearly always in sight, it's a feeling of getting away at Dolphin Bay. The property exclusively offers one- and two-bedroom suites, each adorned with plush furnishings and several comforts of home, including full gourmet kitchens. The property also offers on-site dining at Lido Restaurant. Other resort amenities include a concierge service and professional treatments at the Spa at Dolphin Bay.
Near the Pismo Beach Boardwalk, Vespera on

Ocean

is another luxurious place to stay. The hotel provides instant beach and boardwalk access and is in a prime location relative to downtown. A large outdoor pool and deck area overlooks Pismo Beach and offers a stunning place to catch the sunset. Overnight accommodations range from classic rooms with step-out beach access to premium suites with balcony views. Other resort amenities include oceanfront dining, nightly bonfires, and room service. Select suites at the hotel are pet-friendly.
Mid-Range Hotels:
Budget Hotels:
For the best budget hotel in Pismo Beach, Ocean Palms

Motel

offers an excellent rate without sacrificing cleanliness or comfort. The motel is just a few blocks from the beach and the rest of downtown, making most of the day's activities within walking distance. It offers standard rooms with either one king bed or two queens. In-room amenities include a flatscreen TV with an extended cable package, coffee makers, and air conditioning. Maximum occupancy ranges from two to four people.
More Related Articles on PlanetWare.com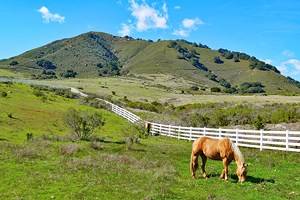 More to Explore in San Luis Obispo County: San Luis Obispo County is blessed with great ocean views, temperate weather conditions, and a "SLO" pace of living. Exploring the city of San Luis Obispo is a great introduction to the central California charm of the county, and to the north, Morro Bay offers even more seaside attractions. For the right hotel, motel, or seaside cottage for your travels, our Where to Stay in San Luis Obispo article helps find the perfect overnight accommodation for your type of travel.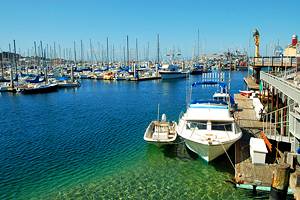 Central Coast Destinations: For staying in Pismo Beach or San Luis Obispo County, day trips from San Luis Obispo can take you to places like historic castles and other friendly beachside communities. Farther north along the Central Coast of California, the rugged shoreline of Big Sur has millions of artists and tourists from across the world to visit. Farther north, the city of Monterey is also an international destination with attractions like the Monterey Bay Aquarium.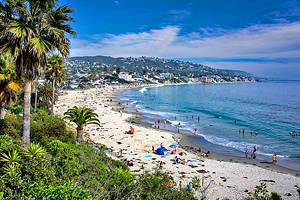 California Road Trip: For further exploration of the state, many of the best West Coast road trips make their way through California, including along Highway 1 and the rest of the California coast. Adding even more inspiration to a road trip, our best attractions in California article highlights some of the most memorable and photogenic sights to see in the state. For further seaside attraction, the best beaches in California add even more postcard images to a vacation slideshow.