12 Top-Rated Attractions & Things to Do in Carmel
Author Lisa Alexander is originally from the San Francisco Bay Area and has explored much of California, including Carmel.
Visiting Carmel-by-the-Sea feels like stepping into a fairy-tale wonderland. Far removed from the real world, this coastal village has the appearance of a fantasy European hamlet. The tree-shaded streets are lined with handsome Spanish-style buildings, elegant Victorian homes, and little storybook cottages.
It's a delight to wander around the town at leisure. Heading in any direction leads to the discovery of artisan shops, one-of-a-kind locally owned stores, world-class art galleries, and inviting restaurants. After strolling for a while, you'll stumble upon charming hidden passageways and quiet courtyards that conceal outdoor cafés and small boutiques.
Besides its adorable downtown and gorgeous sandy beach, Carmel-by-the-Sea is known for its romantic ambience and lodgings. You can choose from upscale bed-and-breakfasts, historic inns, and luxury hotels. The quaint accommodations tend to have a cozy style, ideal for chilly evenings when the summertime fog rolls in.
If you're spending several days in Carmel, then you should also explore the attractions of nearby Monterey, just four miles away, or take a drive along Highway One through Big Sur to admire the dramatic ocean views.
Carmel is a favorite day trip from San Francisco, especially for romantic getaways and seaside vacations. Discover the best places to visit in this enchanting resort town on California's Central Coast with our list of the top attractions and things to do in Carmel.
1. Carmel Beach and Ocean Avenue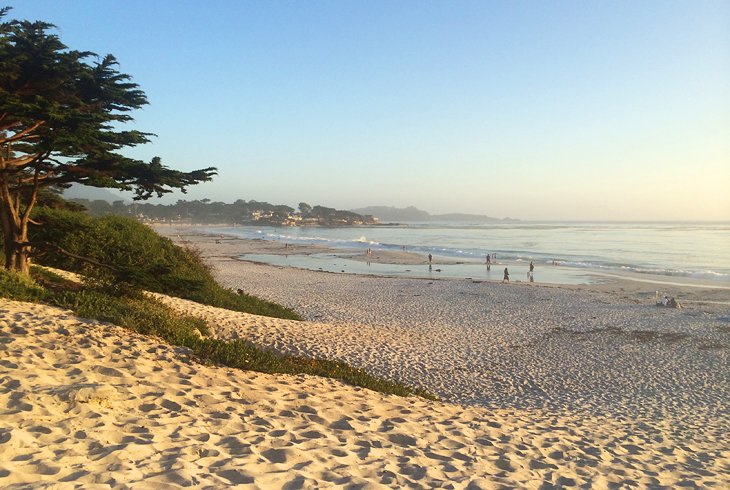 Curving around a cove of Carmel Bay, this magnificent stretch of soft white sand is one of the most beautiful beaches in California. This beach has a secluded feel, with its pristine shoreline, rocky bluffs along the coastline, and crashing Pacific waves. Monterey Cypress trees punctuate the shoreline, which has its own distinctive look that is much different from the nearby beaches in Santa Cruz.
You should be aware that this is not a beach for swimming (rip currents, rogue waves, and lack of lifeguard supervision make it dangerous). Instead, it is an excellent place for nature walks, sunbathing, and playing volleyball or frisbee.
Running parallel to the beach, the 3.5-mile Scenic Bluff Path affords vistas of Carmel Bay and the coastline from Point Lobos to Pebble Beach. Multiple stairways lead between the beach and the path. The trail winds up at Carmel River State Beach, although many people only walk a short portion of the path to take advantage of the ocean overlooks or watch the sunset.
Location: Scenic Road, Carmel-by-the-Sea, California
2. Carmel Mission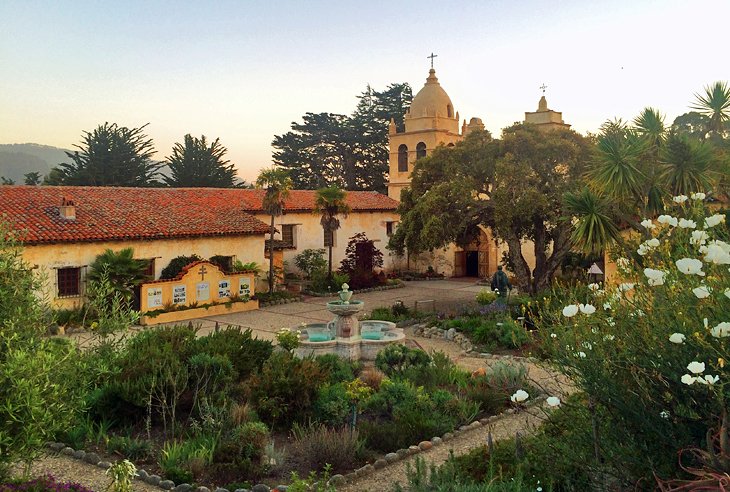 The San Carlos Borroméo de Carmelo Mission is one of the most interesting and beautiful Spanish mission sites in California. Founded in 1770 by Father Junipero Serra of Spain, the Carmel Mission is still an active parish church.
The centerpiece of the Carmel Mission is the Basilica, which was completed in 1797 and is listed as a National Historic Landmark. Renovations approximate the original building. Unlike most Spanish mission churches, which are unadorned, the Carmel Mission Basilica has a highly decorative interior.
Spend some time admiring the lovely exterior with its garden courtyard and Moorish-style domed bell tower. Equally impressive are the sanctuary's tunnel-vaulted ceiling and 30-foot-tall gilded reredos behind the altar. Displayed throughout the Basilica are many fine pieces of Spanish Colonial liturgical art.
The Carmel Mission Museum includes several different collections that feature treasured artifacts and present the monument's history. In one of the mission's historic buildings, visitors can see where Father Junipero Serra lived.
In keeping with the mission's purpose of serenity, the garden in the Munrás Courtyard is planted with lush flowers and leafy palm trees. Sometimes red-throated Anna's hummingbirds can be seen fluttering about the grounds.
The Carmel Mission grounds, museum, and gift shop are open to the public for visits Wednesday through Sunday. Mass is celebrated at the Basilica every Saturday at 5:30pm, on Sundays at 9am, and with choir music on Sundays at 11am.
Address: 3080 Rio Road, Carmel-by-the-Sea, California
3. Point Lobos State Natural Reserve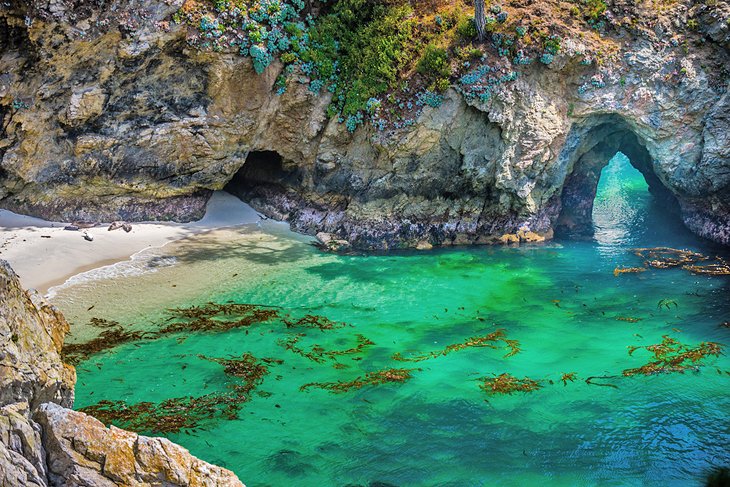 Dramatic coastal scenery and an incredible diversity of wildlife make Point Lobos State Natural Reserve an amazing place to discover. You will be awed by glorious ocean vistas, with the crashing waves of the Pacific Ocean striking rocky bluffs and outcrops.
Scenic hiking trails lead through forests of Monterey Pines and Cypress trees, as well as marine terraces, tide pools, and fields of coastal scrub blooming with vibrant wildflowers. In springtime, an abundance of wild lilacs and California poppies blanket the fields.
A highlight for many is seeing Point Lobos' marine mammals. The Sea Lion Point Trail takes you down to a staircase that offers a good vantage point of coves where the barking sea lions rest on offshore rocks.
For a look at the cutest animals in Point Lobos, head to the Cypress Grove Trail, where playful sea otters munch on mussels or swim around the kelp in Headland Cove. Sometimes otters can also be spotted in the tranquil waters of "the Pit" on the Granite Point Trail.
Many artists and photographers have been inspired by Point Lobos' beauty, while scuba divers appreciate this site for its colorful underwater seascape and diverse sea life.
Address: 62 CA-1, Carmel-by-the-Sea, California
4. 17-Mile Drive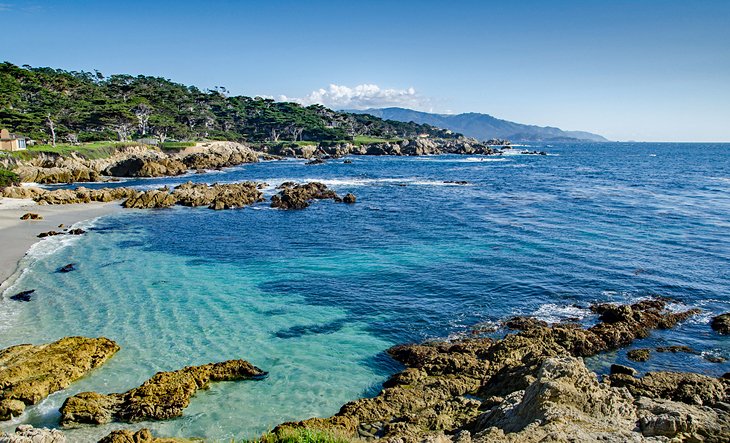 This scenic drive is not to be missed! Marvel over the spectacular landscapes and dazzling coastal vistas at every turn of the curving oceanfront route. Along the way are wildlife viewing points, secluded beaches, and picnic areas.
Stretching from Arrowhead Point in Carmel-by-the-Sea to Spanish Bay in Pebble Beach, this coastal drive wraps around the outer edge of a small outcropping that separates Monterey Bay and Carmel Bay.
The 17-Mile Drive is famous for The Lone Cypress, a Monterey Cypress tree that stands majestically atop a granite hill. The tree, which is over 200 years old, is one of the most photographed sites in North America.
A short drive from The Lone Cypress viewing point is the country's premier public golf course, Pebble Beach Golf Links. This prestigious course has hosted six U.S. Open Championships and has been selected to host the 2023 U.S. Women's Open, as well as the 2027 U.S. Open. Right next to the Pebble Beach Golf Links course is The Lodge at Pebble Beach, offering five-star accommodations with sweeping views of the ocean and the famous 18th fairway.
Besides Pebble Beach Golf Links, there are five other championship golf courses within the 17-Mile Drive area: Cypress Point Club, Spyglass Hill Golf Course, Poppy Hills Golf Course, and the Dunes and the Shore courses at Monterey Peninsula Country Club. The Links at Spanish Bay is another course found on the 17-Mile Drive, although it is too small to host championships.
A highlight of the 17-Mile Drive is the beautiful Spanish Bay Beach, named after the Spanish explorers who discovered it in 1769. This pristine stretch of sandy shoreline features picnic tables that look out onto the azure waves. In this breathtaking setting, The Inn at Spanish Bay provides five-star lodging nestled between the Pacific Ocean and groves of Monterey pine trees.
Bird-watchers and wildlife lovers appreciate the Bird Rock and Seal Rock stops. The Bird Rock viewing point affords an outlook onto a large rock in the ocean where flocks of birds cluster. Bird Rock is also home to barking sea lions (audible from a distance) and less noisy harbor seals. The Seal Rock stop includes a sheltered beach, tide pools, and a picnic area.
The 17-Mile Drive is privately owned and operated. Visitors must pay an $11.25 fee per vehicle, to enter either through the Carmel Gate at the southern entrance in Carmel-by-the-Sea or through the Pacific Grove Gate at the northern entrance in Pebble Beach.
Admission to the 17-Mile Drive is complimentary for overnight guests staying at The Lodge at Pebble Beach and The Inn at Spanish Bay.
5. Shopping and Dining on and around Ocean Avenue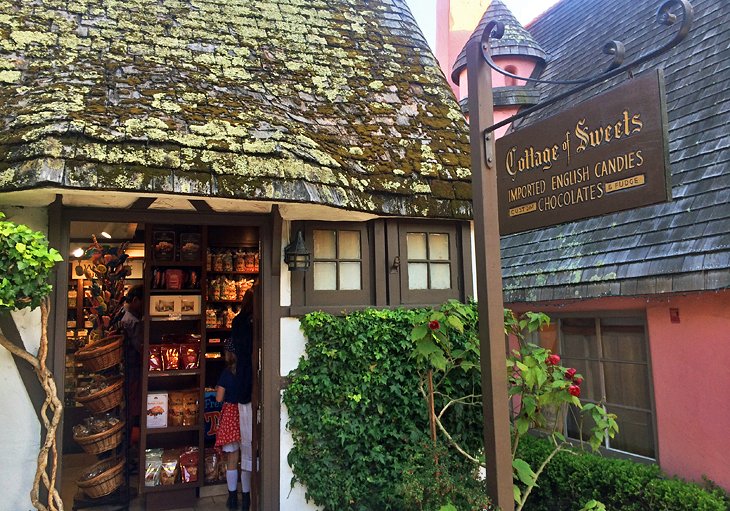 Shopaholics, rejoice! An amazing array of specialty boutiques awaits you in Carmel. These unique upscale shops are found on the wide main drag of Ocean Avenue, hidden on the charming streets, and tucked away in quaint courtyards and passageways.
Strolling through town is like a treasure hunt that leads to one-of-a-kind shops that can only be found here, including artisan shops, jewelers, antique stores, and more.
One of the most adorable boutiques is the Cottage of Sweets, a traditional British-style candy shop. The selection includes English candies, fancy licorice imported from all over the world, locally crafted caramels, and fudge made at the shop.
The variety of shops is staggering, from FJØRN at the Pine Inn, which sells fine handcrafted Scandinavian furniture and Scandinavian-made home décor products, to the Carmel Music Box Company, the Mad Dogs & Englishmen Bike Shop, and The Pleasure of Writing pen and paper shop.
Downtown Carmel also has lovely historic hotels and quaint bed-and-breakfasts, as well as dozens of excellent restaurants and local markets. The international cuisine options include Italian, French, Greek, Mediterranean, Mexican, and Japanese (sushi).
Among the top gourmet restaurants in Carmel are Stationæry, which serves an eclectic menu based on seasonal ingredients; Seventh & Dolores, a high-end steakhouse; Cultura Comida y Bebida, a trendy Mexican restaurant that specializes in the cuisine of the Oaxaca region; and La Bicyclette, offering traditional French bistro fare as well as pizzas made in a wood-fired oven.
You will also find a large number of restaurants specializing in California Fusion, with many chefs dedicated to a sustainable farm-to-table menu. One of the best restaurants in this category is Aubergine, a Michelin-starred restaurant located within the L'Auberge Carmel, a four-star Relais & Châteaux hotel.
For casual dining and snacking, try a café such as Rise + Roam, an artisanal bakery and small-batch coffee roaster plus a restaurant that specializes in comfort food; The Little Swiss Café, which serves breakfast and lunch in a lovely dining space, and Dametra Café, an authentic Mediterranean restaurant that hosts live music on occasion.
6. Explore Fairy-Tale Cottages and Hidden Passageways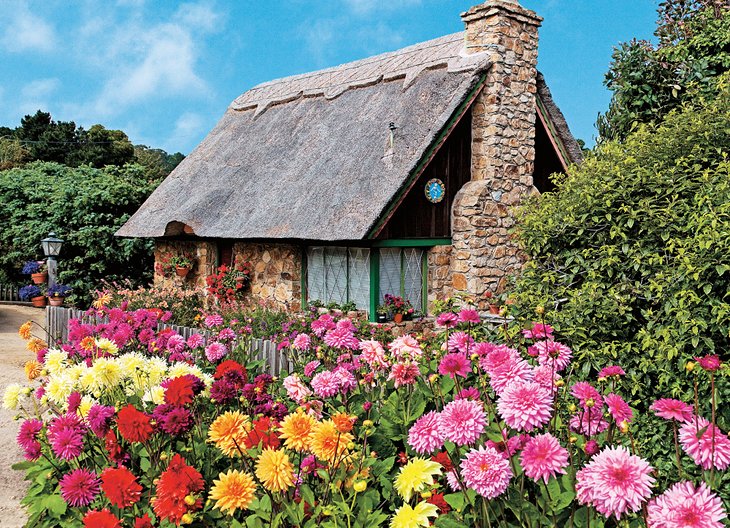 The special charm of Carmel is found in the town's fantasy architecture, created in the 1920s and 1930s. At the Carmel Visitor Center (on Ocean Avenue), you can pick up a map that indicates where the fairy-tale cottages are located and then go on a self-guided tour.
Carmel resident Hugh Comstock came up with the idea for the cottages in 1924, when he decided to create a studio for his wife Mayotta's doll-making hobby. The Hansel cottage (next door is the Gretel cottage) was Comstock's first cottage, which Mayotta used to make her "Otsy-Totsy" rag dolls.
Comstock later bought inexpensive plots of land to build an assortment of whimsical cottages. His signature storybook style features steeply pitched thatched roofs, paned windows, and half-timbered details, perhaps inspired by English country cottages.
Twenty-one of Comstock's original thirty fairy-tale cottages survive. The Tuck Box cottage is now an English tea room, which is also popular for breakfast and lunch.
While hunting for the fairy-tale cottages, tourists will also enjoy wandering and photographing the numerous hidden passageways and garden courtyards of Carmel. These nooks and crannies offer surprising discoveries of little boutiques, art galleries, cafés, and other businesses.
Las Tiendas Building, built in 1929, features a decorative stairway with grillwork. Inside the Las Tiendas passageway is The Carmel Coffee House and Roasting Company, an inviting little café with pleasant outdoor seating in the courtyard. The Carmel Coffee House and Roasting Company sells house-made coffee that is roasted on-site in small batches.
7. Tor House and Hawk Tower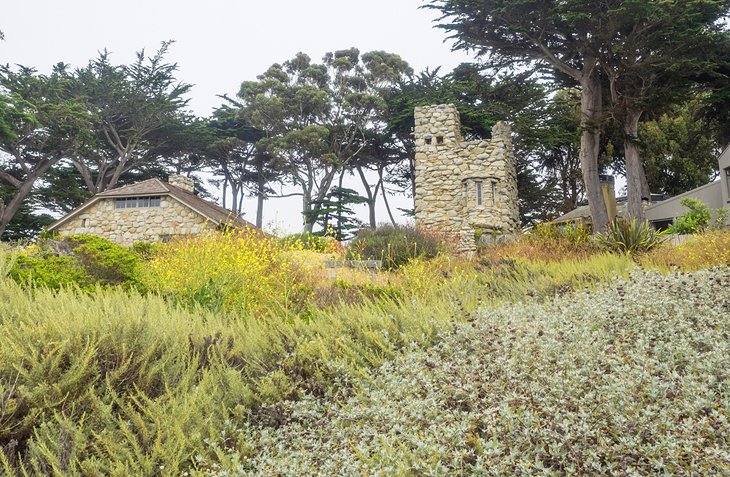 The Californian poet Robinson Jeffers built Tor House in 1919, a home constructed of local granite and positioned on a point directly overlooking the sea. The following year, Jeffers added the Hawk Tower, a medieval-looking building which was intended to be a creative space for his wife and a play space for his sons.
Guided tours of Tor House and its English cottage garden are available on Saturdays. The tour lasts for about one hour and 30 minutes.
Address: 26304 Ocean View Avenue, Carmel, California
8. Day Trip to Monterey Aquarium and Cannery Row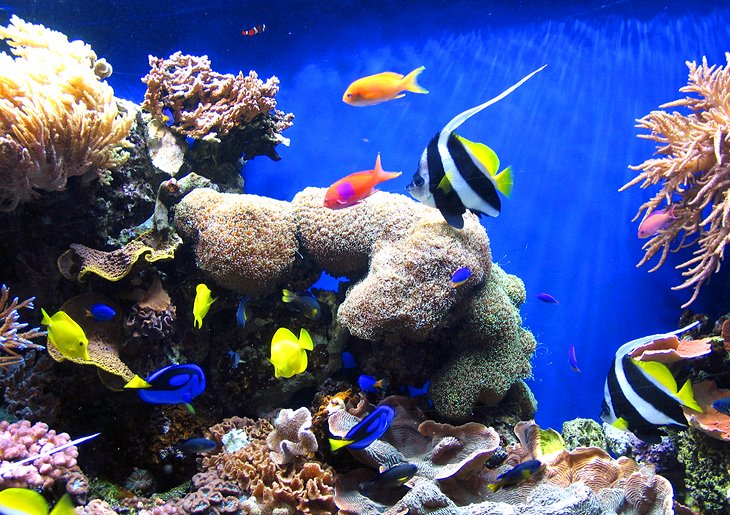 Carmel is only about 10 minutes away from Monterey by direct route on CA-1 or an hour's drive via the scenic 17-Mile Drive, a picturesque coastal road (part of Highway One) that goes past Pebble Beach Golf Course and The Lodge at Pebble Beach.
The most legendary of Monterey's attractions is Cannery Row, the waterfront district that was the setting for a John Steinbeck novel. This touristy area is full of shops and seafood restaurants.
A top destination for families with young kids, the Monterey Bay Aquarium is home to adorable penguins, playful southern sea otters, puffins, sea turtles, sharks, and a wide variety of fish. The aquarium's observation decks afford sweeping views of the bay and ocean, ideal for whale-watching and for spotting other wildlife in the bay.
Address: 886 Cannery Row, Monterey, California
9. Garland Ranch Regional Park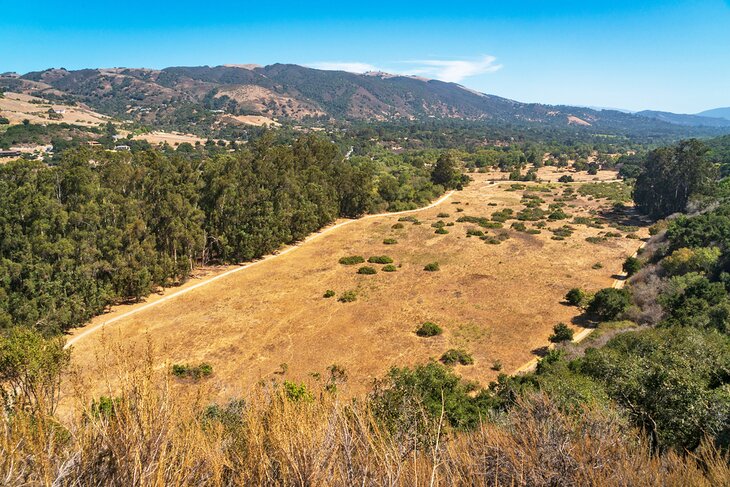 Get away from it all at this expansive parkland, which offers several hiking trails with a diversity of landscapes, from cottonwood trees and sycamores in the floodplain to the peaks of the Santa Lucia Mountains. The trails meander through canyons filled with maple trees, redwood forests, and shady oak woodlands, while the peaceful Garzas Creek traverses the park.
While taking nature walks in Garland Ranch Regional Park, you will have a chance to spot a variety of birds and wildlife. The park is also a great place for jogging, horseback riding, and photographic safaris.
Another popular nature area in Carmel, Garrapata State Park includes two miles of beach and coastal hiking trails that lead to a scenic overlook. You will find plenty of things to do here, from watching the sea lions and harbor seals to snorkeling, windsurfing, and swimming.
Address: 700 West Carmel Valley Road, Carmel, California
10. Mission Ranch Hotel and Restaurant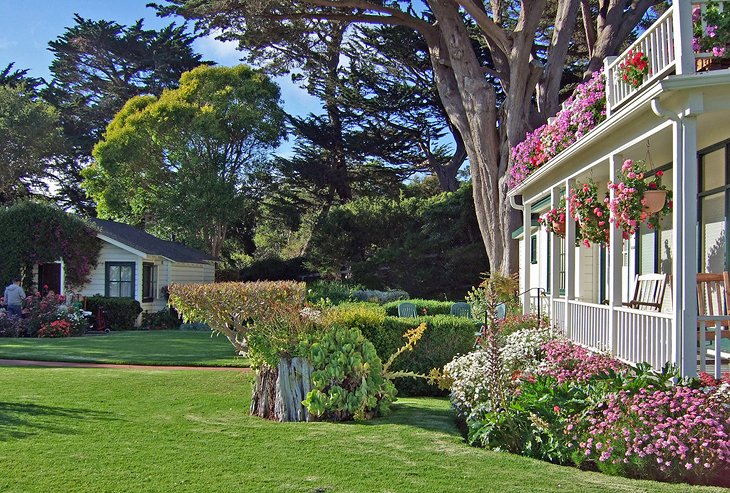 In an idyllic countryside setting near the sea, the Mission Ranch and Restaurant stands on the property of a dairy farm that operated in the 1850s. This acclaimed hotel is owned by Clint Eastwood, the longtime Carmel resident and one-time Carmel mayor. Eastwood preserved the landmark estate and turned it into a luxury hotel with tennis courts and a fitness club.
The old farmhouse and hayloft were converted into luxury accommodations; newer ranch-style houses provide additional guest rooms. The Mission Ranch Restaurant offers gorgeous views of the Santa Lucia Mountains and Pacific Ocean. Diners also enjoy live piano music every night of the week.
Address: 26270 Dolores Street, Carmel, California
11. Pebble Beach Golf Links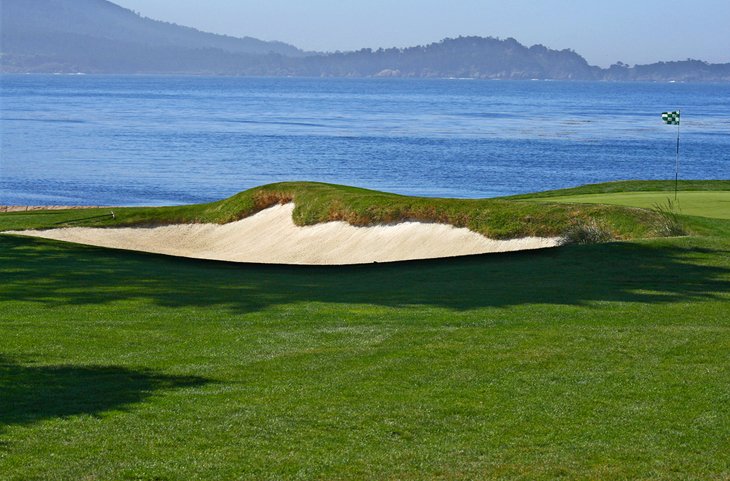 Surrounded by a forest of Monterey pine and cypress trees, this legendary 18-hole golf course sits in a glorious coastal setting on rocky bluffs overlooking the crashing surf. Since 1919, many renowned golfers and celebrities have played here, including Bing Crosby, Teddy Roosevelt, Sir Winston Churchill, Jack Nicklaus, and Tiger Woods.
Pebble Beach Golf Links is considered the country's premier public golf course, and six United States Open Championships have been hosted here.
The most eagerly awaited event of the year at the Pebble Beach Golf Links is the Pebble Beach Concours d'Elegance in mid-August. This glamorous car show offers a chance to see about 200 of the world's finest collector cars and motorcycles, such as Ferraris, British Prewar Sports Cars, and Shelby GT350 Mustangs.
Overlooking the famous 18th hole at the Pebble Beach Golf Links is The Lodge at Pebble Beach. This five-star historic landmark hotel offers luxurious guest rooms and sensational views of Carmel Bay.
Address: 1700 17-Mile Drive, Pebble Beach, California
12. Festivals & Events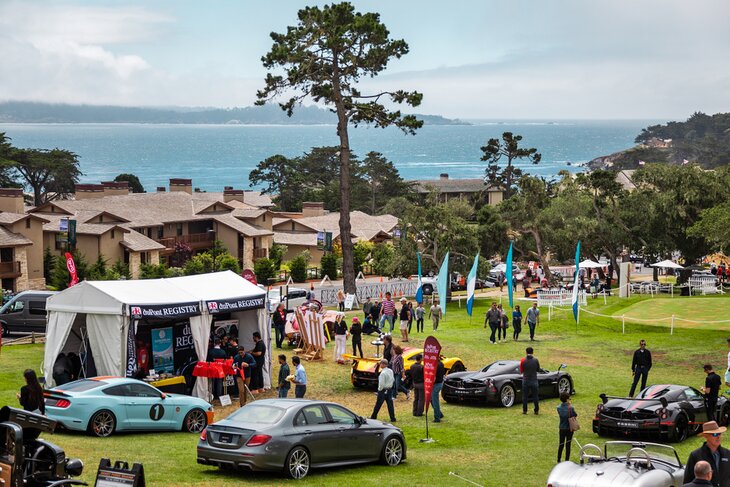 As would be expected of an upscale resort town, Carmel has interesting cultural events and festivals throughout the year.
The Carmel Art Festival is a three-day event that takes place in May and is free of charge. Held at Devendorf Park in Carmel, this festival features plein-air (open-air) painting, a juried painting competition, an art sale, and live music. One day of the festival is devoted to children's activities, allowing kids to make their own art.
Carmel's Arts and Design District (Main Street and Rangeline Road) becomes an outdoor venue for one weekend in September for the Carmel International Arts Festival. Free of charge, this festival showcases the work of artists from all over the country. The ambience resembles a street party, with live music performed by local bands and food from local restaurants.
Those who appreciate Baroque classical music will want to attend the Carmel Bach Festival, usually held during the second two weeks of July. This world-class festival includes concerts, recitals, classes, and lectures.
One of the most exciting events of the year is the Pebble Beach Concours d'Elegance in August, held at the Pebble Beach Golf Links.
Map of Attractions & Things to Do in Carmel
Carmel - Climate Chart
Average minimum and maximum temperatures for Carmel, CA in °C
J
F
M
A
M
J
J
A
S
O
N
D

16

6

16

7

17

8

18

8

18

9

19

10

20

11

21

12

22

12

21

11

18

8

16

6

PlanetWare.com
Average monthly precipitation totals for Carmel, CA in mm.

106

95

90

38

13

5

2

3

7

27

62

69
More Related Articles on PlanetWare.com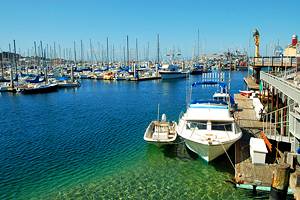 Charming Coastal Towns: California's coastline is dotted with many other wonderful seaside towns, from nearby Monterey and sunny Santa Cruz to some of California's more off-the-beaten-path locales like San Simeon (famous for the Hearst Castle) and the picturesque waterfront town of Sausalito, and the bucolic oceanfront town of Half Moon Bay.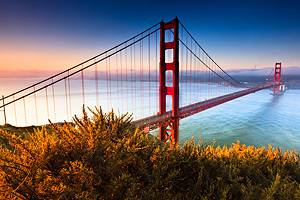 San Francisco and Beyond: The San Francisco Bay Area is one of the best places to visit in California thanks to its wide range of attractions and diverse scenery, from the colorful multicultural city of San Francisco to surrounding towns that are easily visited on day trips from San Francisco. Slightly farther north, the Victorian village of Mendocino in Northern California rivals Carmel in charm, as well as history and natural heritage.