12 Top-Rated Attractions & Things to Do in Pasadena, CA
We may earn a commission from affiliate links ()
Nestled against the foothills of the San Gabriel Mountains, 10 miles northeast of Los Angeles, Pasadena blends urban entertainment and outdoor attraction with a touch of history and class. Centered around the historic 19th-century downtown district, Old Pasadena, the splendor of this Southern California city branches from the main drag, Colorado Boulevard, providing ample ways to enjoy the nice weather.
The sun and palm trees of Pasadena are broadcast to the world every January 1st, as top college football teams compete in the Tournament of Roses at the city's esteemed Rose Bowl Stadium. Alongside football and tailgating, the Tournament of Roses also brings the nationally celebrated Rose Parade to the streets, with colorful floral arrangements and fanfare. Throughout the rest of the year in Pasadena, Rose Bowl Stadium is still the place to be, with live music entertainment and community events like the world's biggest flea market.
Cultural experiences abound in Pasadena, with major institutions like the Norton Simon Museum and USC Pacific Asia Museum offering lifetimes of education. For a feeling of getting out of the city without ever actually leaving, The Huntington Library, Art Collections, and Botanical Gardens feature over 200 acres of intricately landscaped natural space, world-renowned paintings, and extensive research facilities. For a true escape, the Angeles National Forest and San Gabriel Mountains are the city's backyard.
Explore this picturesque, palm-lined city with our list of the top things to do in Pasadena.
Note: Some businesses may be temporarily closed due to recent global health and safety issues.
1. Old Pasadena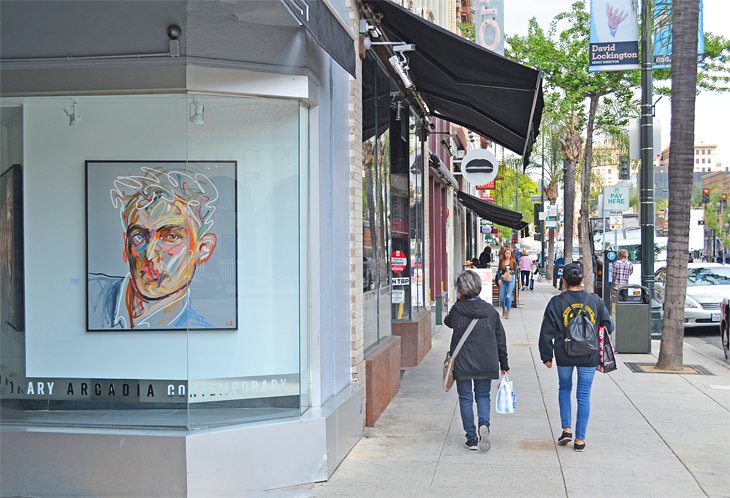 The historic downtown district of the city, Old Pasadena reflects its past with well preserved 19th- and 20th-century architecture and buildings. This shopping, dining, and pedestrian district also reflects the current community with hundreds of boutique storefronts and local eateries. Before becoming Old Pasadena, this once bustling center of economy went into serious decline throughout the 1960s and 70s, before a major revitalization transformed the district into the center of attraction it is today.
Now on the National Register of Historic Places, Old Pasadena encompasses 22 blocks with Colorado Boulevard as the main drag of this charming downtown district. Lined with historical buildings and modern storefronts, including the stylish One Colorado shopping mall, over 100 restaurants in Old Pasadena appeal to most any appetite. The Colorado Street Bridge provides picturesque views, and the Old Pasadena Summer Cinema hosts a month-long outdoor film festival with over 20 screenings.
To the east of Old Pasadena, the city's Playhouse District adds even more culture to Colorado Boulevard, including plenty of public art on the streets. Offering other unique restaurants and shopping opportunities, the Playhouse District is also home to the historic Pasadena Playhouse, the official state theater of California. For bibliophiles and casual readers alike, Southern California's largest and oldest independent bookstore, Vroman's Bookstore, is also in the neighborhood and worth a visit.
Address: 23 E Colorado Boulevard, Pasadena, California
Official site: https://www.oldpasadena.org/
2. The Huntington Library, Art Collections, and Botanical Gardens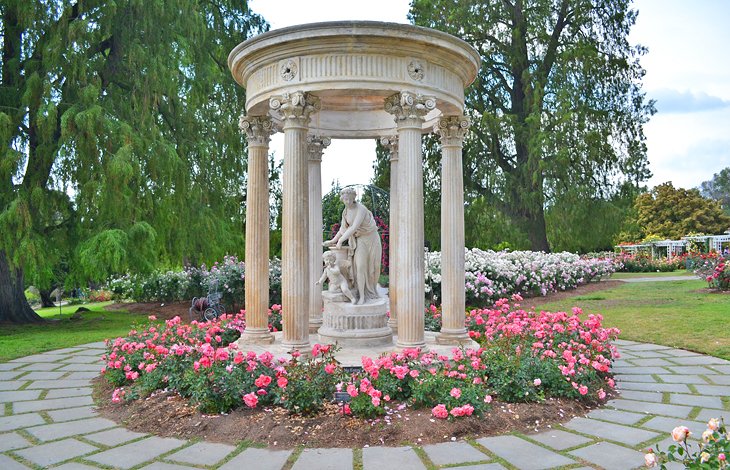 A sprawling estate once belonging to the railroad tycoon, Henry Huntington, this world-class collection of gardens, cultural institutions, and artwork is now a public space for the community to enjoy. Encompassing 207 acres of beautifully manicured lawns, The Huntington is the cultural equivalent of the nearby Universal Studios Hollywood for art, garden, and architecture lovers. The trail map provided by the admission kiosks is a handy item to study and take along with any visit.
A good direction to head when visiting The Huntington is towards the three-acre Rose Garden, which presents a particularly colorful plot come spring, when everything is in full bloom. Along the way, visitors pass through a dazzling California Garden with over 50,000 native species representing a Mediterranean climate. Other gardens stem from this area of the park, with 16 uniquely themed gardens in total, including the immersive Chinese Garden of Flowering Fragrance featuring a 1.5-acre lake and numerous traditional structures.
Punctuating the dynamic garden space, cultural institutions invite further feelings of grandeur at The Huntington. The Huntington Art Gallery, for example, has over 1,200 pieces of European art housed within Henry Huntington's past residence, a 55,000-square foot custom-built mansion and photogenic demonstration of Beaux-Arts architecture. The Huntington Library attracts scholars from across the globe, and with over nine million items spanning the library's collection, there is a good chance of finding something to catch your interest.
Address: 1151 Oxford Road, San Marino, California
Official site: https://www.huntington.org/
3. Rose Bowl Stadium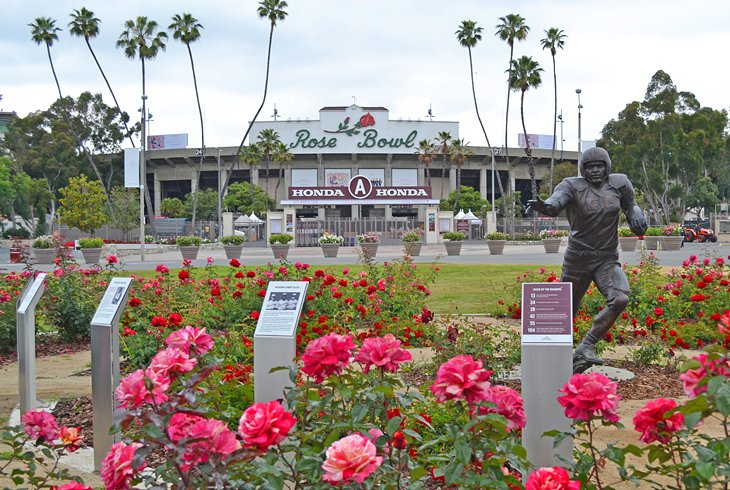 Every first day of the New Year, a national spotlight shines on Pasadena and the Tournament of Roses college football game. This esteemed bowl game overtakes the city with visiting fans and a whole host of outdoor activities, including the iconic Rose Parade. Featuring thousands of spectators lining the 5.5-mile route, the parade proudly showcases marching bands, community groups, and intricate floral parade floats that are truly a work of art.
The Rose Bowl Stadium, centered around the sprawling Brookside Park and Golf Course, is a national historic landmark built in 1922. Modern renovations have made this centerpiece attraction memorable for fans and visitors, and besides the Tournament of Roses, the stadium hosts hundreds of different events throughout the year. Home to the R.G. Canning Flea Market, touted as the world's largest flea market, Rose Bowl Stadium also features live music concerts, Fourth of July celebrations, and UCLA home football games.
Address: 1001 Rose Bowl Drive, Pasadena, California
Official site: https://www.rosebowlstadium.com
4. Norton Simon Museum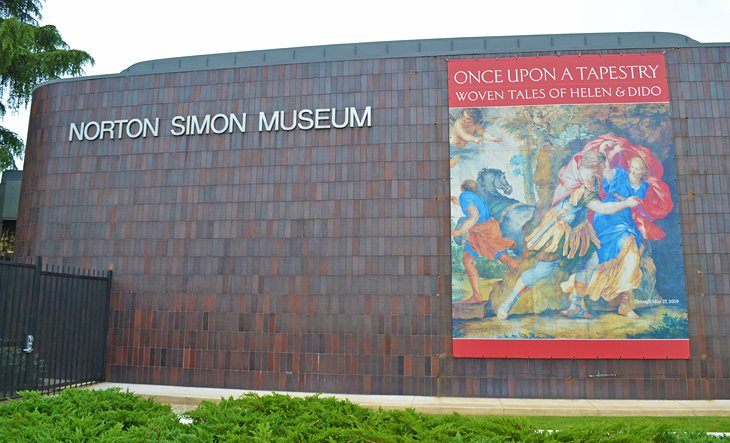 With a long-standing reputation for world-class art, the Norton Simon Museum features nearly 12,000 works within their private collection. With emphasis on European and American painting and sculpture, as well as South and Southeast Asia artworks, the Norton Simon Museum also features a constant rotation of nationally touring exhibitions. Highlights of the Norton Simon collection include works by Picasso, Rembrandt, Goya, and Vuillard, including interpretive information about how these famous pieces ended up in Southern California.
The Norton Simon Museum also plays an active role in providing community events and programs. Garden parties, lecture series, and Chess at the Museum are some of the regularly scheduled events, and Norton Simon also offers adult art classes, film screenings, and live music concerts. For afternoon refreshments, the on-site Garden Café features a lush outdoor patio with plenty of shade.
Address: 411 W Colorado Boulevard, Pasadena, California
Official site: https://www.nortonsimon.org/
5. Eaton Canyon Nature Center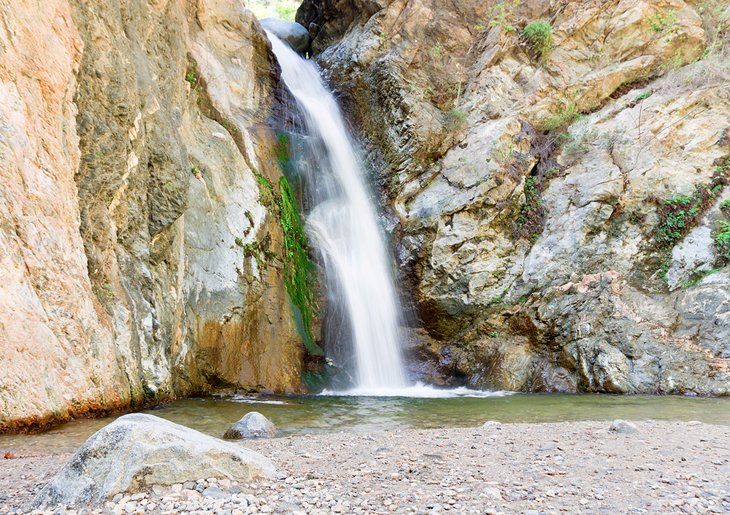 On the northeast edge of the city, the Eaton Canyon Nature Center provides insight and trailheads for the San Gabriel Mountains. The 7,600-square-foot Nature Center is filled with a fascinating collection of exhibits, live animals, and information about Eaton Canyon, including numerous taxidermic animals and birds. Just outside the front door of the Nature Center, visitors can explore Eaton Canyon via numerous trailheads. By far one of the most popular, Eaton Canyon Falls is a family-friendly, four-mile, which is known to draw quite the crowd.
Address: 1750 N Altadena Drive, Pasadena, California
Official site: https://www.ecnca.org/
6. The Gamble House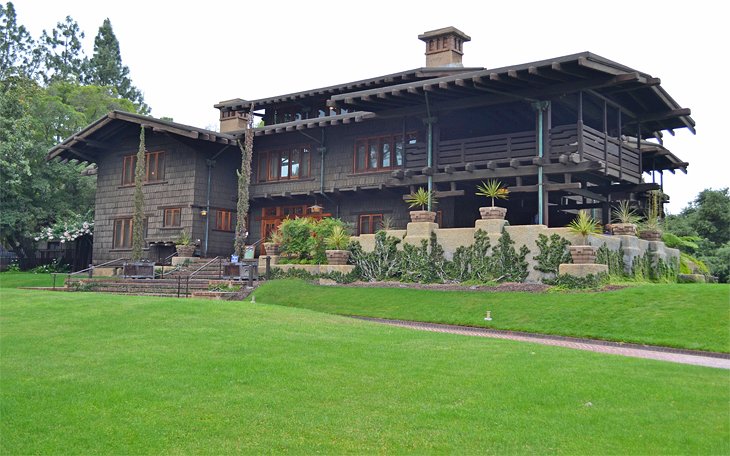 Constructed in 1908 at the behest of David and Mary Gamble, this historic residence and stunning piece of architecture is now owned by the city of Pasadena. A variety of tours are offered by the city to see the intricate detail built into this historic bungalow, including a popular one-hour, docent-led tour which explores the interior of the home. Special "Behind the Velvet Rope" tours are also available, which allow visitors to study the Arts and Crafts-style details of the architecture with a flashlight in hand.
Address: 4 Westmoreland Place, Pasadena, California
Official site: https://gamblehouse.org
7. Pasadena City Hall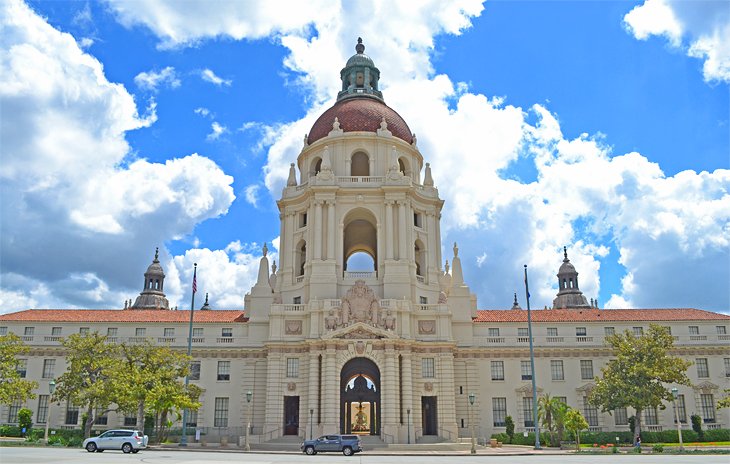 A stately symbol of the city, Pasadena City Hall easily catches the eye. Constructed in 1927, this government building embodies a 16th-century Italian Renaissance and Spanish design that speaks of a time much further in the past. Red roof tiles, a six-story tower, and a stunning inner courtyard add to the aesthetics of City Hall and make it a popular place to photograph or simply stroll the public space. In front of the ornate bell tower, Centennial Square is home to outdoor movies on Friday nights in the summer.
Address: 100 Garfield Ave, Pasadena, California
Official site: https://www.cityofpasadena.net/about-pasadena/city-hall/
8. Descanso Gardens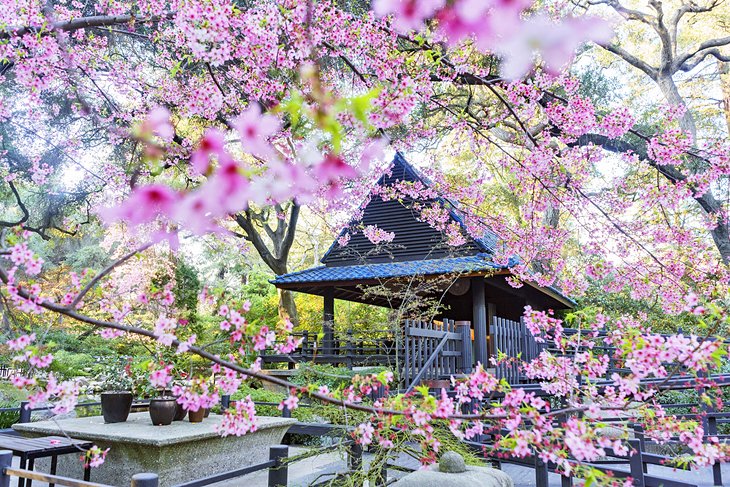 It's hard to believe that the hustle and bustle of Los Angeles is less than 20 miles away when exploring Descanso Gardens at the northwest edge of Pasadena. Nine different meticulously landscaped spaces easily transport visitors to a place of natural beauty, including the tranquil atmosphere found beneath the blossoming cherry trees of the Japanese Garden. Other notable areas of interest at Descanso Gardens include a rose garden with over 1,600 varieties, and North America's largest collection of camellia flowers.
Three miles to the east, another unique Pasadena attraction makes for the perfect add-on adventure to Descanso Gardens. Managed for NASA by the California Institute of Technology, the Jet Propulsion Laboratory is a cutting-edge research facility specializing in robotic space and Earth science missions. This world-renowned laboratory is credited for designing and operating the country's first satellite, Explorer 1. Free public tours of the Jet Propulsion Laboratory are available by advance reservation.
Address: 1418 Descanso Drive, La Cañada Flintridge, California
Official site: https://www.descansogardens.org/
9. USC Pacific Asia Museum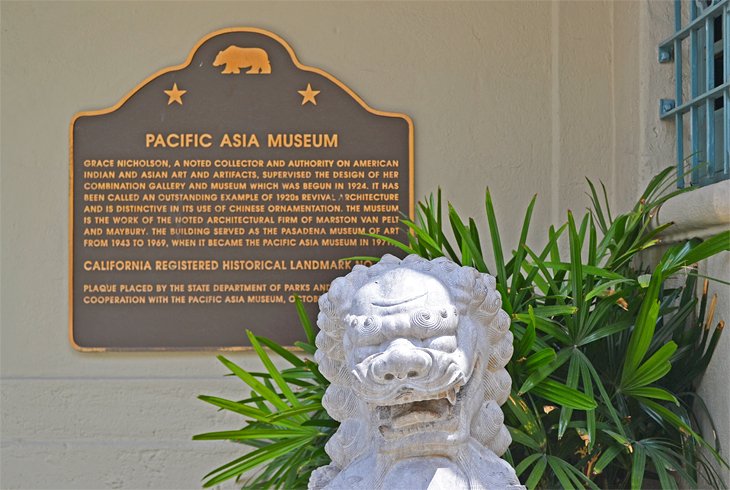 Housed in a historic building and open to the public since 1971, this popular museum celebrates the art and culture of Asia and the Pacific Islands. Serving the greater Los Angeles area and hosting thousands of visitors each year, the USC Pacific Asia Museum features nationally rotating exhibits supplemented with a collection of over 17,000 objects. Artwork and artifacts regularly on display include Japanese folk paintings, Chinese ceramics, and Buddhist art from all over Asia. The museum also puts on regular lectures, guided tours, and workshops.
Address: 46 N Los Robles Avenue, Pasadena, California
Official site: https://pacificasiamuseum.usc.edu/
10. Angeles National Forest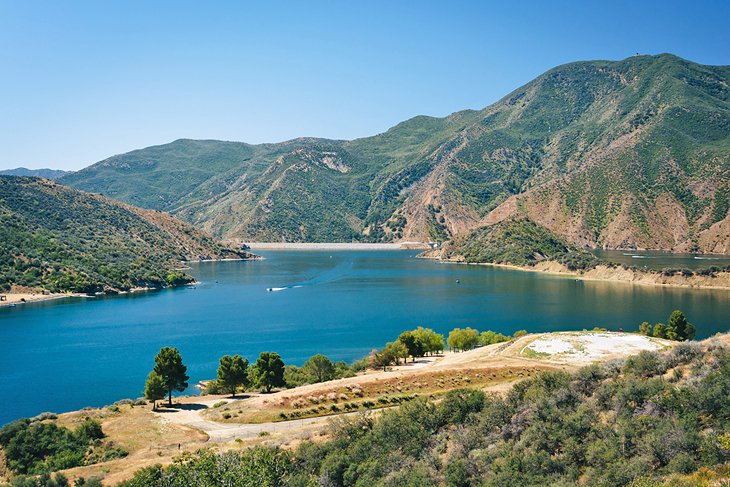 The San Gabriel Mountains provide a dramatic backdrop to Pasadena and a quick retreat into the wilderness for community members and tourists alike. The Angeles National Forest covers nearly 700,000 acres in Pasadena's backyard, providing endless hiking trails, campgrounds, and new adventures to explore. The Angeles Crest Highway is the scenic thoroughfare through the mountains, linking great campgrounds like Buckhorn Campground with awesome hiking trails like Strawberry Point. Winter in the Angeles Forest brings about downhill skiing at places like Mt. Baldy Ski Resort.
Official site: https://www.fs.usda.gov/angeles/
11. Pasadena Museum of History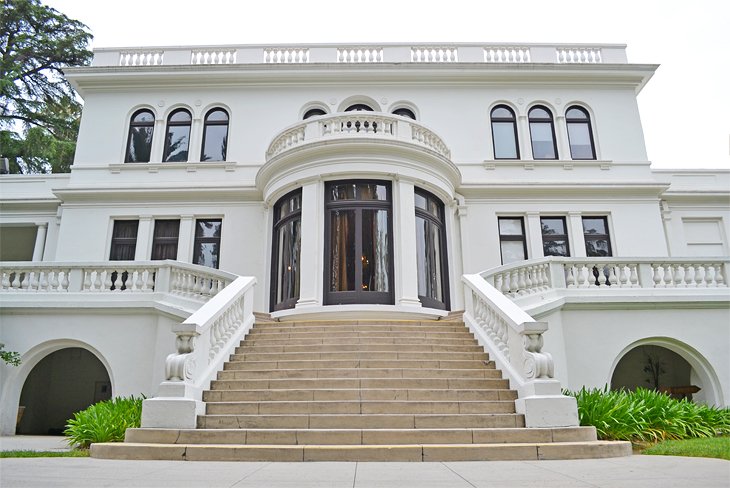 Celebrating the modern heritage of the West San Gabriel Valley, the Pasadena Museum of History displays regional artwork dating as far back as 1834. Featuring a permanent collection of over a million artifacts including photos, books, and maps, the Museum of History also regularly features rotating exhibitions in a 2,000-square-foot gallery space.
Next door and authentically preserved by the museum, the Fenyes Mansion on Millionaires Row is available for docent-led tours. A Finnish Folk Art Museum is also on campus, located within a traditional Finnish sauna and guesthouse.
Address: 470 W Walnut Street, Pasadena, California
Official site: https://pasadenahistory.org/
12. Pasadena Convention Center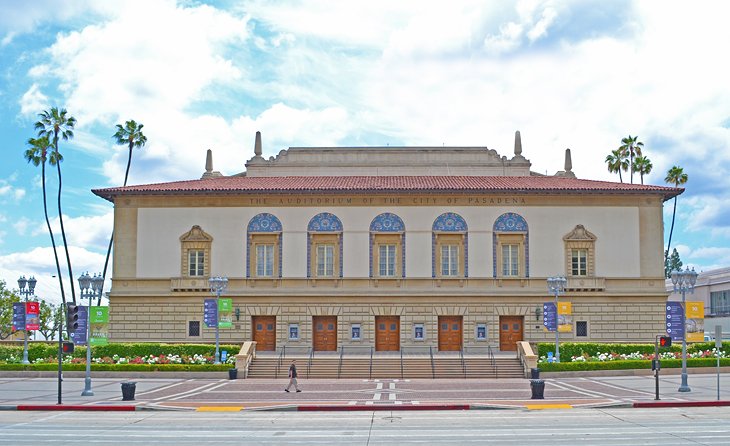 Part of the Civic Center District that includes the Central Library and City Hall, the Pasadena Convention Center provides a campus full of attraction. At the center, the historic Pasadena Civic Auditorium is home to numerous expos and conventions every year. The Pasadena Ice Skating Center is also on campus, providing public skating every day, as well as regular hockey, figure skating, and other ice-sport lessons. Across Green Street from the Convention Center campus, The Paseo features ample shops and restaurants connected by an outdoor plaza.
Address: 300 E Green Street, Pasadena, California
Where to Stay in Pasadena, California for Sightseeing
Luxury Hotels:
The iconic The Langham Huntington, Pasadena, Los

Angeles

provides the most luxurious place to stay in Pasadena. This five-star landmark hotel encompasses over 23 acres of lush gardens for an easy escape into nature, just nine miles north of downtown Los Angeles. Guests feel like royalty while staying in one of the 375 guest rooms, including deluxe patio rooms and cottage suites. Other resort amenities at the hotel include an array of dining options, signature Afternoon Tea service, and the award-winning Chuan Spa.
Mid-Range Hotels:
Budget Hotels:
For one of the best deals in town, the Super 8 by Wyndham Pasadena/La

Area

has a budget-friendly rate and a family-friendly reputation. Amenities at the hotel that add to the value include free parking, complimentary Wi-Fi, and a breakfast bar near the lobby each morning. The hotel is also pet-friendly for those traveling with dogs. And the outdoor pool is often a magnet for moments between exploring the city.
For a unique hotel with a favorable rate, The Astro Pasadena

Hotel

provides a retro feel with modern accommodations. This motor inn was completely renovated in 2016, and now, all 25 rooms feature decor with a distinct Googie design. This Space Age decor also comes with in-room amenities like 55-inch televisions and air-conditioning. Some rooms at The Astro also feature romantic Jacuzzi tubs.
More Related Articles on PlanetWare.com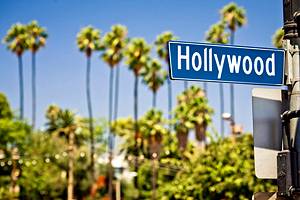 Exploring Los Angeles: The nearby hustle and bustle of Los Angeles is only 10 miles from Pasadena, and to help make the most out of your visit, our Top-Rated Tourist Attractions in Los Angeles article can point you in the best direction for fun things to do, and our Where to Stay in Los Angeles article highlights some of the best hotels in the city. For even more fun things to do, the top tourist attractions of Hollywood add extra points of interest to the itinerary.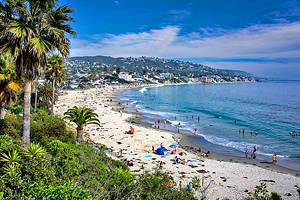 Cruising through California: If you are considering jumping in your car for an extended getaway, many of the best West Coast road trips travel through the Golden State, connecting numerous top-rated tourist attractions of California along the way. If it's the sandy beaches and scenic sea cliffs that catch your eye, the best beaches of California provide miles of postcard perfect coastline.