17 Top-Rated Attractions & Things to Do in Pasadena, CA
We may earn a commission from affiliate links ()
The San Gabriel Mountains back the city of Pasadena, approximately 10 miles northeast of Los Angeles. It's a city of history and beautiful weather, and perhaps best known for its January 1stTournament of Roses, as well as the college football Rose Bowl. This esteemed collegiate event takes place at Rose Bowl Stadium and literally takes over the streets every year.
But the palm trees and beautiful weather of Pasadena remain well after the game and throughout the rest of the year, as do Pasadena's outdoor attractions, including a growing collection of public gardens that lend the city its nickname, the City of Roses.
Alongside its blooming attractions, Pasadena also offers a plethora of cultural appeal. The 22-block national historic district known as Old Pasadena is an excellent place to sample the city's historic nature, and other tourist attractions, like house tours and the Norton Simon Museum, round out a day or weekend trip to Pasadena.
Explore this picturesque, palm-lined city and find the best places to visit with our list of the top things to do in Pasadena.
1. Old Pasadena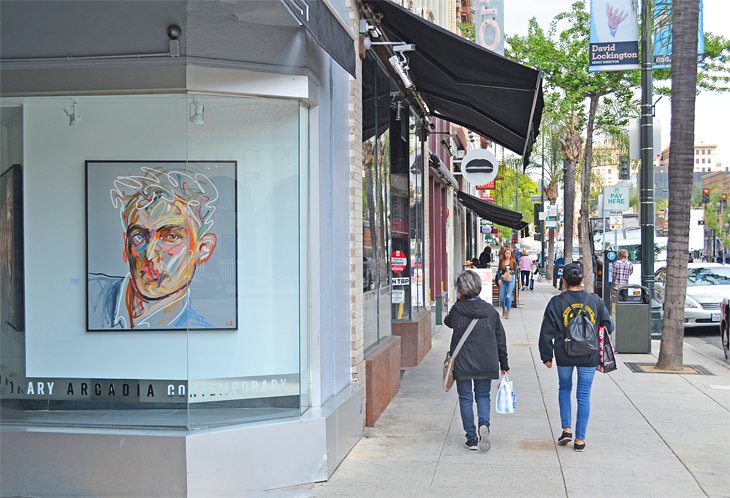 Old Pasadena is the historic downtown district of the city, reflecting its past with well-preserved 19th- and 20th-century architecture and buildings. This shopping and dining district also reflects the current community, with hundreds of boutique storefronts and local eateries.
This once bustling center of the economy went into serious decline throughout the 1960s and 70s. A major revitalization transformed the district into the center of attraction it is today. It's now on the National Register of Historic Places and encompasses 22 blocks.
Historical buildings and modern storefronts, including the stylish One Colorado shopping mall, line Colorado Boulevard, the main drag of this charming downtown district. And with over 100 restaurants along this corridor, Old Pasadena appeals to most any appetite.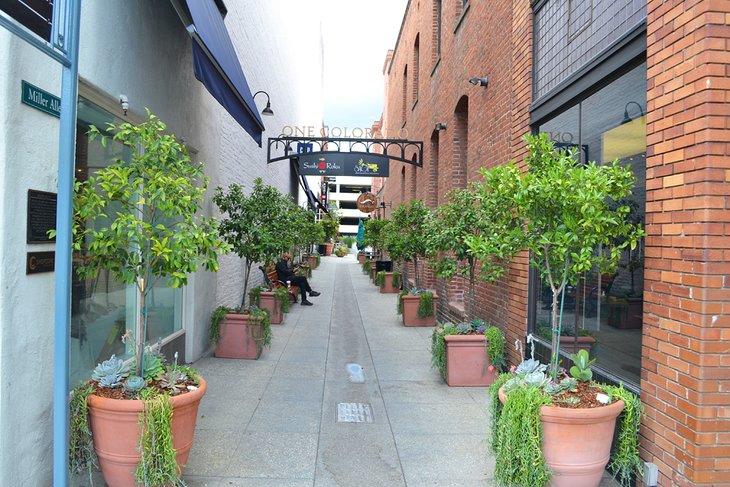 2. The Huntington Library, Art Collections, and Botanical Gardens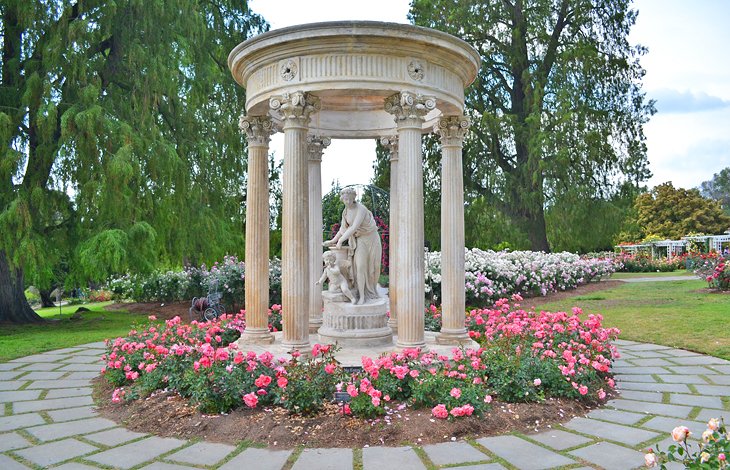 This sprawling estate once belonged to the railroad tycoon, Henry Huntington. Today, this world-class collection of gardens, cultural institutions, and artwork is now a public space for the community to enjoy.
The estate encompasses 207 acres of beautifully manicured lawns. And every inch caters to art, garden, architecture lovers, and the casual observer. The trail map provided by the admission kiosks is a handy item to study and take along with any visit.
A good direction to head when visiting is toward the three-acre Rose Garden, which presents a particularly colorful plot come spring when everything is in full bloom. Along the way, visitors pass through a dazzling California Garden with over 50,000 native species representing a Mediterranean climate.
Other gardens stem from this area of the park, with 16 uniquely themed gardens in total. A true gem of the collection is the immersive Garden of Flowing Fragrance, featuring a 1.5-acre lake and numerous traditional Chinese structures. This part of the park also houses an impressive bonsai collection.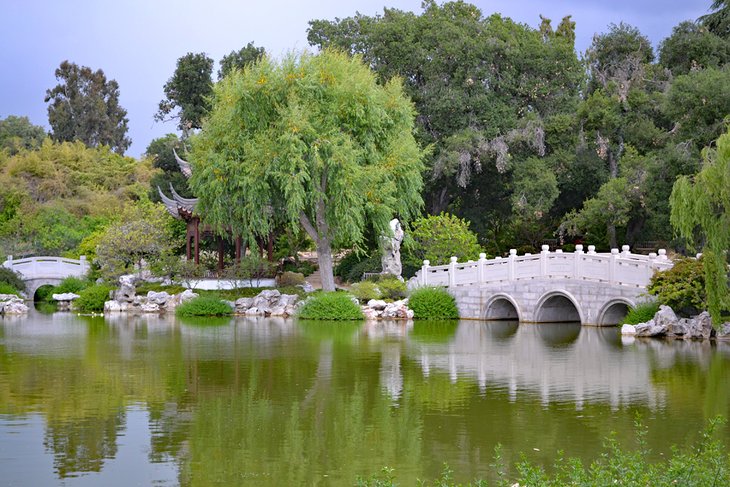 Cultural institutions punctuate the dynamic garden space. The Huntington Art Gallery, for example, has over 1,200 pieces of European art housed within Henry Huntington's past residence, a 55,000-square foot custom-built mansion, and photogenic demonstration of Beaux-Arts architecture.
3. Rose Bowl Stadium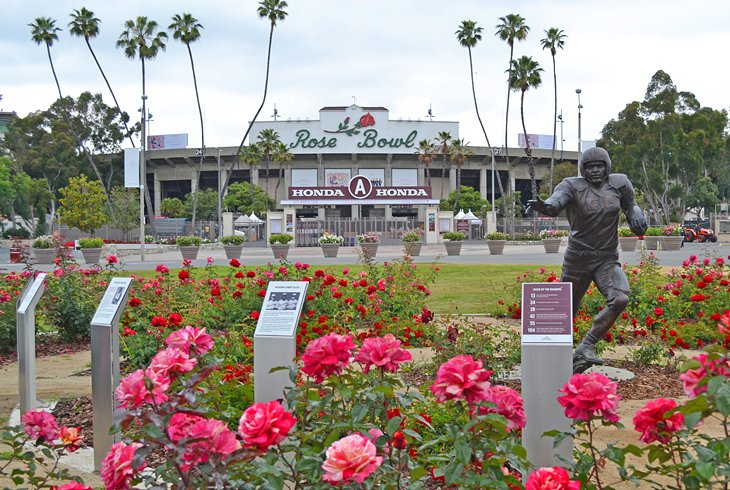 Every New Year's day, a national spotlight shines on Pasadena and the Tournament of Roses college football game. This esteemed bowl game overtakes the city with visiting fans and a whole host of outdoor activities, including the iconic Rose Parade.
Thousands of spectators line the 5.5-mile Rose Parade route, starting on Orange Grove Boulevard and quickly heading east along Colorado Boulevard. The parade proudly showcases marching bands, community groups, and intricate floral parade floats that are truly a work of art.
The Rose Bowl Stadium, centered within the sprawling Brookside Park and Golf Course, is a national historic landmark built in 1922. Modern renovations have made this centerpiece attraction memorable for fans and visitors.
4. Norton Simon Museum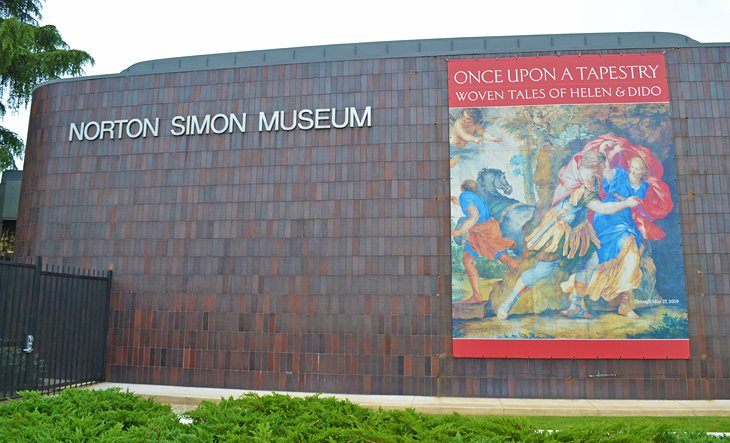 The Norton Simon Museum has a long-standing reputation for world-class art. It features nearly 12,000 works within its private collection, with an emphasis on European and American painting and sculpture, as well as South and Southeast Asia artworks. The museum also features a constant rotation of nationally touring exhibitions.
Highlights of the Norton Simon collection include works by Picasso, Rembrandt, Goya, and Vuillard, including interpretive information about how these famous pieces ended up in Southern California.
The Norton Simon Museum also plays an active role in providing community events and programs. Garden parties, lecture series, and Chess at the Museum are some of the regularly scheduled events. Norton Simon also offers adult art classes, film screenings, and live music concerts.
5. The Gamble House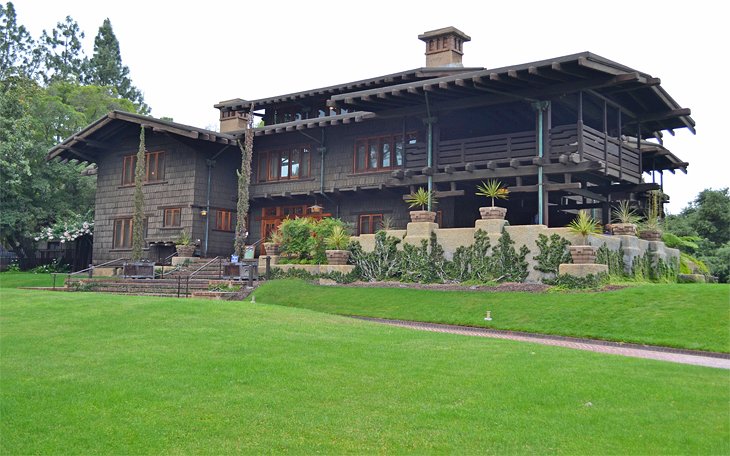 This historic residence and stunning piece of architecture was constructed in 1908 at the behest of David and Mary Gamble, second-generation members of the Procter and Gamble Company. This exquisite estate is now owned by the city of Pasadena.
The city offers various tours to see the intricate detail built into this historic bungalow, including a popular one-hour, docent-led tour which explores the interior of the home. Special "Behind the Velvet Rope" tours are also available, which allow visitors to study the Arts and Crafts-style details of the architecture with a flashlight in hand.
6. Descanso Gardens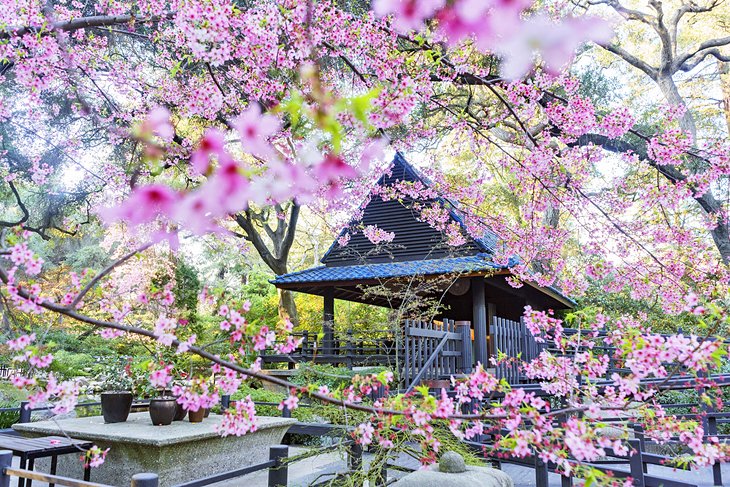 It's hard to believe that the hustle and bustle of Los Angeles is less than 20 miles away when exploring Descanso Gardens at the northwest edge of Pasadena. Nine different meticulously landscaped spaces easily transport visitors to a place of natural beauty, including the tranquil atmosphere found beneath the blossoming cherry trees of the Japanese Garden.
Other notable areas of interest at Descanso Gardens include a rose garden with over 1,600 varieties and North America's largest collection of camellia flowers. The grounds are also home to an expansive oak forest, where trails twist and turn leading to lovely sitting spaces and benches. For the most wildlife sightings, head to the pond in the northwest corner, where rafts of ducks tend to congregate.
Descanso also offers much more than just gardens. Weekly programs and special events pack the garden's event calendar, including various activities like haiku workshops and pumpkin carving festivals.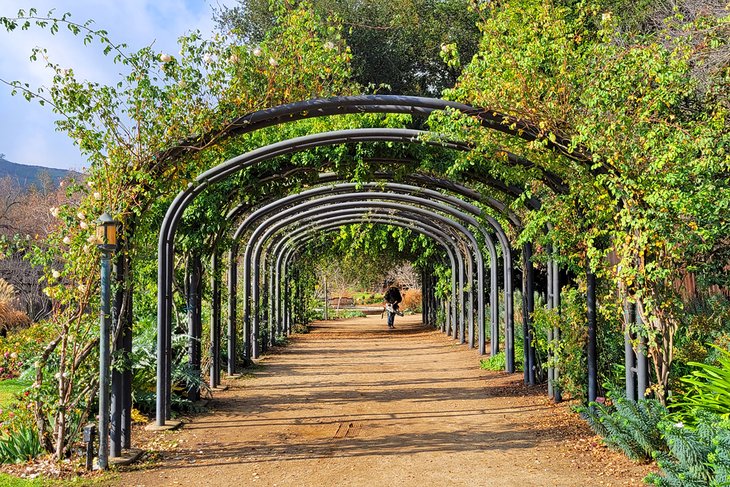 7. Eaton Canyon Nature Center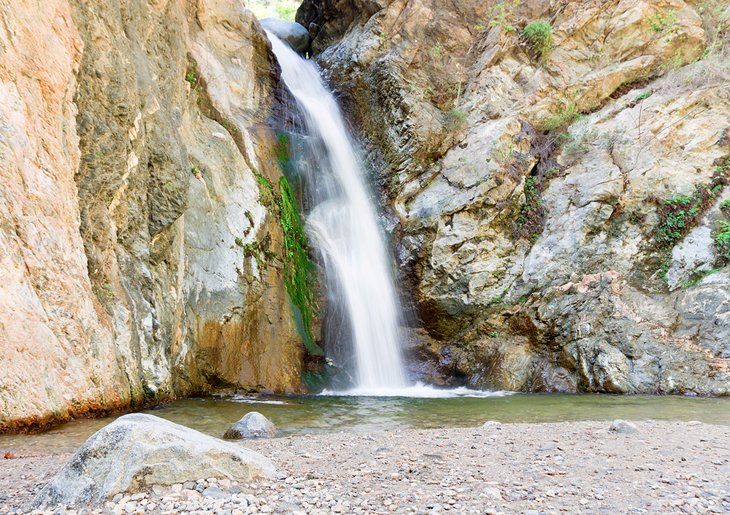 The Eaton Canyon Nature Center provides insight and trailheads for the San Gabriel Mountains, on the northeast edge of the city. The 7,600-square-foot Nature Center is filled with a fascinating collection of exhibits, live animals, and information about Eaton Canyon, including numerous taxidermic animals and birds.
8. Tournament House and Wrigley Gardens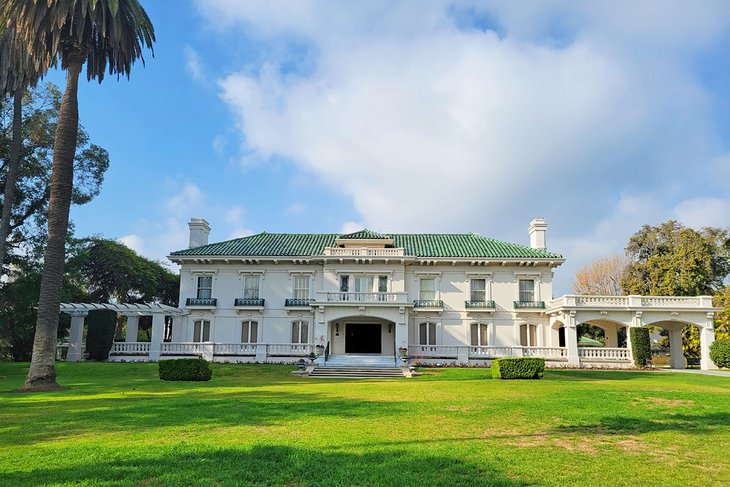 This massive Italian Renaissance mansion is the headquarters for the Tournament of Roses, earning its nickname as the Tournament House. It was donated to the city by the Wrigley family years after the passing of chewing gum magnate, William Wrigley Jr., also lending the mansion the moniker, the Wrigley Mansion.
The 18,500-square-foot mansion is undeniably eye-catching on Orange Grove Boulevard, not far from the start of the Rose Parade. This neighborhood is also just south of Pasadena's Millionaire Row, filled with other stately residences. But what really makes the Tournament house stand out are the lovely gardens surrounding the home headquarters.
On the property are over 1,500 floral varieties. The rose garden itself, backed by a lovely arbor, has several types of blooming attractions, including its own Tournament of Roses Rose. Other outdoor areas at the gardens have landscaped paths and views of the mansion.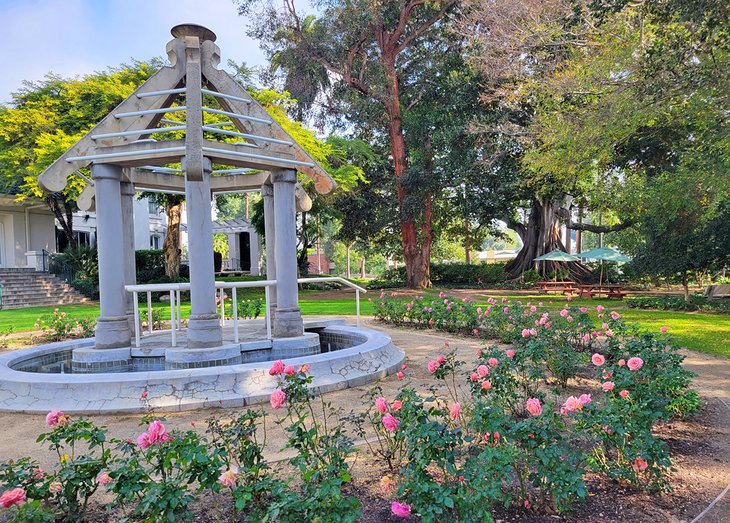 9. USC Pacific Asia Museum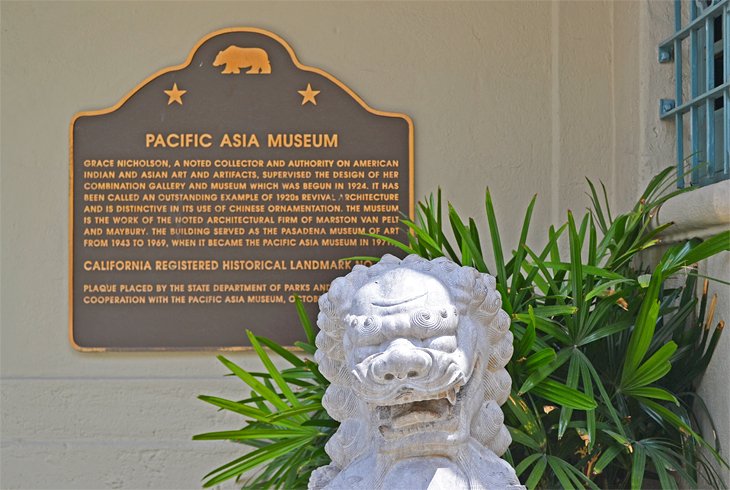 This popular museum is housed in a historic building and has been open to the public since 1971. It celebrates the art and culture of Asia and the Pacific Islands and serves the greater Los Angeles area, hosting thousands of visitors each year.
10. Pasadena Convention Center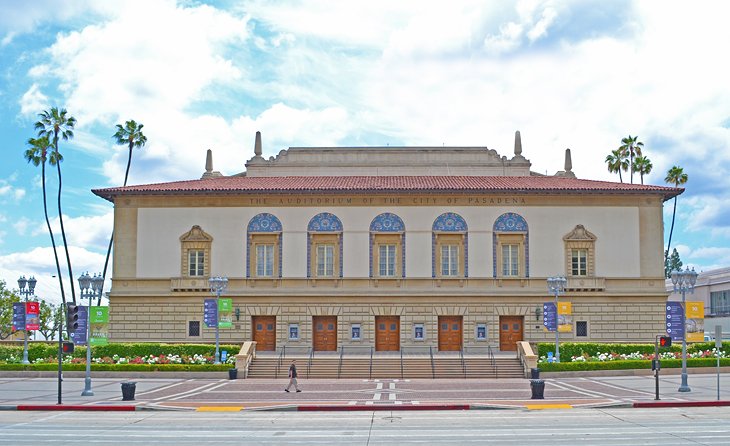 The Pasadena Convention Center is part of the Civic Center District, which includes the Central Library and City Hall. This eye-catching part of the city provides a campus full of attractions, and at the center, the historic Pasadena Civic Auditorium is home to numerous expos and conventions every year.
11. Angeles National Forest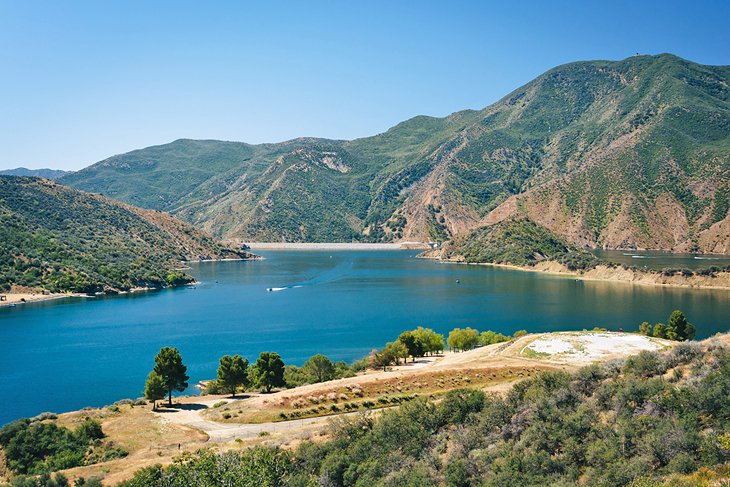 The San Gabriel Mountains provide a dramatic backdrop to Pasadena and a quick retreat into the wilderness for community members and tourists alike. The Angeles National Forest covers nearly 700,000 acres in Pasadena's backyard, providing endless hiking trails, campgrounds, and new adventures to explore.
12. Pasadena Museum of History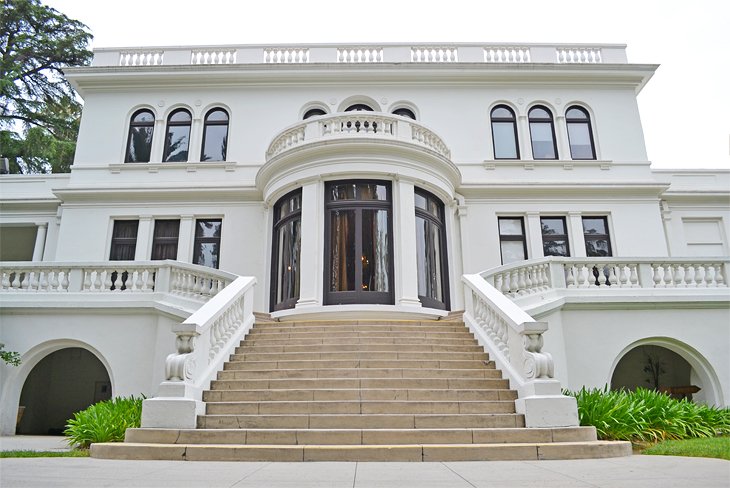 The Pasadena Museum of History celebrates the modern heritage of the West San Gabriel Valley, displaying regional artwork dating as far back as 1834. The museum's permanent collection has over a million artifacts including photos, books, and maps. The museum also regularly features rotating exhibitions in a 2,000-square-foot gallery space.
13. Los Angeles County Arboretum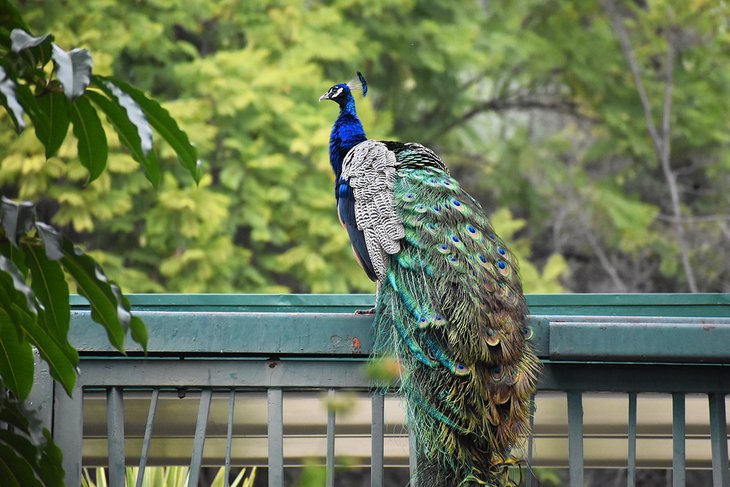 The 127-acre Los Angeles County Arboretum is less than 10 miles east of Pasadena. This inviting outdoor space has several gardens and landscapes to explore. And thanks to the Mediterranean climate, something is always in bloom.
A few popular gardens at the arboretum include a rose garden, a tropical greenhouse, and a Crescent Farm – a demonstration farm built to showcase drought-resistant landscaping. Visitors also come to see plants from around the world, from such far-flung places as Madagascar and the Canary Islands.
14. Playhouse District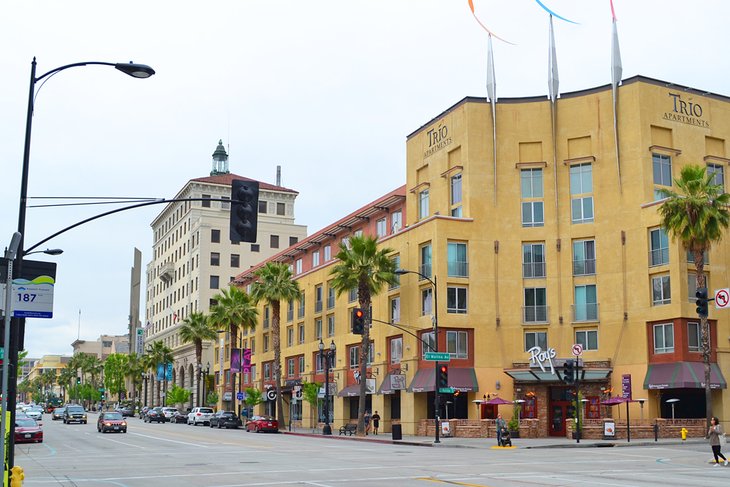 The city's Playhouse District is east of Old Pasadena, adding even more culture to Colorado Boulevard, including plenty of public art on the streets. This lively cultural district offers other unique restaurants and shopping opportunities and is home to the historic Pasadena Playhouse, the official state theater of California.
For bibliophiles and casual readers alike, Southern California's largest and oldest independent bookstore, Vroman's Bookstore, is also in the neighborhood and worth a visit.
15. Jet Propulsion Laboratory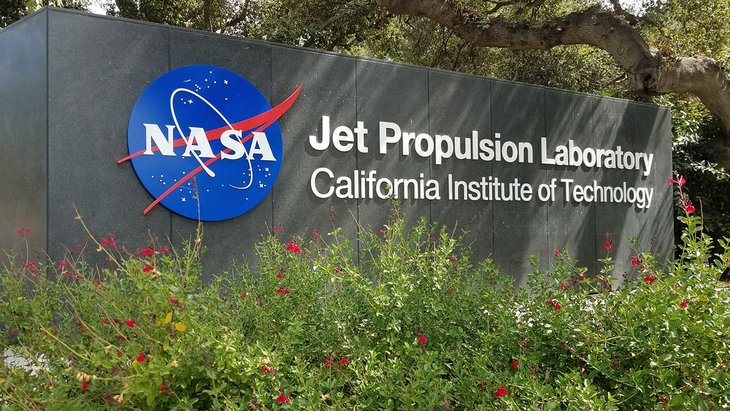 The Jet Propulsion Laboratory is a cutting-edge research facility specializing in robotic space and Earth science missions. It's managed for NASA by the California Institute of Technology, and is located approximately three miles east of Descanso Gardens. This world-renowned laboratory is credited for designing and operating the country's first satellite, Explorer 1.
16. Arlington Gardens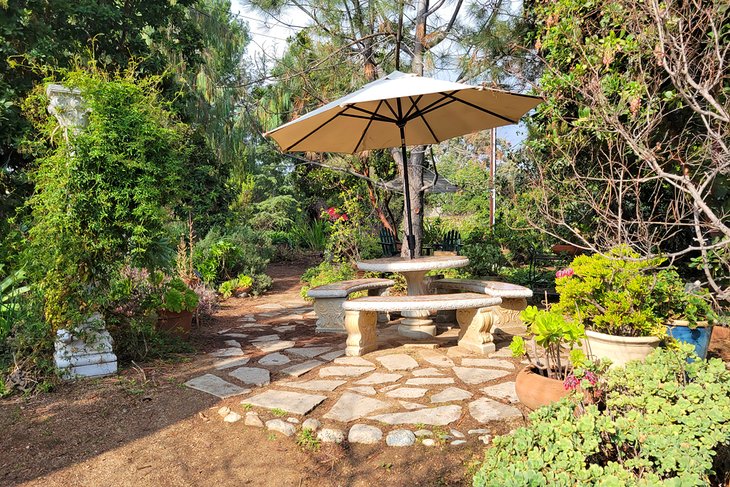 Arlington Gardens is a lovely three-acre space a few blocks south of Old Pasadena. It's Pasadena's only designated public garden, and it offers a tranquil space to spend a few moments in the day. And the gardens are packed with short, winding trails that lead to distinct areas, offering a family-friendly adventure space.
17. Pasadena City Hall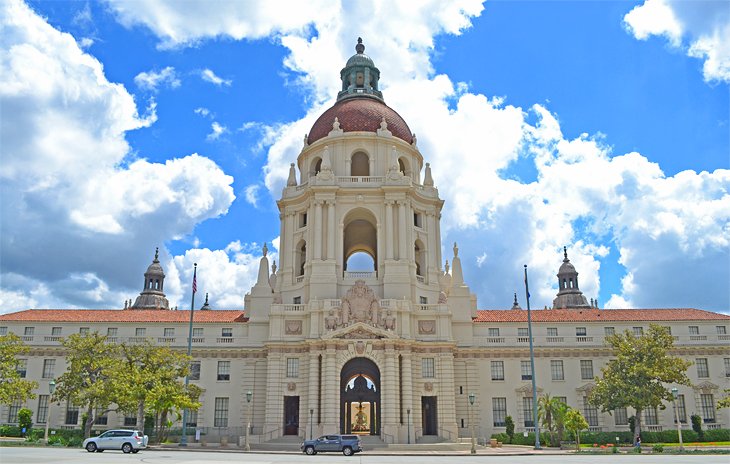 Pasadena City Hall easily catches the eye as a stately symbol of the city. It was constructed in 1927 and embodies a 16th-century Italian Renaissance and Spanish design that speaks of a time much further in the past.
Where to Stay in Pasadena, California for Sightseeing
More Related Articles on PlanetWare.com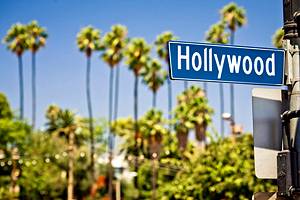 Exploring Los Angeles: The nearby hustle and bustle of Los Angeles is only 10 miles from Pasadena, and to help make the most out of your visit, our Top-Rated Tourist Attractions in Los Angeles article can point you in the best direction for fun things to do, and our Where to Stay in Los Angeles article highlights some of the best hotels in the city. For even more fun things to do, the top tourist attractions of Hollywood add extra points of interest to the itinerary.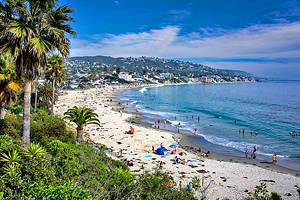 Cruising through California: If you are considering jumping in your car for an extended getaway, many of the best West Coast road trips travel through the Golden State, connecting numerous top-rated tourist attractions of California along the way. If it's the sandy beaches and scenic sea cliffs that catch your eye, the best beaches of California provide miles of postcard perfect coastline.