12 Top-Rated Attractions & Things to Do in Anaheim, CA
We may earn a commission from affiliate links ()
In Orange County, Southern California, Anaheim draws visitors and tourists from around the world. Much of the tourism to this city of 350,000 people comes from the "happiest place on Earth" located in Anaheim, also known as Disneyland Resort. Featuring both Disneyland Park and Disney California Adventure Park, Disneyland Resort is truly a magical place for kids to explore. With places like Main Street U.S.A., Tomorrowland, and all new Star Wars interactive villages, parents tend to enjoy their time at Disney as well.
Anaheim has a lot to offer besides Disneyland. The nearby Anaheim GardenWalk invites shopping, dining, and live music during the day and at night. The Anaheim Packing District is another happening spot to visit, particularly the recently reinvented Anaheim Packing House Food Hall. Of equal culinary and shopping interest, the neighboring Center Street Promenade features the best local shops Anaheim has to offer.
Anaheim is also home to two professional sports teams, the Anaheim Angels and Anaheim Ducks, and whether you are a baseball or hockey fan, the energizing experience of being part of the crowd is fun for everyone. For those looking to enjoy some Southern California sunshine, large open spaces like Yorba Regional Park tend to draw a crowd, and the Oak Canyon Nature Center provides easy hiking paths to ditch the crowds. Plan your sightseeing with our list of the top things to do in Anaheim, CA.
Note: Some businesses may be temporarily closed due to recent global health and safety issues.
1. Disneyland Resort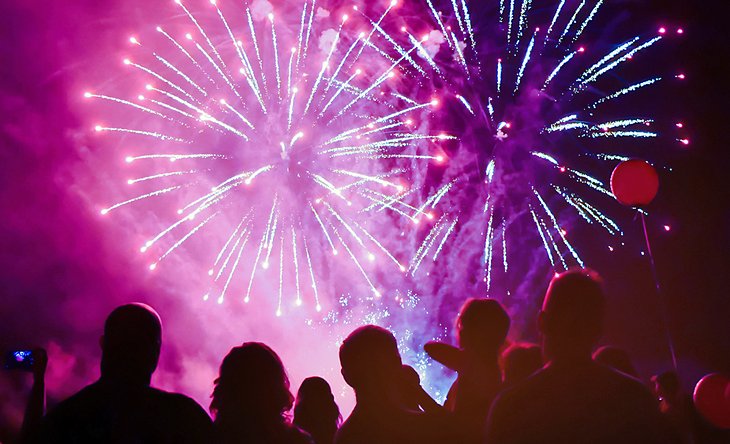 The top attraction of Anaheim also happens to be the "happiest place on Earth." The combination of Disneyland Park and the adjacent Disney California Adventure Park create Disneyland Resort of Anaheim, a truly magical place for children to explore. Adults won't miss out on the fun-the many different worlds of Disneyland include so much detail, it's easy to forget where you are. The sheer amount of themed lands within the park also make it handy to carry a map.
Among the many places to visit within the resort, Tomorrowland is always a favorite. Featuring classic attractions like Space Mountain, Tomorrowland also contains rides that transport guests to a galaxy far, far away. Open to the public in May of 2019, Star Wars: Galaxy Edge is an all new land within the resort, featuring opportunities to pilot the Millennium Falcon and build your own lightsaber.
Disneyland Resort delivers on the full experience. Beyond the rides and themed attractions, guests are likely to encounter some iconic characters on the street. Scheduled character experiences include superhero encounters, Disney princess performances, and Pixar pals to meet.
No visit to Disneyland is complete without visiting Main Street U.S.A and taking a picture with the "Mickey Floral" parterre. Disneyland after Dark is another added and separately ticketed experience, featuring a firework display that dreams are made of.
Address: 1313 Disneyland Drive, Anaheim, California
Official site: https://disneyland.disney.go.com/
2. Anaheim Packing District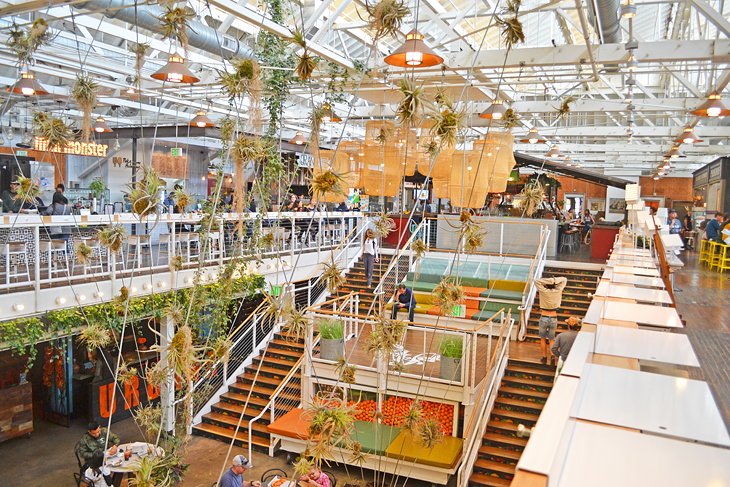 South of the downtown district in the heart of the city, the Anaheim Packing District offers a modern experience within historic architecture. Encompassing three national historical landmarks, including a former Packard car dealership and a marmalade factory, these spaces now offer culinary creations and open spaces for the public to enjoy. Within the Packing District, Farmers Park is a beautifully landscaped green space and garden with a scenic boardwalk.
The centerpiece attraction of the Anaheim Packing District is the restored Anaheim Packing House Food Hall. What was once a citrus packing warehouse in downtown Anaheim is now one of the most modern food halls in the nation, with tall ceilings and an abundance of natural light. Numerous food stalls and specialty purveyors line this stylish eating space, and there are plenty of open seating areas throughout. Much like eating on a patio, the atrium-like appearance of the food hall adds a freshness to every meal.
Address: 440 South Anaheim Boulevard, Anaheim, California
Official site: https://www.anaheimpackingdistrict.com/
3. Angel Stadium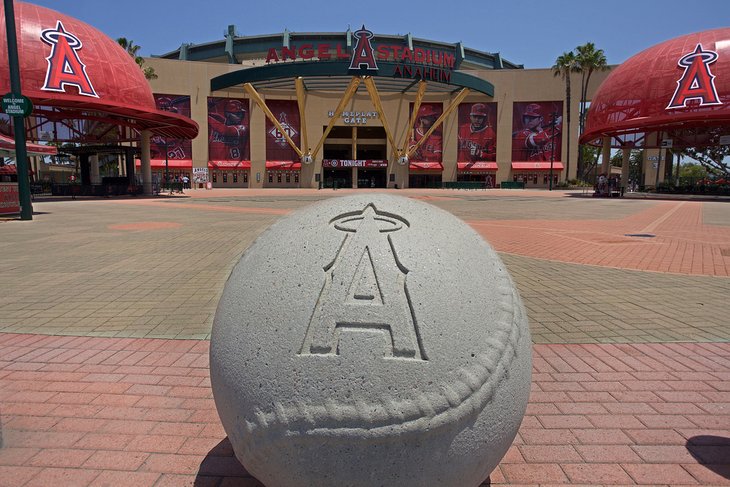 Home to the Los Angeles Angels of the American League West, some would argue the happiest place on earth is Angel Stadium come sundown during a home baseball game. The often great weather experienced by Anaheim is shared with Angel Stadium, particularly throughout the regular season schedule. Home games are great time for the whole family or casual sports fans, with affordable tickets available. Stadium fans can participate in public tours of the grounds between March and September.
Address: 2000 E Gene Autry Way, Anaheim, California
Official site: https://www.mlb.com/angels
4. Honda Center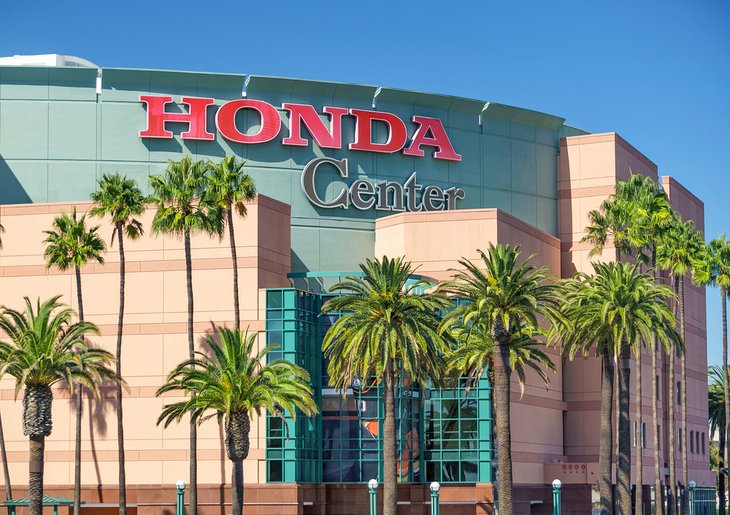 Home to the Anaheim Ducks of the National Hockey League, this indoor arena is jam-packed with fun during the hockey season. Tickets to games are budget friendly, and the energy from the crowd can really stick with you for the week. Outside of hockey games, the Honda Center schedule is also filled with other sporting events, too, including professional wrestling and USA basketball. Nationally touring concerts also fill the seats of the Honda Center throughout the year, as well as comedy shows, festival events, and child-friendly performances.
Address: 2695 E Katella Avenue, Anaheim, California
Official site: https://www.hondacenter.com
5. Anaheim GardenWalk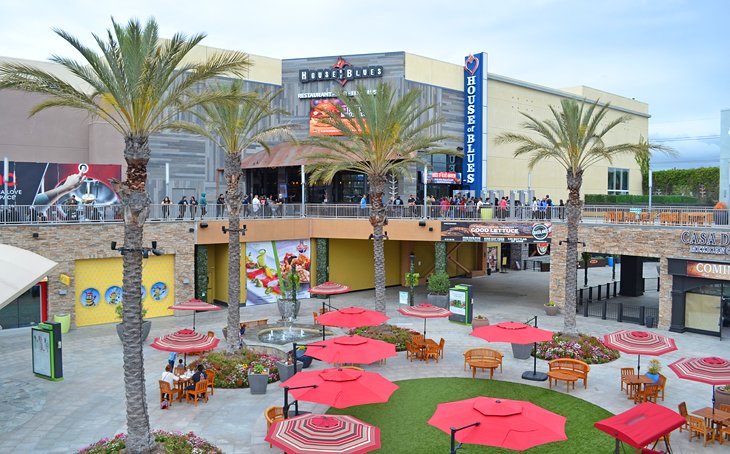 Near the gates of Disneyland Resort, the Anaheim GardenWalk is a pedestrian-friendly entertainment district filled with shopping and dining experiences. Encompassing 430,000 square acres in the Anaheim resort district, familiar restaurants like P.F. Changs and The Cheesecake Factory can be found on the GardenWalk, as well as regional favorites like Johnny Rockets and Grasslands Meat Market. Many of the best hotels in Anaheim are also located nearby.
The staple of the GardenWalk, the House of Blues, Anaheim features its own restaurant and a rotating lineup of nationally touring live music acts. Other fun places to visit and things to do on the GardenWalk include bowling lanes, virtual reality arcades, and Latin music nightclubs. Along the entire GardenWalk, the facility's "Art on the Walk" program can be seen with a variety of colorful murals on the walls.
Address: 400 Disney Way, Anaheim, California
Official site: http://anaheimgardenwalk.com
6. Yorba Regional Park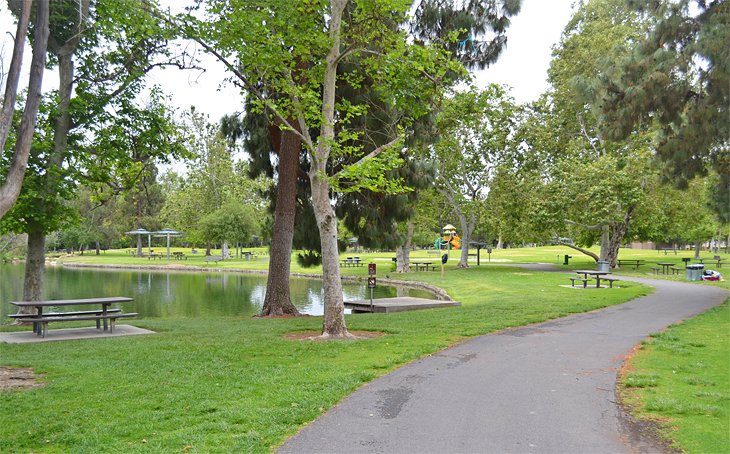 A mile-long linear park in eastern Anaheim, Yorba Regional Park is a popular spot for all types who like to get outdoors. Winding bike paths navigate the length of this 140-acre landscaped space, looping around a series of four lakes that are a favorite for the resident ducks and other wildlife. Numerous features like volleyball nets, playgrounds, horseshoe pits, and over 400 picnic tables punctuate the green space and provide extra things to do.
The many features and tranquil space provided by Yorba make it popular throughout the day for different reasons. In the quiet morning, walkers stroll to the sound of ducks calling, and joggers pick up the pace along the scenic trails by the afternoon. Come weekends in Yorba, the picnic tables are well utilized by families celebrating a meal together, and the playground equipment is popular for birthday parties.
Address: 7600 E La Palma Avenue, Anaheim, California
Official site: http://www.ocparks.com/parks/yorba
7. Knott's Berry Farm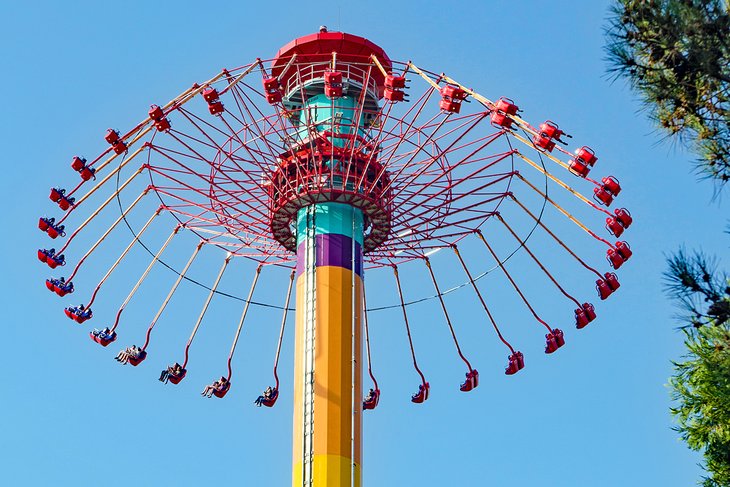 Filled with rollercoasters, waterslides, and a local backstory, Knott's Berry Farm has grown into one of the best amusement and theme parks in California. In combination with Knott's Soak City water park, Knott's Berry Farm enables multiple days of family fun. Musical shows, ghost towns, and unique dining experiences round out the other fun at Knott's Berry Farm, as well as Knott's Summer Night celebrations featuring live music and food trucks.
Thrill rides at Knott's Berry Farm include Montezooma's Revenge and La Revolución, as well as the first and only dive coaster in California, HangTime, which has a 96-degree drop. Family rides include a Calico Mine Ride and Surfside Gliders. New in 2019, the Calico River Rapids features all new animatronics, bigger rapids, and an intricate storyline incorporating an unexplored river. For first-time roller coaster riding, the Pony Express features accelerating thrills without any inversions or large drops.
Between May and September, the real cool place to be at Knott's Berry Farm is Knott's Soak City Water Park. Orange County's largest water park, Soak City incorporates over 20 different waterslides alongside a giant wave pool, lazy river, and interactive kids' area. Private cabanas are available to rent at Soak City, perfect for those who want to laze the day away in their own personal space. For extended family outings, the Knott's Berry Farm Hotel keeps visitors close to the action.
Address: 8039 Beach Blvd, Buena Park, California
Official site: https://www.knotts.com/
8. Center Street Promenade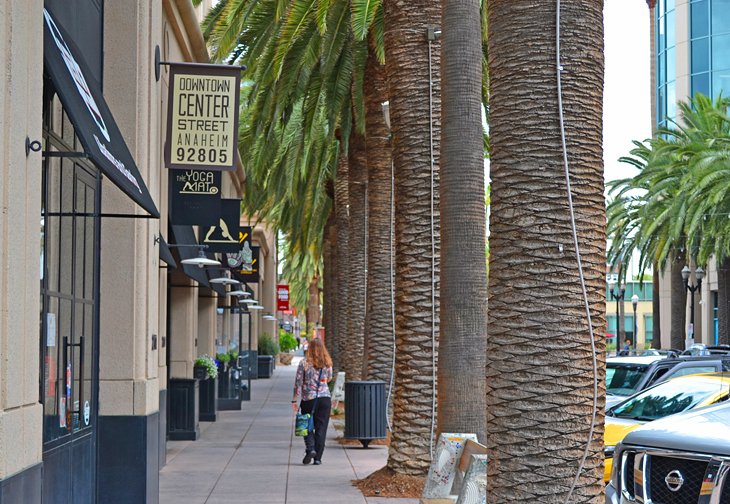 A hip city street near the historic downtown Carnegie Library, the Center Street Promenade is filled with boutique shops, local eateries, and luxurious lofts. This is a great pathway for afternoon strolling. Places like the Hummus Bean offer casual fare and comfortable seating, and for evening entertainment, restaurants like Pour Vida provide even more flavor to enjoy. Within the many shopping storefronts lining the Center Street Promenade, some of the local treasures to hunt for include jewelry, fashion labels, and chic household decor.
9. Oak Canyon Nature Center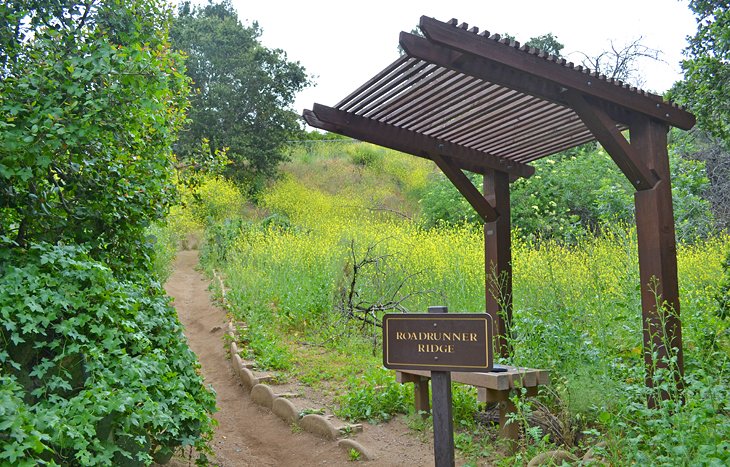 In eastern Anaheim, a short drive from Yorba Regional Park, the Oak Canyon Nature Center connects visitors to the natural habitat of Southern California. The 58-acre natural park encompassed by the Nature Center features four miles of trails lined with interpretive information.
A year-round stream offers a popular hiking route filled with shade, and the elevated Roadrunner Ridge trail puts a new perspective on the canyon environment. The nature center also provides interpretive information for insight on the surrounding environment, as well an O.A.K.S Day Camp for kids 5-12 years old.
Address: 6700 E Walnut Canyon Road, Anaheim, California
10. Muzeo Museum and Cultural Center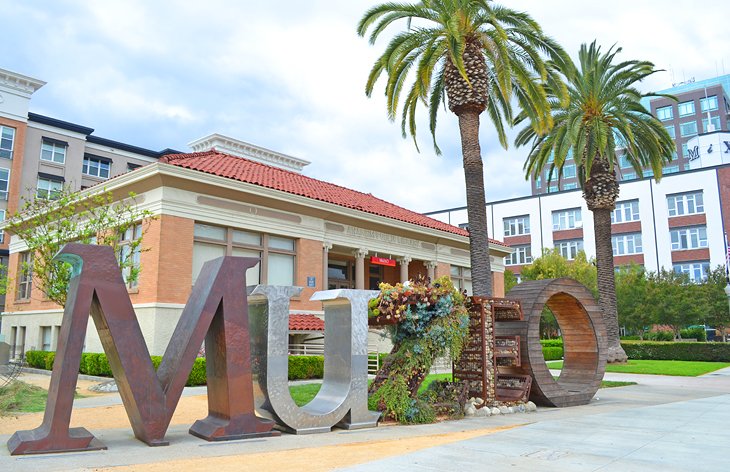 Housed within the historic downtown Carnegie Library, this museum and cultural center shares the history and creative expression of the region with impressive displays. Admission is free to the Carnegie Gallery of the museum, which features an eye-catching, walk-through history of Anaheim. Regional artworks rotate through the other galleries of the museum, and the brick facade of the historic building is an exhibit to appreciate on its own. Special classroom programs are available for teens at Muzeo, and the entire space can be rented out for private events.
Address: 241 S Anaheim Boulevard, Anaheim, California
Official site: http://muzeo.org/
11. City National Grove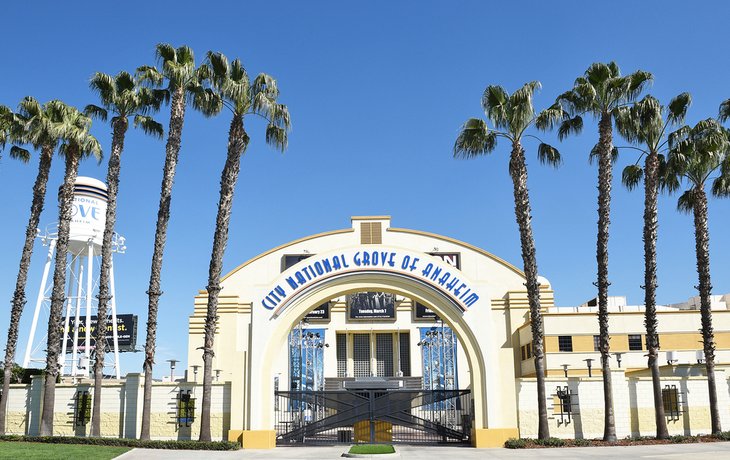 Near Angel Stadium and the Santa Ana River, this event center and performance space features state-of-the-art lighting and sound alongside an intimate 1,700-seat setting. City National Grove brings in some of the biggest and best names in entertainment, with Prince, Ray Charles, and Stevie Nicks gracing the stage in the past. Tickets often sell out fast at this favorite Orange County performance space, and the venue hosts over 250 concerts each year, including Broadway performances.
Address: 2200 E Katella Ave, Anaheim, California
Official site: http://www.citynationalgroveofanaheim.com/
12. Medieval Times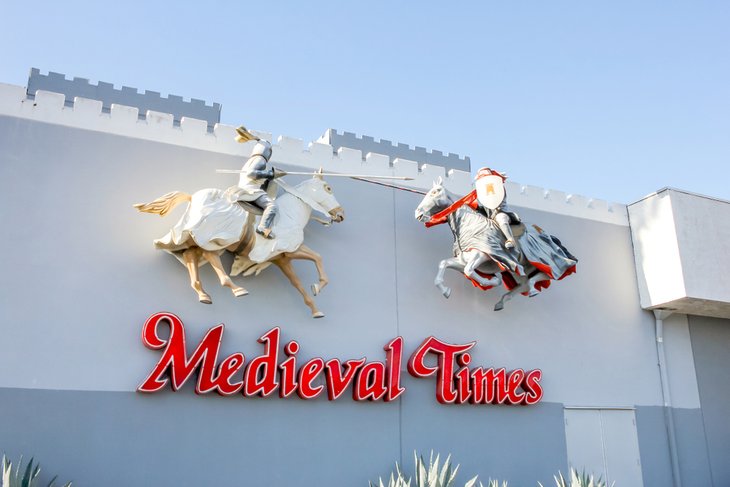 A fun night full of jousting, horseback riding, and falconry, Medieval Times is located in Buena Park just outside Anaheim. Fun for the whole family, live period-authentic knights battle for the Queen's honor at Medieval Times, providing quite the show to go along with dinner. Battling with weaponry, and jousting knights off their steeds, is part of the spectacle at Medieval Times, and the meal is a traditional dish of roast chicken and multiple sides. Vegetarian options are also available.
Address: 7662 Beach Boulevard, Buena Park, California
Official site: https://www.medievaltimes.com
Where to Stay in Anaheim for Sightseeing
Luxury Hotels & Resorts:
For the most luxurious property, minutes away from Disneyland® and downtown Anaheim, the JW Marriott, Anaheim

Resort

is a stylish hotel oozing with comfort. The modern lobby offers a vacation from the ordinary the moment you walk through the front door of this posh downtown resort. And several other contemporary common spaces throughout also exude this feeling of fashionable escapism. Rooms at the Anaheim Resort range from standard guest rooms to a sterling presidential suite.
Kitty-corner from Disneyland Drive on Katella Avenue, The Westin Anaheim

Resort

also provides a luxurious pairing for a Disneyland® vacation. Not only is the front door of the resort within easy walking distance of one of the most magical places on Earth, but the property also provides plenty of things to do other than exploring the park. These extra amenities include dining at one of seven restaurants at the resort, ranging from a rooftop lounge to a fine-dining steakhouse.
Mid-Range Hotels:
The Homewood Suites by Hilton Anaheim Resort - Convention

Center

is a popular choice for family travel and Disneyland® vacations. The hotel is less than a mile from the park and features standard guest rooms and spacious suites. The suites, equipped with a full kitchen including a dishwasher, are ideal for anyone interested in cooking some meals. For other fare, the hotel also features a full breakfast bar in the morning.
Another excellent hotel within a mile of the park, the SunCoast Park Hotel, Tapestry Collection by

Hilton

, enjoys the fireworks display from Disneyland® every evening. It's also located a short walk from the Anaheim GardenWalk. Alongside modern rooms and suites, the hotel also features other amenities like a business center and fitness facility. Other special services offered by the hotel include shuttle rides and children's books to rent.
Hampton Inn & Suites Anaheim Resort Convention

Center

is another moderately priced hotel within a mile of Disneyland® park. It provides several hotel amenities for a rounded stay, including an impressive hot breakfast buffet each morning. The hotel also features a full fitness studio and an outdoor pool that overlooks the property's palm trees. Rooms and suites are both available, as well as universally accessible rooms.
Budget Hotels:
The Alpine

Inn

offers the best value for its prime location. And it's not just the easy walking distance to downtown and Disneyland® that makes it popular. This economical hotel is also known for its cleanliness and customer service. The hotel also receives repeat customers thanks to its complimentary breakfast served each morning in a Swiss chalet-style lodge.
The Anaheim Islander Inn and

Suites

is another popular choice for family vacations and budget-conscious travelers. It offers a clean and comfortable property within walking distance of Disneyland® and downtown Anaheim. And every room at the Islander Inn has modern decor with hardwood floors. For family travel, a few rooms include two queen beds and a bunk bed to accommodate everyone in a single room. Coffee makers are in each overnight space, and a complimentary breakfast is available every morning.
Less than a mile south of Disneyland®, the Stanford Inn &

Suites

is another magnet for family travel. A little farther away from Anaheim's hustle and bustle but still within walking distance to major attractions, the hotel provides a nice respite at the end of the night. The free use of rollaway beds makes it a popular choice for family travels, as does the hotel's clean and modern look. And the affordable nightly rates also tend to draw a lot of advance bookings.
More Related Articles on PlanetWare.com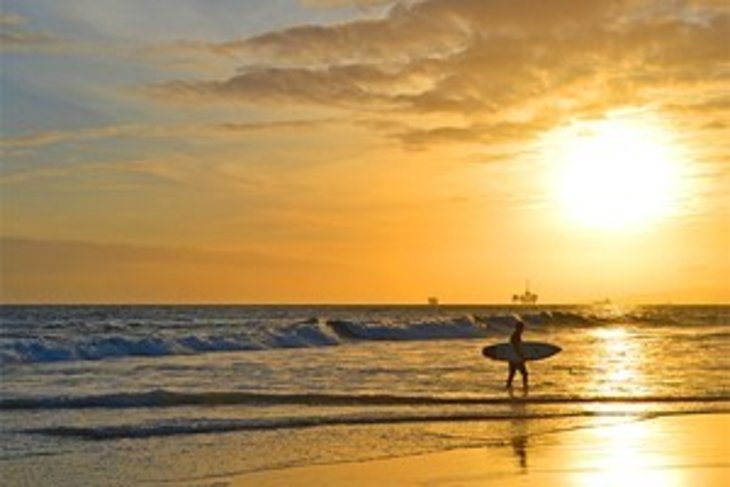 Exploring Orange County: There is a lot more to explore in Orange County, including the gorgeous seaside surroundings of Huntington Beach. For even more cultural entertainment and attractions, Irvine has great city parks, shopping districts, and plenty of warm-weather appeal.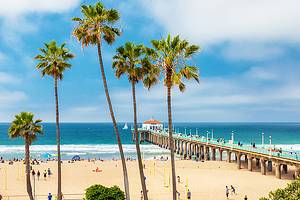 Places to Visit in Los Angeles: Our Top-Rated Tourist Attractions in Los Angeles article is a good place to start planning a Los Angeles vacation. Alongside the plentiful culture, arts, and entertainment found throughout the streets, the top-rated beaches in the Los Angeles area are a great way to beat the heat. For upscale accommodations, the top-rated resorts in the Los Angeles area provide great places to stay in fantastic locations.