13 Best Parks in Long Beach, CA
Long Beach, California, has several stunning parks to enjoy the city's nice weather. From bluff-top green spaces to lagoons teeming with wildlife, it's easy to spend the day outside. And like the city's extensive shoreline, these public spaces offer a free place to soak in the Southern California sunshine.
Picnicking, dog walking, and overlooking the ocean are everyday activities at parks in Long Beach. Other popular things to do include climbing playground equipment, photographing wildlife, and attending a concert by the Long Beach Municipal Band. Long Beach parks also cater to sports, with all types of courts and fields between them all.
While all the best parks in Long Beach differ, they each share a Southern California landscape that feels a bit like paradise. These scenic landscapes include towering palm trees and always the smell of the ocean. And while a certain degree of popularity is also a common trait, the best parks all offer a personal escape from the hustle and bustle of LA County.
Discover your own outdoor getaway with our list of the top parks in Long Beach, CA.
1. Bixby Park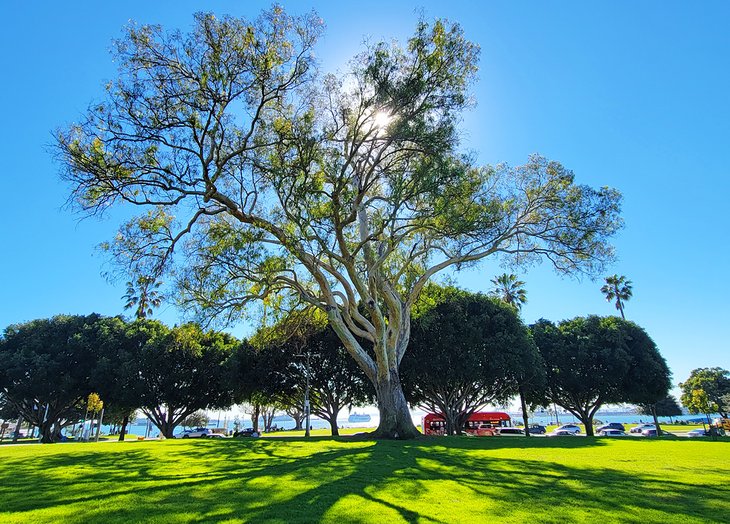 This historic park encompasses nearly 17 acres inland from Ocean Boulevard between Cherry and Junipero Avenues. This beautiful parkland was part of Rancho Los Alamitos and dates back as a public space for over 100 years. Today it's filled with historic and modern attractions.
Most of the park's facilities are between First and Second Streets. A playground, community center, and skate park draw interest to this central park area. The historic bandshell is also nearby, dating back to the 1920s and central to the famous Iowa Picnics, still occurring today. Other live music and shows take the stage throughout the year.
Bixby also comprises two different lawn spaces with magnificent trees closer to the ocean. Picnic tables and sunny spots to spread a towel are throughout this open part of the park, encouraging outside dining.
2. Bluff Park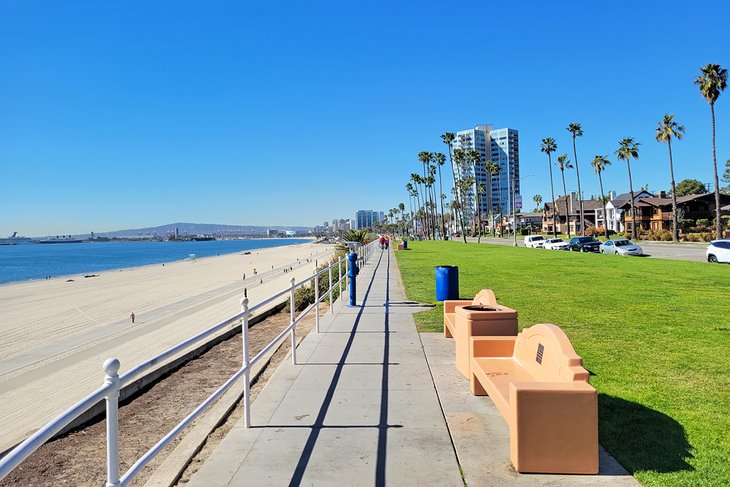 This linear park on Ocean Boulevard has one long breathtaking ocean view. This coastal vista makes Bluff Park one of the most beautiful parks in the city and a must-see when visiting. The entire park stretches for just under a mile between the roadside and beach, with parking lining the entire way.
Whether walking along the paved path or sitting on one of the many benches, the top activity at Bluff Park is looking out over the ocean. Catalina Island, the "Astronaut Islands," cruise and merchant ships, and the city's long stretch of beach are within eyesight. The landscape includes hundreds of people passing by on the Shoreline Bike Path below.
Several staircases and graded ramps lead down from Bluff Park and connect to the beach. Other park amenities include landscaping, telescopes, and memorials. And on the park's west side, the Long Beach Museum of Art makes an excellent add-on visit before or after enjoying the park.
3. El Dorado East Regional Park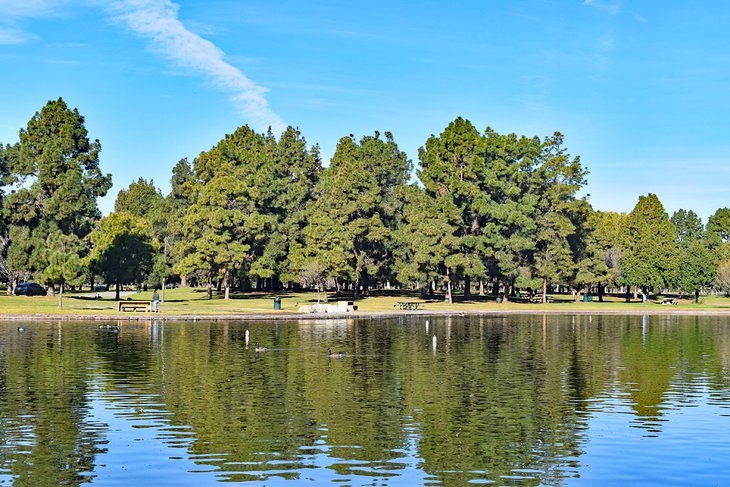 El Dorado East is a beautiful regional park covering nearly 400 acres on the city's east side, near Interstate-605. The park comprises an abundance of open green space dotted with trees, surrounding two stocked fishing lakes. Parking spots line the winding one-way road that navigates the entire park.
Other park amenities include picnic areas, playgrounds, and a physical fitness course. A paved bike trail also navigates the entire park. El Dorado is also home to model airplane and model sailboat areas. And an archery range is also on-site, home to a 1984 Olympic event and with available archery lessons.
There's a small fee to visit El Dorado East Regional Park, with less expensive rates on weekdays. The cost is per vehicle, not per person, so it pays to carpool. Reservations are required for group picnic areas.
Official site: https://www.longbeach.gov/park/park-and-facilities/directory/el-dorado-east-regional-park/
4. Shoreline Aquatic Park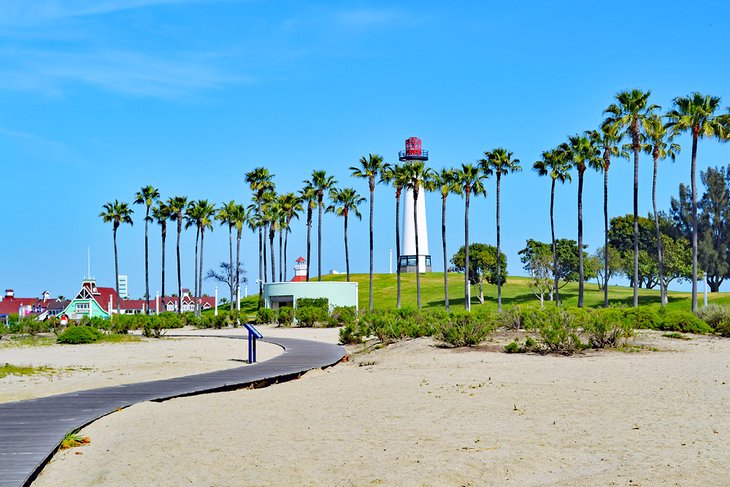 Shoreline Aquatic Park encompasses the peninsula jutting between Queensway Bay and Rainbow Harbor in the downtown waterfront. Lion's Lighthouse sits at the end of the peninsula, offering a photogenic backdrop. A fun, spiral walkway leads to the base of the lighthouse.
And in every direction is a scenic view. The harbor, the Queen Mary, and the downtown waterfront are within sight. These views alone are worth the leisurely stroll required to navigate this 12-acre park.
Shoreline Aquatic Park is also popular for picnics, with several tables spread throughout. And it's within walking distance of an array of waterfront restaurants for easy takeout. It's also a short walk to the nearby Aquarium of the Pacific, offering an easy place to regroup before or after visiting the aquarium.
5. Colorado Lagoon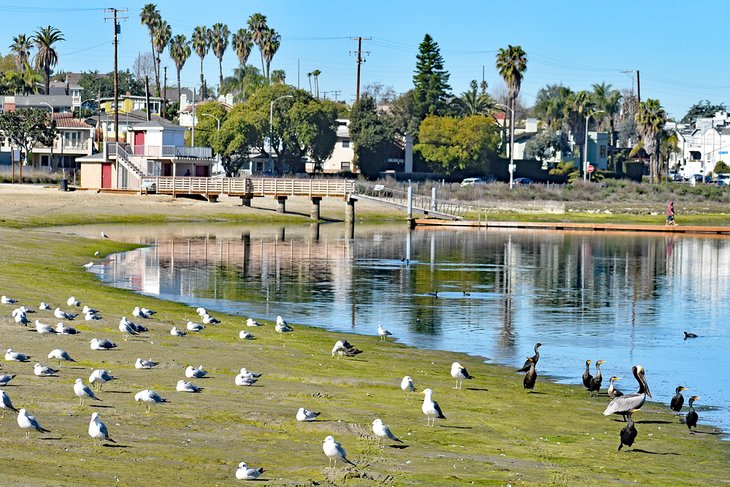 Colorado Lagoon offers a fun wetland environment to explore on the city's east side. This city lagoon was once connected to Alamitos Bay. Today, development like the nearby Marina Vista Park separates it from the saltwater. And this dynamic wetland offers several ways to appreciate its rich landscape.
Two sandy beaches invite shoreline activities on either side of Colorado Lagoon. A scenic pedestrian bridge connects these two different beach areas. Swimming is allowed when the right water conditions exist and lifeguards are on duty.
Expect to see several types of birds enjoying the wetland habitat. And for those interested in learning more about the landscape, the on-site Marine Education Science Center offers hands-on activities and educational experiences. A model boat shop also operates near the shoreline throughout the summer.
6. Hilltop Park, Signal Hill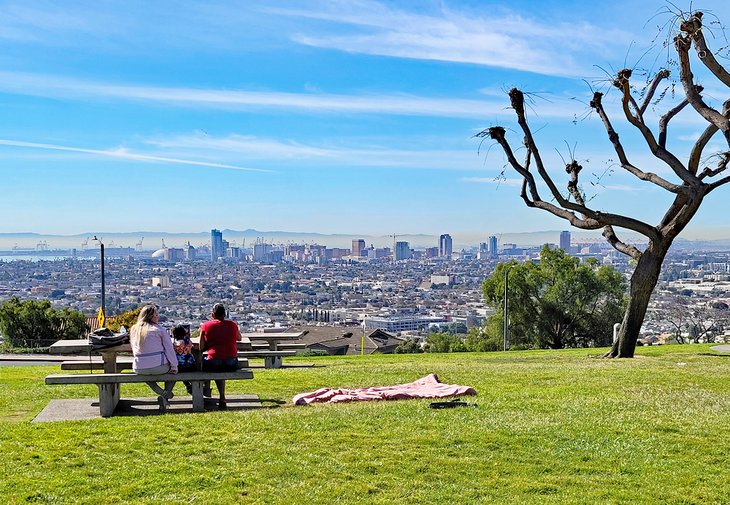 Signal Hill is one of few cities completely surrounded by another city. It's near the center of Long Beach, and the high vantage point that lends to the name, Signal Hill, offers one of the best views in Los Angeles County.
Head to Hilltop Park in Signal Hill for the best public vantage point. The sightline includes much of Long Beach and out past the ocean. This view draws visitors up the inclined roadway to the park. Benches, picnic tables, and monuments relating to the area's oil history also line this public space.
A few walking paths descend from Hilltop Park. Several of these trails pass through private land with easements for the pathway. Visitors need to stick to the designated route when exploring beyond the park.
7. Los Cerritos Park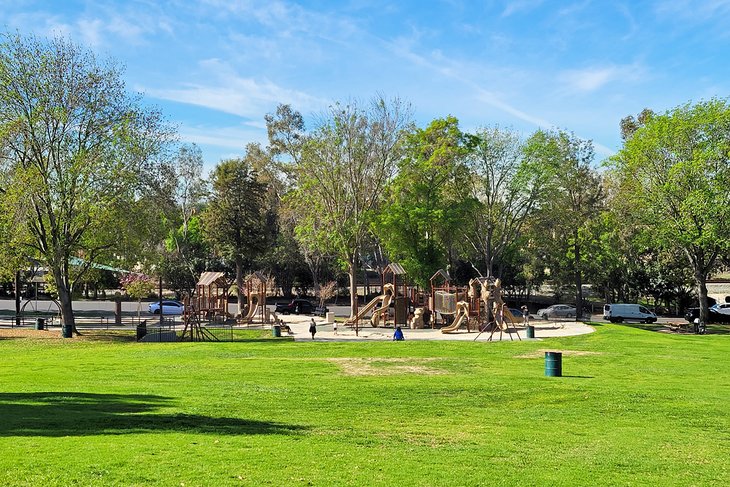 Los Cerritos is a lovely little park north of downtown, near the I-405 and I-710 intersection. It encompasses just over seven acres of grassy lawn space. It's also home to a large playground area and tennis courts. And with its landscaped nature, the park tends to be a popular spot to spread a blanket out and enjoy the day.
Los Cerritos Park is also a popular home for Long Beach Municipal Band concerts. These free and live shows occur throughout the summer. Concertgoers often bring a blanket and spread it out somewhere on the lawn that slopes toward the stage.
8. Marina Vista Park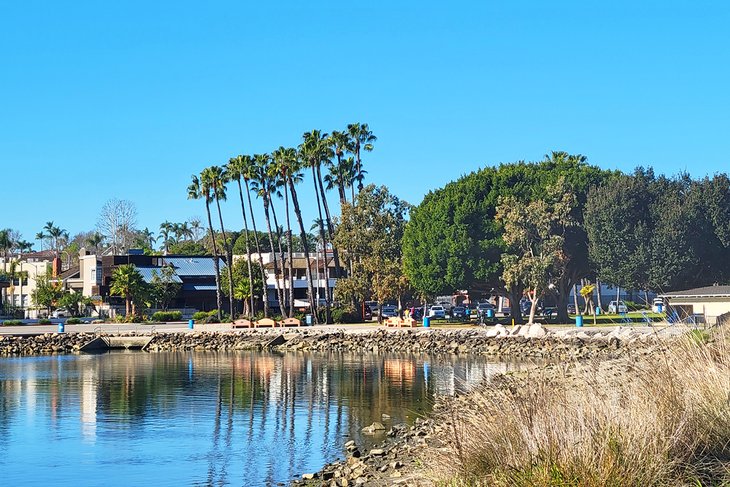 Marina Vista Park overlooks Alamitos Bay on the city's east side. The park encompasses nearly 20 acres, including this shoreline vista. The rest of the park comprises a large grassy lawn punctuated by palm and other shade-producing trees.
Marina Vista Park is also home to two soccer fields, a softball diamond, and a tennis court. There's also a playground set that's popular for kids and families. Plenty of picnic equipment is also interspersed throughout the park, encouraging a meal outside.
The entrance to Marine Stadium is at the southwest corner of the park. Parking extends along the southern shore, as does a long linear beach. This long stretch of water has been home to two Olympic rowing competitions. It also hosts several boating events throughout the year.
9. El Dorado Park West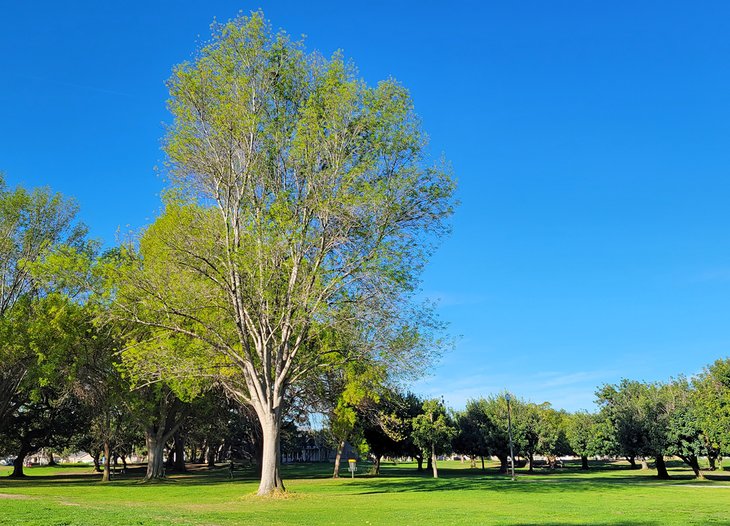 El Dorado West is on the other side of the San Gabriel River from El Dorado East Regional Park. It's operated as a city park, so there's no fee for admittance. And encompassing approximately 275 acres, the park has plenty to explore.
El Dorado Park West caters to several different sports. Lighted basketball and volleyball courts see plenty of use, as does the tennis complex with over a dozen nets. Outside of these paved sports facilities, open green space unfurls into a short but challenging 18-hole disc golf course. A skatepark is also nearby.
The southern half of El Dorado West is home to El Dorado Park Golf Course. Green fees apply at this public 18-hole course, and tee times are recommended on the weekends. A walking 18 goes for as low as 20 dollars plus tax on the weekdays.
10. Heartwell Park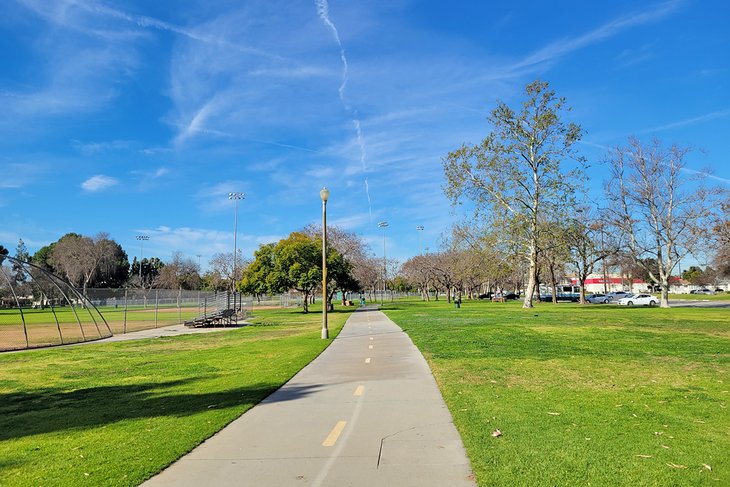 Heartwell Park is a 158-acre linear park on the northside of town, bordering Carson Street. The park is broken into four sections split between Bellflower Boulevard, Woodruff Avenue, and Palo Verde Avenue. The farthest east parcel of land is home to the public 18-hole Heartwell Golf Course.
The other three parcels are open parkland, all connected by a winding paved path. Throughout this remaining 120-plus acres, several sports facilities encourage league games and intramural sports. Heartwell is home to baseball, soccer, and softball fields, and basketball, volleyball, and roller hockey courts.
The length of Heartwell also makes it a popular park for walking or jogging. Excluding the golf course, the park stretches for a mile and a half as the crow flies. The path through the park doesn't follow a straight line, however, adding more length to a walk or run.
11. Scherer Park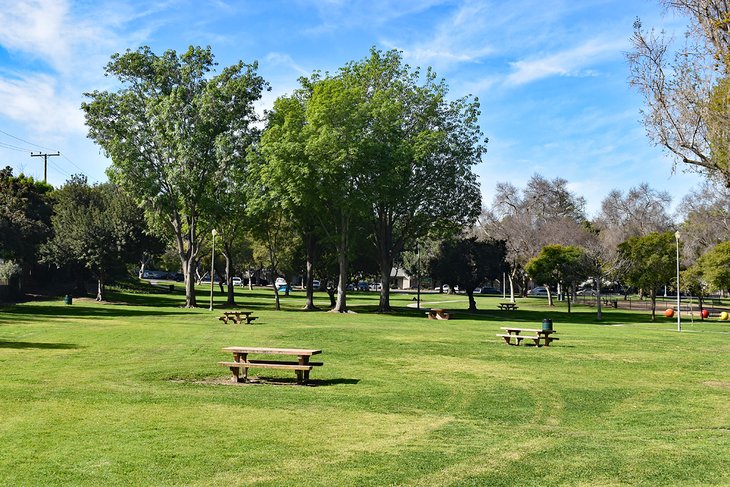 This 26-acre neighborhood park is on the north side of town, near Virginia Country Club. It's a quiet, linear park with a paved pathway navigating the entire grassy space. It's a popular spot for idle afternoons or pleasant strolls through parkland.
Sports like basketball, tennis, and volleyball all have courts available at Scherer. Other amenities at the park include a playground and ample picnic facilities. There's also a small pond on the park's east side, with a small island in the middle that's a popular refuge for birds.
12. Livingston Drive Park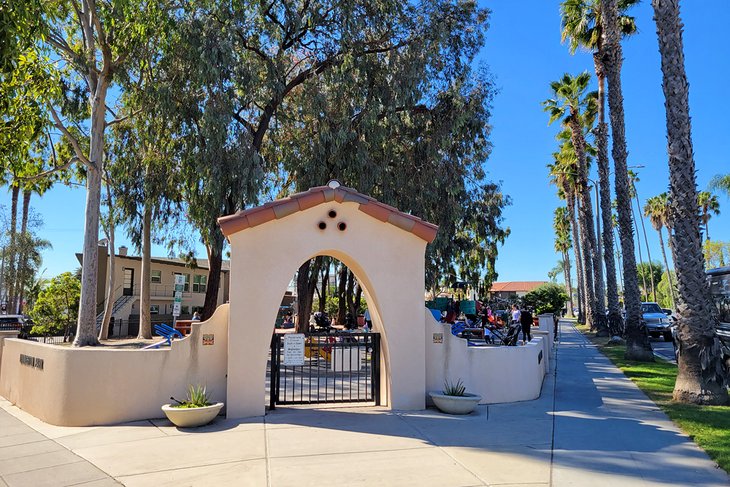 This small park borders Livingston Drive toward the east side of the city. It's a relatively quiet park, except at its western end, where the Livingston Park Playground is always bustling with children. Neighborhood residents banded together and installed this playground in 1989, and it's been a big hit with families ever since.
The rest of the park comprises primarily open grass with shady trees at its border. A path navigates this open park area, with benches placed throughout. And for an extra adventure, heading west on Livingston Drive ends at the ocean and the Belmont Pier with less than a mile drive.
13. Beaches of Long Beach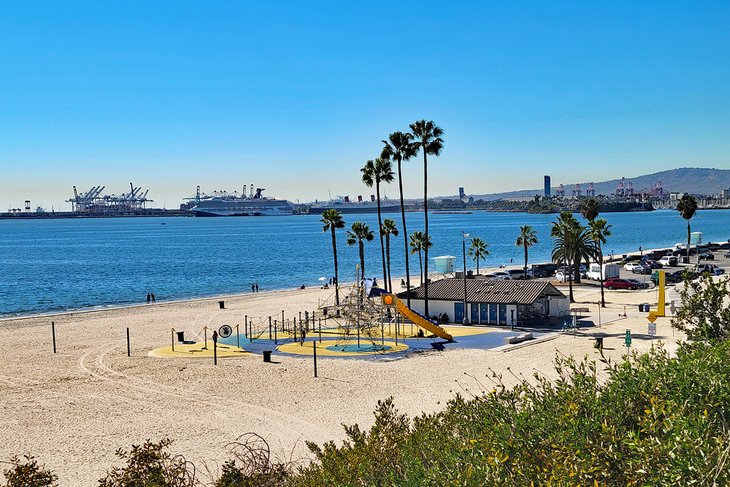 Long Beach has over four miles of south-facing shoreline on the Pacific Ocean, all of which are free to the public to explore. This sandy stretch of beach offers similar amenities to the best parks in Long Beach, although much less shade.
The shoreline of Long Beach is broken up into different beaches. Alamitos Beach is the farthest west, closest to the downtown waterfront. Near the center, Junipero Cherry Beach, also known as City Beach, is perhaps the most popular. And together, this sprawling shoreline has rooms for hundreds of sunbathers.
Farther east, away from downtown, Rosie's Dog Beach and the Belmont Pier offer different types of beach getaways. Rosie's is always popular with free-roaming dogs, and Belmont Pier provides shopping and dining within eyesight of the ocean.
The Long Beach Shoreline Bike Path navigates the entire shoreline. This paved pedestrian path has two lanes: one for non-motorized travel like bicycles and rollerblades, and the other for walking or jogging.