15 Top-Rated Attractions & Things to Do in Huntington Beach, CA
Huntington Beach is an ocean-facing city in Orange County, Southern California. It's home to over 10 miles of sandy beaches and scores of surfing competitions, including the U.S. Open of Surfing. The primo waves of Huntington Beach and the overall laid-back atmosphere of this coastal city lend credence to its preferred nickname: Surf City U.S.A.
The Huntington Beach Pier is the centerpiece beach attraction and local landmark of the city, extending 1,800 feet into the ocean. This tourist-friendly pier directly connects to Main Street and the downtown district. Main Street and the pier are buzzing with activity throughout the day and into the night, providing great spots to catch the sunset, ride some waves, or enjoy the local flavor of the community.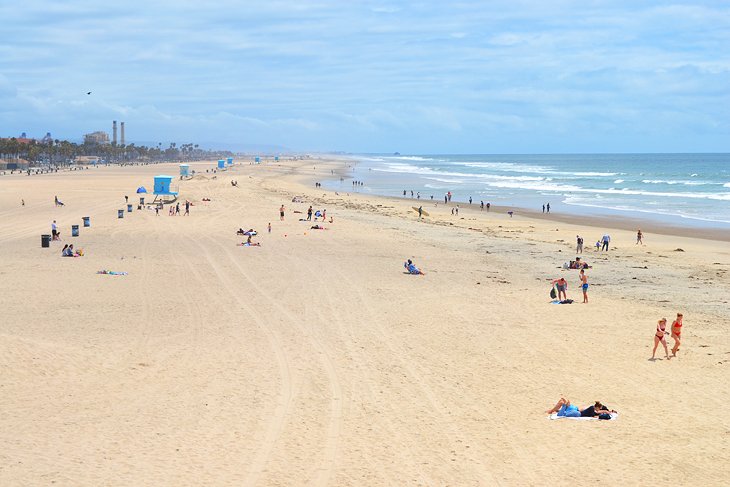 But the beach and pier are not the only Huntington Beach tourist attractions. This SoCal city also delivers with parklands, shopping districts, and surfing museums. It's also home to an array of landscapes, including verdant wetlands at the Bolsa Chica Ecological Preserve. And with the rest of Orange County within a short drive or bus ride, Huntington Beach offers endless activities.
Enjoy your next Southern California adventure with these top things to do in Huntington Beach.
1. Huntington City Beach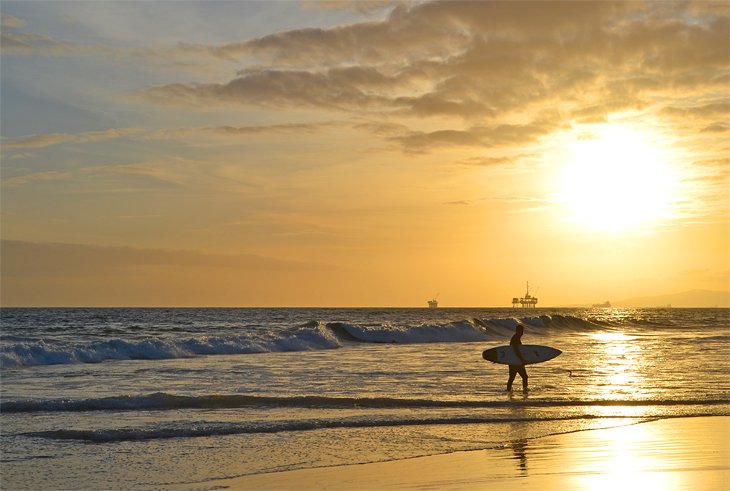 Huntington City Beach is the postcard backdrop of the downtown district, extending for over three miles along the shore. This abundant beach space provides all the necessities for a fun day in the sun. Alongside highly trained lifeguards, visitors also find volleyball nets, fire pits, concession stands, and public restrooms with showers.
The Huntington Beach Pier is the centerpiece attraction of the beach. Rentals including fishing gear, and kites are available on the pier, as well as excellent seats to enjoy the view. Many of the sunbathers and beach loungers tend to fill out the beach on either side of the pier.
The Huntington Beach Bike Trail is a popular path that traverses the backend of the beach. This paved pathway parallels the city's entire shoreline. Visitors can take the Beach Bike Trail to Huntington State Beach to the south and Huntington Dog Beach to the north.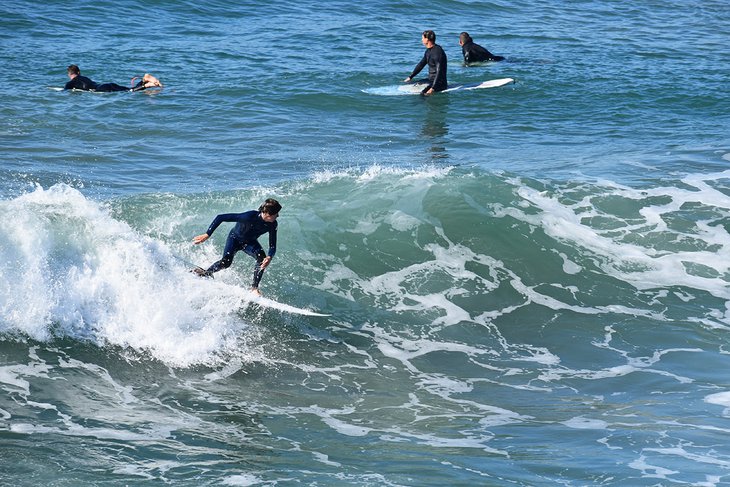 Huntington City Beach hosts millions of visitors each year, as well as professional sports competitions, including the U.S Open of Surfing. It's one of Southern California's iconic beaches and a must-see on any coastal vacation.
2. Huntington Beach Pier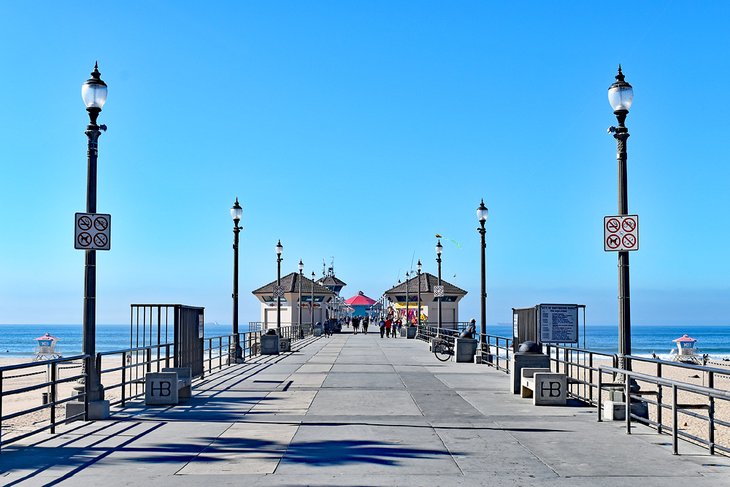 The Huntington Beach Pier extends from downtown Main Street out over the ocean. It's an iconic landmark of the city and a must-see attraction. Fishing poles and photo opportunities line all 1,800 feet of the pier, and about halfway down, a specialty kite store proudly demonstrates the abilities of their high-flying kites and streamers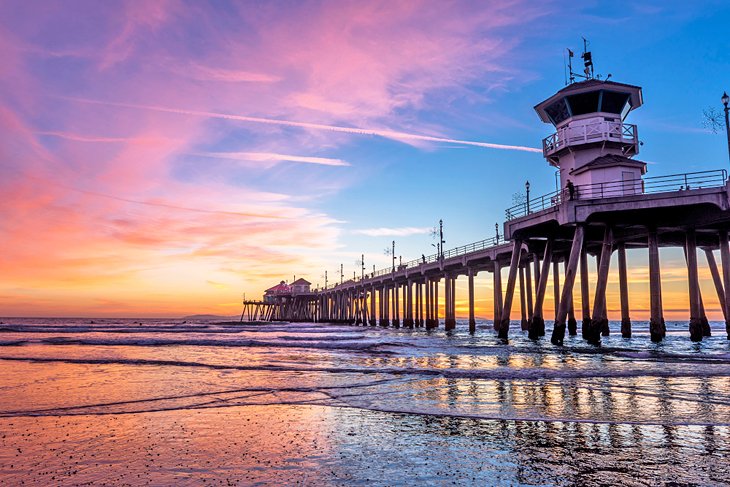 Other businesses on the pier include the Surf City Store, specializing in souvenirs and beach gifts, as well Let's Go Fishing, a fishing rental, and a tackle shop. And on either side of the pier, surfers catch waves and sometimes ride beneath the pier if the timing is right. Plenty of benches line the entire pier to sit and enjoy the ocean show.
Location: Main St. and Pacific Coast Highway, Huntington Beach, California
3. Downtown Huntington Beach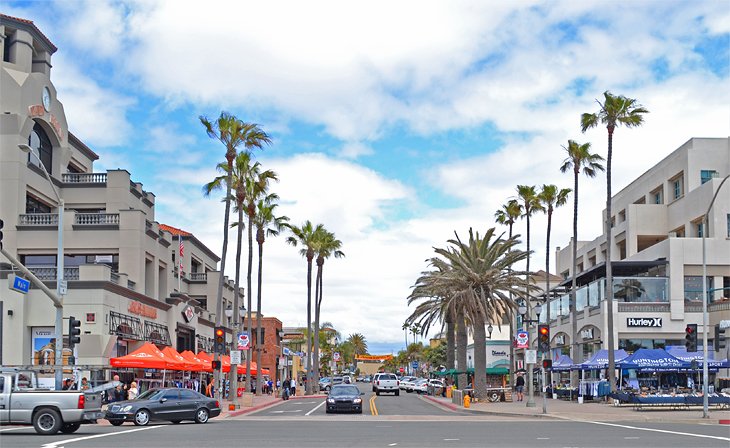 Shops and restaurants pair nicely with the palm trees on Main Street, as does the sound of the ocean nearby. Surf shops, souvenir stands, and vintage apparel comprise much of this downtown district, as well as the latest in beach fashion and design.
Shopping and dining can also be found on the adjacent Fifth Street and along the Coast Highway. It's a fun area to walk around and inspect several clothing racks and table displays on the sidewalks outside with the usually pleasant forecast. Farther south on the Coast Highway, Pacific City offers even more retail shops to explore alongside comfortable lounge areas with a coastal flavor.
Every Tuesday evening, shopping stands and food trucks take to Main Street for Surf City Nights, a weekly community celebration with live music. This is a lively time to visit and a difficult time to find a parking space.
4. Huntington Central Park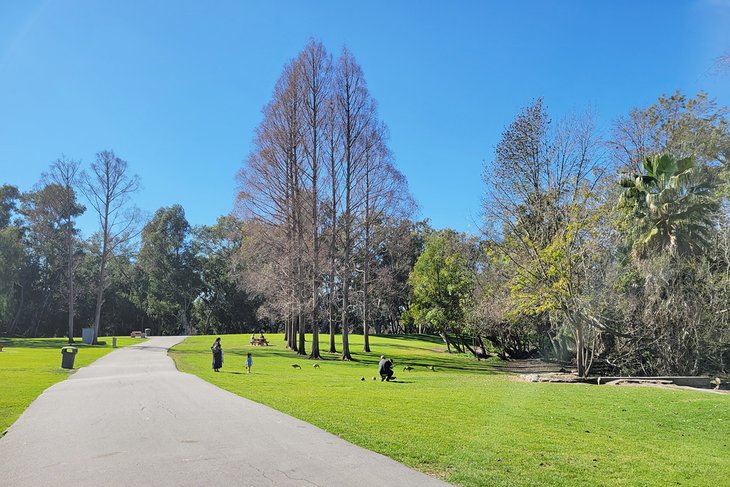 Huntington Central Park is the largest city-owned park in Orange County, spanning an impressive 356 acres and providing nearly endless opportunities to enjoy the natural space. This massive park is split between East and West sections on either side of Goldenwest Street. And both sides have a growing collection of community attractions.
Huntington Central Park East is home to the beautiful Huntington Beach Central Library and an adjacent Secret Garden. This bustling area of the park is also home to a winding paved trail that navigates the wide-open woodland and riparian habitat. Along this trail, the Park Bench Café is a dog-friendly spot to order brunch outside.
On the other side of Goldenwest, Huntington Central Park West has other attractions, like the Shipley Nature Center, featuring bird, butterfly, and hummingbird gardens. A player-favorite disc golf course is also on the west side of the park, including a mobile pro shop selling Frisbees and snacks.
Simply strolling or biking the trails is a great way to enjoy either side of this massive park. Benches and scenic sitting spots line the paths, making for excellent places to pack a picnic. Exercise stations also line the route for 1.2 miles, providing 18 different fitness stations that encourage some cross training.
Address: 18381 Goldenwest Street, Huntington Beach, California
5. Bolsa Chica Ecological Reserve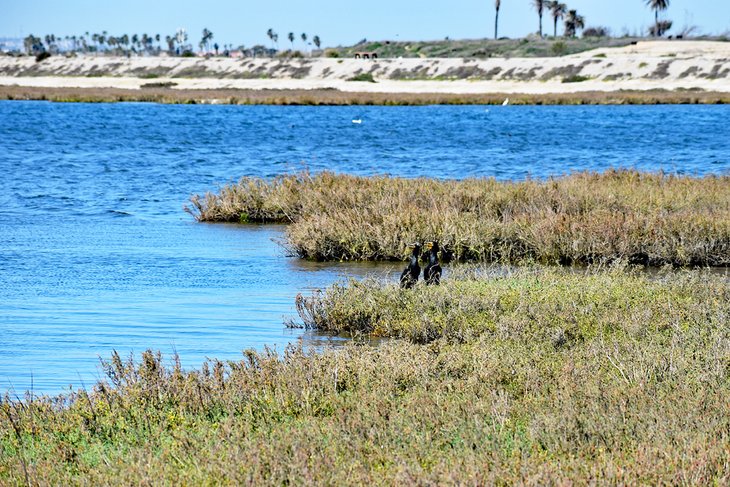 The Bolsa Chica Ecological Reserve is a 13,000-acre coastal estuary north of downtown. It's a popular spot for birders and photographers, and even more popular for birds and wildlife. The reserve encompasses a four-mile network of trails linking scenic viewpoints throughout the dynamic habit.
Landscapes on display at Bolsa Chica include salt marshes, coastal dunes, and wetlands. The on-site Interpretive Center operated by the Bolsa Chica Conservancy provides additional information about the critical habitat, as well as free docent-led tours on the weekends.
Address: 18000 CA-1, Huntington Beach, California
Official site: https://www.wildlife.ca.gov/Lands/Places-to-Visit/Bolsa-Chica-ER
6. Pacific City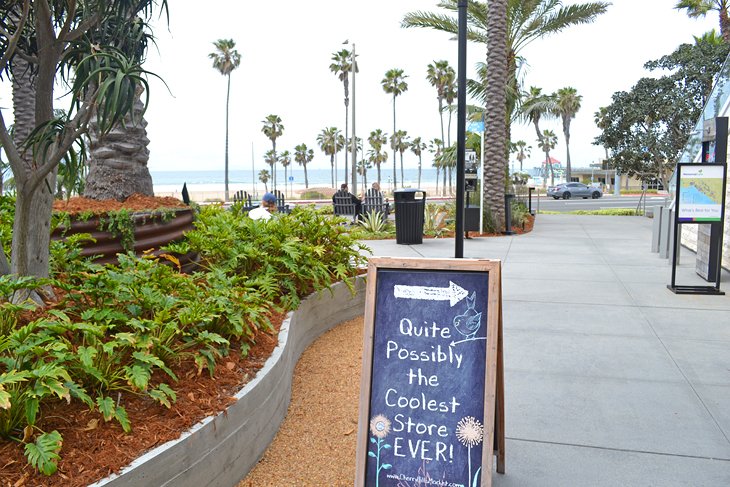 Pacific City is a vibrant collection of retail, service, and dining establishments clustered together on beautiful grounds. This shopping experience is on the Pacific Coast Highway,overlooking the ocean, less than a half-mile south of the Huntington Beach Pier.
This trendy shopping center features chic clothing brands, fresh flavors, and a resort-like gym, with comfortable lounge and seating areas spread throughout. The American food hall, Lot 579, satisfies multiple appetites at Pacific City, and scheduled events like movie and yoga nights are worth noting on the calendar.
Address: 21010 Pacific Coast Highway, Huntington Beach, California
Official site: https://www.gopacificcity.com
7. Huntington Beach Art Center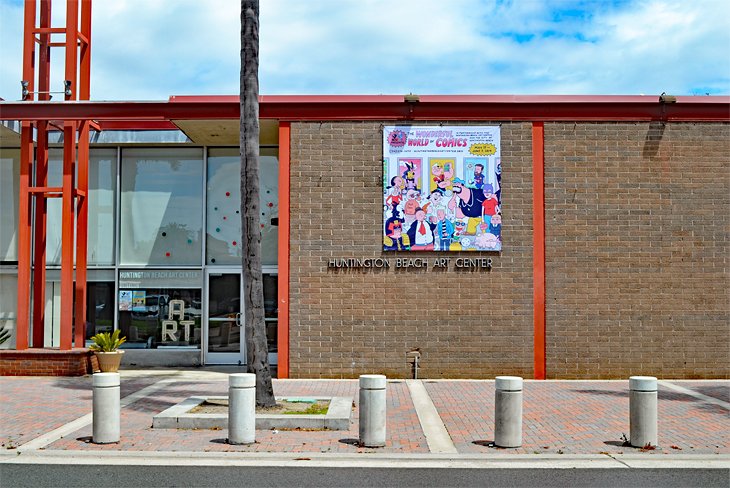 On Main Street, a short walk from the downtown district, the Huntington Beach Art Center displays a wide variety of rotating artwork. The museum encompasses multiple mediums, and past exhibits have included "The Art and Soul of Surfing" and "The Wonderful World of Comics."
Alongside ample art on display, the Art Center also hosts monthly meetups and family art days. Education programs are also available at the Art Center, with specific classes designed for adults and teens, youth, and preschoolers. The center is also home to a Summer Art Camp for ages 6-12.
Address: 538 Main Street, Huntington Beach, California
Official site: https://www.huntingtonbeachartcenter.org/
8. Old World Village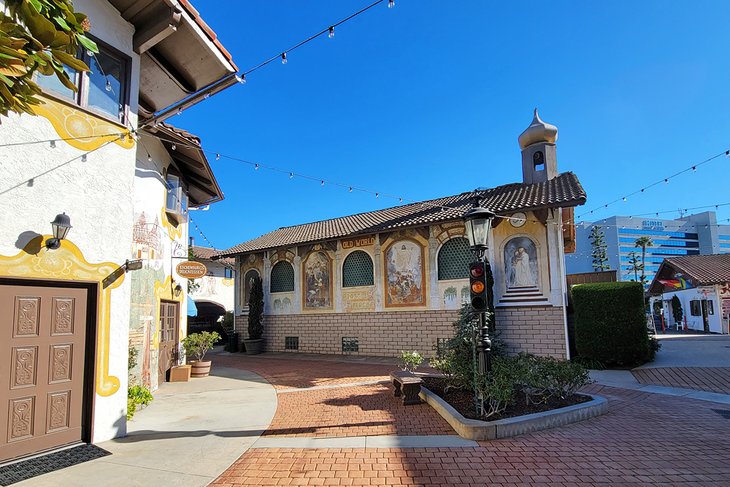 Old World Village is a charming Bavarian entertainment district on the city's northside, near the intersection of I-405 and Beach Boulevard. Cobblestone streets line this compact commercial district, aglow in lanterns come nightfall. And among the Old World street signs, several themed shops and restaurants beckon.
For dining, you can't beat the authentic fare, like bratwurst and schnitzel at the village's German Restaurant. Other culinary explorations nearby include Turkish coffee at The Coffee Table and pastries at Gourmet Strudel and Cafe. The German Deli is also popular, featuring made-to-order sandwiches and plenty of items to go.
The shopping selection at Old World Village ranges from musical instruments to fashion at boutiques and salons. The village is also home to a toy shop, clock shop, and souvenir shops. And several art and photo galleries catch the eye while perusing this Bavarian district.
9. Shipley Nature Center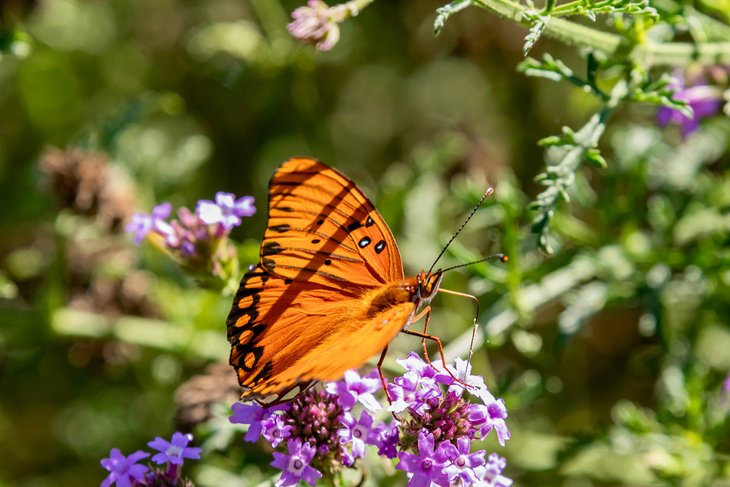 Shipley Nature Center maintains 18 acres of natural California habitat within Huntington Central Park West. This landscape includes eight distinct habitats, ranging from a Torrey pine forest to coastal scrub. Wildlife is commonly sighted amid this protected acreage, especially birds, so bring some binoculars.
A less-than-a-mile interpretive trail navigates the property. First-time visitors are encouraged to pick up a trail guide that identifies the flora encountered along the way. And any visitors are encouraged to stop by the Interpretive Center at Shipley, where dioramas and exhibits offer more habitat insight.
The Nature Center hosts several programs and workshops throughout the year. Perhaps the most popular are the composting classes offered in the spring and fall.
10. Huntington Dog Beach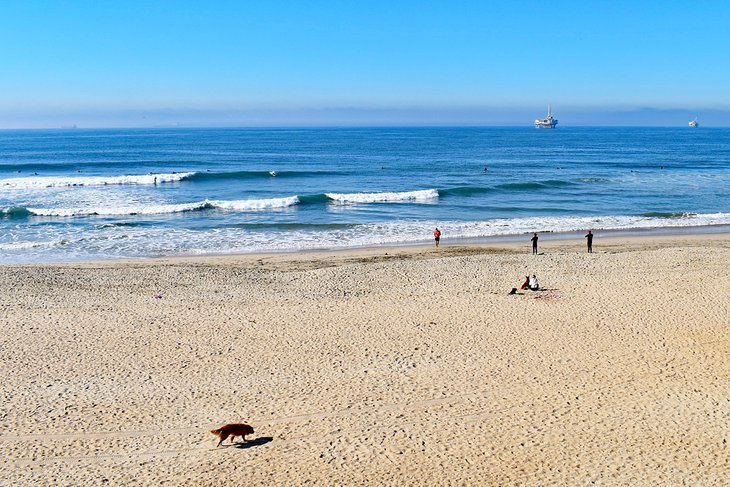 Huntington Dog Beach is perhaps the happiest place in Huntington Beach. That's because this 1.5-mile stretch of sand is "off-leash optional" for canine companions, lending to plenty of room to roam free.
The Huntington Dog Beach stretches between Goldenwest Street and Seapoint Street, paralleling the Pacific Coast Highway the entire way. Two large lots north of Goldenwest Street are the closest parking locations.
Huntington Dog Beach is not fenced in. Owners are asked to pick up after their pet, and dog bags are available.
Official site: https://www.dogbeach.org/
11. Surf City Nights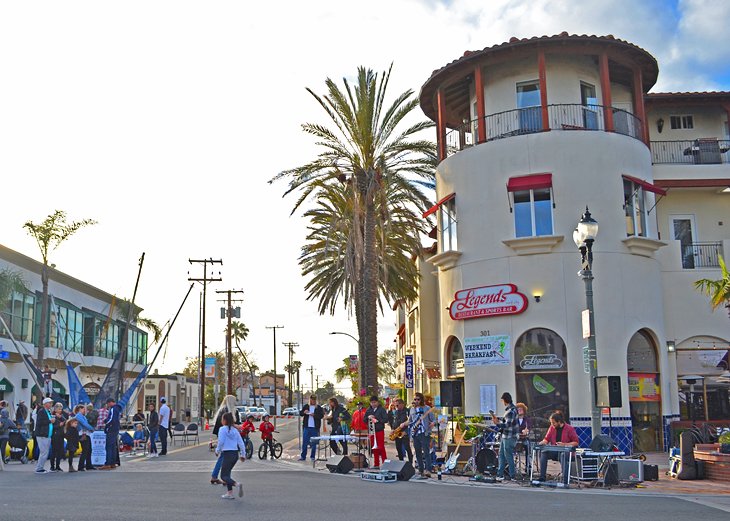 Every Tuesday after 5pm, Surf City Nights takes over three blocks of Main Street in downtown Huntington Beach. Featuring live music at every intersection, and two long rows of locally made crafts and organic produce, this community festival really picks up as the sun sets on the neighboring Huntington Beach Pier.
Food trucks also join in on the fun, purveying street fares like burritos, empanadas, and burgers. The good energy and cheer is nearly electric during this community celebration, and simply watching the people walking by is part of the experience.
Official site: http://www.surfcitynights.com/
12. Huntington Beach Central Library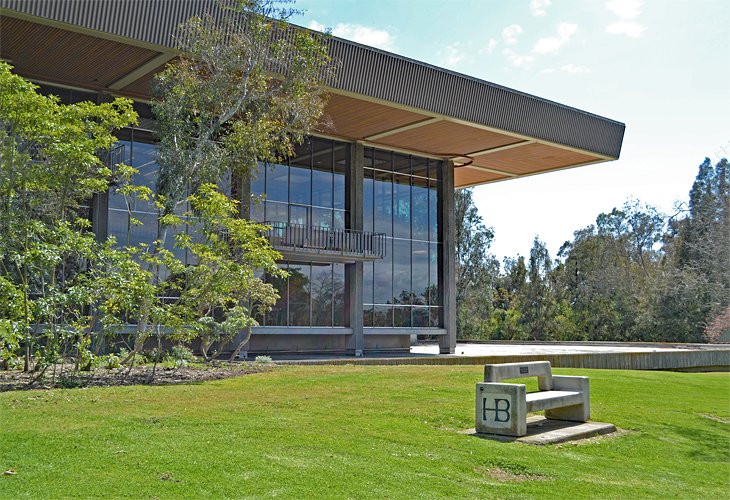 The Huntington Beach Central Library is a stunning piece of public property, worth the visit whether you want to check out a book or not. It's within Huntington Central Park East, set among acres of riparian woodland.
The Central Library has indoor fountains, labyrinthine rows of books, half floors, and a surplus of study space lined with outlets. It's a unique space, and fans of public libraries will want to visit and also check out the Secret Garden out the backdoor of the library. This xeriscape garden engulfs visitors in a vibrant Southern California landscape.
Address: 7111 Talbert Avenue, Huntington Beach, California
13. Huntington Harbour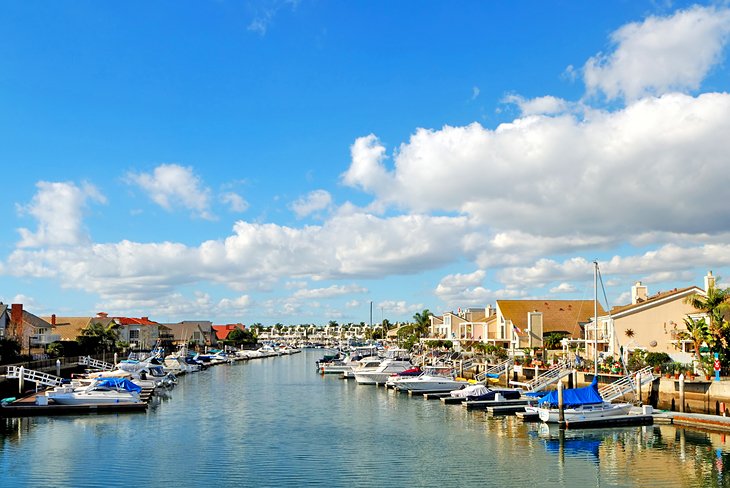 Huntington Harbour is a collection of man-made islands and places to park a vessel. This popular and scenic harbor is near Seal and Sunset Beach on the northwest tip of the city. And accessing the ocean is easy from the harbor by navigating under the Pacific Coast Highway via a bridge.
Two-hour guest slips are available for those who want to park their boat and enjoy the boardwalk, and the on-site Peter's Landing Marina offers a variety of boat rentals. Peter's Landing Marina is also the place to book chartered fishing expeditions.
14. Newland House Museum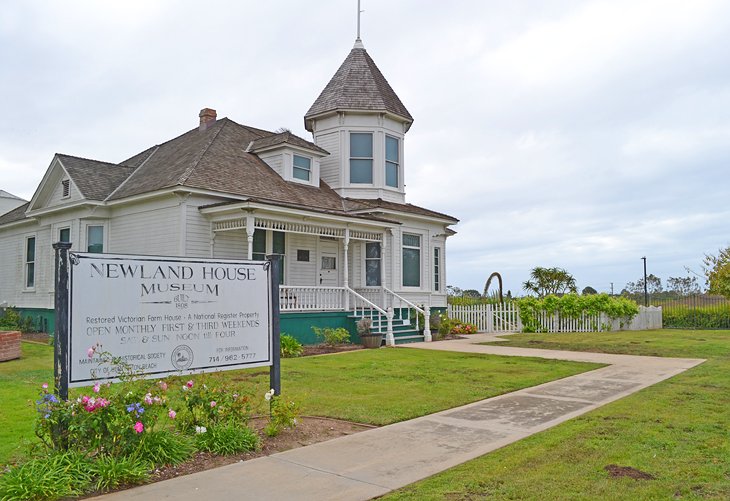 Constructed in 1898 for the Newland Family and their 10 children, the Newland House is now the oldest and best-kept residence in Huntington Beach. The museum offers an authentic glimpse into a time when there was a lot less traffic in California. Tours and upkeep of the Newland House Museum are provided by the Huntington Beach Historical Society. Tours are offered every first and third weekend of the month. The adjacent Newland Barn features modern renovations and rentable space for special occasions.
Address: 19820 Beach Boulevard, Huntington Beach, California
Official site: https://www.hbhistory.org/newland-house-museum
15. Pacific Coast Highway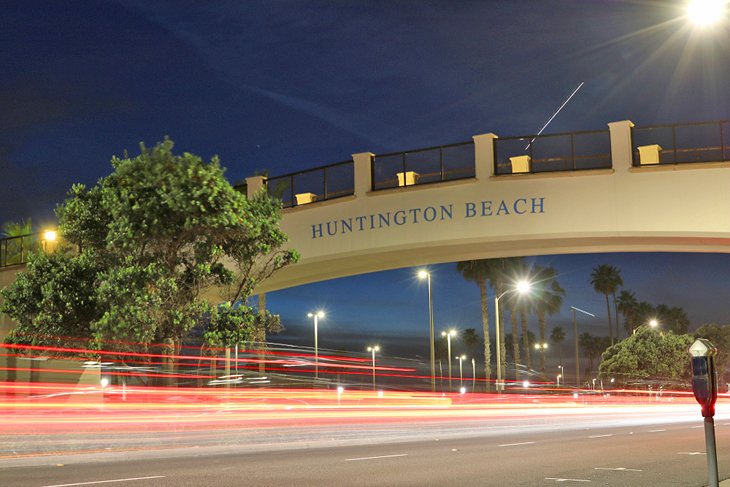 Huntington Beach is a prominent stop along the state-spanning Pacific Coast Highway, also referred to as California State Route 1. This iconic roadway runs the length of Huntington's shoreline, separating significant attractions like Main Street and the Huntington Beach Pier.
The Pacific Coast Highway curves around 600 miles of the California coastline, connecting several other notable places to visit, like Pismo Beach, Big Sur, Monterey, Santa Cruz, and San Francisco. And near its northern terminus, the highway cruises deep into Northern California's Redwood Country.
Directly south of Huntington Beach, other worthy stops on a road trip include the postcard-worthy cities of Newport and Laguna Beach. To the north of Huntington Beach, outside of Los Angeles, State Route 1 connects with Long Beach and Santa Monica.
This long list of places cements California State Route 1 as a top West Coast road trip. Hotels line the route, and numerous state parks, national forests, and places to camp are also up and down the highway.
Map of Attractions & Things to Do in Huntington Beach, CA
Huntington Beach, CA - Climate Chart
Average minimum and maximum temperatures for Huntington Beach, CA in °C
J
F
M
A
M
J
J
A
S
O
N
D

18

9

18

10

18

11

19

12

19

14

20

16

22

17

23

18

23

17

22

15

20

11

18

9

PlanetWare.com
Average monthly precipitation totals for Huntington Beach, CA in mm.

66

65

57

18

5

2

1

2

8

7

26

40
More Related Articles on PlanetWare.com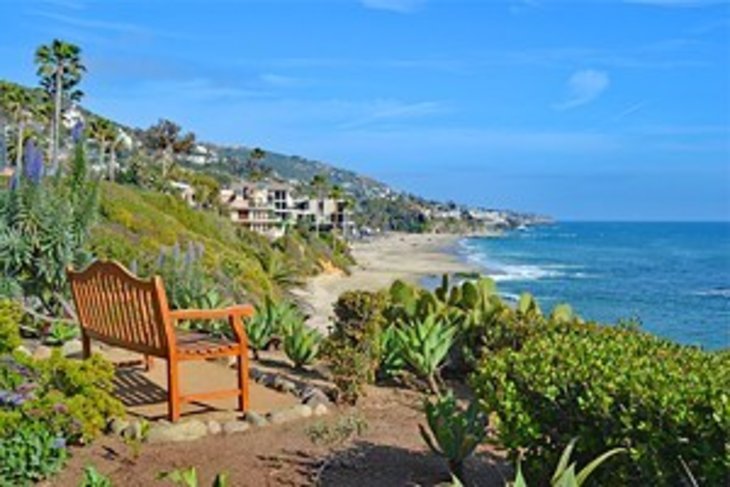 More to Explore in Orange County: Surrounding and exemplified by Huntington Beach, Orange County has some of the most unrivaled beauty in the United States. The nearby coastal city of Laguna Beach is known for its jaw-dropping shoreline, and the quick commute over to Anaheim delivers tourists to the Happiest Place on Earth, also known as Disneyland Resort. Over in Irvine, attractions like the Irvine Spectrum Center and Orange County Great Park produce plenty of repeat visits.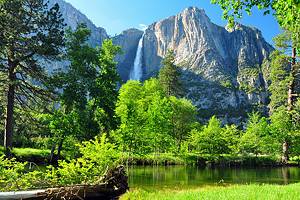 Discovering California: From the desert to the ocean and including miles of mountains, rivers, and volcanoes, the state of California offers a lifetime of exploration. For some essential California travel ideas, our Best Places to Visit in California article is a good place to start planning. To connect the state's attractions, the best West Coast road trips deliver on scenic itineraries. For more sandy situations, the top-rated beaches in California put you next to the shore.