17 Top-Rated Attractions & Things to Do in Irvine, CA
Irvine is a postcard-worthy destination of Orange County and an economic center of Southern California. Well-executed city planning and diverse natural spaces provide tourists plenty of places to explore, including wildlife sanctuaries, children's museums, and one great park after another. And with its proximity to everything else in Orange County, it's a common hub for travels in the region.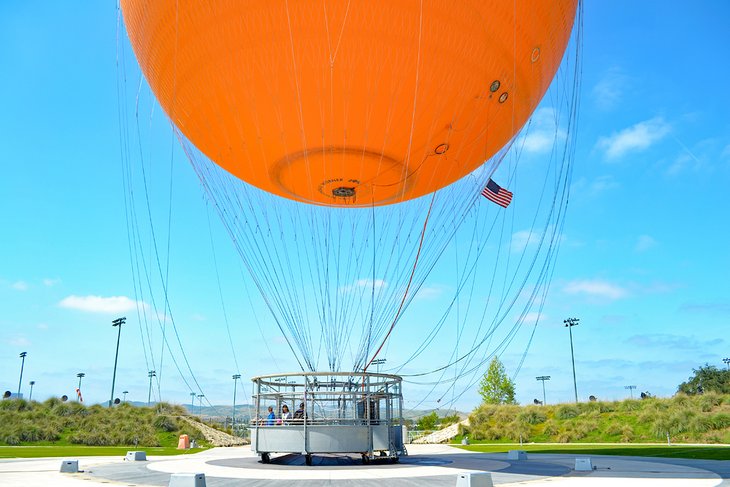 Other things to do in the typically sunny weather of Irvine include catching a soccer game, exploring an open space preserve, and catching an outdoor music festival. And for those interested in a shopping experience, the first place to visit is the Irvine Spectrum Center, complete with a Ferris wheel.
For those looking to make Irvine a jumping-off point for extended adventures, several easy day trips are within a short drive. This proximity includes ocean adventures, with the neighboring city of Newport Beach providing the fastest route to the ocean. Irvine is also under an hour's drive from Los Angeles, for those wanting to visit or take a break from the city.
Enjoy the Southern California sunshine with our list of the top attractions and things to do in Irvine, California.
1. Irvine Spectrum Center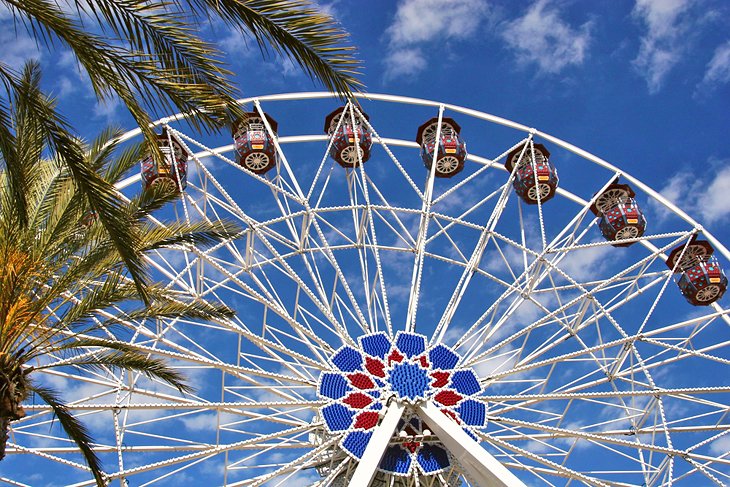 Retail shops, landscaped fountains, and plenty of attractions line the Irvine Spectrum Center, a sprawling outdoor shopping area near the junction of I-5 and I-405.
Several notable retailers are within the Spectrum Center, including The Denim Lab and Lululemon. And of the many restaurants available, popular eateries include Umami Burger and Afters Ice Cream. Dave and Buster's also tends to be a popular place to eat and play, featuring adult arcade games and American fare.
It's not just shopping and dining that defines Irvine Spectrum Center–plenty of free or low-cost attractions add to the experience of visiting. The hardscaping and manicured gardens add a nice touch to strolling around, and features like a carousel and giant Ferris wheel are popular with kids. Weekend entertainment also adds a soundtrack, including live music playing throughout the courtyards.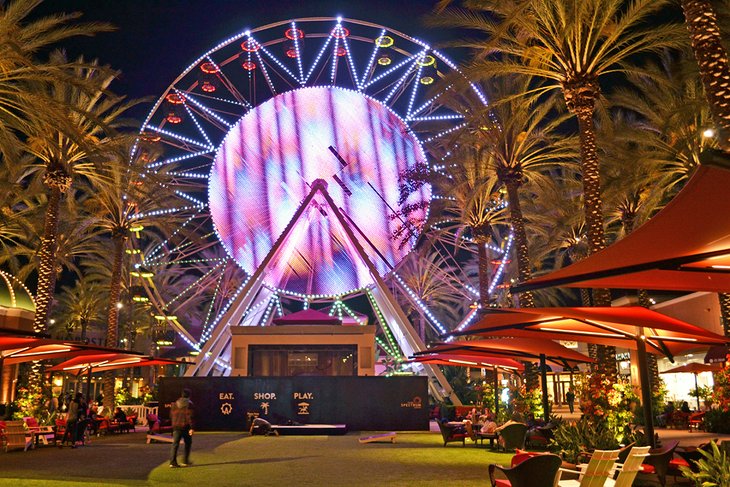 While a day visit is always recommended, the Spectrum Center really lights up at night and provides cooler temperatures for walking around. A brilliantly lit movie theater illuminates a large plaza adorned with fountains, across the way from the Irvine Improv comedy theater, where big-name comedians entertain a crowd every week.
A virtual reality experience is also popular at the Irvine Spectrum Center, with SPACES arcade featuring an immersive experience battling robots á la The Terminator movie.
Address: 70 Spectrum Center Drive, Irvine, California
Official site: https://www.irvinespectrumcenter.com/
2. Orange County Great Park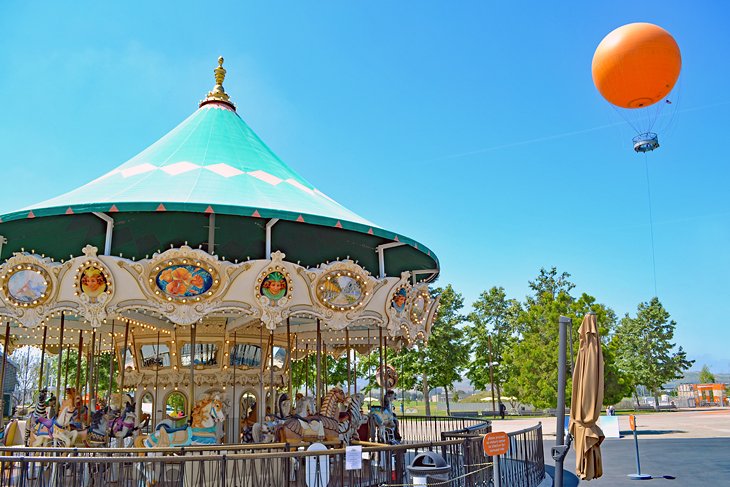 Orange County Great Park is a top spot to spend time outdoors in Irvine. It encompasses over 1,300 acres on what used to be a former Marine Corps air station and features a growing number of amenities and attractions that go well beyond running water and picnic tables.
The centerpiece attraction of the park, the Great Park Balloon, takes tourists 400 feet into the air for a bird's-eye view of the park and the surrounding region. And adjacent to the Great Park Balloon, the Palm Court Art Complex features the Great Park Gallery and a 10,000-square-foot event center converted from a former military hangar.
Other attractions of Orange County Great Park include a kid-favorite carousel and an airport hangar with preserved aircraft on display. The Great Park also features a multi-use sports complex, rotating art exhibits, and freshly picked foods at The Farm + Food Lab.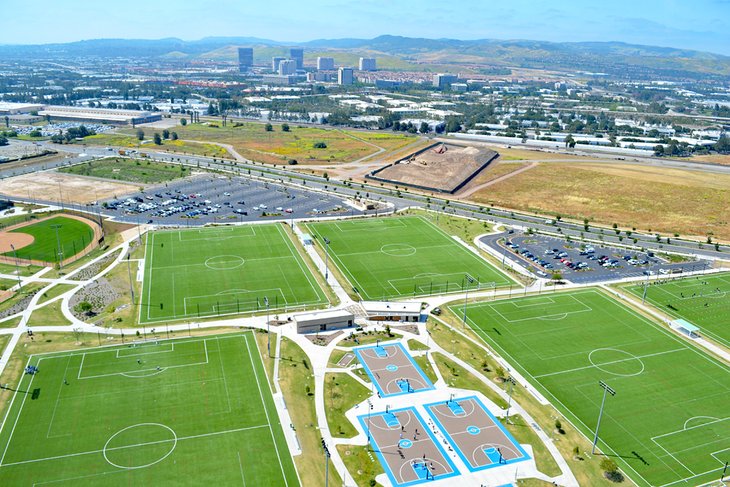 The Great Ice Park is the newest addition to Orange County Great Park, offering year-round public skating and events.
Address: 8000 Great Park Boulevard, Irvine, California
3. San Joaquin Wildlife Sanctuary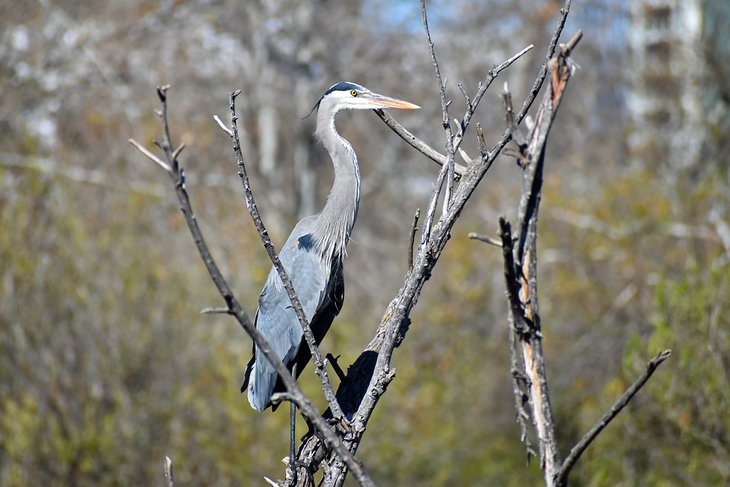 The San Joaquin Wildlife Sanctuary is a true wilderness area within city limits. The easy accessibility of this wildlife haven is a big draw, especially for birders and photographers. The wildlife sanctuary comprises several ponds throughout the property, with 10-plus miles of trails that navigate through the marshy terrain.
Trails range from wide dirt roads to narrower foot trails farther into the sanctuary. Few visitor resources are available, and everyone should bring their own water, and pack out any trash. The sanctuary is open from dawn until dusk every day.
Address: 5 Riparian View, Irvine, California
4. William R. Mason Regional Park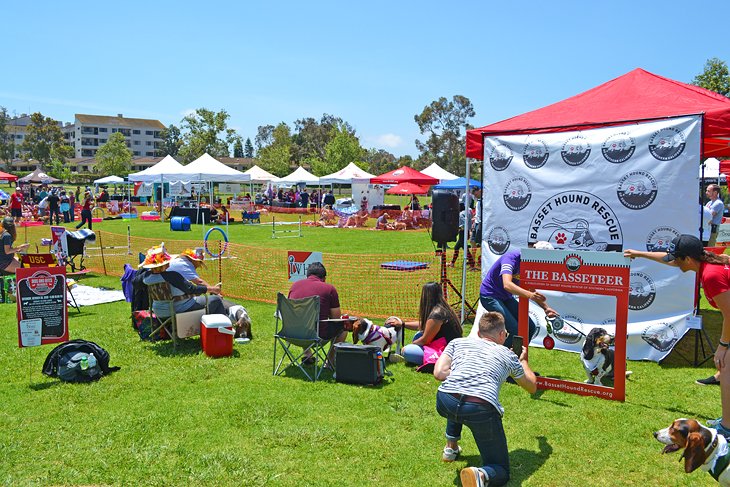 William R. Mason Regional Park offers family fun and free outdoor things to do with over 300 acres to explore. Hiking and biking trails lace the park, connecting popular amenities like a large lake, model-boat sailing areas, and three toddler play spaces perfect for burning off some extra energy. The park is also home to a designated wilderness area ripe for exploring.
Address: 18712 University Drive, Irvine, California
Official site: http://www.ocparks.com/parks/william/
5. Newport Beach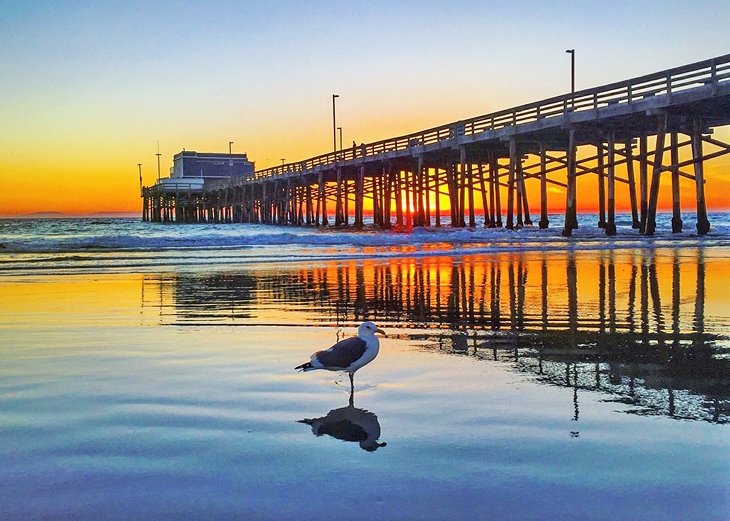 Newport Beach is a charming coastal city centered around one of the largest recreation harbors on the West Coast. And the city offers the fastest route to the ocean from Irvine, accessible with less than a 10-mile drive.
Rollerblading, walking along the shore, and enjoying a sunset cruise are a few ways to take in the stunning beauty of Newport Beach. Other avenues of attraction include boutique shops and local restaurants lining the harbor. And always in view are the million-dollar mansions nearby.
6. Tanaka Farms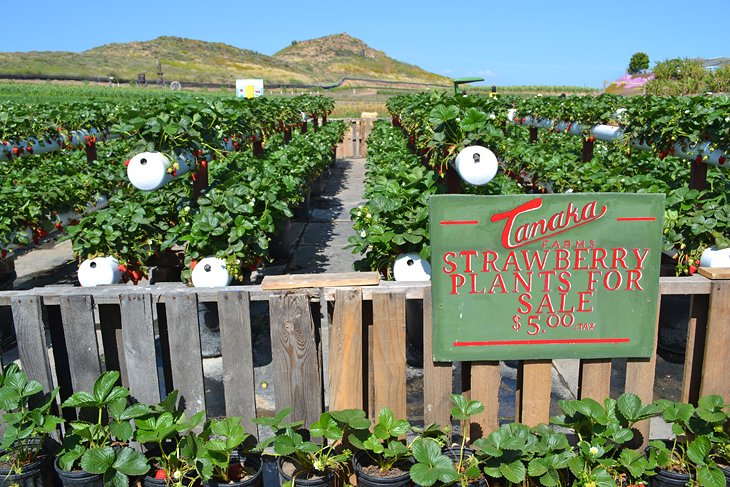 Tanaka Farms is a 30-acre agricultural attraction featuring family fun and u-pick fresh fruit. The farm sprouts something new each season. And a great way to experience this working farm is to hop aboard one of the Farm Tours, which occur throughout the day.
Strawberry tours take place between February and June, while corn tours commence in the summer. Each tour includes a guided wagon ride and free samples along the way. Tanaka Farms is also a popular place for birthday parties, weekend harvest festivals, and pumpkin picking come October.
Address: 5380 University Drive, Irvine, California
Official site: http://www.tanakafarms.com/
7. UCI Institute & Museum of California Art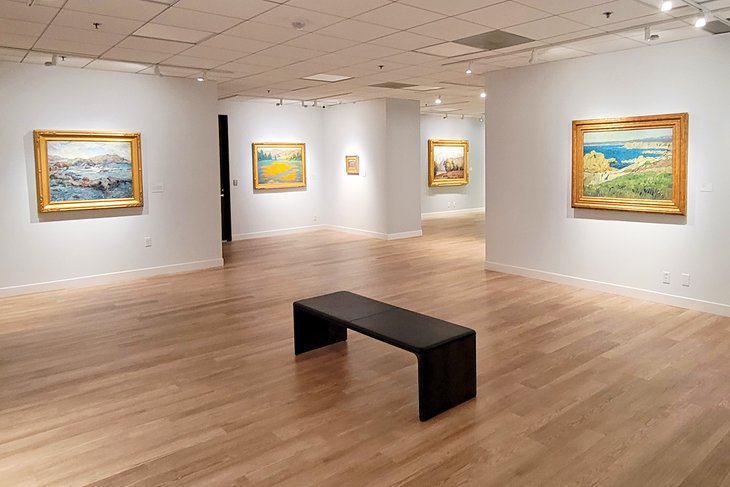 In 2017, the University of California Irvine established the Institute & Museum of California Art (IMCA). This new institute came together as a merger of two prominent California art collections: the Irvine Museum Collection and The Buck Collection. And today, this acquisition adds up to over 4,500 pieces within IMCA's permanent collection.
The IMCA currently displays its collection in an interim museum in the Airport Tower building, just northwest of campus. This first-floor museum does well to showcase the art, with over 2,500 square feet of display space. The museum currently shows one exhibition at a time and rotates the exhibit once a year.
The site and completion date of the new expansive art building on campus is still to be determined. As of December 2021, however, the new facility earned the name the Jack & Shanaz Langson Institute & Museum of California Art after a generous donation.
Address: 18881 Von Karman Avenue Suite 100, Irvine, California
Official site: https://imca.uci.edu/
8. Irvine Farmers Market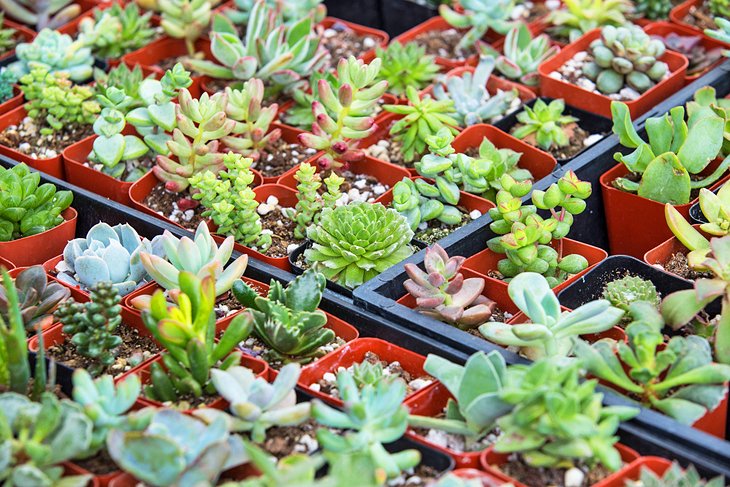 The agriculturally rich region surrounding Irvine is blessed with a yearlong growing season, much of which is on display at multiple farmers markets throughout the week. The Orange County Farm Bureau offers two certified markets in Irvine, one in Irvine Regional Park on Tuesday mornings, and the other on Saturday mornings near the picturesque Mariners Church. The Orange County Great Park also hosts a third certified farmers' market On Sundays between 10am and 2pm.
Address: 5428 Bonita Canyon Drive, Irvine, California
Official site: https://www.ocfarmbureau.org/
9. Irvine Open Space Preserve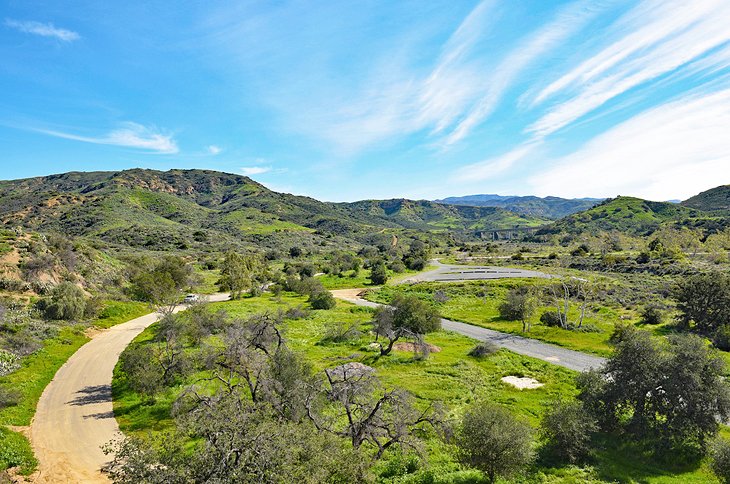 An astounding collection of natural spaces surround Irvine, providing numerous recreational outlets for community members and tourists alike. Hiking, biking, and horse riding are all popular forms of travel throughout these natural habitats, and the area is well known for its abundance of wildlife sightings.
A few different trailheads in Irvine access the Open Space Preserve, including the popular Bommer Canyon, which features self-guided exploration opportunities. Other notable trails include Jeffrey Open Space and Turtleback Mountains.
The Irvine Open Space Preserve connects to other natural spaces in Orange County to provide a surplus of public land that may seem surprising within the dense population of Southern California. The neighboring Crystal Cove State Park and Fremont Canyon Nature Preserve add to the total acreage, as well as the public space found in Irvine Regional Park. All combined, the natural space found in this region totals over 20,000 acres.
Official site: https://letsgooutside.org/explore/iosp/
10. Orange County Soccer Club
Located within Orange County Great Park, this championship soccer stadium is home to Orange County's only professional soccer team in the United Soccer League. This state-of-the-art stadium is a favorite for players and spectators, and the warm evenings of Irvine present the perfect time to catch a match.
The stadium has a capacity for over 5,000 fans. Still, the excitement on the field often keeps visitors out of their seats. The interactive fan zone and food truck concession stands also tend to keep fans roaming around.
Address: 8272 Great Park Boulevard, Irvine, California
Official site: https://www.orangecountysoccer.com
11. FivePoint Amphitheater
This popular outdoor venue is less than a mile from the Irvine Spectrum Center. It opened in 2018, effectively replacing the long-standing Irvine Meadows Amphitheatre that closed two years prior.
The venue seats 12,000 guests, with some shows selling out completely. The event calendar spans the year and ranges from comedians to music festivals and nationally touring acts. Food trucks are available at most events, as well as several other vendors.
12. University of California Irvine Arboretum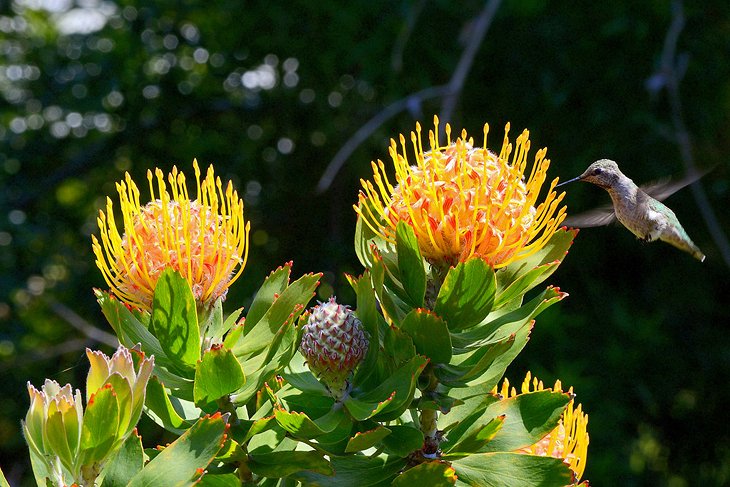 This blooming education space features special plant collections, including rare species from South Africa, but the primary focus of the University of California Irvine Arboretum is Southern California flora. The arboretum is only accessible by UCI Biological Science students, or by guided tour, which are regularly scheduled during peak blooming seasons.
Other special collections at the Arboretum include species from the Channel Islands, Baja, and the Mojave Desert. All 12 acres of the arboretum are a living classroom and play an important role for student's educational development.
Address: Campus Drive and Jamboree Road, Irvine, California
Official site: https://arboretum.bio.uci.edu/
13. Pretend City Children's Museum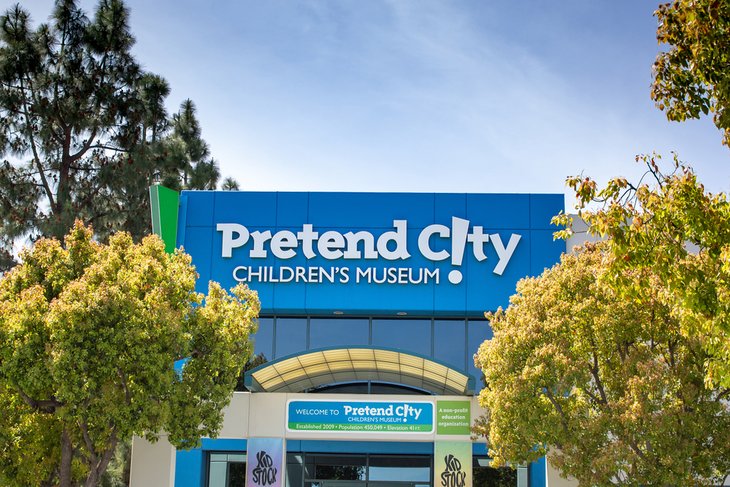 This non-profit museum and play space offer an interactive world for children to explore. Comprised of a large interconnected mini city, with facilities like a café, construction site, and grocery store, Pretend City has 17 exhibit spaces that allow young children to play around in adult roles.
The professionally trained staff at the museum help facilitate a learning experience, as well as put on special events ranging from Father's Day celebrations to Dance Like a Chicken Day.
Address: 29 Hubble, Irvine, California
Official site: https://www.pretendcity.org/
14. Turtle Rock Viewpoint

The Turtle Rock neighborhood borders the University of California Irvine to the east. Parks, outdoor spaces, and golf courses intermingle in this quiet and beautiful residential community – as does the aptly named Turtle Rock land formation jutting from the neighborhood's center.
A few trails lead the way up to Turtle Rock and its impressive vantage point. Two common places to start are either Chaparral Park or Turtle Rock Community Park, near each other on the south side of Turtle Rock. These two parks have several park features, like playgrounds and picnic equipment, that make them popular on their own.
The route up to Turtle Rock is less than a mile but inclined the entire way. The entire area is also exposed to the sun, so plan ahead with sunglasses, a hat, and some water. A round-trip hike on the entire trail is approximately three miles, although shorter versions are available.
15. Balboa Beach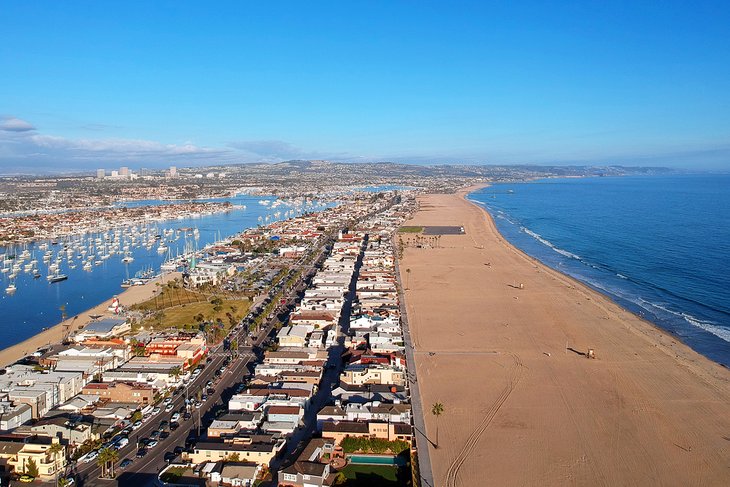 The Balboa Peninsula is another worthwhile day trip when visiting Irvine. It's less than a 15-mile drive to this slice of unique California paradise, where visitor attractions include vacation homes, Ferris wheels, and pristine beaches that belong on a postcard.
The three-mile stretch of land that is Balboa Peninsula lends access to the famous Balboa Beach and Balboa Pier, where weekend adventures like sport fishing, whale watching, and surfing are easy to accommodate.
16. Adventure Playground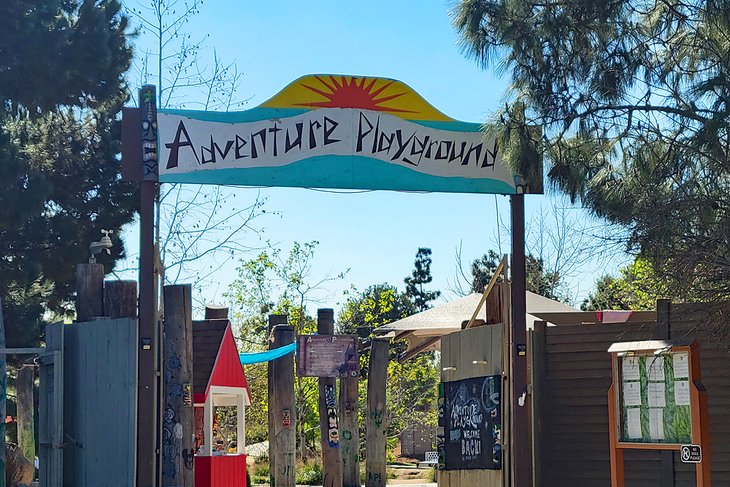 This aptly named playspace is on the southwest side of town, adjacent to University Community Park. It's a fenced-in area where children are encouraged to roam free. Traditional playground structures like slides and chutes are present, but there's a lot more to explore.
The goal of Adventure Playground is to let the imagination be the guide. The playground provides assistance in this pursuit, with areas like water chutes, sensory gardens, and building blocks. Staff at the park also pull out other play items throughout the day.
17. Irvine Historical Museum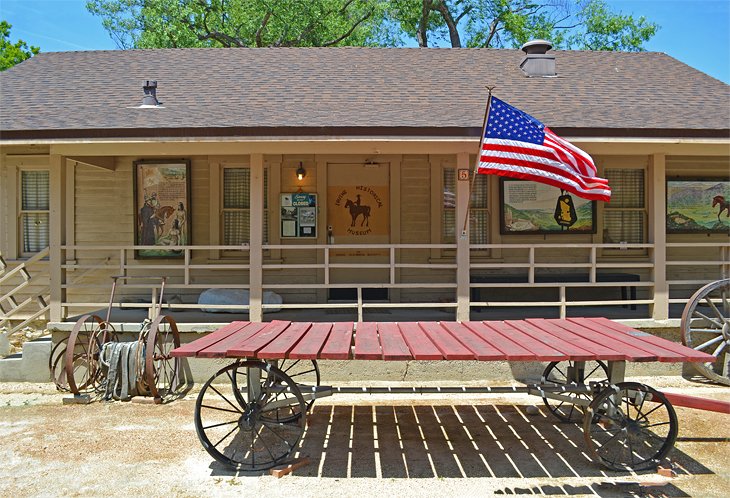 Adjacent to the Rancho San Joaquin Golf Course, and operated by the Irvine Historical Society, the Irvine Historical Museum is within the oldest remaining structure on the antiquated Irvine Ranch. The entire museum is dedicated to preserving the history of Irvine Ranch, once one of the largest private ranches operated in the United States. Guided tours are the best ways to soak up the history of the ranch. Tours take place on the second Sunday of each month, and reservations are required.
Address: 5 San Joaquin, Irvine, California
Map of Attractions & Things to Do in Irvine, CA
Irvine, CA - Climate Chart
Average minimum and maximum temperatures for Irvine, CA in °C
J
F
M
A
M
J
J
A
S
O
N
D

20

5

21

6

21

7

23

9

24

12

26

14

29

16

29

16

29

15

26

12

23

7

20

4

PlanetWare.com
Average monthly precipitation totals for Irvine, CA in mm.

75

78

71

20

7

3

0

4

9

10

31

46
More Related Articles on PlanetWare.com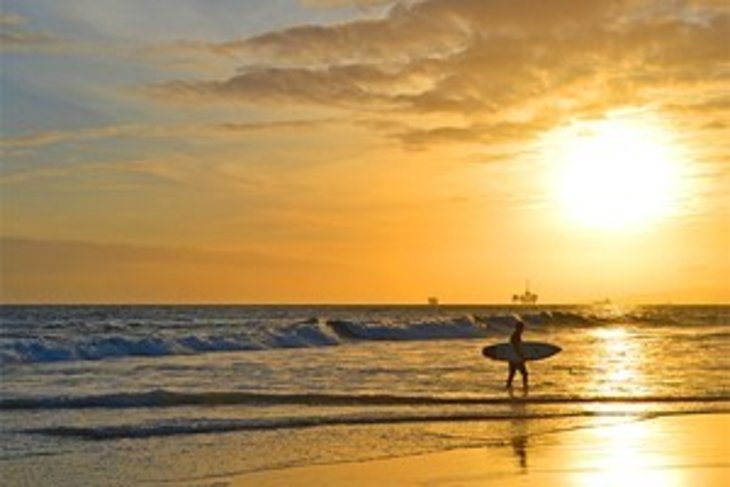 More to Explore in Orange County: Orange County has a reputation for beautiful places and beautiful people, and with just one visit, it's easy to see that's true. The city of Laguna Beach, for example, is filled with scenic seaside settings and offers the occasional celebrity sighting. Farther north along the shore, Huntington Beach may be better known by its moniker, Surf City U.S.A., and delivers on all the enjoyment of coastal travel. Near Irvine, the city of Anaheim is home to the Happiest Place on Earth, also known as Disneyland Resort.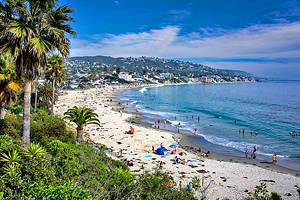 California Vacation: For those considering some California travel, our Top-Rated Attractions of California article is a good place to start planning your trip. For some sand and surf in the Golden State, the top-rated beaches in California deliver with picture-perfect sunsets.
If you have your eye on some natural escapes, have a look at our article on things to do in Yosemite, consider a walk under the towering redwoods with our article on the best hikes in Redwood National and State Parks, or plan a camping trip to see the giant sequoias with our guide to the best campgrounds in Sequoia National Park.