11 Top-Rated Things to Do in Beverly Hills, CA
Author Brad Lane has taken multiple trips to California and spent several months in 2022 traveling throughout the state for PlanetWare.
Beverly Hills is one of the most posh places to visit in the United States. This metropolis is home to mega-mansions, celebrity sightings, and a high-end style that even radiates from the sidewalks, especially on the world-famous Rodeo Drive. And incredibly, all this glitz and glamour is encompassed within 5.7 square miles, tucked against the Santa Monica Mountains.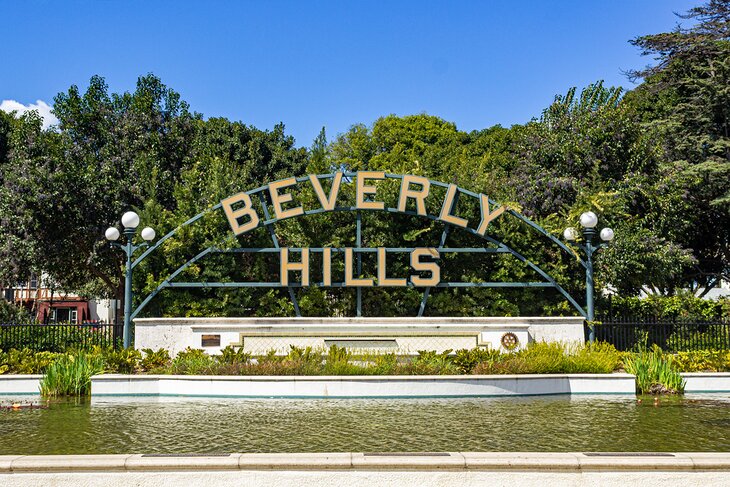 While Beverly Hills is popular for the Hollywood elite, it's an accessible city for all to enjoy. Santa Monica Boulevard is one side of the city's "Golden Triangle" of upscale shopping, dining, and people-watching. Many visits comprise simply strolling this core district, also bounded by Wilshire Boulevard and Rodeo Drive.
But it's not all retail, restaurants, and admiring expensive automobiles in Beverly Hills. Stunning parks and gardens also vie for attention, as do performance halls and historical monuments. And in the hills above Sunset Drive on the west side of the city, opulent mansions define a sizable chunk of the city's architectural appeal.
Plan your own luxurious getaway with our list of the top attractions in Beverly Hills.
1. Rodeo Drive
Nowhere exudes the high-fashion and luxury lifestyle like Rodeo Drive in Beverly Hills. World-famous boutiques and restaurants line this luxe thoroughfare, accompanied by palm trees and Bentleys parked next to the curb. And if you hear a sudden barrage of camera shutters, that probably means an A-list celebrity is somewhere nearby.
Rodeo Drive is one base of the city's "Golden Triangle," alongside Santa Monica and Wilshire Boulevards. Over 100 stores, restaurants, and five-star hotels comprise the roughly three blocks of this opulent district. Endless high-end experiences await in this ritzy part of town for those looking to live in the lap of luxury.
The Rodeo Drive Walk of Style is often sought out and is one of the free things to do on Rodeo Drive. Like the Hollywood Walk of Fame, this public walkway features gold plaques celebrating influential fashion icons who've made an impression on Beverly Hills. Past recipients have included Giorgio Armani and Gianni & Donatella Versace.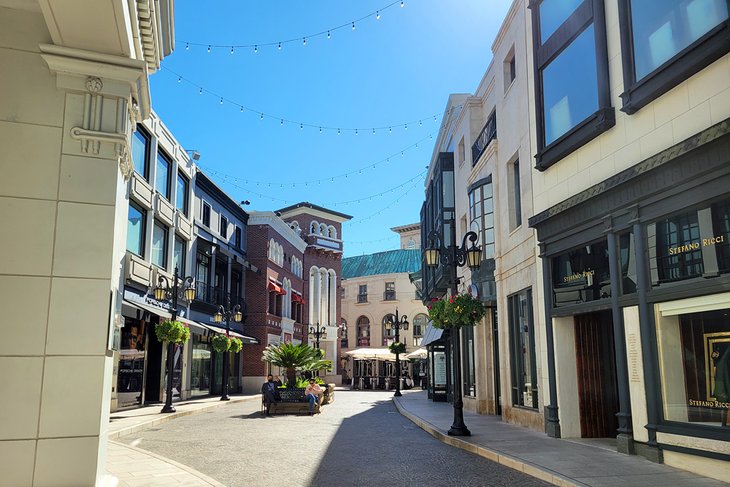 Visiting Rodeo Drive and the Golden Triangle is a rewarding experience, no matter the amount of interest in shopping or dining. The entire district feels a bit like a foreign country, reminiscent of Europe or an island paradise. Places like Two Rodeo Drive, adorned with cobblestone streets, evoke this European flair.
Read More: Best Places to Visit in California
2. Beverly Gardens Park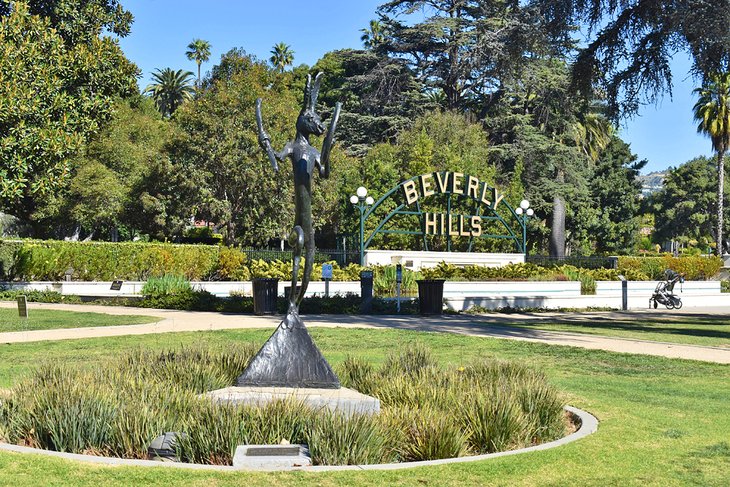 Beverly Gardens Park is a signature outdoor space in the city. This 1.9-acre linear park stretches from Wilshire Boulevard to North Doheny Drive, next to Santa Monica Boulevard. A compact gravel pathway navigates the whole park, connecting several art installations, gardens, and two decorative fountains on either end.
The 40-foot-long Beverly Hills Sign is perhaps the most famous sight at the park, if not the most photographed. This iconic sign sits atop a lily pond, surrounded by the largest section of Beverly Gardens Park. Here, picnic benches and a courtyard lend a beautiful view to sculptures and art pieces installed in the area.
On the western end of the park, at the intersection of Wilshire and Santa Monica Boulevards, the Electric Fountain is also a prominent place to visit for photographers. Decorative mosaics surround this historic fountain, and lighting enhances it in the evening.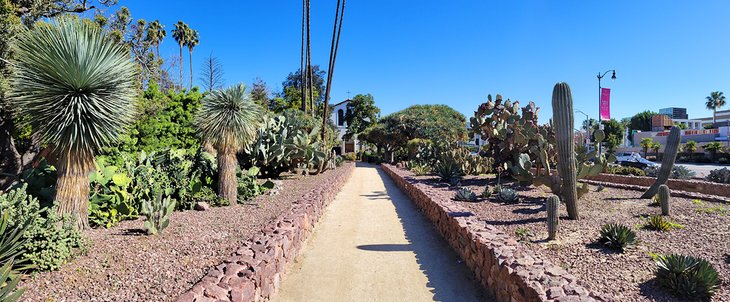 Another notable attraction of Beverly Gardens is a historic cactus garden. And a second water fountain, the Doheny Fountain, is on the park's eastern end. Beverly Gardens Park is also home to a few notable community events, including the Beverly Hills Art Show in the spring and fall.
Address: 9439 Santa Monica Blvd, Beverly Hills, California
3. Take a Walking Tour of Beverly Hills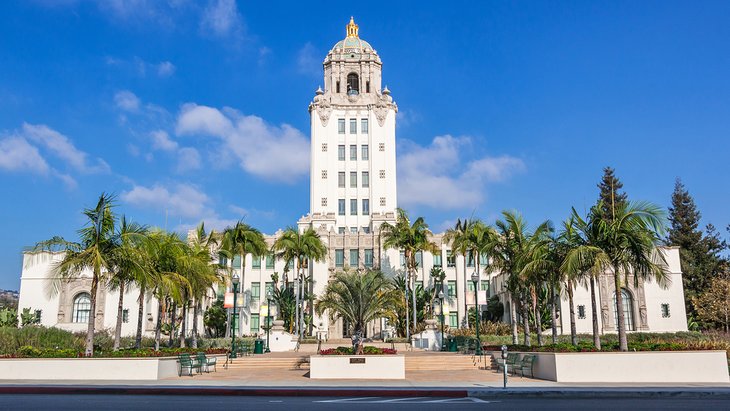 It doesn't require a long walk to see a lot in Beverly Hills, and the sidewalks are the best way to get around. The main focus is around Santa Monica Boulevard and Rodeo Drive. Alongside high-end fashion boutiques, pedestrians also encounter elegant architecture and eye-catching art. Palm trees also line the route, flourishing in the sunny weather and adjacent parklands.
The Beverly Hills Visitor Center, Love Beverly Hills, publishes several walking tour maps that cater to various interests. Every sightseeing tour includes several stops, all within short walking distance of Rodeo Drive. The different walking tours include art and culture, historic Beverly Hills, Hollywood screening locations, and ways to spend the day with a family.
A few prominent spots on a walking tour include Beverly Gardens Park and Beverly Hills City Hall. And Two Rodeo Drive is on almost every itinerary, also known as the cobblestoned gateway to Rodeo Drive. This entire city's core area is incredibly photogenic, often including people strutting along the sidewalks.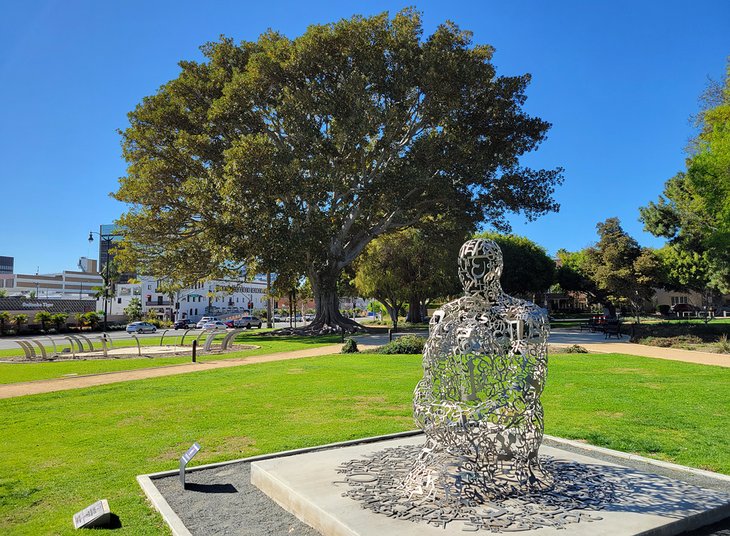 Walking this core area of Beverly Hills is not only an easy way to check out several tourist attractions and top things to do, it cuts down on the difficult task of parking. The 4 Line from downtown LA has four stops along Santa Monica Boulevard in Beverly Hills for those looking to ditch the vehicle altogether.
4. Dining in Beverly Hills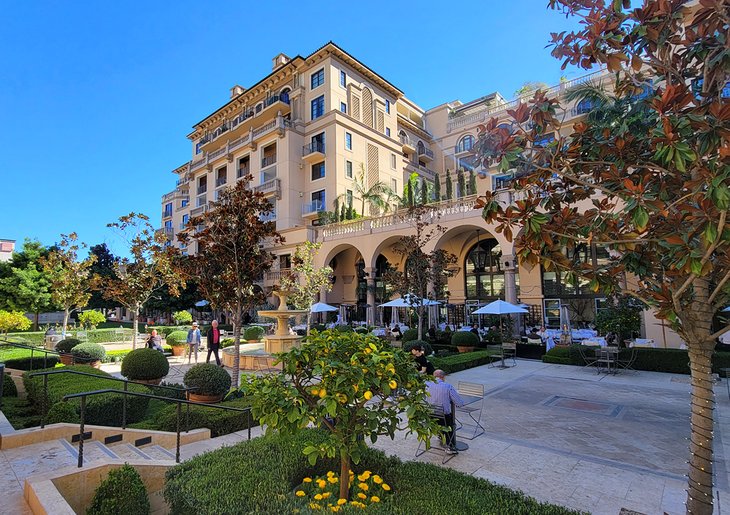 Alongside high-fashion and luxury, Beverly Hills is well-known for its food scene. And while a few of the menus reflect the upscale quality of the city, other more casual options still come with a side of charm. But if you're planning to dine out in style, be sure to schedule a reservation, especially on the weekends.
In part because of the beautiful weather and the city's expanding policy on outdoor dining areas, al fresco dining is an easy option in Beverly Hills. Outdoor dining opportunities abound for all three meals of the day, ranging from sidewalk cafés to intimate fire-lit patios.
There's a new restaurant to check out with each visit to Beverly Hills. A few notable longstanding classics include The Grill on the Alley, near Two Rodeo Drive, and La Dolce Vita, an old Hollywood haunt. And visitors for the last 90 years have enjoyed Lawry's The Prime Rib on La Cienega Boulevard.
5. Greystone Mansion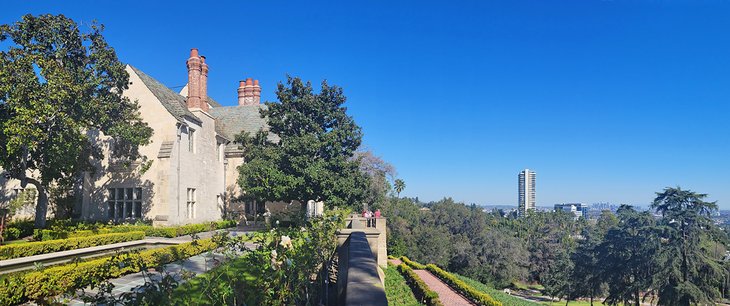 The city of Beverly Hills owns this massive 1920s mansion on the north side of the city, accessible off Sunset Boulevard. The estate sits atop a beautifully landscaped 13 acres open to exploring. It's a popular place to visit for photo shoots (by permit only) and has been a frequent locale in Hollywood productions.
The interior of Greystone Mansion is generally closed to the public, besides special events and private tours. The exterior provides plenty to explore, though, especially when coupled with the typically sunny weather of the city. Formal gardens at Greystone include water fountain centerpieces and tree-lined courtyards.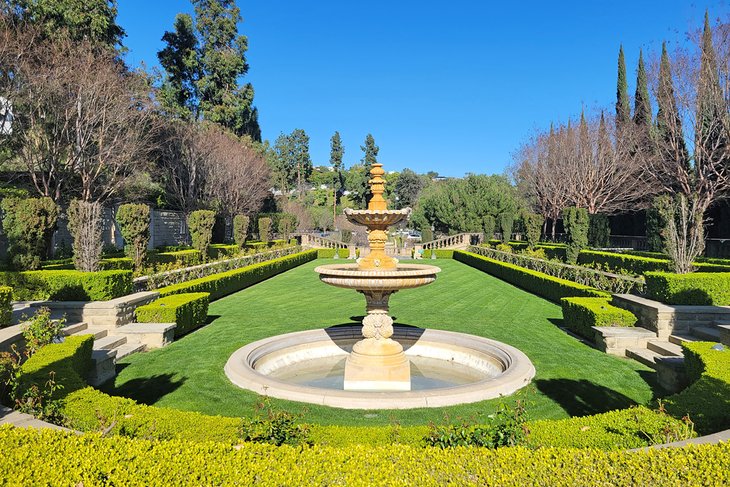 Film lovers will recognize the mansion from such major blockbusters as The Big Lebowski, and There Will be Blood. Other notable movies include Spider-Man and The Social Network. The estate has also appeared in scores of family portraits, engagement photos, and similar productions. Permits are required for any commercial photography.
Currently, the mansion is open Wednesday, Thursday, and Friday. There's no fee for admission, though reservations are required.
Address: 905 Loma Vista Drive, Beverly Hills, California
6. Explore Outside at Franklin Canyon Park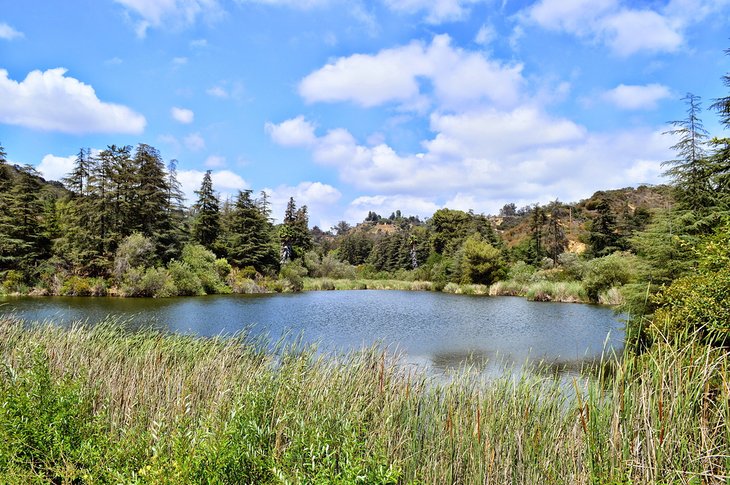 Franklin Canyon Park encompasses over 600 acres on the north side of Beverly Hills, easily accessible from Beverly Drive. This vast expanse of open space in an otherwise dense part of Los Angeles is a welcome reprieve for those who like to experience nature.
The park has a network of trails navigating the length of the park. The closest trails to Beverly Hills are the 0.3-mile Discovery Trail and the 2.3-mile Hastain Trail. The Discovery Trail is a favorite family hike, featuring an easy loop through walnut woodland, while the Hastain Trail has a steep uphill climb.
Farther north in the park, other trails like the Ranch Trail explore the canyon's reservoir. This area has several interpretive stops detailing the unique history of the canyon. The reservoir is a popular stop for birders—and birds—as it's a common resting point along the Pacific Coast Flyway. Bring binoculars on a visit.
7. Wallis Annenberg Center for the Performing Arts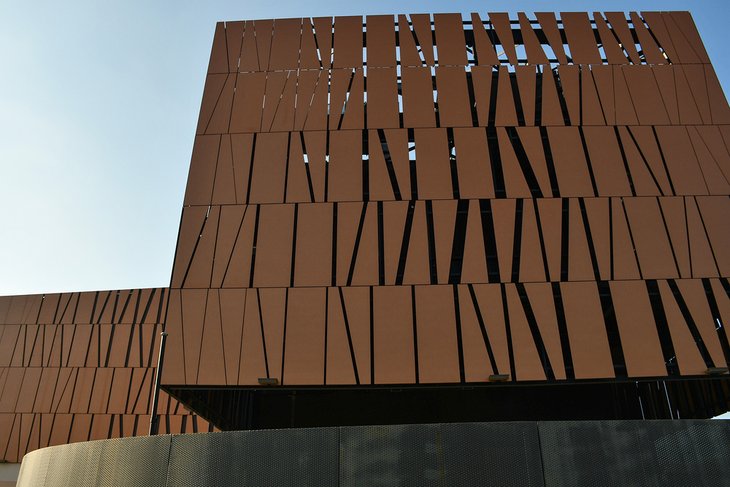 The Wallis Annenberg Center for the Performing Arts is a world-class performance space in the heart of Beverly Hills. It's across Santa Monica Boulevard from Beverly Gardens Park, near Crescent Drive, and it's lauded in Southern California for its dynamic catalog of performances.
The center takes up what feels like its own city block. It comprises two distinct eye-catching buildings, including the 1933 Beverly Hills Post Office. Adjoining this historic Italianate-style public utility is the 500-seat Goldsmith Theater. This mix of historical and contemporary sets the stage for many events and shows the performance center puts on every year.
Alongside scheduled performances featuring celebrities both on stage and in the crowd, the Wallis also hosts several community events and engagements. Perhaps none is as notable as the monthly Sunday Funday family events featuring live music and dance parties.
Address: 9390 N Santa Monica Blvd, Beverly Hills, California
8. Events in Beverly Hills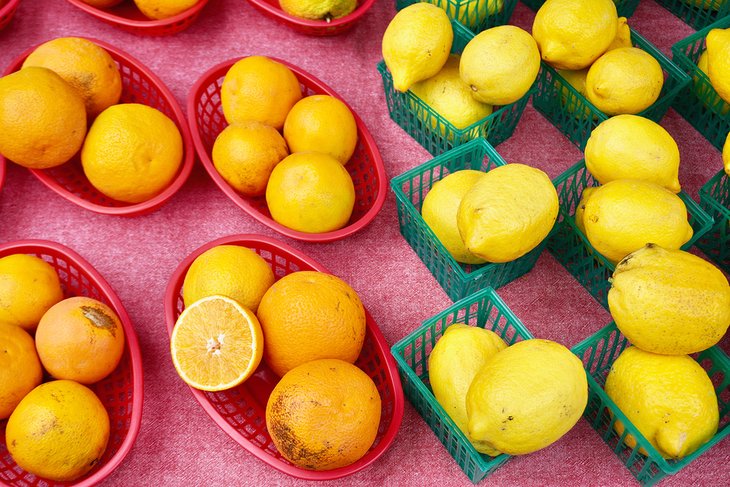 There's always something fun happening in Beverly Hills. The city's event calendar spans the entire year, always with pleasant weather to enjoy. From pet parades to classic automobile shows, many of these community events take place on the weekend, but other celebrated get-togethers, like the monthly First Thursdays events, occur throughout the week.
A few signature Beverly Hills events include the Beverly Hills Farmers Market, occurring every Sunday, rain or shine, and Concerts on Canon, on Thursdays throughout the summer. These family-friendly events are free to attend and often involve some of the best people-watching in town.
The Beverly Hills ARTshow is another signature event to mark on the calendar. This massive collection of local and regional artists occurs on two different weekends each year, in the spring and the fall. The show takes place in Beverly Gardens Park, and each season typically attracts over 50,000 attendees.
9. Photograph the Spadena House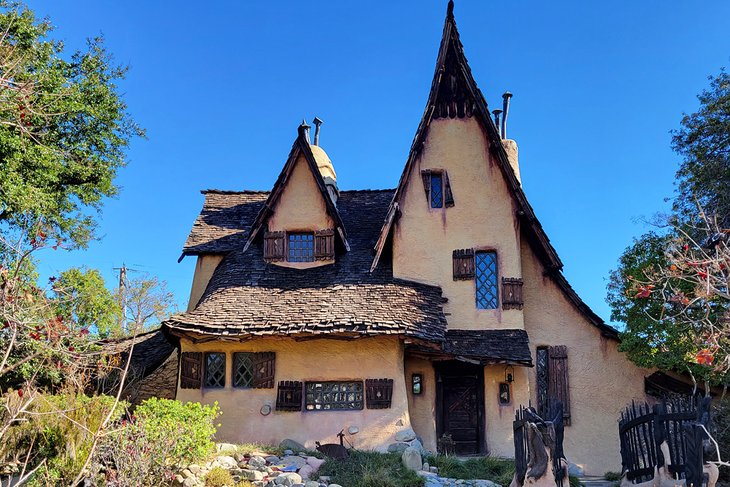 This unique and photogenic home is on the other side of Santa Monica Boulevard from the shopping at the Golden Triangle. Its other common name is The Witch's House, thanks to its whimsical and spooky nature.
The Spadena House is a private residence, and only a visual attraction appreciated from the sidewalk. Still, with its proximity to Beverly Gardens Park, it's a worthwhile detour to see the detail that went into the house.
Address: 516 Walden Drive, Beverly Hills, California
10. Virginia Robinson Gardens
Virginia Robinson Gardens set the bar for luxurious Beverly Hills mansions when it was built in 1911. It's credited as the city's first luxury estate and is on the National Register of Historic Places. Public tours are available of this still opulent residence and grounds, by appointment only.
The longstanding nature of the home and the docent-led tours attract history buffs to this old Hollywood hangout. And the decadent landscaping of the property's six acres also attracts green thumbs and photographers.
Tours are generally offered Monday through Friday and last approximately 90 minutes. Due to the historic nature of the property, Virginia Robinson Gardens is not wheelchair accessible.
Address: 1008 Elden Way, Beverly Hills, California
11. Explore Los Angeles and the Greater Los Angeles County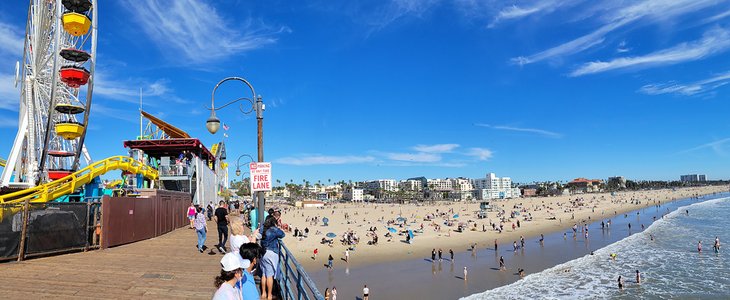 Los Angeles and Beverly Hills share a border, making Beverly Hills the most luxurious city in the greater Los Angeles metropolitan area. This proximity also makes many of the best attractions of Los Angeles within a short drive, including the Los Angeles County Museum of Art and the adjacent La Brea Tar Pits, less than three miles from Beverly Gardens Park.
The rest of LA County is also easily accessible, including some of the best day trips from Los Angeles, top weekend adventures, and the most beautiful beaches in LA. These long lists of attractions have enough to keep anyone busy every month of the year.
Where to Stay in Beverly Hills for Sightseeing
Beverly Hills is one of the most expensive cities in the U.S. It doesn't have any true budget hotels within its city limits, but you can find decent deals at the mid-range hotels listed below.
Luxury Hotels:
Mid-Range Hotels:
Best Time to Visit Beverly Hills, CA - Historical Climate Averages
Average minimum and maximum temperatures for Beverly Hills, CA in °C
J
F
M
A
M
J
J
A
S
O
N
D

19

8

21

8

21

9

23

11

23

13

25

15

27

17

27

17

27

16

25

14

22

11

20

8

PlanetWare.com
Average monthly precipitation totals for Beverly Hills, CA in mm.

81

83

68

15

7

1

1

2

2

8

24

48