12 Best Things to Do in Santa Clarita, CA
Santa Clarita is a beautiful city in Southern California that reflects the best the region offers. It's approximately 30 miles north of Los Angeles, set amid the foothills of the surrounding Angeles National Forest. With this elevated terrain not far from the ocean, the city enjoys lovely weather throughout the year.
Santa Clarita is perhaps best known as home to Six Flags Magic Mountain. This "Thrill Capital of the World" is near the heart of Santa Clarita and attracts adrenaline seekers with several gravity-defying roller coasters. And while this esteemed theme park does entice visitors for a day trip, it's Santa Clarita's other cultural attractions that call for a longer stay.
Santa Clarita has a mix of history, Hollywood, and restaurants that help define the SoCal flavor. The city also lends access to an array of beautiful landscapes and open nature. All of these attributes and more lend to a well-rounded weekend getaway, where, chances are, the weather will be nice.
Find your next LA County getaway with these best things to do in Santa Clarita.
1. Six Flags Magic Mountain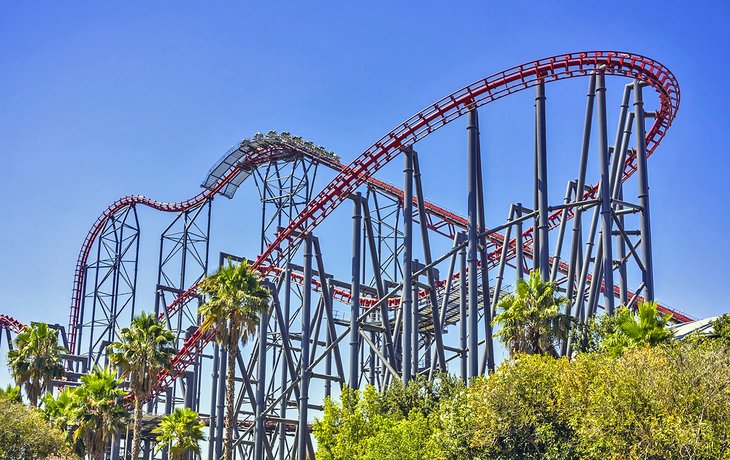 Six Flags Magic Mountain, also known as the "Thrill Capital of the World," is right at Santa Clarita's backdoor. This number one attraction is less than a seven-mile drive from Old Town Newhall. The Santa Clarita Trolley takes visitors to the park from Old Town Newhall throughout the summer.
Magic Mountain is best known for its dense collection of thrill rides. Signature rides at the park induce g-force screams and an inverted sense of euphoria, with names like Twisted Colossus and CraZanity. Height requirements vary between roller coasters. Minimum heights are between 48-54 inches for the biggest thrill rides.
And it's not all gravity-defying attractions at Six Flags Magic Mountain. Like the Canyon Blaster and the Grand American Carousel, the park also has several family and kids' rides. Live events like comic book character meet-and-greets also take place throughout the park.
Between June and September, consider spending a second day at the adjacent Six Flags Hurricane Harbor Los Angeles. This massive water park has over a dozen rides, ranging from fast-paced waterslides to aquatic children's playgrounds.
The park opens its gates at 10:30am, and closing time varies throughout the year.
Official site: https://www.sixflags.com/magicmountain
2. Stroll around Old Town Newhall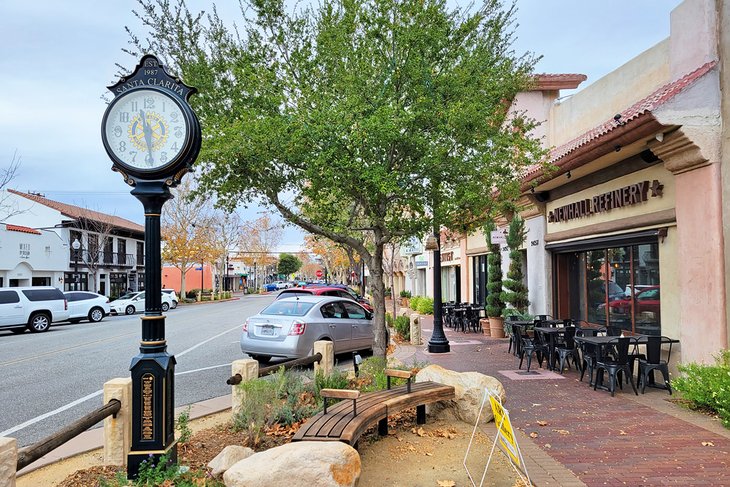 Old Town Newhall is the historic core of Santa Clarita, dating back to the 1800s and gold discoveries in the nearby Placerita Canyon. Over the last two decades, revitalization efforts have infused the historic streets with a charming collection of local shops and places to eat.
Old Town Newhall is a pedestrian-friendly area. The district primarily follows Main Street south from the impressive Old Town Newhall Library. Restaurants in this area offer SoCal specialties and earn accolades in the LA food scene. For one of the best breakfasts in the region, head to Egg Plantation on Walnut Street.
Old Town Newhall is also home to community events and reasons to gather. Head to the library parking lot for the Old Town Newhall Farmers Market every Saturday, rain or shine. The MAIN multi-use arts center is also in Old Town, offering everything from performances to workshops and the weekly Thursdays@Newhall series.
Official site: https://oldtownnewhall.com/
3. Tour the William S. Hart Museum in William S. Hart Regional Park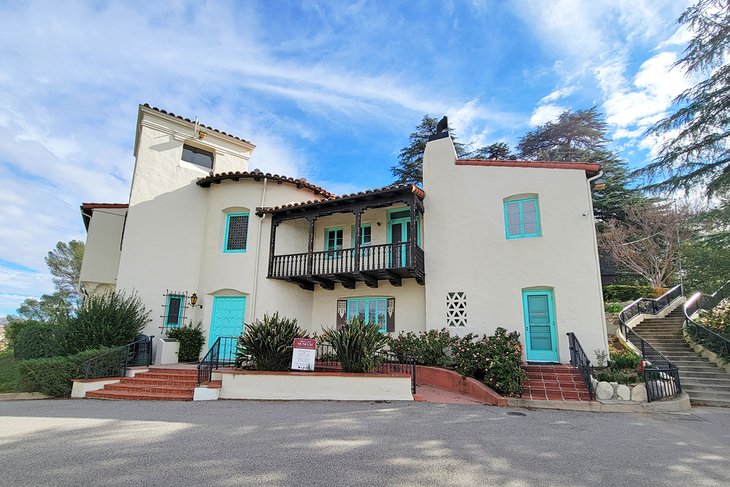 The silent-film superstar, William S. Hart, built his Spanish colonial revival-style mansion atop the hills of Newhall in 1927. Upon his death, he bequeathed the 265-acre ranch to the county of Los Angeles. And today, this impressive mansion is now a museum surrounded by a popular regional park.
The museum showcases much of William S. Hart's personal art collection and lavish decor. These aesthetics lean heavily on Western and Native American motifs. Free guided sightseeing tours are typically available throughout the year.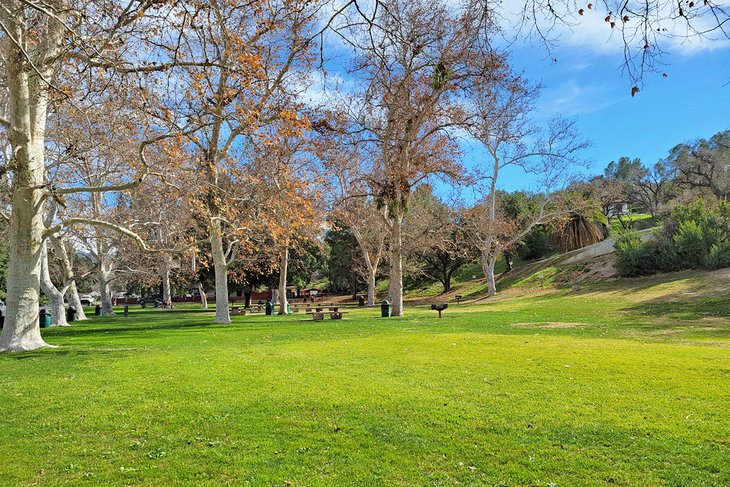 The ranch is well worth the visit without touring the mansion. The grounds are well-manicured and offer panoramic views, including a glance at the property's resident bison herd. And near the park entrance, working stables house a live collection of animals, including pigs and alpacas in public view.
The rest of the ranch, now known as William S. Hart Regional Park, is a beautiful public space, with picnic tables and hiking trails. This parkland is a great area for a leisurely moment in the day, including a packed lunch outside. The park entrance is at the southern end of Old Town Newhall.
Official site: https://hartmuseum.org/
4. Enjoy the Afternoon at Central Park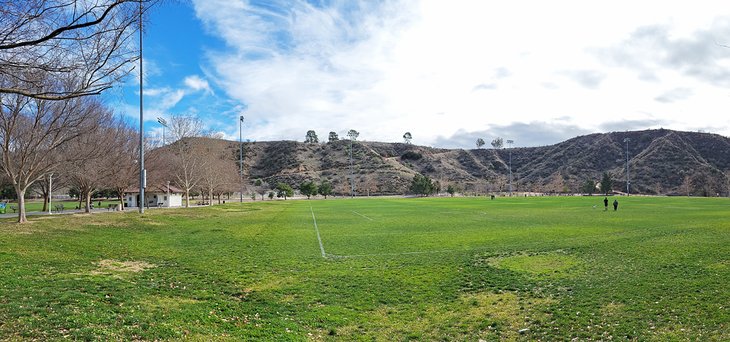 Scenic foothills backdrop the expansive green space of Central Park in Santa Clarita. Much of the park is devoted to sports facilities, including softball diamonds, sports fields, and basketball courts. These facilities fill the parking lot with intramural sports and little leagues throughout the week.
Central Park is also home to traditional park facilities like playgrounds and picnic tables, and the large open fields are great for any lawn activities when not scheduled for use. A short disc golf course also makes its way along the park's edges.
Central Park is also popular for hiking and trail running. An approximately 3.2-mile cross-country trail spans the park's perimeter. High schools host cross-country meets on this course, and when not in use, the path is well-trodden by the public.
5. Window Shop at the Westfield Valencia Town Center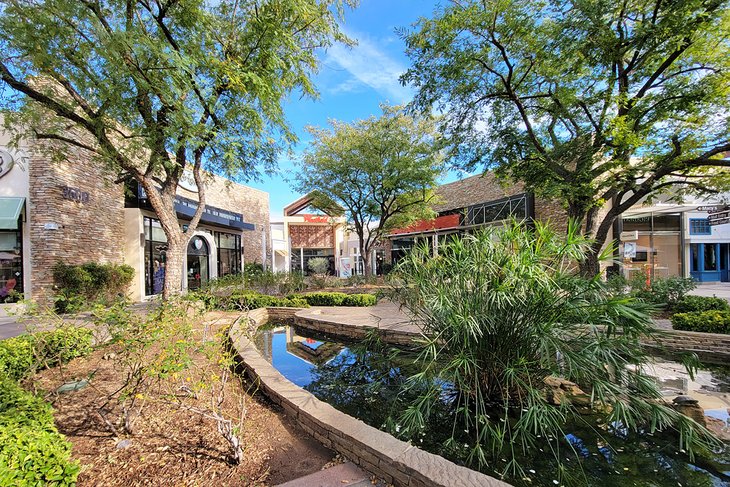 Westfield Valencia Town Center is a two-story indoor shopping center on the other side of Interstate 5 from Six Flags Magic Mountain. It's a beautiful shopping area with over 150 stores and restaurants. Several local boutiques and eateries also line the walkways alongside large department stores like JCPenney and Macy's.
The pedestrian walkways throughout are what make Westfield Valencia a shopping experience. Here, enjoy people-watching and landscaped surroundings, including an artificial pond teeming with turtles. This outdoor plaza is a lively place to visit in the evening, when the area lights up.
Westfield Valencia is also home to The Canyon – one of the city's most popular live music venues. This indoor stage attracts various shows and genres, including nationally touring musical acts and comedians. The Canyon also offers a dinner menu for a meal and a show.
Official site: https://www.westfield.com/valencia
6. Placerita Canyon Nature Center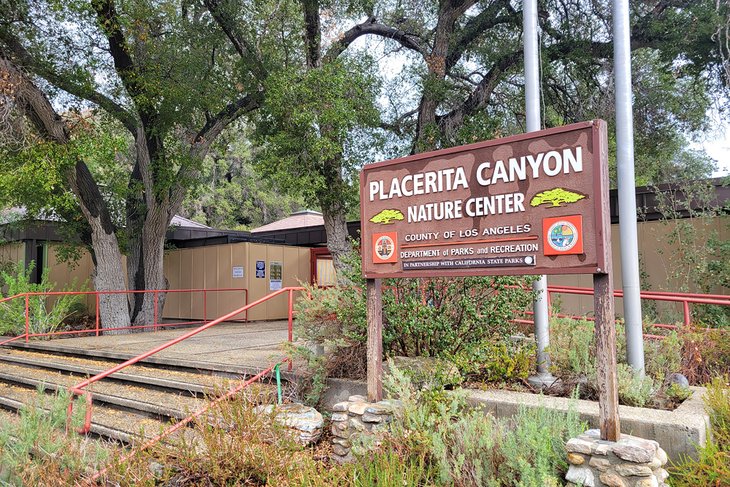 Placerita Canyon is on the western slopes of the San Gabriel Mountains, just east of the city. It's the site of California's original gold discovery site, now known as the" Oak of the Golden Dream." This 1842 discovery predated John Sutter's gold discovery by six years but didn't cause the same type of rush.
Placerita Canyon now comprises a state park that protects this culturally rich area. Visitors come to Placerita to learn about the gold discovery and other local histories and to explore the inviting canyon environment. Several signed walking trails span from the parking area, where the nature center hosts guided walks and family programs.
The hikes range from easy, wide paths to more challenging routes to the top of the Santa Clarita Divide. Several of the shorter trails are wheelchair and stroller accessible. Placerita Canyon is also home to a large picnic area next to a rambling creek that little kids love to explore.
7. Hug a Cow at The Gentle Barn
The Gentle Barn is a non-profit educational space on the north edge of Santa Clarita. The six-acre property is home to over 100 rescued farm animals who live their life out as animal ambassadors. In turn, children and adults visit The Gentle Barn to connect deeper with the natural world.
One popular program at The Gentle Barn is Cow Hug Therapy. These stress-relieving, one-hour sessions feature cuddling with trained bovines. Other therapy programs include 10-month animal-assisted therapies and confidence-building literacy programs.
The Gentle Barn is also a popular place to visit for field trips and group tours. Check the official website for visiting hours and information on their timed entry passes.
Official site: https://www.gentlebarn.org/
8. Take a Desert Adventure to Vasquez Rocks Natural Area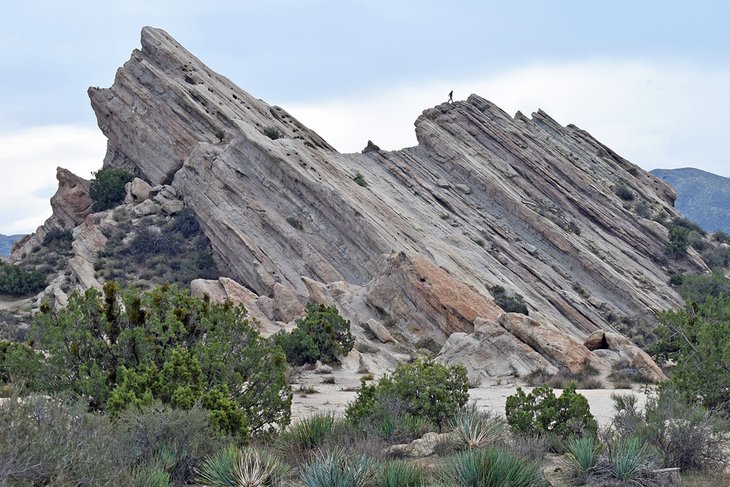 Vasquez Rocks is a 932-acre LA County Park encompassing several high-desert rock formations. It's a beautiful place to hike and admire the landscape and is less than a 20-mile drive on the Antelope Valley Freeway from downtown.
The impressive skyward formations at Vasquez Rocks have a long geologic history dating back millions of years. More recently, the site has received Hollywood notoriety with appearances in a range of television shows and movies. Perhaps most notably, the jutting rocks have appeared in numerous Star Trek productions.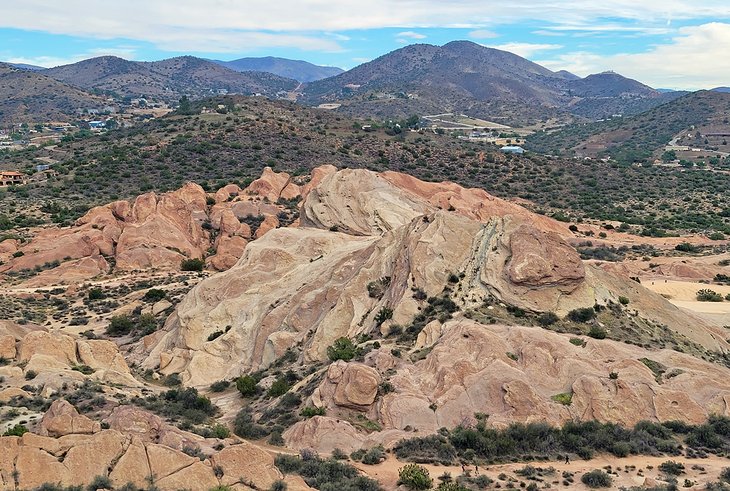 Beam your way to this natural area, and it is a blast. The most common activity is hiking around the otherworldly desert landscape. Developed trails navigate the area, including the country-spanning Pacific Crest Trail.
Visitors to Vasquez Rocks need to keep in mind the desert conditions. Temperatures regularly soar past 90 degrees Fahrenheit in the summer, and rattlesnakes call the environment home. Plan for an early morning trip if visiting in the summer, and keep an eye out for any warming wildlife.
Official site: https://parks.lacounty.gov/vasquez-rocks-natural-area-and-nature-center/
9. Tesoro Adobe Historic Park
The prolific western film actor Harry Carrey Sr. built Tesoro Adobe in the 1920s and 1930s. This Spanish-style house sat at the center of his 2,000-acre ranch and often hosted Hollywood elite while also serving as an outdoor movie studio.
Today, this bit of Old Hollywood has since been donated to the county and serves as a historical park. The house, Tesoro Adobe, sits at the park's center, now surrounded by several community tourist attractions. Besides touring the house museum, things to do at the park include walking the grounds and attending outdoor movie screenings.
10. See the Apes at the Gibbon Conservation Center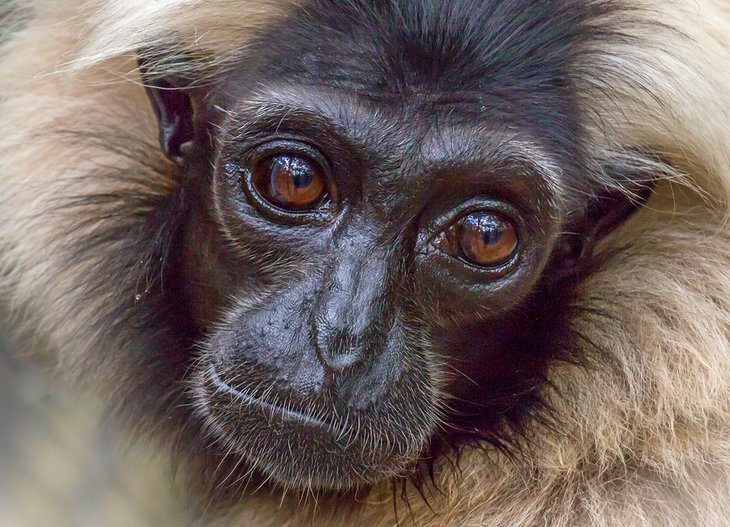 The Gibbon Conservation Center is north of the city with a short drive. It's a non-profit facility that's driven to promote the health, safety, and habitat of gibbons, a small ape native to the lush forests of southeast Asia. The facility's primary purpose is to ensure the longevity of gibbons in the natural world through conservation efforts and public education.
Visitors to the Gibbon Conservation Center can take a guided tour to observe some resident apes. These one-hour tours include narration from a staff member or volunteer. There's never any physical interaction between tour members and the resident apes.
Currently, reservations are required to visit and take a guided tour. Check before visiting for the most updated operating hours.
Official site: https://www.gibboncenter.org/
11. Explore Santa Clarita Open Spaces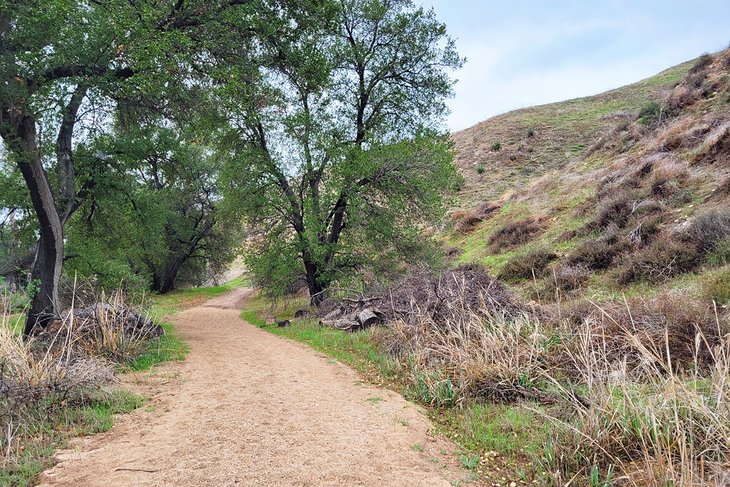 Several open space parks and public lands surround Santa Clarita. These preserved land parcels are an essential habitat for wildlife and a buffer for urban development. They also provide hiking trails and nice respites from the busy streets of Los Angeles County.
A few notable open space parks include Whitney Canyon Park, close to Old Town Newhall, and Haskell Canyon Open Space, north of Central Park. However, these are only two in a growing collection, and there's much more to explore. Other places to visit like San Francisquito Canyon, near Six Flags Magic Mountain, offer trails accessible without a car.
Rules and regulations vary between open space parks. Generally, owners must keep dogs on a leash, and no smoking is allowed. A few open spaces traverse through areas impacted by the 2016 Sand Fire. Visitors need to tread lightly through these rebounding environments.
Official site: https://hikesantaclarita.com/
12. Experience Backstage Hollywood at Melody Ranch Motion Pictures Studio
Melody Ranch Studio is a 22-acre Hollywood backlot tucked into Santa Clarita, near The Master's University. It's a fully functioning movie-producing set, home to recognizable western scenes since 1915, when it first opened. A few recent titles to shoot at Melody Ranch include the HBO drama, Deadwood, and the Oscar-winning film by Quentin Tarantino, Django Unchained.
Public entry to Melody Ranch is limited. Guests can schedule an appointment to tour the Melody Ranch Museum. Here, thousands of movie props offer an interesting look into the movie-making process. Museum visits also generally include a tour of the grounds.
Official site: http://melodyranchstudio.com/
Santa Clarita, CA - Climate Chart
Average minimum and maximum temperatures for Santa Clarita, CA in °C
J
F
M
A
M
J
J
A
S
O
N
D

18

2

19

3

20

3

23

5

26

7

31

10

34

12

35

13

33

11

28

8

22

4

18

2

PlanetWare.com
Average monthly precipitation totals for Santa Clarita, CA in mm.

76

89

77

16

6

0

0

3

7

9

31

41

Average monthly snowfall totals for Santa Clarita, CA in cm.

0

1

0

0

0

0

0

0

0

0

0

0
Average minimum and maximum temperatures for Santa Clarita, CA in °F
J
F
M
A
M
J
J
A
S
O
N
D

64

36

66

37

68

38

74

41

79

45

88

50

94

54

95

55

91

52

82

46

72

39

65

36

PlanetWare.com
Average monthly precipitation totals for Santa Clarita, CA in inches.

3.0

3.5

3.0

0.6

0.2

0

0

0.1

0.3

0.4

1.2

1.6

Average monthly snowfall totals for Santa Clarita, CA in inches.

0

0.2

0

0

0

0

0

0

0

0

0

0