12 Top-Rated Things to Do in Malibu, CA
This beautiful beach town of LA County in Southern California, just north of Santa Monica, encompasses 21 scenic miles of oceanfront property, backdropped by the Santa Monica Mountains. This combination of coastal appeal and rugged topography sets the scenery for the city's many tourist attractions.
From canyon hiking trails to sea caves and tide pools, Malibu offers countless things to do and places to explore. State parks, county beaches, and outlets into the Santa Monica Mountains line the Pacific Coast Highway, the city's main thoroughfare. Visitors often plan their entire vacation around these roadside pull-offs and campgrounds.
Malibu is also known for its scene. It's a combination of surf culture and posh lifestyle in Malibu, and no visit is without sight of beachfront mansions and surfboards in the water. Places like the Malibu Pier and Surfrider Beach are a few spots to experience the city's flavor. And for an even fresher taste, places like Neptune's Net and other seafood restaurants are well known for their recently caught menu options.
Enjoy your next ocean getaway with our list of the best things to do in Malibu.
1. Malibu Pier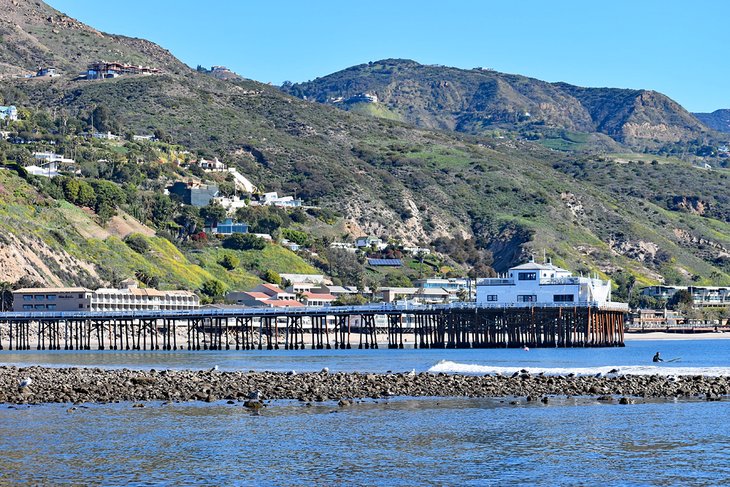 The Malibu Pier, in Eastern Malibu, is a historical attraction with several modern features. The pier is a modest 780 feet long and dates back to the early 1900s. California surf culture grew up around this pier.
The famous Surfrider Beach is directly west of the pier. Surfing enthusiasts have flocked to its right-handed break for over 100 years. And it's still a magnet for local surfers and wave-riders from across the world. Malibu Lagoon State Beach is farther west and offers a dynamic environment where Malibu Creek meets the Pacific Ocean.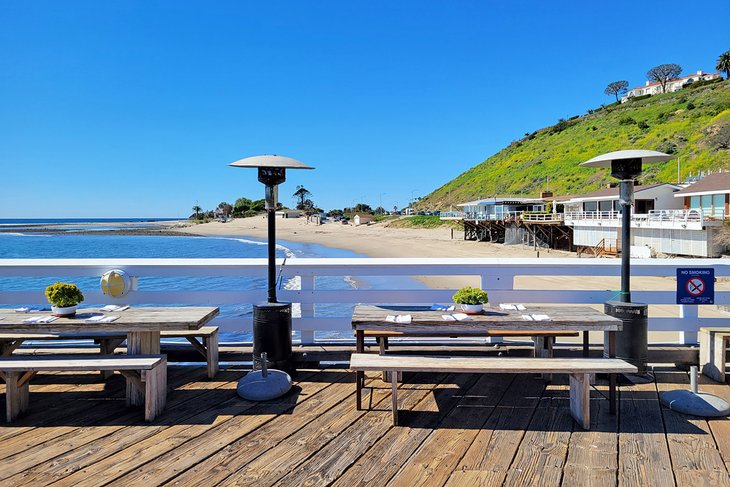 The long stretch of sand comprising Carbon and La Costa Beach is east of the pier. Expensive homes sit at the high-water mark at the backend of these beaches, lending to its other nickname, "Billionaire's Beach." This long public shoreline is only accessible at low tide.
The Adamson House Museum is also next to the pier, where visitors can walk through Malibu history with regularly scheduled sightseeing tours. And no visit is complete without walking down the length of the pier itself. Many also opt to grab a fresh bite at the Malibu Farm Cafe at the front of the pier.
2. The Getty Villa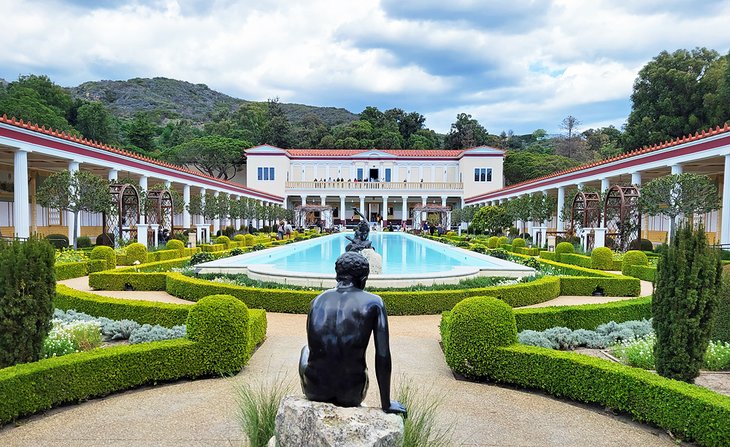 The Getty Villa is a stunning recreation of a Roman country house east of Malibu, in the Pacific Palisades neighborhood of Los Angeles. It's one of two sites operated by the non-profit Getty institution, whose mission is to preserve and share ancient artworks from across the world.
The Getty Villa is unlike any other museum. The grounds themselves are a treat to explore, including the several formal gardens. These blooming landscapes include statues, pools, and columned courtyards known as peristyles. It's one photo opportunity after another touring these outdoor facilities.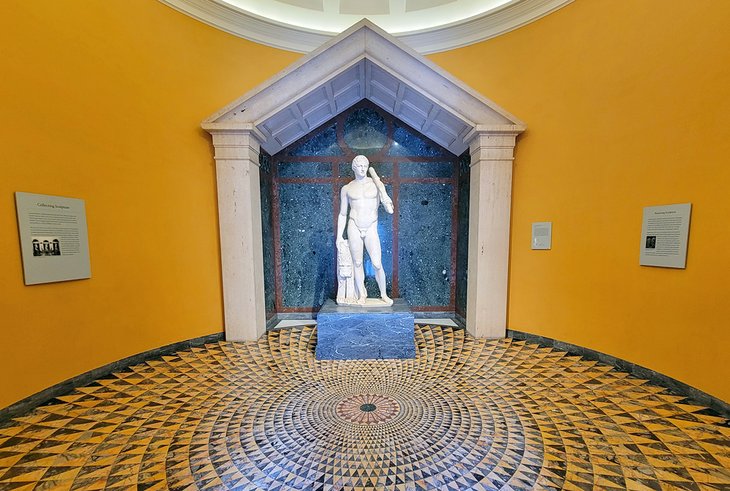 The Getty Villa is also home to an impressive collection of ancient Greek and Roman artworks. On display are marble busts, rare coins, and glassware. Other notable artifacts include a Romano-Egyptian mummy and a large Hercules statue. The museum is also home to a rotating selection of artworks from other prominent museums across the country.
The Getty Villa is open six days a week and closed on Mondays. It's free to tour the grounds and museum, but reservations are required. Guided tours are also available.
Address: 17985 Pacific Coast Hwy, Pacific Palisades, California
Official site: https://www.getty.edu/
3. Spread Out a Towel at Zuma Beach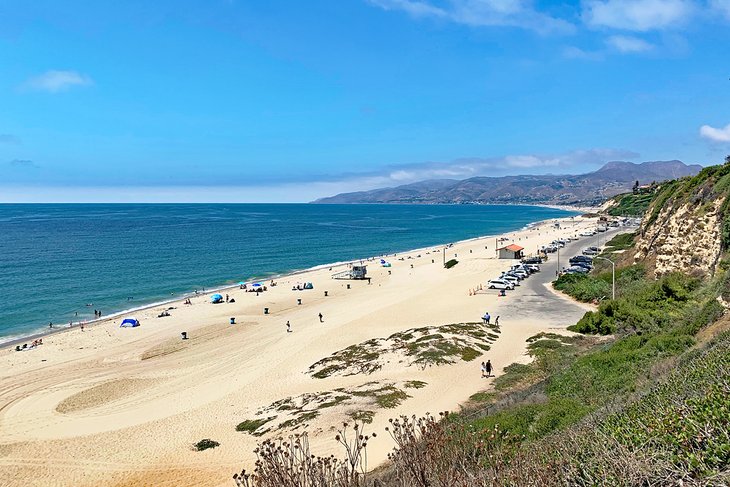 Zuma Beach is one of Malibu's best beaches for several reasons. It's a unique beach on the Malibu coastline in that it's very long and broad and has no mansions at the backend of the sand. It's also accessible without traversing a steep trail or set of stairs and has ample parking.
This expansive nature and easy parking make the beach popular for large family outings. It also makes it popular for beach activities like suntanning, volleyball, and shoreline walking. Ocean activities are also prevalent, like surfing and swimming. Lifeguards are on duty during daylight hours.
Other amenities at Zuma Beach include restrooms, showers, and food vendors at either end of the sand. The beach has over 2,000 parking spots, and free parking is available along the PCH. Zuma is also a favorite spot to watch migrating whales off the coast during the winter.
4. El Matador State Beach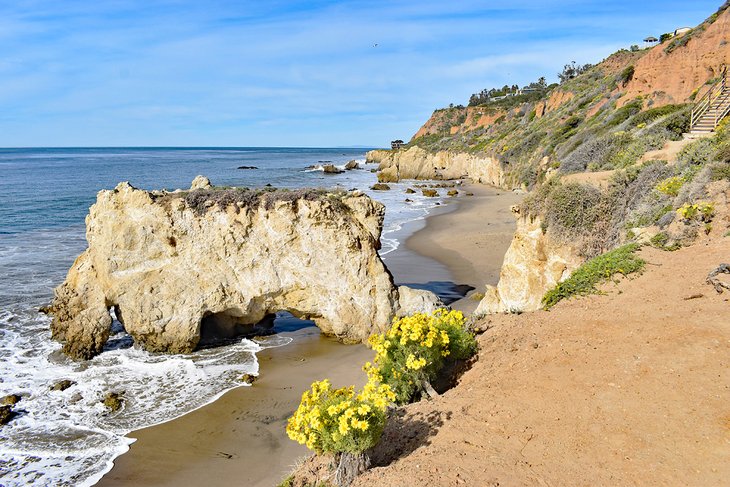 El Matador State Beach is one of three beaches comprising Robert H. Meyer Memorial State Beach, a few miles west of Point Dume. El Matador is the most popular, much in thanks to its incredibly photogenic shoreline. This landscape includes massive boulders in the surf, also known as sea stacks, that invite all sorts of exploration.
The gravel parking lot for El Matador State Beach is off the Pacific Coast Highway. The lot doesn't have enough spaces for the beach's popularity, making it challenging to find a spot sometimes, especially on the weekends. Arriving at the beach early morning is the best for securing a parking spot.
It's a somewhat steep walk down to the beach, including a set of stairs. But visitors don't even need to reach the beach for a beautiful view, as the vantage point from the parking lot is incredible as well. And sunset is usually nothing short of spectacular.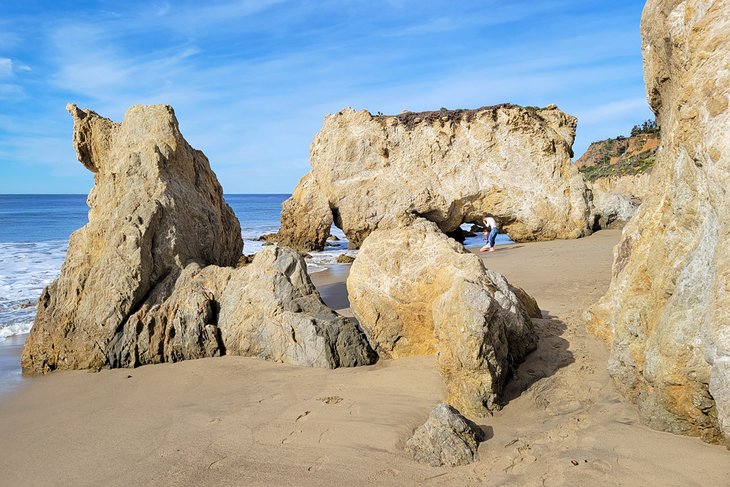 El Pescador and La Piedra are the two other beaches of Robert H. Meyer Memorial State Beach, located less than a mile west on the PCH. These two beaches are often less busy, although they still see some crowds.
5. Point Dume State Beach & Point Dume State Natural Preserve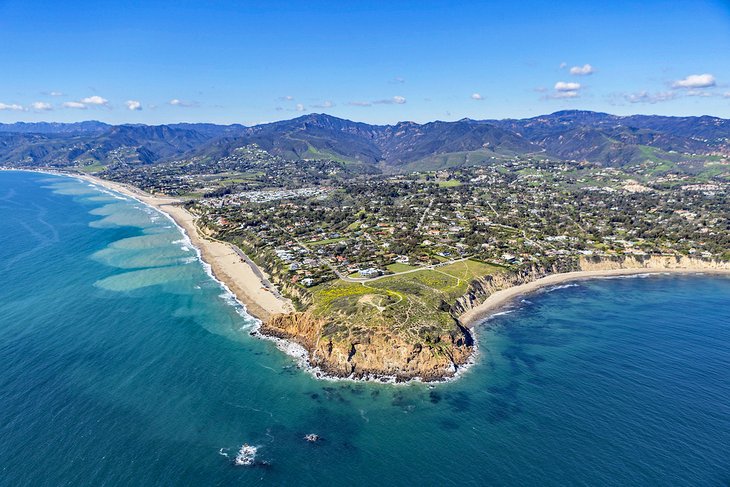 Point Dume offers a stunning stretch of coastline in Malibu, complete with seaside cliffs and expansive beaches. This natural landmark is near the middle of the Malibu coastline and forms the northern edge of Santa Monica Bay. And alongside several visitors throughout the week, Point Dume also hosts a wide variety of wildlife, ranging from butterflies to sea creatures and hundreds of types of birds.
Point Dume's approximately 34-acre headland is a State Natural Preserve. This preserve is an excellent place for hiking and observing nature, including miles-long views of Santa Monica Bay. Sunset is an incredibly striking time to visit, though visitors will want to bring a flashlight to get back to the car.
Beaches stretch on either side of Point Dume. To the east, Big Dume Beach, also known as Dume Cove Beach, is popular for surfing and exploring the rugged environment. And because it takes a bit of a walk to reach the sand, it's less crowded than other beaches on the coast.
West of Point Dume is Westward Beach, operated by Los Angeles County. Westward Beach makes up the easternmost section of Zuma Beach and has similar amenities, including volleyball nets, lifeguards, and restrooms. Westward Beach is also where to find the most available parking for Point Dume.
6. Enjoy Fresh Seafood at Neptune's Net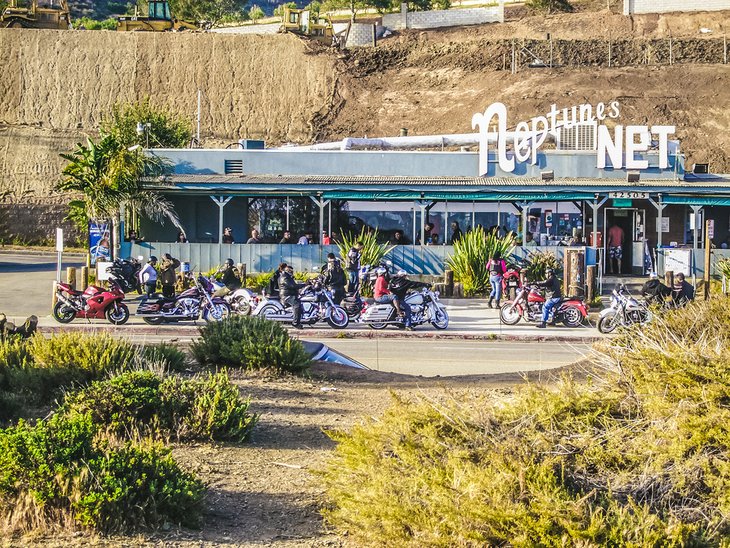 Of all the iconic seafood restaurants in Malibu, Neptune's Net takes the chowder. It has operated in the same building since 1956 and has long since been a hot spot for celebrities, locals, and motorcycle riders.
Neptune's Net is easily recognizable right off the Pacific Coast Highway. Patrons may even recognize it from its role in such Hollywood films as Point Break and Ironman 3. The restaurant operates 364 days, excluding Thanksgiving, and is first-come, first-served.
While Neptune's Net might have the most notoriety, it's certainly not the only seafood staple in town. Other excellent places to visit include Duke's Malibu and Malibu's Seafood Fresh Fish Market & Patio Cafe. Paradise Cove Beach Cafe is also worth checking out, including its very own postcard beach.
7. Hike at Malibu Creek State Park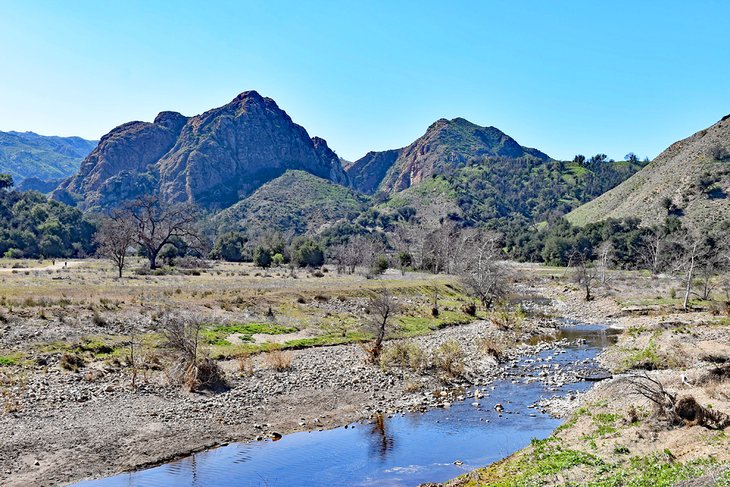 Malibu Creek State Park offers the most opportunity to explore the Santa Monica Mountains behind Malibu. This popular state park encompasses over 8,000 acres and 35 miles of hiking trails and fire roads. This massive expanse includes over 3,000 acres of designated Natural Preserve, making the area also a hot spot for wildlife sightings.
A 14-mile length of Malibu Creek navigates through the park. This riparian corridor provides the primary hiking trail with several side trails branching in all directions. This Main Trail is wide and easy to navigate, even for first-time hikers. Visitors encounter unique stops along the way, including the filming location for the 1969 Planet of the Apes movie.
Malibu Creek State Park is also home to a popular campground. It has over 60 sites that accommodate RVs and tent camping. Each site has a picnic table, fire ring, and great views of the towering Santa Monica mountains.
8. Malibu Lagoon State Beach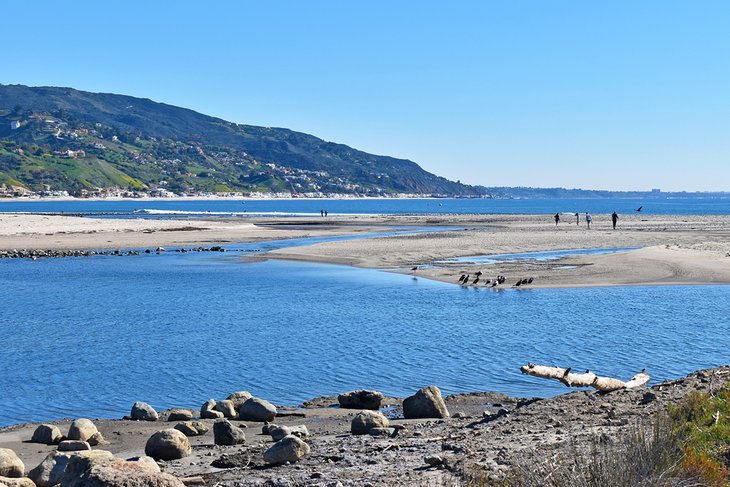 Malibu Lagoon State Beach encompasses the confluence of Malibu Creek and the Pacific Ocean. This verdant wetland is a hot spot for all types of wildlife, especially birds. It also offers a quiet space to connect with the shoreline, all within eyesight of the Malibu Pier.
Malibu Lagoon State Beach also incorporates Surfrider Beach and the Malibu Pier to the east. There's a separate parking area at the south end of Cross Creek Road for those wanting to explore the lagoon. Here, interpretive information lines a pathway navigating the fluctuating lagoon, eventually leading to the beach.
Malibu Lagoon State Beach looks different depending on the time of year. Malibu Creek pools throughout the summer and breaches the sandbanks during winter. Both times of year are fun to visit, with guaranteed wildlife sightings and typically lovely weather.
9. Leo Carrillo State Park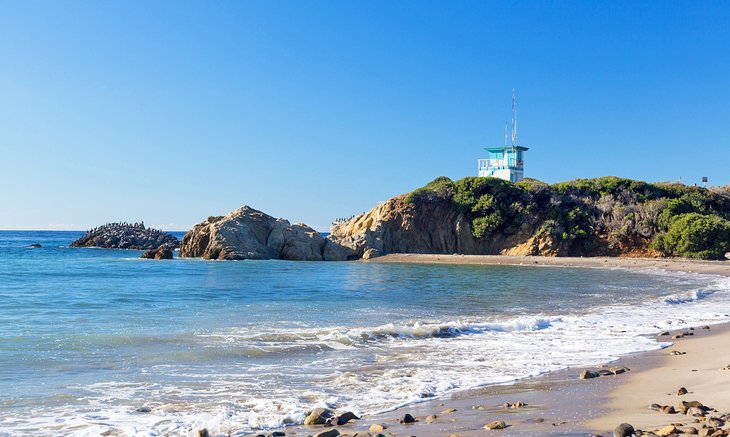 Leo Carrillo is a beautiful state park in Western Malibu comprising 1.5 miles of shoreline and a popular canyon campground. Everyday activities at Leo Carrillo include surfing, fishing from the shore, and exploring sea caves at low tide.
The shoreline at Leo Carrillo is split between a southern and northern beach. Both beaches are accessible from the state park's entrance, on the other side of the PCH from the ocean. The protruding rock formation known as Sequit Point is at the beach's center. Here, sea caves and tide pools reveal themselves when the ocean is ebbing.
The campground at Leo Carrillo caters to both tents and RVs. Over 120 sites are available ascending into the canyon away from the ocean. All campsites have a picnic table and fire ring, and access to restroom facilities with coin-operated showers. There's also an on-site store with camp supplies like firewood and snacks.
10. Hike into Solstice Canyon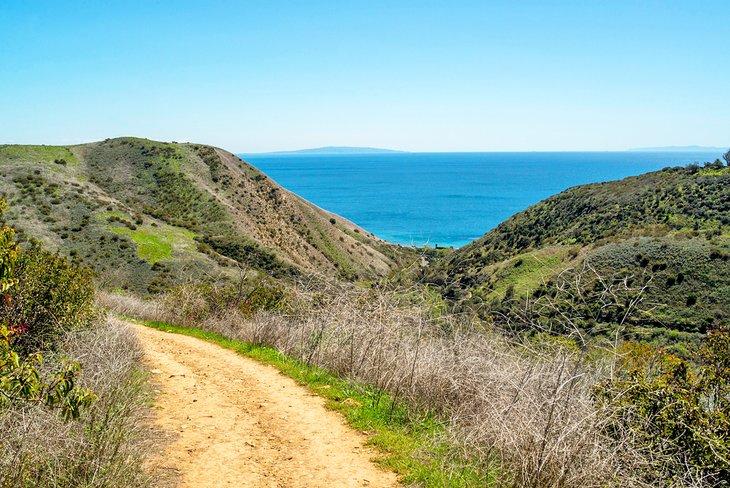 Malibu offers some of the best hiking in Southern California. This is all thanks to the towering Santa Monica Mountains at the backside of the city. Much of this elevated terrain is part of the Santa Monica Mountains National Recreation Area.
Solstice Canyon is one of several places to explore in the Santa Monica Mountains National Recreation Area. It offers a verdant landscape and different options for easier and more strenuous hikes. A perennial waterfall next to the brick ruins of The Roberts Ranch house is a popular place to visit, seen with an approximately three-mile round trip.
Solstice Canyon is just the tip of the hiking options in the Santa Monica Mountains National Recreation Area. Other trailheads include Franklin Canyon Park and Rocky Oaks. However, the most outstanding trail is the 67-mile Backbone Trail that navigates the entire spine of the mountain range.
Official site: https://www.nps.gov/samo/index.htm
11. Tour the Adamson House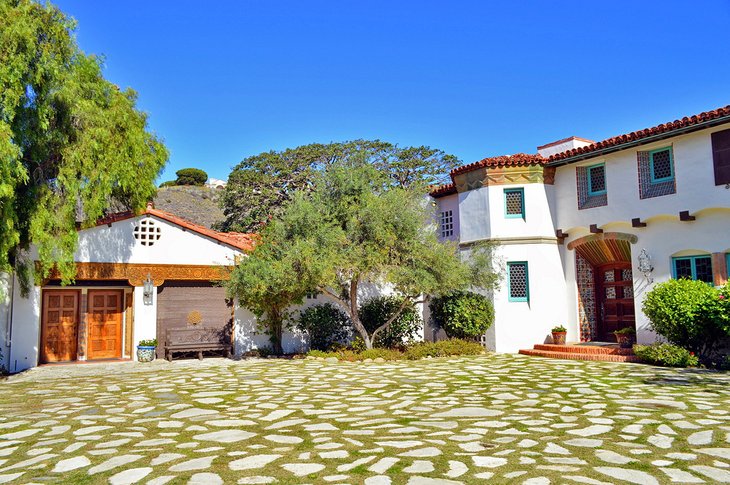 The historic Adamson House is between Malibu Lagoon and Surfrider Beach next to the Malibu Pier. This Spanish colonial-style home dates back to 1929. It is today a national historic site open for the public to explore.
Guided tours at the Adamson House Museum navigate the intricate gardens and eye-catching interior of the home. To note are extensive tiling across the walls, offering a beautiful mosaic of Spanish and Moorish influence. Other architectural features include hand-carved doors and bottle glass windows. Period-authentic furniture also adorns every room.
Currently, the Adamson House is open on Fridays and Saturdays. Docent tours depart throughout the day and include insight into the Adamson and Rinde families and their influence on Malibu. No reservations are necessary for tours.
Address: 23200 Pacific Coast Hwy, Malibu, California
Official site: https://www.adamsonhouse.org/
12. See the View at Malibu Bluffs Park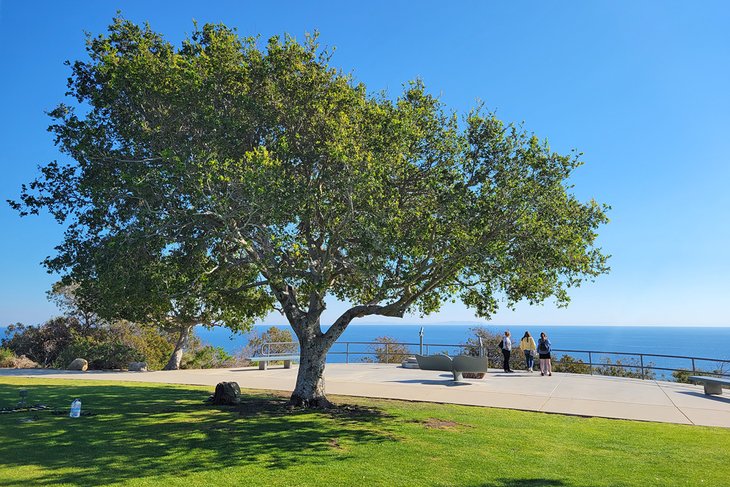 This lovely six-acre park is a popular spot for locals and an excellent place to hang outside. The park is right at the intersection of Malibu Canyon Road and the Pacific Coast Highway, beneath the elevated campus of Pepperdine University.
The park has facilities like playgrounds, baseball diamonds, and soccer fields. But it's the many picnic tables with outstanding views that attract out-of-town interest.
The entire backend of the park abuts the namesake bluffs, providing miles-long views across the ocean. And for those wanting to explore further, the park lends access to the adjacent 84-acre Malibu Bluffs Open Space.
Address: 24250 CA-1, Malibu, California
Map of Things to Do in Malibu, CA
Malibu, CA - Climate Chart
Average minimum and maximum temperatures for Malibu, CA in °C
J
F
M
A
M
J
J
A
S
O
N
D

18

10

17

11

17

11

17

12

18

13

19

15

21

17

21

17

22

17

21

15

19

12

18

11

PlanetWare.com
Average monthly precipitation totals for Malibu, CA in mm.

78

84

65

14

6

1

0

3

4

9

26

47