14 Top-Rated Weekend Getaways from Los Angeles
We may earn a commission from affiliate links ()
Los Angeles is certainly a great place to live or visit, but sometimes you just need to get out of town. The city's many freeways can take you to a wide variety of getaway destinations, many within just a few hours.
Perhaps you would enjoy the desert sunshine and mid-century modern aesthetic of Palm Springs, the snowy outdoor sports and spectacular natural beauty of Mammoth Lakes, or the fresh seafood across the border in Rosarito Beach. All these destinations are easy getaways from LA. You can even escape to an island: Catalina Island is only a 90-minute boat ride away.
With all these options, what are you waiting for? Find a great city escape with our list of the best weekend getaways from Los Angeles.
1. Palm Springs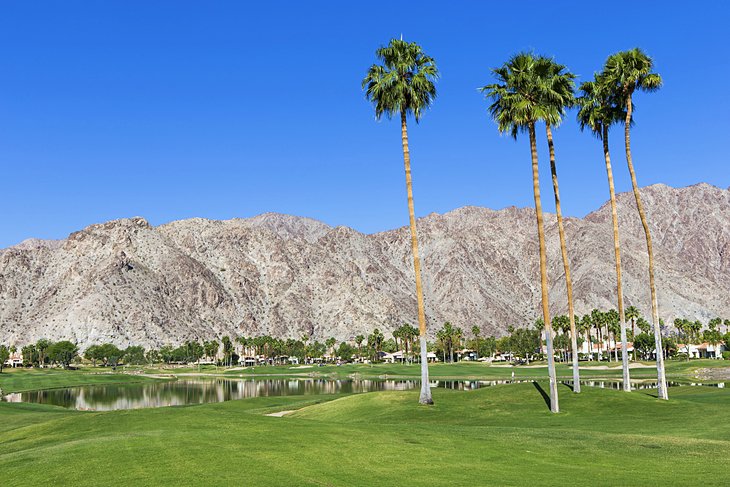 Only 100 miles (and about a two-hour drive) from Los Angeles, Palm Springs has been a popular desert getaway for almost 100 years. The area, which averages about 350 days of sunshine a year, is filled with resorts and golf courses and is especially popular during the winter months.
Known as the Coachella Valley, this includes the cities that surround Palm Springs: Palm Desert, Indian Wells, La Quinta, and Rancho Mirage.
Palm Springs is home to the largest collection of intact mid-century modern buildings in the world, both homes and commercial buildings. The architecture can be explored on one of the Palm Springs Historical Society's walking tours. Each February, the city stages Modernism Week, a week-long celebration of the design style, with events, parties, lectures, tours, and movie screenings. Movie fans flock to the city each January to attend the Palm Springs International Film Festival, which is open to the public.
Aside from golfing and enjoying the sunshine, the Coachella Valley has some great restaurants and sightseeing, too. Visitors should check out the Palm Springs Art Museum, as well as the Palm Springs Aerial Tramway.
The aerial tramway takes you up 8,500 feet over two-and-a-half miles in about 10 minutes. It takes you from the hot desert to a cool, pine tree-dotted mountain setting, sometimes complete with snow. The views are spectacular from the top. Once at the top, there is a casual café, a fine-dining restaurant, and more than 50 miles of hiking trails to enjoy.
2. Santa Barbara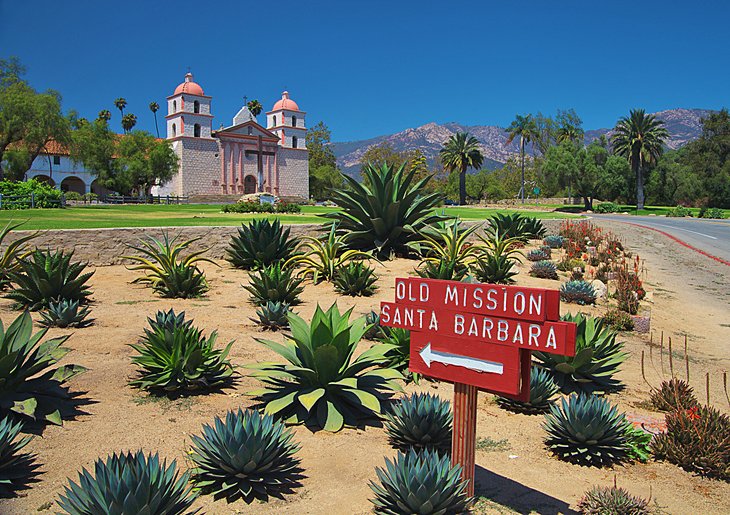 Just under 100 miles north of Los Angeles, Santa Barbara is a stunning seaside city. There's a dense downtown district filled with wonderful shops and restaurants, as well as beautiful beaches and a boardwalk area. The blue Pacific; wide, curving beaches; and hillside mansions give the area a South of France feel, and it's aptly referred to as the "American Riviera."
The city's Funk Zone, a redeveloped former warehouse district near the waterfront, is now a popular place to spend an evening at one of the many great restaurants, art galleries, and performance spaces.
If you're looking to treat yourself or someone special, Belmond El Encanto is an idyllic luxury resort in the Riviera neighborhood in the hills above Santa Barbara. Open since 1918, the property has been thoroughly updated and features individual luxury casita and bungalow accommodations. There's a world-class spa and gourmet fine dining with beautiful views over the city and ocean beyond.
Accommodation: Best Beach Resorts in Santa Barbara
3. Rosarito Beach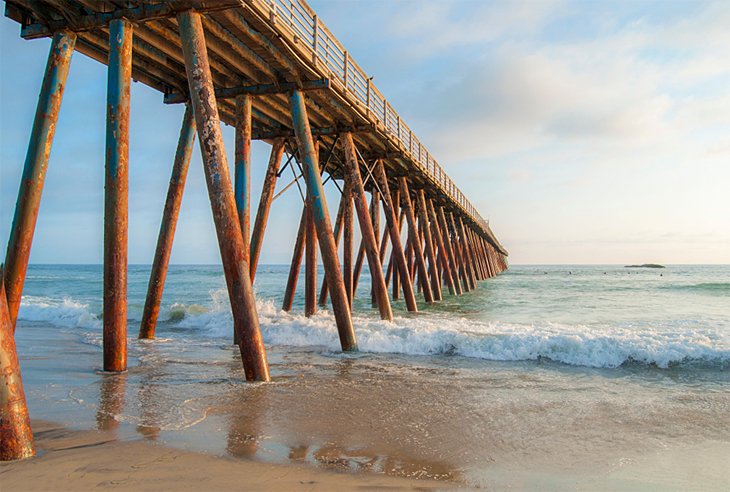 For an authentic Mexican getaway, why not take a drive down to Rosarito Beach in Mexico? It's about three hours from Los Angeles by car, only about 15 minutes farther than Tijuana.
This beach resort has a wide, large beach and a good selection of tourist hotels. It has delicious, authentic Mexican food with amazing fresh seafood. For a fun side trip, visit Baja Studios, where they filmed Titanic, and stop by the small fishing village of Puerto Nuevo.
To get to Rosarito, it's best to park on the U.S. side of the border (there's a large parking lot), walk across into Mexico, and take a taxi or request a rideshare car. Most rental car policies prohibit taking the car into Mexico, and most American auto insurance policies do not apply here. There is a row of taxis waiting right on the Mexican side of the pedestrian border crossing, and the fare is about $30 per car load (not per person) right to Rosarito Beach.
The Rosarito Beach Hotel is an iconic property, the area's original resort hotel. Most visitors prefer rooms in the new condo wing, rather than the historic original building, which was built in the 1930s. It's right on the beach, at the center of town. The 500-room mega-resort offers the usual range of amenities, a private beach, several swimming pools and hot tubs, a fitness center, spa, and a few different on-property dining options.
4. Catalina Island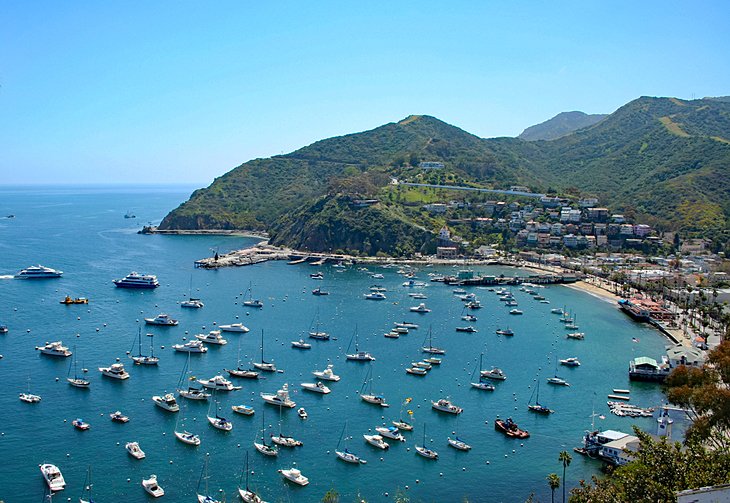 Many visitors to Southern California forget there's a beautiful island resort just 26 miles off the Los Angeles coast. Catalina Island is a fun, 90-minute Catalina Express ferry ride from the mainland, and the island is a perfect place to get away from it all.
There's a range of fishing and diving adventures available, great beaches, delicious food from a wide selection of restaurants, and plenty of natural areas to explore. Sea kayaking off the shore among whales and sea otters is a great way to enjoy the sunshine and see the island from a different perspective.
For some high-speed, high-altitude fun, the island's Zip Line Eco Tour is a series of five ziplines taking you down through a canyon.
For a more luxurious beach experience, skip the usually crowded public beach in downtown Avalon, and walk down the beachfront promenade past the iconic casino building to the Descanso Beach Club. This restaurant and beach club rents sun loungers and private cabanas on the beach with waiter service. There's also a popular beachfront cafe restaurant right on the sand, along with water sports rentals.
The Bellanca Hotel is right across from the beach at the north end of Avalon (Catalina's main city), giving some of its rooms and suites great ocean views. There's also a large roof deck, with sensational views of the beach and harbor. The hotel has free loaner bikes for guests, and all the island's activities are close by. Have a bite at The Naughty Fox, the hotel's pub restaurant with a seaside-inspired menu.
5. Laguna Beach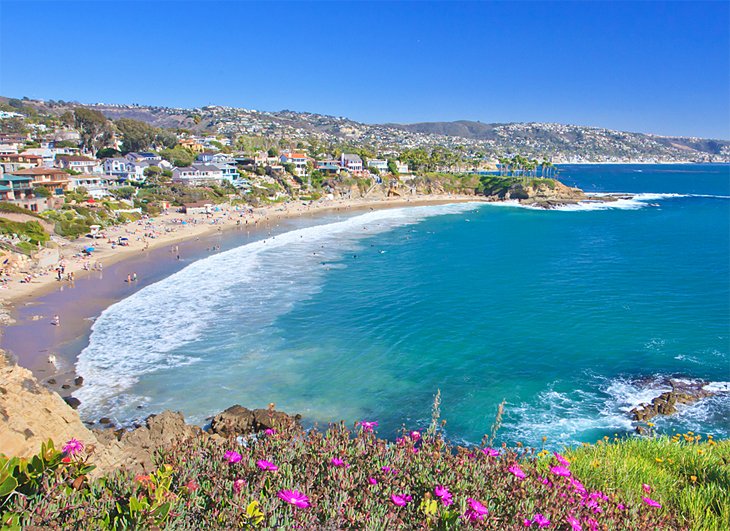 About an hour south of Los Angeles, this seaside city in Orange County is known for its arts scene, its outdoor lifestyle, and some seriously beautiful beaches. Aside from having a lot of art galleries in town, Laguna Beach hosts something called the annual Pageant of the Masters and Festival of the Arts each July.
The Pageant of the Masters festival (now in its 85th year) brings art masterpieces to life with full-size, three-dimensional, staged performance art pieces of famous works of art, occupied by real people in makeup, body paint, and/or costumes. Imagine a stage set like a giant Mona Lisa with an actress dressed up as the painting's subject posed within it.
Beyond the annual arts festival, Laguna Beach and the surrounding area is a great place to visit for a weekend getaway anytime. There's a long public beach (called Main Beach), a lot of excellent restaurants, and many art galleries, combined with warm, sunny weather 300-plus days a year.
The Ranch at Laguna Beach is an 87-acre luxury resort, located across PCH (Pacific Coast Highway) from the beach, tucked up in a canyon. The resort has a popular restaurant and an excellent nine-hole golf course along with a large spa. The contemporary, luxurious yet rustic accommodations are in one- and two-story bungalow complexes, which blend well into the natural canyon setting. A golf cart shuttle will take you to the beach via a tunnel that goes under PCH.
Accommodation: Best Hotels in Laguna Beach, CA
6. Mammoth Lakes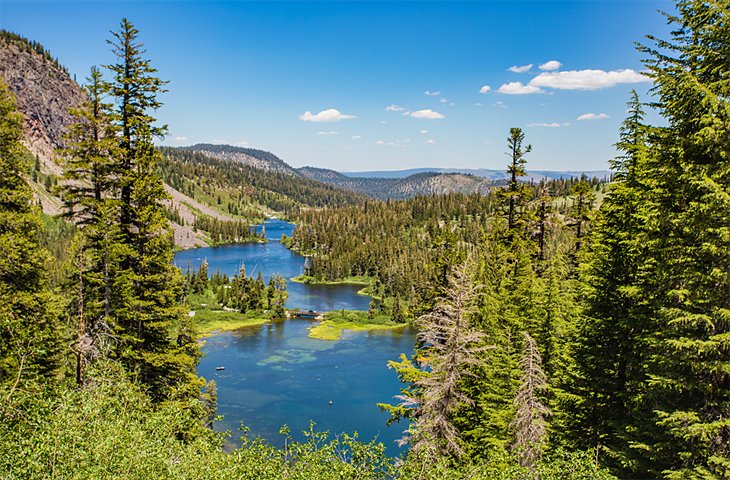 If you are interested in skiing in California, Mammoth Mountain is one of the state's best ski resorts. Depending on the weather, the resort is sometimes open well into the summer for skiing (in 2017, it stayed open until August). The normal ski season is from November through June. It's on the eastern side of the Sierra Nevada Mountains and has 175 runs serviced by 25 lifts plus a terrain park.
This is a four-season resort, so when it's not snowy, the Mammoth Lakes area is a great place for camping, hiking, mountain biking, and other outdoor adventure sports. The lakes and streams are also perfect for fishing. The resort runs several chairlifts during the summer to accommodate hikers and mountain bikers.
Mammoth is a five-hour drive from Los Angeles, or you can fly to Mammoth Yosemite Airport (MMH). United has year-round flights from LAX, and JSX has seasonal (winter) service from Burbank (BUR) and Orange County (SNA) airports.
Combine your ski or adventure trip with some sobering American history. A trip to the Mammoth area allows for a visit to the nearby Manzanar National Historic Site, one of 10 internment camps used to incarcerate Japanese-Americans during World War II.
Accommodation: Where to Stay in Mammoth Lakes
7. San Diego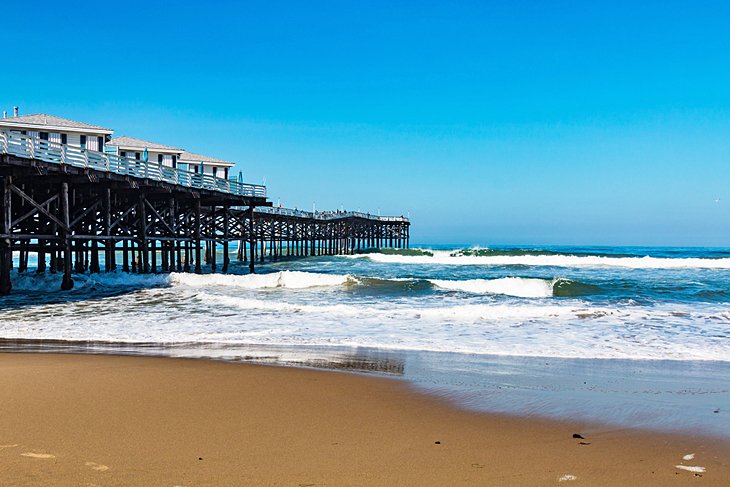 San Diego is a three-hour drive from Los Angeles and offers beautiful weather year-round plus an amazing range of things to see and do. The downtown area, especially the revitalized Gaslamp District, has a thriving restaurant scene, some great music venues, and many interesting retail stores.
The San Diego Zoo, in Balboa Park, is huge, with most animals housed in recreations of their natural habitats. It's a great family attraction, as there are many ways for kids to interact with and learn about the animals. The San Diego Zoo Safari Park is a drive-through wildlife experience in Escondido, about an hour away. It's done in an African safari-style jeep, and you get to see rhinos, giraffes, gorillas, elephants, and more.
For a more relaxed getaway, with plenty of beach time and outdoor activities, try focusing on Pacific Beach. This small beach town is just north of downtown San Diego, right next to La Jolla. There's a wide, flat beach; a long, beachfront boardwalk and bike path fronted with cafés and restaurants; and plenty of laid-back locals enjoying the sunshine.
The Surfer Beach Hotel is a cool, retro hotel, right on the Pacific Beach boardwalk. Some rooms have direct ocean views, and there's a big swimming pool. The hotel is home to one of the town's best restaurants, called World Famous Pacific Beach. If you are coming here with a family, have a look at some fun family resorts.
Read More:
8. Joshua Tree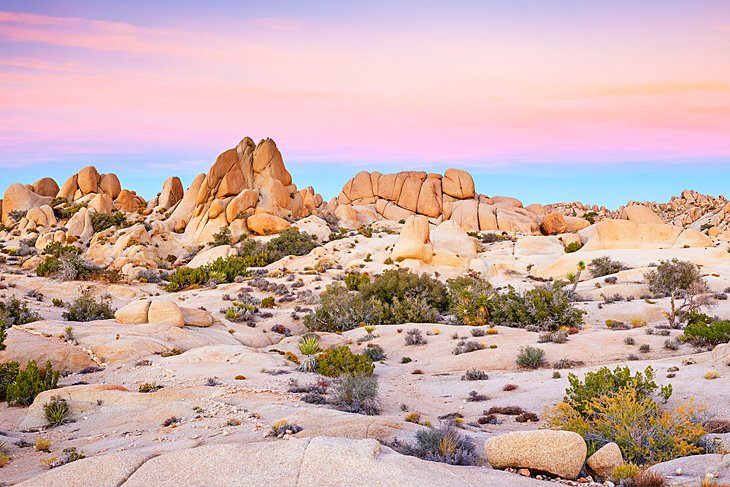 Joshua Tree, specifically Joshua Tree National Park, is a vast desert space of more than 800,000 acres. It's a little less than an hour from Palm Springs or just under three hours from LA by car. There are two distinct desert ecosystems here, the Mojave Desert and the Colorado Desert.
The park is filled with beautiful flora and fauna and amazing geological scenery. You go to Joshua NP to hike, spend a night or two in one of the park's scenic campgrounds, or to climb some rocks. It's a popular place for car camping.
It's fun to spend a few days deep in the desert camping or to just spend an hour or two hiking the easier trails on a day trip. For sky watchers, the area is an International Dark Sky Park, meaning an incredible number of stars and constellations are visible in the night sky.
The little town of Joshua Tree, located just outside the park, is filled with an eclectic collection of hippie stores, natural healers, and roadside diners.
Accommodation: Where to Stay in Joshua Tree
9. Ventura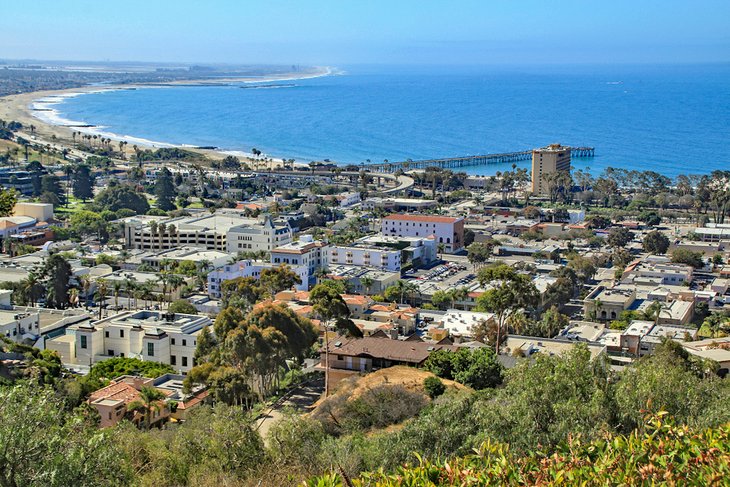 For a great weekend getaway enjoying the ocean, Ventura is a small beach city about an hour north of Los Angeles. Aside from clean, super wide, uncrowded beaches, it has a quaint downtown area, appropriately centered around Main Street.
Downtown Ventura has a wonderful, old-school vibe, with most of the architecture preserved from the 1920s and 30s. The beachfront area has a long, wooden pier extending into the ocean, with beaches on either side. There's a large harbor, and a boat trip to one of the nearby uninhabited islands of the Channel Islands National Park is an exciting environmental adventure.
There is history here, too. The city was on the Camino Real, the trail of California missions established by the Spanish in the 18th century, extending throughout the state. Ventura's Mission Santa Buenaventura and its church from 1809 are on Main Street and well worth a visit.
The Ventura Beach Marriott is a low-key, almost-beachfront hotel, with comfortable, contemporary rooms and suites. It's a few blocks from the ocean and from San Buenaventura State Beach. There's a large fitness center and free-form pool. The Channel Kitchen is the hotel's on-site dining option with a menu featuring California cuisine. Burger aficionados will want to head across the street for a Double Double at In-N-Out Burger, a Southern California institution.
10. Big Bear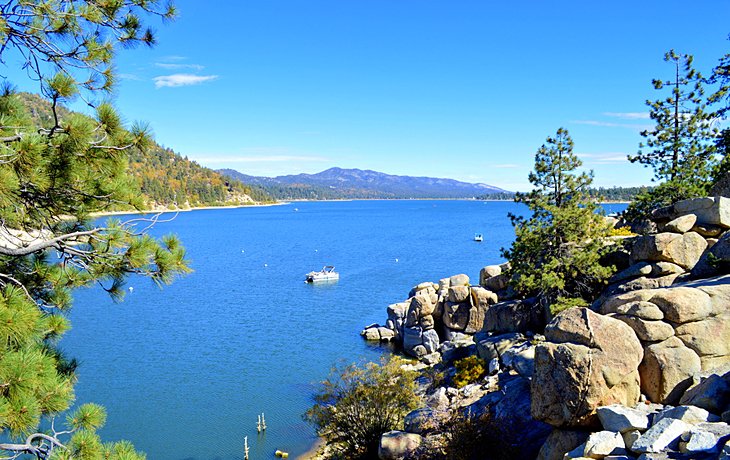 This mountain resort in the San Bernardino Mountains offers skiing and snowboarding during the winter and plenty of outdoor adventure fun in the summertime. Most of the ski resorts in the area keep a lift or two open in the summer for mountain bikers, and there are hundreds of miles of trails for riders of all skill levels. You can also go hiking in the beautiful forests. Horseback riding is popular, too.
Big Bear Lake is perfect for fishing and boating. Of course, a winter visit gives you access to hundreds of ski slopes of all levels of difficulty, plus snowboarding, cross-country skiing, and snowmobiling. The two main resorts are Bear Mountain and Snow Summit, with Bear Mountain having a bit more terrain and elevation for advanced and expert skiers.
Big Bear is about two hours from Los Angeles, but the two-lane road up and down the mountain gets busy during holiday weekends. Leave very early or very late to avoid extra time in traffic. It can also be treacherous during snowstorms, and tire chains are required during winter driving.
Accommodation: Where to Stay near Big Bear
11. Solvang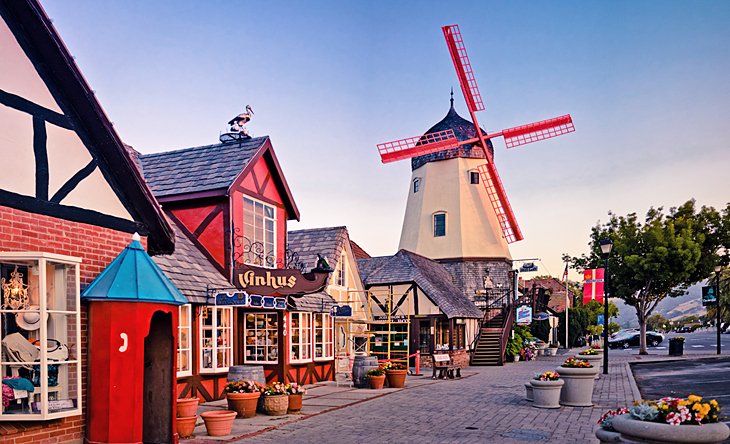 Solvang is a small city just north of Santa Barbara that has dedicated itself to its Danish history. Now mainly a tourist creation, it was settled in the early 20th century by people from Denmark trying to escape the cold of the Midwestern U.S., where they had first settled on arrival in the country.
It's filled with Danish shops, and restaurants serving Danish food. Even the architecture is Danish, with plenty of windmills and similar Scandinavian designs. It's about two hours from Los Angeles and makes a great getaway on its own or when combined with a Santa Barbara trip.
Aside from the shops, bakeries, and restaurants, there's a Hans Christian Andersen Museum (he was Danish); the Elverhoj Museum of Danish History; and the Mission Santa Inés, adding some Spanish and California history, too. There's also a very cool vintage motorcycle museum.
Accommodation: Where to Stay in Solvang
Read More: Best Small Towns in California
12. San Luis Obispo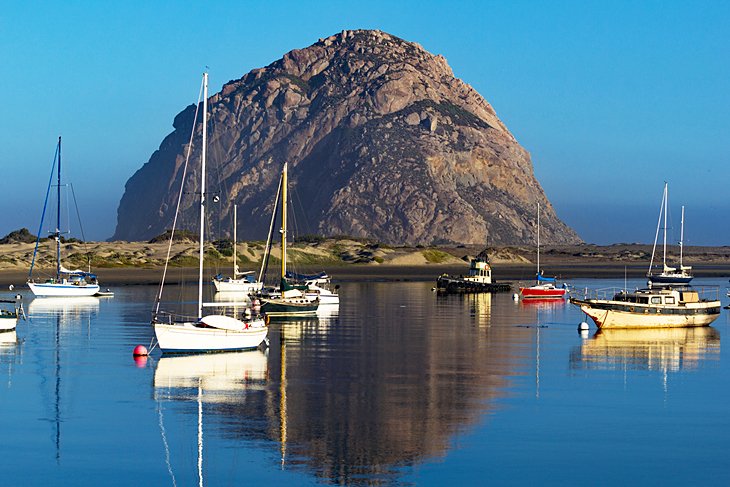 Just a bit more than three hours by car from Los Angeles, San Luis Obispo provides a true California Central Coast beach experience, along with some cool history. Spend some of your visit in Morro Bay, a small, quaint beachside town with a wide, curving bay and beach.
There's an 18th-century Spanish mission in San Luis Obispo, and the complex is now a museum and state historical site. This small city has plenty of interesting shops and art galleries that cater to tourists, and there are many great beaches nearby. It's a very family-friendly city - kids will like the San Luis Obispo Children's Museum or the SLO Skate Park.
Also in the area, San Simeon is the site of Hearst Castle, the palatial estate, ranch, and mansion of William Randolph Hearst. The museum-like mansion and its opulent buildings are testament to the extreme wealth of Hearst and his passion for history and collecting.
Accommodation: Where to Stay in San Luis Obispo
13. Lake Arrowhead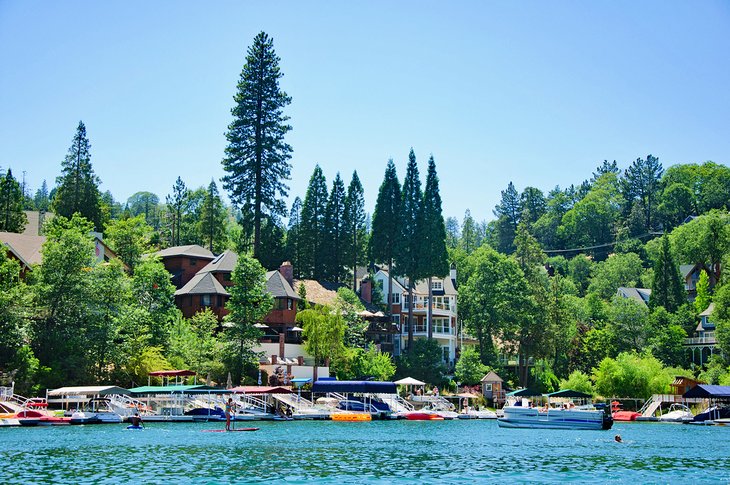 While Big Bear might be a winter wonderland, Lake Arrowhead (also in the San Bernardino Mountains) is primarily a summer destination. The beautiful mountain lake is great for boating swimming, jet skiing, and all kinds of water sports.
The UCLA Lake Arrowhead Lodge is an upscale four-season mountain lodge resort, which used to be a retreat reserved for the exclusive use of UCLA students, faculty, and alumni. Now open to the public, it's a unique alternative to other accommodation options in the area. Accommodations are in stylish chalet-style condo-like units, most of which have fireplaces and decks.
You can also visit Lake Arrowhead during the winter. The quaint lakeside village becomes a Santa's Village winter wonderland and is worth a visit.
Read More: Best Things to Do at Lake Arrowhead
14. Lake Havasu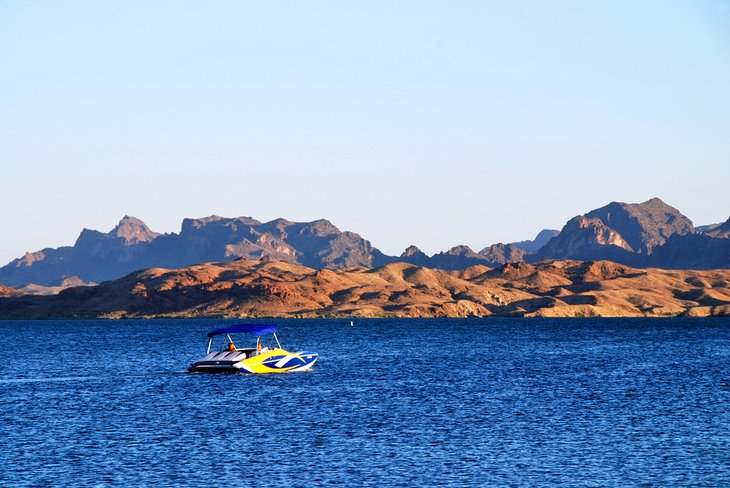 Lake Havasu is just over the California border in Arizona and is a summer fun spot for boating, fishing, and all kinds of water sports. It's one of the best lakes in Arizona for fun and pleasure. Aside from a huge lake and river, there are sandy beaches with a social scene that rivals anything at the ocean.
It takes about five hours to drive to Lake Havasu City from LA, and it's a great place to visit for a summer weekend getaway.
This popular Spring Break destination starts its high season in April, and that season runs though the first week of September and the American Labor Day holiday.
You can even visit London Bridge while you're in Lake Havasu. A developer bought the bridge from the city of London in 1968 and reassembled it across the Colorado River. Now it's a very popular tourist attraction, second only to the Grand Canyon for Arizona visitors. The London Bridge Resort is a waterfront resort with its own marina. London Bridge Beach and Windsor Beach are both a short walk away.