14 Top-Rated Beaches in Los Angeles, CA
Travel writer Freddy Sherman has lived in Los Angeles for 30 years. His favorite beaches are Zuma for the surf and the vibe, and Santa Monica for the space and things to do.
Los Angeles may possibly be the American city with the best overall variety of local beaches. There are so many different beaches within the large confines of Los Angeles County, and the county also neighbors and surrounds miles and miles of other beach cities, spreading both north and south of LA.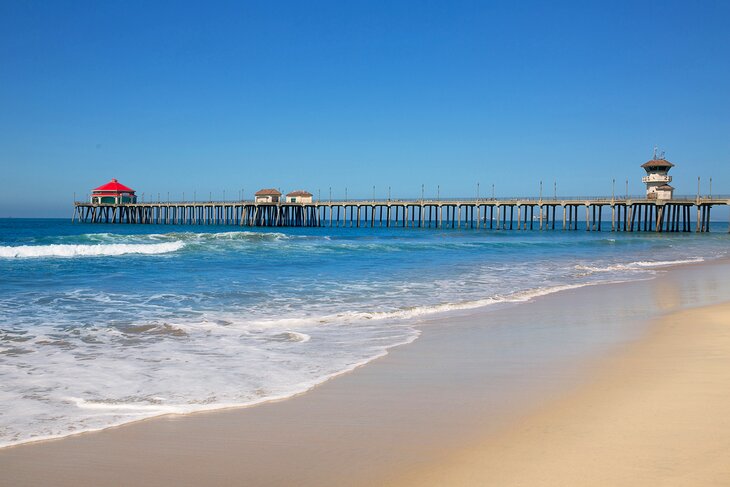 The city's massive airport, LAX, is even right next to a beach (Playa del Rey). You could go from the airport to the sand in about 10 minutes if you find yourself with a layover and some time to kill.
By law, all California beaches are free to access, although many require payment for parking. All California beaches are public property. In reality, beach access can be physically restricted with houses, fences, and gates, and some are virtually inaccessible, except to local residents.
Families may enjoy large beaches like Santa Monica or Redondo Beach, with a wide range of facilities, retail areas, and amenities, while adventurers may like more secluded beaches like those found in Malibu or Palos Verdes.
Check out the top options with our list of the best beaches in Los Angeles.
1. Santa Monica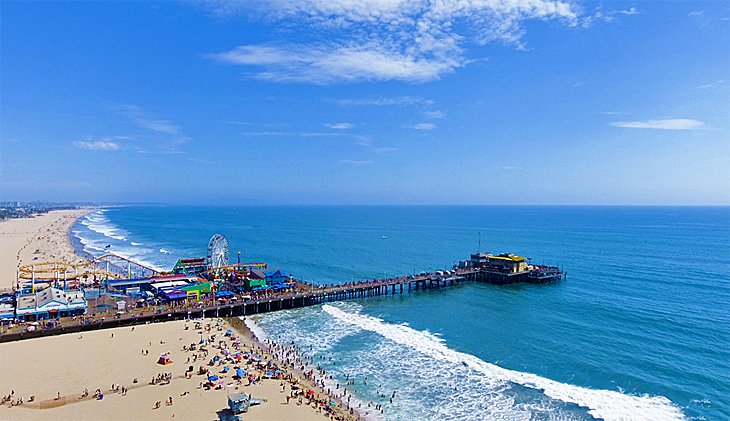 With clean, super-wide, soft, sandy beaches; an amusement pier; a beachfront boardwalk; and some seriously good restaurants, Santa Monica offers the best overall beach experience in Los Angeles. It's also one of the best beach areas in Southern California.
The beaches have an old-school, East Coast feel, very wide and flat, with the addition of bike paths and plenty of outdoor exercise areas. The main beach, Santa Monica State Beach, is 3.5 miles long, intersected by the Santa Monica Pier. The pier is a fun entertainment and amusement park, extending out into Santa Monica Bay. The beach is also one of the best beaches in LA for young children, as there are a lot of play areas, including a universally accessible, barrier-free playground. The North Beach Playground has sensory elements designed for touching, feeling, and hearing, with equipment designed to inspire mobility, activity, and imagination.
You also have a wide range of options for accommodations, from luxury beachfront resorts to budget motels still close enough to walk to the beach. North of the pier is miles of open beach, officially known as Will Rogers State Beach, with paid beachfront parking, and facilities and snack shops every few hundred yards. South of the pier are more recreational areas and large, open green spaces. There are also several beachfront cafés and bike rental places.
The Strand Beach boardwalk and bike path continues south to Venice Beach (and all the way down to Redondo Beach). It's part of LA's Marvin Braude Bike Trail, a 22-mile-long uninterrupted bike path mainly following The Strand along the beachfront. It starts at Will Rogers State Beach in Pacific Palisades and runs all the way to Torrance County Beach, past Redondo Beach.
For accommodations in Santa Monica, if you're looking to splurge, Shutters on the Beach is a luxury beachfront hotel that replicates the grand Victorian beach hotels in a modern California style. The hotel is right on the beachfront promenade and bike path, a few steps from the sand.
Right next door and right on the sand is the very fancy Hotel Casa del Mar. Built in 1926 as a private beach club, it was popular with Hollywood celebrities of the day. The historic Italian Renaissance Revival building was transformed into an ultra-luxury hotel in the early 2000s.
When you want a break from the beach, Santa Monica is also a good place for retail therapy. Santa Monica Place is a luxury shopping development a few blocks from the beach with stores from all the big luxury brands. Drive a few minutes to the upscale, locally owned boutiques and trendy cafés of Montana Avenue for some almost-guaranteed celebrity sightings.
2. Malibu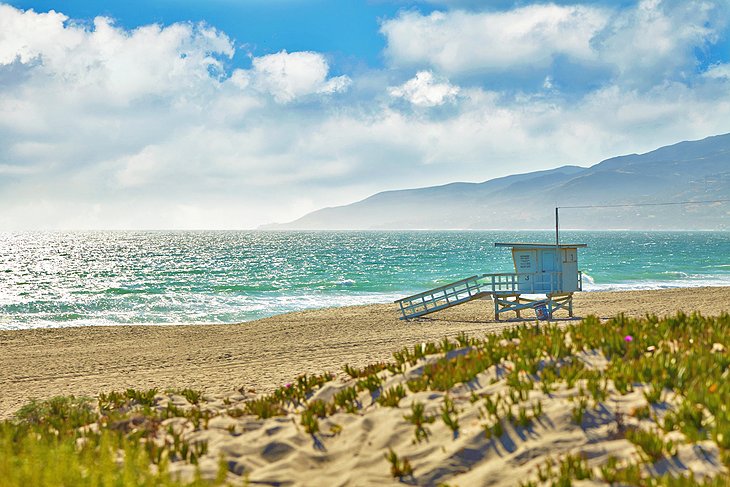 The city of Malibu stretches for about 20 miles along the California coastline, just north of Santa Monica. Within it, there are miles of beautiful beaches, both wide-open beaches and intimate cove beaches.
Malibu's cove-type beaches are sometimes secluded beaches surrounded by bluffs or cliffs. Some have parking at the top of the bluff and are accessible only via a winding path that leads to the sand.
One great beach is Topanga Beach, where Topanga Canyon meets the Pacific Coast Highway. This is one of the original surfing beaches and has been featured in many movies and TV shows. There are basic services (bathrooms and outdoor showers) in the parking lot.
Topanga is a mile-wide rocky, pebbly beach, best for water sports, diving, or fishing - but not so good for swimming. There is a picnic area, and the parking lot has beach wheelchairs available for those with accessibility issues. Topanga is also easily reachable via public transportation, there's a Metro bus stop right here.
Paradise Cove is a semi-private beach area and beachfront restaurant in Malibu. It's a good option for couples or those seeking a luxury or romantic beach experience, as they offer cabanas, beach chairs, and double beach beds with waiter service. The beach is next to the Malibu Pier, and the area of the sand above the waterline is for the exclusive use of Paradise Cove guests.
On the north end of Malibu, Zuma Beach is a wide, flat beach that stretches for almost three miles. The beach slopes downward sharply near the water line, and there is a line of dunes between the beach and the beachfront bike/walking path and parking lot. There are 14 lifeguard towers along the beach, as well as facilities and snack shops every quarter mile or so.
Zuma is famous for its surfing and as a spot to see and be seen. At the south end of the beach are rocky cliffs and a cove that's inaccessible at high tide. Zuma's far north location means the water quality here is the best of any beach in Los Angeles County. The aptly named The Sunset Restaurant is at the end of the beach, right on the sand, and a wonderful place to watch the sunset and enjoy some fresh seafood.
Read More: Best Beaches in Malibu
3. Huntington Beach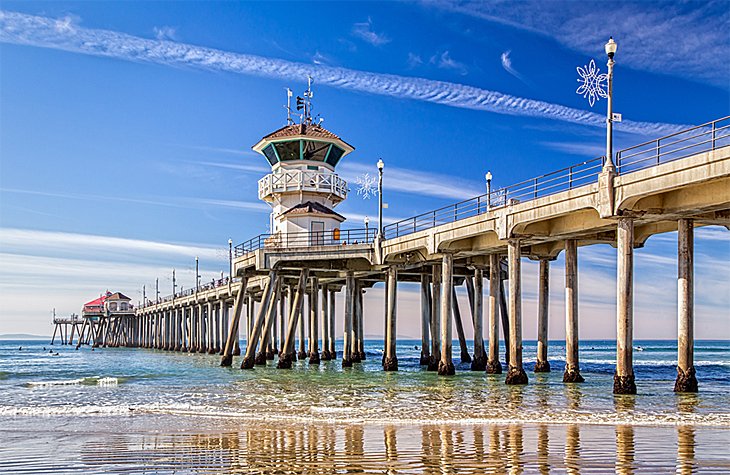 One of the surf capitals of the region and the world, Huntington Beach boasts some of Southern California's best waves and some of its most beautiful beaches. The beach is wide and flat and goes on for almost 10 uninterrupted miles on either side of the city's large pier.
After enjoying the beach, there's a vibrant downtown retail district right across the street. The city is home to the International Surfing Museum, and it's worth a visit. The city and its beaches get very crowded on holiday weekends and during the annual professional surfing tournament held each summer (usually the last week and weekend of August).
The Kimpton Shorebreak Huntington Beach Resort is a stylish, surf-themed hotel across the street from the beach and a short stroll from the pier. The pet-friendly hotel (any pet, any size as long as it will fit in the elevator) is also the closest resort to the city's famous dog beach. The Huntington Dog Beach is an off-leash dog park on the sand, one of the few in California. Dog Beach is the area off Pacific Coast Highway, between the Seapoint and Golden West traffic lights.
4. Redondo Beach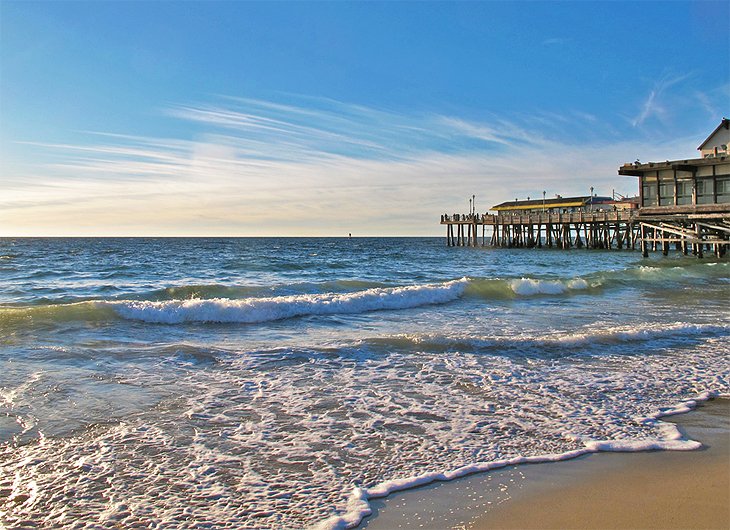 With a touristy, yet cool little fisherman's village and a large marina called King Harbor, Redondo Beach is a fun family beach destination. There's also a big, newly-rebuilt municipal pier, which has restaurants, shopping, and entertainment along with water sports rentals, like SUPs (stand up paddleboards), and sea kayaks.
Surfing is big here, as is beach volleyball. South Redondo Beach is the area with wide, clean beaches extending out from the pier. The Strand bike path runs along the edge of the beach. This beach is also easily reachable via public transportation, Redondo Beach is at the end of the Metro's Green Line train system.
The Portofino Hotel and Marina has recently undergone a total renovation and is a waterfront hotel on its own little peninsula right on King Harbor. All the rooms and suites have water views and private, furnished balconies. Some face out towards the ocean; others face back across the marina; and all of them give you crisp, salty ocean air.
A great new hotel option in Redondo Beach is the Shade Hotel. Also on the waterfront, the Shade Hotel Redondo Beach offers a polished, sleek, four-star luxury boutique hotel experience, the first in town. Another plus, the hotel's location is less than seven miles from LAX.
5. Playa del Rey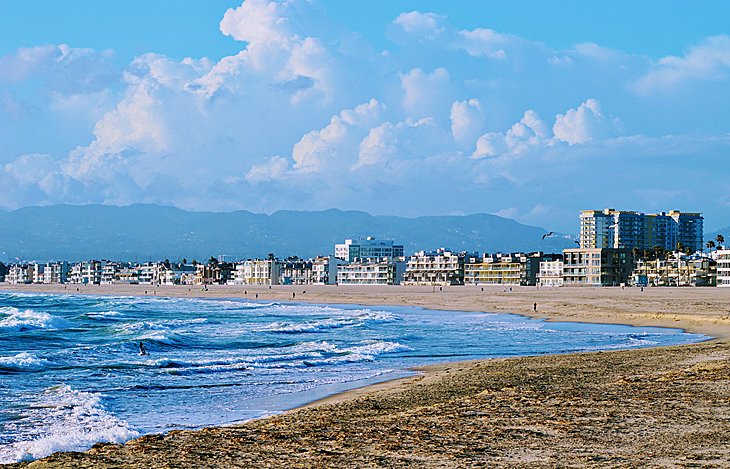 This lesser-known beach city, next to Marina del Rey, is the home of Dockweiler State Beach, one of Southern California's best. It has almost four miles of ocean frontage. Another beach, Playa del Rey Beach may be the least crowded city beach in Los Angeles, with miles of wide, chalky-white beach and high sandy dunes.
The beach offers wide sections of raw, wild beach, backed by dunes and a wetland preserve area. There are also fun areas with volleyball nets and fire rings (for nighttime campfires). One of the few spots in LA where you can camp at the beach, Dockweiler offers camping for RVs, with over 100 full hookup spaces; advance reservations are required.
Another unique thing this beach offers is plane spotting. Dockweiler is on the approach and departure path from nearby LAX. It's mainly a residential area with plenty of on-street parking but no services. There are volleyball courts on the beach, and The Strand bike path runs its entire length.
The Inn at Playa del Rey is a boutique bed and breakfast hotel, set back from the beach, adjacent to a beautiful wetlands nature preserve area. Used by many of the tech companies that have offices in the area, it offers stylish, Cape Cod-style accommodations. The "urban inn" is part of the Four Sisters Inns collection of 16 boutique luxury inns and hotels located in some of California's best tourist areas. It's also popular, as it's less than five miles from LAX, making getting to or from the airport easy at any time of the day.
6. Venice Beach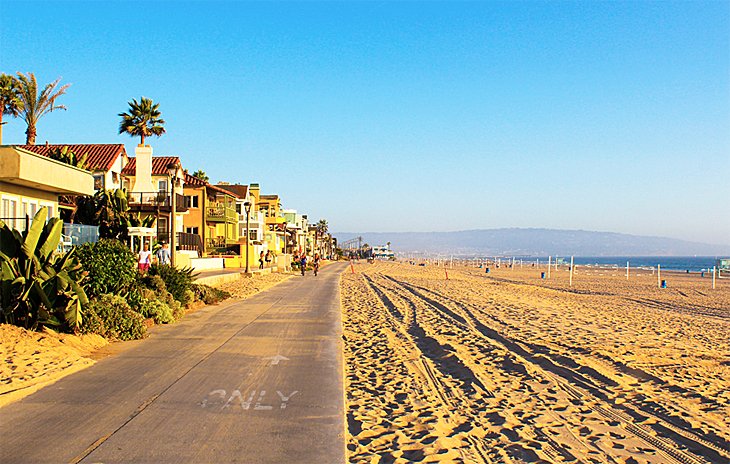 Even though the hippies and beatniks who made the city famous are long gone, Venice Beach is still a trip. In addition to LA's best people-watching, there's a large, wide beach, with volleyball courts, basketball courts, a skatepark, tennis courts, handball courts, and other recreational activities. The real attraction here is the weekend human carnival you'll witness on Ocean Front Walk, Venice's wide beachfront promenade/boardwalk.
The beachfront pedestrian walkway is filled with unique and sometimes tacky shops, artists selling their work, street performers, tattoo parlors, pizza places, and ice-cream stands. There's a long bike path a few yards from the boardwalk, used by runners, bikers, and rollerbladers. It's part of the connected bike path system that goes from Santa Monica to Redondo Beach.
The hip Hotel ERWIN was opened in a space that formerly housed a bland corporate chain hotel. It strives to curate a unique experience for guests, with local artists performing and showing their work, pop-up fashion shows, and other happenings. It's a few steps from the beach, and some of the rooms and suites have spectacular ocean and beach views. There's a restaurant and lounge space on the roof and a cool pizza shop in the lobby.
7. Manhattan Beach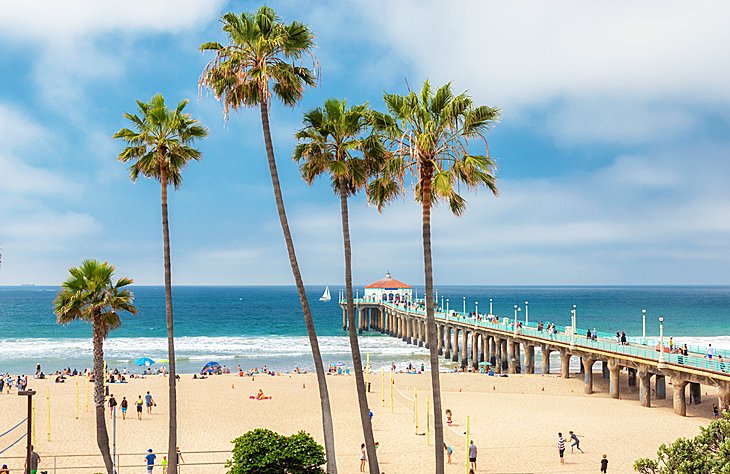 Manhattan Beach is filled with expensive mansions because it's a beautiful place to live. The wide, sandy beach is well-maintained, and there are lifeguard stands every few hundred yards. It's close to other areas and attractions in Los Angeles for easy sightseeing and also has a vibrant downtown. The city's proximity to the 405 and 105 freeways makes it easy to get to for day visitors and a good place to stay if you want to explore other parts of Los Angeles.
The restaurant scene in Manhattan Beach is particularly good, with many upscale options catering to the city's upscale residents. The beach is centered around a municipal pier that houses a small aquarium. The beach is fronted by The Strand bike and walking path, and there are also houses, hotels, and businesses located along it. The city is filled with parks, many located along the beach area.
If you want to stay in the area, the Best Western Plus Manhattan Beach Hotel is a good budget option. It's on PCH, a few miles from the beach. The rooms and suites all have kitchenettes, and the hotel offers super-fast, free Wi-Fi. The hotel and the city are quite close to LAX.
The Sea View Inn at the Beach is a nice, mid-range property in town, about two blocks from the sand. Some of the rooms and suites have ocean views, and the hotel provides free loaner beach cruisers and boogie boards. Parking is free, too.
8. Long Beach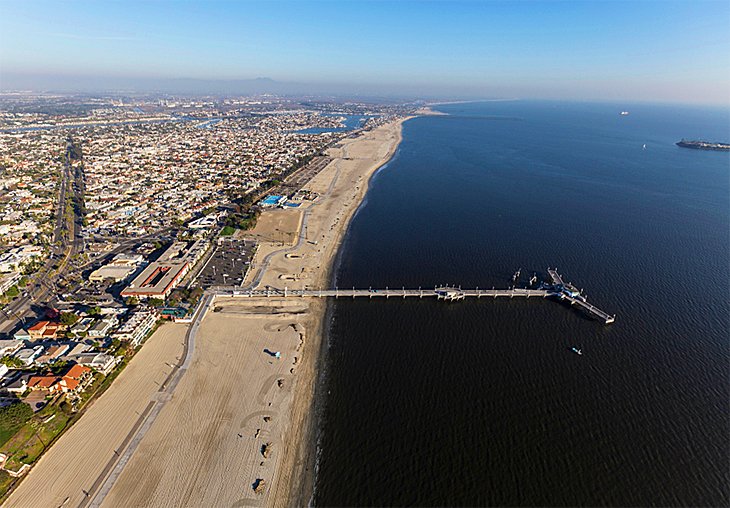 Mainly known for its annual IndyCar grand prix race (held each April) and as the home of the Queen Mary, Long Beach is about an hour from downtown Los Angeles. There are miles and miles of wide, soft sandy beaches, and it's one of the beach cities where it's always possible to find some personal space, even on a busy holiday weekend.
The Alamitos Beach area, a long, wide section with a low beach and homes raised on a bluff, is a fine beach. There's also a kind of hidden beach area directly below the ornate Villa Riviera apartment building, where Ocean Boulevard and Shoreline Drive intersect. Both have basic facilities (bathrooms and outdoor showers) and lifeguard stands every few hundred yards. Lifeguards are typically on-duty from 9am until dusk at all Los Angeles County beaches.
There's a thriving retail and restaurant scene along Long Beach's Pine Avenue, a few blocks from the beach. There are also museums, the Aquarium of the Pacific, and other attractions in Long Beach like the Shoreline Village shopping and dining area.
For accommodations, the Renaissance Long Beach Hotel is a great place to stay in Long Beach. The hotel is on Ocean Avenue, close to Pine Avenue. Some of the rooms and suites have views of the ocean and the Queen Mary. The pet-friendly hotel has a very popular restaurant called SIP, which features an outdoor patio with sea views.
9. Palos Verdes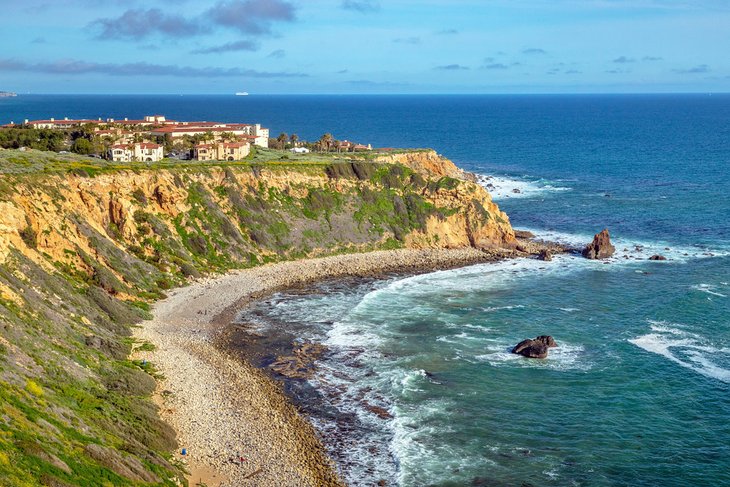 A beautiful, mainly residential area, the city of Rancho Palos Verdes boasts multi-million-dollar cliff-top mansions, some beautiful bluff-top parks, and its own luxury resort. The coastal area is only 30 minutes from LAX.
Pelican Cove Beach is a beautiful, secluded stretch of rocky beach, accessible only by foot via a steep, winding path. Beach visitors who make the hike are rewarded with epic views of the coastline and views of Catalina Island, 26 miles offshore. There's a paved parking lot and restrooms at the top of the trail.
The beach here is very rocky and not suitable for sunbathing, but it's great for hiking and tide pool exploring or scuba diving. The area is off Palos Verdes Drive, just south of Point Vicente Park and the Point Vicente lighthouse (both must-see attractions in the area).
Abalone Cove Shoreline Park is another raw, wild beach on the Palos Verdes Peninsula. It's popular for its tide pools and its hiking and walking trails, which run along the dunes.
The best hotel in the area is the large (582-room/100-acre) Terranea Resort, which occupies its own small peninsula jutting out into the sea. The five-star, luxury resort offers a full range of luxury amenities, including multiple fine-dining options, an award-winning spa, and a nine-hole executive golf course, all in a dramatic, cliff-top setting. Accommodations include guest rooms, suites, casitas, bungalows, and villas.
10. Marina del Rey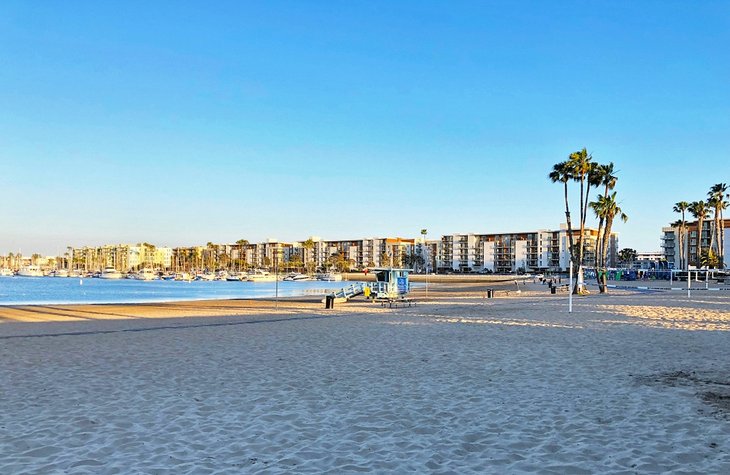 As the world's largest man-made, small craft harbor, you might not think of Marina del Rey as a beach destination, but there are a few small beaches in the area to enjoy. There are also several nice harbor-front hotels along with some good restaurants and shopping.
The best beach for families and small children in Marina del Rey is tiny Mother's Beach. The compact beach is popular with sea kayakers and has a roped-off area for swimming and wading. The water in the 12-acre lagoon is shallow and quite warm, with no surf at all. There is a picnic area along with basketball and volleyball courts. This small, gently curving beach (officially known as Marina Beach) is right next to the beachfront Jamaica Bay Inn Marina del Rey, Tapestry Collection by Hilton. It's one of the few, if not the only, beachfront hotels in the city of Los Angeles. The Jamaica Bay Inn Marina del Rey is also very convenient to LAX, which is less than seven miles away.
For a luxurious weekend getaway in Marina Del Rey, the best place to stay is The Ritz-Carlton, Marina Del Rey. It's a five-minute walk to Mother's Beach and a short walk or bike ride from the fun of Venice Beach. The harbor-front luxury hotel is right on a marina, and some of its rooms and suites have epic ocean views.
11. Hermosa Beach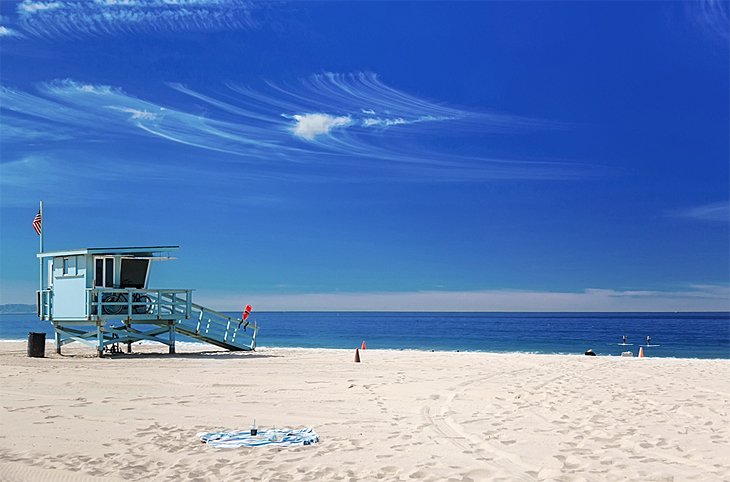 The aptly named Hermosa Beach ("hermosa" means beautiful in Spanish) is the neighbor to Manhattan Beach and Redondo Beach, but has a more laid-back, casual vibe. The city also has a bit more of a nightlife scene than some of its neighbors. Hermosa Beach is also quite close to LAX - it's only about 10 minutes away.
There's a large, central municipal pier and miles of beachfront bike paths and boardwalk. The beach is flat and sandy, with a slight drop-off near the waterline. It's a smaller city and a smaller beach, only about 40 blocks long.
Off the beach, Hermosa Drive and Pier Avenue are the city's two main shopping and entertainment streets. Pier Plaza is the pedestrian area where Pier Avenue dead-ends at The Strand. The Strand is a paved bike path and oceanfront boardwalk. The city is home to The Comedy & Magic Club, where Jay Leno performs stand-up every Sunday night.
The Hotel Hermosa on PCH (Pacific Coast Highway) is newly-renovated and slightly bigger than a boutique hotel. It sits up on a hill, about a 15-minute walk to the beach or a 30-minute walk from the pier, with some beautiful ocean views. All the rooms have kitchenettes and free Wi-Fi, and some suites have spa tubs and furnished balconies.
12. Leo Carillo State Beach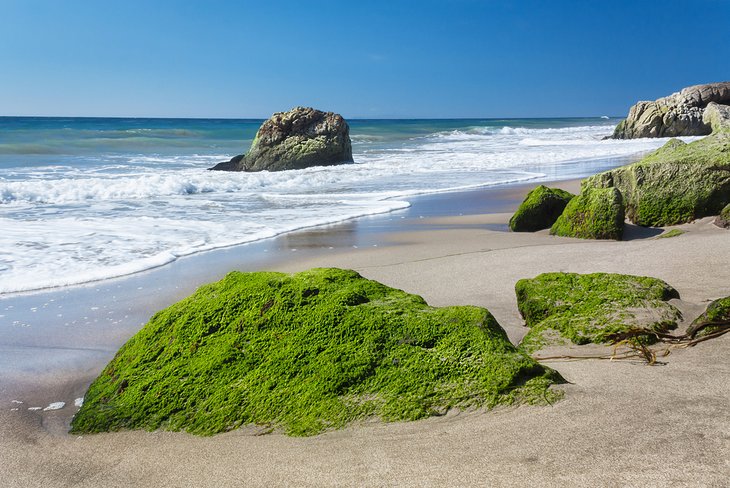 Located between Santa Monica and Malibu, this 1.5-mile well-equipped beach offers something for everyone. Part of Leo Carillo State Park, there are lots of rock formations and cliffs, so it's usually possible to find yourself a secluded spot.
It's a popular surf break, but kids will love to explore the tide pools and their inhabitants. There is a campground, along with related services like showers and bathrooms. There's a large parking area that can accommodate RVs. Leo Carillo State Beach is also one of the few beaches in LA County where dogs can be on the beach (on a leash).
13. El Matador State Beach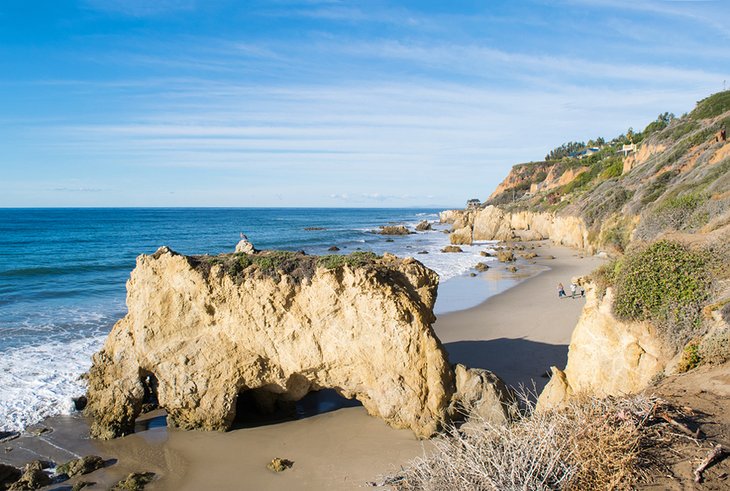 This rugged stretch of cliff-backed beach in Malibu is so beautiful that it's a popular spot for photo shoots. The combination of huge cliffs, beach caves, rocks, and rough waves provides an incredible setting for photos or for your day at the beach.
El Matador Beach is part of Robert H. Meyer Memorial State Beach, and it's known as a pocket beach. These are little cove or cliff-foot strands only accessible via a hike down a steep trail. They can be crowded during the summertime but are often completely deserted during the winter. It's a great place to get an LA beach all to yourself.
The other pocket beaches in the area are El Pescador and La Piedra. There are bluff-top paid parking lots at all three beaches. Parking can be difficult to find during the summer - there is street parking along PCH.
The Malibu Beach Inn is a seriously luxurious beachfront boutique hotel, developed and founded by Hollywood icon David Geffen. Before it, the area lacked true five-star, full-service beachfront accommodations. The boutique luxury hotel's 47 rooms and suites offer the latest in style and technology and come with warm, personal service.
14. County Line Beach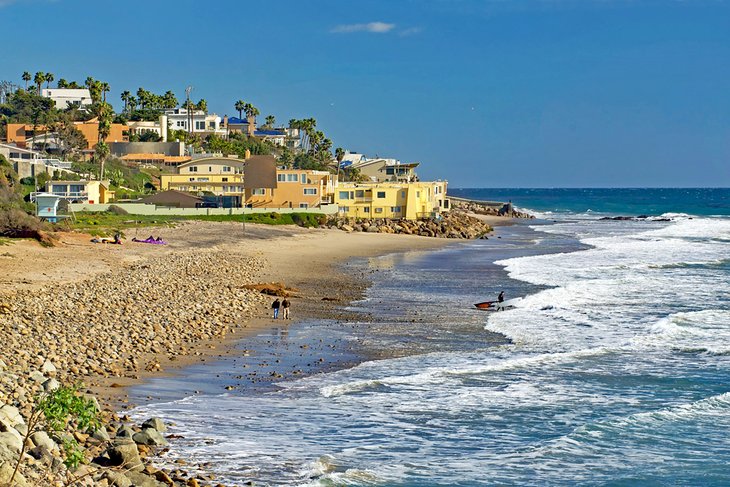 Located north of Malibu, bordering on neighboring Ventura County, County Line Beach can provide a very raw, uncrowded LA beach experience. The wide, windy beach is popular with both surfers and kite surfers and is never crowded, even on holiday weekends.
If you do visit on a weekend, be sure to (carefully) cross PCH and check out Neptune's Net. It's a fun seafood restaurant and popular with all the rich, Hollywood weekend bikers who stop here on their rides.
Map of Beaches in Los Angeles, CA