22 Top-Rated Beaches in California
We may earn a commission from affiliate links ()
California offers an incredible array and variety of beaches, more than many countries. Beachgoers can choose from wide, well-developed beaches like Santa Monica or Santa Cruz, lined with places to eat and amusements, and unspoiled natural beaches like College Cove in Trinidad, closer to Oregon than it is to San Francisco.
Blessed with stunning scenery along the rugged Pacific coastline, California's beaches are places to enjoy nature and outdoor recreation. Sea kayaking, scuba diving, snorkeling, wakeboarding, surfing, and bodyboarding are all popular water sports, while volleyball, basketball, running, hiking, and, of course, sunbathing are favorite beach activities.
There are so many things to do and gorgeous places to visit along the Golden State's sandy shores. Plan your seaside adventures with our list of the best beaches in California.
1. Zuma Beach, Malibu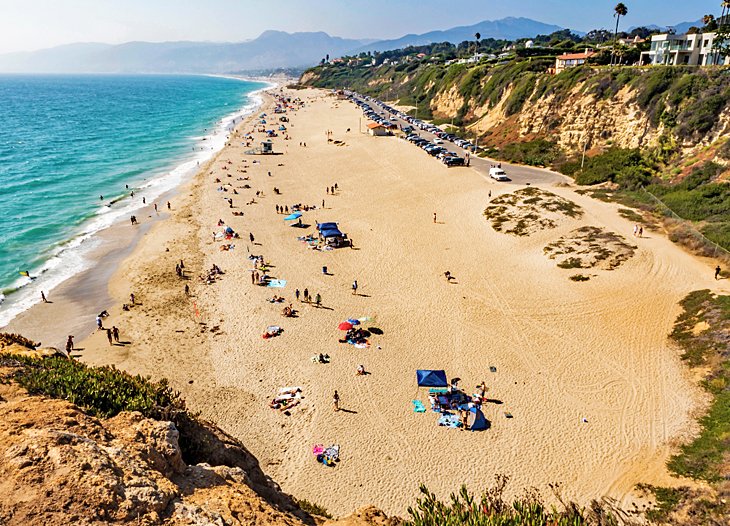 Some of the state's most perfect beaches are found in the city of Malibu in Southern California. It's about 10 miles north of Santa Monica and has a few different beach environments.
Zuma Beach is an expansive, wide shoreline that extends for nearly two miles and covers over 100 acres. This popular beach has lifeguard stands every few hundred yards (lifeguards are on duty year-round during daylight hours), along with multiple areas of facilities and snack bars. There are also parking lots, beach volleyball nets, public restrooms, and showers.
A beautiful sheltered spot, Paradise Cove in Malibu has been used as a film set for many Hollywood movies. This small sandy beach is nestled in a cove, which means the waves are calm, so it's great for children and families. The beach is also known for its vibrant social scene, but the expensive day-use parking fees tend to keep the crowds away.
The oceanfront Paradise Cove Beach Cafe serves breakfast, lunch, and dinner, as well as refreshments on a pleasant outdoor terrace overlooking the waves. The café also rents out lounge chairs (they can be reserved online in advance).
The upscale Malibu Beach Inn gives travelers a chance to spend the night on the exclusive "Billionaire's Beach" stretch of coastline. This four-star hotel offers luxurious guest rooms and breathtaking Pacific views, as well as a full-service spa and an oceanfront restaurant that specializes in seasonal cuisine prepared from local ingredients. The hotel is about a 20-minute drive away from Zuma Beach.
2. Pacific Beach, San Diego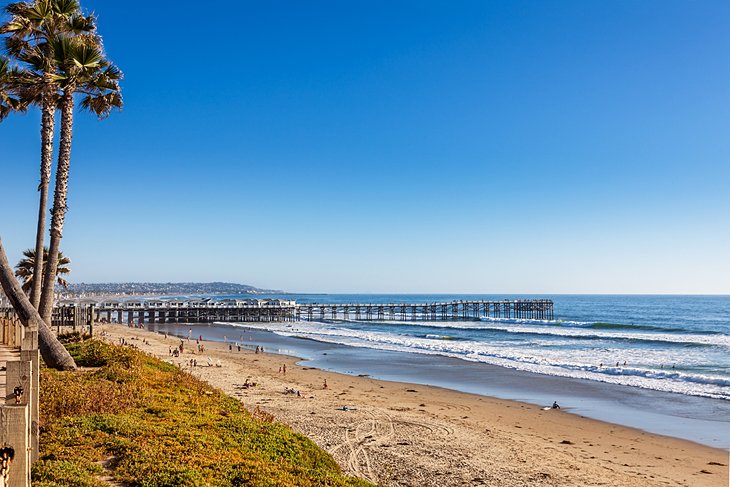 Just north of downtown San Diego, right after Mission Beach, the wide, sandy shoreline of Pacific Beach extends for about five miles. There is some surf (enough for surf schools to operate on the beach), but mostly the waves are gentle enough for everyone to enjoy the water.
Typical of Southern California beaches, the weather is balmy, and the water is warm enough for swimming. The ocean conditions are also conducive to surfing, kiteboarding, and windsurfing. The beach and beachfront boardwalk, called Ocean Front Walk, are both used for all kinds of sports and outdoor activities.
One of San Diego's best beaches, Pacific Beach has lifeguards (on duty year-round daily from 9am until dusk), public restrooms, and showers, and the oceanfront property is dotted with casual restaurants, taco shops, and cafés. There is limited parking in paid lots. If the lots are full, visitors must find street parking.
The beachfront boardwalk is lined with shops and places to eat, including some great sit-down restaurants. Steps away from Pacific Beach, Oscar's Mexican Seafood offers superb Baha fish tacos and other authentic specialty tacos, as well as grilled fish and ceviche.
3. East Beach, Santa Barbara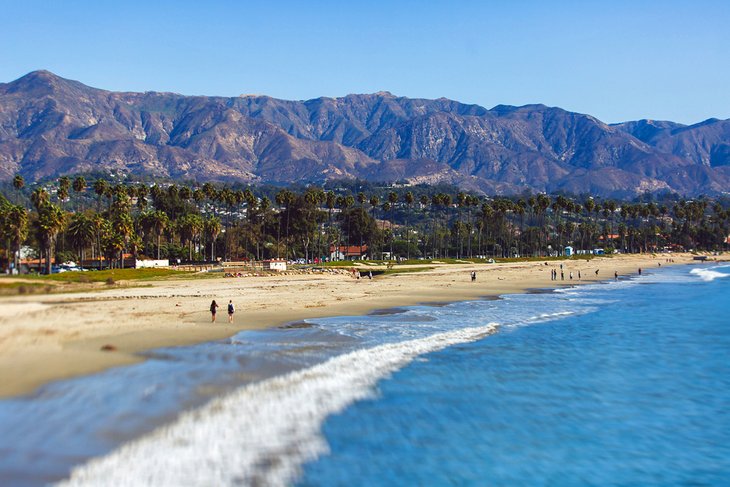 Santa Barbara is the quintessential Southern California beach town, complete with balmy weather, swaying palm trees, expansive stretches of sandy shoreline, and traditional Spanish Colonial-style architecture. The coastline is known as "The American Riviera" because of its beauty and glamour. The city itself is packed with tourist attractions like gardens, museums, and historic landmarks.
One of the best beaches in Santa Barbara, East Beach gracefully sweeps along the Pacific coastline in a picture-perfect setting, tucked behind the Santa Ynez Mountains and fringed by rows of tall palm trees. Visitors can take leisurely walks to enjoy the scenery and cool ocean breezes.
This family-friendly beach has public restrooms, a playground, beach volleyball courts, and lifeguards on duty. Visitors can rent kayaks, lounge chairs, cabanas, and sun umbrellas at the beach. Other amenities include cafés and restaurants overlooking the beach, as well as other restaurants and shops on the Stearns Wharf pier.
Accommodation: Best Beach Resorts in Santa Barbara, CA
4. Main Beach, Santa Cruz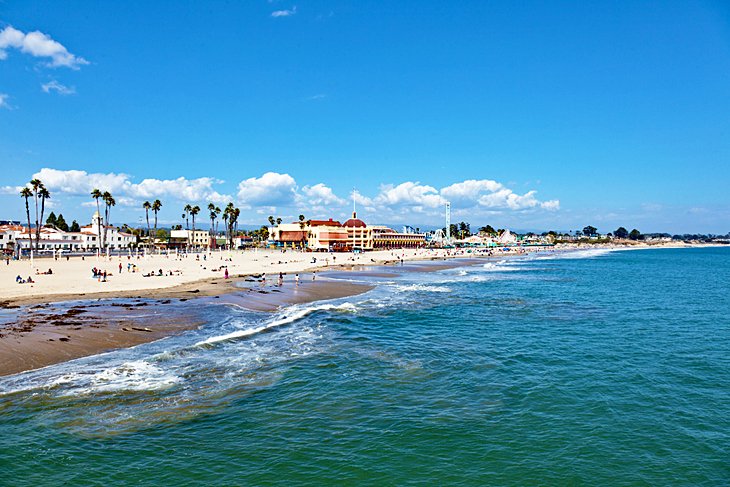 For a classic summertime beach experience, Main Beach in Santa Cruz is as good as it gets in Northern California. The beach is appreciated for its wide shoreline of soft, golden sand and reasonably gentle surf.
Main Beach is fronted by the Santa Cruz Beach Boardwalk, which tops the list of tourist attractions in Santa Cruz. This classic mile-long wooden boardwalk is lined with shops, carnival games, and an amusement park (California's oldest surviving one).
Aside from sunbathing, Main Beach is a great place for outdoor recreation: bodyboarding, surfing, and beach volleyball. There is also the chance to see dolphins, otters, sea lions, and whales swimming just offshore.
Main Beach has excellent facilities, including public restrooms and lifeguards on duty during the summertime. The boardwalk and the amusement park (and many tourism businesses) have limited operation from November through February.
The Comfort Inn Santa Cruz isn't a new property, but it's reasonably priced and the rooms have been renovated. This hotel is only a few minutes' walk to the beach and boardwalk.
5. La Jolla Shores, La Jolla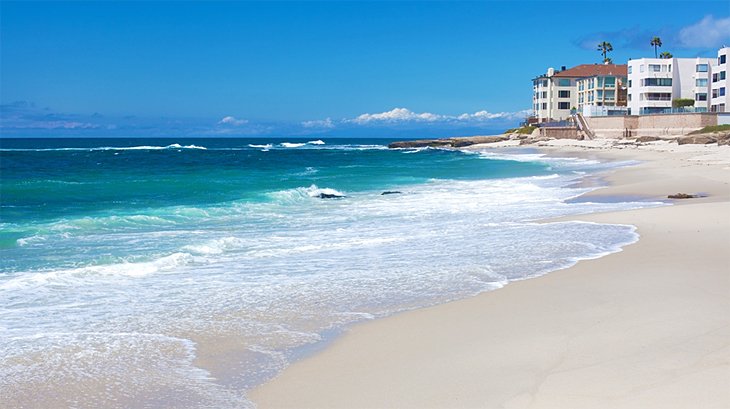 A dreamy Southern California beach destination, La Jolla Shores is a well-protected mile-long beach with gentle waves, making it perfect for kids and families.
La Jolla Shores has public restrooms, outdoor showers, and a picnic area. To ensure beach safety, lifeguards are on duty year-round during daylight hours.
The beach is right next to the 6,000-acre La Jolla Underwater Park, a top location in California for scuba diving and snorkeling.
Another draw of this area is the picture-perfect seaside town of La Jolla. Ideal for romantic getaways, La Jolla is an upscale community (think Beverly Hills by the sea) about 15 miles north of San Diego. The small downtown area is filled with enticing boutiques and trendy gourmet restaurants.
For those who would like to spend the night here, the four-star Estancia La Jolla Hotel & Spa provides plenty of pampering for the price. This luxurious resort property features traditional Spanish architecture and is set on nine acres of landscaped gardens. The hotel has two restaurants, a full-service spa, and an outdoor saltwater swimming pool. Other amenities include yoga classes, a fitness center, and poolside cabanas.
6. Stinson Beach, Marin County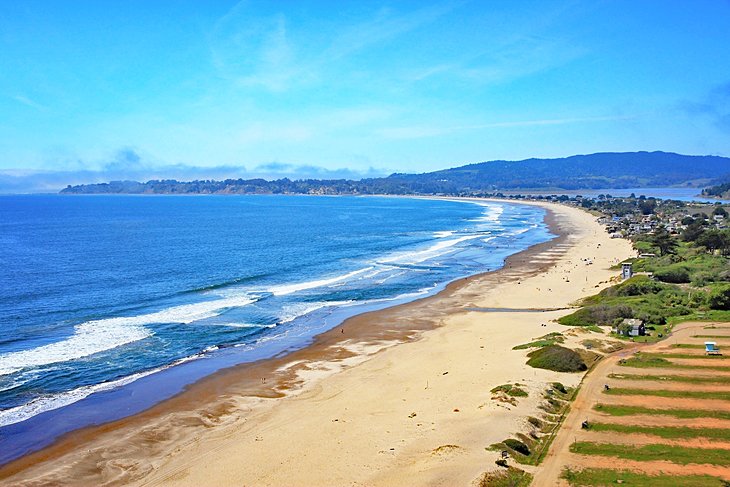 Tucked away behind dense redwood forests, Stinson Beach is a crown jewel of the San Francisco Bay Area coastline, as well as one of the best beaches in Northern California. It's only 20 miles north of San Francisco, although the winding drive through Marin County's rolling hills takes longer than the mileage suggests.
The beach of Stinson Beach (also the town name) is a protected part of the Golden Gate National Recreation Area. This area has wonderful hiking trails, including the spectacularly scenic Dipsea Trail that traverses the coastal hillsides, valleys, and redwood forests. The seven-mile hike begins in Stinson Beach and winds up in the charming town of Mill Valley.
Stinson Beach has been a resort destination since the 19th century and is still one of the best weekend getaway spots in the Bay Area. Thanks to the somewhat inaccessible location, the community of Stinson Beach has retained a small-town bohemian vibe, with locally owned shops, homey restaurants, and cozy cafés.
An expansive stretch of powder-soft white sand, Stinson Beach delights visitors with its bucolic setting. There is little development and plenty of room for sunbathing or playing. Because the beach is sheltered in a cove, the waves are gentle compared to other California beaches. When the conditions are right, it is safe to swim here.
Visitors can count on excellent facilities at Stinson Beach: public restrooms, an outdoor shower, a snack bar, and picnic areas with barbecues. From Memorial Day through Labor Day weekend, lifeguards survey the beach.
7. Carmel Beach, Carmel by-the-Sea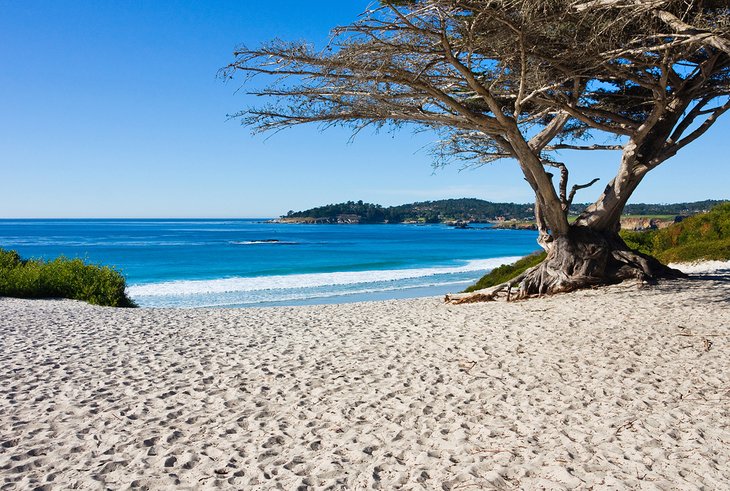 The charming seaside village of Carmel delights visitors with its fairy-tale ambience. With its cute boutiques, hidden lanes, and storybook cottages, the town seems to be inspired by an English country village, an aesthetic that suits the foggy and misty local weather.
A sublime sandy beach is the centerpiece of Carmel by-the-Sea and the raison d'etre for this upscale resort destination. The wide expanse of sparkling white sand, the deep blue sea, and the windblown Monterey cypress trees give this beach a distinctive appearance that's unique to the Northern California coastline.
Set in a sheltered cove, Carmel Beach is one of the best places to visit in California for a romantic walk. There is a scenic path that winds along the ocean bluff above the beach. It's also pleasant to stroll along the shoreline.
Visitors should keep in mind that swimming is not recommended at Carmel Beach. Besides the fact that the water is cold (around 50 degrees), the ocean conditions can be dangerous due to rogue waves and rip currents. Lifeguards do not survey this beach.
8. Butterfly Beach, Montecito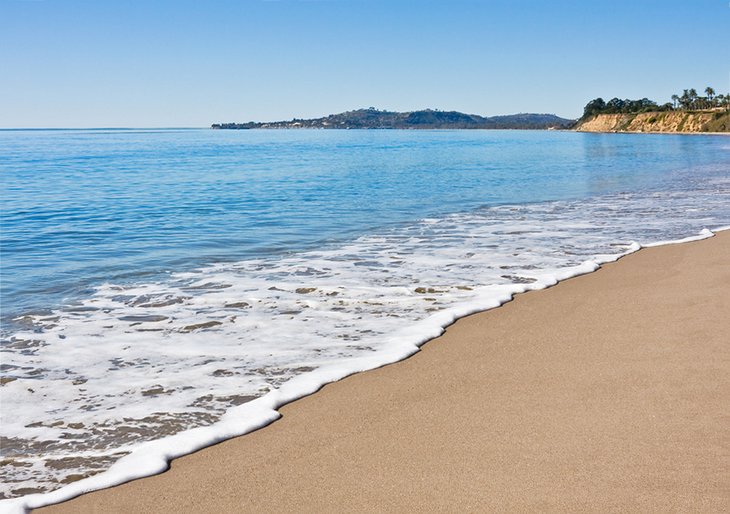 Travelers can soak up the lifestyle of the rich and famous at Butterfly Beach. This pristine stretch of sandy beach is located in Southern California, in the posh seaside community of Montecito, where many celebrities have homes. The beautiful city of Santa Barbara is just five kilometers away.
Butterfly Beach offers a picturesque setting to enjoy while sunbathing and relaxing. Other things to do include swimming, surfing, and kayaking. This west-facing beach is known for its gorgeous sunsets.
Butterfly Beach does not have any public facilities.
9. Pismo State Beach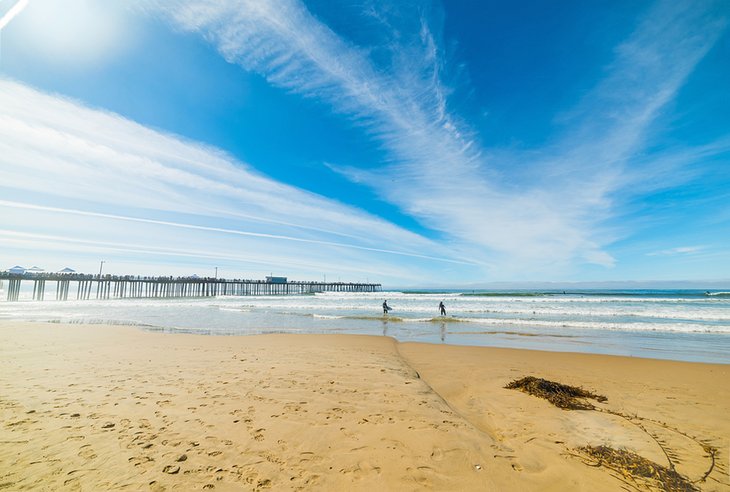 Popular among surfers and sand volleyball players, Pismo Beach exudes fun-loving vacation vibes during the summertime. The downtown caters to the crowds of visitors with its many hotels, casual restaurants, cafés, and surf shops.
Pismo State Beach comprises a three-mile stretch of coastline in Central California, with multiple beach areas, including a section of sand dunes. This expansive stretch of sandy beach provides welcome space for relaxation and recreational activities. From sunbathing and sailing to bird-watching and building sandcastles, there's something for everyone.
10. Avila Beach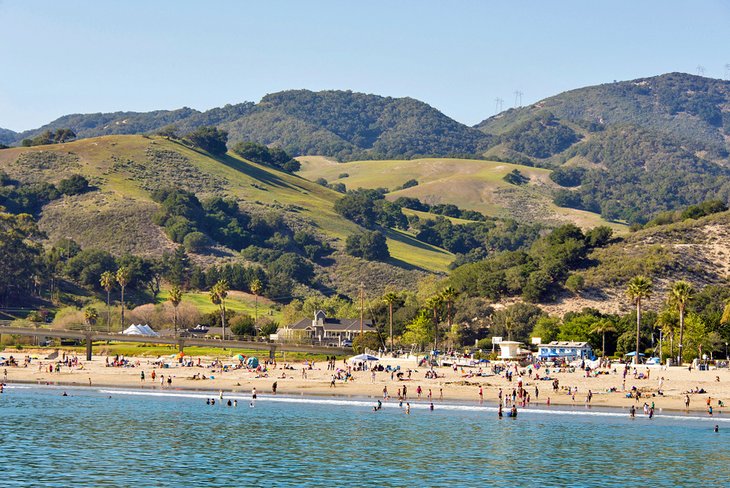 With rolling hills as a backdrop and a palm-fringed waterfront plaza, Avila Beach looks like the image on a postcard. The pleasant downtown area includes a small boardwalk/pedestrian street that is lined with restaurant terraces and outdoor cafés.
Avila Beach is nestled in a sheltered cove on the Central California coast. Hillsides block the wind, creating a microclimate of sunshine and mild ocean breezes. The weather is balmier here than at Pismo Beach just seven miles away. Seals, otters, and dolphins frolic in the protected environment of Avila Beach.
The wide sandy shoreline at Avila Beach is prized for its spaciousness. Sunbathers have plenty of room to stretch out. The relatively gentle waves are ideal for beginning surfers. Other things to do include fishing, paddleboarding, bodyboarding, kayaking, and sailing.
Well designed for visitors, Avila Beach is equipped with well-maintained public restrooms, a playground, and a picnic area. Steps away from the beach is the Central Coast Aquarium.
A haven of tranquility is found two miles from the beach at the Sycamore Mineral Springs Resort & Spa, nestled in a valley of oak groves. This three-star resort has natural mineral hot springs and offers pampering spa services.
11. Capitola Beach, Capitola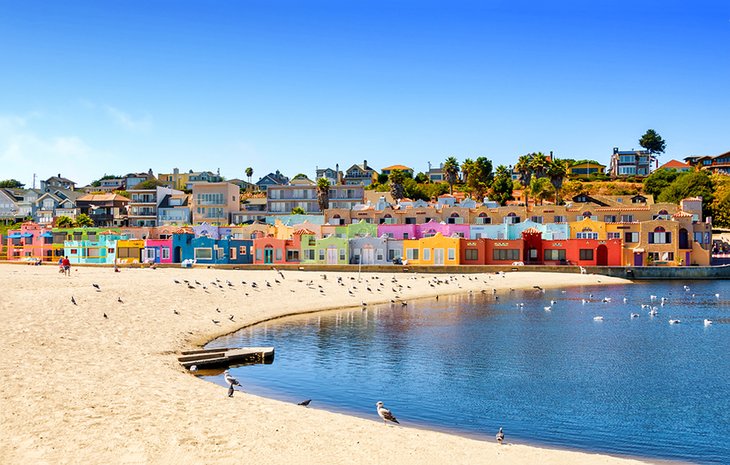 The charm of Capitola Beach is its idyllic waterfront village. This lovely Northern California town features colorful houses and a lush Mediterranean landscape, reminiscent of fishing harbors on the Italian or French Riviera. The downtown area is just steps away from the beach. Visitors enjoy the easy access to cafés, restaurants, and shops.
Capitola Beach is one of the smaller beaches on this list, but the pleasant environment makes up for what it lacks in size. Framing the beach, Esplanade Park provides benches for visitors to admire the vibrant seaside scene.
The sandy shoreline is great for sunbathing, beach volleyball, and building sandcastles, while the sheltered waters are ideal for beginning surfers. The waves are gentle, since the beach is tucked away in a sheltered cove.
Facilities at Capitola Beach include public restrooms and outdoor showers. During the high season, lifeguards survey the beach.
There is also a fishing pier in the bay. Fishing bait, gear, and boats, as well as paddleboards and kayaks can be rented from shops at the wharf.
12. Coronado Central Beach, San Diego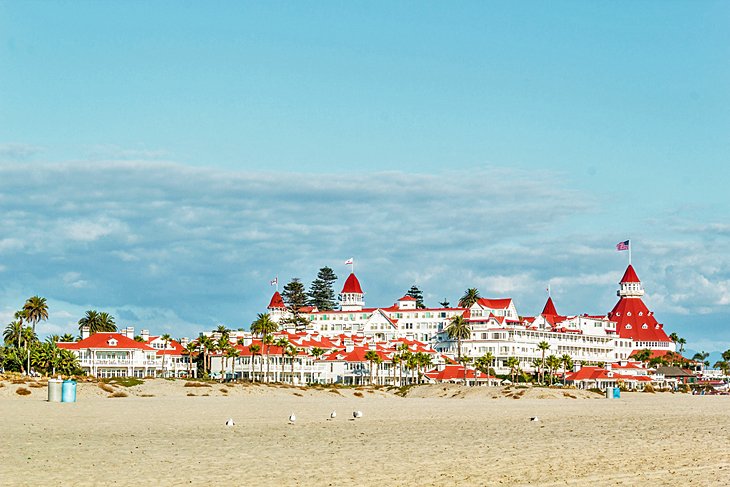 Coronado Central Beach is on an island in San Diego Bay, and it's one beach that is truly eye-catching. The soft, fine white sand has a high mica content, which makes it more reflective than sand at other beaches.
Like most Southern California beaches, this long stretch of sandy shoreline has mild waters that are suitable for swimming, boogie boarding, and surfing. The beach has public restrooms and showers. During the high season, lifeguards are on duty.
The spectacular setting of Coronado Central Beach makes it a fantastic place to spend a few days. Visitors can stay at the Hotel del Coronado, a legendary Victorian-era resort hotel that was pictured in scenes of the Marilyn Monroe movie Some Like It Hot. This luxurious beachfront hotel features a spa, beach service, and several dining options.
13. Santa Monica State Beach, Santa Monica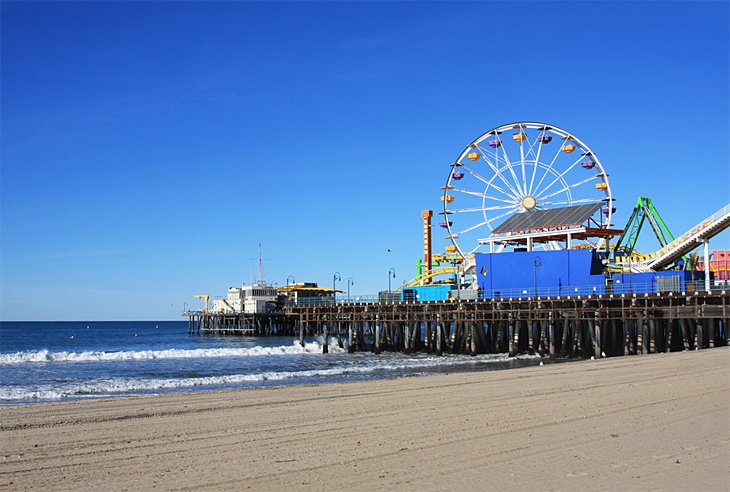 Santa Monica is the ultimate Southern California beach city, complete with a pier, boardwalks, and trendy restaurants and shops just steps away from the shore. Full of tourist attractions, Santa Monica is the place to soak up the sunny SoCal lifestyle.
The city of Santa Monica has 3.5 miles of beautiful sandy shoreline fronted by a bike path and paved boardwalk. The boardwalk and bike path continues from San Monica to Venice Beach next door. The water is cold, but the waves are usually calm.
Right on the beach, the historic Santa Monica Pier is topped with an amusement park featuring an aquarium, an old-fashioned carousel, and roller-coaster rides.
Santa Monica State Beach includes many lifeguard towers to ensure visitors' safety. Facilities include multiple areas of restrooms and showers. There are also a few snack stands and cafés along the beach boardwalk.
Originally an apartment building, the four-star Huntley Santa Monica Beach is a luxury boutique hotel located a few blocks from the beach. The rooms are large, and the design is modern and elegant. Guest rooms on the higher floors and suites overlook the ocean. The Penthouse Restaurant offers fine dining with epic views of the Pacific coastline.
Accommodation: Best Hotels in Santa Monica, CA
14. Main Beach, Laguna Beach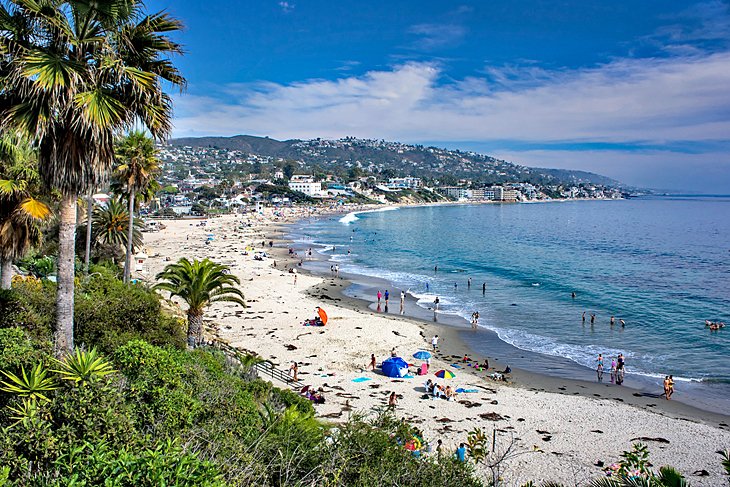 Laguna Beach is in Southern California's Orange County, about an hour south of Los Angeles. The main beach area is aptly named Main Beach Park, and it has a few miles of wide, gently sloping beach on either side. To the north are beachfront homes and hotels.
The main beach area has plenty of sports facilities, including volleyball courts; basketball courts; and of course, a long, winding beachfront bike path. The sand is a light tan color, and parts of the beach are bordered by rocky sections designed to break up the energy of the waves at high tide.
For luxury accommodations near the beach, try The Ranch at Laguna Beach. Nestled in a sunny canyon on an 87-acre property, the hotel has an outdoor swimming pool, nine-hole golf course, farm-to-table-restaurant, two cafés, a gift shop, and a full-service spa with a sauna.
A posh coastal community with many cultural attractions, Laguna Beach is also worth visiting for its arts scene, shopping, and parks. The downtown area has many locally owned boutiques and galleries. Every year from early July through early September, the Festival of Arts presents art exhibits and outdoor music concerts.
Accommodation: Best Hotels in Laguna Beach, CA
15. Navarro River State Beach, Mendocino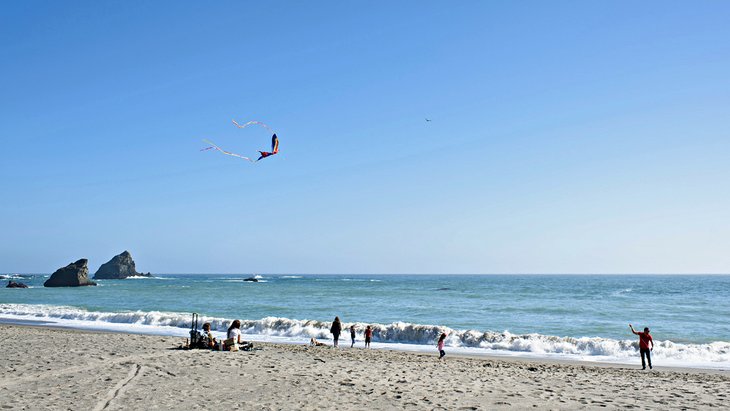 The first thing visitors notice when arriving in Mendocino is the invigorating fresh air. Mendocino County has only been developed on a small scale, despite being a popular weekend getaway destination in Northern California, just three hours' drive north of San Francisco.
A paradise for those who appreciate wild, unspoiled scenery, Mendocino County has 10 state parks, as well as several nature preserves. Built up along ocean bluffs, the village of Mendocino has the charm of a New England seaside town. The village's Victorian architecture and 19th-century saltbox cottages have earned it a place on the National Register of Historic Places.
To arrive at the southern end of Mendocino County, travelers take a scenic winding drive through rolling hills and redwood forests on Highway 128. At the end of this route behind a dense grove of redwood trees is the meeting point of the Navarro River and the Pacific Ocean. Here in this pristine environment is Navarro Beach within the Navarro River Redwoods State Park.
This rugged, windswept beach is an ideal place to walk along the seashore, fly a kite, or build a beach bonfire. The beach is strewn with driftwood, a reminder that the environment and its strong tides are at the mercy of Mother Nature.
Navarro River Redwoods State Park is popular among outdoor sports enthusiasts. The river offers opportunities for fishing, kayaking, and canoeing. The park has picnic areas and camping sites.
Read More: Top-Rated Things to Do in Mendocino, CA
16. Huntington City Beach, Huntington Beach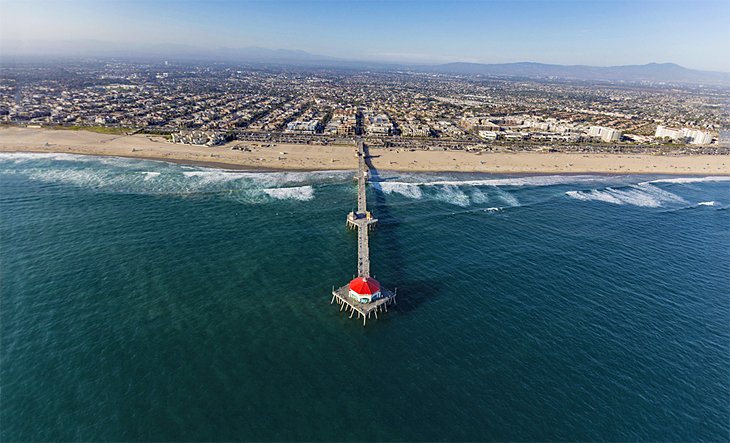 One of Southern California's first beach resorts, Huntington Beach is now an internationally renowned destination, with a focus on surfing and beach life. Huntington Beach is known as "Surf City U.S.A." and has fabulous surfers' beaches. Besides the beach scene, Huntington Beach has a lively downtown, leafy parks, and other interesting tourist attractions.
Just over the border from Los Angeles County in Orange County, Huntington Beach has ten miles of wide, well-maintained sandy beaches. There's a pier that's good for walking, fishing, and sightseeing, and a thriving restaurant scene near the beach with a range of dining options.
Right across the street from the beach, the four-star Kimpton Shorebreak Huntington Beach Resort offers stylish accommodations and a relaxed surfer vibe. The hotel provides amenities such as beach towels, lounge chairs, and umbrellas. Other highlights are the fitness center and the laid-back "surf shack"-style restaurant, which offers California coastal cuisine and views of the pier.
Accommodation: Best Hotels in Huntington Beach
17. Sand Dollar Beach, Big Sur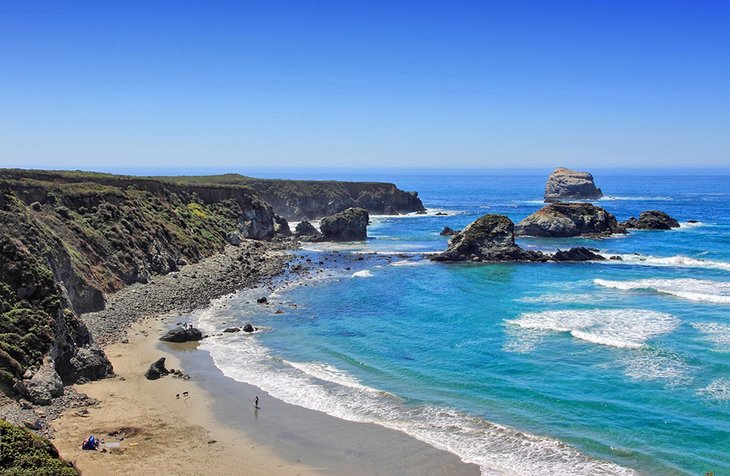 The 90-mile stretch of coastline in Central California known as Big Sur awes visitors with its breathtaking landscapes and ocean views. This dramatic coastline is framed by the densely forested Santa Lucia Mountains that soar high above the Pacific.
The mountains slope into coastal bluffs along Highway One, which makes for an incredibly scenic (and challenging) drive, rewarded by vistas of the dazzling azure-blue waters. In some places, sheer cliffs plunge from dizzying heights into the crashing waves.
Sand Dollar Beach is found in this magnificent landscape, entered by a short hike along an ocean bluff and staircase down to the sandy shore. It's quite a ways from the road (Highway One), and a small cove shelters the beach, which creates a secluded feel.
Surfers flock to this beach, but it is also popular with anyone who wants to relax and appreciate the natural splendor. Other things to do include saltwater fishing and picnicking.
The beach is the property of Los Padres National Forest. There are facilities located above the beach: public restrooms, a paid parking lot, and picnic tables. The beach itself is undeveloped.
Accommodation: Best Hotels in Big Sur, CA
18. Trinidad State Beach, Humboldt County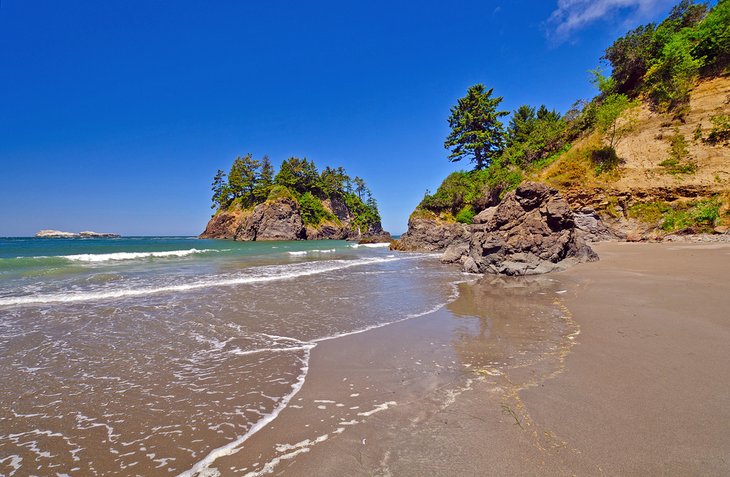 Nature seems to smile on this picturesque spot in the far north of California, in Humboldt County about an hour-drive south of Oregon. Trinidad State Beach includes a small secluded beach in a tiny bay (College Cove), surrounded by verdant hillsides and a long oceanfront stretch backed by a grove of spruce trees. Both parts of the beach have a sandy shoreline.
Although most beaches in this part of Northern California are windy and wild, the beach at College Cove benefits from a sheltered environment, which ensures gentle waves and mild weather. This section of Trinidad State Beach features a lush Mediterranean landscape that resembles the seaside bluffs and coves of the Italian Riviera.
Trinidad State Beach is far enough away from the highway that there is no traffic noise, only the relaxing sounds of nature. Dolphins, sea otters, seagulls, and other shorebirds thrive in this delightfully serene setting.
Outdoor sports enthusiasts love Trinidad Beach. There are opportunities for kayaking, fishing, hiking, and camping. Amenities include a hiking trail, parking, public restrooms, a picnic area with tables and barbecue pits, fishing pier, and a bayside restaurant.
Trinidad State Beach is found in the quaint coastal community of Trinidad, which is built on the hillside and bluffs overlooking the bay. The town is quite small but does have a decent selection of restaurants and hotels. A top hotel is the Trinidad Bay Bed & Breakfast Hotel, which has stunning views of the bay and ocean.
19. Jug Handle Beach, Mendocino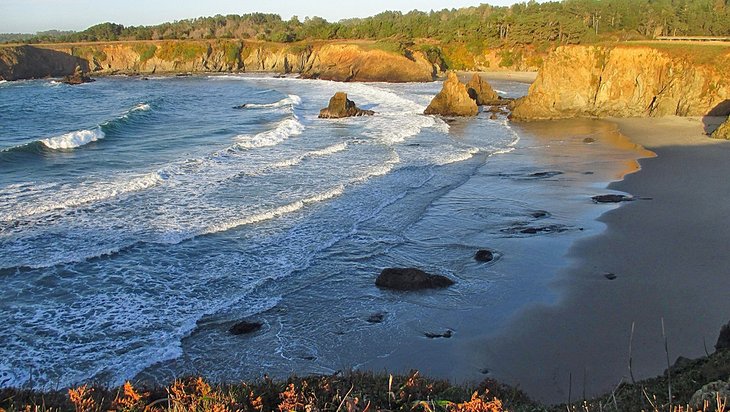 Mendocino Coast is a rugged shoreline surrounded by farmlands and forests. Rocky headlands, sheltered coves, and ocean bluffs define this spectacular Northern California landscape. Jug Handle State Natural Reserve is a wonderful example of typical Mendocino Coast scenery.
A hidden gem within the nature reserve, Jug Handle Beach is located halfway between the towns of Fort Bragg and Mendocino. This secluded spot wows with awe-inspiring ocean views and a spectacular sandy beach with gentle crystal-clear turquoise waters.
A short hiking trail leads through a grove of pine trees, down a staircase to a stretch of white-sand beach in a sheltered cove. The environment here is completely natural, complete with seaweed and driftwood strewn across the beach. Although it's not wide, the shoreline extends back to Highway One where a graceful arched bridge crosses the Jug Handle Creek.
Above the beach is an ocean bluff covered with coastal prairie. The half-mile Headlands Loop trail leads through the tufted grass, blackberry bushes, and other low-growing shrubs out to the edge of the bluff. At this lookout point, the coastal views are astonishing.
Past the beach is a 2.5-mile Ecological Staircase hiking trail that traverses a redwood forest and a pygmy forest. This trail is renowned for its unique landscape of wave-cut terraces that have been formed over hundreds of thousands of years.
Jug Handle State Natural Reserve also includes public restrooms, and a picnic area with several tables located beneath a grove of shady pine trees.
20. Mandalay Beach, Oxnard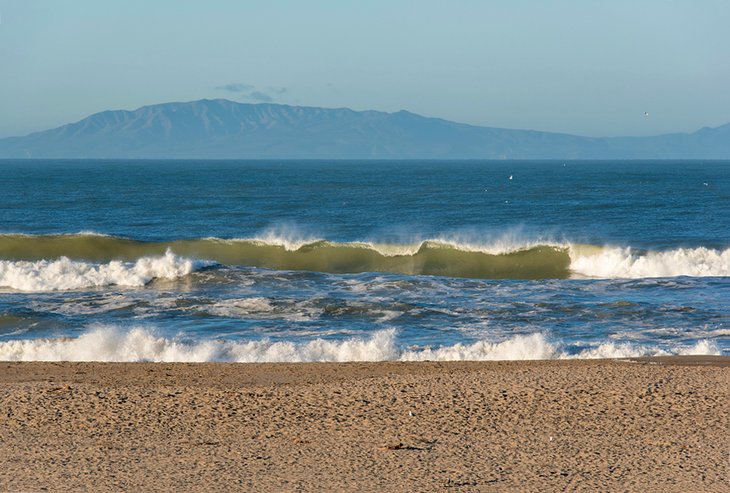 Oxnard is a picturesque seaside town with a "fun in the sun" SoCal vibe. Visitors love the area's gorgeous coastline: five miles of pristine sandy beaches and a lovely harbor. The lively Southern California town is located 65 miles north of Los Angeles (a 90-minute drive).
At the northern end of Oxnard, the Mandalay State Beach delights nature lovers with its pristine stretch of coastline. This undeveloped beach (which has no facilities) and its coastal sand dunes are the property of California State Parks. At certain times of year, portions of the beach are closed to protect the nests of western snowy plover birds, a threatened species.
A big draw for visitors is the proximity to the town of Oxnard, a quaint community that is brimming with restaurants, cafés, and ice-cream shops. It's also a fun place to browse boutiques, such as locally owned shops that sell fashionable jewelry or artisan craft items.
For those seeking upscale accommodations, the three-star Embassy Suites by Hilton Mandalay Beach Resort is a good choice. This beachfront resort hotel boasts ocean views and easy access to Mandalay Beach. The property features a large outdoor swimming pool, spa, tennis courts, and a casual California-style restaurant. Some rooms have terraces overlooking the beach.
21. Great Beach, Point Reyes National Seashore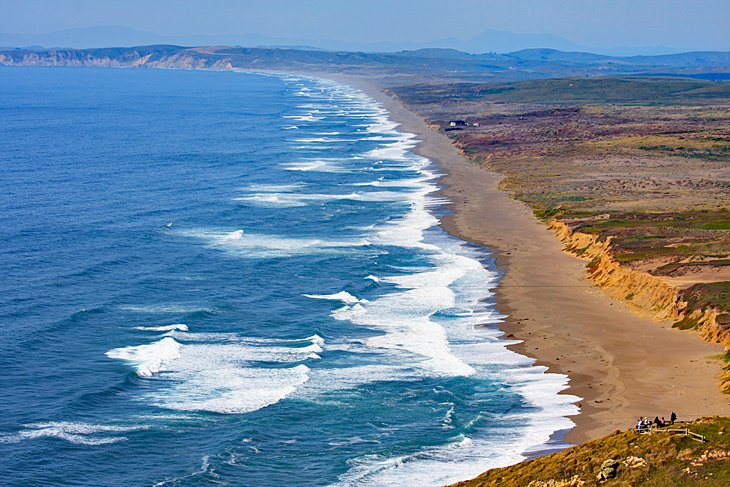 Also known as Point Reyes Beach, Great Beach is part of the vast Point Reyes National Seashore, and it's only an hour from San Francisco. Great Beach lives up to its name, with 11 miles of unspoiled sandy beach. There are no houses, no restaurants, nothing but beach. The wild scenery is typical of the undeveloped stretches of coastline in Northern California.
This sprawling stretch of shoreline is suitable for coastal walks but not for water sports or swimming. The waves are large, with dangerous rip currents and sneaker waves. It is advised to stay away from the water's edge.
For those seeking accommodations in the area, Olema House is an excellent choice. This cozy rustic-chic lodge set on four acres of gardens adjacent to the Point Reyes National Seashore. The three-star property has 22 guest rooms and a restaurant that serves seasonal cuisine prepared from locally sourced ingredients. There are also two cottages, one of which is ideal for families.
22. Centerville Beach County Park, Ferndale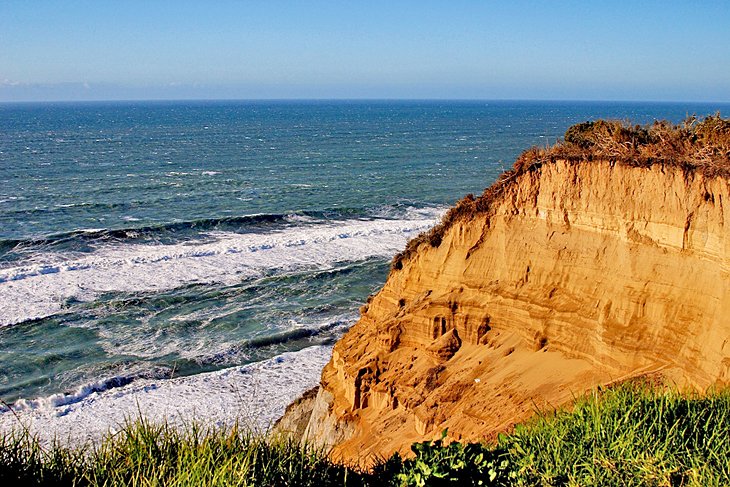 Closer to Oregon than it is to San Francisco, Centerville Beach County Park is a secluded stretch of windswept coastline surrounded by dairy farms. Centerville Beach has a desolate feel because of its wild, undeveloped landscape and out-of-the-way location in Humboldt County, a remote area of Northern California.
Centerville Beach is nine miles long and surrounded by high cliffs. Except for a parking area, there are no facilities at the beach. Instead of lawn chairs and umbrellas, visitors will see driftwood strewn across the shore.
This beach is very animal-friendly, with both dogs and horses allowed. Besides horseback riding, other things to do include picnics, beach bonfires, beachcombing, bird-watching, and whale watching.
At this exposed, unsheltered section of the Pacific coastline, the ocean is cold, the waves are enormous, and the current is strong. There are no lifeguards, and it is not advisable to enter the water. Most visitors enjoy simply taking walks along the beach and breathing in the invigorating ocean air.
About five miles (a 15-minute drive) from the beach is Ferndale, one of the most charming small towns in California. This quaint Victorian-era village has an inviting Main Street lined with historic buildings and is renowned for its restaurants and hotels. The four-star Gingerbread Mansion Inn is a lavish bed-and-breakfast hotel that occupies an exquisitely renovated Victorian house, right in the heart of Ferndale's historic downtown area.