19 Best Beaches in Southern California
We may earn a commission from affiliate links ()
Beaches define the Southern California lifestyle. The coastline stretching roughly from Santa Barbara County to San Diego County has hundreds of miles of beautiful beaches. These oceanfront landscapes range from raw, uninhabited stretches of sand to highly developed beaches, fronted with shops, luxury homes, hotels, and restaurants.
By law, all beaches in California are free to access, but the reality is that most require payment to park anywhere near them. But several beaches, like the entire coastline of Santa Monica Bay, are connected by paved bike and pedestrian trails.
Most city beaches are staffed by lifeguards and have restroom and shower facilities. Other county and state beaches have similar amenities, though each beach offers different accommodations. However, one commonality between all Southern California beaches is a vacation feel.
Enjoy your next Southern California getaway with these best beaches in Southern California.
1. Santa Monica State Beach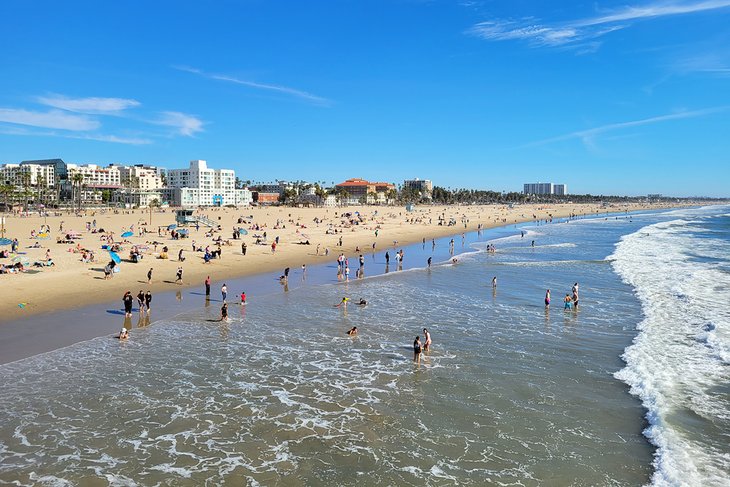 Santa Monica State Beach is one of the most popular beaches in all Southern California. Its proximity to downtown Los Angeles, approximately 15 miles away, adds to the crowds, but it's the surreal beach scene that really attracts tourist from around the world.
The Santa Monica Pier bisects Santa Monica State Beach, separating the beach into a north and south unit. Both directions lead to a wide and welcoming beach that easily accommodates hundreds of visitors on the weekends. Beach areas to the north tend to be less crowded, with the biggest crowds right on either side of the pier.
Several of Santa Monica's top attractions are right here at the oceanfront, including the amusement park and Ferris wheel on the Santa Monica Pier. Also nearby are places like Palisades Park and the Annenberg Community Beach House. And the 22-mile Marvin Braude Bike Trail navigates the backend of the beach, connecting every other beach in Santa Monica Bay.
2. Zuma Beach, Malibu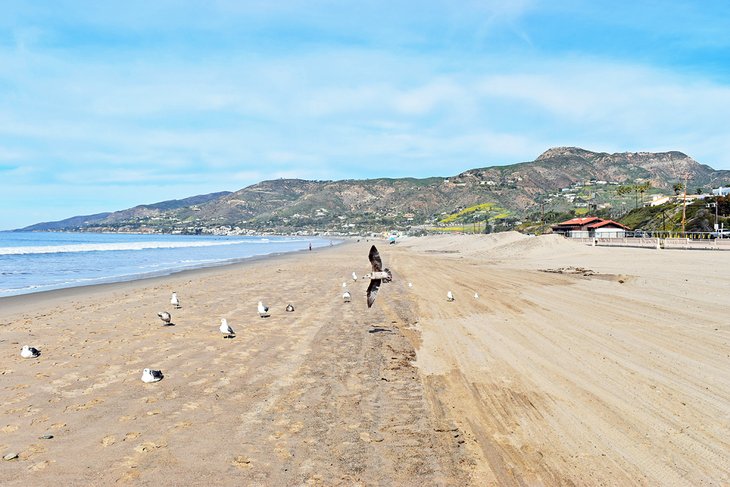 Malibu is a magnificent coastal city of LA County, sandwiched between the ocean and the Santa Monica Mountains. The city has a photogenic combination of incredible luxury homes and rugged mountain-meeting-the-sea landscapes with no development. This includes several Malibu beaches lining the Pacific Coast Highway.
One of the largest beaches in Malibu is Zuma Beach. The beach is just under two miles long, but it's wide with usually decent surf. Fourteen lifeguard towers punctuate the beach, along with a few small snack stands and restroom areas.
The art-filled Malibu Beach Inn sits right on the sand on Carbon Beach, about a 20-minute drive away, with a full-service spa and oceanfront restaurant. The location is unbeatable, steps from Malibu Pier. Nobu Malibu is also only a five-minute stroll away.
Read More: Top Things to Do in Malibu, CA
3. Main Beach, Laguna Beach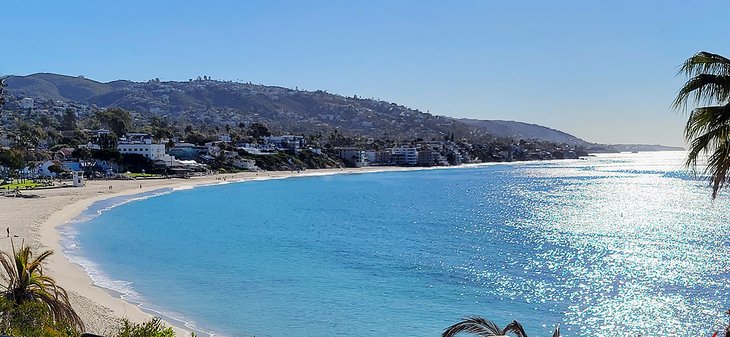 Laguna Beach is a small slice of coastal paradise in Orange County. It's home to a thriving art scene and hosts its annual Pageant of the Masters and Festival of the Arts each July. The city's central beach, called Main Beach, is right where Laguna Canyon meets the Pacific Coast Highway. It's a wide beach, with surf that can be rough.
The beach is popular with celebrities and tourists alike. A few beach amenities include volleyball courts, beachfront basketball courts, and miles of beachfront bike paths. It's also filled with birds that are quick to steal any food you might leave behind. When visiting, take the time to head north and stroll through Heisler Park, perched atop the bluff north of Main Beach.
The Pacific Edge Hotel on Laguna Beach is aptly named, as it's right on the sand. Go for an ocean-facing room–they are truly oceanfront, with nothing between you and the pounding surf. The beach in front of the hotel is a bit thin but quickly widens out as you move north towards Main Beach Park.
Accommodation: Top-Rated Hotels in Laguna Beach
4. Venice Beach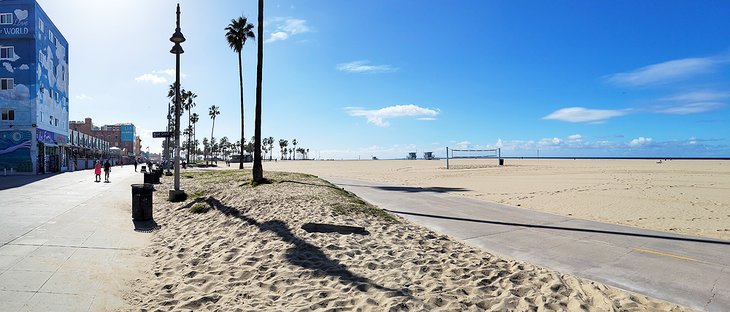 Southern California's most entertaining beach is Venice Beach, where it's as much fun to people watch as it is to enjoy the ocean. The wide, flat beach is fronted by the iconic Venice Beach Boardwalk, lined with artists and street performers on one side, and shops, restaurants, and cafés on the other.
The Venice Beach area, aside from sunbathing, is great for sports, with volleyball nets, basketball courts, tennis and handball courts, and other sports areas free for public use. The area's famous Muscle Beach, an iconic, open-air weightlifting area, is a private gym, with memberships and day passes ($10 per day, $50 per week) available to the public.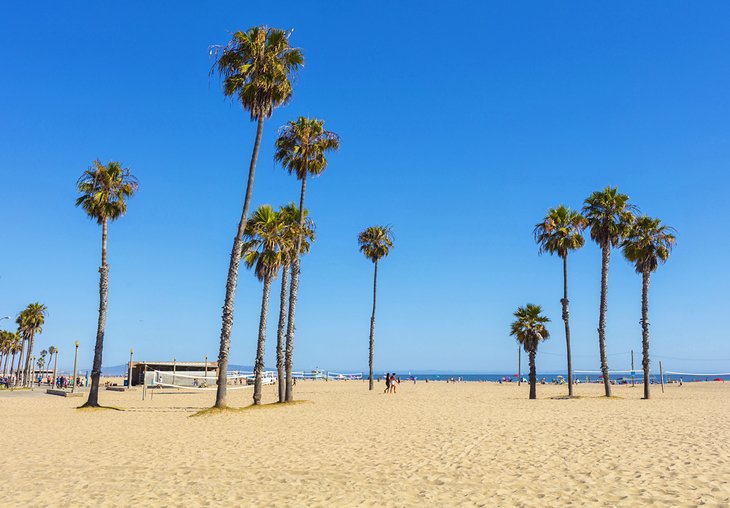 The Venice Beach area has a few cool hotels. The Hotel Erwin is a block from the beach, with nicely designed, newly-renovated accommodations. The hotel also has a rooftop restaurant and curates art and music shows featuring local artists.
5. San Clemente State Beach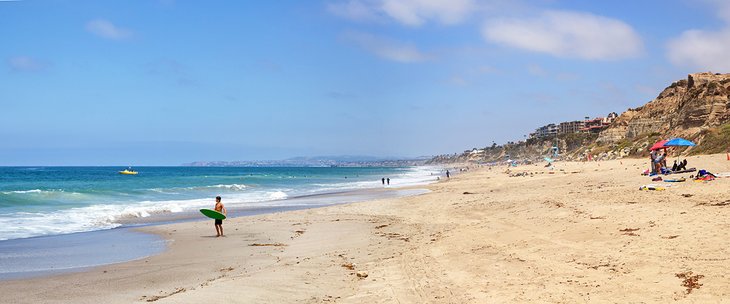 San Clemente is a sunny coastal town in far southern Orange County. It comprises approximately four miles of gorgeous shoreline, all popular for surfing. San Clemente State Beach is toward the south end of town and encompasses a mile of this postcard oceanfront.
From the day-use parking area at San Clemente State Beach, it's either a short but steep, or long and winding, route to the beach. Both routes tour impressive sandstone formations and reach the beach via a tunnel underneath the train tracks.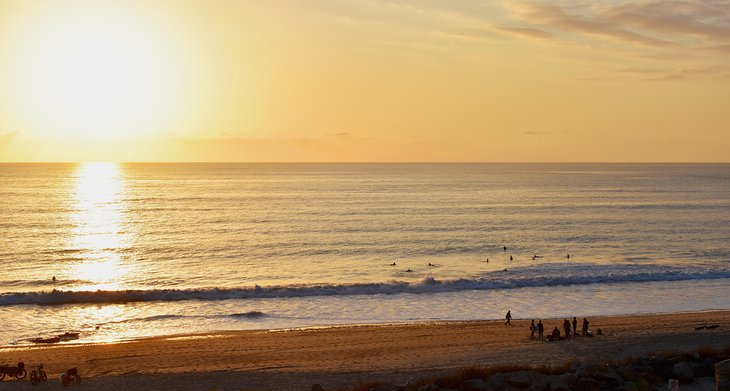 The beach is popular for surfing, suntanning, and walking the shoreline. The entire oceanfront glows during sunset thanks to its westward orientation. The campground above the bluffs at San Clemente State Beach makes it easier to capture this golden hour.
Read More: Top-Rated Things to Do in San Clemente, CA
6. Junipero Beach, Long Beach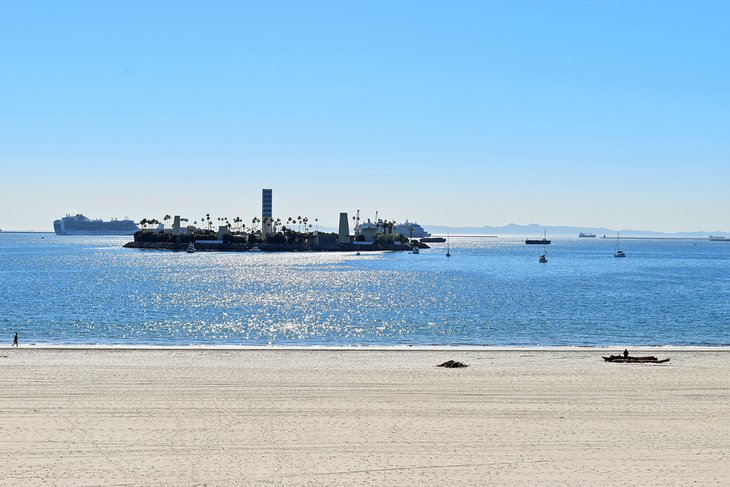 Long Beach is a city about 45 minutes south of downtown Los Angeles. The public beaches in Long Beach are wide and flat and are also protected by a series of man-made reefs and islands, so the surf is quite gentle. Junipero Beach (also called Junipero Cherry Beach) below the Long Beach Museum of Art is an excellent area to enjoy the soft sand and cool water. The Shoreline Bike Path navigates the entire length of the Long Beach coastline.
Aside from wide, clean beaches, the city has plenty to offer visitors, especially in terms of sightseeing and attractions. There's the Queen Mary, the Long Beach Museum of Art, and the Aquarium of the Pacific. The city also hosts the annual Toyota Grand Prix of Long Beach in April.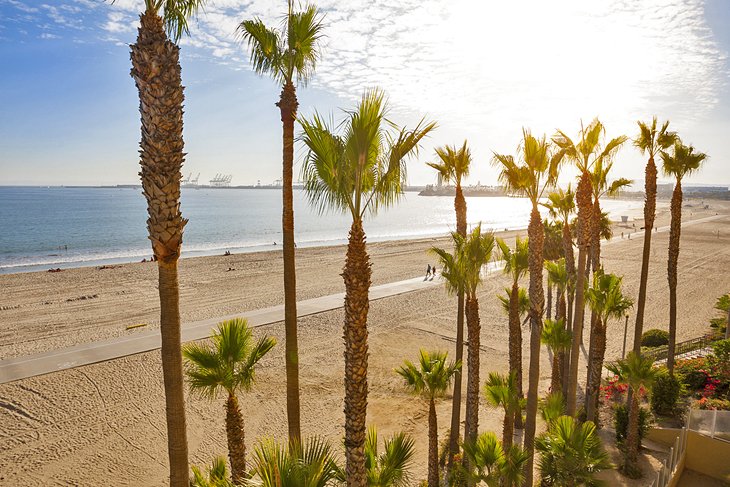 The Queen Mary, a retired cruise ship, is also a hotel and is a must-do experience, at least for one night. The cabins can be small and the design a bit outdated, but it offers the opportunity to explore the great ship at your leisure.
Accommodation: Top-Rated Hotels in Long Beach
7. Coronado Beach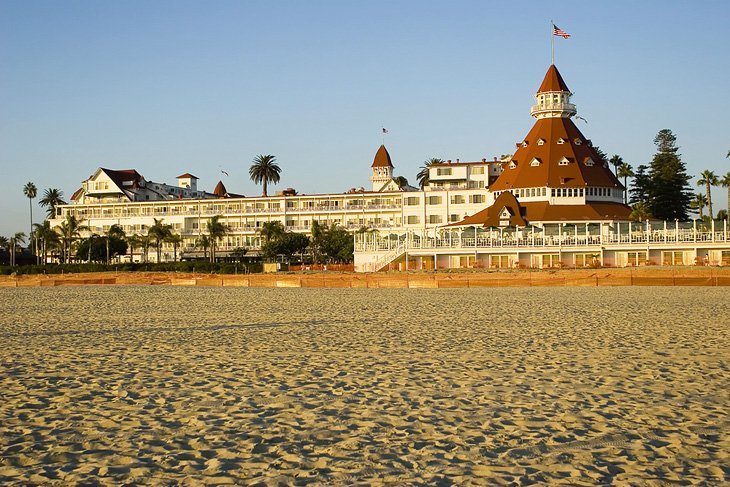 This San Diego beach constantly ranks among the top ten beaches in the country. It's because Coronado Beach delivers so many of the elements for a classic beach experience. It's wide and flat, almost two miles long, and has good lifeguard protection. There's an abundance of facilities, bathrooms, and outdoor showers, along with nearby businesses for snacks, meals, and beach supplies.
It's also quite beautiful and photogenic; there's a lot of mica in the sand and it reflects the sunlight. Coronado Beach is the home of the legendary Hotel del Coronado, which, in addition to the rooms and suites in its iconic Victorian main building, offers luxurious beach villa accommodations, private little mansions right on the sand.
Accommodation: Best Resorts in San Diego
8. Crystal Cove State Park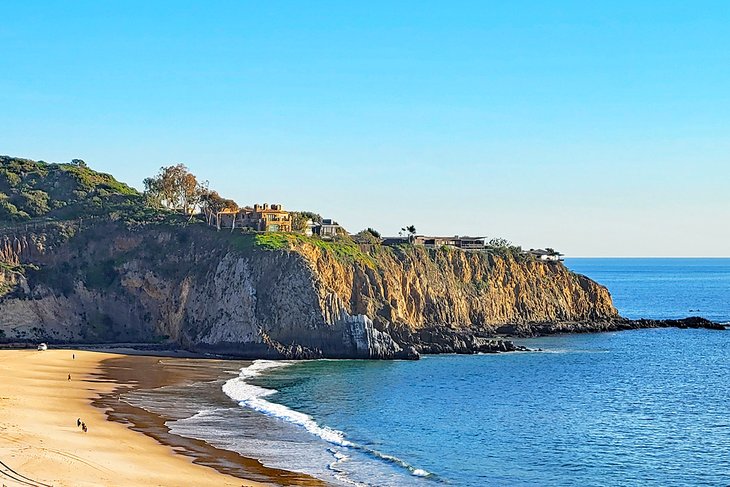 Crystal Cove State Park is one of California's best state parks for many reasons, including its 3.2 miles of coastline. This stunning beach area is less than three miles north of downtown Laguna Beach, and eight miles south of Newport Beach.
Three primary access points offer day-use facilities at Crystal Cove State Park. These parking areas are off the Pacific Coast Highway and can get busy during the summer months and weekends. However, the beach is so wide and long at Crystal Cove, it's easy to find a solitary experience by walking a little.
9. Huntington City Beach, Huntington Beach

Huntington Beach is one of Southern California's first beach resort cities and is named for Henry Huntington, the man who owned the streetcar line that connected the city with Los Angeles. The city has developed into a true destination resort, with extremely wide, clean beaches; expensive luxury homes; a thriving restaurant and music scene; and plenty of hotel options.
The city's main beach, Huntington City Beach is a 3.5-mile-long stretch of wide, flat beach. It's easy to get to; just follow Beach Boulevard until it dead-ends at Pacific Coast Highway. The Huntington Beach Pier and the downtown district are connected on either side of the PCH, offering several lively shopping and dining options throughout the day and into the night.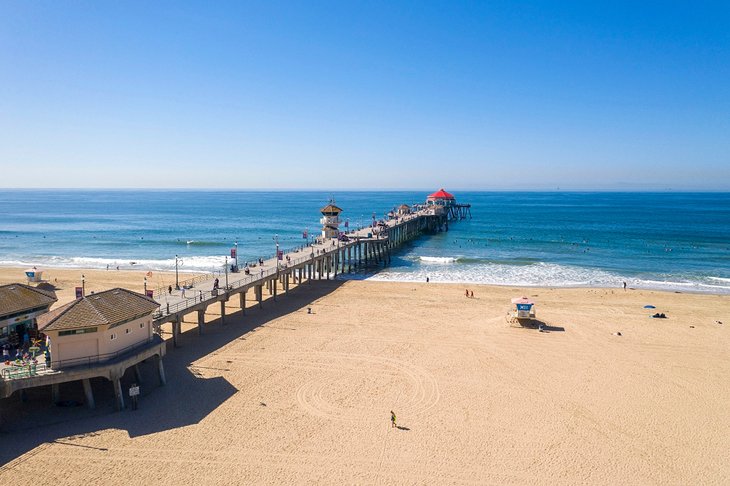 Although the weather is great year-round, the city's population swells during the summer, especially during the annual US Open of Surfing, which happens the first week of August.
The new Kimpton Shorebreak Hotel is right across the street from the beach and is perfect for both families and solo travelers.
10. El Matador State Beach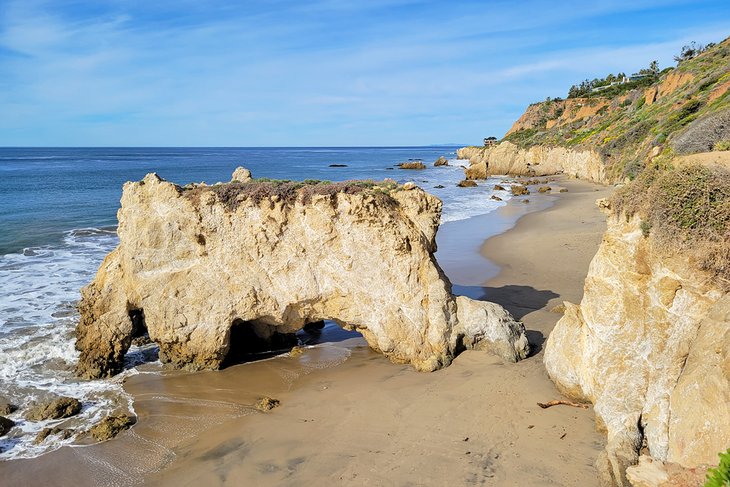 El Matador State Beach is on the western Malibu coastline, less than three miles east of Leo Carrillo State Park. The state beach is one of three that make up Robert H. Meyer Memorial State Beach, and it is the most popular.
El Matador's photogenic sea stacks and rock features are perhaps what gives this picturesque beach its notoriety. And it's true that few other coastlines in Malibu display such dramatic coastal features. Visiting when the tide is low offers the most space for exploring the coastline.
The parking area is off the PCH and is much smaller than the crowds that pull over to visit. Find a spot, though, and it's a unique hike down an eroded bluff to a set of stairs leading to the beach.
11. Treasure Island Beach, Laguna Beach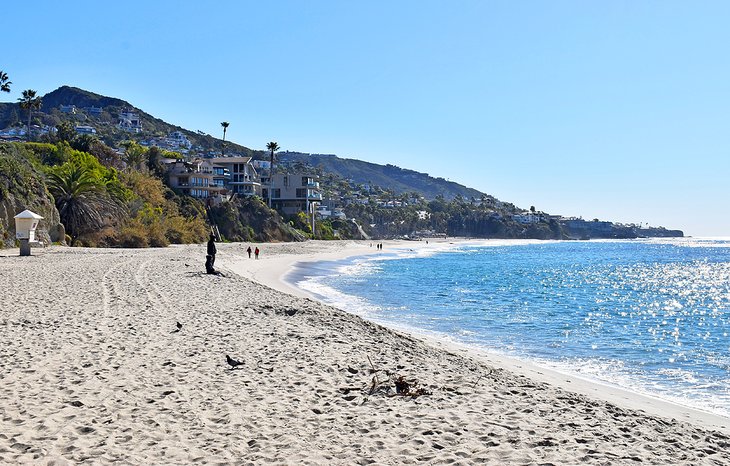 Treasure Island Beach is another must-visit coastal destination in Laguna Beach. It's co-managed by the city and the luxurious Montage Laguna Beach, who help maintain the flourishing bluff-top park above the beach. This park includes several stunning views of the Laguna coastline.
The main access point to Treasure Island Beach is down the long, graded ramp extending from the Montage Resort. A rocky outcropping on the north end of the beach forms a bit of a cove here, making the area well-suited for swimming, snorkeling, and scuba diving. When the tide is low, visitors can head north to discover other pocket beaches.
12. Playa del Rey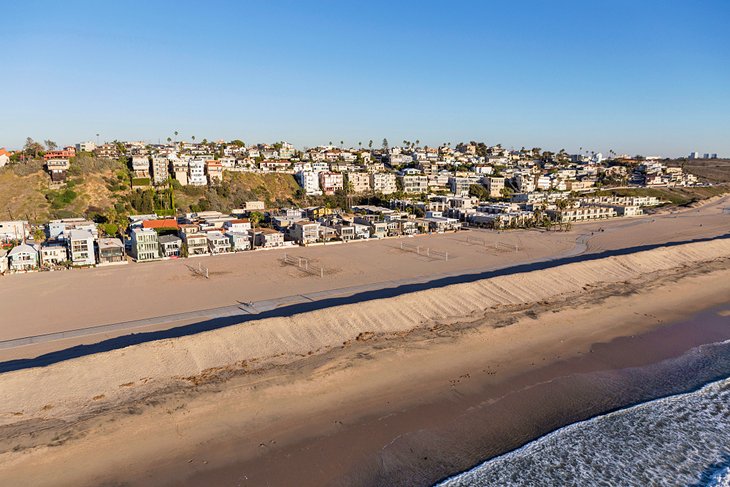 This is a wide, sandy city beach with volleyball nets and paths for running and biking. The other benefit is its proximity to LAX. Aside from traffic, it's possible to go from the terminal to the sand at Playa del Rey in about 15 minutes. If you only have limited time in Los Angeles and want to spend it at the beach, this is a great option.
The Inn at Playa del Rey isn't cheap, but it is newly constructed and has beautifully designed rooms and suites. This luxury boutique hotel sits right on the border of the protected Ballona Creek wetlands area, with views all the way to the water. The beach is a short bike ride or walk away.
13. Seal Beach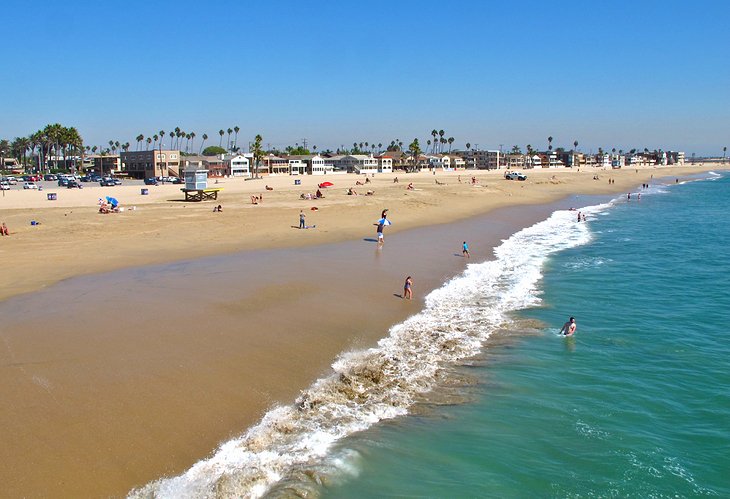 This cool little stretch of sand is the first beach in Orange County, just over the Los Angeles County line from Long Beach. Seal Beach has one main wide, flat beach, with plenty of lifeguard stations, as well as places to change and restrooms. A concrete boardwalk fronts the beach, lined with houses and apartments.
There is a very long wooden pier at Seal Beach, which is great for fishing or just walking. The pier area is surrounded by a park and parking lots.
There are many shops and restaurants along Ocean Avenue, a block from the beach and running parallel to it. The Pacific Inn is about three blocks from the beach, with a large outdoor pool and spa in an open-air atrium.
14. Leadbetter Beach, Santa Barbara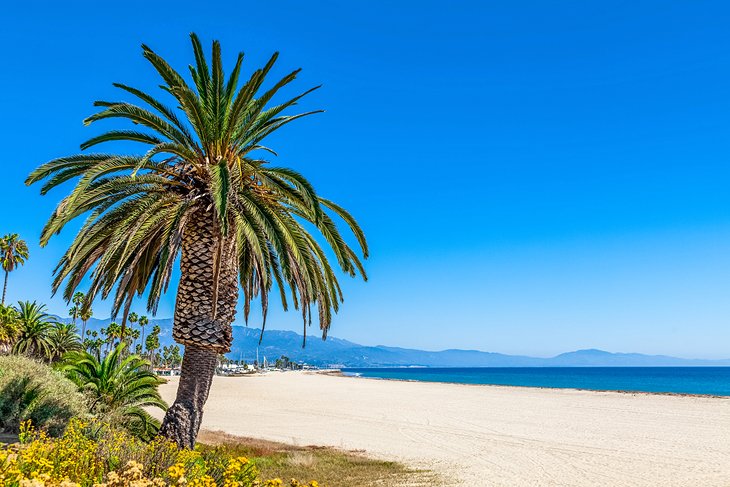 One of the best beaches in Santa Barbara, this city park has a wide, curving beach with a grassy lawn area. The park is easily accessible between the harbor and Shoreline Park, right across from Santa Barbara City College. The surf is gentle but adequate for beginning surfers, and the area is also windy enough for windsurfing. Along the beach are areas for barbecuing and several restrooms and shower facilities.
It's a long beach, and although there can be a lot of people here, especially on weekends and holidays, it's always possible to find your own space. And if you want to socialize, the beach is popular with the students from the college across the street (and those from UCSB, about 15 minutes away).
15. Mandalay Beach, Oxnard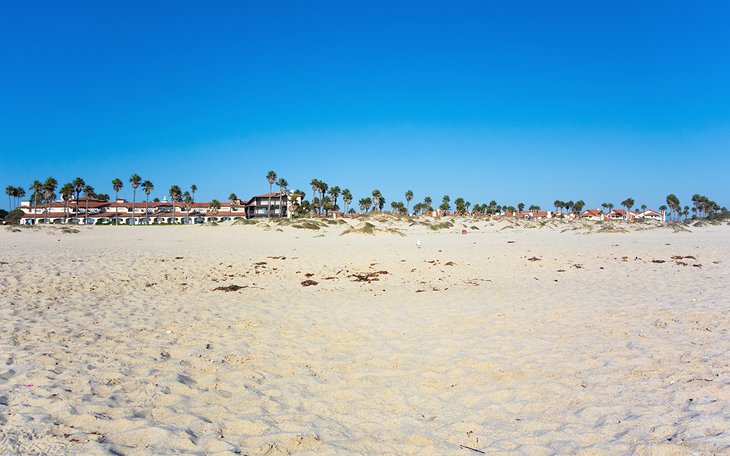 Oxnard is about an hour north of Malibu and offers miles and miles of unspoiled, sometimes even uncrowded, beaches. These beaches are wide and flat, with a row of low dunes separating them from the boardwalk or beachfront homes.
Mandalay Beach is the beachfront area at the end of 5th Street. It's next to Mandalay County Park, which protects over 100 acres of raw, preserved dunes and wetlands. The wide beach is good for sunbathing and is also a popular place for surfers.
The Hampton Inn Channel Islands Harbor is a harbor-front hotel with some rooms and suites overlooking the water. There's an outdoor pool and miles of walking (and biking and jogging) paths and trails all around the harbor area.
16. Hermosa Beach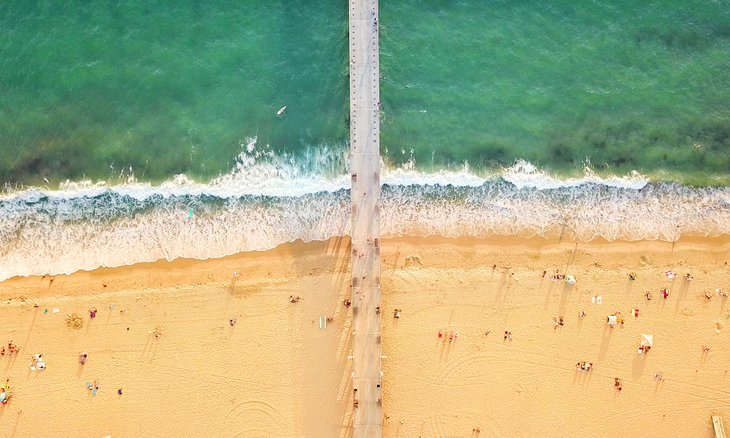 Hermosa Beach is another beach city in Santa Monica Bay, next to Redondo Beach. Of all the south-facing beaches, it and the nearby Manhattan Beach combine the best of wide-open beaches, a year-round residential population, an excellent selection of local restaurants and shops, along with a few reasonably priced hotels.
Like the other South Bay beach cities, Hermosa Beach is easily accessible by the freeway and within an hour, even with traffic, of LAX airport. The city is on The Strand, also known as the Marvin Braude Bike Path, which stretches 20 miles north in Santa Monica.
The Hotel Hermosa is a good mid-range option, about a 15-minute walk from the beach. It's well-maintained, has a heated outdoor pool, and offers free Wi-Fi.
17. Newport Beach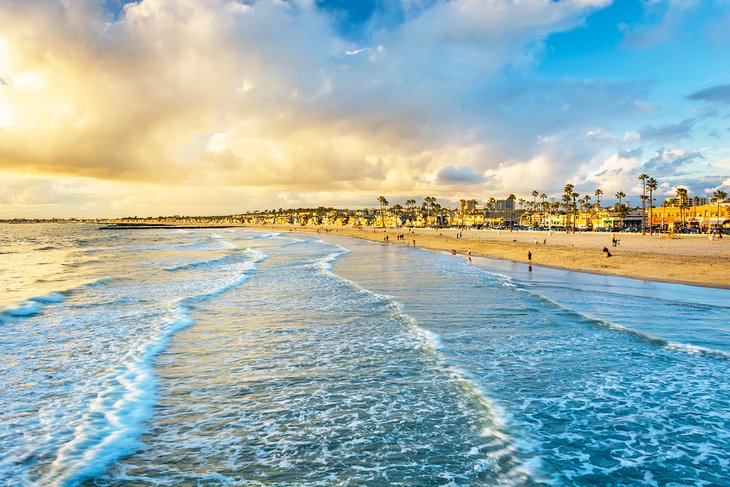 This wealthy seaside city has a harbor filled with yachts and a main thoroughfare lined with exotic car dealerships. Aside from the glitz and glam, there's still some old-school charm in a few neighborhoods, like on tiny Balboa Island. The beach has two piers, Balboa Pier and Newport Beach Pier, and even a beachside amusement park, the Balboa Fun Zone.
Aside from the beach there are a few little cafés and even some shopping in the tiny beachfront community. The Newport Beach Marriott Bayview is on Newport Bay with bay views, close to the area's great shopping. The beach is a short drive or bike ride away. It's also close to SNA, John Wayne Airport.
18. Mother's Beach, Marina del Rey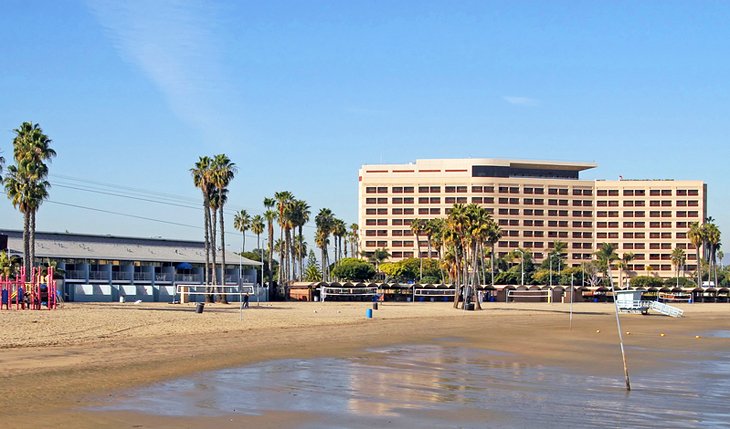 Known mainly as the nation's largest man-made recreational harbor, the Marina del Rey area also has a few small beaches. Mother's Beach is a small crescent of sand with a lifeguard on duty and water as gentle as a kiddie pool.
The swimming area is roped off, as this is also an area for launching SUPs (stand up paddleboards) and kayaks. Just beyond the beach is the vast boat harbor, filled with all kinds of pleasure boats. There's also a playground and picnic area next to the beach.
The Marina del Rey Hotel is a luxury boutique hotel right in the heart of the Marina del Rey harbor, surrounded almost completely by the water and boat docks. The hotel's luxurious rooms and suites have wonderful views of the harbor, as does their restaurant with a great outdoor dining area.
19. Doheny State Beach, Dana Point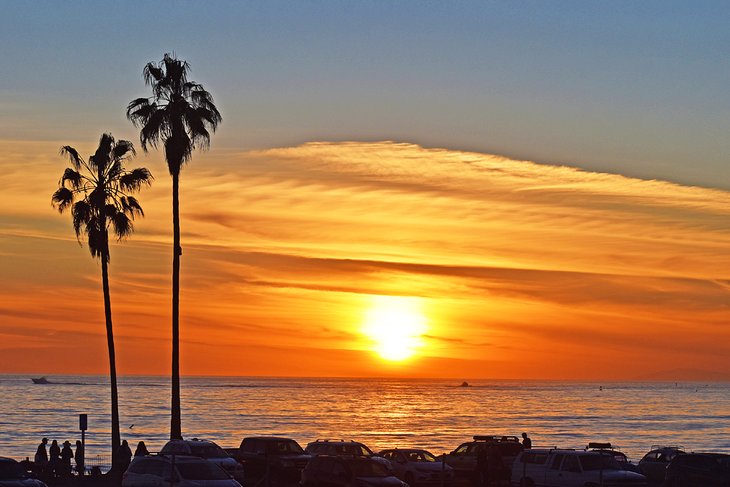 Doheny State Beach is a popular 62 acres of oceanfront in Dana Point, approximately halfway between San Clemente and Laguna Beach. The beach receives over a million annual visitors, spread out throughout the year thanks to its mild temperatures no matter the season.

Popular activities at Doheny include suntanning, surfing, and swimming. The beach is also home to several tide pools during low tide. Other beach amenities include volleyball nets, horseshoe pits, and restroom facilities.

Doheny is also home to one of the most popular coastal campgrounds in Orange County. The campground supports both tents and RVs and has over 100 sites available. Some sites even sit right on the beach. Reservations are required throughout the year.