11 Top-Rated Hot Springs in California
Writer Freddy Sherman lives in the Coachella Valley near the hot springs of Desert Hot Springs and makes a point to visit other springs when traveling throughout California.
There is nothing more soothing to body, soul, and mind than time spent in the healing mineral waters of a natural geothermal hot spring. A perfect hot springs experience might also include a mud bath to cleanse the skin. There are many hot springs resorts and sites located throughout California, providing a wide range of natural, aquatic spa experiences.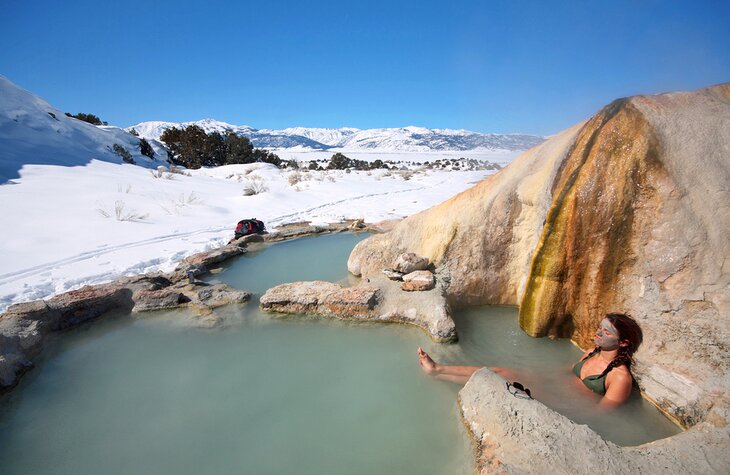 Bathers can choose from five-star luxury hotels with their own springs, like the Fairmont Sonoma Mission Inn near San Francisco, or remote, raw natural hot springs, like the Sespe Hot Springs near Ojai, accessible only via a 10-mile hike or horseback ride.
From the Napa Valley in the north to the Coachella Valley in the south, check out our list of the best natural hot springs in California.
1. Desert Hot Springs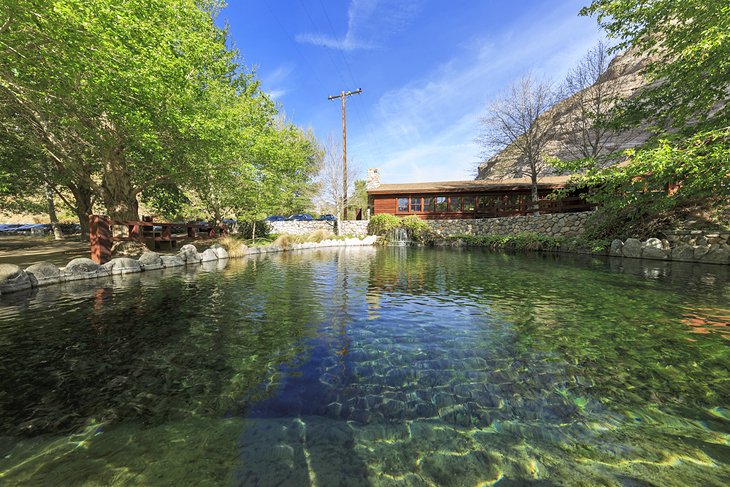 This southern California desert oasis resort city is just outside Palm Springs and about two hours east of Los Angeles. There are more than 20 hot spring spa resorts in Desert Hot Springs (the largest collection of warm springs in the US). Most welcome both day visitors and overnight guests. A Desert Hot Springs spa day can be a fun activity while visiting Palm Springs, as it's only a 20-minute drive from downtown.
There are many mid-range and even budget resorts but only one luxury option. The Two Bunch Palms resort sits in the foothills, overlooking the city. The stylish, sustainable resort has its own mineral-rich hot springs, used to fill various tubs, pools, and baths. There are also communal clay mud baths and a full-service spa. Access to treatments, the restaurant, and the springs are currently for resort guests only.
The mineral hot springs in Desert Hot Springs are unique in that they are odorless (some in other places can be a bit stinky due to sulfur content). They're also unique in that the area has both natural hot and cold springs.
For outdoor activities, the nearby Big Morongo Canyon Preserve is a vast outdoor space with miles of hiking and mountain biking trails. The Mission Creek Preserve, also nearby, is a unique environment, as it sits in a transition zone between the Mojave and Sonoran deserts. There's an easy-to-hike trail along a river, and this park allows leashed dogs. DHS, as it's called, is also about 30 minutes from Joshua Tree National Park.
Accommodation: Top-Rated Resorts in the Palm Springs Area
Read More:
2. Wilbur Hot Springs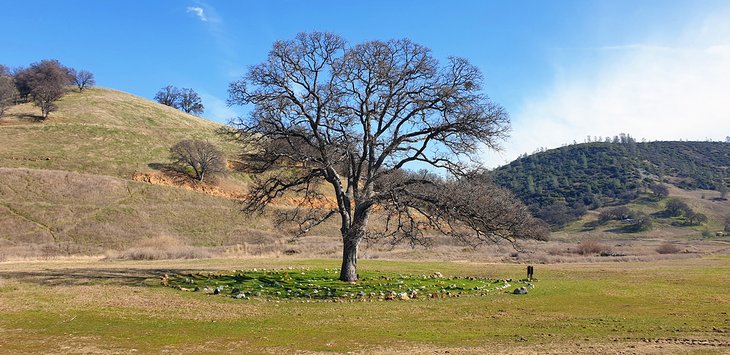 Wilbur Hot Springs is a historic, off-grid, solar-powered mineral Northern California hot springs resort, which first opened in the late 19th century. It's in the town of Williams, about 90 minutes from Sacramento (by car) and about two and a half hours from San Francisco.
The hot springs are experienced in Japanese-style onsen structures, some of which are clothing-optional. There's also a spring-fed and spring-heated swimming pool and a dry sauna. There's even a geyser on-site (for viewing, not for bathing).
Aside from the hot springs (which can be visited day and night), there are yoga classes, holistic experiences, guest chef appearances, and other foodie events. A range of massage and healing treatments are offered. The resort is a digital-free zone: no mobile phones are allowed in the public areas.
The hot springs, which are naturally heated, come out at three heat levels, and you soak in flumes as the mineral-filled water flows around you. There is also a spring-fed swimming pool, an outdoor flume, and a dry sauna. After all the hot springs and hot sauna, hop into the cold plunge, made from an antique bathtub.
Beyond the waters, Wilbur Hot Springs is natural retreat and center for spiritual and personal development. They offer various programs for self-development in addition to healing and yoga. If you prefer to cleanse your soul via hiking (or mountain biking), the area is also part of a 1,800-acre nature preserve.
Due to the resort's remote location and limited size, advance reservations are required for both overnight stays and day visits.
Read More: Best Day Trips from Sacramento
3. Sycamore Mineral Springs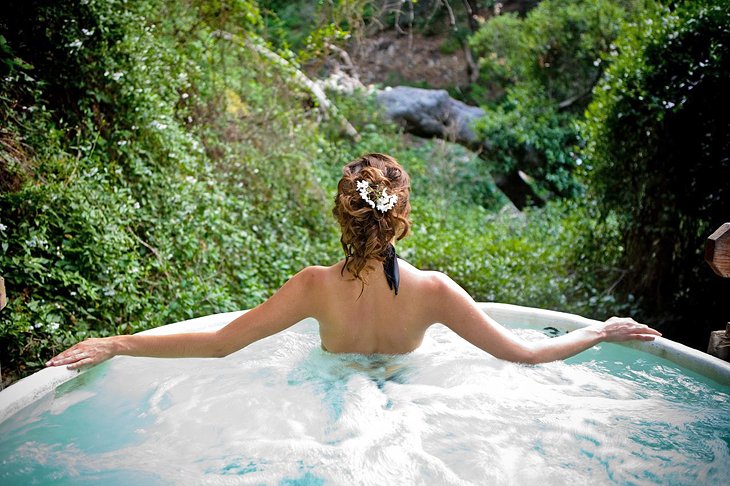 The Sycamore Mineral Springs Resort & Spa is in the central California town of Avila Beach, about 15 minutes from San Luis Obispo off Highway 101. There are 72 rooms and suites along with a three-bedroom casita. The accommodations all have private hot tubs on their private balconies or private patios. The boutique luxury resort is a 100-acre estate, so there is a lot of green space along with hiking trails.
The resort's collection of outdoor mineral-spring-heated hot tubs can be reserved by guests and by the general public. The private tubs are reserved on an hourly basis and must be reserved online in advance. You can start booking for 9:30am with 10:45pm being the latest reservation time. Groups of up to 20 (and at least four) can reserve the Oasis Waterfall Lagoon, a large pool-like spa with a waterfall. Day (non-hotel) guests who reserve tubs can order food from the resort's restaurant to eat at their tub.
Sycamore offers 24 outdoor hot tubs with naturally heated mineral water placed up and down a lush hillside. Other wellness activities like yoga and pilates are offered, and the resort has a large spa offering a range of body, beauty, and skin treatments.
The Sycamore is home to the Gardens of Avila restaurant, a very popular Central Coast dining destination with a seasonal, locally sourced (some things from the resort's one-acre chef's garden) menu. The restaurant is open for breakfast, lunch, and dinner.
For an opulent diversion, take a drive to nearby Hearst Castle, the sprawling mountaintop castle-like estate of William Randolph Hearst.
Read More: Top-Rated Attractions & Things to Do in San Luis Obispo, CA
4. Beverly Hot Springs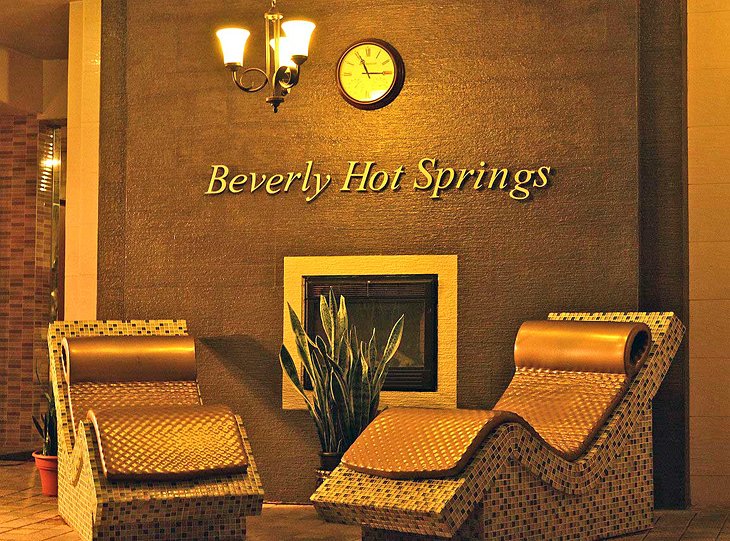 Did you know there was a California natural hot spring in the heart of crowded Los Angeles? Beverly Hot Springs is in Koreatown, midway between downtown LA and Beverly Hills.
The spring, which was discovered during oil drilling in the early 20th century, has sodium bicarbonate-rich alkaline water at 95 - 105 degrees Fahrenheit (35-41 degrees Celsius). The water has many compounds and minerals, but one, sodium bicarbonate, is the same compound found in antacids, and that's why the water has also been popular to drink for its therapeutic effects.
The day spa is built on top of the spring and opened in the 1980s. There's a natural hot springs pool, a cold plunge pool, a eucalyptus-infused steam room, and a dry sauna. Aside from the waters, Beverly Hot Springs also offers a range of beauty and massage treatments. Go for the bamboo fusion massage, which includes the use of heated bamboo sticks to gently knead away your tension.
The spa is open six days a week to day guests during the week and is closed on Tuesdays. On weekends, you must book a treatment (massage or facial) for entry. Men and women each have their area of the springs, pools, steam room, and sauna. Nudity is optional in those areas.
Accommodation: Top-Rated Resorts in the Los Angeles Area
Read More:
5. Calistoga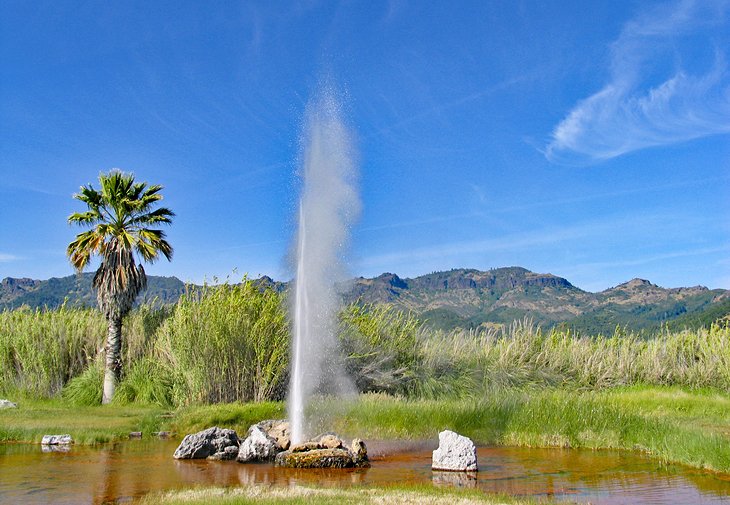 Calistoga is a northern California city of hot springs. It's in the famous Napa Valley, a few hours north of San Francisco, and has been a popular hot springs resort near San Francisco since the first hotel opened in 1862. It catered to the wealthy San Francisco residents of the day, many made rich from the recent California Gold Rush. Calistoga water is also popular as a beverage and has been a famous brand of sparkling drinking water for over 100 years.
There are many hot springs around the city, and mud baths are also very popular here. These are "baths" where you immerse yourself in hot, volcanic, mineral-rich muddy soil. You can choose from a range of lodging options, from small hotels, some with their own springs, to five-star luxury resorts. Many Calistoga hot springs are day-use, without overnight accommodations.
The city retains a small-town feel (fast food chains are banned here), and it's a fun place to visit for a getaway. Calistoga even has its own geyser, known as Little Old Faithful or Old Faithful of California, which erupts about every 40 minutes or so. It's one of only three natural geysers in the world, which erupts on a regular schedule.
Read More: Best Hot Springs in the USA
6. Fairmont Sonoma Mission Inn & Spa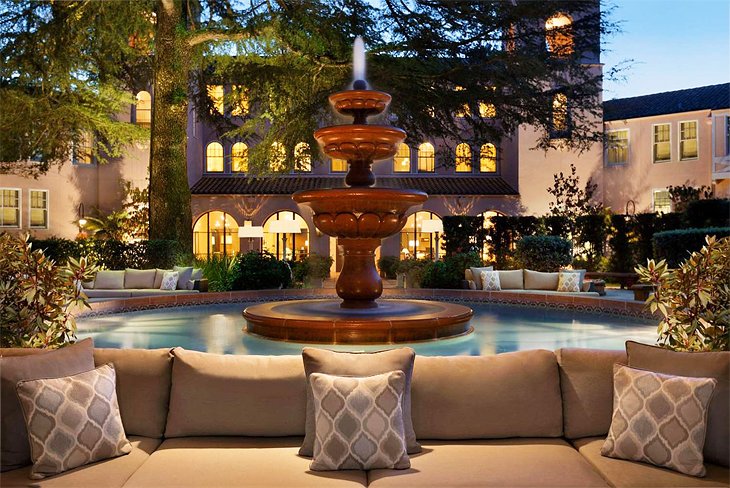 Sonoma is a beautiful, still largely agricultural city, one valley over from California's Napa Valley. This luxury Bay Area spa resort, only about an hour from San Francisco, is unique in that the Fairmont Sonoma Mission Inn & Spa's Willow Spring Spa has its very own ancient thermal mineral spring.
The hot spring starts 1,100 feet (335 meters) below the earth's surface. Atop the spring is the vast and luxurious spa and the luxury resort. The springs were used by the local Native American tribes for thousands of years and now they feed the resort's hot tubs and all five pools.
Day guests are welcome at the Fairmont's Willow Spring Spa, and access to the spa is free if you are getting most of their massage or beauty treatments (there is a minimum spend required). The spa is known for its European bathing ritual, inspired by traditional bathhouse experiences in many countries. This aquatic adventure starts with an exfoliating shower, followed by a warm therapeutic bath, then a dip in a hot pool with Jacuzzi jets, then a mega shower, a visit to a herbal steam room, time in a traditional dry sauna, and finally a relaxation room.
The Fairmont Sonoma Mission Inn & Spa also has something called a Watsu pool, where floating massages are done. The shallow pool is at body temperature, and while you float, the masseuse can work your spine, joints, and muscles in a way they are unable to do when you're on a massage table.
Read More: Top-Rated Small Towns in California
7. Sierra Hot Springs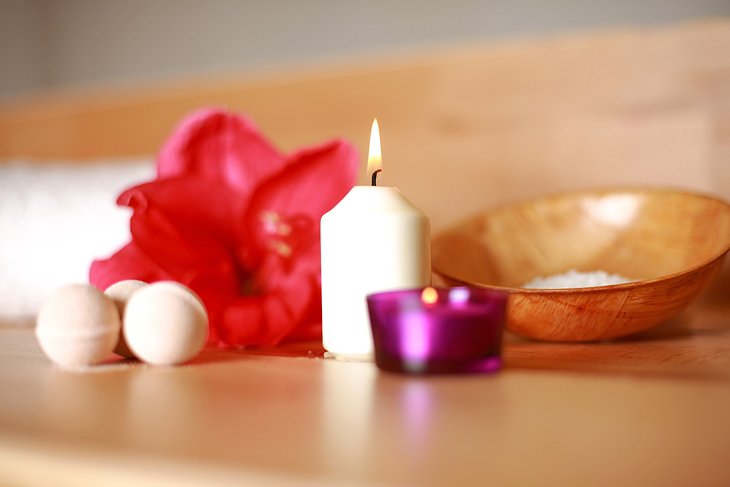 The Sierra Hot Springs Resort & Retreat Center is a non-profit, spiritual, wellness, and healing-focused 700-acre resort. It's near Lake Tahoe (a 90-minute drive) or about a four-hour drive from San Francisco.
Accommodations include a large lodge building with rooms and suites and several camping areas. You can also stay in The Globe Hotel, a historic hotel located a few minutes away in Sierraville (under the same ownership). Tent, car, and RV camping are also offered, although they have no hookups of any kind.
Day-use guests are welcome to visit, but all guests, day-use and those staying overnight, must have advance reservations; no drop-in visits are allowed.
The mineral pools are open 24 hours a day. There's a large geodesic dome, the Temple Dome, and inside there's a sand-bottomed hot pool and two cold plunges. Outside there's a large warm pool with a big sundeck and dry sauna. Outside is also the warm meditation pool, with faux rock landscaping and a sand bottom. In the European style, the pools are clothing-optional, but the resort is not.
There is a lot of programming here-many well-known spiritual and healing practitioners and lecturers offer sessions and seminars at the resort and there's always a full program of workshops. The property is adjacent to the Tahoe National Forest, so there is a lot of biking and hiking available. In the winter, the resort has some incredible cross-country skiing.
Read More: Top-Rated Things to Do at Lake Tahoe
8. Vichy Springs Resort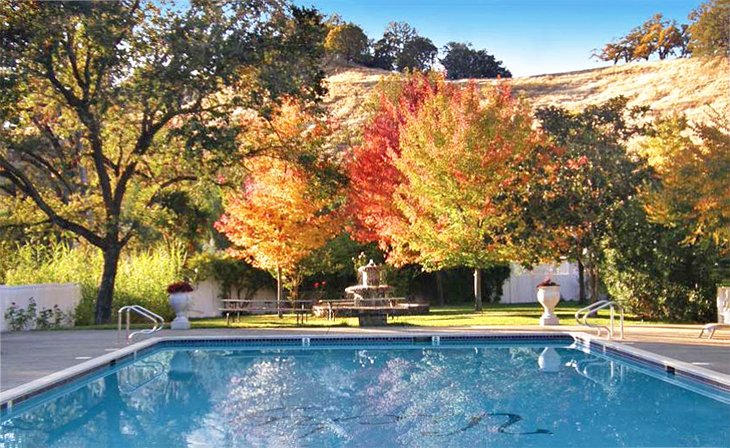 First opened in the mid-19th century, the historic Vichy Springs Resort combines a country inn boutique hotel with a northern California hot springs resort. You can stay overnight in the luxurious accommodations (rooms or individual cottages) or just visit for the day. History buffs may want to reserve one of three original cottages, built in 1852. Vichy Springs is in Ukiah, about two hours from San Francisco.
The hot springs here are unique in that they are the only naturally warm and carbonated Vichy-style mineral baths in North America. Vichy is a town in France, famous since Ancient Roman times for its carbonated (bubbly) mineral baths. There are 14 mineral baths at Vichy Springs, four outside and 10 inside.
There is a large spring-fed and spring-heated swimming pool and a non-heated (seasonal) Olympic-sized swimming pool. The resort even has a natural cold plunge pool (swimming hole) under a waterfall, a 10-minute hike away through the woods.
There are miles of hiking trails on the 700-acre private reserve. The resort includes a large spa with a range of massage and beauty treatments.
9. Esalen Hot Springs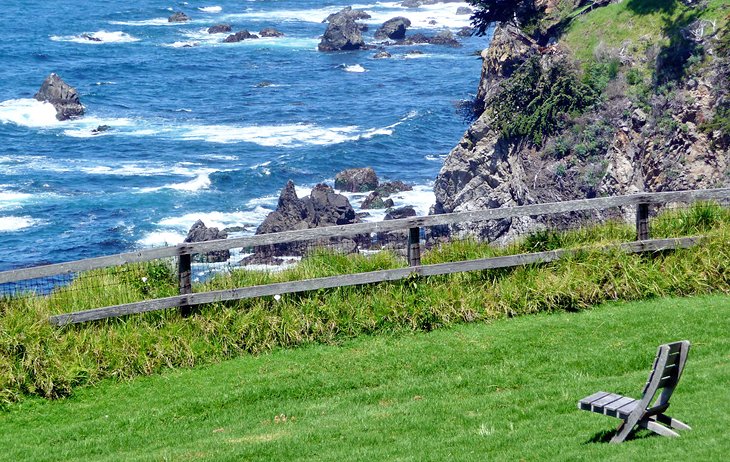 If you want hot springs in Big Sur, this seaside retreat may be known more for the Esalen Institute and its New Age philosophy and self-help experiences, but it's also home to some amazing, cliffside, oceanside hot spring baths. The baths are open only to Esalen retreat guests.
Previously, the baths were open to the public each night, from 1am to 3am, and the resort also used to offer massage treatments to the public, but due to recent health concerns, they are now offered to guests only.
The baths are down the hill from the retreat's lodge and located on several levels. The first level has a large bath along with an outdoor massage deck. There are several large baths, both indoor and outdoor, on the lower level, along with some private, old-fashioned clawfoot tubs for individual use. There are also restrooms, showers, and changing rooms.
There is evidence the mineral-rich hot springs have been used by the local Native American people for over 6,000 years for the same reason they're used today — their healing properties.
Accommodation: Top-Rated Hotels in Big Sur, CA
Read More: Top-Rated Attractions & Things to Do in Big Sur, CA
10. Sespe Hot Springs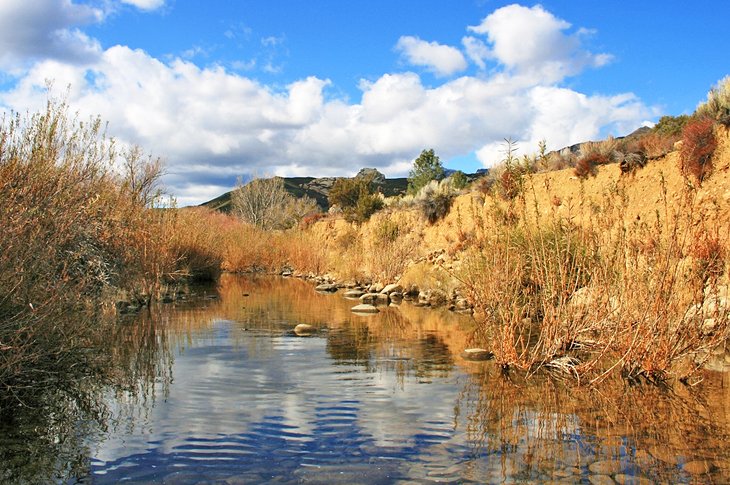 This remote Southern California hot spring site is almost 3,000 feet up in the mountains near Santa Barbara. At 194 degrees Fahrenheit (90 degrees Celsius), the water in the springs is some of the hottest in California and the country.
Sespe can't be reached by vehicle, only by foot or by horse (mountain bikes are not allowed). The shortest trail is a moderately difficult hike of about eight miles up and down a logging road. The Sespe Hot Springs are part of the Los Padres National Forest, located near Ojai about two hours north of LA.
The hot springs openings are all in a big valley-the water forms a creek which gets cooler the farther downstream you go from the sources. There are many natural pools and swimming areas where you can enjoy the water at a temperature you like.
Spring is the best time to visit, as there can be snow in the winter, and the temperatures soar above 100 degrees in the summer. There are no facilities, but you can backpack in and out, hike, and camp in the area. The geothermal activity in the area means the ground is warm, even though the nights can be cool, making it comfortable for sleeping.
There is one 10-mile-long trail to the springs that is open to horses, and several local outfitters offer camping and drop-off/pickup packages for hikers and riders.
Read More: Top-Rated Things to Do in Ojai, CA
11. Glen Ivy Hot Springs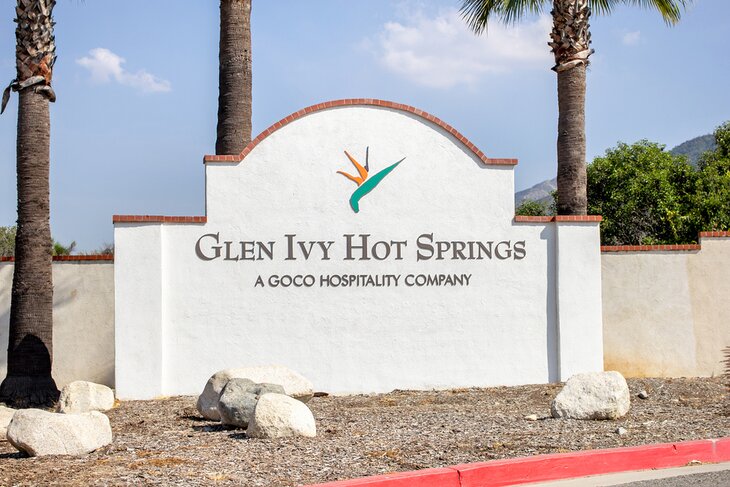 The Glen Ivy Hot Springs resort is in southern California near Corona. It's an easy two-hour drive from Los Angeles and isn't far from Temecula, a popular getaway destination from San Diego. The day resort offers a hot springs experience with a water park and other family fun as well as dining and a full-service spa.
There are 19 pools to choose from, most of which are fed from a natural, sulfur-rich, 104-degree geothermal spring. Other pools include a saline pool that uses Epsom salts, a lap pool with Aquafit and Aqua Zoomba classes, hot and cold plunge pools, and more. You can also enjoy indoor Roman bath pools inside the respective men's and women's bathhouse changing rooms.
There's a full spa offering a wide range of body, skin, and beauty treatments. You can also visit Club Mud, where you can cover yourself in California red clay. The clay is an exfoliant to soften your skin and also draws out impurities. You then bake yourself in the sun or their heated Wafa cave and then rinse off the mud, leaving fresh, soft skin.
The resort also features something called The Grotto, a cave-like environment where you're painted from neck to feet with a masque made from aloe vera, coconut oil, eucalyptus oil, shea butter, and lavender. You walk around in the heated grotto, then plunge into a pool to wash off the masque.
Glen Ivy has four different dining venues, from a family-friendly cafe to a very upscale farm-to-table restaurant.
Read More: Best Things to Do in Temecula, CA
Map of Hot Springs in California
More Related Articles on PlanetWare.com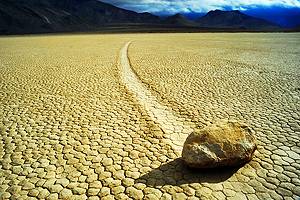 The Best of California: For other unique vacation ideas, have a look at our articles on California desert attractions and off-the-beaten path & interesting places in California. Couples looking for a special place to plan a quick trip can find inspiration in our article on romantic weekend getaways in California.