14 Top-Rated Things to Do in Ojai, CA
Nestled in a golden, oak-studded valley, Ojai (pronounced "OH-hi") offers a serene escape about 80 miles northwest of LA. This deeply spiritual little town has long been a haven for hippies and organic farmers. Today, it draws travelers of all types with its bohemian vibe, small-town charm, and scenic setting.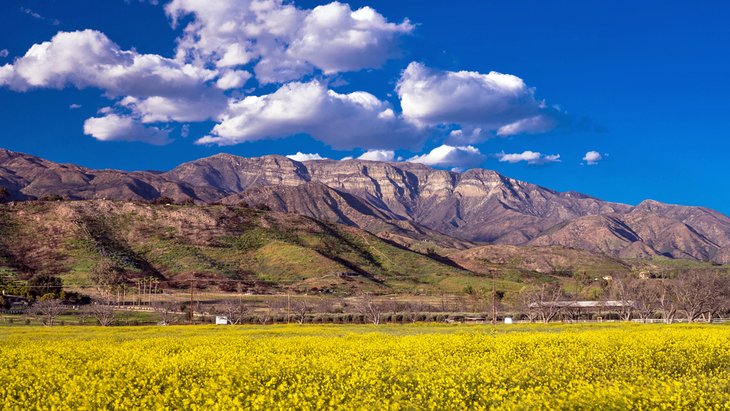 Ojai sits in one of the few east-west valleys in the world – its early sunrises bathe the valley in sunshine, and the late sunsets create the famous "Pink Moment," painting the surrounding peaks of the Topa Topa Mountains in rosy hues. Artists and photographers find inspiration in the play of light across the valley, and you can admire their work in the town's many galleries.
Nature lovers, too, come here to unwind and hike the many scenic trails. Each season brings its own brand of beauty. In the spring, wildflowers cloak the rolling hills, and the fragrance of orange blossoms perfumes the air. In the fall, golden grasses glow on the slopes in the waning sun.
Foodies flock here for Ojai's farm-fresh produce. You won't find any fast food here – Ojai's restaurants and cute cafés are all locally owned mom-and-pop affairs, serving artisan foods and local organic produce.
Spirituality is also a big part of the Ojai experience. The valley lies in a geomagnetic vortex zone, where energy fields arise from deep within the earth's core, and many visitors come here to unwind at the valley's wellness retreats and meditation centers.
Whether you spend your time soaking in soothing hot springs, exploring the stunning countryside on horseback, or attending one of the valley's cultural events or festivals, you'll fall in love with this peaceful little town. Discover the best places to visit with our list of the top things to do in Ojai, California.
1. Hike the Rose Valley Falls Trail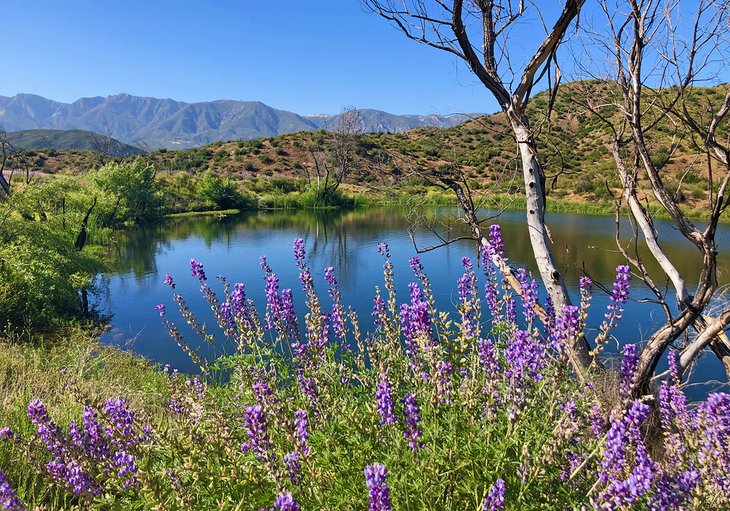 Surrounded by rippling peaks, rugged canyons, and ancient oaks, Ojai offers some beautiful hikes. Perhaps the most picturesque and popular is the hike to Rose Valley Falls.
Tucked in the Los Padres National Forest this 1.1-mile out-and-back hike is easy enough for the whole family to enjoy, except for small children (it's not stroller or wheelchair accessible). Leashed dogs are also welcome.
Equally beautiful, and longer than the hike itself, is the approximately 40-minute drive from downtown Ojai to the trailhead, which meanders through canyons and along curving mountain roads. Park outside the gates of the Rose Valley Campground to avoid a fee.
Along the shady trail, you'll cross several small streams and hop across logs until you reach the falls, a slender veil of water cascading between vibrant moss-cloaked rocks. Here, you can climb inside the waterfall through a cave, or cool off with a dip in one of the pools.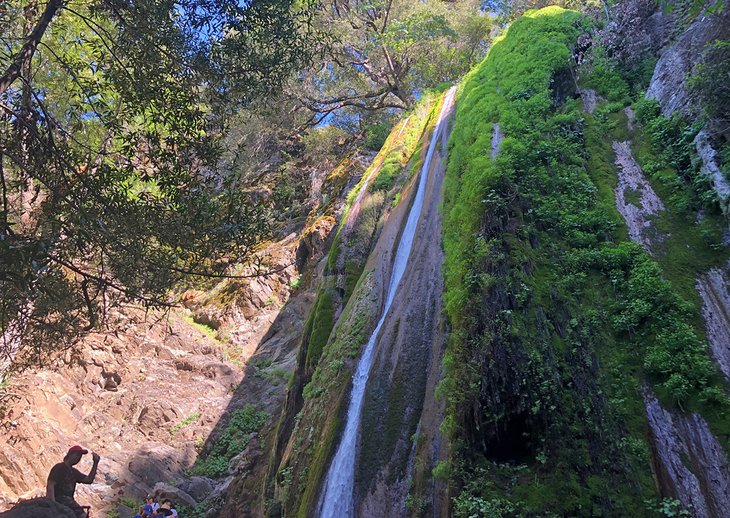 Spring is the best time to hike the trail. Wildflowers fleck the meadows, and the falls gush with winter and spring rains. Summer is usually hot and dry, with temperatures sometimes peaking above 100 degrees Fahrenheit. Naturally, weekends are busy in the peak season.
When it comes to outdoor activities in Ojai, this is one of the most rewarding adventures. And even though you feel like you're deep in the wilderness, restrooms are available near the trailhead.
Other worthwhile hikes around Ojai include the Matilija Creek Trail, and the Piedra Blanca Formations trail in the Los Padres National Forest, as well as the Sespe River Trail to Willett Hot Springs and Pratt, Foothill, and Fox Canyon Trails Loop.
2. Gaze at the Galleries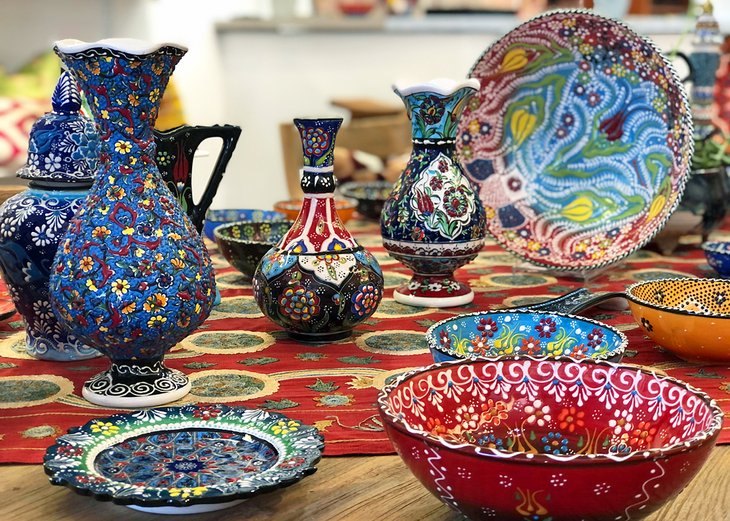 If you love art, you'll love Ojai. Top on your list of places to visit for artistic inspiration is the delightful Beatrice Wood Center for the Arts (8585 Ojai Road) in a beautiful mountain setting about 10 minutes from downtown Ojai.
You can tour this charismatic artist's home and studio, and admire her fascinating collection of modern and folk art from around the world, including ethnic jewelry and Wood's own contemporary ceramic creations. Her collection is just as quirky and lovable as the artist, author, and activist herself. The center is open Friday through Sunday for limited hours, and guided tours are available for a small fee.
Next on your art exploration should be Dan Schultz Fine Art Gallery and Studio (106 N. Signal Street). Plein air Ojai landscapes in oil are the main focus at this award-winning California artist's gallery, but you'll also find figure paintings and portraits. This is a great place to purchase that one-of-a-kind Ojai memento. Hours vary, and on some days, visits are available by appointment only.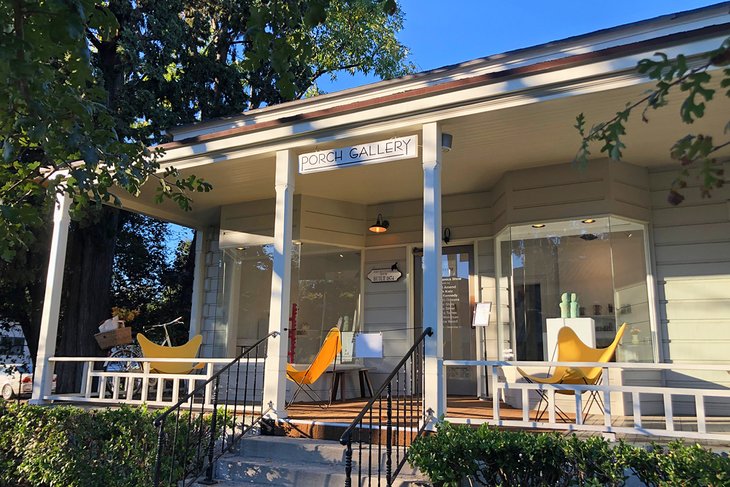 Other worthwhile galleries include OVA Arts (238 E. Ojai Ave), a kaleidoscope of vibrant pottery, pillows, and contemporary fine art pieces created by local artists; Porch Gallery Ojai (310 E. Matilija Street) in a historic house; and Primavera Gallery (214 E Ojai Ave), featuring contemporary art, as well as American craft and jewelry.
Want to roll up your sleeves and create your own works of art? Firestick Pottery (1804 E. Ojai Ave), a working ceramics studio, hosts workshops for budding potters, and offers free tours where you can watch master potters at work.
3. Shop 'Til you Drop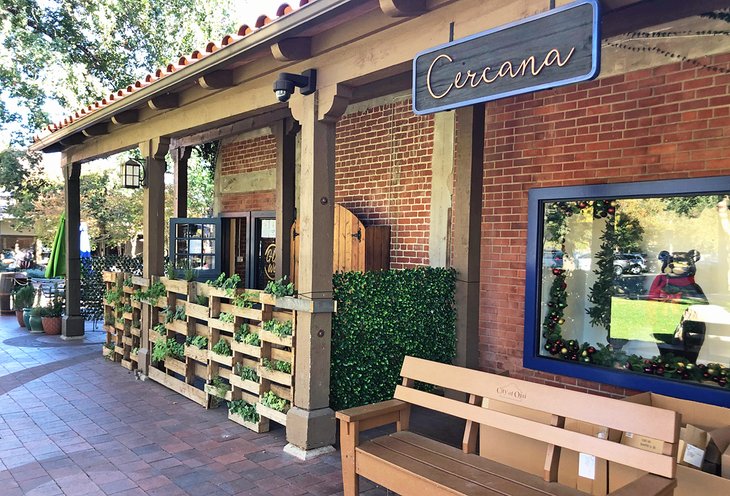 You won't find any big chain stores in Ojai, but you will find plenty of locally owned stores and local treasures.
Looking for special gifts from your visit to Ojai? Venture down an alleyway brimming with garden decor to FiG Curated Living (327 E Ojai Ave). Here, you'll find a trove of gifts and goodies – everything from pottery, plants, wind chimes, and wall hangings to jewelry, soaps, candles, textiles, and home decor.
Treasures of Ojai (110 N Signal Street) is true to its name. This 5,000-square-foot "Antique Collective Mall" sells one-of-a kind estate and ethnic jewelry, pottery, home decor, vintage clothing and more.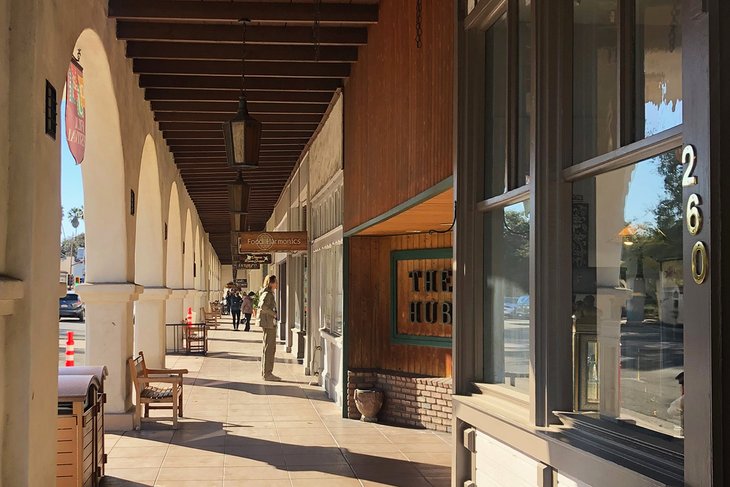 Cercana (302 E Ojai Avenue) sells all kinds of artsy treasures from around the world. Come here for candles, ethnic baskets, travel bags, textiles, ceramics, glassware, crystals, jewelry, and decorative items for the home. Poppies Arts and Gifts (323 E. Matilija St.) and Ova Arts also offer local art, Ojai souvenirs, and one-of-a-kind gifts.
Searching for something for the bibliophile in your life? Head to Bart's Books, a locals' favorite. And if you want to gather some fresh-picked goodies to take home, stroll around the farmers markets, held every Sunday.
DeKor & Co (105 S. Montgomery Street) is where to go if you're decorating a new home. Vintage furniture, oriental rugs, light fixtures, ceramics, pillows, and other stylish accoutrements fill its spacious showroom. Summer Camp (1020 W. Ojai Ave) and In the Field are also worth a visit for stylish decor and other irresistible finds, and for something completely different, Tipple & Ramble (315 N. Montgomery Street) sells indoor and outdoor furniture with a lovely patio for those who want to linger.
Ojai even has its very own specialty department store. Established in 1915, Rains sells everything from clothing, gifts, and kitchenware to outdoor equipment and home decor.
4. Enjoy a Tour and Tasting at the Ojai Olive Oil Company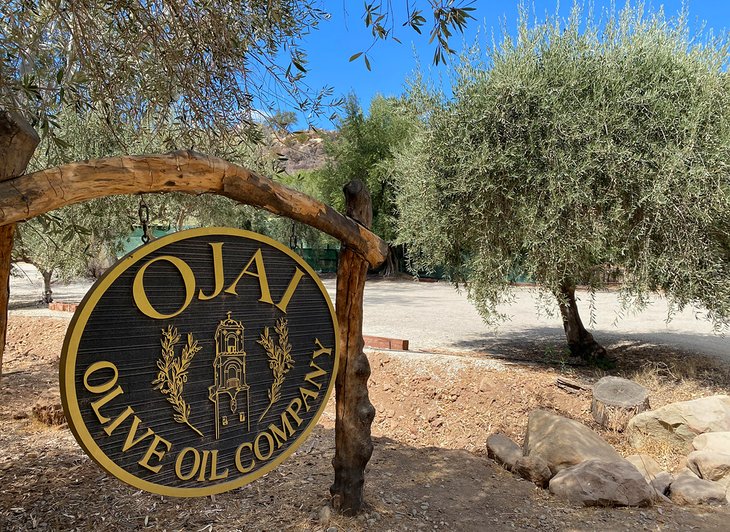 Sampling the fruity liquid gold at Ojai Olive Oil Company's farm is one of the top things to do in Ojai – especially for foodies. Graced with 150-year-old olive trees, the farm lies about four miles from Ojai, and you can visit for a free tasting and tour almost any day of the year. Run by three generations of the Asquith family, Ojai Olive Oil Company's farm is one of the few working permaculture farms in Southern California.
Head to the tasting room to sample different varieties of olive oil, as well as balsamic vinegars. The friendly staff are also happy to share information on how the olives are grown, the extraction of the oils, and the blending and bottling process.
Budding chefs will also learn some tips and tricks, from selecting the best olive oil to storing and cooking with extra virgin olive oil. Everyone is welcome here, including kids, and you can even bring your four-legged family member – there's a special enclosure for pups to play in while you taste and tour.
Best of all, you can pick up some goodies to share with your family and friends. In addition to olive oils and balsamic vinegars, you can also buy olive-oil-infused face creams, lip balms, and soaps.
If you can't make it out to the farm, you can stop by their stall at the Sunday Ojai Certified Farmers' Market.
Address: 1811 Ladera Road, Ojai, California
Official site: https://ojaioliveoil.com/
5. Buy Local Goodies at the Ojai Certified Farmers' Market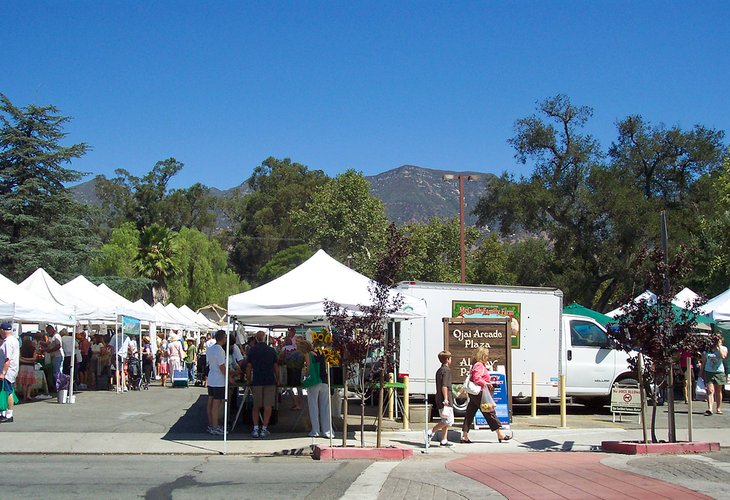 Luscious strawberries, farm-fresh organic vegetables, and fragrant essential oils – you'll find all this and more at the Ojai Certified Farmers' Market. Held every Sunday, rain or shine, from 9am to 1pm right downtown on Matilija Street, the market reflects the community-centered, eco-conscious vibe of the city.
This is a fantastic place to visit to get a feel for this friendly small town, and pick up some locally produced souvenirs and gifts at the same time. Honey, jewelry, Ojai olive oil, beeswax candles, and bouquets of lavender are ripe for the picking. Feeling peckish? You'll also find fresh-baked breads, gourmet desserts, nuts, and dried fruit, so you can snack while you shop. Live music enhances the convivial ambience.
Official site: http://www.ojaicertifiedfarmersmarket.com/
6. Browse the Ojai Valley Museum of History and Art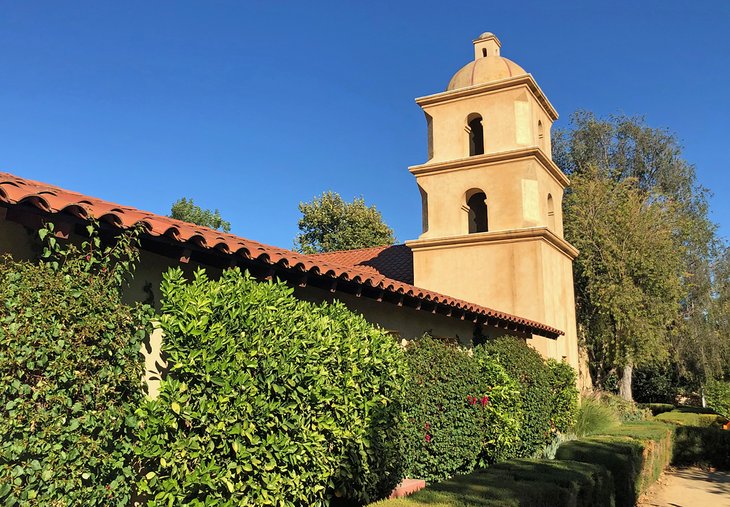 Find out more about this fascinating little town at the Ojai Valley Museum of History and Art. Housed in an old church, which is now a National Historic Register building, this worthwhile little tourist attraction is an eye-catching landmark along the main street.
Once inside, you can explore two rooms of exhibits that unveil the valley's history, from the Chumash Indians to present-day stories from the descendants of Ojai's first settlers. Highlights include the Chumash Interpretive Garden and the Sespe Wilderness diorama.
Insider's Tip: A corner of the building hosts a tourist information office. Head in here to get the most out of your visit to Ojai, and sign up for a 10:30am Saturday historic walking tour of downtown, which includes admission to the museum.
Official site: https://www.ojaivalleymuseum.org/
7. Enjoy a Weekend Getaway at Ojai Valley Inn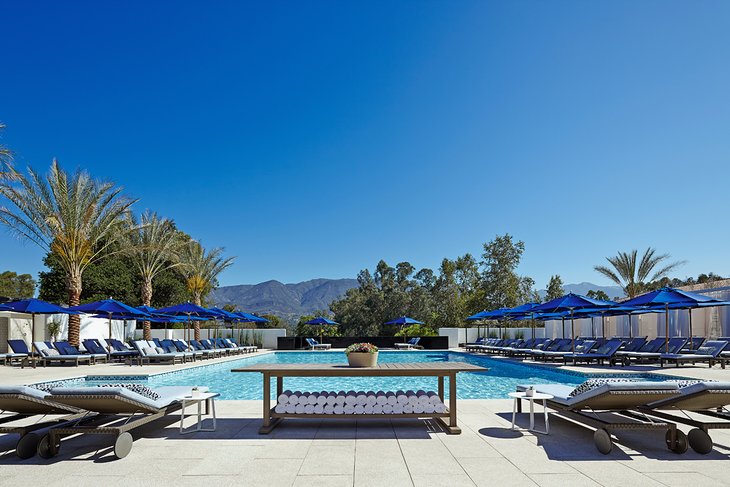 If you're looking for romantic things to do in Ojai, you can't beat snuggling up in a plush suite at the Ojai Valley Inn. Set on 220 picturesque acres, peppered with oaks, this sprawling oasis is one of California's top resorts.
Hide away in one of the comfy contemporary Spanish-style suites, or splurge on a penthouse suite. Then amp up the romance even more with a couples' spa treatment at the luxe 31,000-foot spa village. If you're more of a creative type, head to the Artist Cottage & Apothecary, where you can try your hand at arts like candle-making, painting, and floral design.
Prefer to keep active? Hit a few games of golf or tennis. Hike or horseback ride in the surrounding hills, reserve a private cabana at one of the sprawling pools, or book a picnic and sightseeing bike tour. And if you're a foodie, you'll also find plenty to love here with a choice of seven restaurants. You can even indulge in a honey tasting and beekeeping experience at the resort's hives.
All in all, you can choose from a romantic weekend packed with activities, or you can completely unwind and let the tranquility of this picturesque valley wash over you at this grande dame of Ojai hotels.
8. Relax at Libbey Park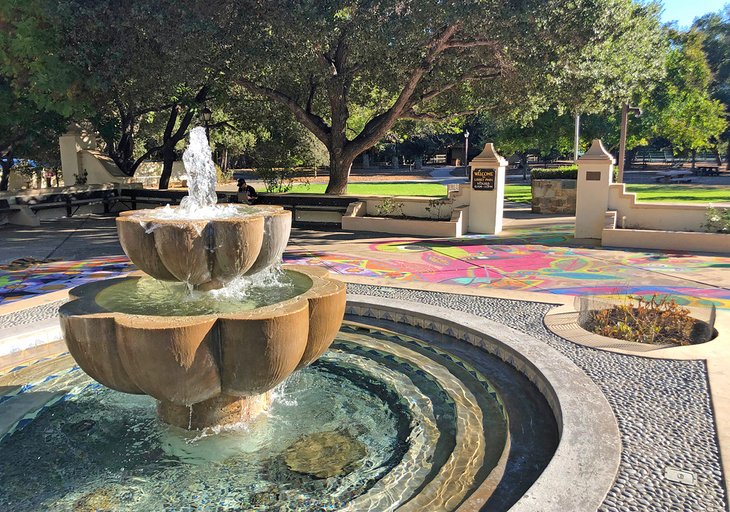 Looking for a family-friendly place to dine, where the kids can also burn off steam? Pack a picnic and head to Libbey Park. Locals and visitors alike gather here under shady trees in the heart of downtown. Kids go wild on the playground, and you're steps away from organic cafés, where you can purchase sandwiches and snacks. Best of all, the ice-cream shop is a short stroll away.
Walking paths wind through the park, and you'll find plenty of shady places to relax. Pick a bench near the fountain or spread your picnic blanket under a sprawling oak. A little creek also runs through the rear of the park, with a lovely wooded setting. After your picnic, you can hit some balls on the public tennis courts.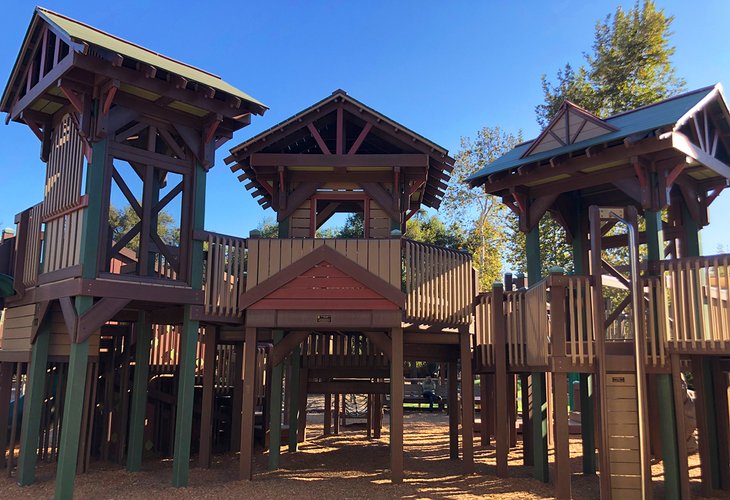 Libby Park hosts many of Ojai's fun art and music festivals, including the Ojai Music Festival, and it's also home to the 973-seat Libby Bowl, Ojai's famous live music venue.
9. Pick a Page Turner at Bart's Books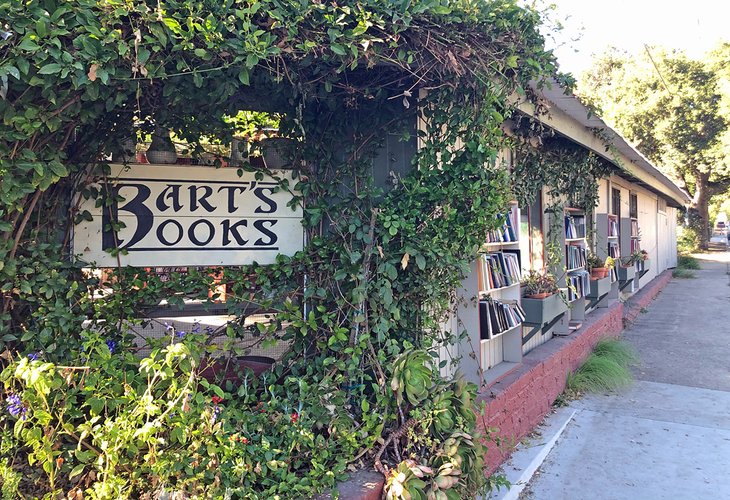 Established in 1964, Bart's Books is an Ojai institution. Sitting unassumingly on an Ojai street corner, this much-loved gem is the world's largest outdoor bookstore, brimming with more than 130,000 new and used books covering a range of genres – from travel and art to health and happiness.
Book-lovers will have a blast here. Looking for a great pre-loved cookbook? Pop in here, and you'll find plenty of mouthwatering new recipes. Pining to curl up with a juicy novel? Pick your next page-turner. And if you're hunting for a rare specimen, you might even find that, too – just ask the helpful staff.
You can browse for hours through the labyrinthine shelves, which spill out onto the street, and the sunny courtyard encourages you to sit in the sunshine and linger awhile. Even when the store is closed, you can pluck a book from the outdoor shelves and post your money in the box.
Address: 302 W Matilija Street, Ojai, California
Official site: https://bartsbooksojai.com/
10. Explore Ojai Meadows Preserve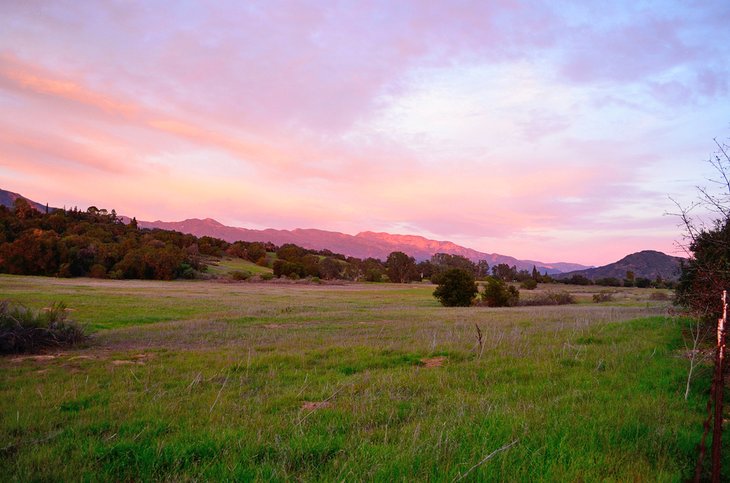 If you're craving a quick escape to nature with a dose of inspiration, Ojai Meadows Preserve is an ideal destination.
Once a dump for construction waste, this picturesque pocket of wilderness is now a shining example of how a community can unite to restore the land to its natural beauty. In 2000, with help from local residents and businesses, the Ojai Valley Land Conservancy acquired this 58-acre property, and worked with local organizations to restore its important wetland habitats. Water flowed back into the preserve, wildlife returned, and the preserve has now become an Ojai treasure.
A gentle stroll is the best way to enjoy Ojai Meadows Preserve. The mostly-flat dirt trail is easy to navigate and takes about 30 minutes to walk around. In the spring, you'll see clouds of bright yellow mustard flowers cloaking the fields, and at any time of year, wildlife sightings are common. Long-tailed weasels, bobcats, skunks, and many species of birds are among the animals that live here.
You can also stroll around the mile-long trail on the adjacent Ojai Saddle Trails, owned by the Krishnamurti foundation. Sunset is an especially beautiful time to visit, when the surrounding mountain peaks blush pink and purple in the late light.
Planning to take your dog? Note that this is a Sensitive Wildlife Habitat, which means Rover should stay on leash, and visitors should stay on the trail. You can't miss the preserve – you'll drive right by it on the way into town along Highway 33. Parking is plentiful.
11. Explore the Countryside on Horseback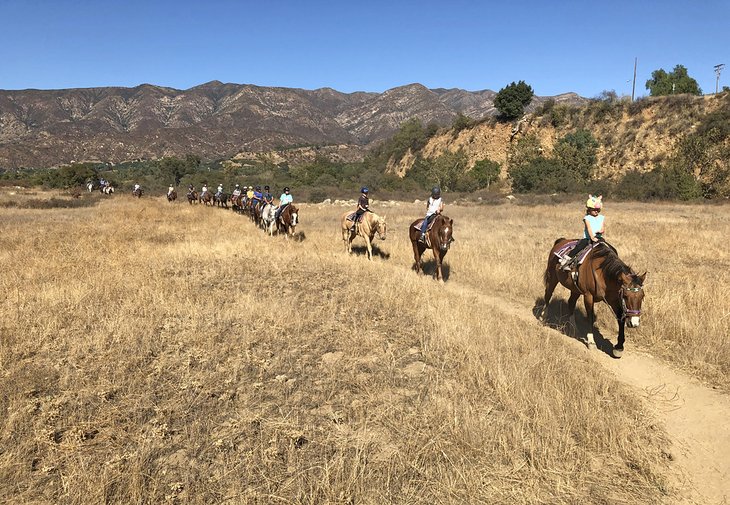 Ojai's rugged countryside is made for exploring on horseback. Whether you're a beginner or an experienced rider, Ojai Valley Trail Riding Company at Oso Ranch offers private trail rides customized for your ability. Plod through golden grasslands, ride through rocky canyons, trot through the Enchanted Forest, and enjoy gorgeous views of the Topa Topa Mountains on these scenic tours.
The ranch offers direct access to the Ojai Land Conservancy, which means you're in the wilderness for your entire ride.
After your horseback adventure, you can wander around Oso Ranch and meet all the resident animals – including rabbits, cows, chickens, pigs, and peacocks. The ranch is only 3.5 miles from downtown Ojai.
Address: 1290 Meyer Road, Ojai, California
Official site: http://www.ojaivalleytrailridingcompany.com/
12. Visit the Krishnamurti Educational Center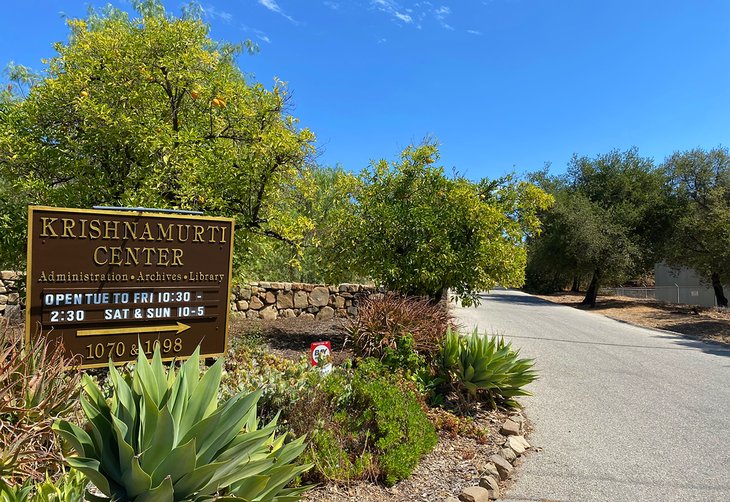 Looking for spiritual things to do in Ojai? Head to the Krishnamurti Educational Center high in the mountains above Ojai. Once the home of philosopher and author J. Krishnamurti, Pine Cottage houses the study center and library, which hosts conferences, retreats, and study programs.
Visitors are also welcome to explore the cottage and grounds. Here, you can tour Krishnamurti's home, learn more about his teachings in the library, meditate in the Quiet Room, and stroll around the peaceful grounds amid fragrant orange groves and pepper trees.
Save time to stop by the healing Medicine Wheel garden and read about the philosophy behind it. Benches provide peaceful places to sit and reflect and enjoy the mountain views. Visitors are welcome here in the afternoons Thursdays through Sundays.
Address: 1098 McAndrew Road, Ojai, California
Official site: https://www.kfa.org/krishnamurti-educational-center/
13. Meditation Mount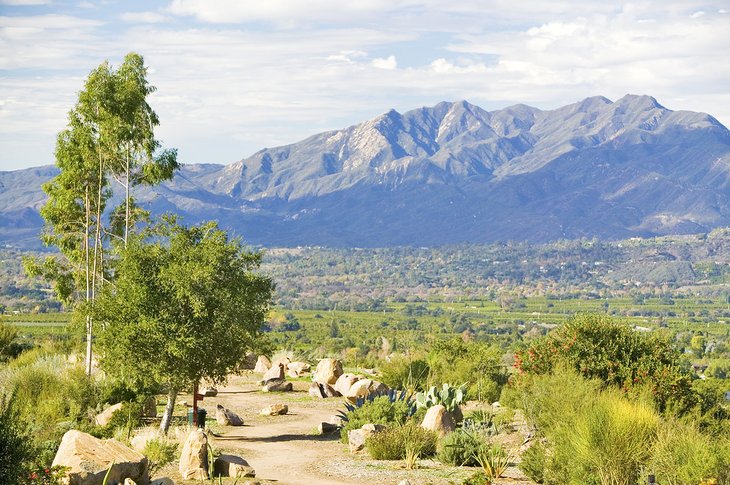 High on a mountaintop about five miles from downtown Ojai, Meditation Mount will feed your soul. This non-denominational center for spirituality promotes peace and compassion, and you can feel this intention as soon as you visit.
Meditate at the International Garden of Peace, wander through the beautiful gardens, listen to the sound of trickling water, and look for wildlife as you feel the tranquility wash over you. The views are breathtaking. Wilderness surrounds you in every direction, and the Topa Topa Mountains change color as the sun rises and sinks in the sky.
If you're looking for unusual things to do in Ojai that set the tone for a peaceful stay, this should be top on your list. Just be aware that you may have to make an appointment before you visit. Check the website for details. Also keep an eye out for workshops and group events.
Address: 10340 Reeves Road, Ojai, California
Official site: https://meditationmount.org/
14. Soak in the Ecotopia Hot Springs
Want to immerse yourself – literally – in the Ojai Valley wilderness? Escape to Ecotopia, about 30 minutes from downtown Ojai. Nestled deep in Matilija Canyon on private property, this series of sulfur hot spring pools provides a relaxing and rustic slice of Ojai nature. Strung along the cool Matilija Creek, the pools are all different temperatures, averaging around a toasty 100 degrees Fahrenheit. They are also thought to have special healing powers.
Make sure you book an appointment before you visit. They are reserved in two-hour time slots, and it's best to book well in advance during peak periods.
Wondering about things to do in Ojai at night? Nighttime visits offer the chance to stargaze while you soak in the hot, healing water.
After your soak, you can take an outdoor shower using the hot spring water, or visit the community gardens.
Bring towels, water, and flip flops. Also note that Ecotopia is clothing optional.
Address: 2566 Matilija Canyon Road, Ojai, California
Map of Things to Do in Ojai, CA
Ojai, CA - Climate Chart
Average minimum and maximum temperatures for Ojai, CA in °C
J
F
M
A
M
J
J
A
S
O
N
D

20

3

21

4

21

6

24

7

25

9

29

11

32

13

32

13

31

12

28

8

23

4

21

2

PlanetWare.com
Average monthly precipitation totals for Ojai, CA in mm.

122

144

111

26

12

2

1

2

10

15

37

71