7 Top Things to Do in Channel Islands National Park, CA
Rugged, remote, and refreshingly uncrowded, Channel Islands National Park offers a tantalizing glimpse of the Old California - before freeways and fast food joints. Often called the Galapagos of North America, the park encompasses five craggy islands: Anacapa, Santa Cruz, Santa Barbara, and the wild and windswept outer islands of San Miguel and Santa Rosa, as well as the one mile of Pacific Ocean that laps their rocky shores. If you're craving fresh sea air, solitude, and unspoiled nature, this is the perfect escape, just a short boat trip from the Southern California coast.
Like the Galapagos Islands, one of the unique things about Channel Islands National Park is the wildlife. None of the islands were ever connected to the mainland, resulting in a wondrous cast of endemic animals, including the adorable little island fox and an impressive array of birds.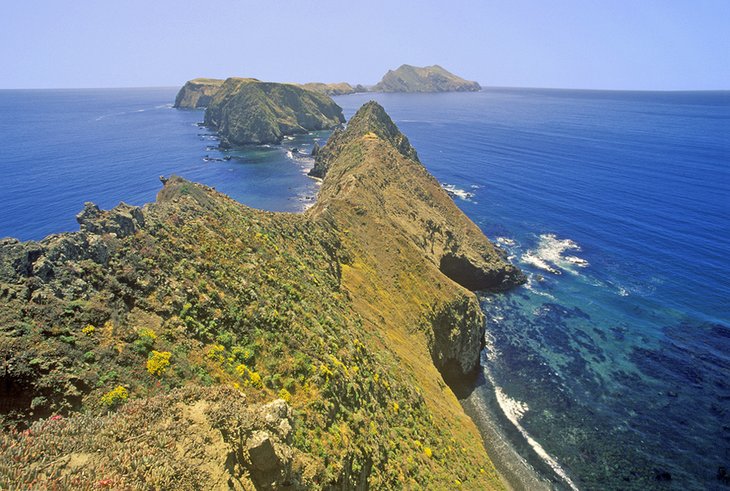 Besides wildlife watching, you'll find plenty of other things to do in Channel Islands National Park. Hiking, kayaking, diving, snorkeling, swimming, and fishing are all popular activities, and if you just want to relax, you can bask on a pristine beach, paint or sketch the stunning scenery, or enjoy a picnic in a secluded bay.
Wondering how to get to Channel Islands National Park? Despite their remote feel, the islands are easy to access, and you'll find that the journey really is just as rewarding as the destination. Island Packers whisks you out on sightseeing day trips from both Ventura Harbor Village and Oxnard harbors, with wildlife watching opportunities along the way. Channel Islands Aviation operates flights to Santa Rosa and San Miguel islands, and you can also access the islands on a private boat.
Find out more about these jewels of the California coast with our list of the top things to do in Channel Islands National Park.
1. Whale Watching and Dolphin Spotting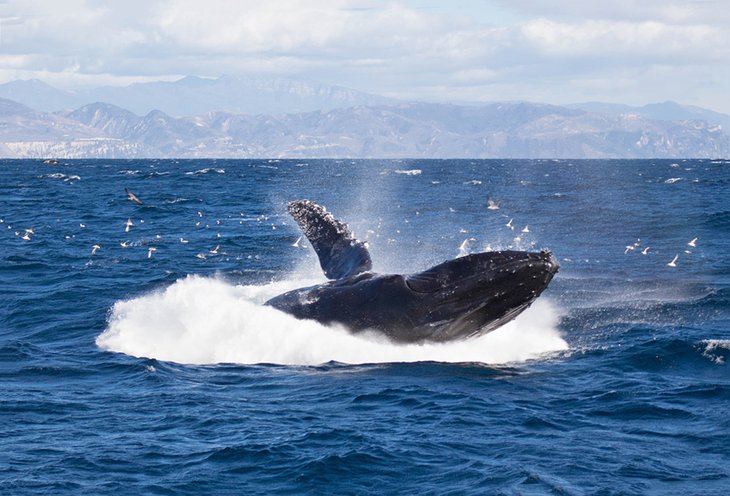 Cruising the waters around the Channel Islands wows wildlife lovers. About one third of the world's cetacean species reside in the park, and you can enjoy a front row seat to view them on whale watching and wildlife cruises.
Humpback, blue, gray, minke, and pilot whales are some of the species regularly spotted, and you might also see orcas, several different species of dolphins, harbor seals, and sea lions.
Island Packers runs summer and winter whale watching cruises and year-round wildlife spotting cruises from Ventura Harbor Village, one of the top places to visit in Ventura, as well as the Channel Islands Harbor in Oxnard. And if you're headed out on a day trip to the Channel Islands, the Island Packers' staff keep an eye out for wildlife, stopping for sightings along the way.
You can also organize a whale watching cruise around the Channel Islands from Santa Barbara - it's one of the top things to do here, especially with kids.
2. Kayaking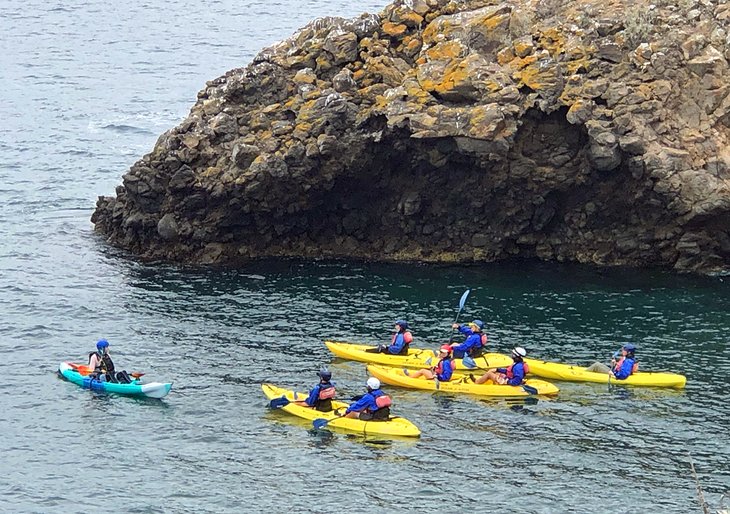 Paddling on the pristine waters provides a fresh perspective of these rugged islands. Soaring sea cliffs, empty beaches, pebbly coves, and sea caves fringe the coastline. Peer below, and you can see jungly kelp forests where fish dart in the clear waters.
One of the best places for kayaking is around Scorpion Cove on East Santa Cruz Island. You can access the waters easily from the beach, campsites are nearby, and sea cliffs and caves scallop the coastline. Prisoners Harbor on Santa Cruz Island's north coast is also a great launching point.
You can kayak on your own, but due to capricious sea conditions, it's much safer to sign up for a guided kayaking tour. Channel Islands Adventure Company offers several different tours for all abilities, including a sea cave kayaking tour and a combination kayaking and snorkeling tour.
If you prefer to take your own kayak, you can take it on an Island Packers cruise for an extra fee. Check the website for details.
Official site: https://www.islandkayaking.com/kayaking/
3. Hiking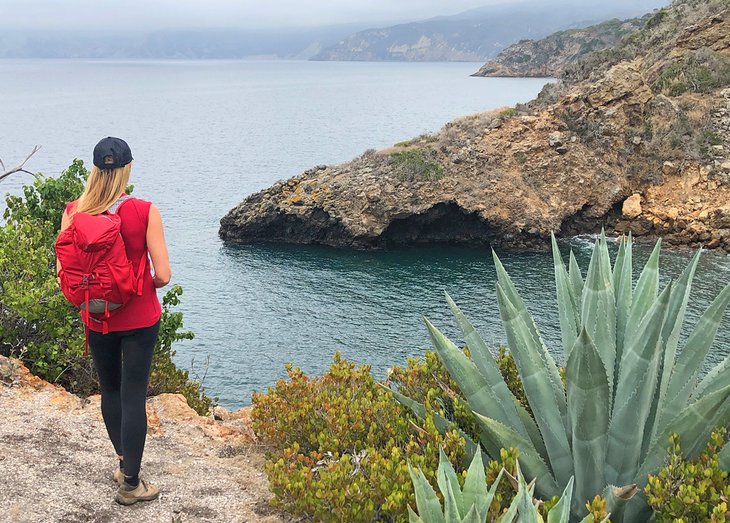 Hiking the scenic trails of Channel Islands National Park is the best way to soak up the stunning scenery and spot some of the land animals. Trails range from the relatively flat, figure-eight shaped trails on East Anacapa Island, which meander for about two miles, to the remote and rugged canyon treks on Santa Rosa. Sea cliffs reveal views across deep blue bays, wildflowers fleck the fields in the spring, and wildlife makes an appearance year-round.
One of the most popular hikes is the Pelican Bay Trail on Santa Cruz Island. This three-hour, out-and-back trek takes you from Prisoner's Harbor, up and down rocky canyons, to beautiful Pelican Bay and Tinkers Beach, where you can recharge with a picnic on the pebbly bay. Along the way, you'll wander through gnarled oak forests and golden grasslands, and you might even spot the sweet little Channel Island fox. Note that this trail is only open to Island Packer passengers accompanied by experienced guides.
Other popular hikes on the islands include Smuggler's Cove and the Scorpion Canyon Loop on Santa Cruz Island and the Black Mountain trek and Torrey Pines hike on Santa Rosa.
Santa Barbara Island offers five miles of trails to intriguing destinations like elephant seal cove and a sea lion rookery, and San Miguel is also ripe for hiking adventures, but you must obtain a permit in advance.
4. Camping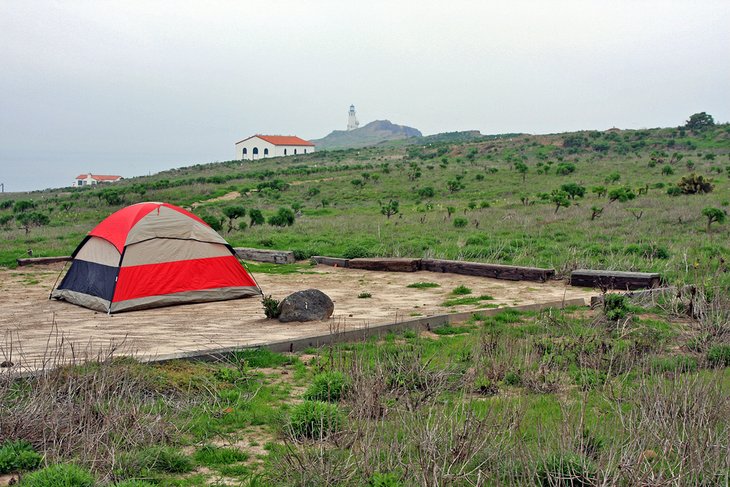 Want to extend your stay on these wild and remote islands? Camping in Channel Islands National Park is the way to go. Each of the five islands offers primitive campsites. Dark skies mean the star-gazing is superb, and staying overnight on the islands means you'll have a better chance of seeing the wildlife and sampling all the many things to do.
Favorite spots to pitch a tent include Scorpion Canyon on Santa Cruz Island and Water Canyon on Santa Rosa Island. These are also the only two campsites with water. All the campgrounds come with picnic tables and pit toilets. Campsites on Santa Rosa and San Miguel campgrounds offer windbreaks to buffer the strong gusts that hit these outer islands. Limited backcountry camping is also permitted on Santa Rosa and Santa Cruz islands.
The most important thing to remember is that you'll need to book your transport before you can secure a site. Island Packers takes campers to all the islands with whale and other wildlife spotting along the way, or you can fly out to Santa Rosa and San Miguel islands with Channel Islands Aviation. Sailing or cruising on a private boat is another option.
You'll also need to book your campsite in advance through Recreation.gov. Make sure you have your transportation details handy. Note that you need to hike to the campgrounds from the landing point on each island, and campers need to pack out their own trash.
5. Wildlife Watching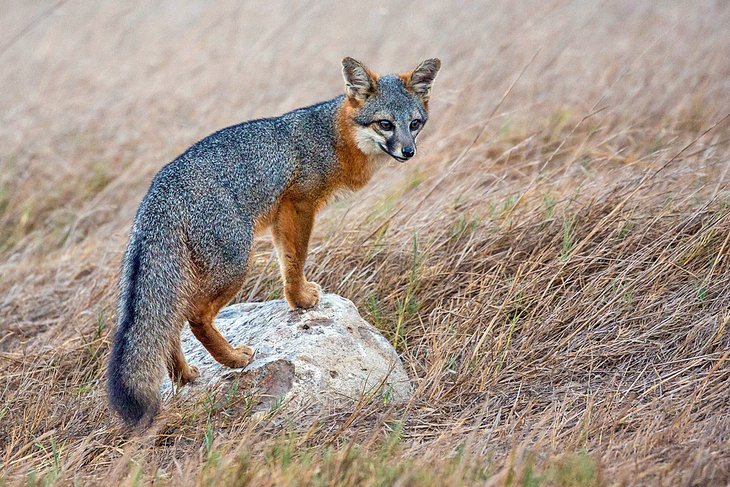 Channel Islands National Park is a haven for wildlife. On land, notable Channel Islands National Park animals include four native mammals: the sweet little island fox, the island deer mouse, the harvest mouse, and the spotted skunk.
Bats are common on Santa Rosa and Santa Cruz islands, including a maternity colony of rare Townsend's big-eared bats.
Birds are more diverse. The islands are an important nesting site for seabirds, and no less than 10 of the islands' 40 landbird species are found nowhere else on Earth, including the island scrub-jay. Also keep an eye out for bald eagles, which were reintroduced to the islands relatively recently.
Reptiles and amphibian species are few, but they include lizards, salamander, a species of frog, and two species of non-venomous snakes.
Paleontologists might also be interested to know a couple of fascinating Channel Islands National Park facts: Pygmy mammoths and giant deer mouse once roamed these shores!
6. Fishing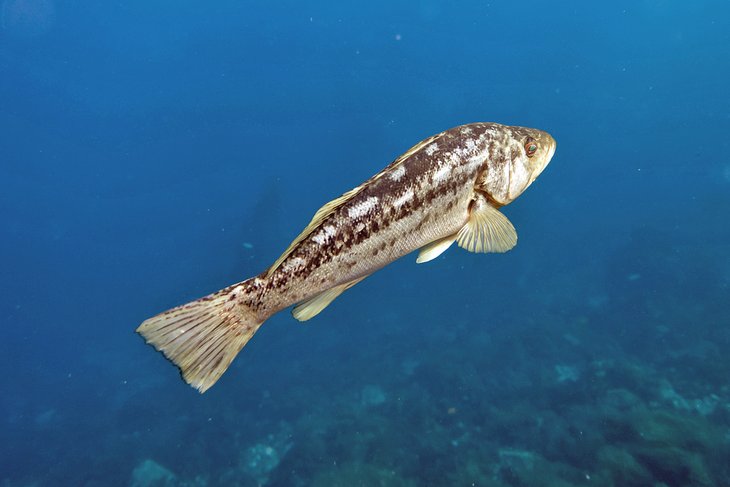 Pristine waters, kelp forests, and rocky reefs provide rich fishing grounds for avid anglers. Top species to hook here include lingcod, rockfish, calico bass, white seabass, and halibut. Generally, the waters surrounding the outer islands offer the best fishing, as they experience less fishing pressure. Santa Cruz is known for productive white seabass fishing when squid spawn - typically in the spring and summer.
You can cast from a kayak or organize a fishing charter. Channel Islands Sportfishing offers half-day, three-quarter day, and full-day excursions, as well as multi-day fishing trips.
Make sure you purchase a California state fishing licence before you head out. The islands are surrounded by 13 no-take Marine Protected Areas, so it's important to find out where these lie and adhere to California Department of Fish & Wildlife regulations.
Official site: https://www.channelislandssportfishing.com/deep-sea-fishing
7. Snorkeling & Scuba Diving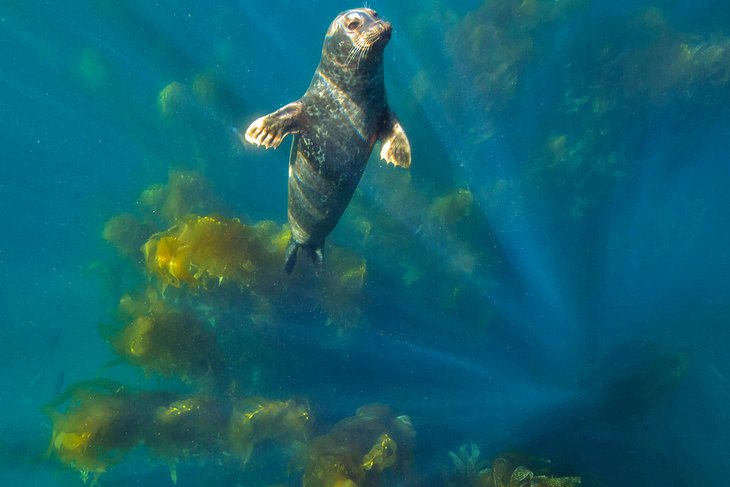 Channel Islands National Park is one of the world's most unique places to dive. Immersed in the giant kelp forests, you might feel like you're gliding through a lush jungle. Playful seals and sea lions dart through the tendrils of kelp, and kaleidoscopic sponges, sea fans, and sea stars cloak the rocks.
The Channel Islands Marine Sanctuary protects much of the waters around the islands, and marine life is abundant year-round, thanks to the cold, nutrient-rich waters. Moray eels; California spiny lobsters; abalone; octopus; and large fish like sea bass, halibut, and bright-orange garibaldi are common sights, and many different species of whales and dolphins also swim these waters.
Local dive operators offer trips ranging from single-day island adventures to multi-day liveaboard excursions.
Snorkeling can be just as rewarding. Channel Islands Adventure Company rents snorkeling equipment and offers guided snorkeling tours at Scorpion Anchorage on Santa Cruz Island.
Map of Things to Do in Channel Islands National Park, CA